"I am a London based freelance illustrator, textiles and jewelry designer. I have a background and degree in fashion and textiles being a graduate from Central Saint Martins and London College of Fashion. I essentially started this project-turned-brand straight after uni but it was barely anything in the beginning as I was still doing insignificant internships in fashion at the time. I definitely started drawing and practicing illustration a lot earlier in my life though. Drawing was always the one thing I think I was actually truly good at – lucky thing too since I was never good at much else!"

"My true vision is to decide on the perfect textile and accessory-based products; selling them in a seasonless fashion, continuing with my East meets West approach. Something I believe I am still perfecting."

"Being a seasonless brand is really important to me. I think it's my funny little way of debunking how the fashion industry currently works. Fast fashion never sat right with me which is why I moved away quite quickly from pursuing a standard career in the fashion world, to begin with. Being "seasonless" means ignoring the traditional fashion calendar timed to the spring and fall collections, and instead opting for a more personalised calendar. Individual products are released whenever the timing feels right. This then allows me to create better products without the pressure to release at the "correct" times. At the end of the day, my brand helped fix the cravings I kept getting; to turn my flat 2-D illustrations into physical products!"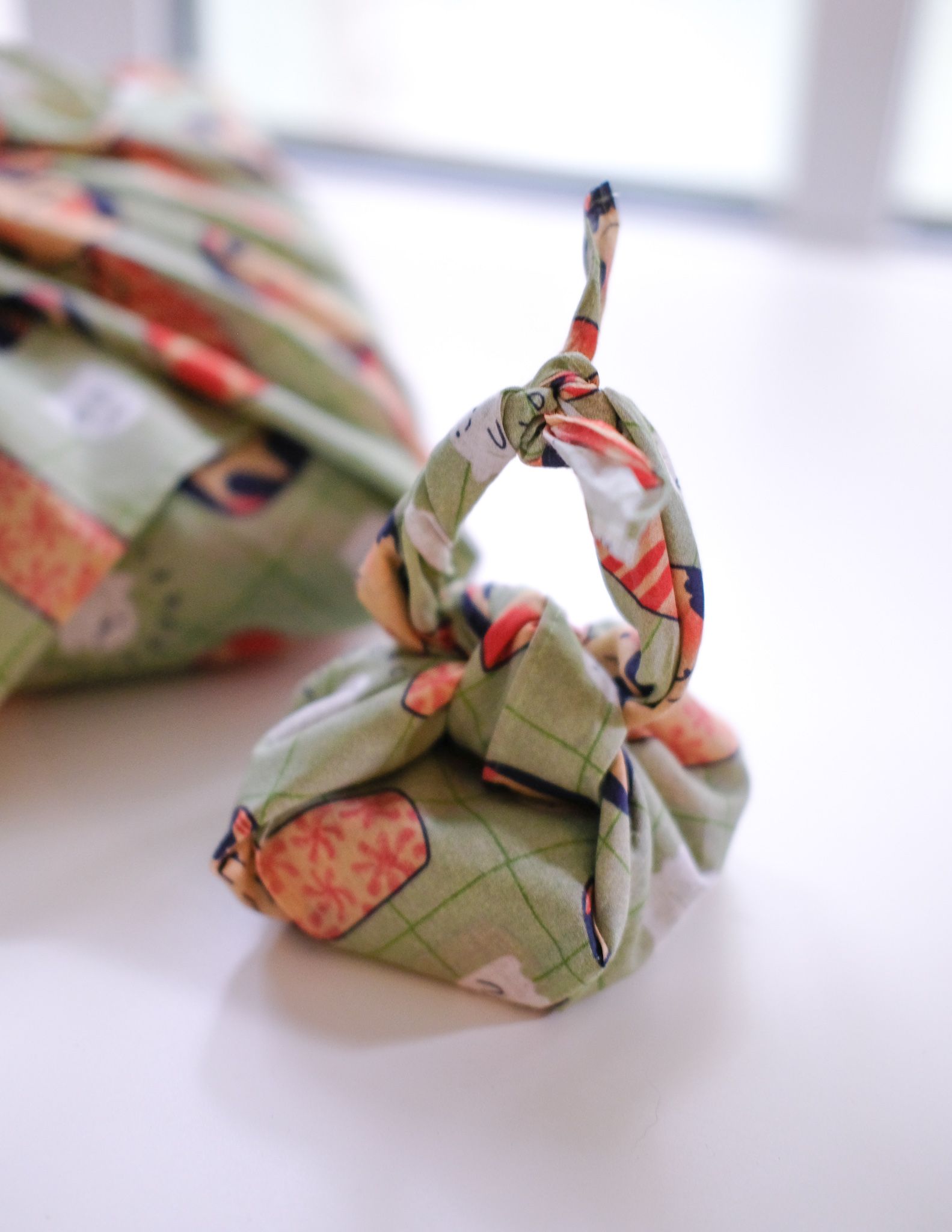 "Being a small business sometimes feels like life just throws curve balls your way on a weekly basis! But if I had to pick one that actually ended up being extremely positive was my beginnings in jewelry design."

"Designing jewelry was always something I wanted to experiment in, I almost chose the discipline for my university degree. My Dad has worked in the industry since the 70's and obviously he was key in my interests to expand into it. The challenge wasn't finding great companies to work with, in fact my Dad had two perfect companies in mind for me that he had been working with for literally several family generations. Actually, the challenge came later during sampling. Their working hours are traditional factory hours; starting at the crack of dawn and ending early before lunch! Getting used to a totally different industry was one thing, but the old school way of working was a whole different hurdle. Of course phone calls can be made in the morning and time schedules can be moved around but a lot of these jewelry manufacturing companies work on a face-to-face basis with barely any use of emailing whatsoever. Couple that with my initial lack of manufacturing lingo and I had a pretty confusing time on my hands. I solved this simply by spending more time traveling up to Birmingham (where my 2 manufacturers are) personally for meetings. Those were long trips and the overall setup took longer than I had anticipated but I got to create my own personal relationship with the awesome teams that helped make my ideas a reality. Now I get to proudly say that I am officially part of this generational work faction that my Dad created!"

"Everything I design, I design thoughtfully. I care about how sustainable it is; how it was printed, if it was eco-friendly, and with longevity in mind. I wish to create unique things with a slow fashion ethos. Fast fashion doesn't always consider this. It shouldn't matter how long it takes to create something beautiful; so what if it isn't "in"? As they say, good things take time. I'd rather make something that you would treasure than any kind of quick-fix materialism."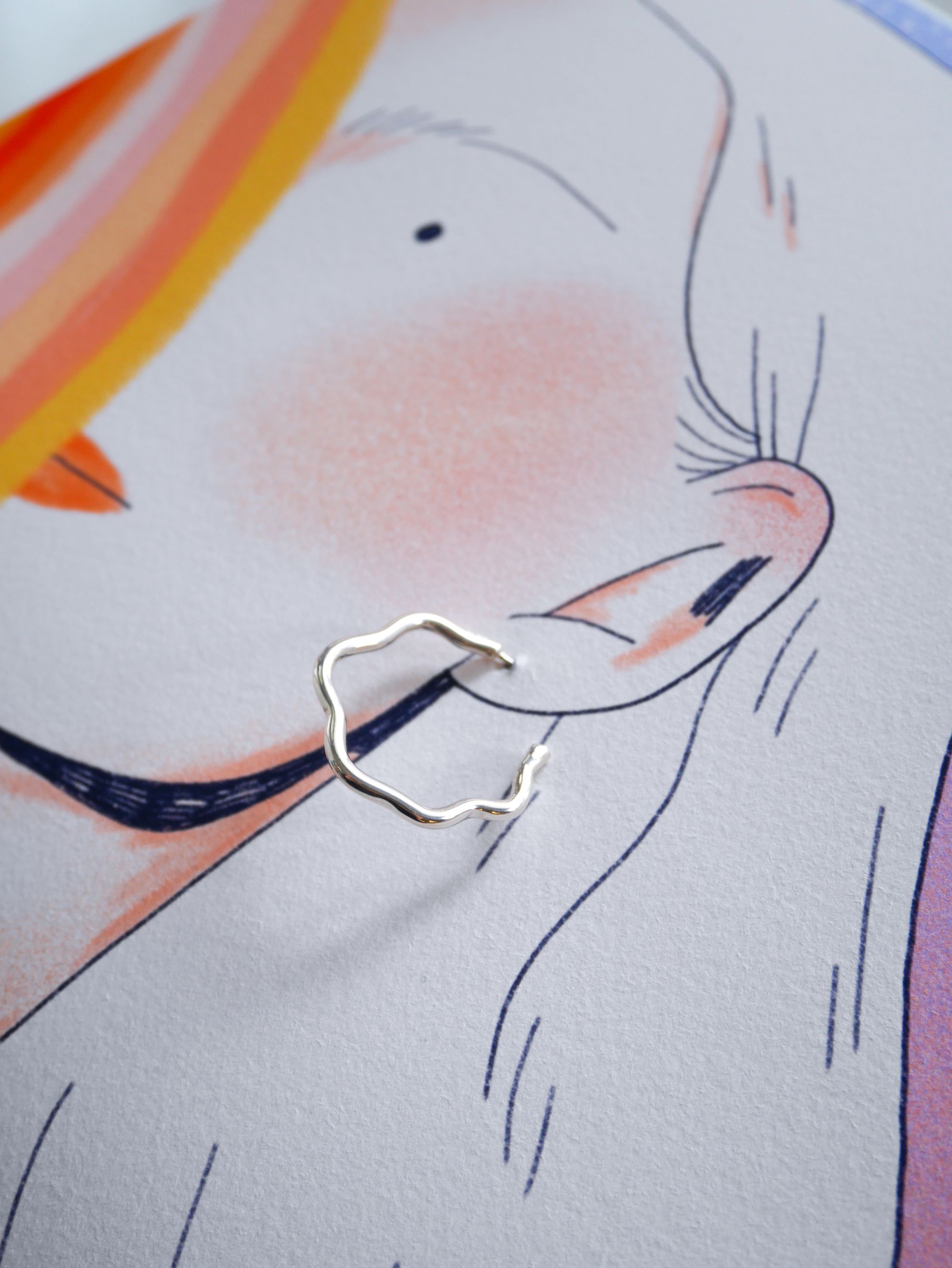 "I hope this ethos comes across quite readily in my approach since I do commit time to making sure I use production companies that feel the same. My paper-based products are available for recycling, the metals in my jewelry are recycled, and the fabric printing company I use is environmentally aware too; using Azo dye-free inks, OEKO-TEX certified fabric, and they also send their waste fabric to a specialist recycling company which reuse them to create bioenergy, to name a few! I have recently just started a blog and plan to write up a new post about the ways in which ALXNDRA is environmentally more sustainable than high street companies to try and let my customers know a little better."

"I think there are definitely still ways that I could lower my environmental footprint, however. Noissue has been an incredible help in this aspect! Finding affordable packaging, being such a small brand has proven to be one of the more difficult things on my journey! Before noissue entered my life, if I even managed to find something sustainable it is usually a bit too expensive or has insanely huge MOQ's. Now the only thing I'm working on phasing out are my plastic mailers (no problem there as noissue has some great compostable mailers which I have my eye on), plastic stickers (noissue, you got my back again!) and bubble wrap envelopes which I would love to have a more sustainable alternative for one day. I hope companies will catch up soon like noissue has, to help out little guys like us to stamp out our environmental footprint for good! I may not be perfect but I am happy to say I am almost there!"

"Pretty early on I thought about this. Ordering cute, often handmade goods, made it clear to me immediately; honest packaging. I would buy from other small brands and artists I loved and there was an obvious trend; everyone sent handwritten messages, they drew their characters on the envelopes and wrapped items in cute paper and confetti. It was beautiful and felt like I had bought myself a little un-birthday gift!"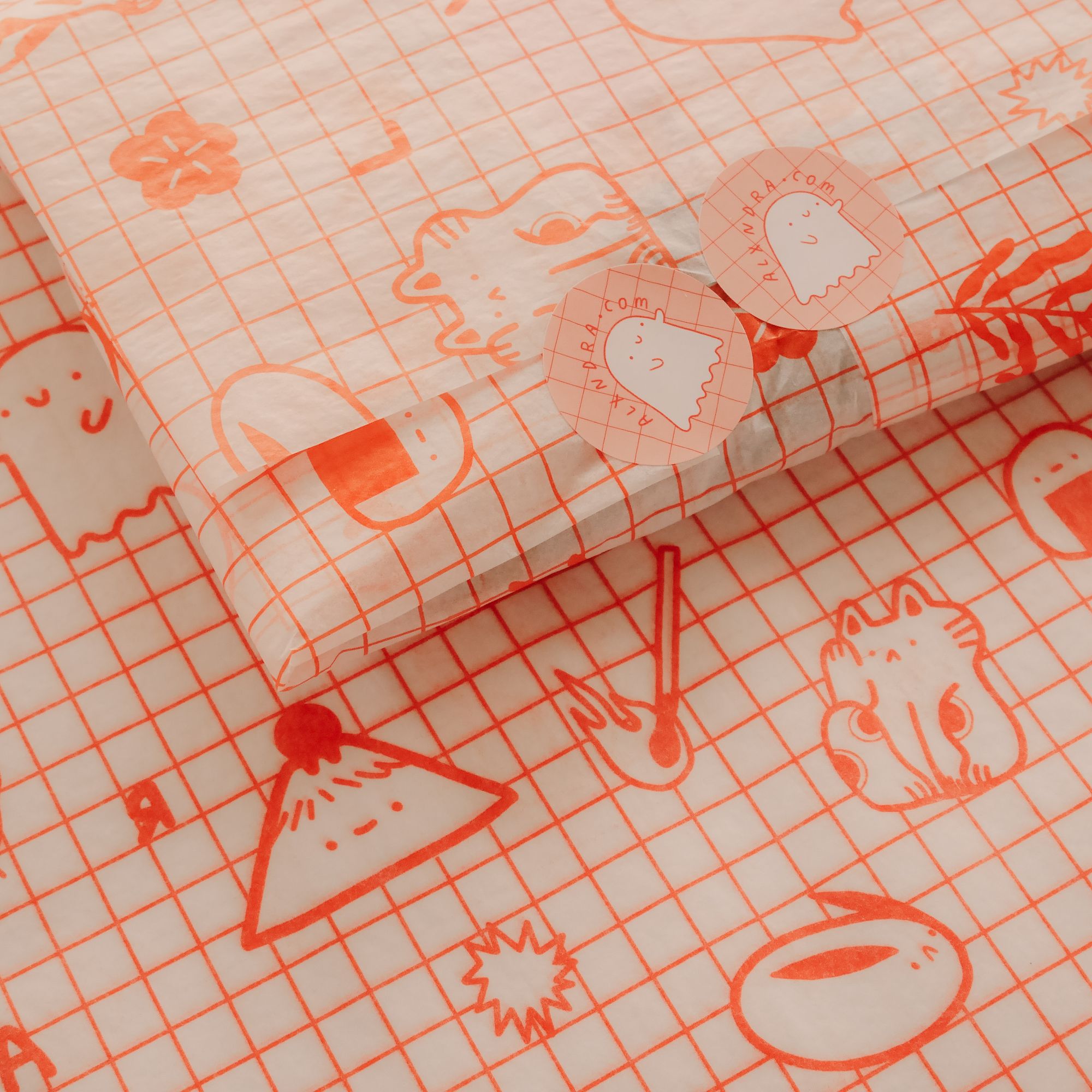 "When I set up my own store I wanted to do the same, send a little bit of my personality and love with every order. Honestly, though more orders came in, it got harder to keep up with everything. So as with anything, you evolve. As my brand evolved, so did my need for higher-end custom packaging. I can design beautiful packing stickers, postcards, jewelry boxes and wrapping tissue with the same love but the packing time gets halved leaving me time to focus on other aspects of my brand!"

"Noissue has gorgeous marketing. Its simple, explained clearly, great quality, eco-friendly and on top of that, competitively priced! What more could you want, really? I saw a couple of my peers using them via Instagram and they all looked beautiful! I had always wished I could create something so sophisticated but it was always out of my price bracket – but not anymore! Since buying noissue tissue paper for myself I feel like my orders look much better going out. With something so simple, my brand can feel more well rounded and polished."

"I used to do these "doodle pages" in my Moleskine sketchbooks that I would post on Instagram. The posts always did well and were always a hit with my followers. I don't really have time to do them as much anymore, especially since I work more digitally now, but I thought the idea would be cute for the layout of a tissue paper design. So I flicked through my old sketchbooks for inspiration and put together a simple print design inspired by my little doodles."
Music by: @maxzoofan