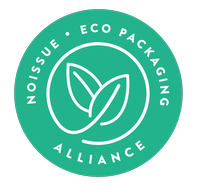 Traveling is an exciting way to live life to the fullest. It opens our minds and makes us see that there is so much more to life than we realize.
Awol is a brand created from the beautiful mind of Alex – an established Designer, Artistic Director, and seasoned traveler based in Montreal who works with global clients, like Cirque du Soleil, Madonna, and more.
Because there's so much to traveling, Alex decided to create artwear and travel paraphernalia inspired mainly by beautiful places around the globe. She creates unique contemporary art that is perfect to wear, keep at home, or even share with people who are special to you. Alex chats with us today and tells us about how she translates her passion and excitement for travel to functional and wearable art:
"I'm Alex, a designer, artist, and traveler based in Montreal - although recently I've been splitting my time between here and the South of France. I created, Awol – The Art of Travel, a brand that sits at the crossroads of travel, art, and design. I make limited edition accessory collections of artful, travel-inspired fashion, and home décor accessories inspired by beautiful places around the world.

Each collection has a story and a purpose, designed for you to wear, take with you when you travel, or inspire you at home. By making wearable, usable art, I wanted to create heirloom pieces that people want to keep and pass on as a counter-statement to throwaway fashion and the transient nature of trends."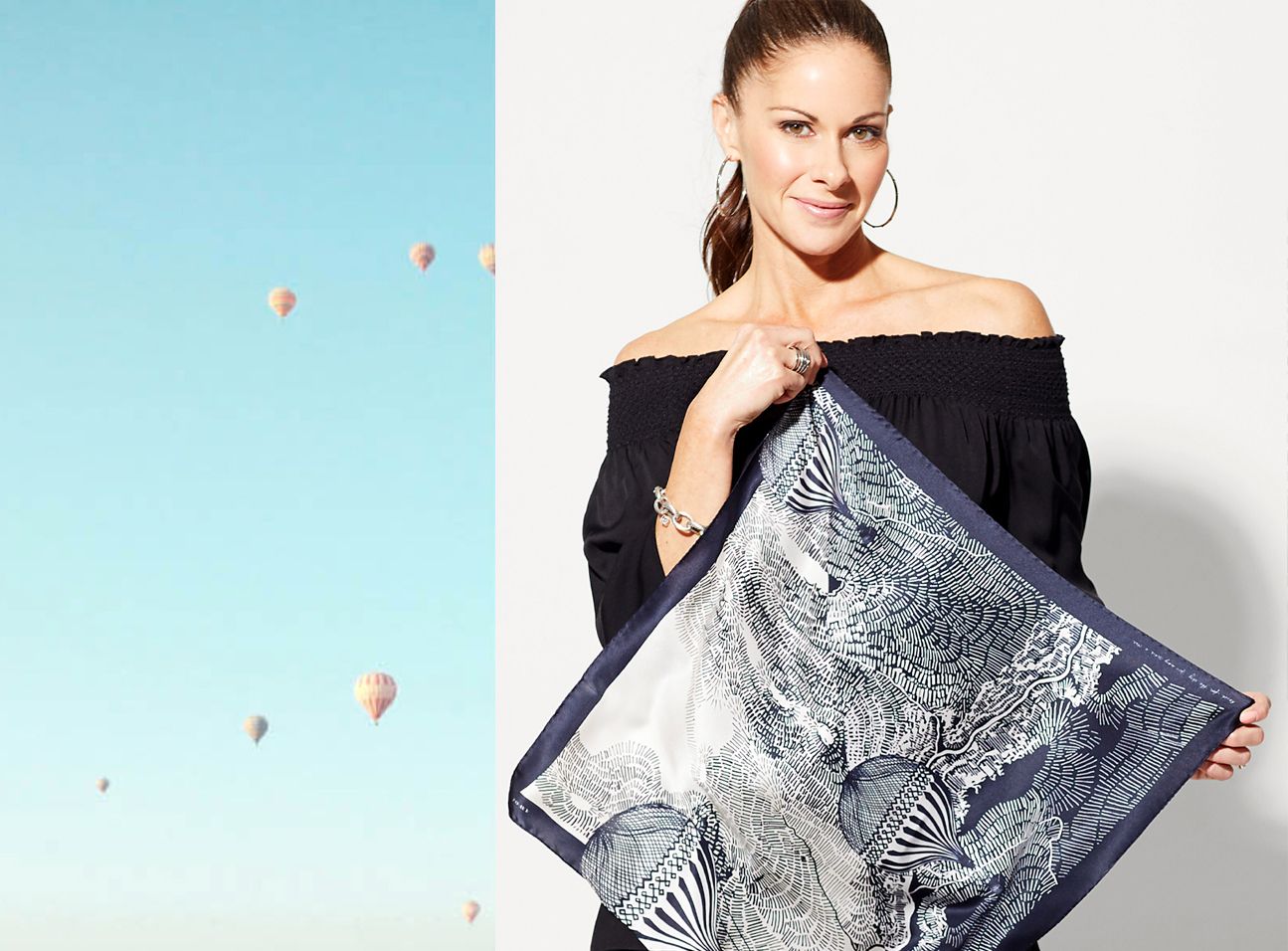 "There was a long period leading up to me starting Awol – maybe most of my life. I have been creatively expressing myself through art since a very young age. Professionally, I've been working as a creative director/art director and designer for over a decade, mostly in brand creation for awesome clients. Helping companies and individuals express their business vision through their brand identity was immensely creative, fulfilling, and rewarding.

I travel often to keep my creativity firing and to get inspired – and then I would pour all this creative energy into my professional work. But somewhere along the way, I realized that I had stopped making my art. I began feeling an almost physical need to create something of my own – I just didn't know what it was. And then it hit me a few months later at the top of a mountain in Colombia. I had been hiking for half a day, had a nasty case of altitude sickness, and some very bad hair. I was delirious. One minute ecstatic about how beautiful the views and plants and raindrops and clouds were and the next, oscillating between hot flashes and cold shivers. My hair was a hot mess. How I wished I had something to tie my sweaty, messy hair back with! And how I also wished I could capture all that beauty, the views, and the emotions of that particular moment. And then it hit me like a thunderbolt – SILK SCARVES!
Silk scarves are versatile, can be worn in countless ways, in any season – a great way to bring beauty, variety, and creativity into your closet (or suitcase) without re-inventing your wardrobe each year, AND they hide bad vacation hair!!! At the same time, keeping you cool in hot weather, and warm in chillier climates. And that's how it started."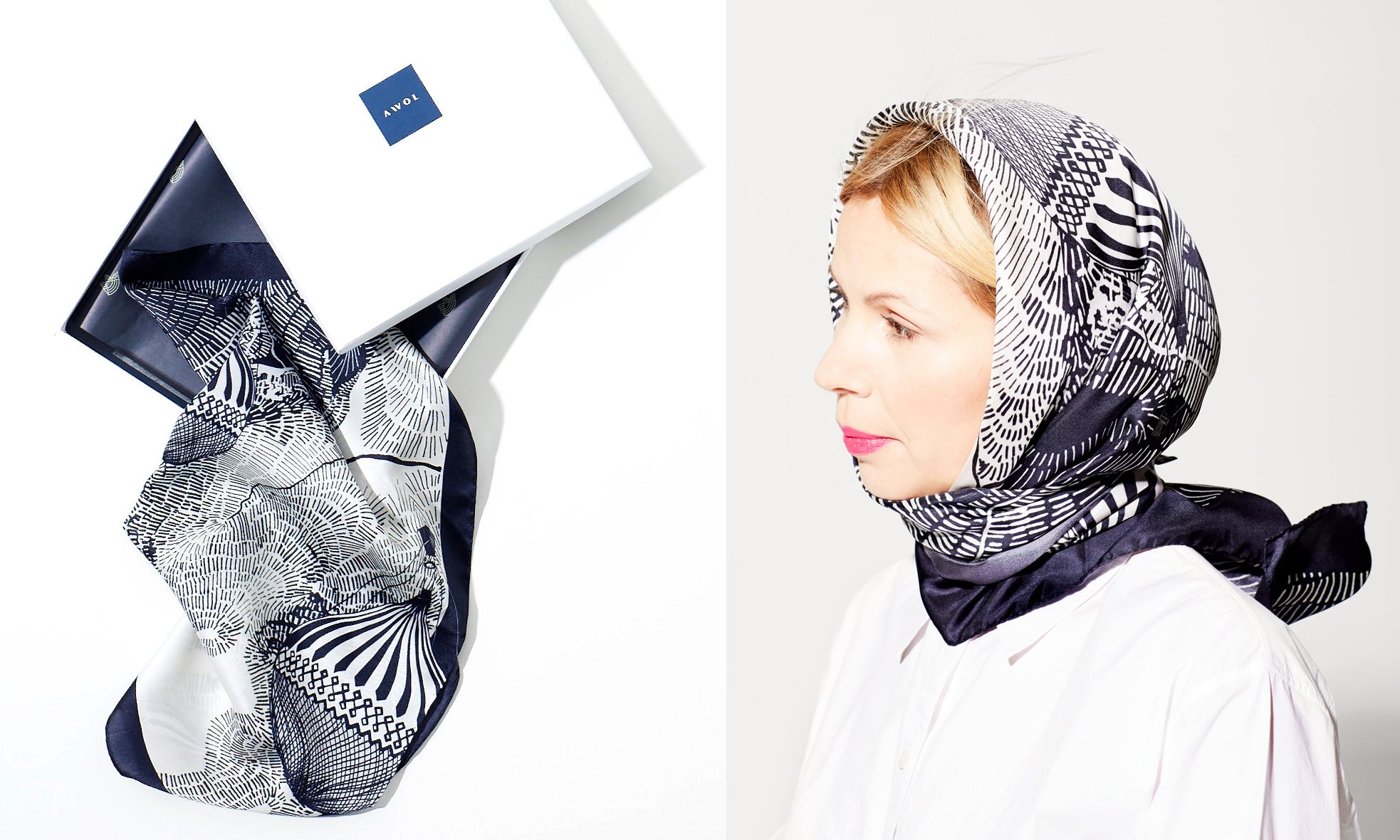 "My vision is to create things that people love and love to share – to make meaningful objects that forge an emotional connection and avoid waste. The fashion industry is the second highest polluter of the planet. How amazing to create fashionable art that minimizes waste and has personal meaning; To marry soulful creativity with a socially conscious business.

I wanted to connect with people who are curious and passionate about travel and creativity and who care about the planet. Some of my most memorable experiences and conversations happened with people I met while traveling. You learn so much about other cultures, the world, and yourself when you experience other places, and even more so when you share these experiences with others. Art is both a personal and connective experience. It is powerful because it creates emotional connections and bonds. I'm a creative person, and ever since I can remember, I have compulsively made things. It's a way of being and of experiencing the world.

If I can share even a fraction of the beauty I have experienced on my travels in a way that makes someone a little happier or makes them smile, well, that is what's important. And if that person then takes something I created along on their journeys and carries that story forward into their lives, that is spectacular. The ultimate vision is to live an inspired life and create things that inspire others, and put a little good back into the world. "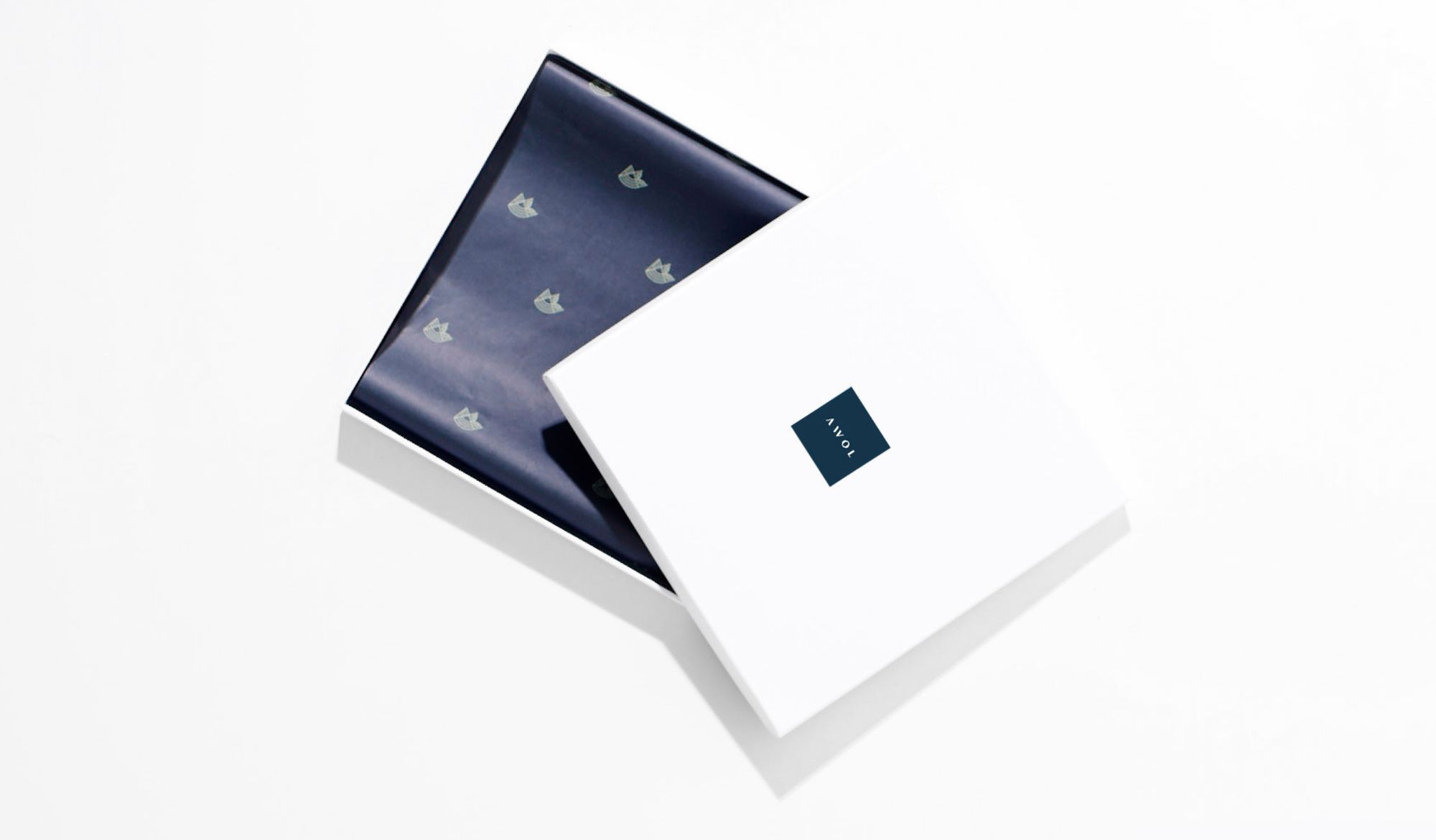 "As a creative, the production, business, and logistical aspects of starting and running a business were completely foreign to me. In my professional life, I put all my focus on the creative aspect of my work and have a team of people to do the rest.
When you are starting your own business, you are doing almost everything yourself, which ultimately includes things you are not good at and don't even necessarily like to do. This was the most difficult part for me, especially leading up to my launch – feeling out of control, uncertain, uncomfortable, and many times completely out of my element."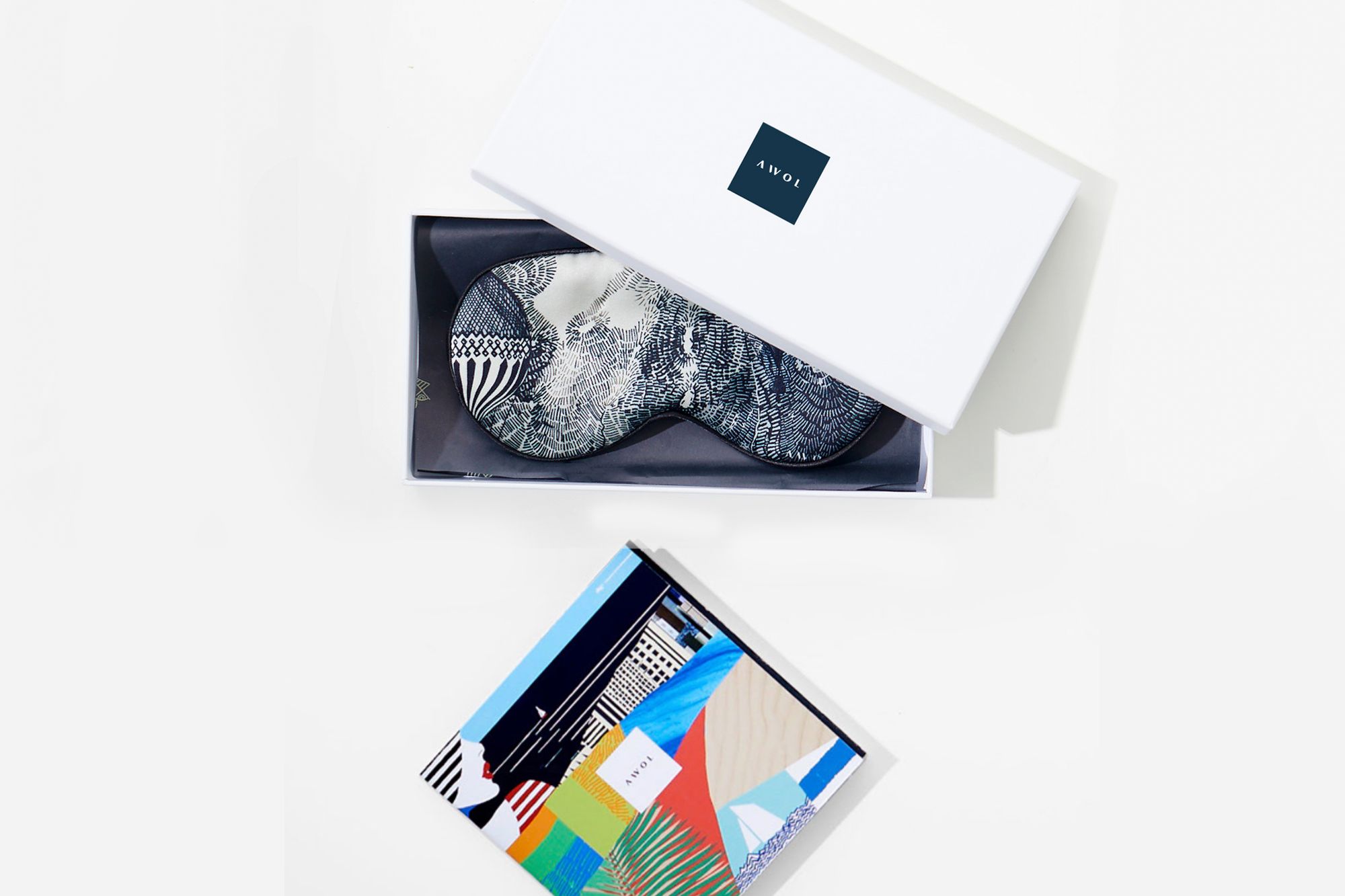 "I just went through it, one step at a time, and one point accepted that some days would be amazing and that others I would ask myself 'WTF am I doing?' I had to accept the fact that we can only really be great at a few things, but not everything. So I cherished the creative aspects that I loved and gritted my teeth through the parts I didn't love as much. I had a wonderful network of friends, colleagues, collaborators, and loved ones around me who I involved as much as I could in the project.
A mentor of mine told me early on that you can never do anything alone – so I was very open with everyone about what I was trying to do, and reached out to people when I had no idea what I was doing.

Starting your own business can be a very lonely experience, especially as you are building the vision. But once you are ready to start putting it out in the world, my advice would be to start sharing it with others. Involve as many people as you can, tell everyone you meet about your vision. Don't worry if it's not perfect, or close to perfect. Just reach out and put it out there. You'll be amazed at the wonderful people, ideas, and support that come back to you.."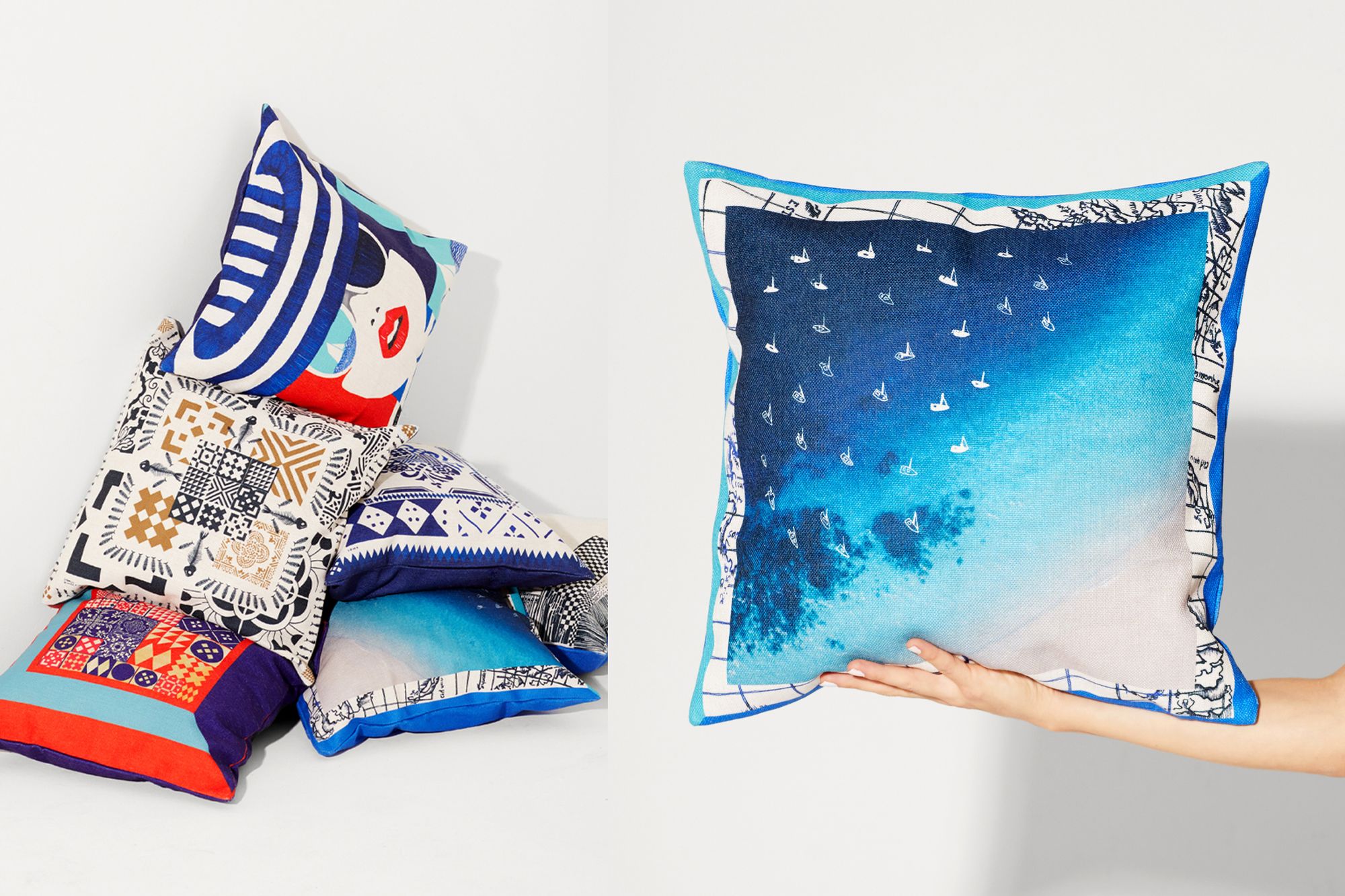 "Curiosity and discovery: places, experiences, people, artistic expression, cultures, and watching how the community of wonderful people who connect with my work grows and transforms into something that would not have existed had Awol not been put out into the world. The beauty of our planet is limitless, and so is our imagination. I jump out of bed each morning excited to see how far and where this exploration will take me next.
It's important because we are all connected – to each other, the planet, past, and future. We cannot keep consuming and wasting at the rate we have been in the past 30-50 years. If through my business I can create beautiful things that people love, want to keep, use, and reuse for a long time while also opening up a dialogue about the places and planet we love, that means everything.
In the very beginning, I hired a sustainable consultant to find a sustainable silk supplier – I invested a relatively large budget into this process, but sadly it was not possible to find silk suppliers who were able to reproduce the artwork in a way that did not compromise my artistic vision, or stayed within a reasonable budget. So, I decided to use an artisanal manufacturer in Italy who applies eco-conscious practices instead, and I produce very small, limited edition batches for each collection, avoiding throwaways.
I designed my packaging so that there is minimal use of inks, color, and fancy printing techniques on the boxes, even though this is not the norm inaccessible luxury where the tendency leans towards fancy finishes like gold foil, hot-stamping, and embossing."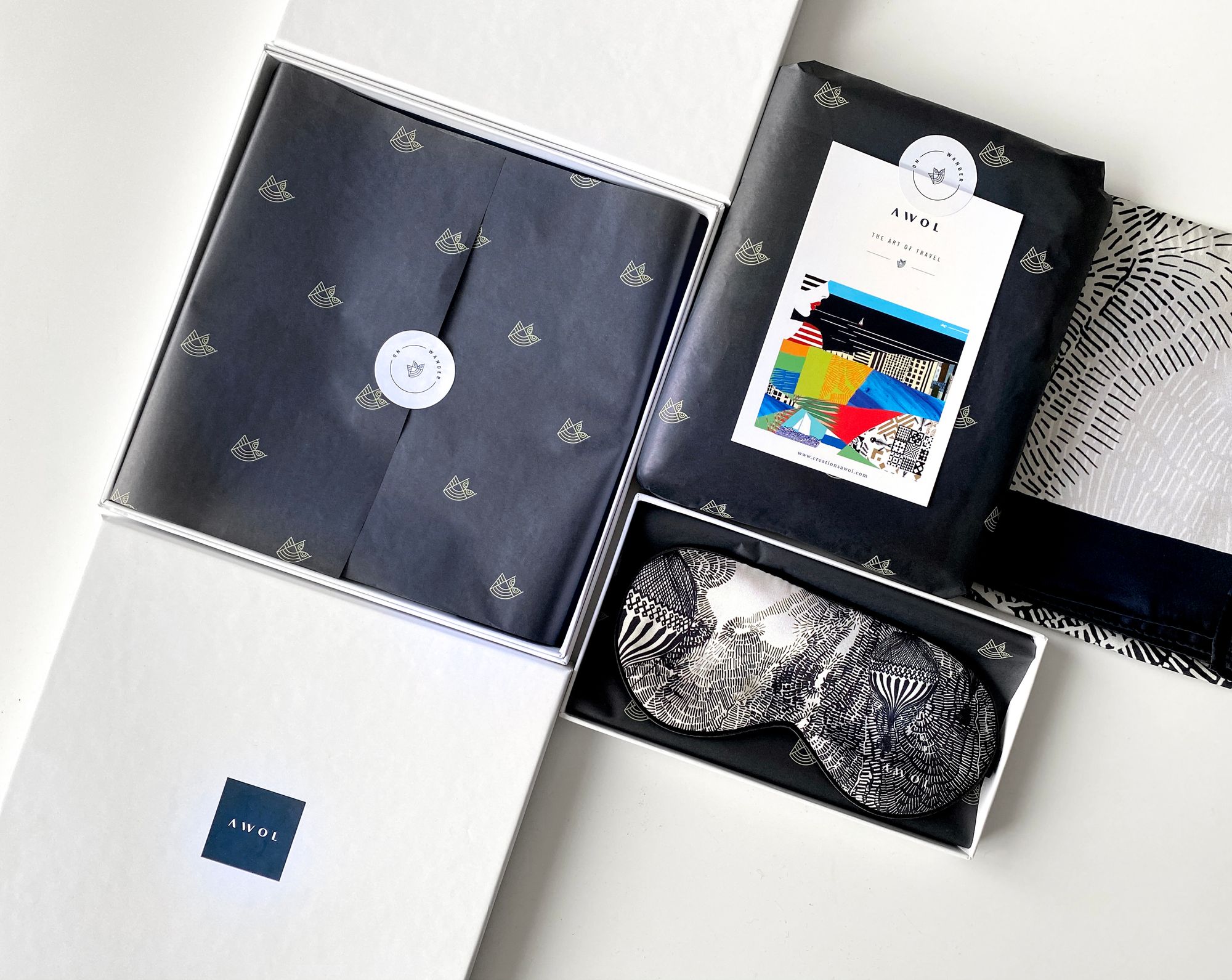 "I'm a brand designer, so I firmly believe that every brand should have and express its own story, vision, and purpose. Every touchpoint of that brand should reinforce or tell that story, including packaging.

Receiving and interacting with a package you receive is usually (especially for an e-commerce business) the first physical point of contact your customers have with your brand. So it should be a memorable experience of discovery and delight. Custom packaging was the only way to take people through this journey and involve them in our story."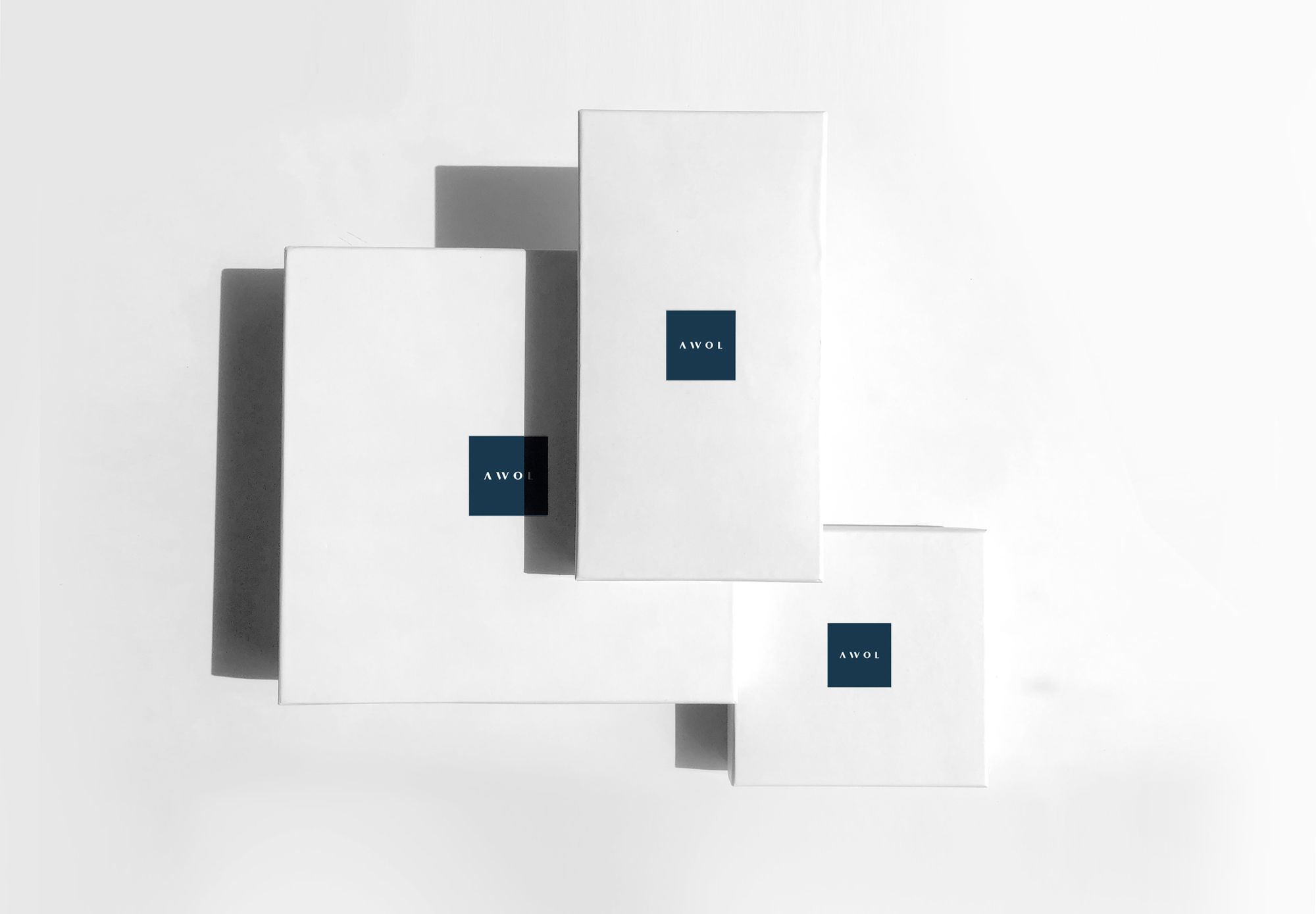 "I chose to work with noissue because they provide seamless, eco-friendly, customizable solutions for small businesses, which is not easy to find. Trust me, I looked! The design process was easy, enjoyable, and fun! I can see how it would be seamless and intuitive to use, even if I were not a designer. I also love the way they communicate – so authentic, clear, and approachable.
The other advantage was that they allow for small quantity orders – which is very helpful (and much appreciated!) when launching a new brand ☺"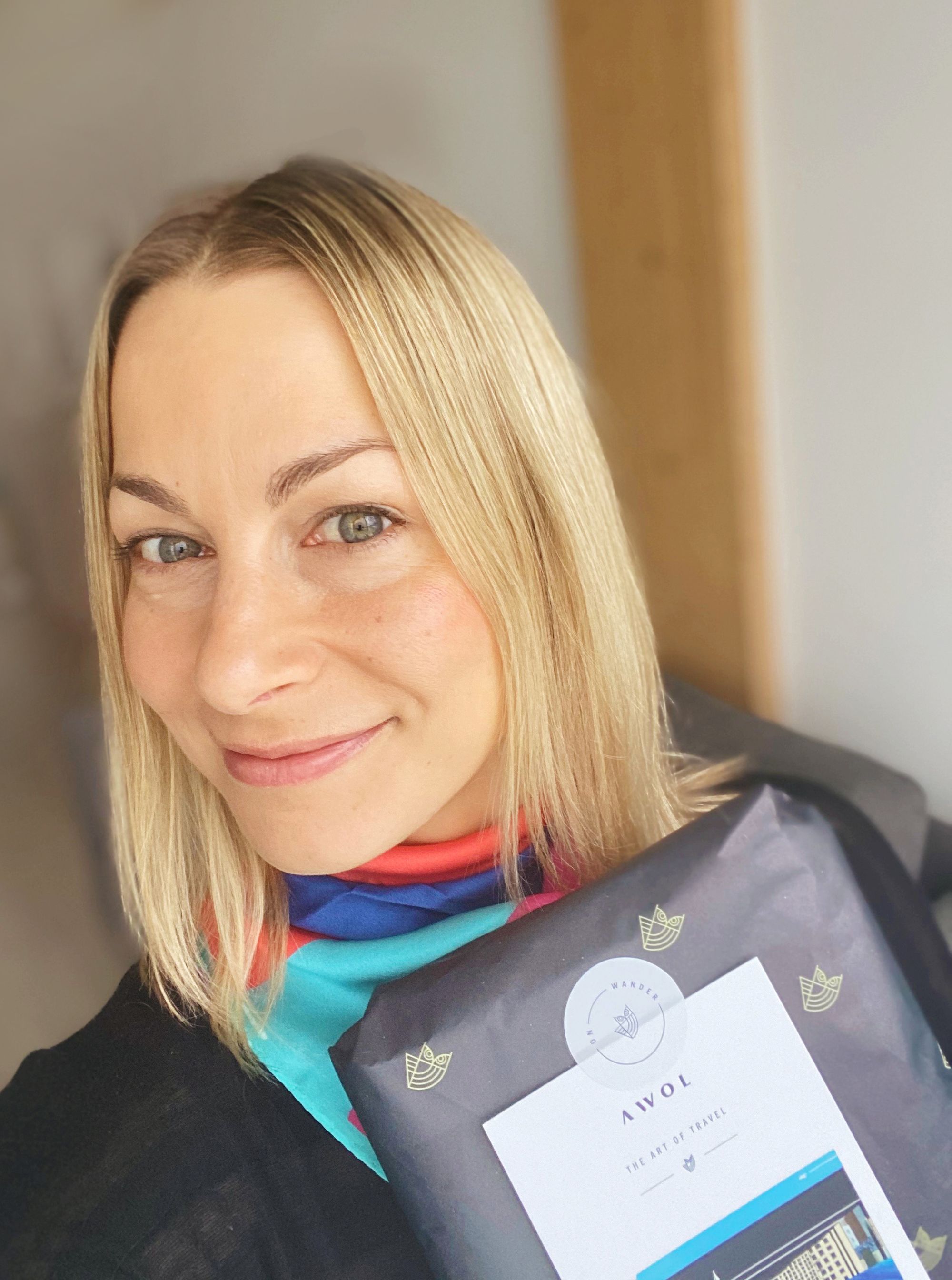 "I love that noissue plants trees for every purchase they receive. To me, this speaks directly to this idea of leading with purpose. My first question when I work with new clients to create their brand identity is 'WHY?' Why did you create this brand? What is your purpose? I'm shocked by how often this is an afterthought when it should be the catalyst. I feel that noissue has a very strong sense of their why, which I felt at every point of contact. Bravo!"
AWOL fun facts:

"If I were given one superpower that can help better the situation of the planet, I want it to be Command+Z. So that as an artist/brand/business I can use it to undo the last 70 years of waste and pollution. If my brand were an animal, it would be an owl because they love to explore unknown territories, are curious, and exemplify discovery. As the owl guides your steps, you are likely to develop an appreciation for life's magic, looking beyond the surface and allowing your curiosity to guide you through life."
---
Find more of AWOL here:
Website: www.creationsawol.com
Instagram: @awoltravelcreate