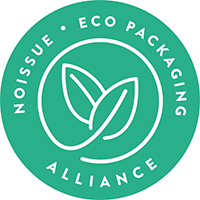 It's not easy finding the perfect clothes for your young ones, there are just so many things to consider like comfort, quality and even design. Of course, as parents, you would only want what's best for your children. Good thing for Ellen and Jess, the mother and daughter team behind children's clothing brand Bandicute, this isn't a worry they need to have!
Bandicute is a sustainable kids clothing brand that's based in Australia and was founded by Ellen, who is originally a printmaker, and Jess who is a designer. Together, they live, design and create, overlooking their stunning rural property in Gunning, NSW, which they share with their husbands, Jess' two daughters, and plenty of farm animals.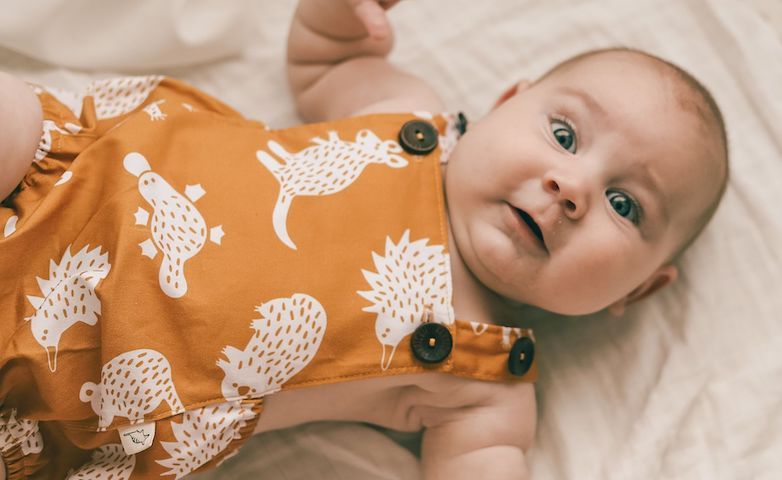 Bandicute started after Jess had her second daughter. It was difficult for them to find ethically made baby clothing sporting Australian animals with the modern aesthetic they were looking for to dress their kids. And with Ellen and Jess being both creative visionaries and surrounded by beautiful Australian wildlife, inspiration to finally scratch the creative itch they had became easy to acquire. They designed one-of-a-kind fabric prints and launched their best-selling collection called Little Aussies.
"Our mission is to help Australian families get more wear and joy from their baby and kids clothing, by creating fun prints that celebrate Australian life, and quality, functional, durable clothing for long lasting wear."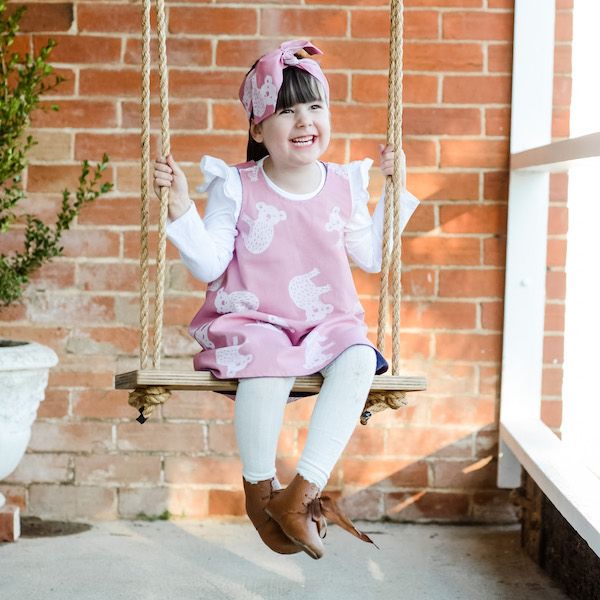 Bandicute has a deep love for Australian wildlife and the environment. Sustainability is considered with every step in the design and creation process and is a constant work in progress. To showcase how much sustainability means to the duo, they make it a point to only use natural fibres and design their garments for maximum wear time. For example, adding adjustable straps to baby rompers so they can be lengthened as baby grows, and making some garments reversible or with stretchy waistbands. They also keep fabric scraps and upcycle them into other products, like scrunchies, breast pads and little zip pouches.
And on top of all that effort, they also offer reusable gift wrapping options and use noissue tissue and stickers in their standard packaging. Presentation is just as important as sustainability for Ellen and Jess and using noissue gave them the ability to customise their packaging whilst helping the earth.
"Our customers often comment on how amazingly wrapped their orders are!"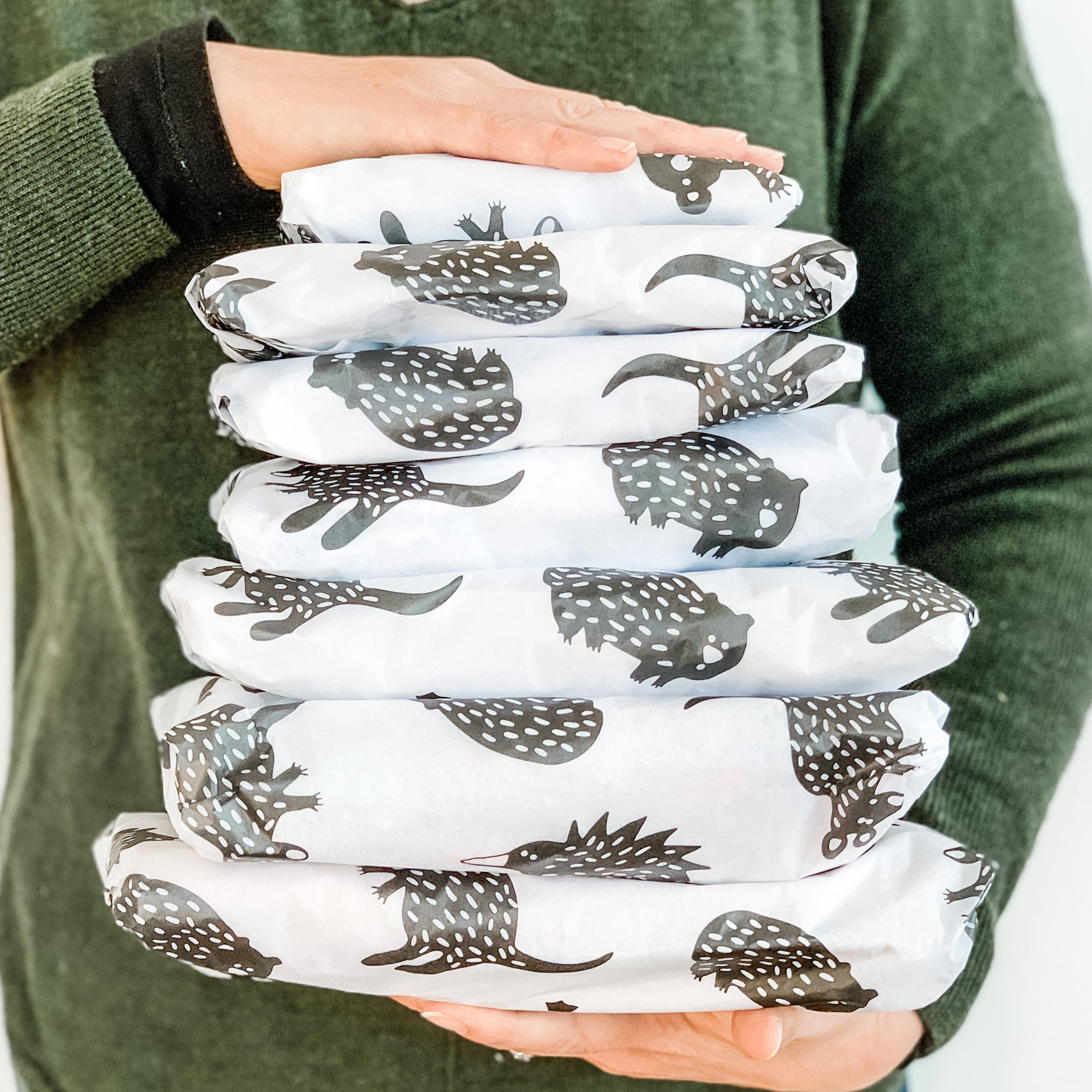 To further their commitment to helping save the planet, they decided to join noissue's eco-alliance. This is also so that they could proudly display the eco-alliance badge and demonstrate to their customers that they are making good choices to minimise their environmental impact, "Joining the eco-alliance aligns with our values and serves as a reminder to keeping thinking about what we can do to improve our sustainability practices."
As far as children's clothing brands go, it's no doubt that Bandicute is pretty unique. Especially since they create all of their fabric designs in house. These designs are like little collections of the stories from their life. They also specialise in block printed fabric that involves designing a motif, transferring it onto a rubber block, hand carving it into a stamp, and then stamping a pattern onto the fabric using special fabric inks. They choose this method for its creative potential, spontaneity and the versatility that it offers over other methods such as screen printing. They teach workshops on this printing method as well to share the creative skill, making them, not just an e-commerce business, but a creative business too!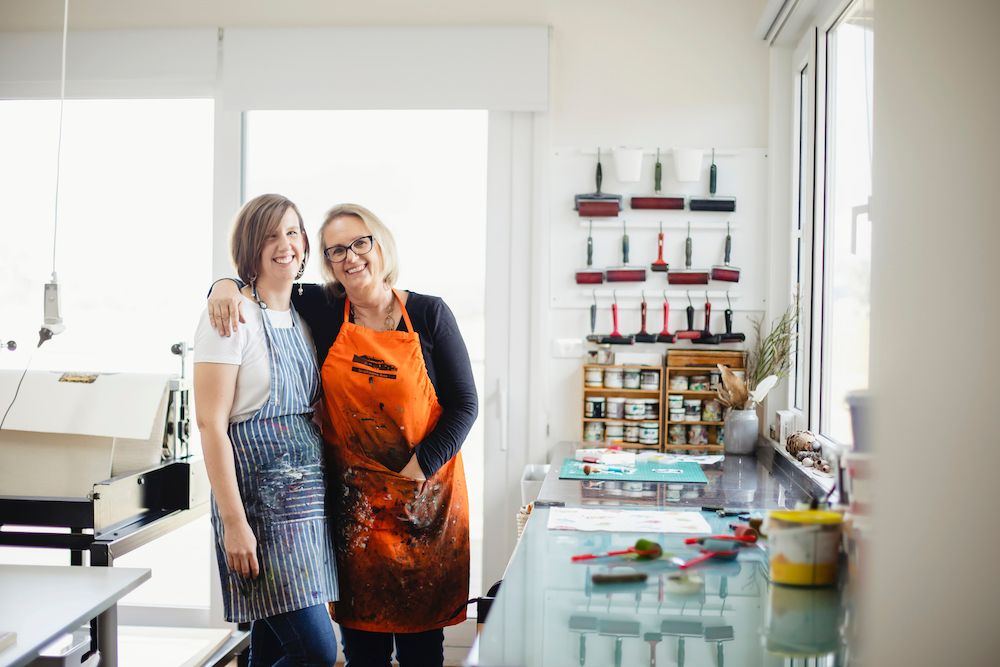 But despite the successes the family already has, growing Bandicute is no easy feat. Finding skilled seamstresses has been one of their biggest challenges. Once their business grew to a level they didn't have the capacity to sew everything themselves, they set about finding good, local seamstresses. It was through social media how they found their current seamstresses who happen to also be a mother and daughter team. They have been working with them for over 3 years. And since then, they've added more contract seamstresses to make their gift bags, bibs, burp cloths, and tea towels.
"It was very important to us to keep our products Australian made so off-shore manufacturing was not an option."
There are many setbacks on the way but each time they pick themselves up and grow stronger. They have coped by learning from mistakes and through sheer determination.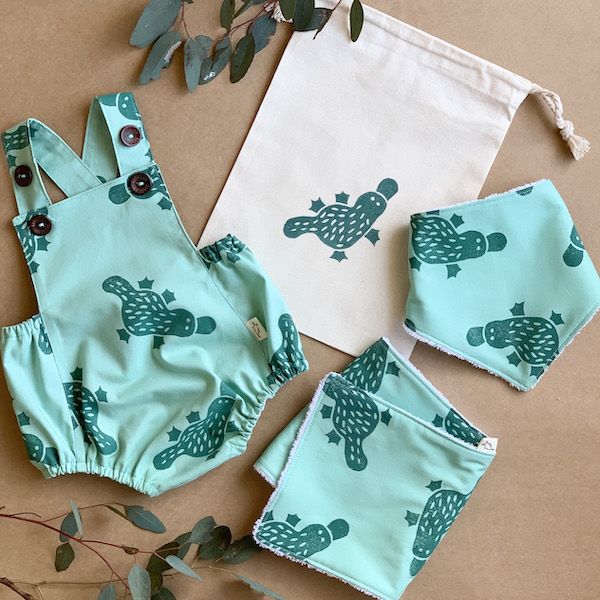 For those planning to start a business similar to Bandicute, the tandem's number 1 advice is to be different, "Don't just start a handmade business for the sake of making some money. It is a saturated market and you really need to consider who is going to use your products and why they would choose you over a competitor. Otherwise there is potential to create a whole lot of waste and also dedicate a lot of time and energy only to see your business fail."
You know this advice did Ellen and Jess good as one of their customers contacted them to say that the recipient of the Bandicute gift bundle they ordered actually cried when they opened it! "I think that's when we knew we were onto a winner."
A family-owned business that values the children, wildlife and the environment? That's a brand we can definitely support!
---
Find more of Bandicute here:‌‌‌‌‌
‌‌‌‌‌‌‌‌
Website: bandicute.com.au
‌Instagram: @bandicute_australia
Like this story? Tell us yours! Share your brand story and love for your custom packaging and get a chance to be featured on the wrap! If you're a noissue customer and are interested, you can join the Eco-Alliance by clicking here and answering a few questions here.
Questions? Email us at ecoalliance@noissue.co