"Hi, it's your pal Emily Small, illustrator based out of Portland, Oregon! My work focuses on themes of comfort, color-play, and serendipitous moments, shown through unpretentious yet bold line-work. I mostly work with small businesses to create happy visuals, but when I'm not illustrating for others, I sell my personal art under the moniker Beetle Ink Co."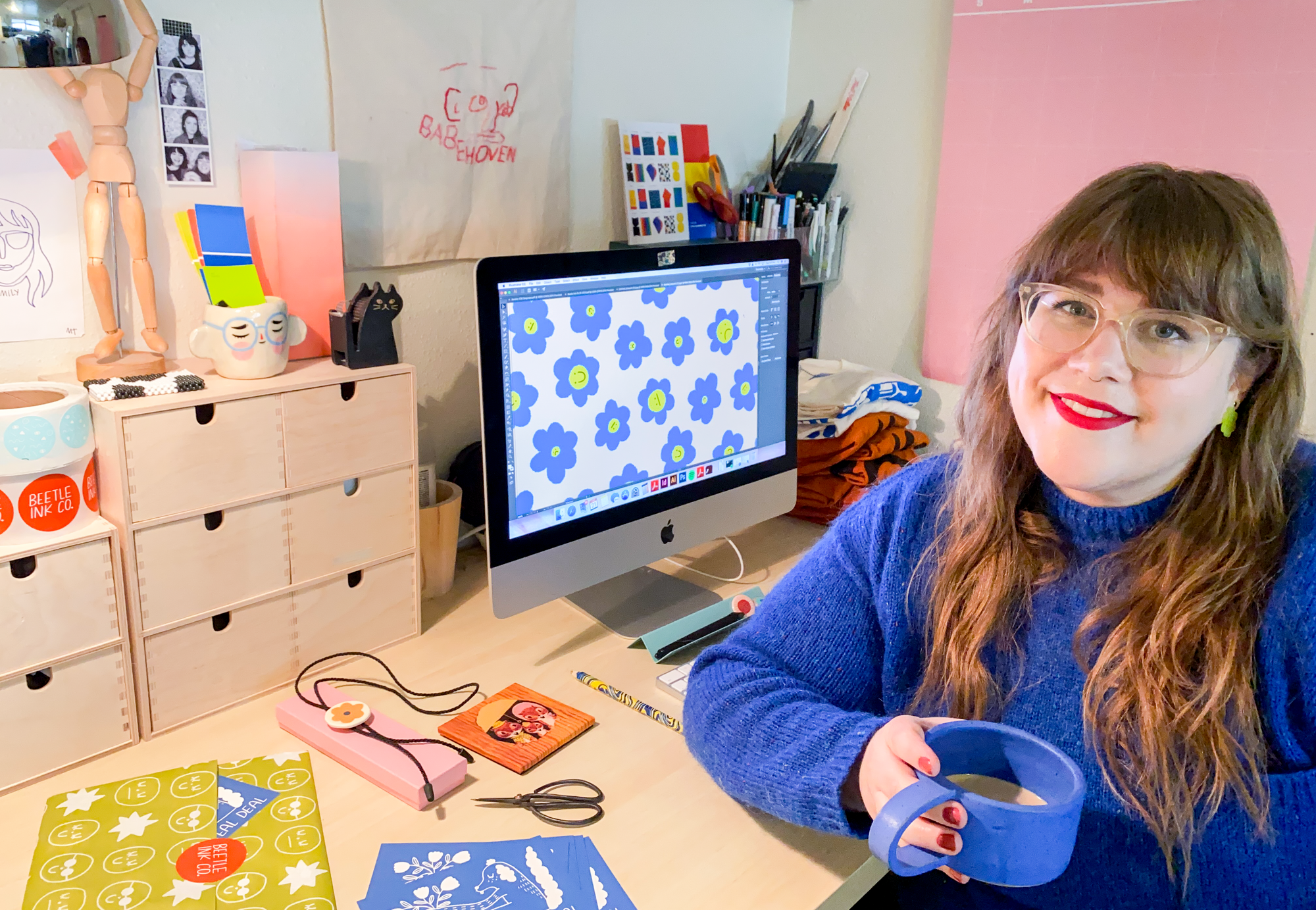 "Hailing from the frigid coast of New Hampshire, I found home in the mossy Pacific Northwest in 2013, after earning my BFA in animation in Boston. This solo cross-country move forced me to slow down, like seriously slow down. As I was finding my footing (and looking for work), I was introduced to my partner's family printing business. I was hooked after printing my first postcard and printed literally everything that I drew... My bedroom was filled with prints and cards and sheets of vinyl stickers which I desperately needed to find new homes for, so I opened up an Etsy shop! Hundreds of hand-cut stickers later, I became known as a sticker pack lady and decided to keep the momentum rolling. After years of trial and error, re-branding, quitting jobs and trying to pursue freelancing, wholesale orders, product launches, successful craft shows, happy clients, and piles of prints, I can confidently say a career as a professional illustrator and small business owner is what I'm made for."

"My business and personal ethos focuses on transparency, making sure not to take my work too seriously, and relating to my peers - a mixed bag of casual, silly, colorful, confident, and real humans! I want to create art that connects with people from all backgrounds and makes them feel like they're a part of a community (and maybe makes them giggle a little)."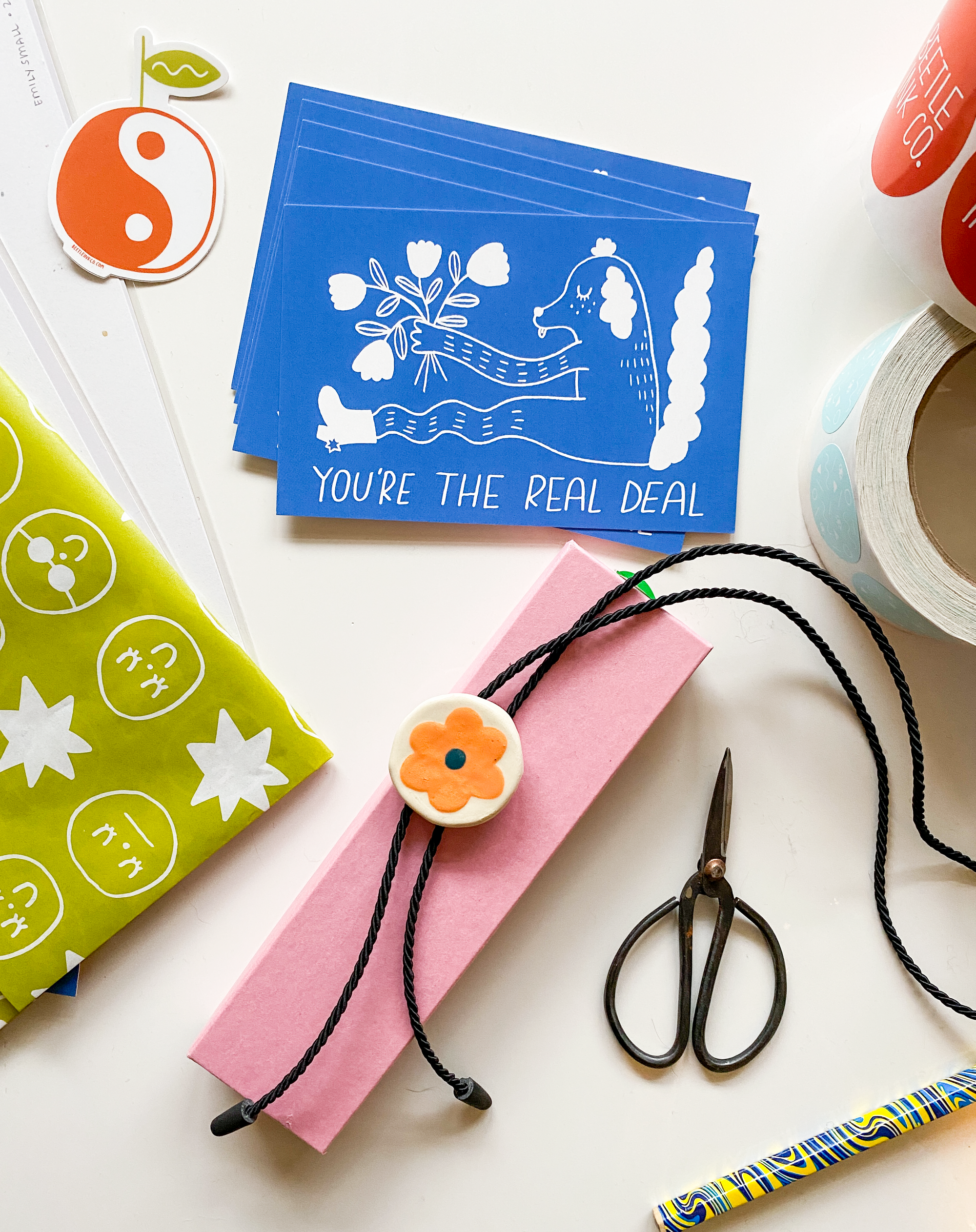 "One of the biggest challenges I'm still working on is cultivating the mindset of 'quality over quantity'. As an artist who is very active on social media, it difficult not to compare myself to others in my field. I'm consistently seeing my peers pump out loads of work, with new product launches every other month, and the pressure to keep up can be overwhelming. In order to keep myself sane, I've decided that I'd rather focus on creating one (or a few) super high quality project over time - one that I know I'll feel proud of and that people will connect with. Which means that all of my products are made with durable materials and are limited edition!"

"I'm committed to working with local, ethical, and eco-friendly companies to help me create my products and packaging! It's important for me to work with folks that try to minimize their footprint by using recycled paper and compostable plastic sleeves. Since I'm obsessed with paper, it was easy for me to make simple changes in my material sourcing and packaging, making most of it recyclable! Wrapping my products with my custom-printed noissue tissue paper makes for a super cute package for my customers, and reduces the amount of supplies I use. I encourage all my customers to hang the tissue paper from their orders on a wall as a free print, or to reuse on a friend's gift! Though I'm not a perfect example of sustainability, I try and I think that's what counts."

"My pattern-making obsession took over when I was making my tissue design… I think I made around 6 different pattern iterations because I couldn't choose! Plus noissue makes it supremely easy to upload designs and adjust them before sending to print. I landed on this bold chartreuse green color because it compliments my simplistic illustration style, and drew silly little faces so I could use the tissue year-round without having any seasonality to my look!"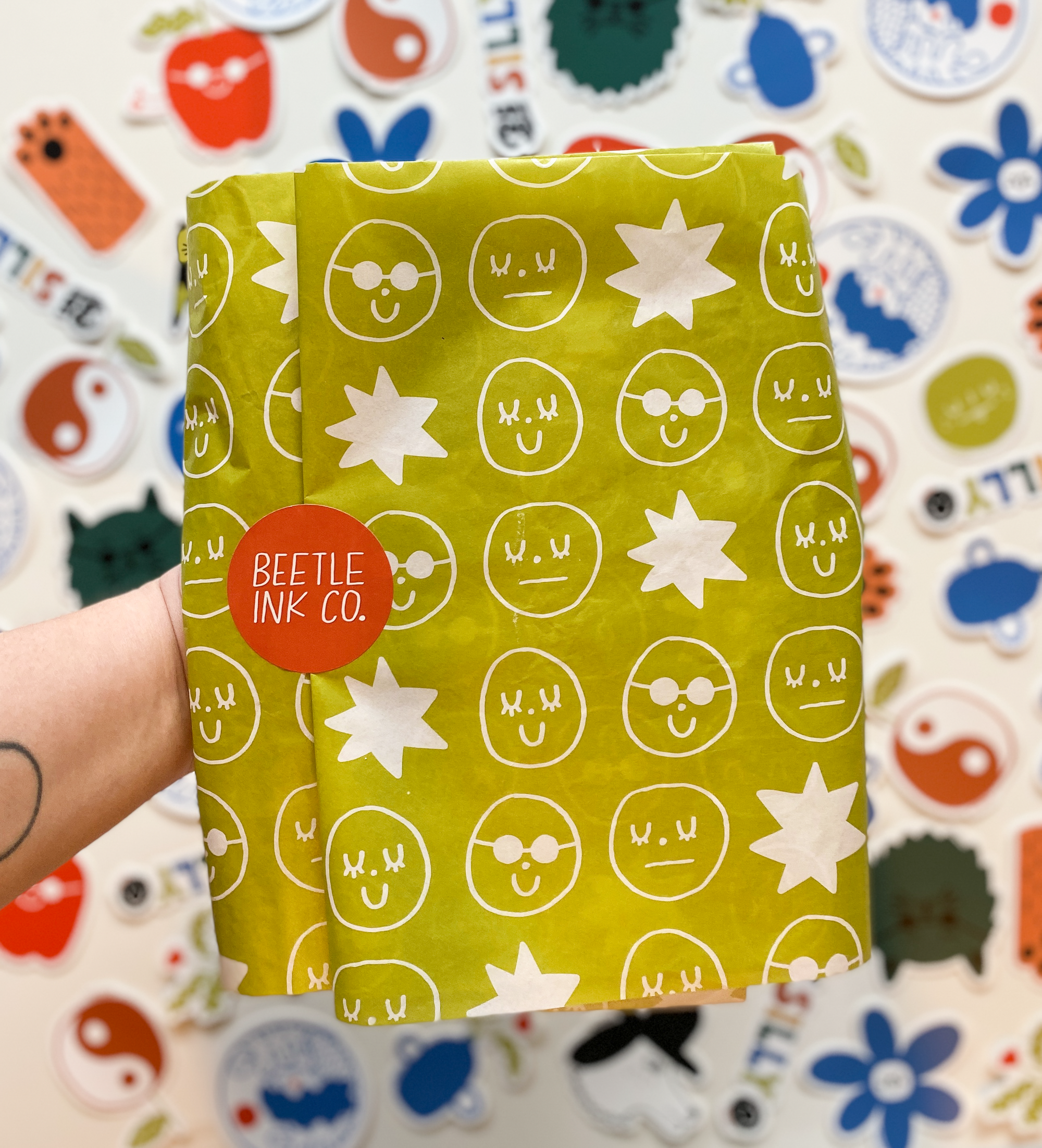 "Custom packaging is what distinguishes my brand from another! Making something cohesive and colorful totally sets the mood for my products and the ethos I want to put forward. I mean, who doesn't love a killer unboxing video? I'm always looking for ways to improve my packaging and make it the most fun it can be, while still remaining eco-friendly!"

"A few of my maker pals had worked with noissue to create their brand's packaging - the quality and color saturation blew me away! I knew instantly that I needed to make my own tissue paper and didn't hold back. This is the best my packaging has ever looked, so says my customers!"