To create a memorable customer experience in eCommerce, the rules are slightly different than in a brick and mortar setting.

Clicking 'purchase' on a computer screen doesn't usually have the same excitement as receiving the product in the flesh!

That's why the moment of delivery is the key to winning over your customers. That necessary delay between purchasing and receiving an order opens up a fantastic opportunity for your brand to make a lasting impression.

This matters more than ever before. According to Forbes, 60-80% of customers do not return to the same brands, even if the customer experience was satisfactory.

Today, we as consumers are spoiled for choice when it comes to brands; there are so many possibilities out there that it takes something truly exceptional for us to stay loyal.

For illustrator Jacqueline Colley, creating a fun and engaging unboxing experience is an important way of making her customers feel special. She tells us how she uses her custom tissue paper, custom stickers, and recently-acquired custom tape to delight her customers, one order at a time.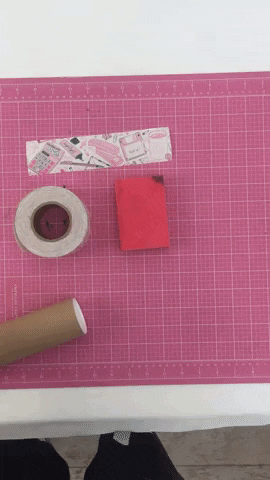 (In Jacqueline's own words):

"I started my business in a very un-planned way; I'd been working designing prints and patterns for the fashion industry for 6 years, and I got frustrated by the lack of creativity involved in my role. I decided to go freelance to try to carve out more creative opportunities for myself."

"That was over 4 years ago, and at some point, I was still frustrated. I wasn't getting the 'dream' commissions that I was after, so I just started making the prints and patterns that I thought were missing from the world! The vision now is to keep on making patterns that surprise my customers and clients; I love hiding little details in designs that you can only find if you carefully explore them! It's important to me that there is design out there that pushes the medium of pattern away from the generic and expected and into the playful and esoteric."

"I like to think that there is a touch of 'Where's Wally' about my patterns; I love the detail and creating prints that you can explore with your eyes! I get inspired by my surroundings, so I like to travel and visit museums and flea markets, collecting objects that interest me and vintage printed ephemera. I'm lucky in that sense that my brand is about me and my taste."

"I often have a gut feeling about an idea; if I like it and want to pursue it, then it will keep popping into my head until I start working on it. I really listen to those instinctive feelings, as it's when I've worked against them that things tend to go wrong! I also know that colour and pattern are the cornerstones of my work, so I make sure to investigate interesting colour combinations and to always take an idea into a surface pattern outcome."

"Washi taped to my computer is a reminder "Do as much personal work as you can." I know that my personal work and brand is what leads to interesting illustration commissions, so I'm always jotting down pattern ideas or working on illustrations in my sketchbook!"

Jacqueline's passion for patterns has translated beautifully to her custom packaging toolkit - but every business can benefit from bringing branded packaging into their order fulfillment.

Even if it's just a few swipes of custom printed tape on the exterior of a package, this immediately marks you out as a business with style and attitude! Unlike multinational brands, which often lack in personality, it's a great way to capitalize on your status as an independent retailer:

"As small businesses, we really have to stand out because we are competing against all the big retailers and their impressive price points. Custom packaging is where you can really get your personality across; this is not another generic online purchase, a real person designed and packaged this item with love! Custom packaging means you can be both professional and individual, and I love that!"

For Jacqueline, custom packaging was the key to creating an unboxing that her customers want to savor. Her custom tape and newly-refreshed mint green tissue paper are value-adding pieces of artwork in their own right that help to build recognition of her aesthetic:

"I wanted a unique custom tissue paper that would stand apart from the regular tissue designs out there, so I knew that noissue would help make that happen! With the new tissue paper, my packaging has reached a whole new level. I love posting my customers a package that will be exciting to open! Already they are telling me that they want to frame the tissue paper that wraps up their artworks. That feels like the best outcome I could have hoped for!"

"I am also a stationery LOVER, so my drawers are filled with patterned tapes of every type! I normally pop a little washi tape on a package to jazz it up and for extra security. But now I can use my very own custom tape, which is epic! I even remembered to put my name on it this time, which may not have happened with the tissue paper!"