Packaging waste is a massive global problem, but the biggest culprits aren't always obvious. We might not think of disposable coffee cups as packaging in the conventional sense, but they are still responsible for staggering amounts of waste.

In the UK alone, there are a shocking 2.5 billion coffee cups thrown away every year, with 99.75% of them going unrecycled. Why? Although they are made of paper, takeaway coffee cups are lined with plastic to make them waterproof. These cannot be processed by regular recycling centers, and so go directly to the landfill.

When ceramicist Carys Martin discovered the scope of this problem, she was driven to use her craft to find a solution. Her bespoke reusable coffee cups are completely handmade, and a fun and attractive way for all of us to do our bit to protect the environment. She tells us all about her passion for sustainability and great design: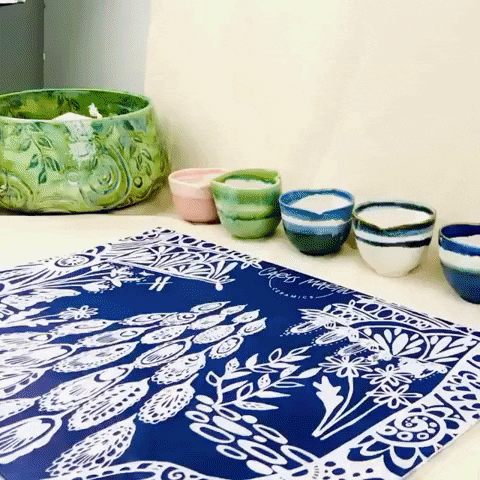 (In Carys' own words):
"I've always been very artistic and loved creating ceramic designs. I originally trained as a printmaker, and the business started from sharing a scrapbook on Instagram of all the designs I was putting together in my home. People started asking where they could buy my designs, and I realized I could give back to the environment and create a business at the same time doing what I love most - being in the studio and bringing ceramic pieces to life, and also helping the environment."

"This is why I designed my travel cup range. The daily wastage of takeaway coffee cups and the impact of the environment deeply upset me. I'm not one to sit back, so the travel cup range was created and I aligned myself with One Tree Planted, a company that gives back to reforestation projects across the globe and donates a tree with every travel cup purchased through my store."

As consumers, we quick to reach for whichever option costs us the least amount of time and energy. But in a world where convenience is king, our natural environment is one of the biggest casualties.

When plastic is set to outweigh fish in the ocean by 2050, promoting actionable steps that we can all adopt to reduce waste, such as using reusable coffee cups, is the key to turning the tide.

While reusable travel coffee cups are widely available, most are not designed with aesthetics in mind. For Carys, creating beautiful, unique pieces that consumers really want to use and cherish is central to changing our mindset about sustainability:

"We stand against the mass-produced, mindless throwaway mentality, believing that pieces should have meaning and soul and a story to tell. My pieces connect you to nature, the past and a time where relics and folklore were commonplace. This vision is extremely important to me, as I want to see a time and place where we slow down and take note of all the beauty around us, and give back to the wonders of this planet we are all living on."

"Our inspiration is drawn from the natural environment, ancient artifacts and cultures, along with the myriad of options for surface design and finish. I'm drawn to contrasts and moments in time where different cultures overlap. I grew up in a remote Cumbrian hamlet, where relics, stories and folklore were commonplace. You'll find raw clay surfaces contrasting with a shiny, smooth glaze finish or highly decorated surfaces alongside negative space."
As a brand with a sustainable outlook, Carys' commitment to the environment also extends to her packaging choices. Whilst she wanted to make the most of a valuable branding opportunity, it was also important that any custom packaging be totally eco-friendly to complement her reusable travel coffee cup initiative.

noissue tissue paper is acid-free, FSC-certified, and uses only soy-based inks for printing, making it the low-impact custom packaging choice for small businesses:

"My approach is very simple. Everything I produce must be made ethically with the environment in mind and give back to the earth, right down to the packaging. I also ensure that my logo always features somewhere in my designs and stick with the gorgeous blue tones to ensure a cohesive brand identity."
"Sustainability means everything to my business and is something that I am conscious of. Packaging especially was an internal dilemma between function and form versus reducing waste and not having packaging for the sake of it. It had to have a strong clear voice. Our packaging had to be sustainable whilst still creating a beautiful customer experience - respecting the hours that go into making each piece by presenting a magnificent sensation of art and ceramics for the soul. This is where finding noissue and la fin packaging was like fate to me."
"I choose noissue because of their ethics, values and focus on the environment and sustainability. The more I read about noissue, the more I knew it was a company I needed to work with. We shared the same values, and they allowed me to create the artwork for my tissue paper which was also very important to me. I now know that every piece I wrap in my handmade artwork is sent out with a little love!"