Lovebabycot was founded with a firm-focus on sustainability and quality products by a powerhouse mother and daughter team in Australia. After finding it difficult to source beautiful cots online when styling baby nurseries, Shona and Paris Gray took matters in their own hands and decided to establish their own company.
With their passion and shared vision for all things high quality, they curated an online collection of stunning and premium nursery items available for purchase with the convenience of delivery direct to your door. As their business began to take flight both Shona and Paris knew they needed to find an innovative designer who could create the perfect branding to represent lovebabycot. For this project, they collaborated with fellow Australia-based company, Studio 23.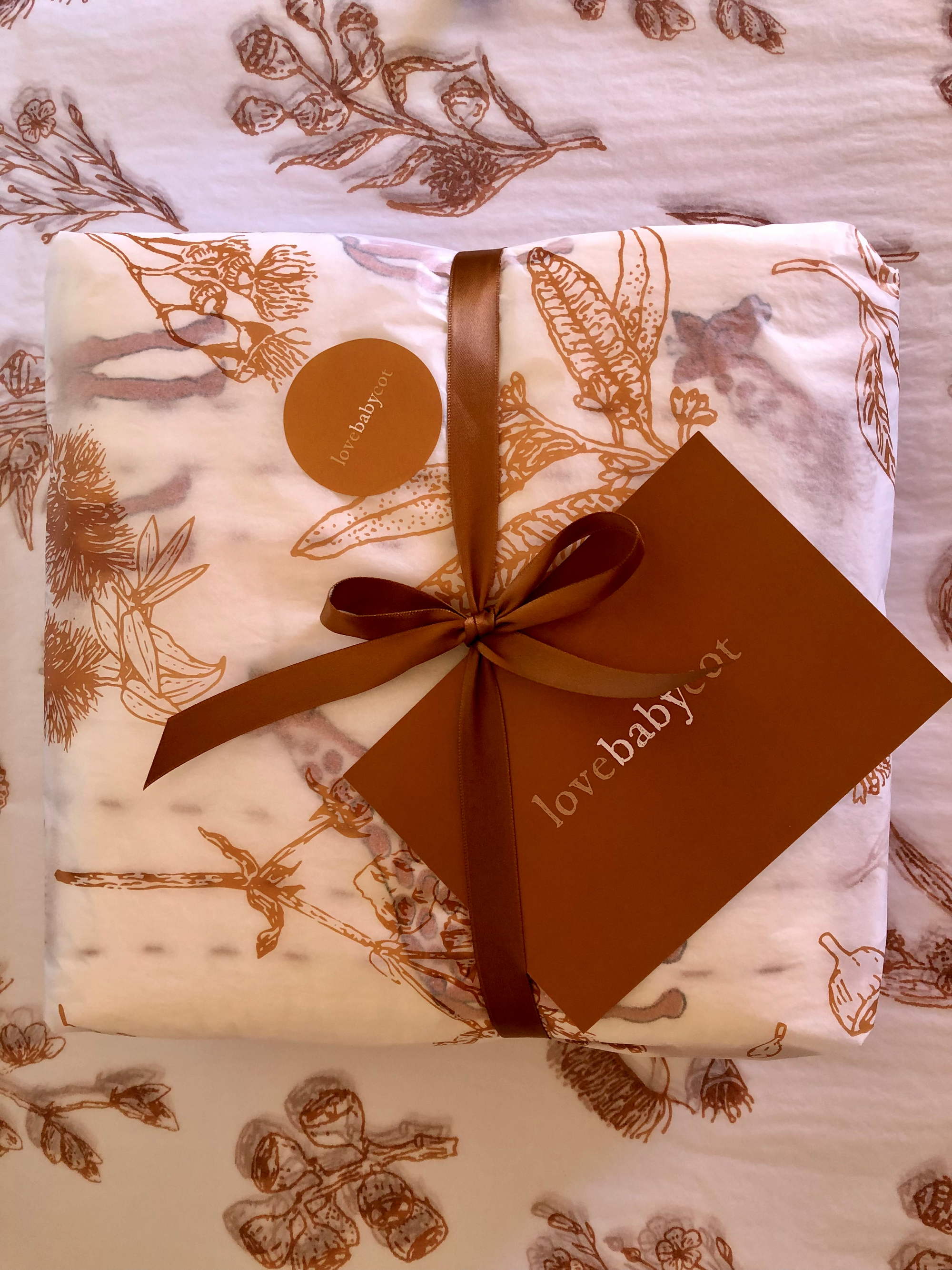 The Innovation and Style Behind the Brand:
Shona has spent over 20 years styling stunning interiors within the commercial and residential industry. Combined with her knowledge of trends and extensive network of proudly-owned Australian suppliers, together with her daughter Paris, their business evolved into an e-commerce store offering customers 100% authentic beautiful products they both love and use in their homes.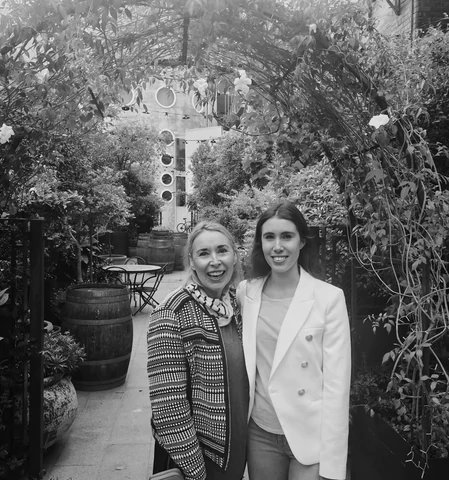 "Our passion for beautiful baby interiors stemmed from a background in interior design and style. Our inspirational collection of baby furniture, décor and bedding quickly became known for enhancing a baby's nursery room without compromising on style or comfort." – Shona and Paris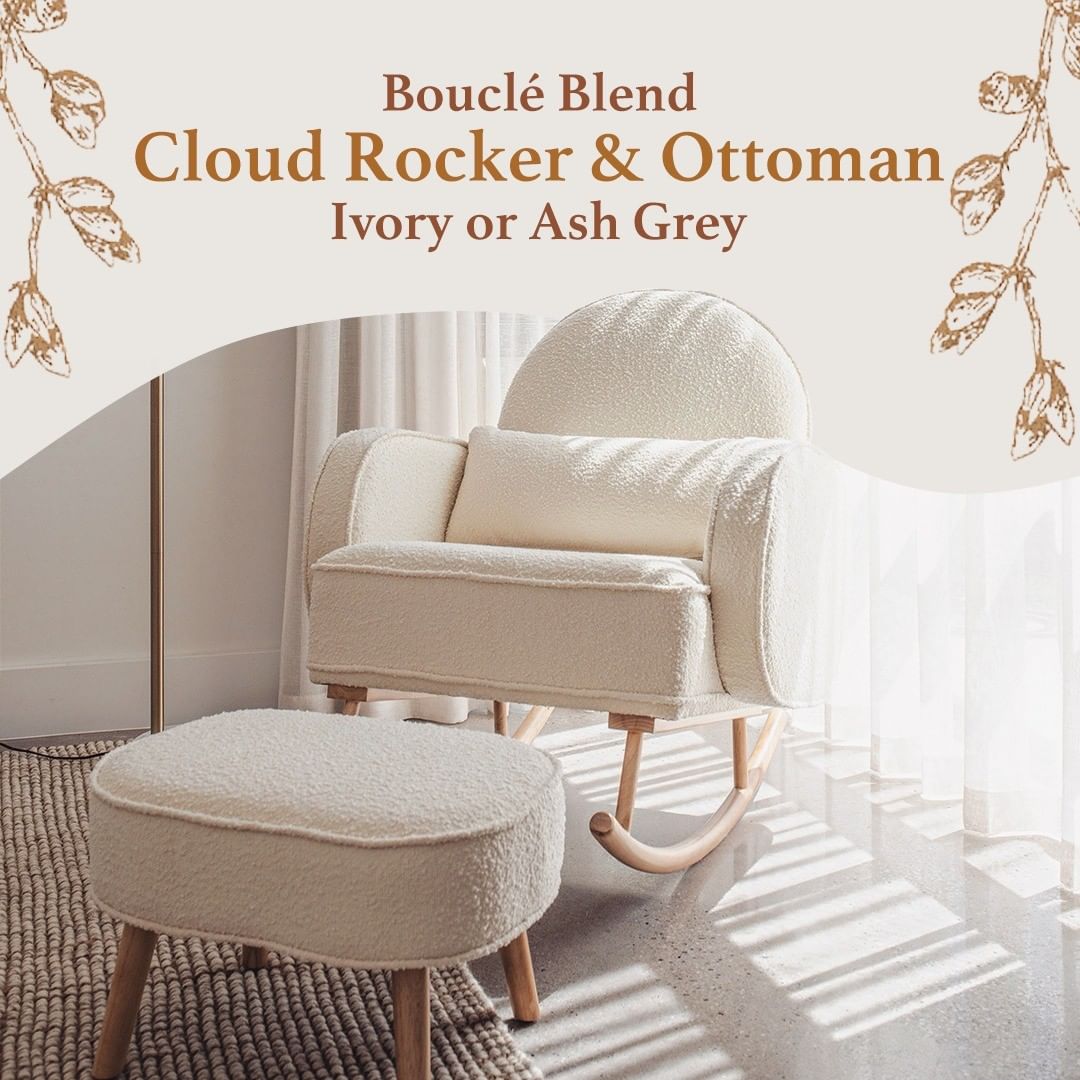 Lovebabycot strives to be one of the top leading online retailers of baby cots and premium nursery products in Australia, with a huge focus on innovation and style. Shona and Paris' inspirational collections, known for enhancing every nursery room, are quality, durable items that they absolutely love - ideal for all their customers' precious baby needs.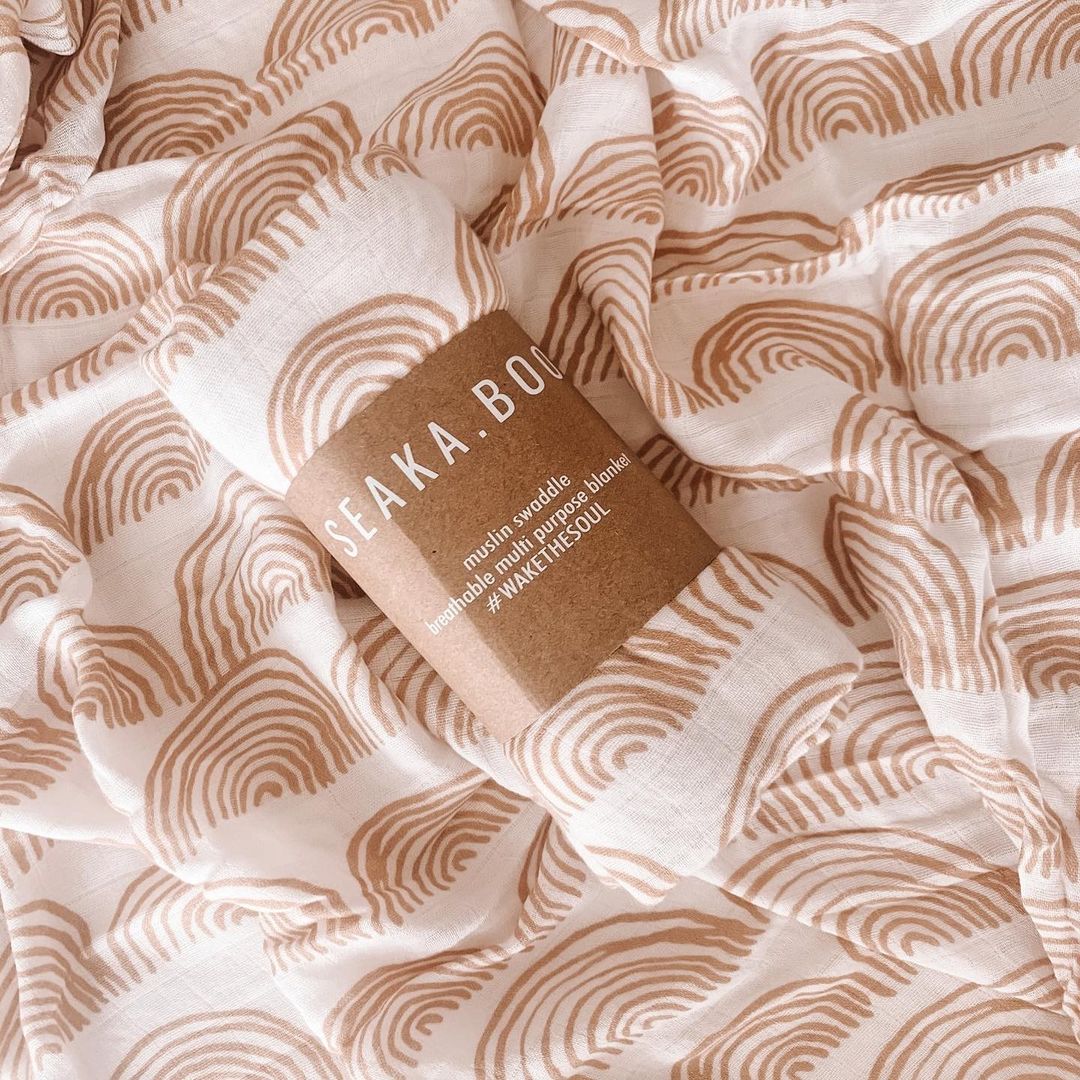 Shona and Paris knew that having stunning, quality projects isn't the whole picture and that they needed perfectly curated branding to add the polishing touch on their business. They were in search of an innovative creative that grasped the concept of lovebabycot's brand and captured the essence of their values and beliefs while establishing a solid presence in a competitive market. Luckily, Shona and Paris already had just the designer in mind for the job!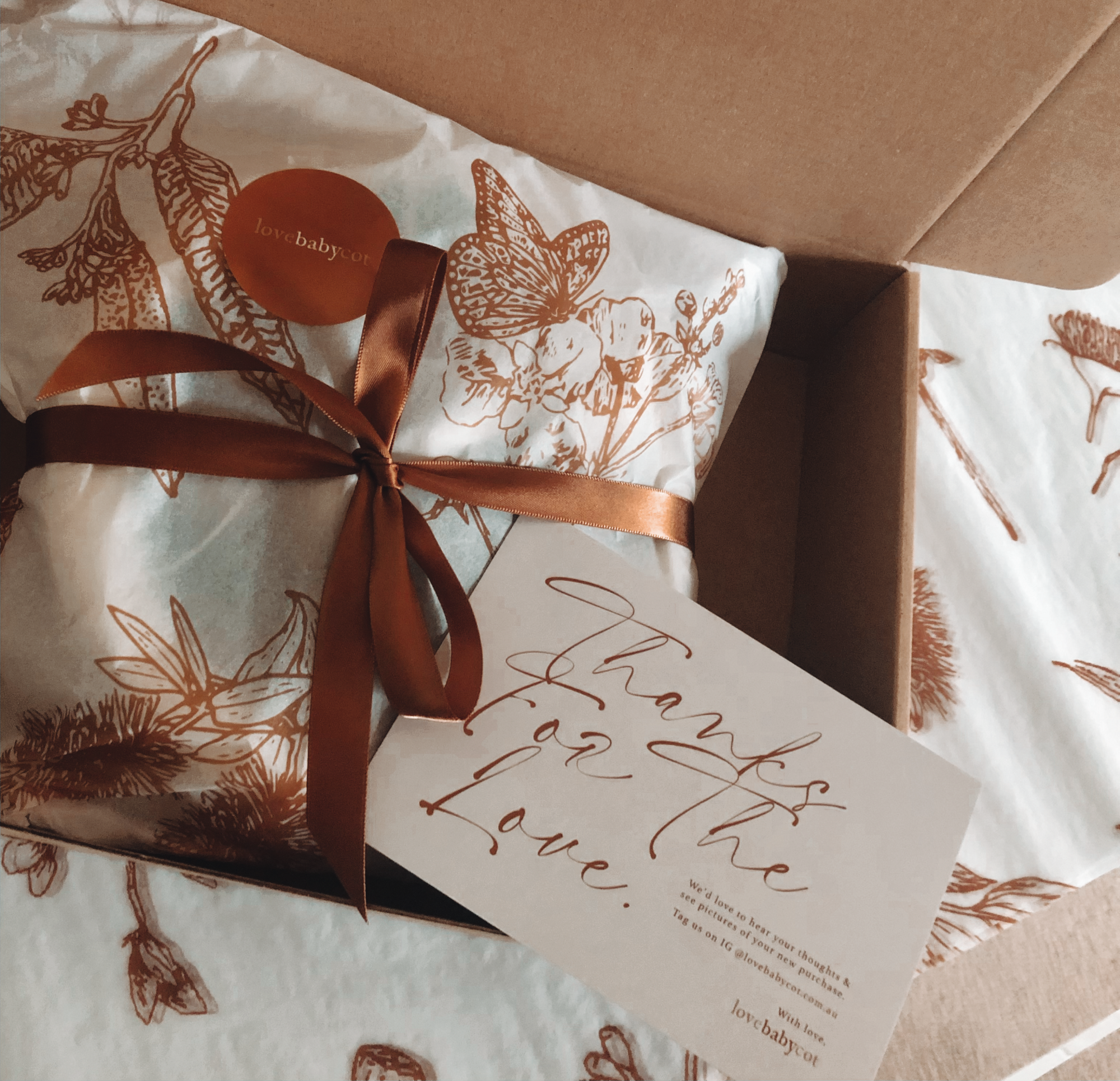 The Creative Mind Behind the Elegant and Strategic Designs:
Studio 23 is an Australia-based branding and design agency that shares their clients' story through beautiful, strategic designs. Where creativity meets strategy, they dive deep into their clients' brand story and business goals to help them build not just their dream brand, but their dream life. They produce strong brand identities to set their clients apart from their competitors.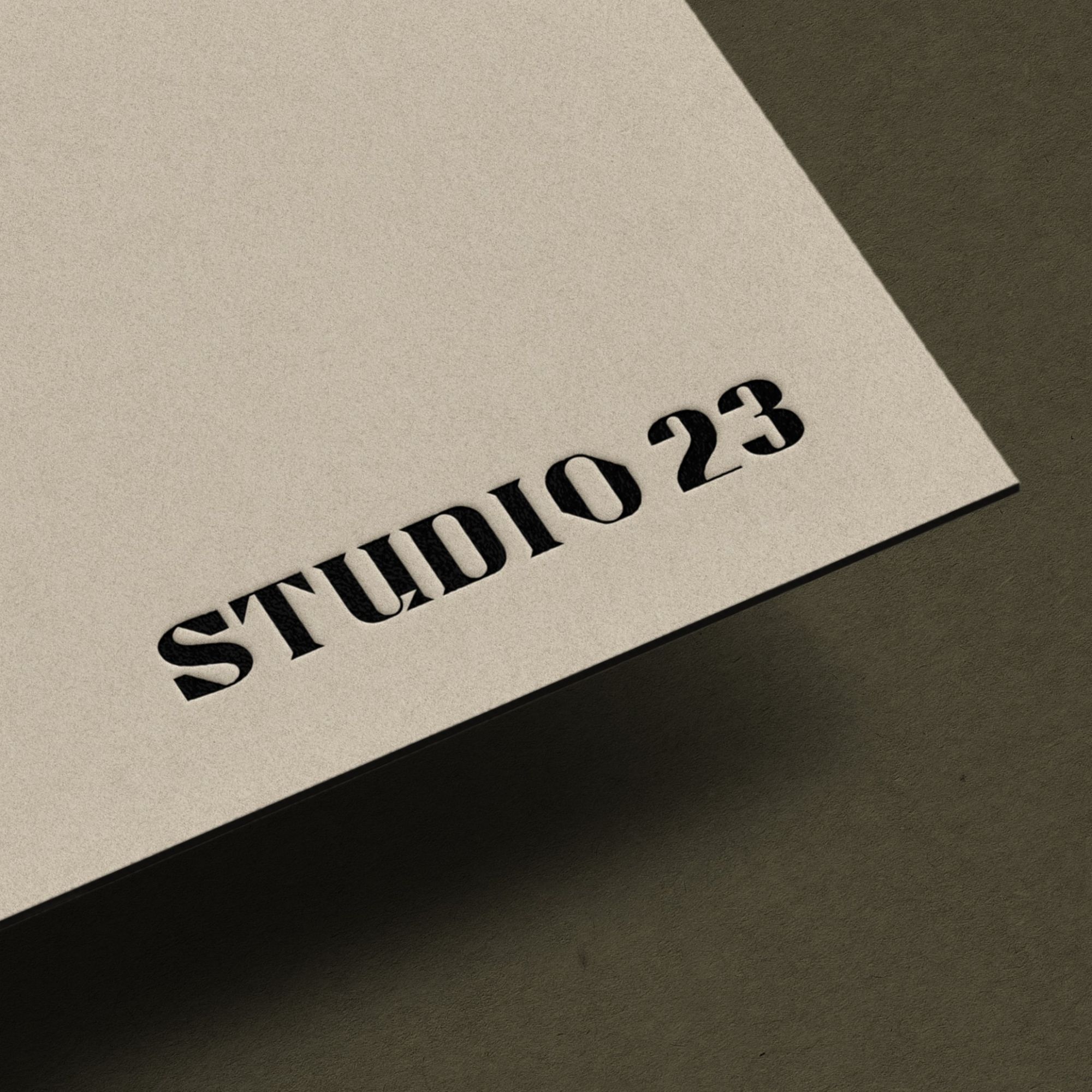 Kirraley Hardiman is the founder, lead designer, and illustrator at Studio 23, currently based in the small Australian town of Geelong. Throughout the years, she has had the pleasure of working remotely with clients in vast industries all around the world. Kirraley believes each client she's had the privilege of working with has their own unique and magical story which makes it so easy to get up every day to do what she does.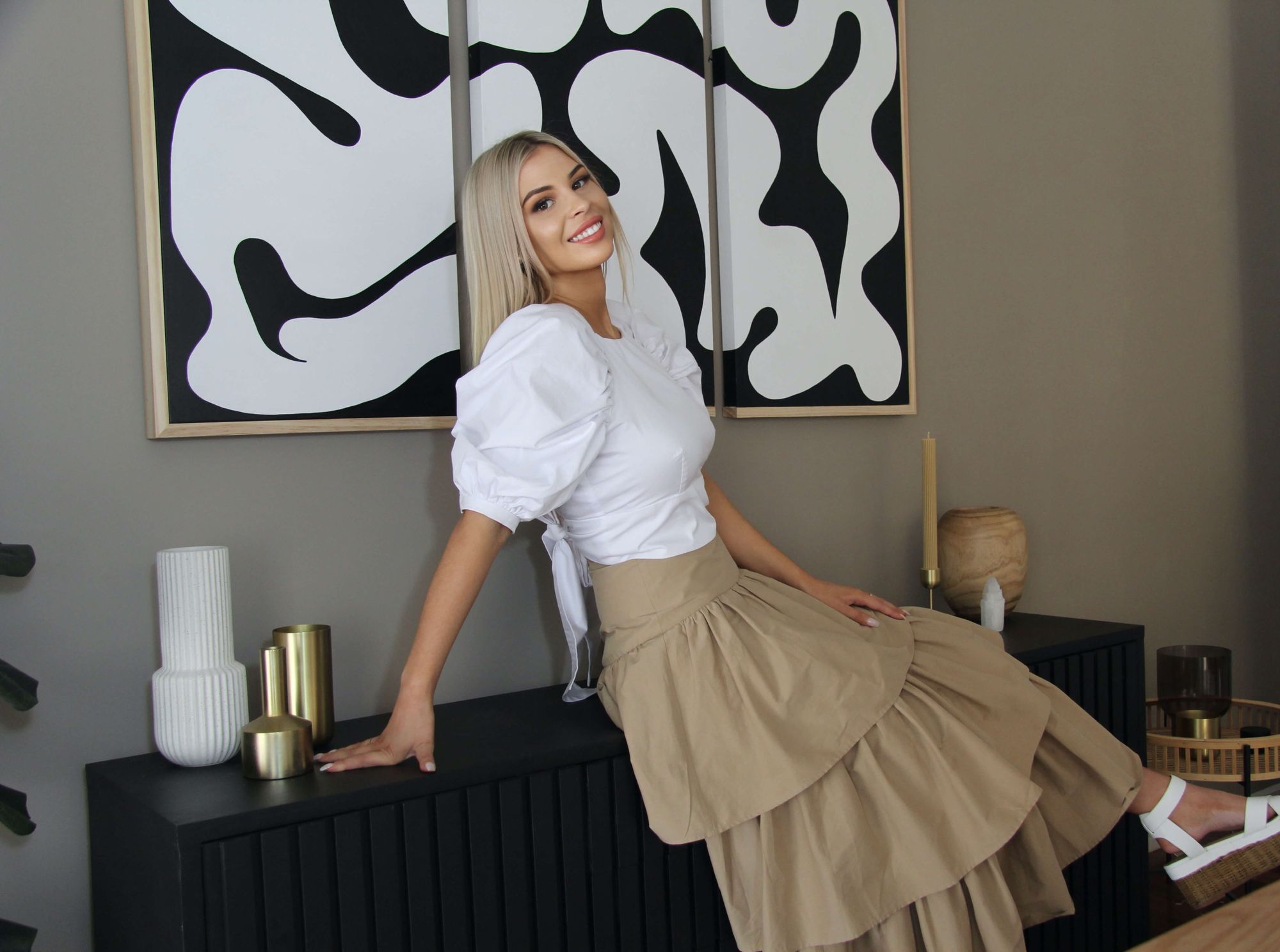 Kirraley is known for designing simple, elegant solutions, with big picture strategies that create memorable client experiences. Her creative approach is heavily guided by her illustrational and award winning artistic background and believes that it is the reason she is so meticulous with her design work today. Her ability to think big whilst also being detail oriented, is evident throughout her portfolio. Her illustrations are beautifully detailed and work together to reflect a brand's story and mission while eliciting emotions in potential customers. Encouraging brand loyalty and purchasing habits are part of Kirraley's design strategy.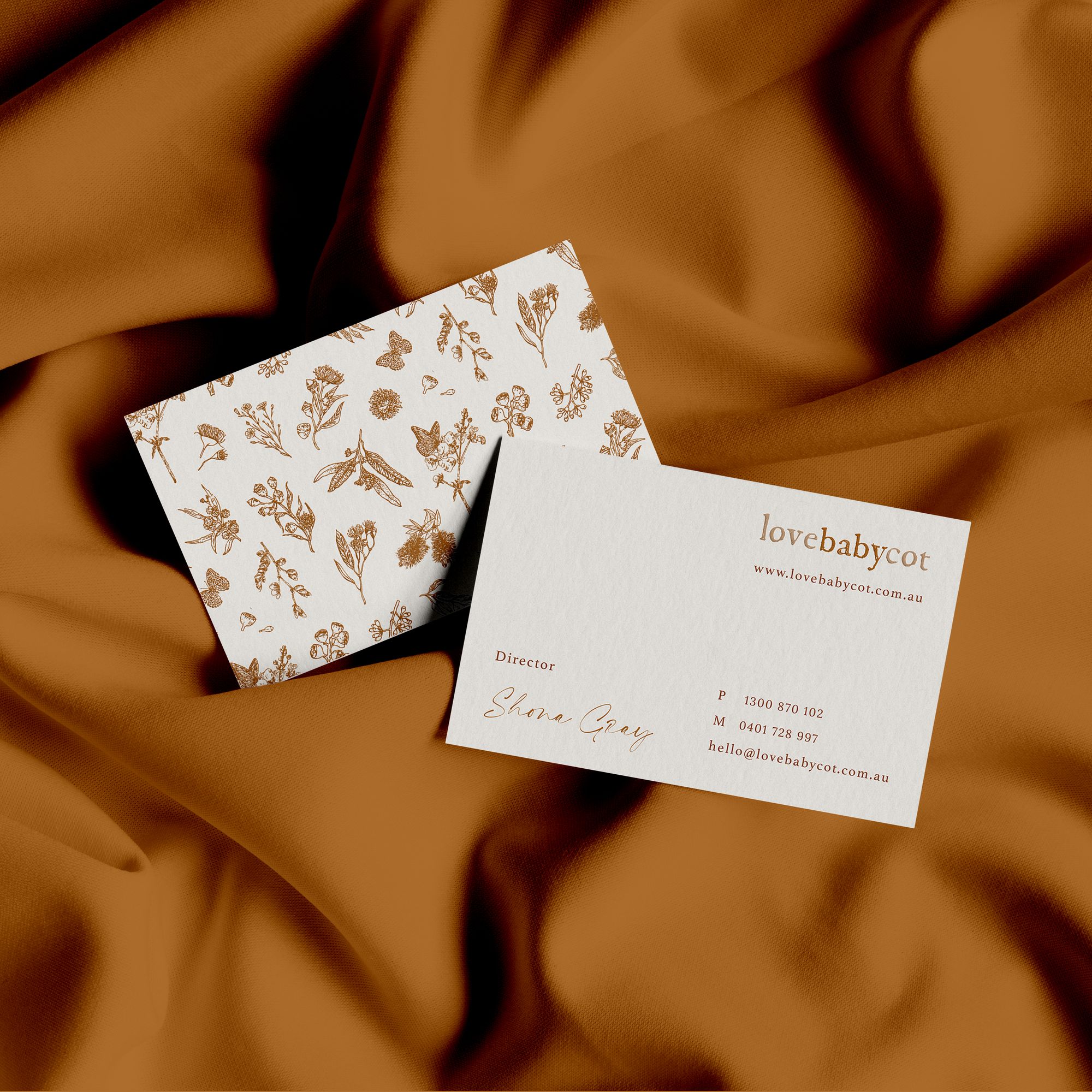 Shona and Paris shared that Kirraley of Studio 23 was a highly recommended creative who was on their 'must-have' list of people they wanted to work with then, now and in the future. They were in search of a designer that understood their vision and was able to express, through design, an attractive and modern interpretation of their brand in an elegant timeless manner. With these brand goals in mind, they knew Kirraley would be the ideal creative mind to tap!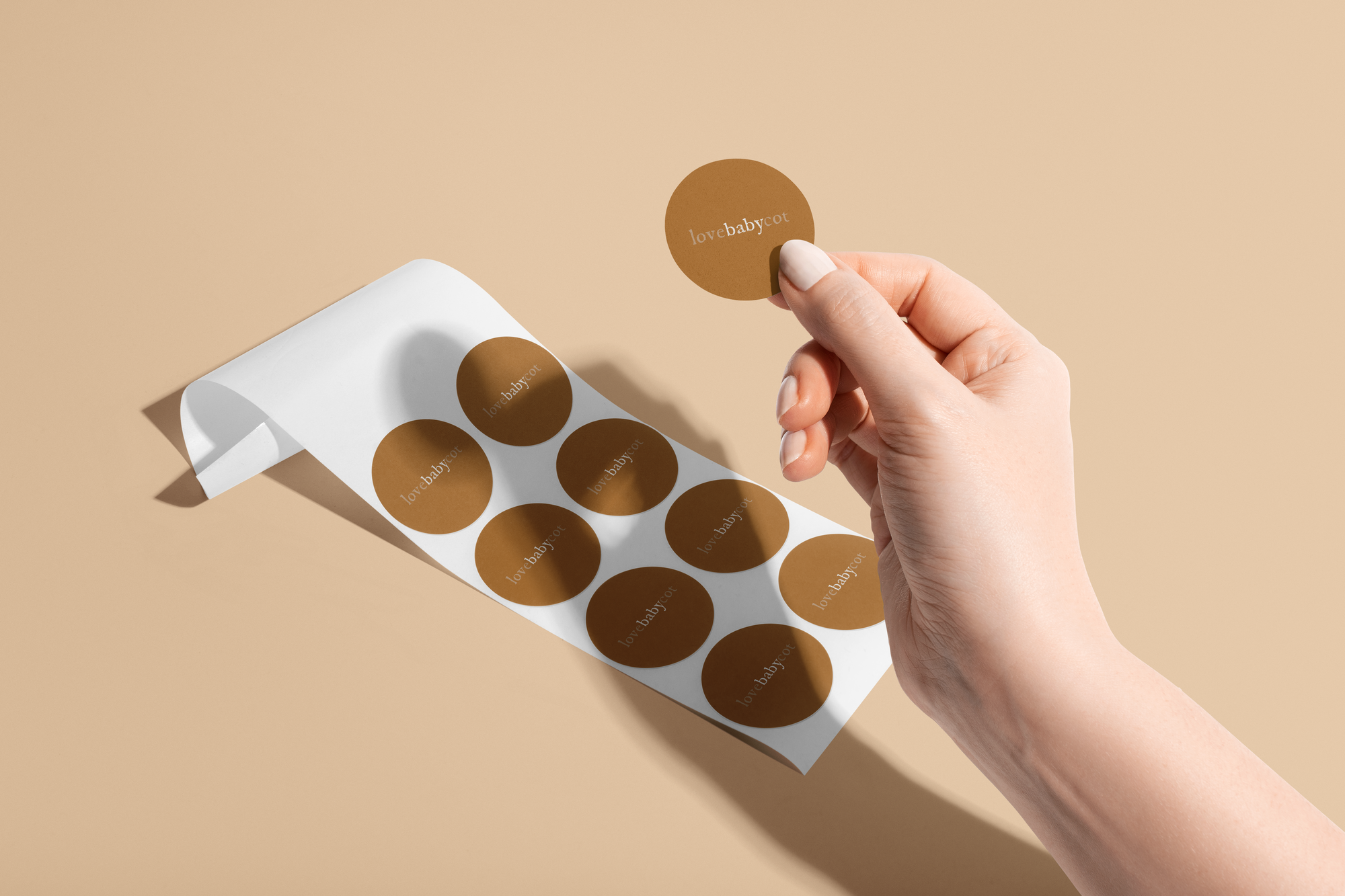 "Shona and Paris reached out online through my website. We connected over email, and I felt valued and appreciated for my talents so I was excited for the opportunity to work together. We discussed the brief and the design elements that were best catered towards a fresh, but personal brand presence. I felt the enthusiasm from Paris and Shona and I was excited to take on a project that was about locally made products, and they gave me the chance to use my illustration skills to evoke a personal, Australian feel for the brand." – Kirraley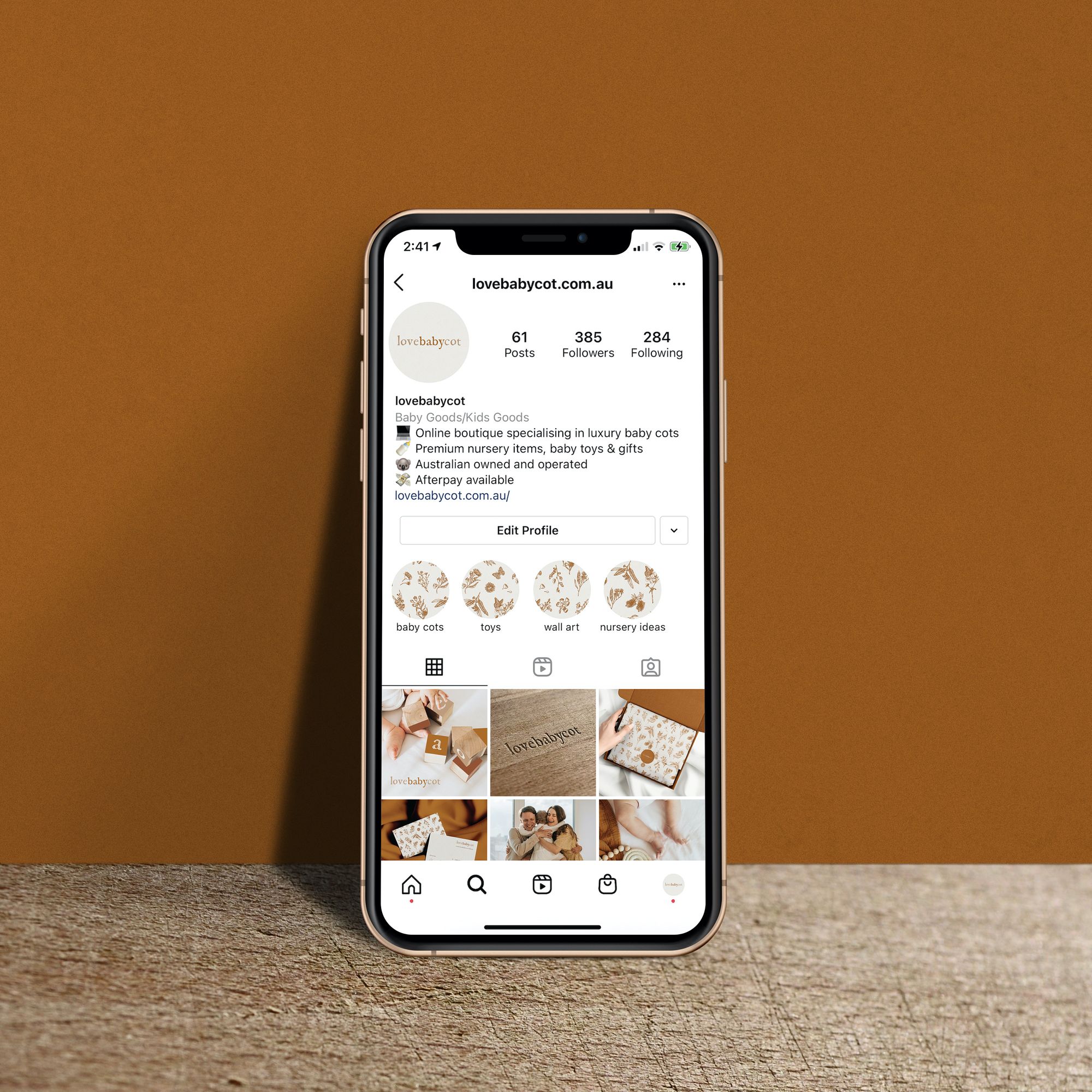 Capturing the Brand Essence of lovebabycot:
The first step in Kirraley's creative process was handing out an extensive brand strategy questionnaire for Shona and Paris to fill out. This helped Kirraley to understand the story behind lovebabycot's mission and the branding strategy they should take.. Shona and Paris were also given 'homework' which involved collation of photos, logos, colors and inspirational material via Pinterest. They had also taken some inspiration from noissue's very own blog, The Wrap, to help conceptualize how they wanted lovebabycot's custom packaging to come about (Talk about coming full circle!)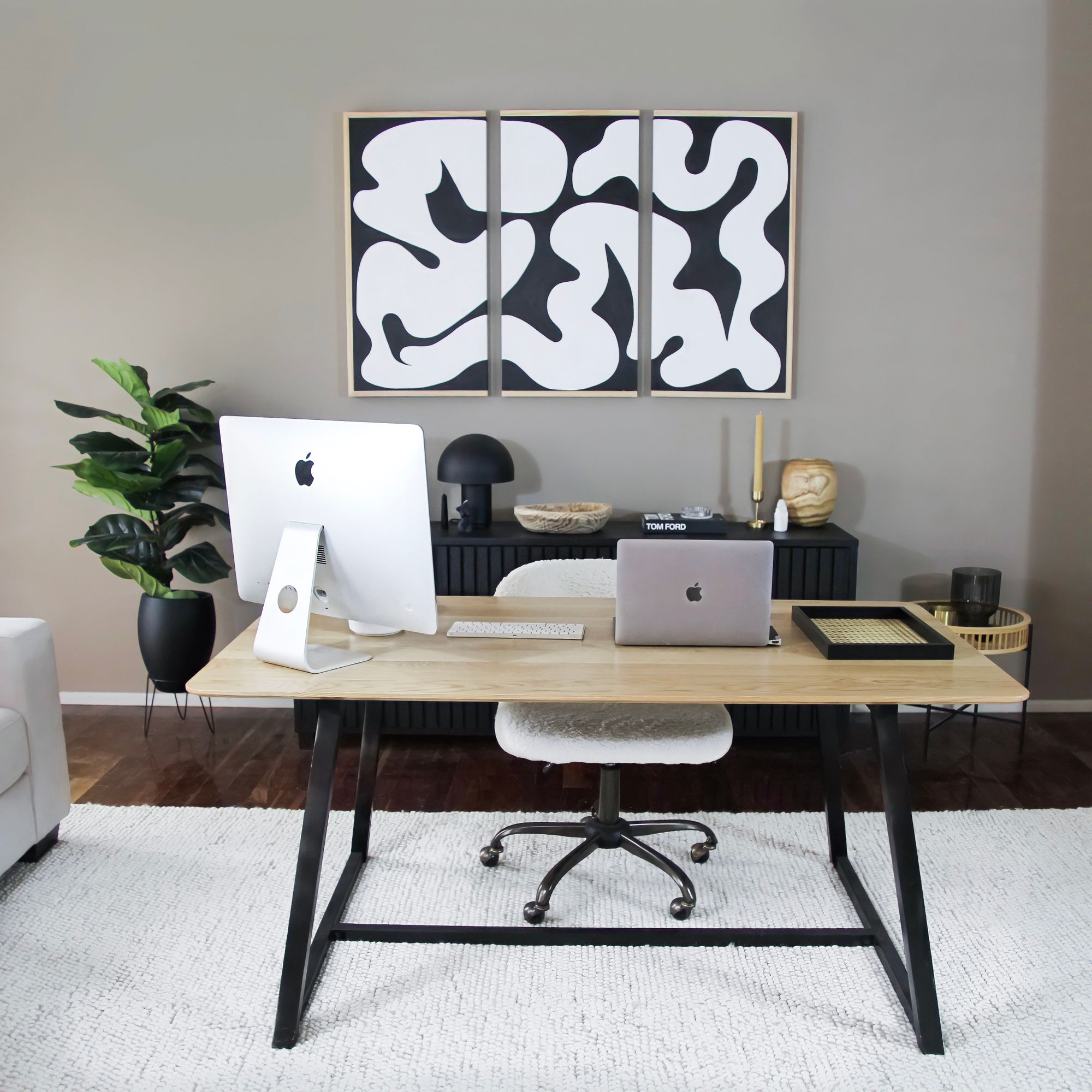 "Incorporating our vision, Kirraley developed the creative direction with two options. We selected the 'vibe' of Australian, natural, and gender neutral - we wanted something soft and not your 'typical' baby brand. Using this brand strategy, Kirraley prepared the lovebabycot brand presentation to be read with the brand explanation." – Shona and Paris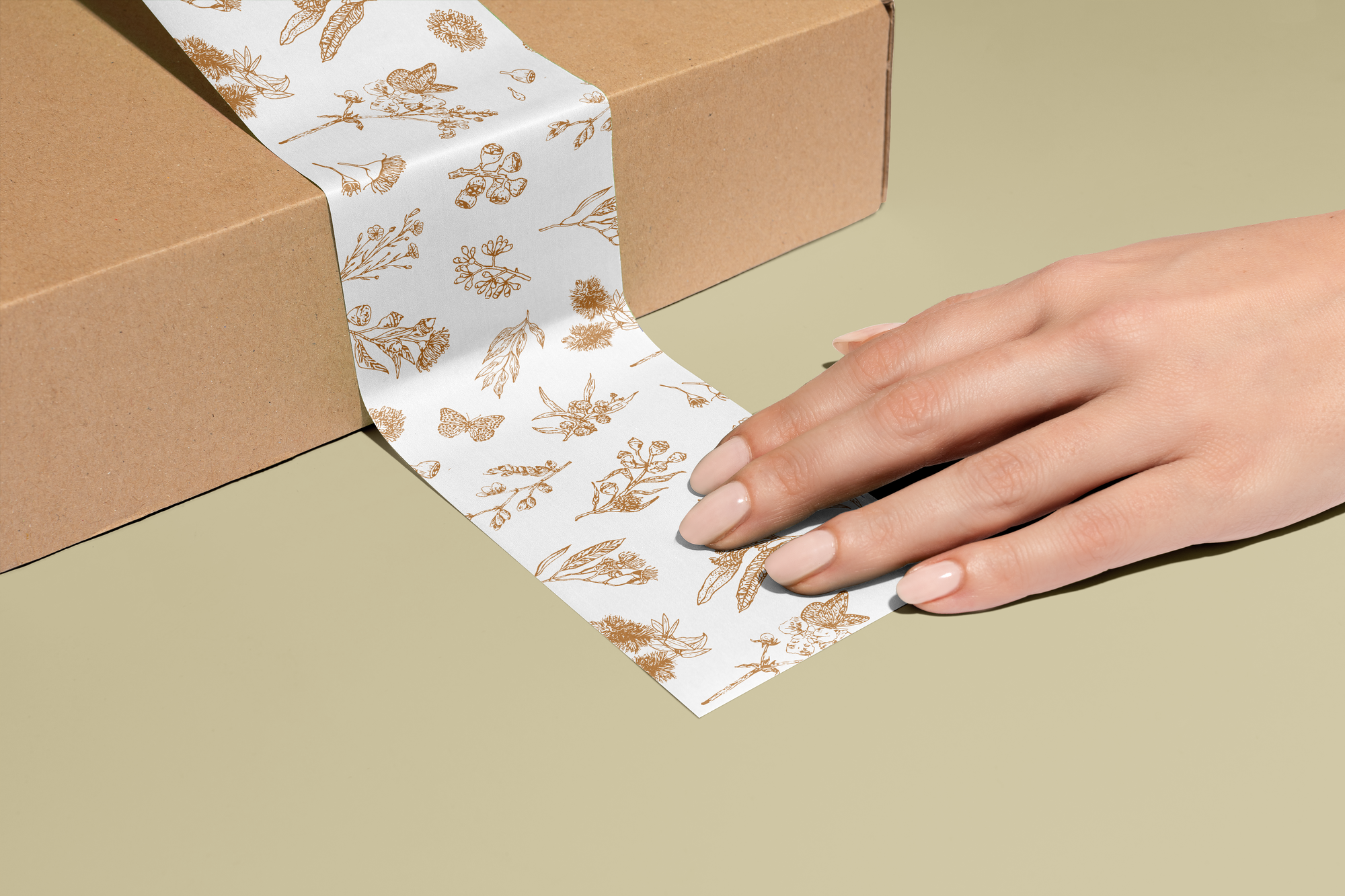 During their initial brainstorming, both parties had felt it would be best to avoid the conventional baby narrative, which includes rainbows, pinks, and blues. Lovebabycot's brand colors were inspired by the iconic Australian dirt and the dry grass fields in summer. The mustard/brown color carries a modern, yet humble, natural Australian feel to it.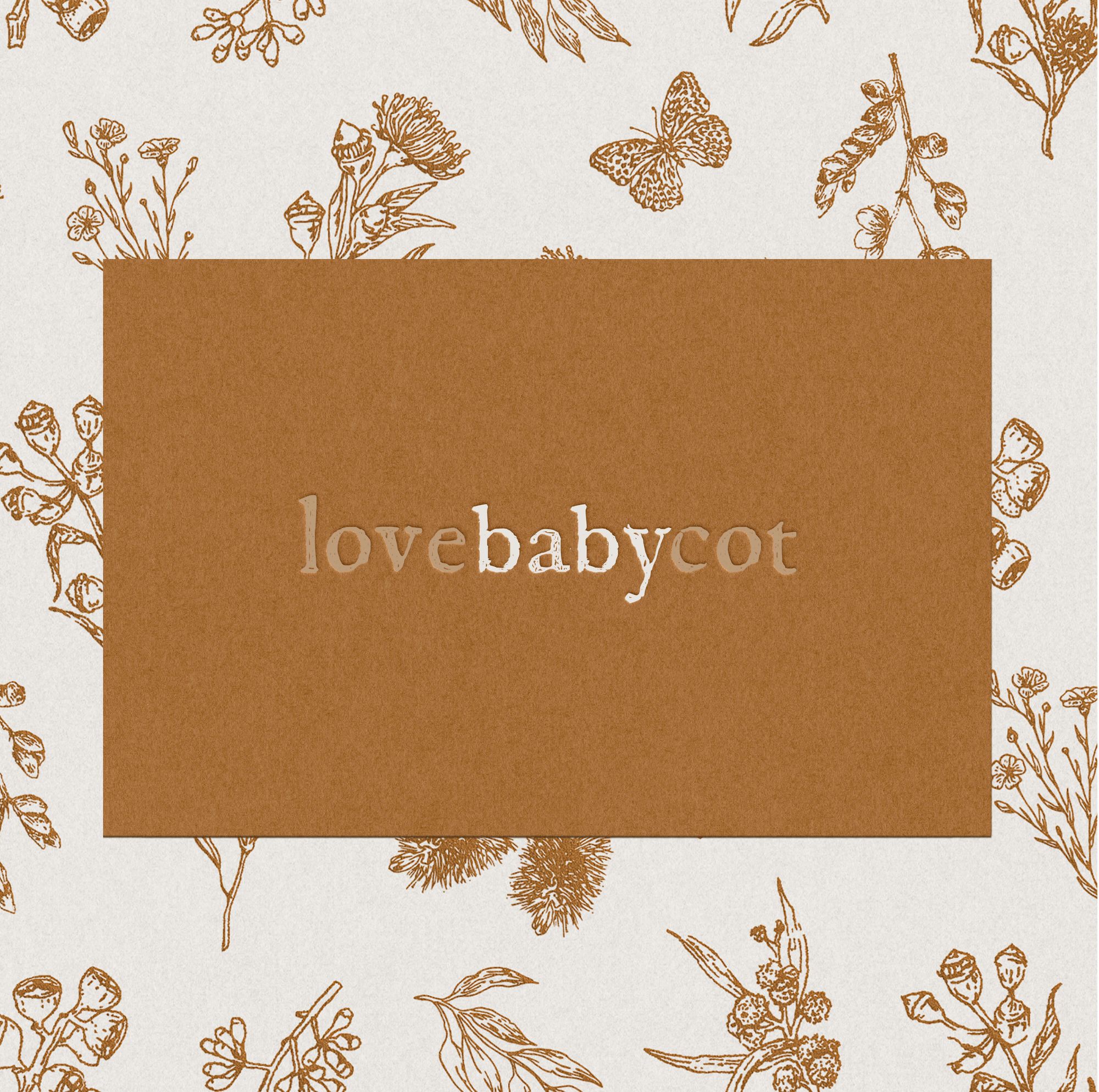 The brand's logo, all in lowercase, features neutral tones with a prominent pop of color highlighting the word 'baby'. This accent establishes a bit of hierarchy so the audience can tell straight away that their brand is associated with baby products. It also features a hand drawn effect which demonstrates a narrative of the baby decor being handmade.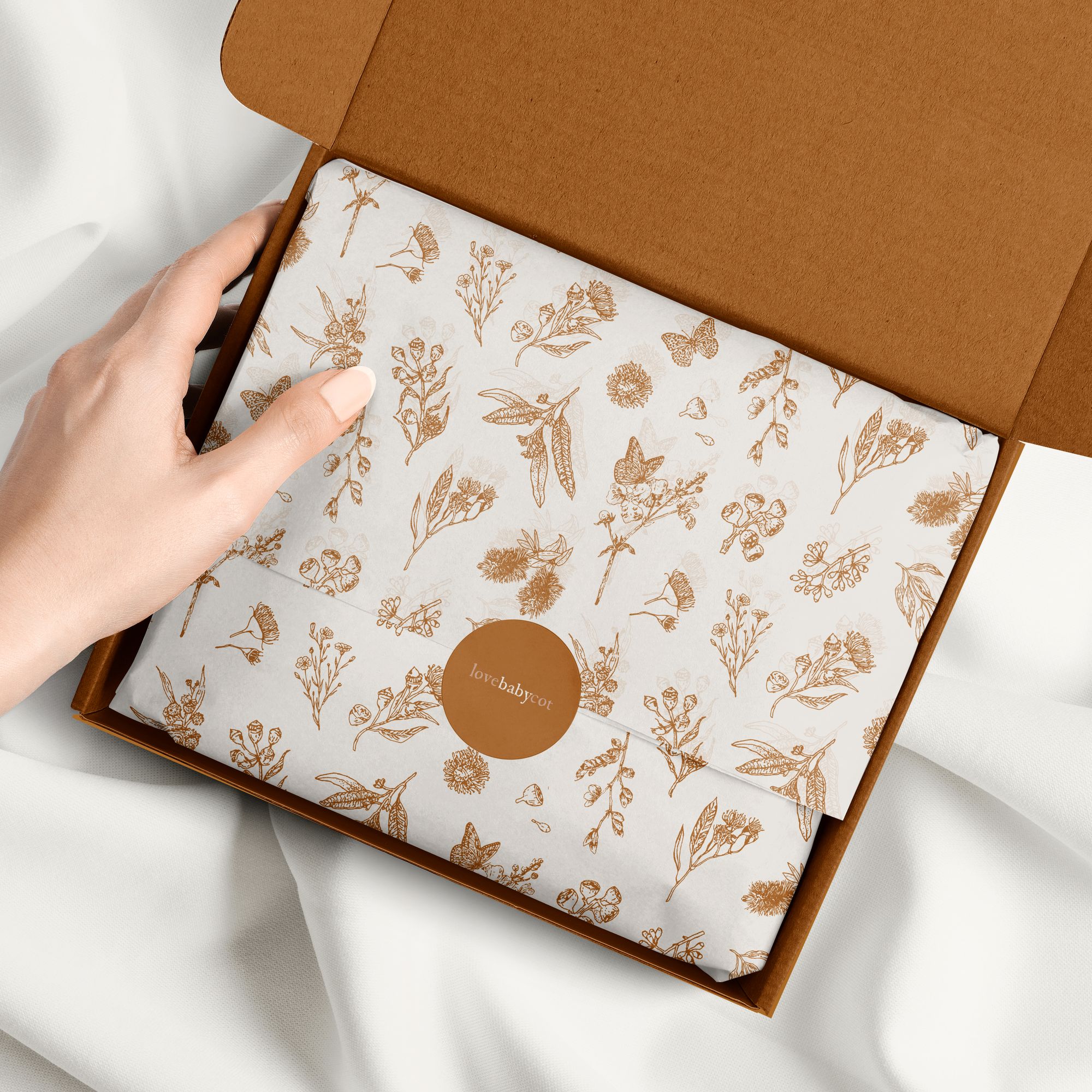 "For this project's pattern section, I hand-drew several Australian botanicals using a computer application with textural brushes. It was important for me to take care with the details of the pattern to demonstrate the craftsmanship of lovebabycot's products. Using the brand guidelines with some illustration, I was able to develop a beautiful unisex pattern. To maintain a gentle baby aesthetic, I added a few butterflies to soften the overall feel." - Kirraley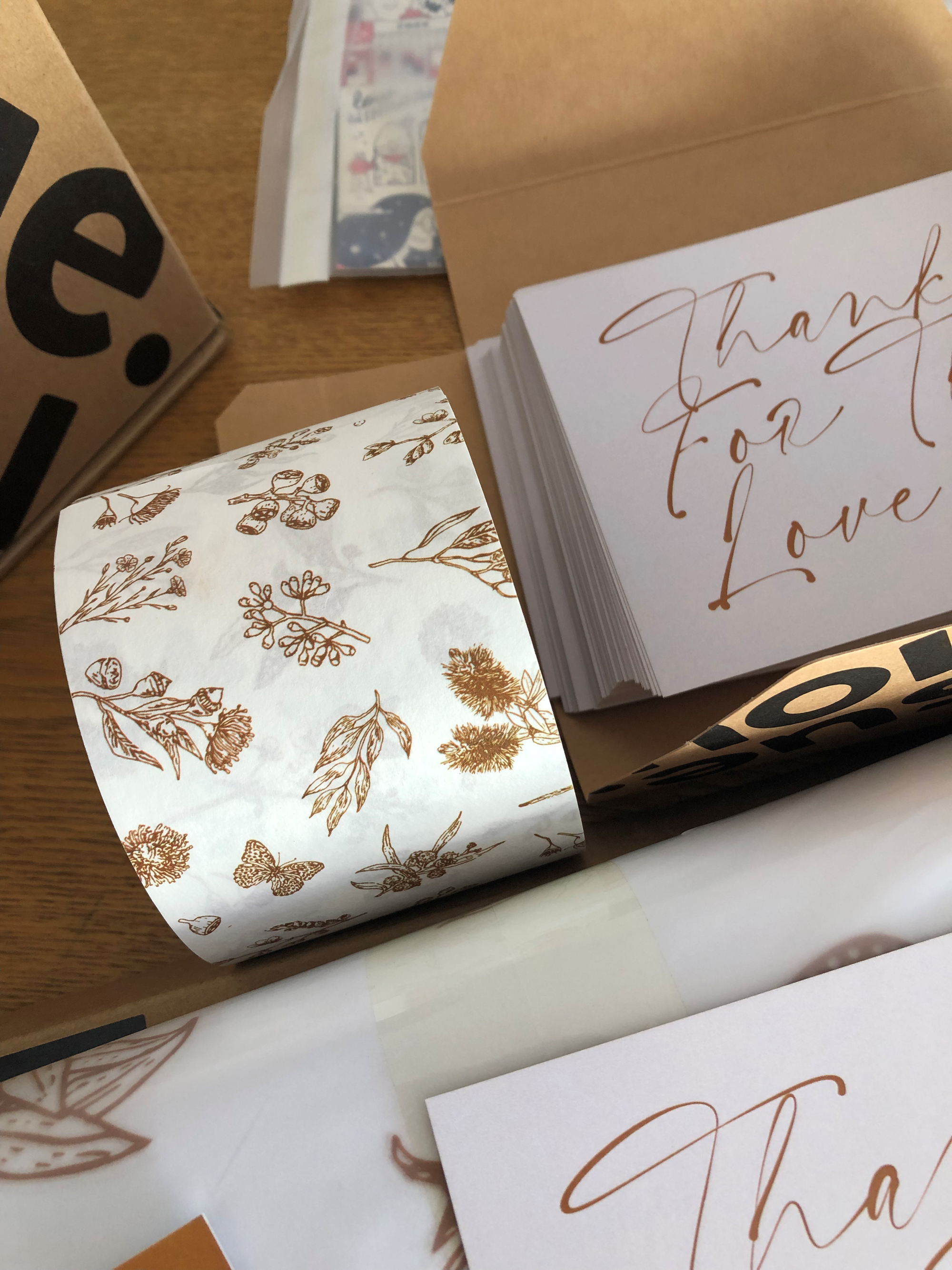 It was important to Shona and Paris that their packaging was aesthetically pleasing, functional and sustainable, just like their products. Using the noissue e-commerce range, they selected custom tissue paper, stickers, tape, thank you cards and kraft boxes to fulfill their packaging needs. The head to toe customized packaging suite allowed them to create a memorable and fun unboxing experience for their customers while using eco-friendly materials.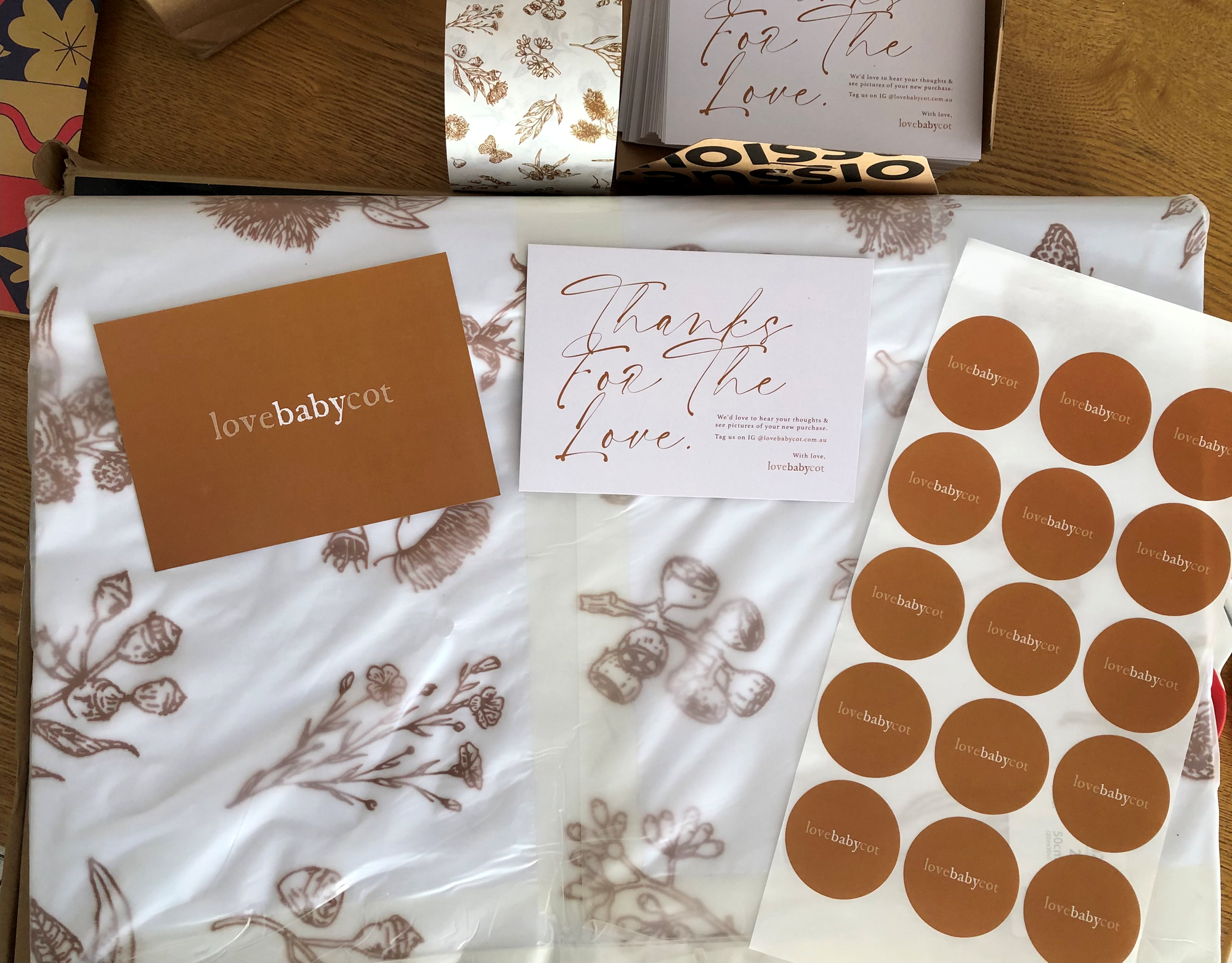 Their custom tissue features Kirraley's beautiful hand-drawn Australian botanicals, which was digitally converted to create the repeat pattern. A few butterfly illustrations were also added to soften the overall feel and add a touch of youthfulness. Shona and Paris have reused the same tissue pattern for their noissue custom packaging tape which beautifully contrasts against the brown colored noissue recycled kraft boxes.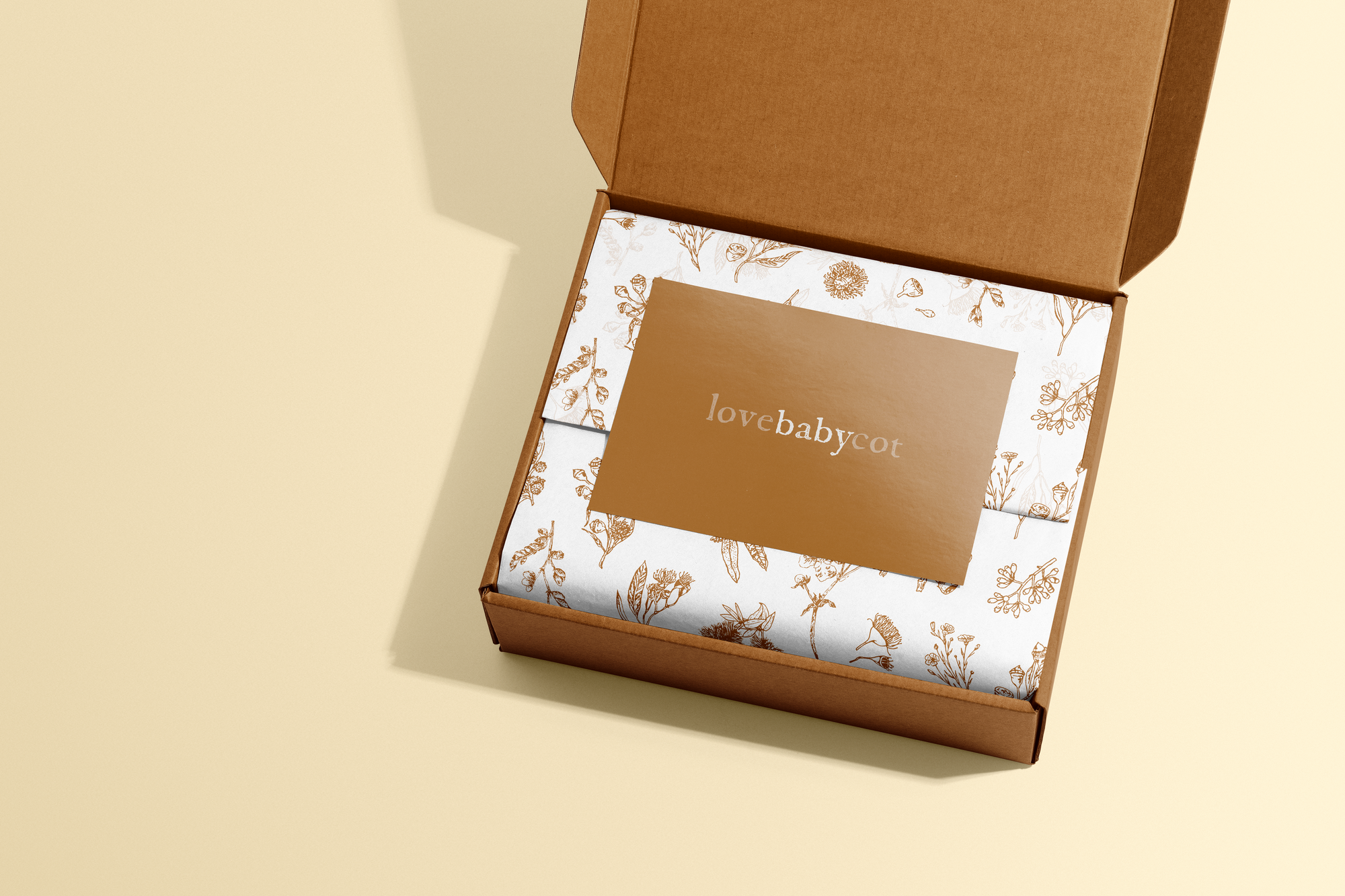 "Our orders are prepared and shipped with gender-neutral gift wrapping as a treat for our customers or as a gift to a loved one. We also love that our noissue packaging materials can be reused, recycled or composted after use to help minimize landfill." – Shona and Paris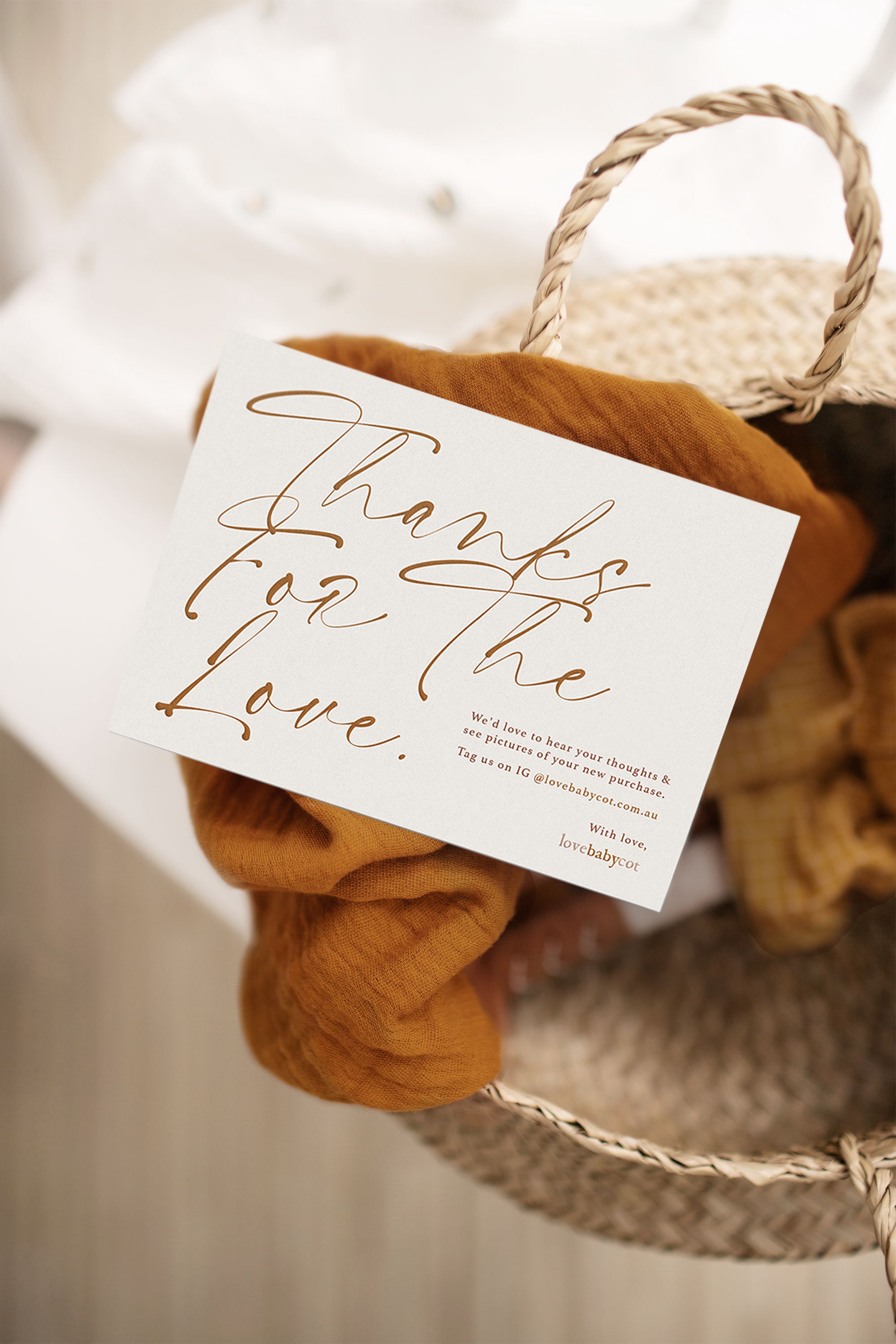 Wrapping up such a beautiful collaboration, Shona, Paris and Kirraley couldn't help but share a few thoughtful sentiments:
"Kirraley has a remarkable eye for design. We researched her portfolio and loved the attention to detail and hand drawn elements in her previous designs. She invested the time to understand our brand vision and values, which was important to capture in our brand identity. Together, we created a beautiful brand that shows the experience and quality that lovebabycot offers.", shares Shona and Paris.
"Shona and Paris have been one of my most verbally appreciative clients. The kind words, and gratitude they express after receiving my designs is exactly why I do what I do. It puts a smile on my face every time, and I'm so glad we could create a beautiful, timeless, personal project together.", expressed Kirraley.
---
Don't forget to check out more of Studio 23 and lovebabycot  here:
Studio 23
Website: https://studio23-design.com.au/
Instagram: @studio23design
lovebabycot
Website: https://lovebabycot.com.au/
Instagram: @lovebabycot.com.au