Jenny Alaimo is a creative director and designer for Richer Poorer, a California-based apparel company. Richer Poorer offers men's and women's essentials that balance cozy fabrics with elevated designs. Jenny talks us through Richer Poorer's response to the pandemic, their focus on building community initiatives around voting and racial injustice, as well as her personal sources of inspiration.
Tell us a bit about yourself, and your responsibilities as a Creative Director and Designer for Richer Poorer?
Hi! My name is Jenny Alaimo and I am from a small town in Illinois. I moved to California when I was 18 and never left. I attended the fashion institute of design and merchandising (FIDM) in downtown Los Angeles with a focus on Visual Communications. I've always been drawn to creatives and spent most of my early years in LA going to concerts, taking photos, and traveling around the state. Over the past 10 years I have worked in surf apparel, contemporary women's wear and custom ready to wear as a designer. I love working with small brands and helping them build a unique brand experience and realize their full potential.
As creative director at Richer Poorer, my responsibilities are far and wide – we are a small brand so there are many hats to be worn and lots of exciting different projects to complete. Most of my time is spent designing the line and ensuring that everything you see and read customer facing is on-brand, engaging and accurate.

What's unique about Richer Poorer products compared to other brands in your industry? How do you communicate those differentiators to customers?
What sets us apart from other brands is our team and our commitment to creating confidence in comfort. We are all very passionate about creating quality and hyper-versatile products that can live in your closet forever, but also about giving back and paying it forward. Standing up for our beliefs as a brand is in our DNA just as much as our love for product design. It is this perspective coupled with our goal of making each customer feel like a million bucks in a tee shirt that allows our brand to stand out.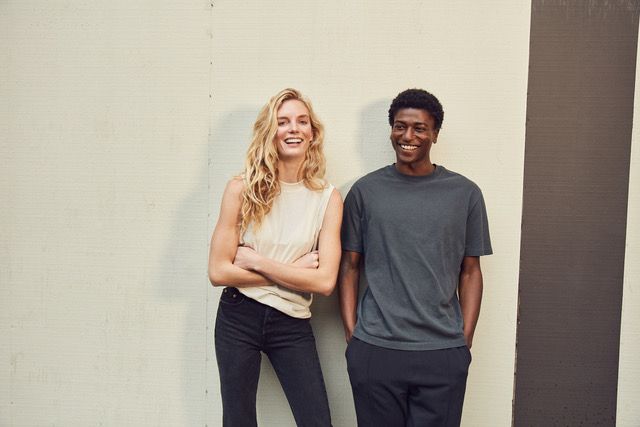 Given the pandemic and ensuring worldwide lifestyle transitions, what changes in trends, both apparel and marketing, are you seeing? How is Richer Poorer responding?
We were uniquely positioned to respond to changing needs during the early days of the pandemic because of our ultra-comforting apparel assortment. Our Fall line was concepted over a year before the pandemic hit and it was, ironically, titled "Home." The goal of the collection was to encourage people to get out and interact with others more by creating designs that allow you to take the comforts of home with you wherever you go. The fact that we launched that collection at a time when people were being forced to stay home gave it a new meaning entirely. We were very lucky to have seen success during this time while more people were home and able to find us on social media. Moving forward though, I truly believe this pandemic will force not only trends but the industry at large to move quicker towards initiatives and ways of working that will end up being better for customers as well as the environment. Brands need to adapt quicker and make absolutely sure that the customer is number one. This means design that accounts for a new working from home (WFH) lifestyle where you need functionality and style with comfort being paramount. This also means transparency and eco-friendly practices that customers can look to and feel safe choosing your product over someone else's.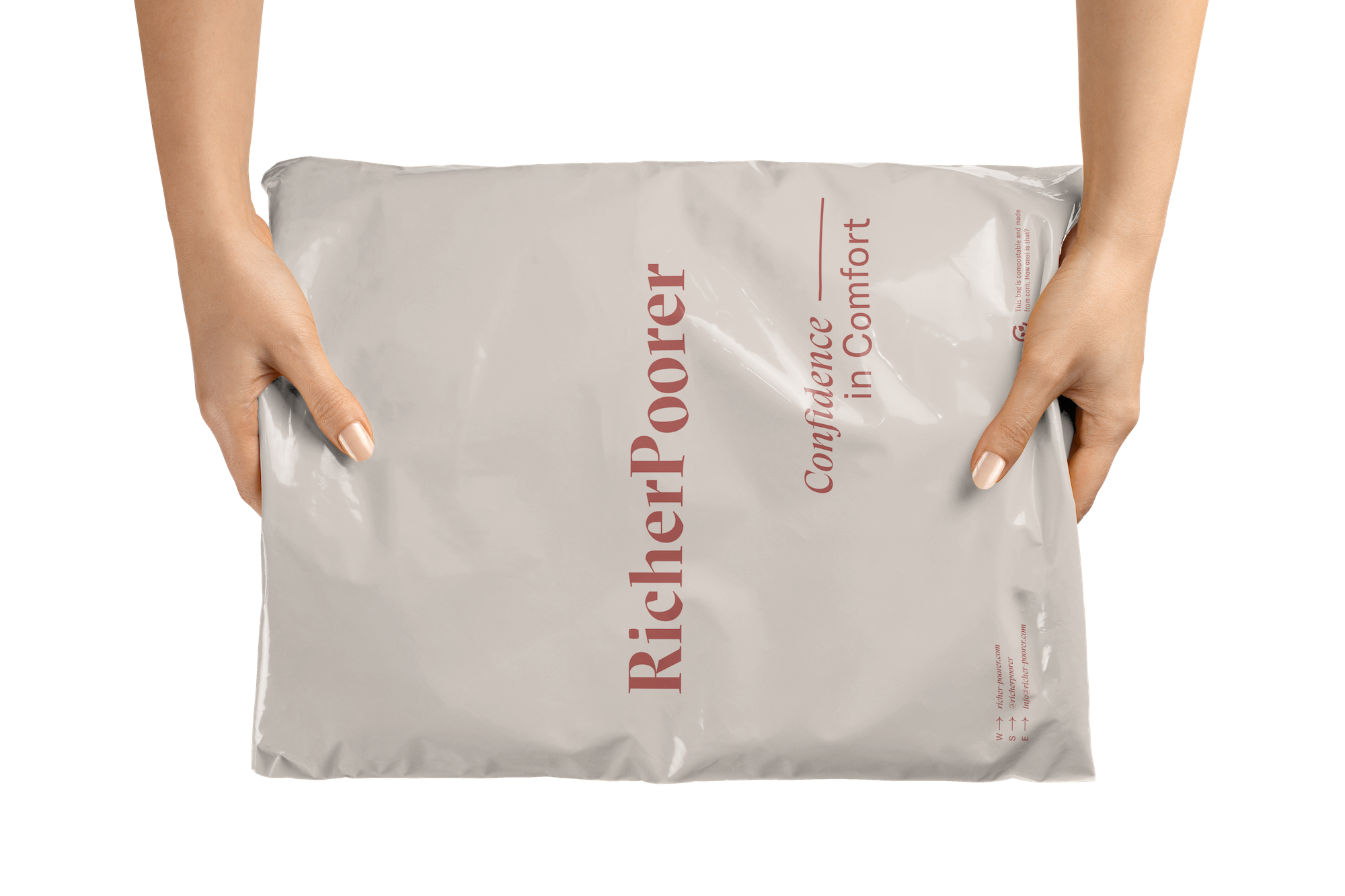 Could you tell us a bit about the Dirty Hands Club and why this mission + building a community is important to Richer Poorer?
Dirty Hands Club is now called "RP Good Things" as we have not been able to meet in person with customers and 'get our hands dirty' during this pandemic. We have also expanded this arm of the brand to not only include in-person volunteering and positive experiences that get you off your phone, but also putting our money and creative resources towards organizations that we believe in by donation matching as well as collaborations. Our mission with RP Good Things is to build a community of people who, like us, feel it is our responsibility to give back to and amplify voices from organizations that are making the world a better and more just place. This year we have focused largely on voting, but we've also created initiatives around racial injustice and will continue to do so next year.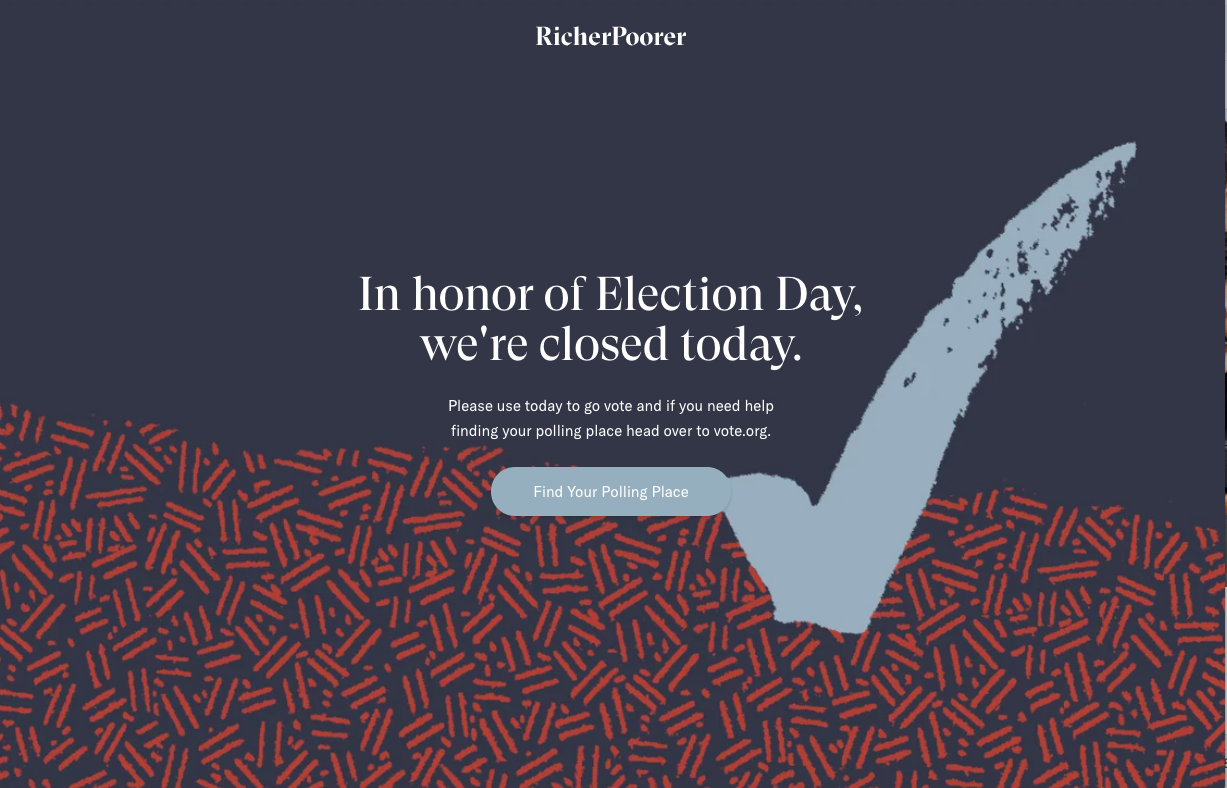 Tell us more about your creative process. What does it look like? Who do you collaborate with the most?
My creative process feels a little different each time I am faced with a new season. In the past, I have tried to travel in the early concept stage as I find the most inspiration by exploring new areas and witnessing different cultural norms. However, since travel is not an option this year, I have been finding different ways to gather inspiration. Walking through my neighborhood, taking long bike rides with a great soundtrack to open my mind to new ideas. I also love looking through runway on Vogue, photography books, vintage style accounts and utilizing WGSN to gut check where I am at in the process. I collect a ton of images and then start to organize them into folders by color, silhouette, overall theme, etc. I am always rough sketching anything that comes to mind and I create my color palette based off of the imagery I've pulled that speaks to me. Most of my creative process is a bit isolated due to the pandemic, however I always bounce ideas off of my design team as well as friends and family to get different perspectives and thoughts.
What are key sources of inspiration for you as a marketing creative in the fashion industry? Do you have a favorite resource or inspirational influence (ie a podcast, book, person)?
It's funny because I absolutely love movies and music and am often enamored by the way someone like Timothy Chalamet or Tyler The Creator is dressed, but I don't really use that as a direct source of design inspiration at RP. I think because I want to create realistic and wearable clothing that has a uniqueness to it, I try to avoid looking at literal clothing or styling during the design process as I don't want it to lead my sketching too literally.
What is one piece of advice you would pass along to small designers or apparel brands who are just getting started?
Hmmm... this one is always tough because I don't want to sound cheesy. Honestly, one thing as a designer that I learned the hard way was that you should never be afraid to ask questions. When you're starting out – as a brand or a designer – there are so many situations that you are not prepared for which arise and you just have to push through. I find that this is extremely difficult and also very isolating when you try to figure it out on your own. I was very afraid to ask questions or speak up in my first design jobs. I thought that if the more seasoned creatives heard me asking these questions, they would make fun of me or even worse, I would get fired for not knowing. That could not be further from the truth, and what's more is that when I finally broke my silence, I became so much more confident and a much better designer because of it. It truly changed my life to open up and allow mentors to help me grow into the designer I am today.