Creative: Knoed
Knoed helps small businesses and startups invent or reinvent themselves through strategy and graphic design. They're big picture thinkers who design with purpose and has love for the small details.
Here they talk about their collaboration with Restly.

Tell us a bit about yourself and your design practice?
Knoed is Kim and Kyle, a husband and wife design team with a focus on brand development for startups and small businesses. We love getting in on the ground level, developing a creative strategy and visual identity that's custom to each client and seeing it through all applications including print design, package design and digital design/development. We work with a handful of talented partners who specialize in web development, copywriting and photography for each project. Knoed is based in Chicago, but we work with clients all over the world in all types of industries.

Tell us a bit about Restly and their products/business?
Based in Brooklyn, Restly is dedicated to helping pets live their best lives with premium CBD products and cute bandanas so they feel good, and look good. Because dogs deserve a little self care too, with the help of their pet parents. They practice the highest standards for quality, safety and purity with sourcing, manufacturing and testing of their broad-spectrum CBD. And their bandanas are custom designed using 100% premium cotton, so they get softer with every wash.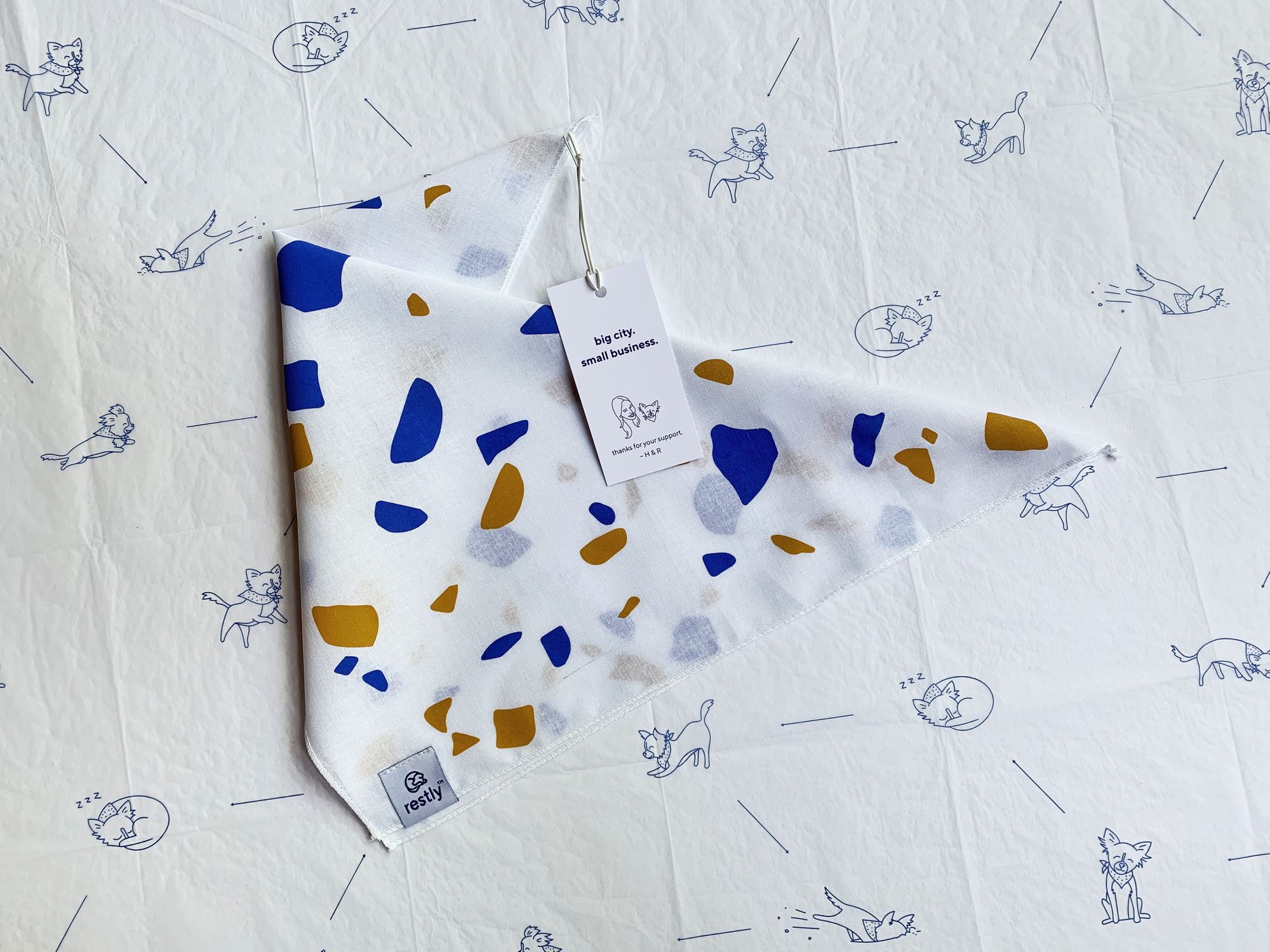 How did you and Restly begin to work together?
Hannah, the founder of Restly, is friends with another client of ours, Scott, who hired us to brand Totto's Market in Printer's Row. She loved the work we did for him, so she reached out to us about naming and branding her new company. And that's how Restly was born! The name was inspired by "restfulness," which is what her CBD can do for pets. We conveyed that idea with the icon—a dog curled up, totally at ease. From there, we designed the visual identity, patterns and illustrations, stationery, packaging for the CBD and bandanas, website, social media templates, email templates, custom stickers and waste bags. Overall, we designed Restly's brand to have an urban New York vibe with a modern look and fun personality.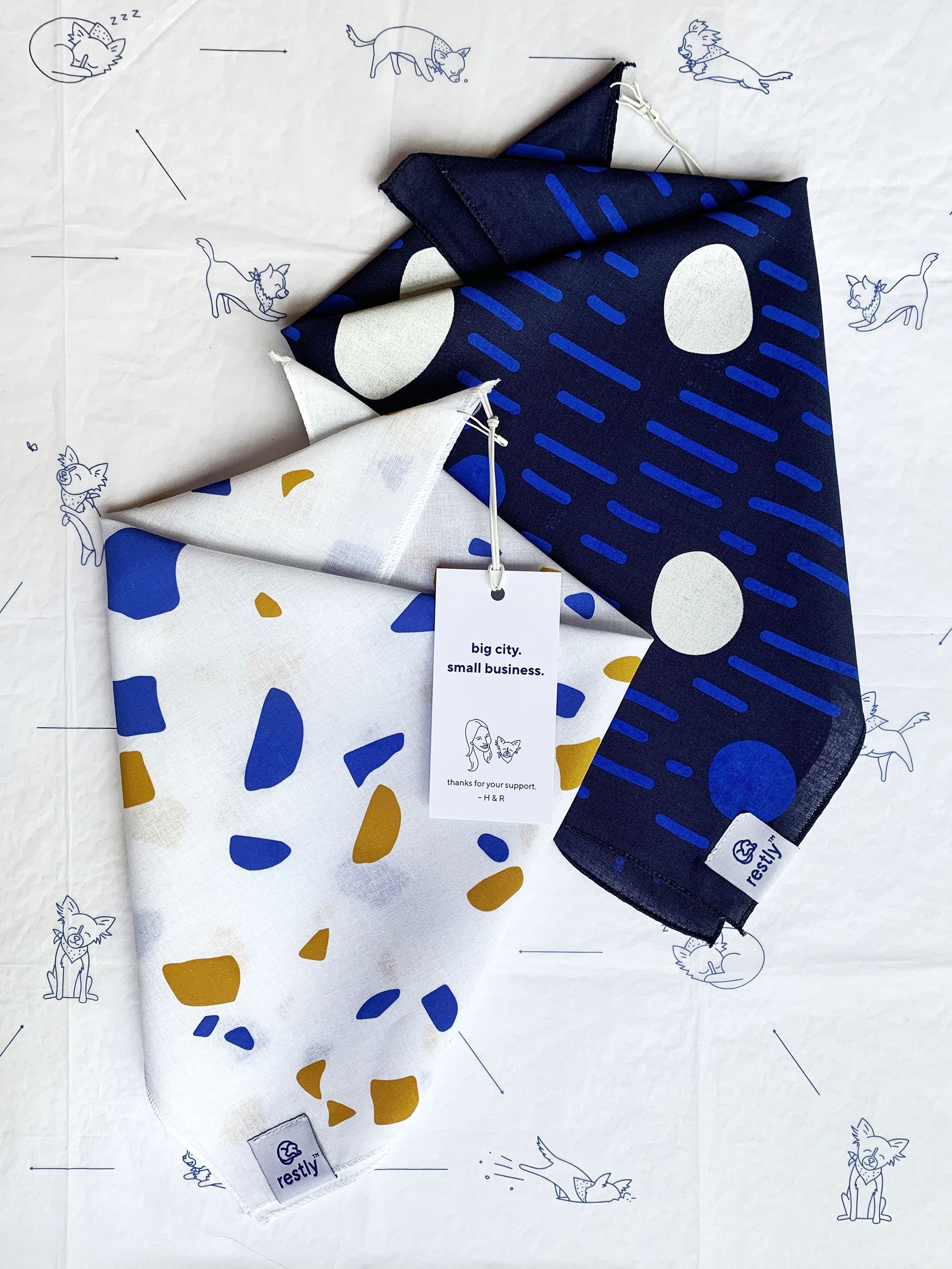 What inspires your designs?
We pull inspiration from different sources for each brand we work on, depending on what their goals are or who their audience is. We wanted the Restly brand to resonate with 20 and 30-somethings who live in urban environments and have a love for furry friends, which is what inspired the designs and personality. There are 9 unique patterns we designed for Restly that are all inspired by fur markings found in different pet breeds and use those on the packaging and bandanas. Hannah's dog, Rico, is a long-haired chihuahua and the impetus for her to start Restly, so we sprinkled illustrations of him throughout the brand. For example, the tissue paper design depicts a day in the life of Rico, where he goes about the usual—playing, running, stretching, sniffing, sitting and napping—and ending with him in bed for the night. In all of the illustrations, he's wearing a bandana because the tissue paper is what the bandanas are packaged in.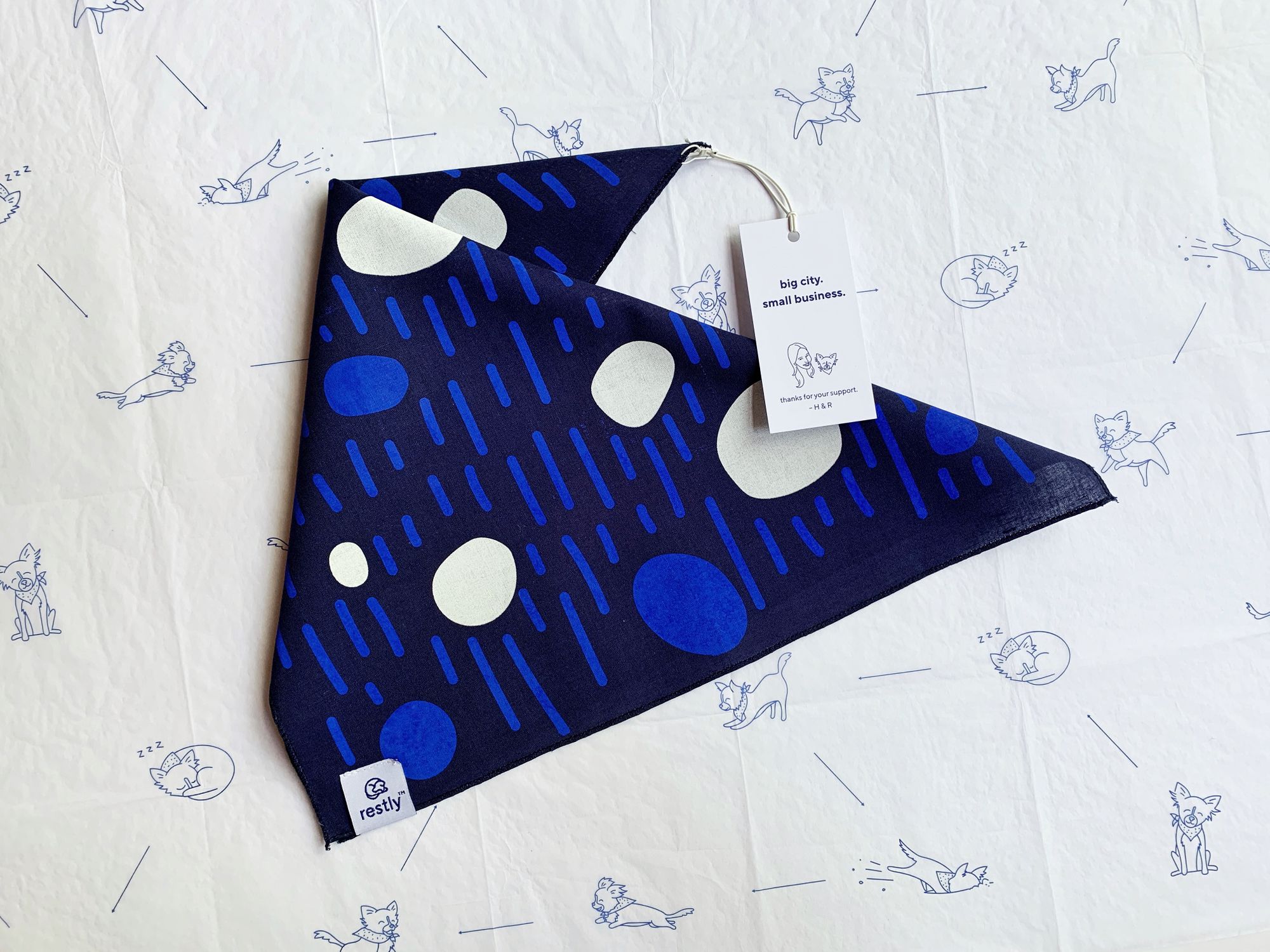 What was something that stands out about this collaboration for you?
We really appreciated Hannah's standards for quality. With everything we delivered, she cared about the details and was willing to take the extra step to get premium materials and quality printing from reputable vendors. It made such a difference with the end result, and we couldn't be more proud of this brand we built together.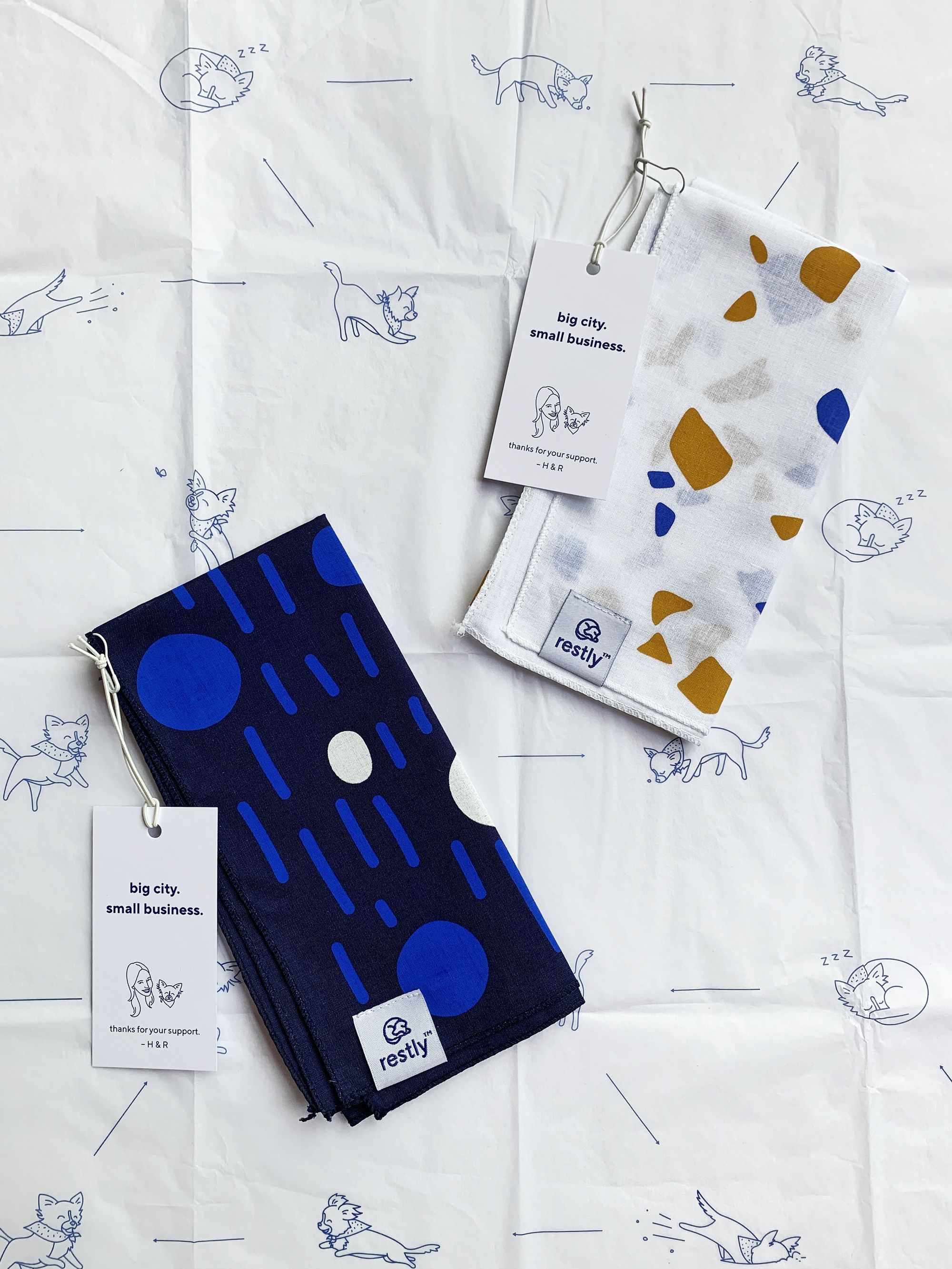 Why did you choose noissue for packaging?
First, we were hooked by their own branding and website experience, but then we got samples of their tissues and stickers and were immediately sold. It all met the vision we had for her bandana packaging, and in fact, the PSD mockups they offer exceeded our expectations. Every touch point with customer service has been stellar too. We're so happy we chose noissue!