Jenna Vanden Brink Ceramics specializes in handcrafted functional wares. This Pittsburgh-based brand offers handmade, functional ceramic wares and jewelry. Each piece is designed and created to bring joy to the user. Building on her formal academic training and experience as a non-profit ceramics program manager, Jenna spent seven years refining her current line of home goods and wearables.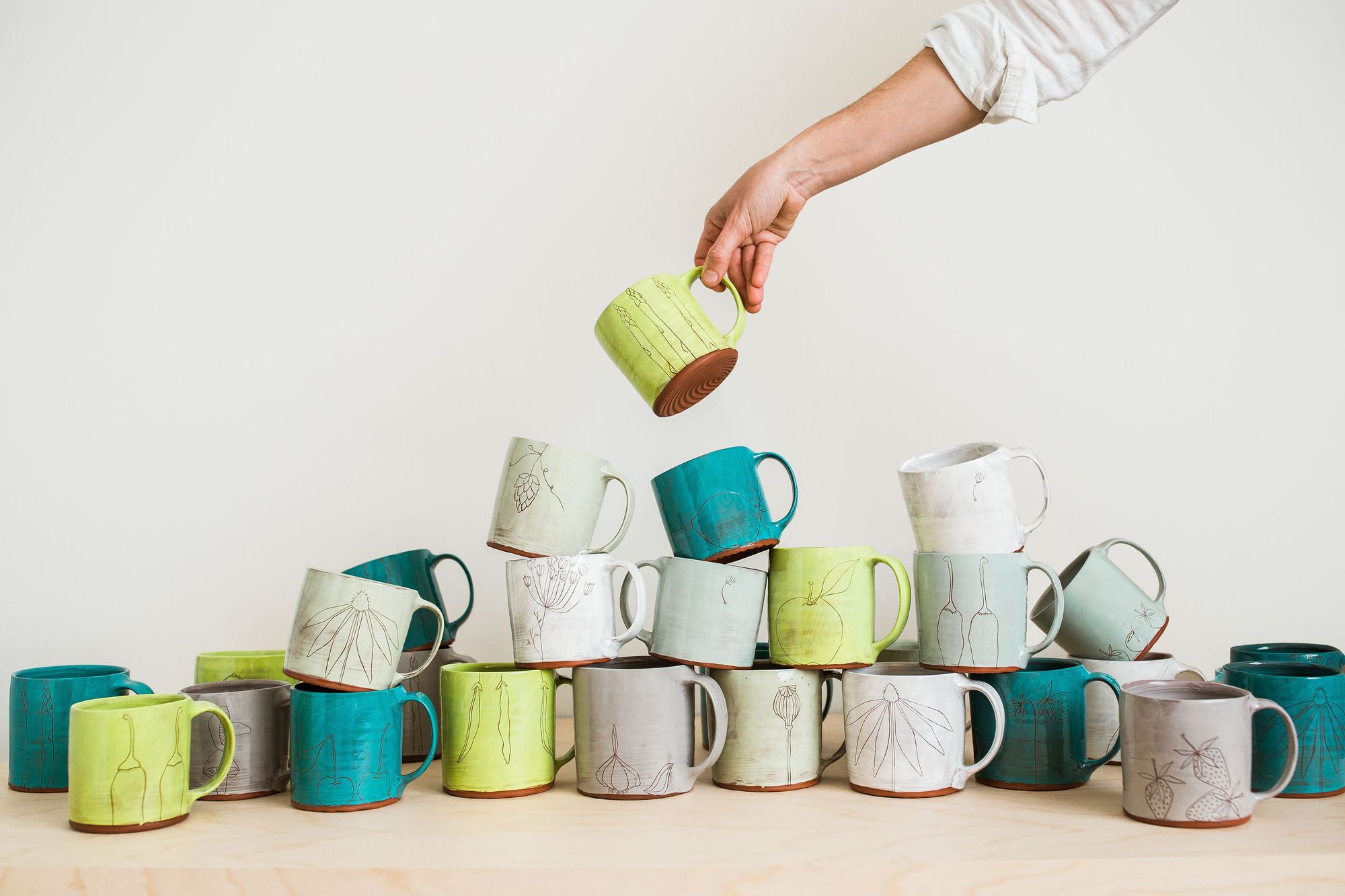 Meet the Brand:
Jenna officially started her company five years ago, but has been working with clay for over twelve years. She also used to work in a nonprofit world managing a community ceramics program before starting her brand.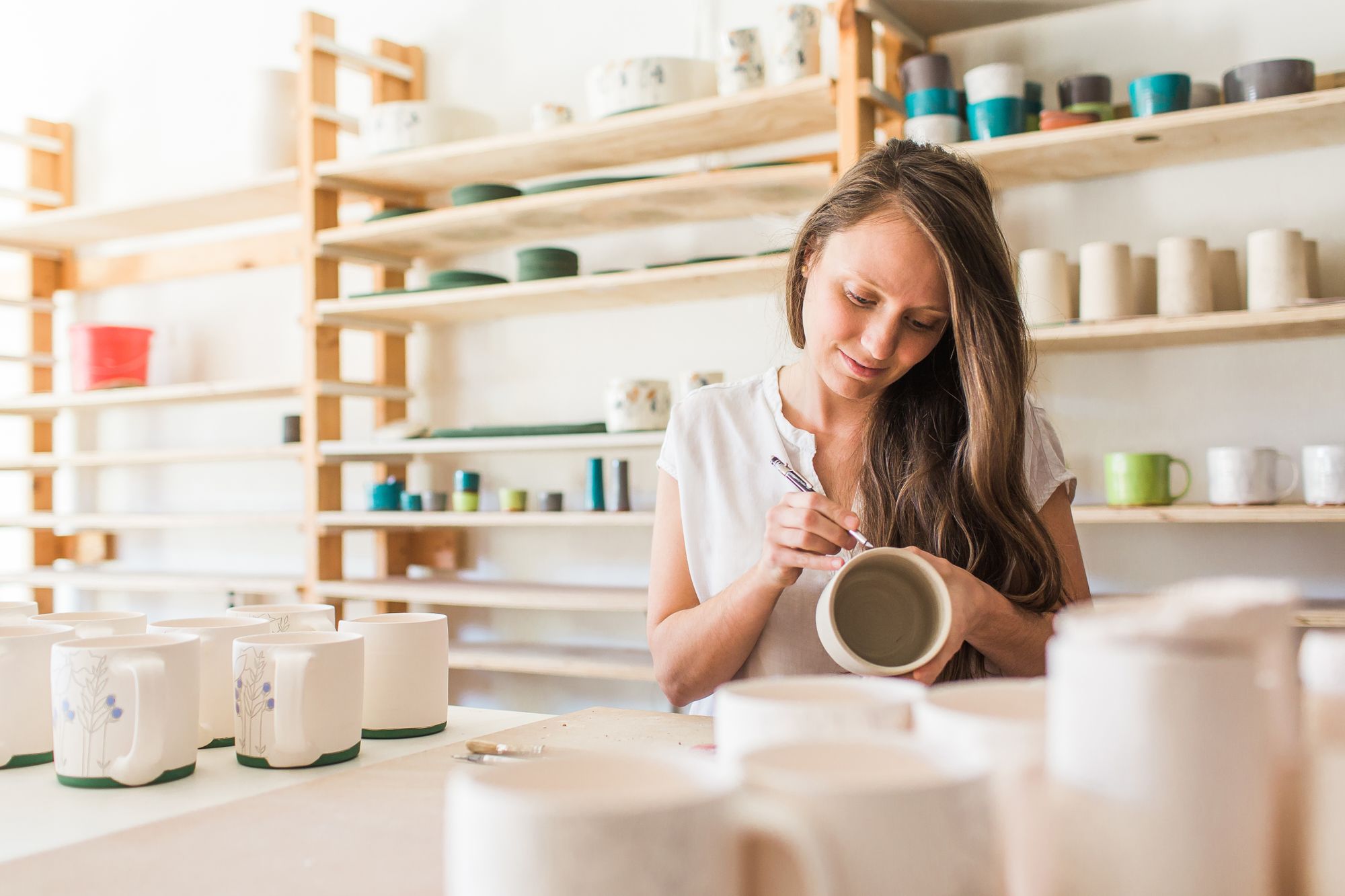 Every piece is hand painted and carved to create pottery and wearables full of integrity and charm with the use of a combination of hand-building and wheel-throwing techniques. Her products exhibit her versatile style and various drawings ranging from loose sketches of fruits and vegetables to detailed floral patterns. Handmade from start to finish at her Sharpsburg, PA studio, each piece in Jenna's collection exhibits subtle whimsy in a modern way.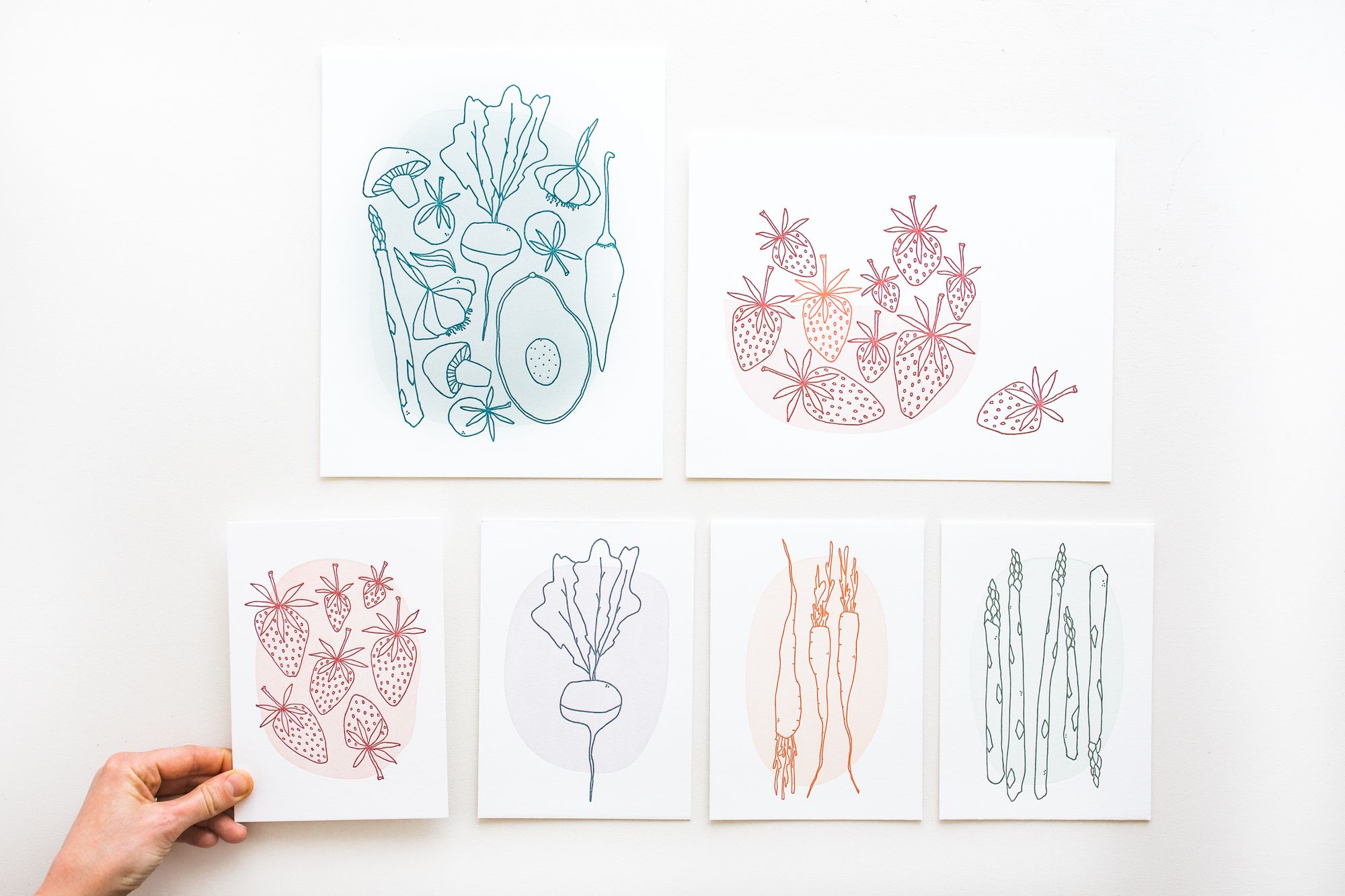 "I love the way ceramics, especially functional pottery, has the potential to connect people. Being part of someone's morning through their coffee mug or participating in a family celebration via a serving platter is an honor for me, and I want the pieces I create to bring joy to the users. I like to think of my customers more as friends who invite me into their homes." - Jenna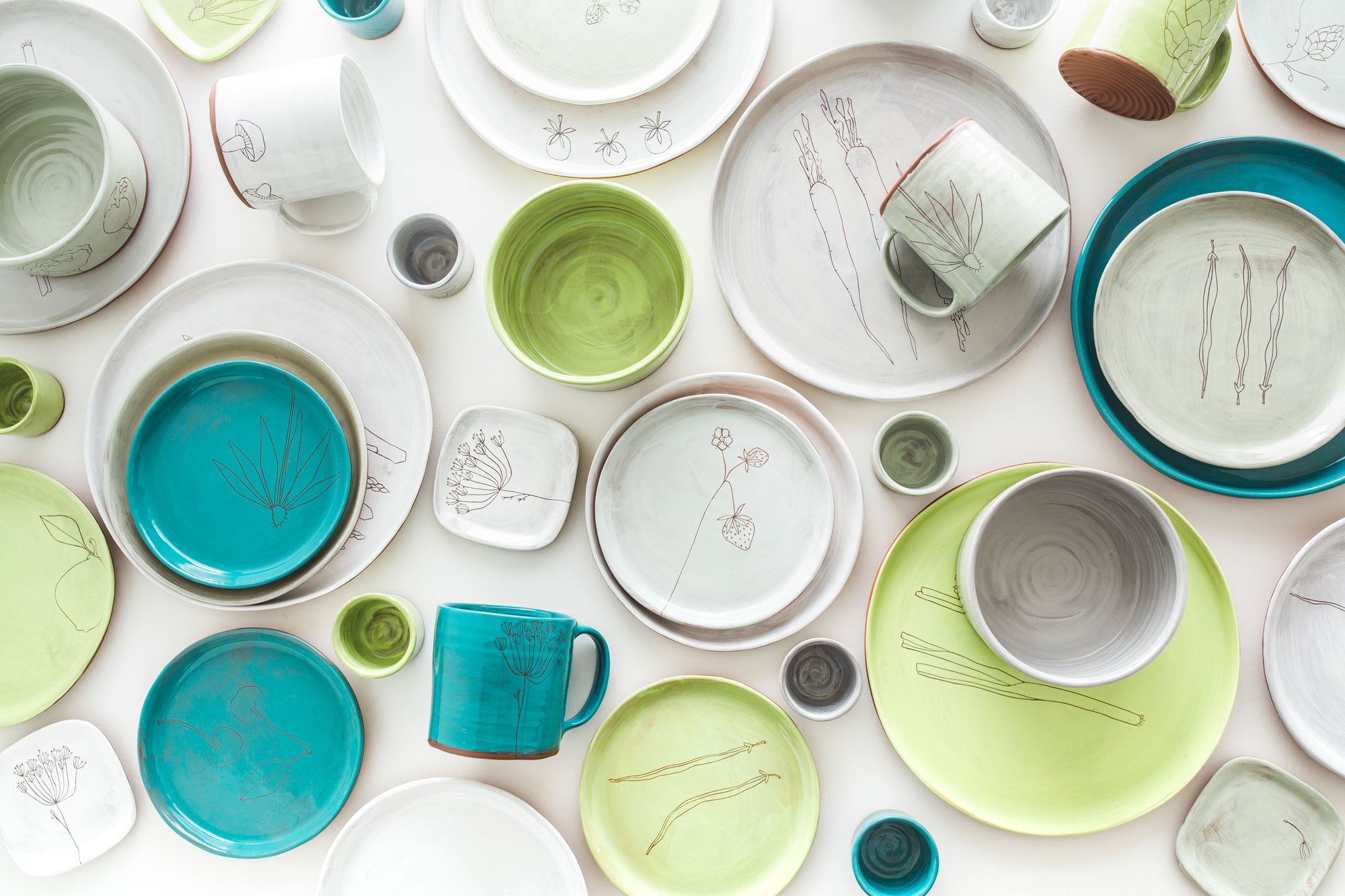 While working at an art nonprofit seven years ago, Jenna crossed paths with Abbie Adams and the pair have since been working together on various projects. Jenna has always admired Abbie's work and how the designer expresses her extraordinary talent through crafting her own art pieces and working with clients to bring their ideas to life. Jenna would always jump at any excuse to work with Abbie as she knew something beautiful would surely come out of it. With the launch of Jenna Vanden Brink Ceramics, Jenna knew she needed to have the right branding to bring out her company vision and she had just the right person to turn to!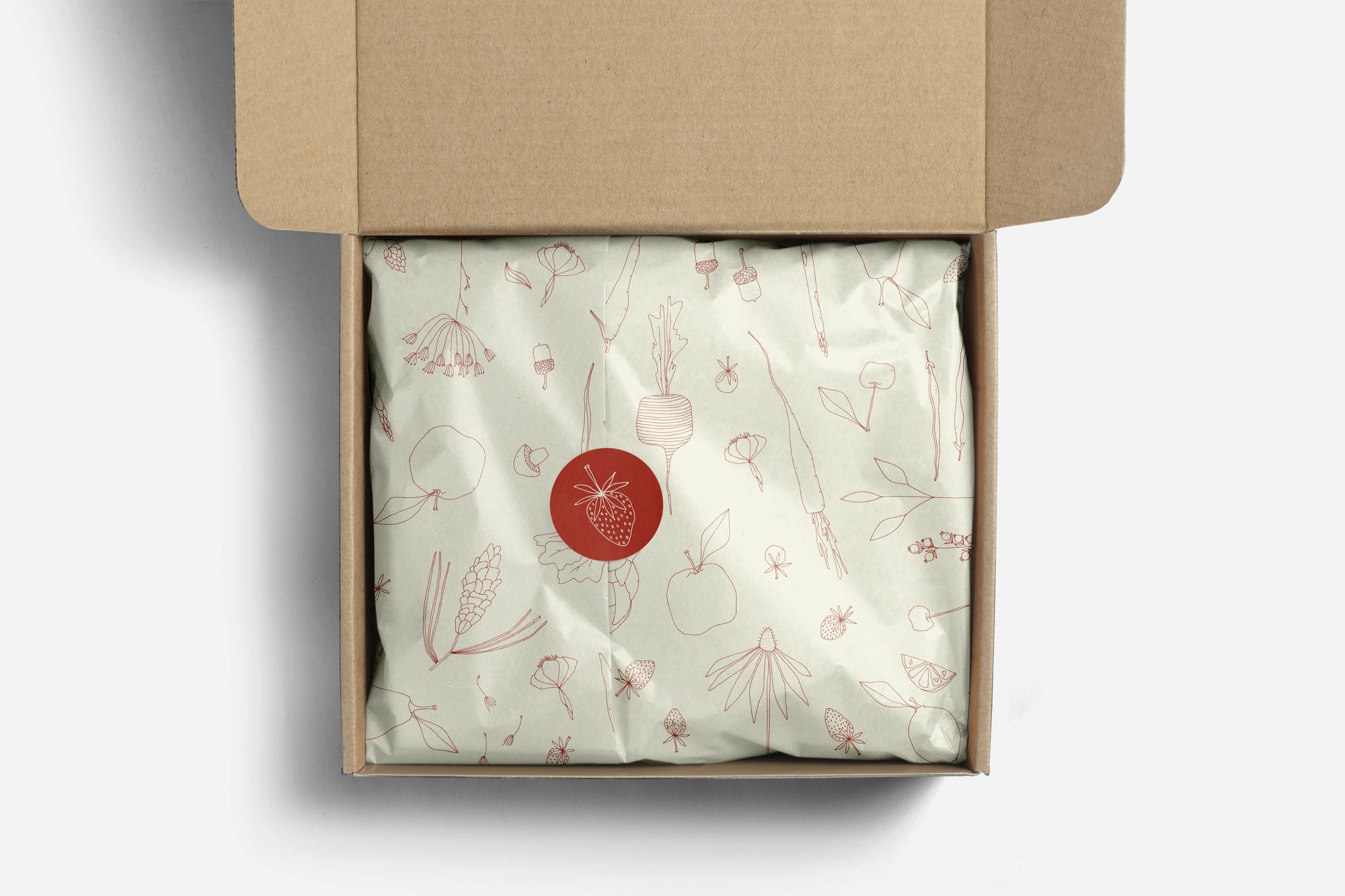 Meet the Designer:
Abbie Adams is a freelance designer and artist who works with a variety of traditional media including print, painting and visual design. She often works in sets and collections, creating intricate, hand-drawn images that show her fascination with line, repetition and grouping similar objects.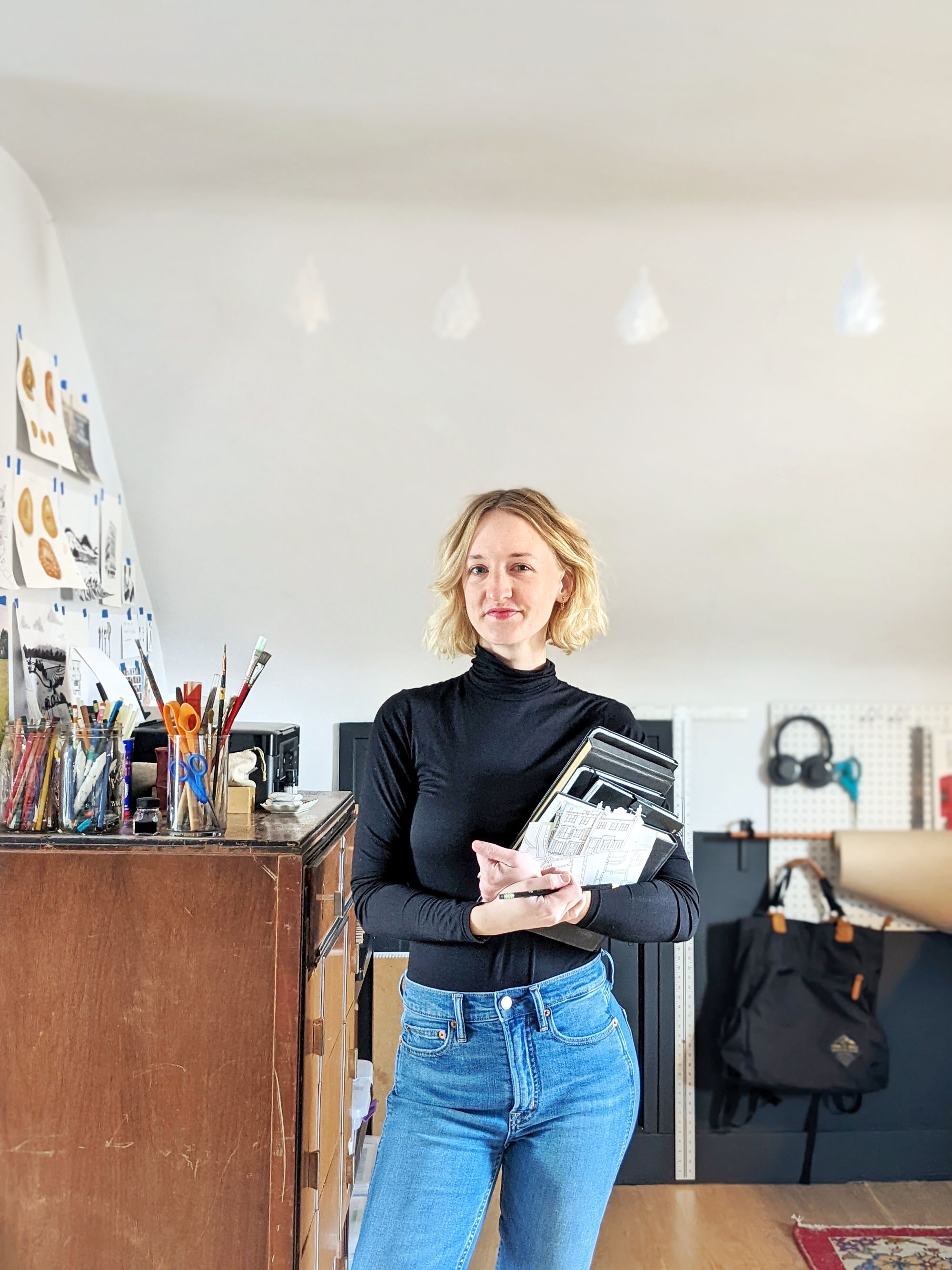 Abbie has a diverse range of expertise with her background in studio arts as well as her experience in being an editorial and graphic designer. She has taken on everything from murals to custom patterns, logos to marketing collateral—the list goes on!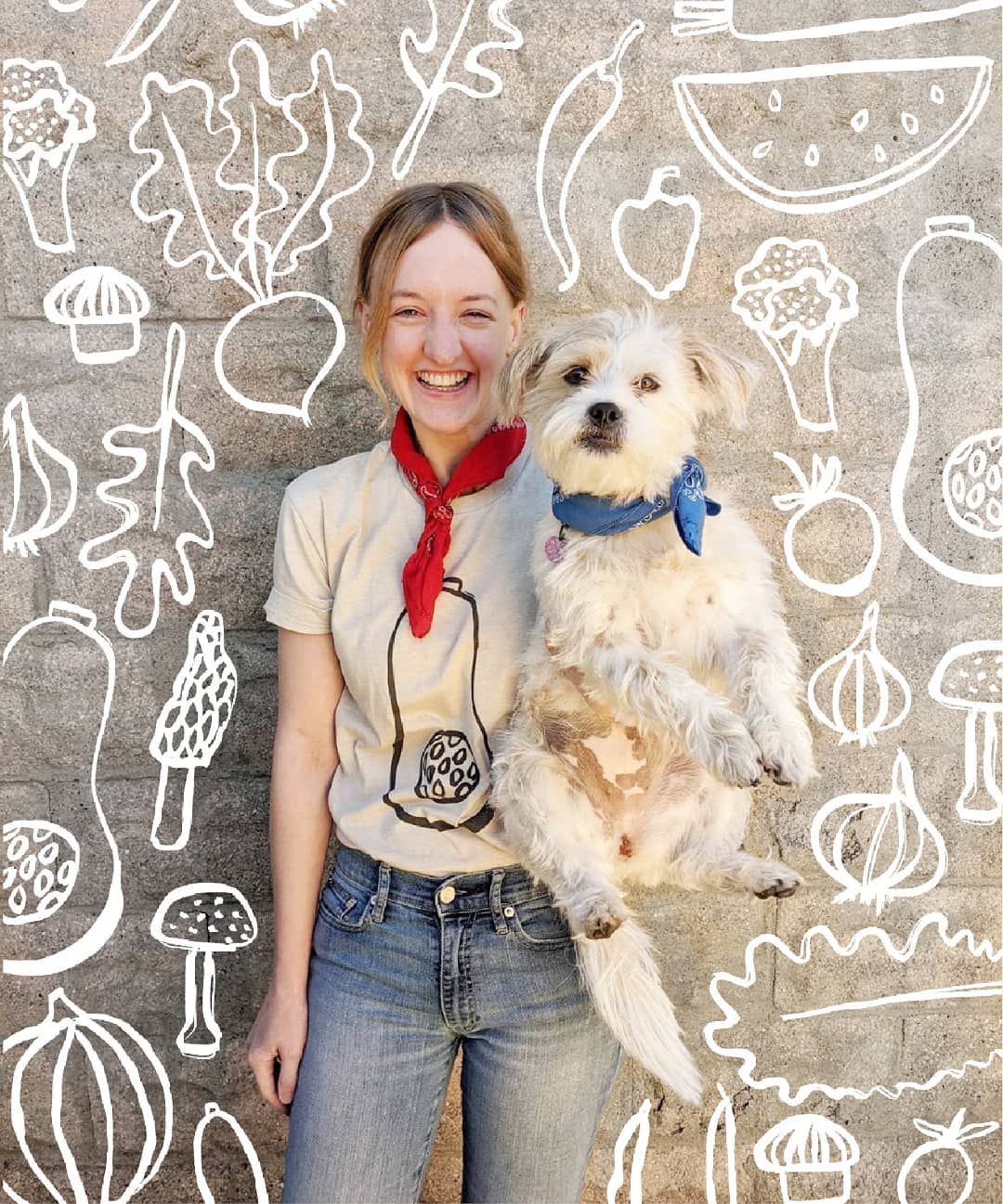 "I especially enjoy working with small, creative, local businesses on really customized projects. As a small business owner, you tend to have a lot of tools in your back pocket, and collaborating with other creatives can make for some really special projects when people are willing to dream up something special, and then figure out how to make it come to life." - Abbie
After Abbie and Jenna's initial connection in the non-profit world, they eventually went on to grow their own individual businesses and have been working together ever since. Abbie even recalls a project from nearly seven years ago in which she designed a logo for Jenna while they were standing in her dining room. Looking back, we can see just how much their businesses have grown and flourished!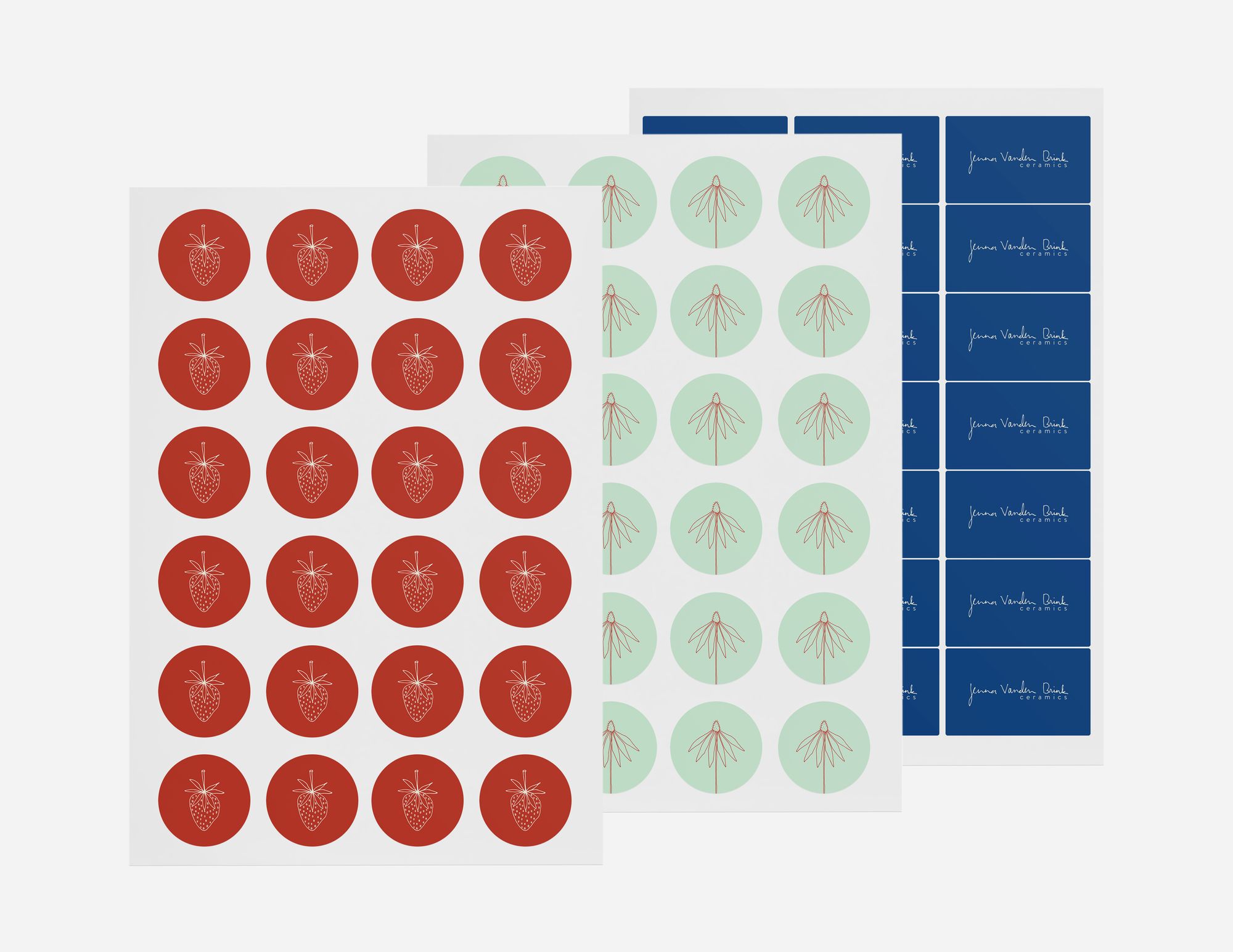 "We have been working together on creating a special customer experience through print collateral, and custom packaging has been on the wishlist for years. In 2020 when my business shifted almost entirely online, I wanted the unboxing experience to be even more special since it was the main way I was connecting with my customers." - Jenna
Creating the Perfect Unboxing Experience:
Over the past few years, Abbie has been developing Jenna's packaging and custom tissue paper, stickers, and tape had been on the list for quite a while. Abbie appreciates Jenna's desire to create a really special and carefully crafted experience for her customers when they receive and open their new ceramic  purchases.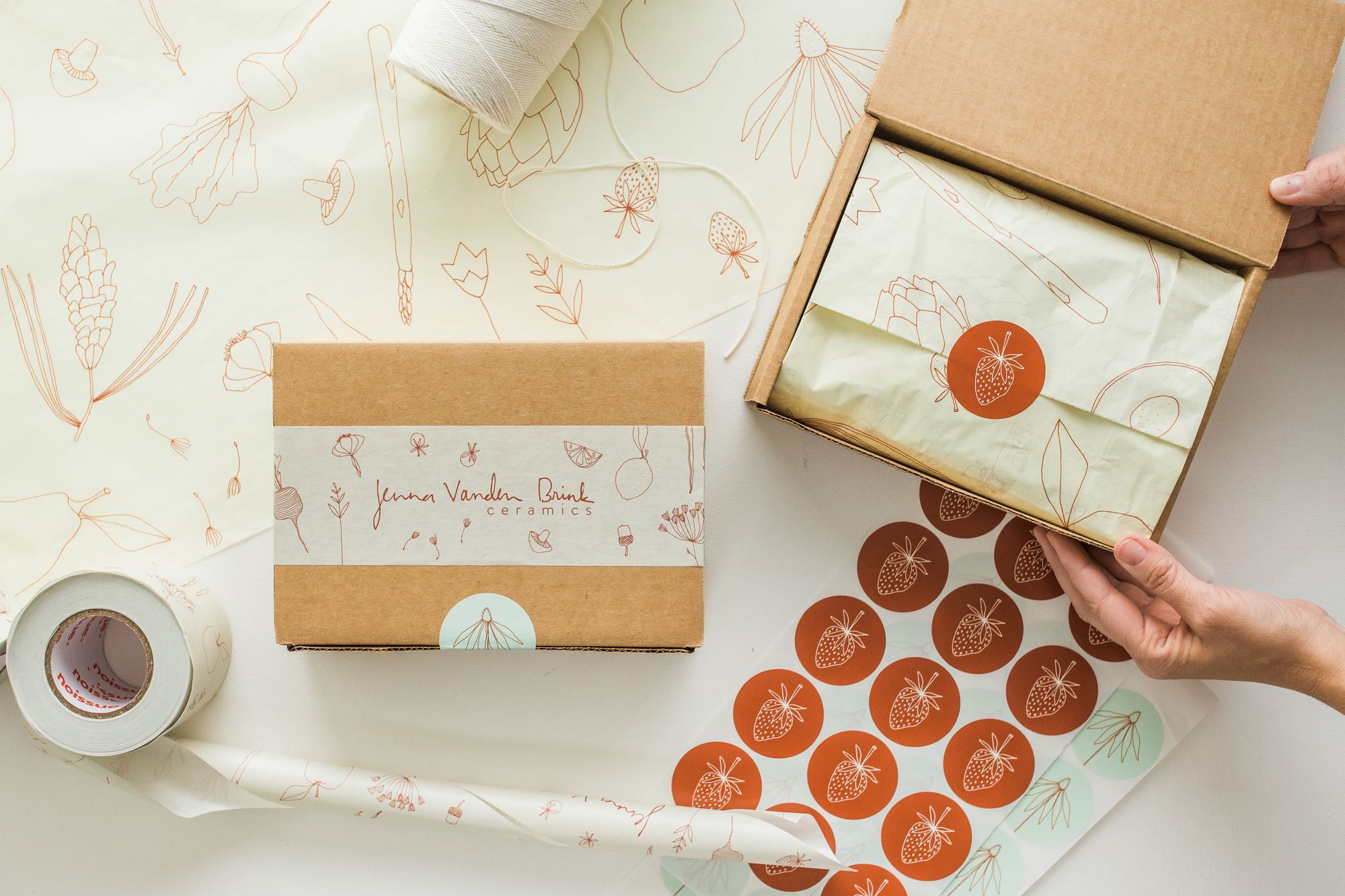 Abbie and Jenna had been working closely throughout the years so this custom packaging project was definitely no exception. The pair started by both throwing out potential ideas to get a better feel of the vision, afterwhich Abbie mocked up a bunch of options. They narrowed it down from there and the result is stunning!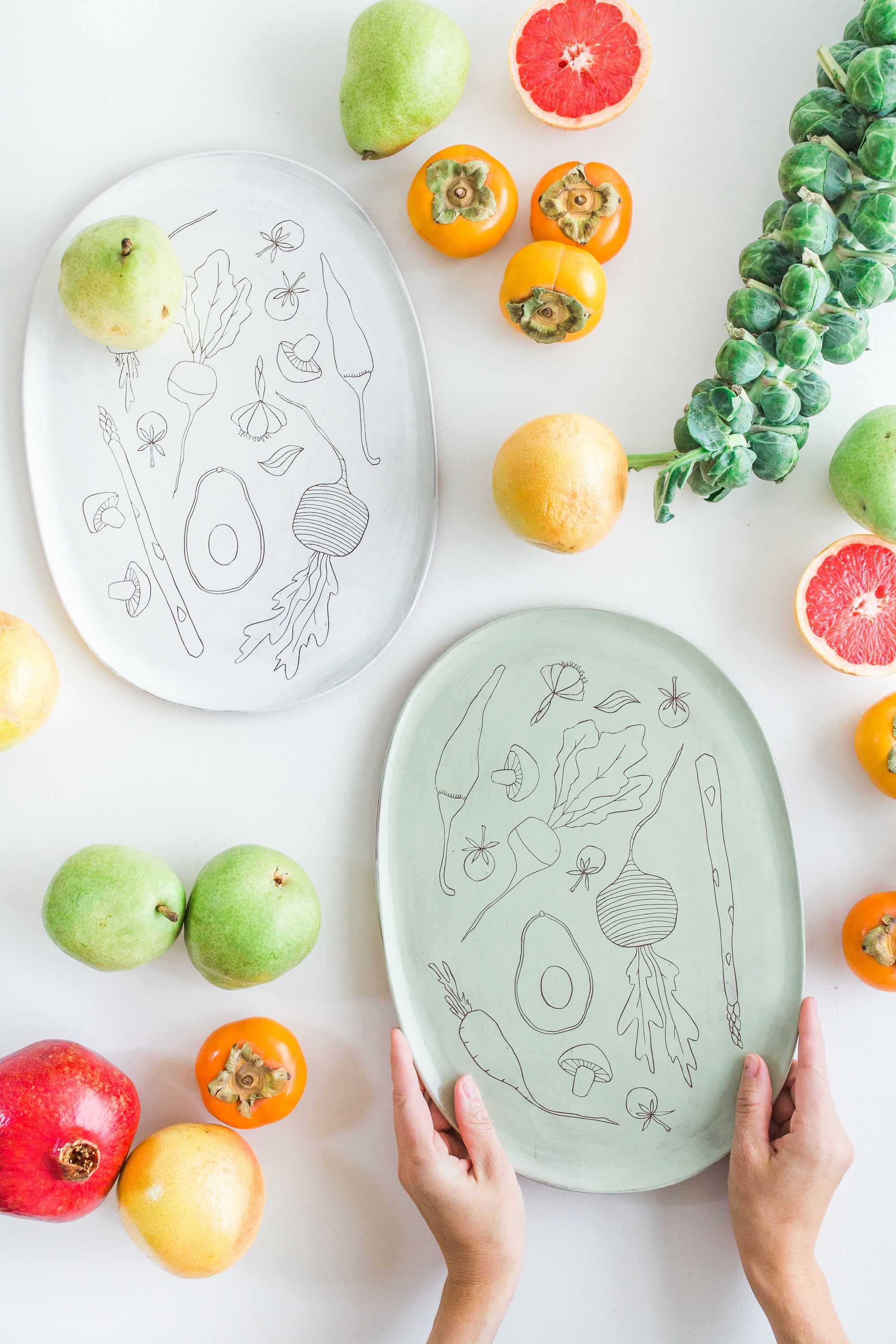 Jenna shares: "One of the biggest challenges is that I offer many different products–various collections of dinnerware, porcelain jewelry, etc., and it wasn't immediately clear what the packaging should look like. We played around with options and ended up incorporating the drawings I carve in my earthenware line of pottery, which are simple and striking and charming–great for packaging products."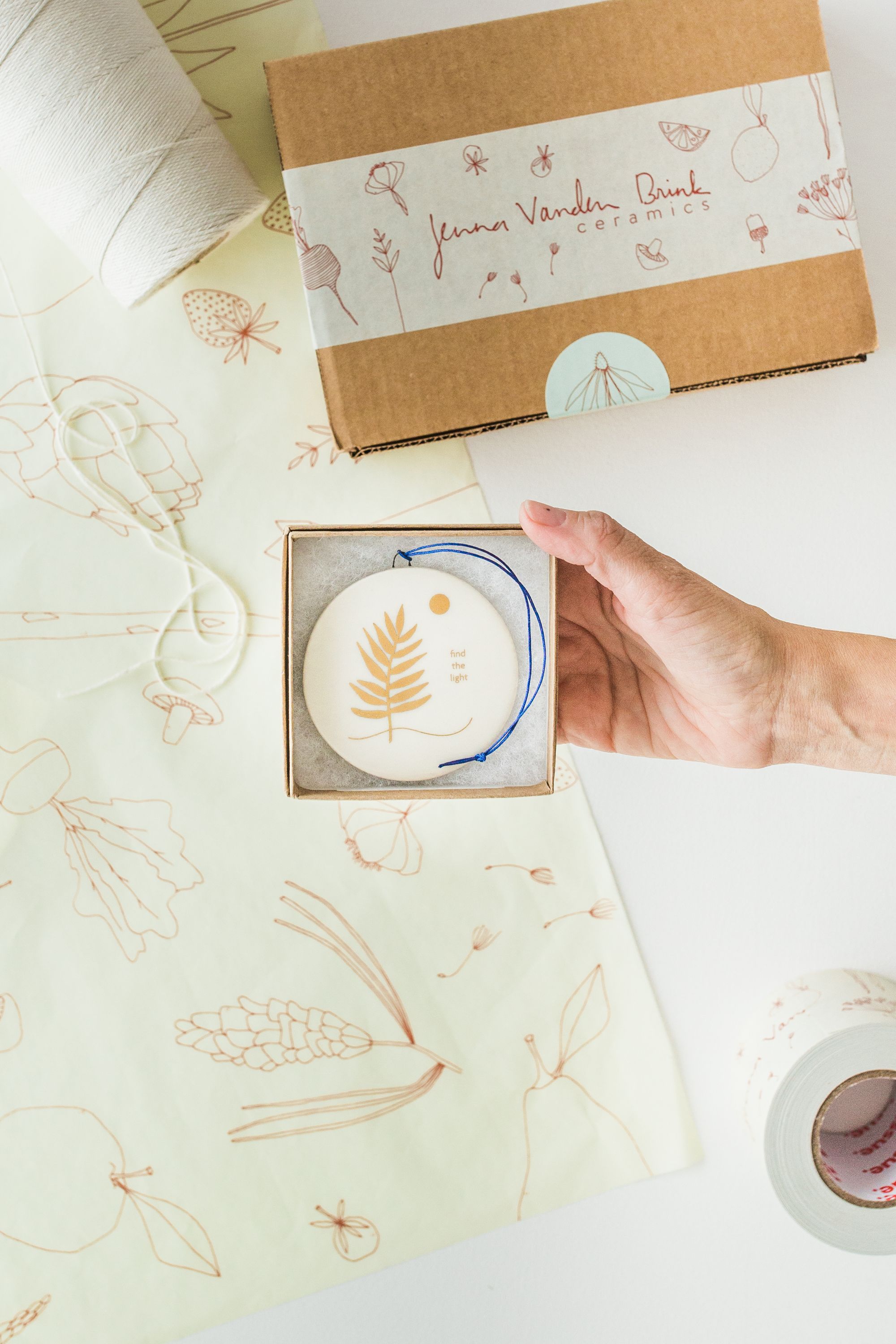 Each piece that Jenna produces is unique and made by hand, decorated with carved drawings or fingerprints or painted gold. With this versatility in her product range, it's important that the experience receiving the package also be unique, considered, and well-crafted. Jenna is committed to supporting eco-conscious and non-plastic packaging and noissue was the perfect option when considering custom sustainable packaging for her brand.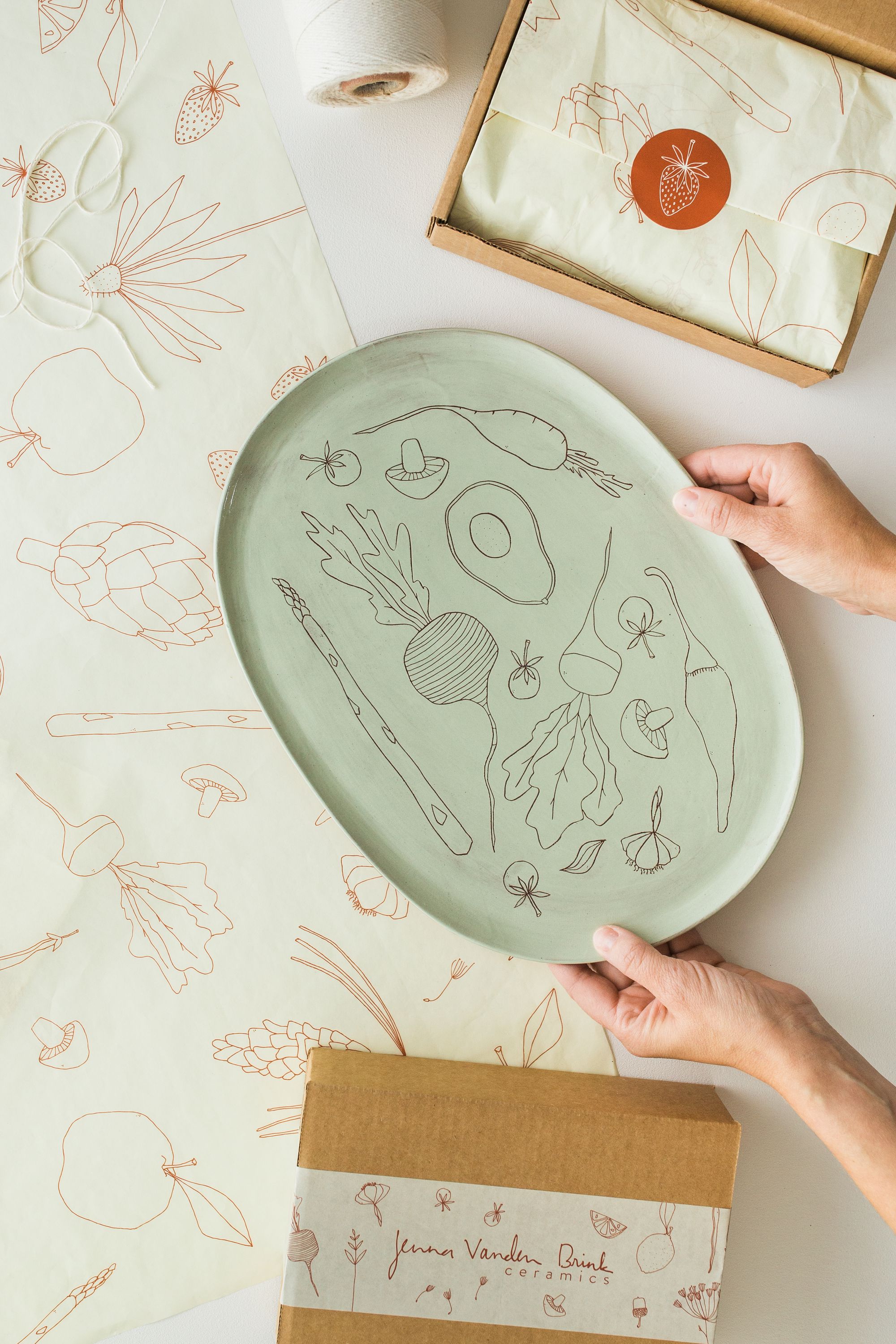 Their noissue tissue and tape features a cream background with warm red lines to incorporate the colors of both of Jenna's porcelain and terracotta clays. Their custom eco-friendly stickers also feature Jenna's earthenware line pottery illustrations that helps tie everything together.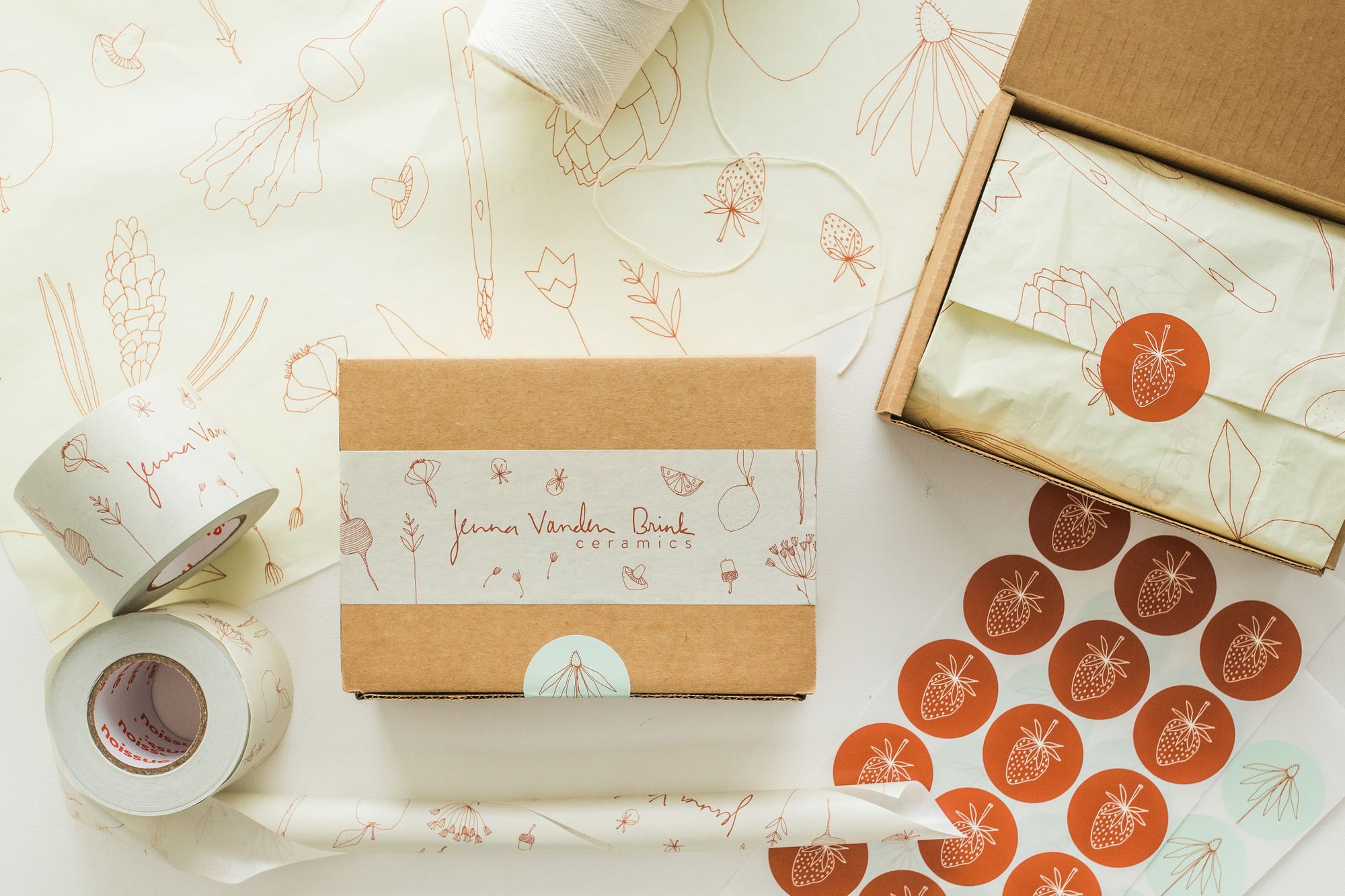 "The ability to create completely customized packaging was essential to the project, and noissue has a great variety of products that make it possible. Customer service was always there to help with the questions I had, and the fact that the materials are sustainable is a huge benefit too." - Abbie
---
Don't forget to check out more of Abbie Adams Studio and Jenna Vanden Brink Ceramics here:
Abbie Adams Studio
Website: https://www.abbieadamsstudio.com/
Instagram: @abbieadamdsstudio
Jenna Vanden Brink Ceramics
Website: http://www.jennavandenbrink.com/
Instagram: @jennavandenbrink