Custom recycled box, paper sticker, compostable card, and Valentine's Day wrapping paper design by @farmrio in partnership with noissue.
Many hearts and bouquets often come to mind when one thinks about Valentine's Day. What we often forget, however, is that this beloved holiday can be a contributor to packaging waste that can be found cluttering landfills. Striking a balance between beautiful, seasonal packaging and sustainability is what FARM Rio aimed to achieve by partnering with noissue for Valentine's Day. And that's precisely what the brand did through a custom, Valentine's Day-inspired design on sustainable gift wrapping and packaging!  
FARM Rio is a Brazilian women's clothing brand that prides itself on being 100% carbon neutral and environmentally-minded. FARM Rio prioritizes conscious apparel creation by using responsibly sourced and made materials for their clothing pieces and dresses, tying together their commitment to sustainability within all pillars of the brand. Thus, a packaging design collaboration with noissue was a no-brainer to celebrate Valentine's Day 2022! The brand shares, "Partnering up with noissue meets our nature-lover essence and our detail-oriented way of working, and as a result, we created a beautiful and sustainable packaging kit together."

FARM Rio wanted to do more than the run-of-the-mill, lovey-dovey packaging for Valentine's Day. noissue and FARM Rio worked together in creating a specifically seasonal design for custom gift boxes, eco-friendly tissue paper, cards, and stickers for e-commerce orders and in-store purchases. To represent their brand values while nodding to the holiday, the FARM Rio team employed a familiar object representing nature in their Valentine's Day packaging design: the strawberry, but with a twist!
The brand's crimson "heartberry" design resulted from wanting to play up the heart motif for Valentine's Day in FARM Rio's clothing collection, dresses, and packaging – while giving a sweet shout-out toward their sustainability commitment. "We love colorful fruits over here! So with the Heartberry print, we could bring together one of our icons mixed with hearts to celebrate Valentine's Day." Organic circular shapes also spatter the navy background of their noissue Tissue, adding more visual interest without stealing the show from the heartberries decorating the paper.
This heartberry design also appears on select FARM Rio items this season, further celebrating the sustainable spirit that the brand is all about and matching perfectly with their noissue packaging. The repeated presence of the heartberry throughout their collection and packaging for Valentine's Day only strengthens their branding – and, no doubt, causes customers to fall head-over-heels in love with this delightful design!
Additionally, customers got to feel extra cared for when experiencing FARM Rio's seasonal unboxing experience. "We love to give attention to details because driving people to the 'wow moment' is something we pursue as a brand. The unboxing moment is a way to connect to clients through the packaging, and that's why we chose this noissue kit for a special date."
No fine detail is left out of their thoughtfully designed package! The brand's custom noissue packaging products complement each other to create a memorable Valentine's Day unboxing. From the brightly colored interior of a recycled box that pleasantly surprises at first impression to the eco-friendly tissue wrapping paper securing items, every component remains on-brand for FARM Rio while having fun with the holiday.
"Usually, our orders come with a FARM Rio tissue and sticker," FARM Rio says about their typical packaging components. "This was the first time we had one of our prints in a custom tissue, and this was very cool for our brand. Plus, we had the opportunity to send along a special card that everyone could use to write cute messages for their sweethearts."
When everything is wrapped in the heartberry compostable tissue paper and sweetly sealed with a compostable logo sticker, you can't help but feel wowed by this swoon-worthy and entirely earth-friendly unboxing! Customers also agreed that the seasonal packaging elevated the shopping experience and made it even more enjoyable.
According to FARM Rio, their heartberry packaging for Valentine's Day garnered lots of love in person and on social media. "noissue packaging supplies brought a very interesting glance to our Valentine's Day campaign. The unboxing Instagram Reel we created to promote the partnership was one of the highlights of our channel at all times. That unboxing Reel was one of the top 5 of our Instagram!"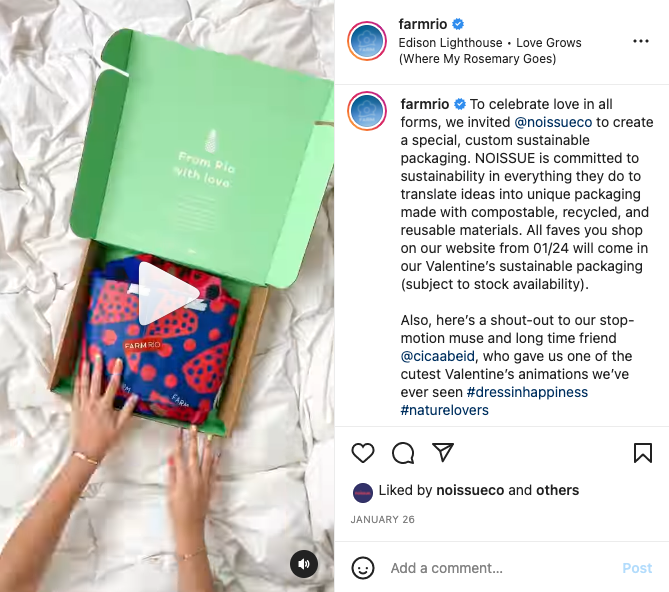 Comments on FARM Rio's Instagram saw plenty of pleased customers sharing their thoughts on the themed, eco-friendly packaging option – including all of the "oohs" and "awws!" From loving the heartberry print on their collection and seeing it consistently displayed throughout the unboxing experience, customers expressed how impressed they were with how premium their packaging looked and felt. One commenter even stated that their FARM Rio order's packaging was "so beautiful, that [they] could hardly toss it in the recycling bin!"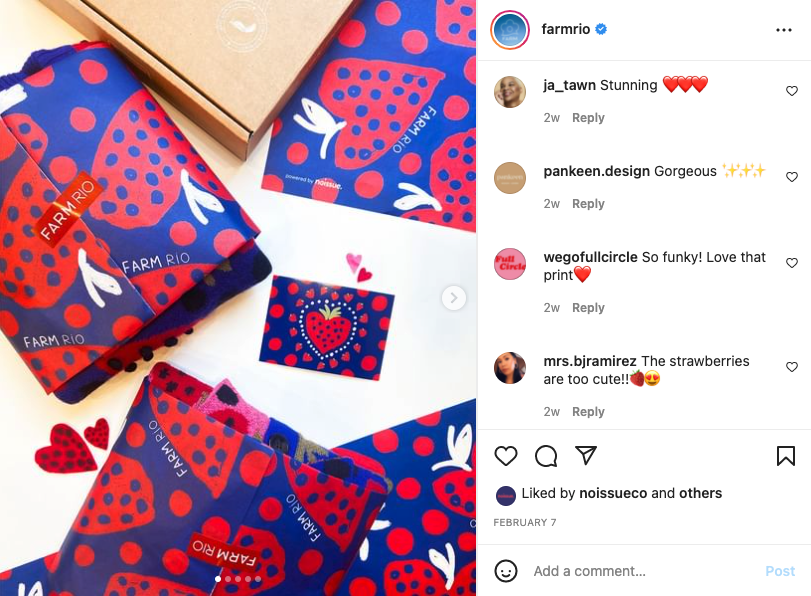 It's safe to say that FARM Rio's Valentine's Day-themed packaging design will forever hold a special place in their customer's hearts! The brand and noissue successfully delivered an unforgettable unboxing experience that doubled the heavy lifting of being beautiful and earth-friendly. Valentine's Day 2022 never looked better in branded packaging that connects with customers and stands out – stylishly and sustainably!

---
See more of FARM Rio on their Instagram and website!

Want to elevate your brand and build up your small business? Build customer awareness and drive sales with noissue custom packaging to uplevel your brand's unboxing experience! Display your logo and turn it into a pattern on packaging solutions made from better materials.
Create unforgettable, branded packaging with custom boxes, tissue paper, packing tape, and more. Use our easy online design platform to get started with uploading your design and logo. Staying on-brand is noissue!