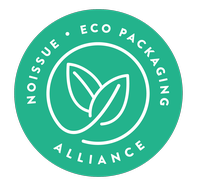 Vintage linens are great examples of art made with loom and needles. With a juxtaposition of delicate lace, bold embroidery, and intricate textile weaving, these feminine pieces are made fancy and nostalgically stunning. But that could also mean hundreds of hours to craft, making these pieces extra special and safe kept to pass on from generation to generation to love for a long time.
Kristelle, the founder of Hastings Handmade, and a lover of sentimental embroidered vintage textiles and sewing, collects an eclectic mix of the best quality vintage and retro fabrics to create dresses made to be timeless treasures, with a little nostalgia sewn into each piece.
Handmade by the sea at Hastings Point, NSW, Australia, Kristelle creates dresses that are bespoke and made to order, minimising waste and bringing new life to preloved textiles. Her intricately made dresses, that feature beautiful embroidery and are from repurposed tablecloths and linens, are made to live in for salty, muddy adventures, and for chasing after little feet, made with motherhood in mind.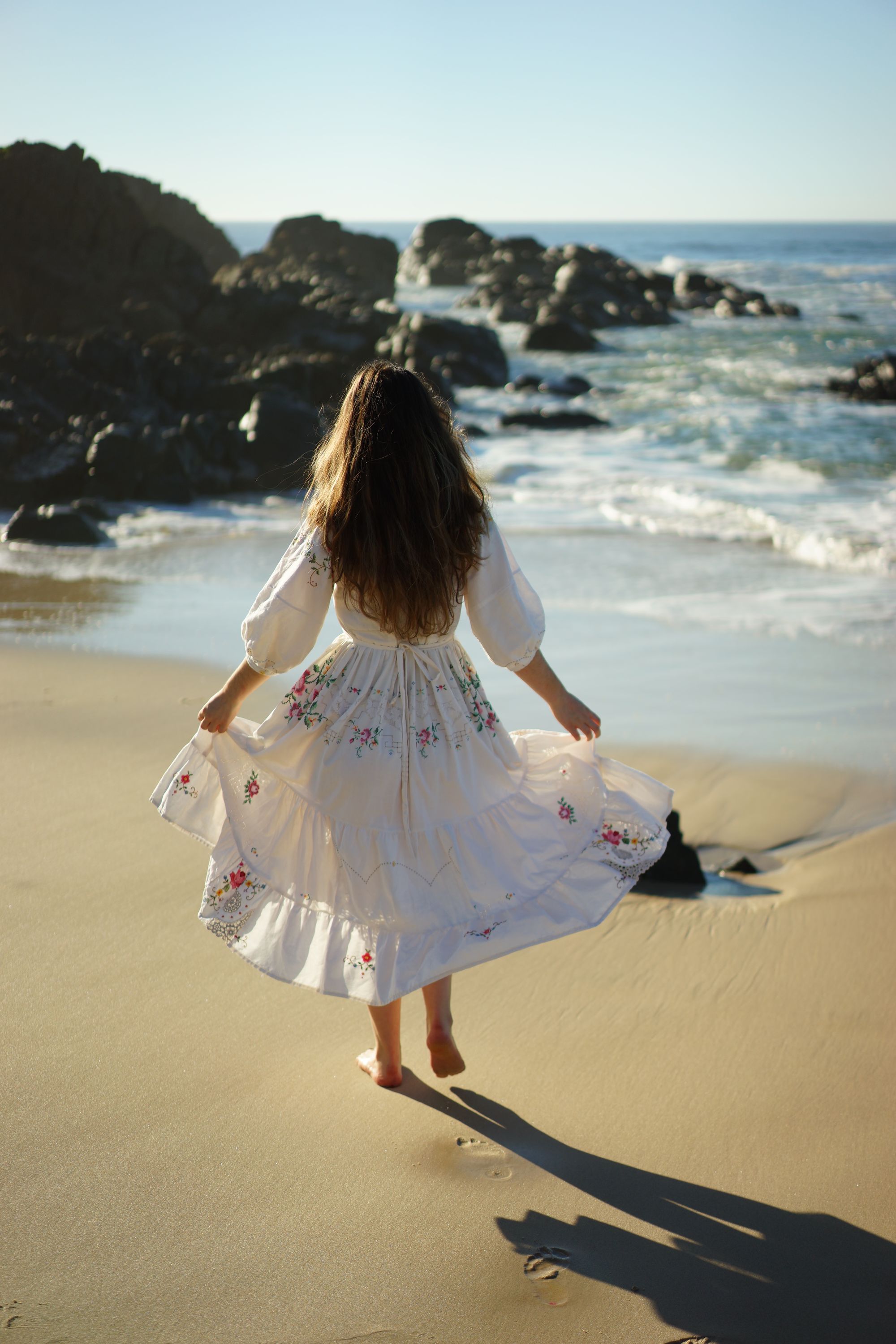 Kristelle have always loved the sense of nostalgia that vintage textiles can evoke. She admires the time, effort and love that has gone into antique embroidered pieces. The first time the artist ever made a dress was out of vintage textiles from her grandmother's beautiful floral sheet–a treasure she felt comfort in every time she would sleep in it. The dress carries the same sense of nostalgia and sentimentality every time she would wear it.
But aside from being reminiscent of innocence and beautiful times with loved ones, our creative seamstress also looks forward to the future with each piece she creates.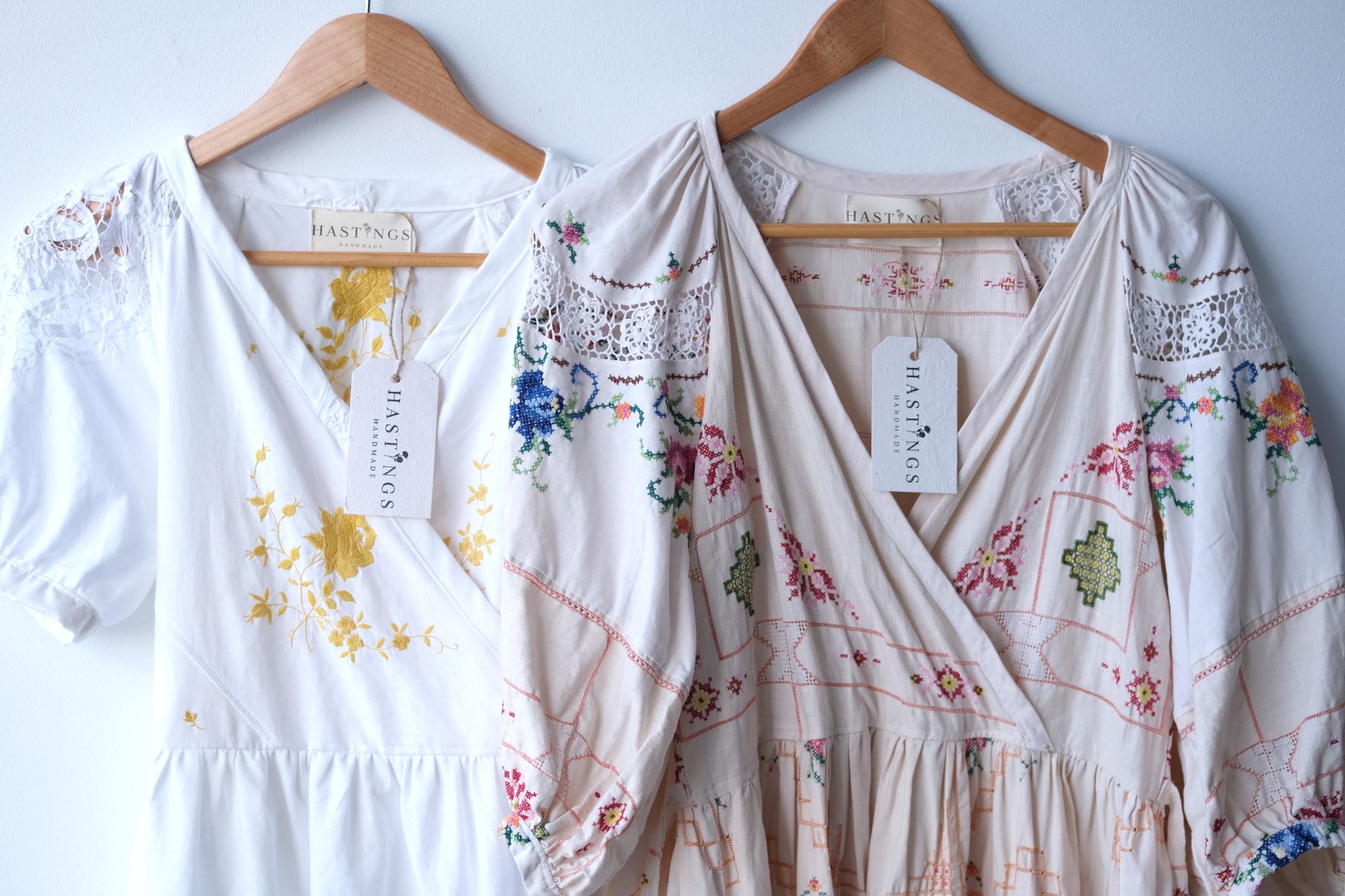 In Hastings Handmade, sustainability means using materials that already exist and rewriting their story into beautiful wearable pieces. With this in mind, they minimise their carbon footprint by making use of recycled vintage textiles for all of their items.
"All of our garments are made with recycled vintage textiles, ensuring that our products are sustainable and contribute to the slow fashion movement."
They also recycle textile offcuts into their Cloud Bags, and ensure that even their packaging is biodegradeable. They use seeded paper swing tags, stamped with their noissue personalised stamp, so that their customers can plant them and be thanked with Swan River Daisies!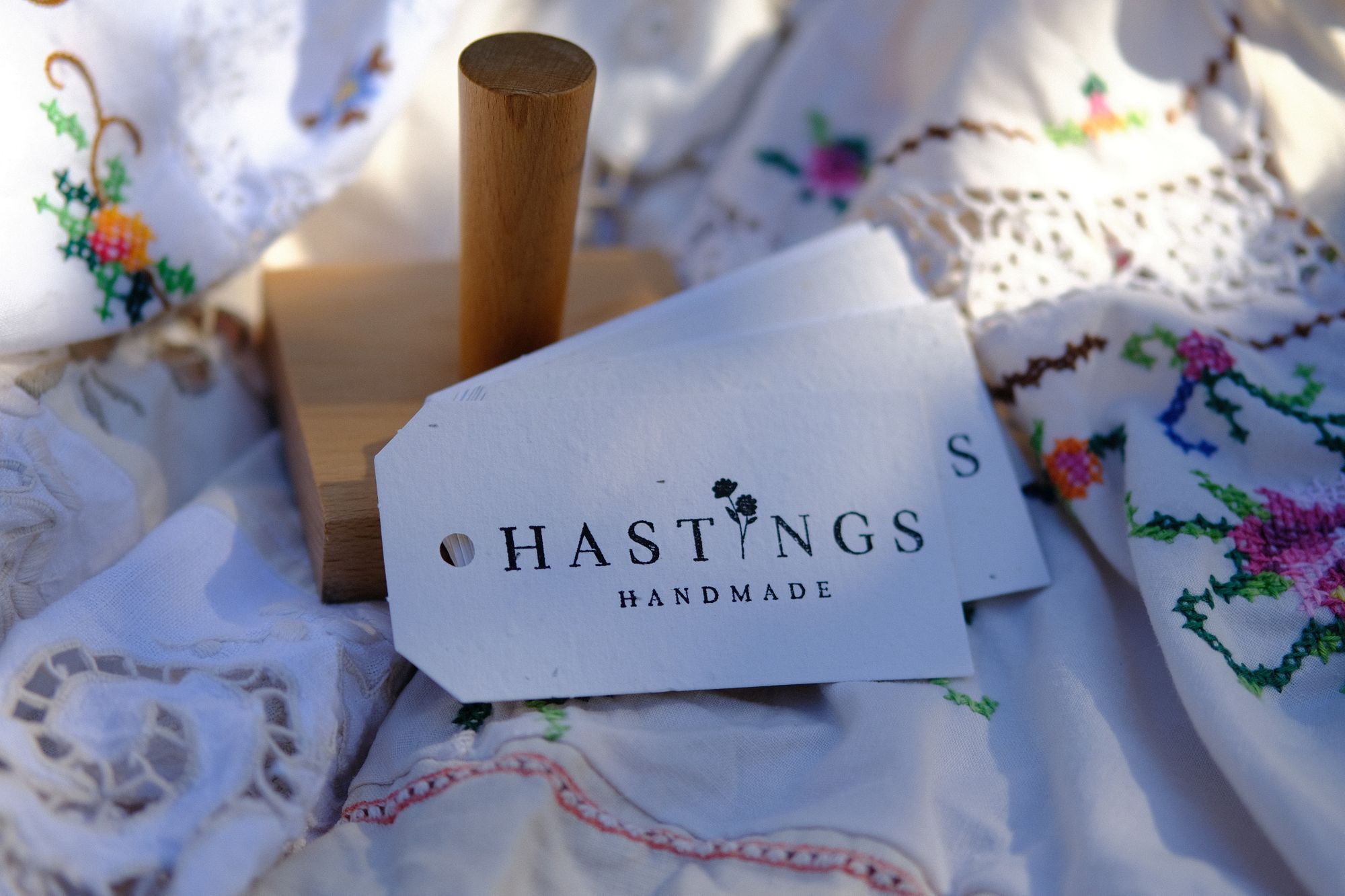 They use noissue products to ensure sustainability runs to the entire core of their business, from the garments that they make to how they are packed and prepared for their customers.
Hastings Handmade is also a proud noissue Eco-Alliance member. To them, "it helps emerging small businesses like ours to start sustainable from the outset through small minimum order quantities as well as contributing to global reforestation."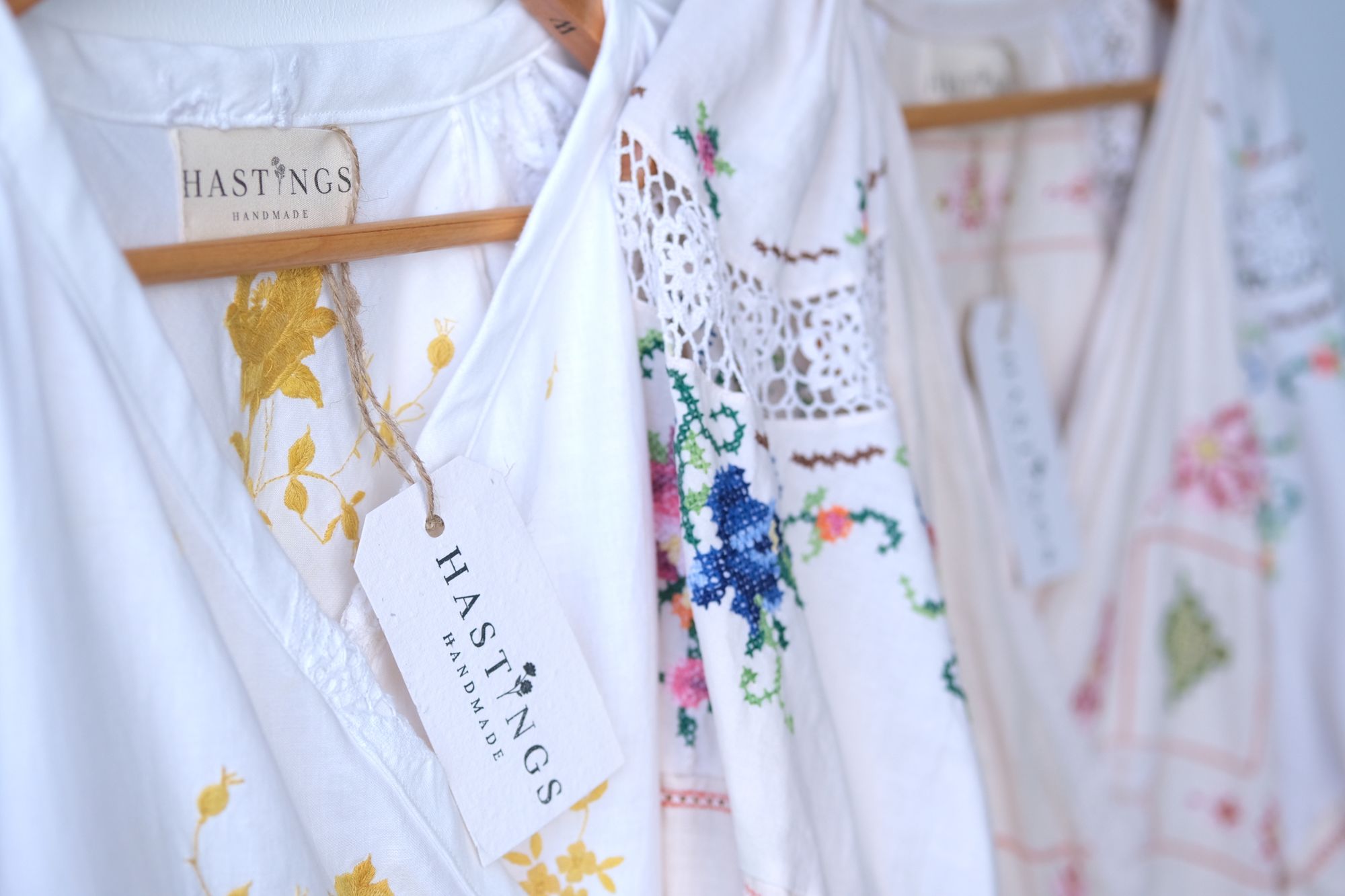 To produce beautiful dresses sustainably? A feat not everyone can accomplish. But it also wasn't easy for our artist to take the first step into starting Hastings Handmade either, but it sure was worth it to her. She believes it's enough that you find something your passionate about, for as long as you pursue it.
And with all the beautiful pieces in her collection, it's difficult to find the best one. Each dress tells a tale, and that's what makes all of Kristelle's dresses her favorite. Vintage textiles are, after all, rich in history and just plain beautiful!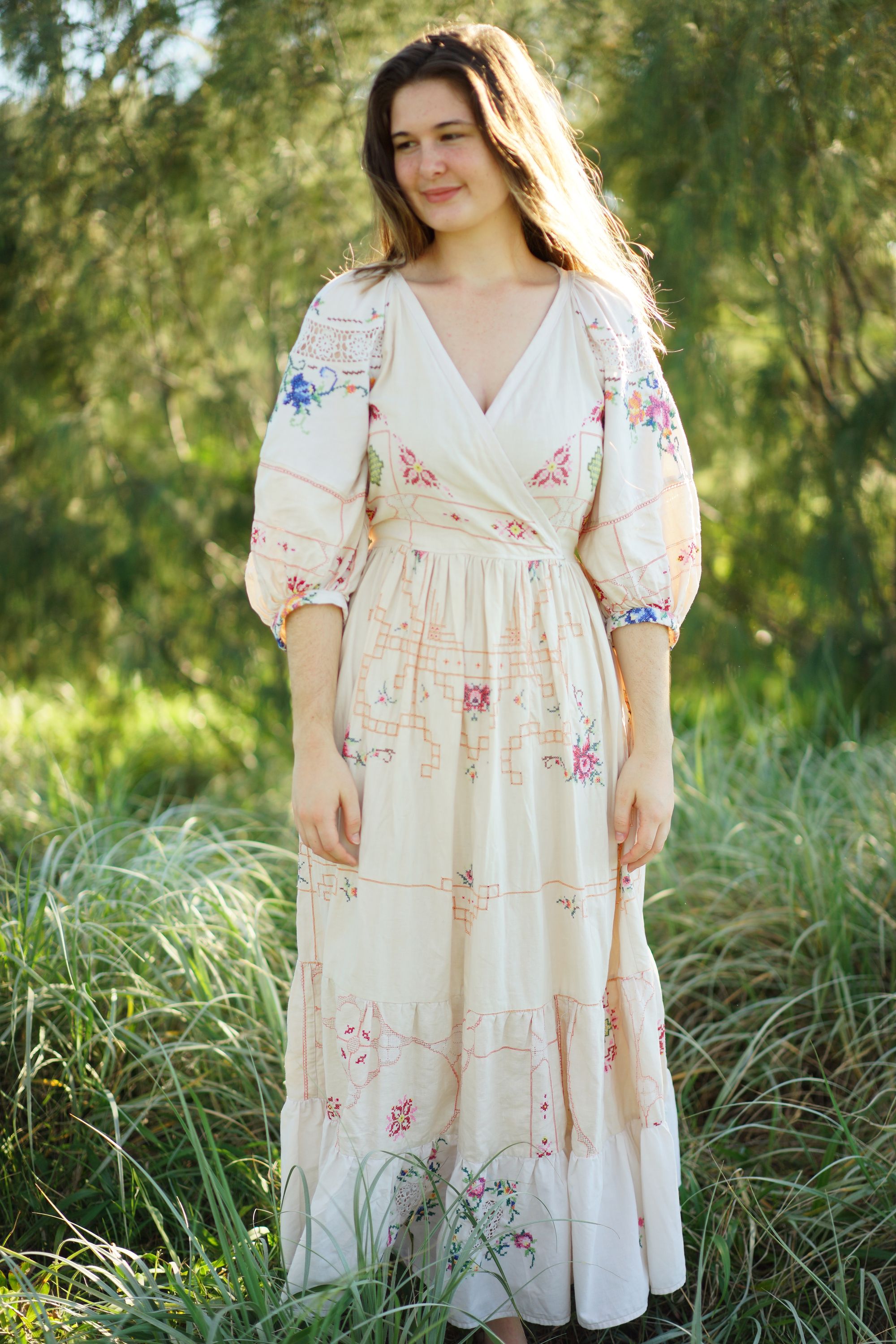 Kristelle is now currently running her business from home while raising her one-year old boy on the beautiful NSW North Coast.
Making sure that she is 100% present in her different roles as mother, wife, and small business owner is always challenging but so rewarding.
---
Find more of Hasting's Handmade here:‌‌
Website: hastingshandmade.com‌‌
‌‌Instagram: @hastingshandmade
Like this story? Tell us yours! Share your brand story and love for your custom packaging and get a chance to be featured on the wrap! If you're a noissue customer and are interested, you can join the Eco-Alliance by clicking here and answering a few questions here.
Questions? Email us at ecoalliance@noissue.co.