In our latest case study series 'How I Fulfill' we speak to small business owners from across the world about how they manage their order fulfillment and unboxing experiences. First up, we speak to Tiffany Staten, the Founder of natural body care brand London Grant Co. She tells us about how she goes about creating an unboxing experience which is eye catching and on brand.

Tiffany Staten's business began in 2016 when she was pregnant with her first child. After struggling to find a body butter that was both effective and safe for pregnant women, she resorted to making her own in her kitchen using only natural ingredients. After glowing feedback from the family and friends, Tiffany was inspired to take clean living to another level. With this firm commitment, London Grant Co. was born!

Today, the still-handcrafted brand operates from Atlanta, Georgia, producing a full range of body care products made from 100% plant-based and organic ingredients.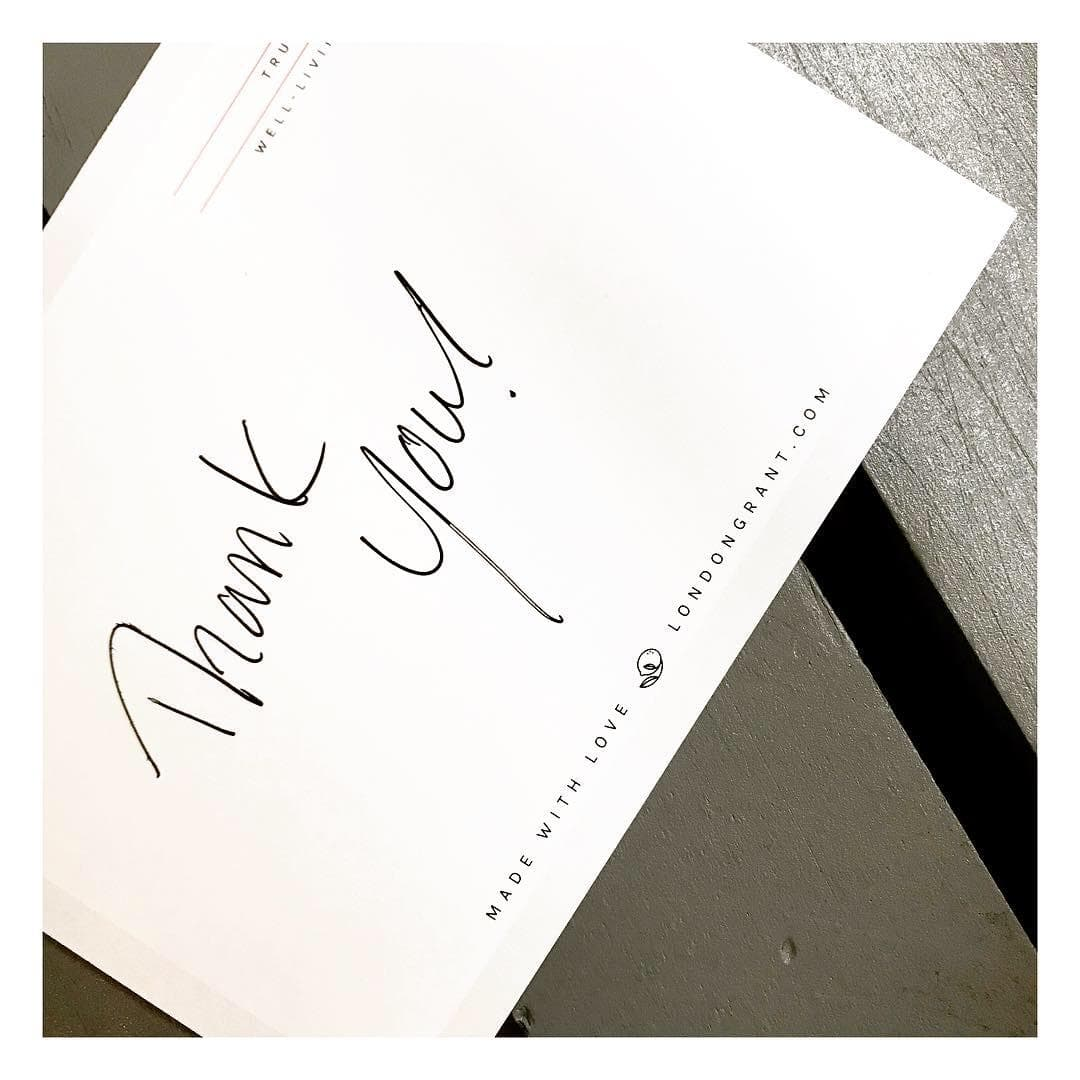 Tiffany's steps to order fulfillment
Order fulfillment in ecommerce can easily feel as though it's rolled straight off the assembly line, rather than designed to make customers feel special. As Tiffany highlights, a handwritten thank you is a fantastic addition to your unboxing experience. It helps to forge a personal connection with your customer, which is the key to improving ecommerce conversion rates and brand loyalty.

Tiffany Staten describes to us the steps of her order fulfillment routine:

We've put a lot of thought into our unboxing experience. While we continuously review our fulfillment process to identify streamlining opportunities, each of our packages involves considerable time and attention.

We begin by reviewing our orders for the day, printing shipping labels and invoices. One of my personal favorite steps in our process is writing a thoughtful note to each customer. I consider their past orders, and discussions we may have had about the products that best suits their needs. It's a meaningful time for me to connect and engage with my audience. Customers have shared that our notes are often the highlight of the unboxing experience!

From there we select the appropriate box sizes, pick our product from shelving and organize our workstation in prep for packaging. Having a tidy workstation is essential for swift packing! We prepare all of our custom tissue paper folds, pre-cut our packaging tape, and organize all of the collateral. This makes it easy to pull together all of the packaging materials as needed.

Of course, this is in an ideal world. Working from home (and sharing our home with a busy toddler) means that my workstation can get out of sorts. I simply do my best to tidy up in advance of "Shipping Days" so that the process goes quickly and smoothly.

It's important as a business that you leave room for your unboxing process to grow with your brand identity. As you get a stronger sense of what your core values are, you may find that your initial packaging/order fulfillment process is now at odds. This isn't a bad thing! A brand needs to be dynamic if it's going to stay relevant and successful. The key as a business owner is to know where this needs to be reflected within your unboxing experience.

"In the beginning - back when we didn't even have a product label - we were packing in bubble mailers that we bought from the local office supply store that week. We were very agile and adjusted as our product packaging changed. We grew away from plastics and designed our unboxing to contain 100% recyclable materials - from product to box."

The role of noissue tissue in Tiffany's unboxing experience
By selling products whose ingredients are 100% plant-based and organic, the unboxing experience has particular relevance for Tiffany. By staying away from synthetic substances in her products, using plastic packaging was increasingly off brand for London Grant Co as it grew. This led Tiffany to refresh her unboxing experience with noissue's eco friendly custom packaging to better reflect her brand values.

An important component of our business is to remain true to well-living, and to encourage others to take incremental steps towards a cleaner and more balanced life. One area that we focus on is low-carbon footprint packaging. We love that noissue offers beautiful, eco-conscious tissue paper for our shipments and pick-up orders. As a small, newer brand, we are able to continue our branding message and identity through our custom tissue paper. This conveys that we have put care, love, creativity, and attention into their experience when they open the box. Our customers love the special touch and gain a better connection to the "vibe" we want to create. For us, that means authenticity and simplicity.

Of course, how you go about protecting the products within your unboxing experience is just as important as your branding! Damaged products are a costly and stressful mistake to rectify, so your order fulfillment process needs to consider this. For Tiffany, her noissue custom tissue paper also helps in these efforts:

Sending glass means that we need practical solutions to cushion and protect our products. By layering our noissue tissue paper with kraft crinkle paper, we provide beautiful and effective protection for our packages.

The challenges of Tiffany's unboxing experience

As a specific niche within order fulfillment, creating a memorable unboxing experience does come with its own difficulties. It's proven itself to be a fantastic digital marketing strategy through unboxing videos and social media content. But for small businesses, putting together an unboxing is a large financial and time investment. As London Grant Co. has grown, Tiffany has had to find ways to streamline the process.

We are focusing on reducing the cost of order fulfillment - including time (labor) and packaging materials. As a small business, we know that there are hundreds of beautiful unboxing solutions. Putting all of those elements together is what creates a meaningful experience for our customers. We don't want to compromise on that quality or special touches, but are looking for ways to reduce the cost of our overall unboxing.

One way that we address this is by ordering materials in bulk to reduce our cost per unit. When we started out, we'd place small orders for less than 100 boxes. We are now shifting to a space where we can invest in the upfront costs of larger orders and monitor how our inventory is moving. This strikes a balance between having enough supplies on hand and constant material replenishment.

We address the labor/time issue of fulfillment by reducing the steps to complete an order and having our workstations well-prepped in advance of "Shipping Day." That may seem like a small thing - but when your office doubles as home and warehouse, this can become challenging!

So, what is the one piece of advice that Tiffany would give to other small businesses about order fulfillment?

Consider your fulfillment process as a vital last step in a communication system with your customer. It's the last chance that you have to "surprise and delight." Whether that is enhancing the unboxing experience (within budget), ensuring fulfillment accuracy (every time), or adding time to write a personalized note - these small details amount to large payouts in customer engagement.

For more on how to create a memorable unboxing experience, check out our blog!