A delicious dining experience is in the bakery bag! 🥖
Did you know that bakery bags can be a simple yet effective way to elevate your cafe's dining or takeout experience? By using bakery bags, you can make your food look more appetizing and professional. In this blog post, we'll show you how to use bakery bags to improve your cafe's presentation.
We'll also provide tips on choosing suitable bakery bags for your business.Easy as pie!
What are bakery bags?
First, let's define these packaging materials. Bakery bags are food-grade paper bags commonly used to package baked goods. They stand out from other types of food packaging because they are made from Kraft paper and are the perfect size for holding a variety of baked goods, from cookies and pastries to bread and bagels. Bakery bags can be either white or brown, depending on the look you are going for.
Kraft paper is the most common type of paper used for bakery bags. It is a natural brown color and has a rustic look. Kraft paper is also curb-side recyclable, making it a sustainable choice for packaging.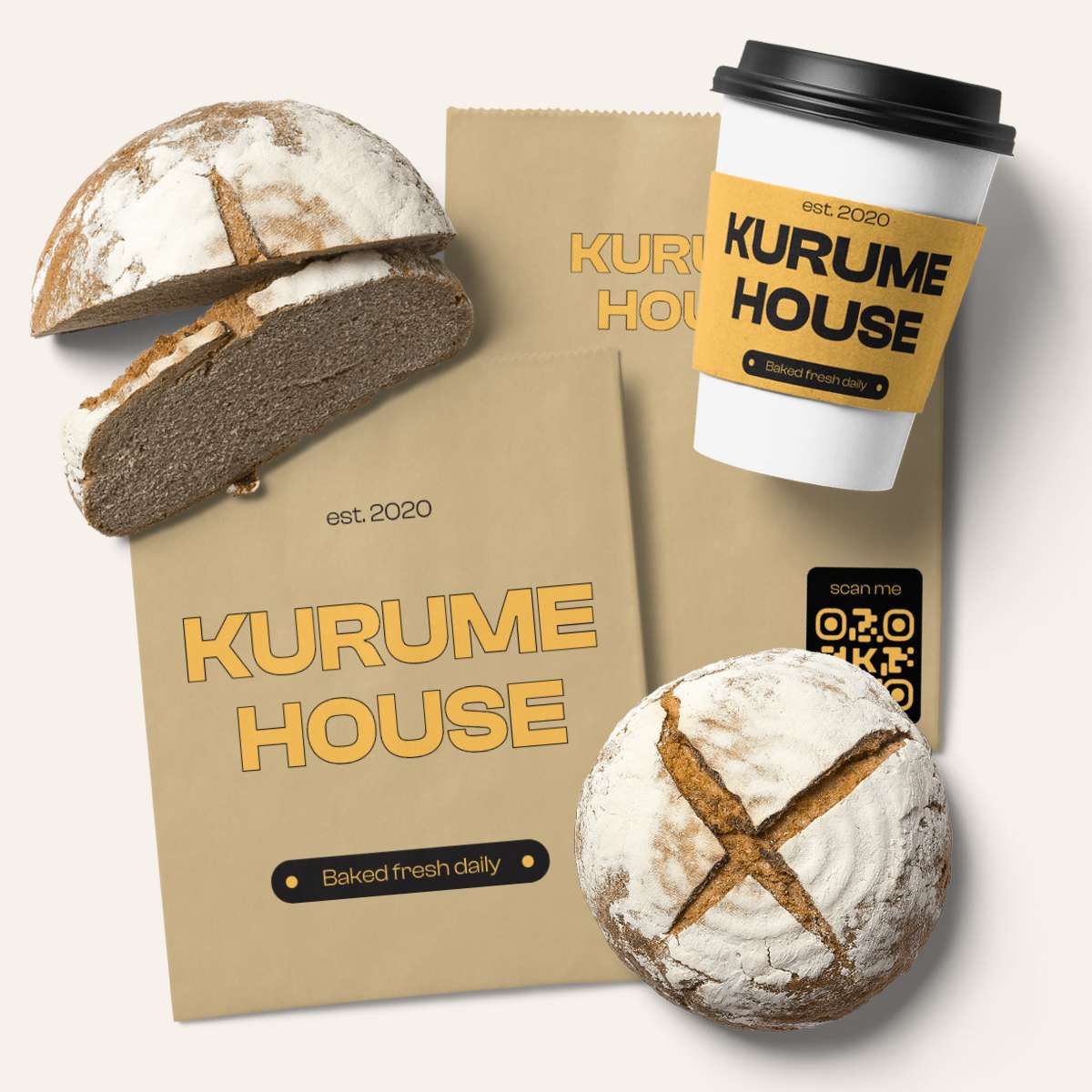 Why should I use bakery bags as a food business?

Bakery bags are ideal to package food for takeout or delivery.
The main advantages of using bakery bags are:
They help to keep food fresh

Baked goods are best eaten fresh, and bakery bags help keep them that way. The paper material helps absorb moisture and keeps the food inside from drying. It also prevents bacteria and other contaminants from coming into contact with the food.
Another advantage of using paper bags is that they are breathable. This means that the food inside won't get soggy if wrapped up in a paper bag for too long.
They improve the customer experience

In any business model, repeat customers are essential for success. You want your customers to have a positive experience with your product so they will return and recommend you to others.
Part of the customer experience is the unboxing or unwrapping of the product. When customers see their food packaged in an attractive bakery bag, it gives them a sense of anticipation and excitement.
If you are using bakery bags to package takeout orders, include your logo and branding information on the exterior. This will help promote your company and make it easy for customers to find you again.
They're a convenient to-go bag option

Bakery bags are the perfect size for carrying a variety of baked goods. You can also use them to package other types of food, like small sandwiches and salads. Paper bags are easy to carry and don't require any special care or handling. Simply grab a bag and go!
If most of your customers are on the go, consider investing in a bulk order of kraft paper bags. It also benefits you for deliveries as they'll keep the food fresh for longer.
How to use bakery bags to elevate the dining or takeout experience

If you want to use bakery bags to elevate the dining or takeout experience in your cafe, there are a few things you can do. Of course, you can ensure the bags are high-quality and visually appealing. But you can also take extra steps to make the food inside look even more appetizing.
Here are a few ideas:
Pop baked goods in at checkout for your customer

Upselling is proven to increase sales and profit margins. And what better way to do it than with freshly baked goods? As your customers check out, let them know that you have freshly baked cookies or pastries. Pop a few in a bakery bag and tie it shut with some string or ribbon. This makes for a great gift or snack to take on the go.
It can be a dessert for later or an energy booster for the commute home. Either way, your customer will appreciate the thoughtfulness and be more likely to come back again.
The famous sandwich chain Subways does something similar with their trios. When the sandwich is done and the customer approaches the register, they upsell by asking if you want a couple of cookies or a bag of chips to go with it.
They're ready to grab and go!

Another way to use bakery bags is to have them ready to grab and go. This strategy is especially convenient for customers who are in a hurry or don't have time to wait. It also saves you time as you can package the food in advance.
To do this, simply place a few bakery bags filled with fresh baked goods near the register. Customers can then choose what they want and pay for it on the way out. It's a foolproof method to increase impulse purchases and boost your bottom line.
Bonus: Use a custom stamp or custom coated label to add branding

Consider adding a custom stamp or label if you want to take your bakery bags to the next level. This is a great way to add branding and make your bags stand out from the rest. For branded bakery bags, display your logo on one side while the other can display your establishment's name or store information.
Using noissue's beginner-friendly design platform, custom eco-friendly stamps are easy to create and can be made with your company logo or any design. You can also use a custom  waterproof sticker for a more professional look and to seal the bag opening to keep it tamper-evident. Doing so adds a personal touch and makes your bakery bags even more unique.
Where to buy bakery bags

First impressions matter, and using high-quality packaging is a great way to make a good impression on your customers. That's why it's crucial to invest in sustainable bakery bags that are both attractive and durable.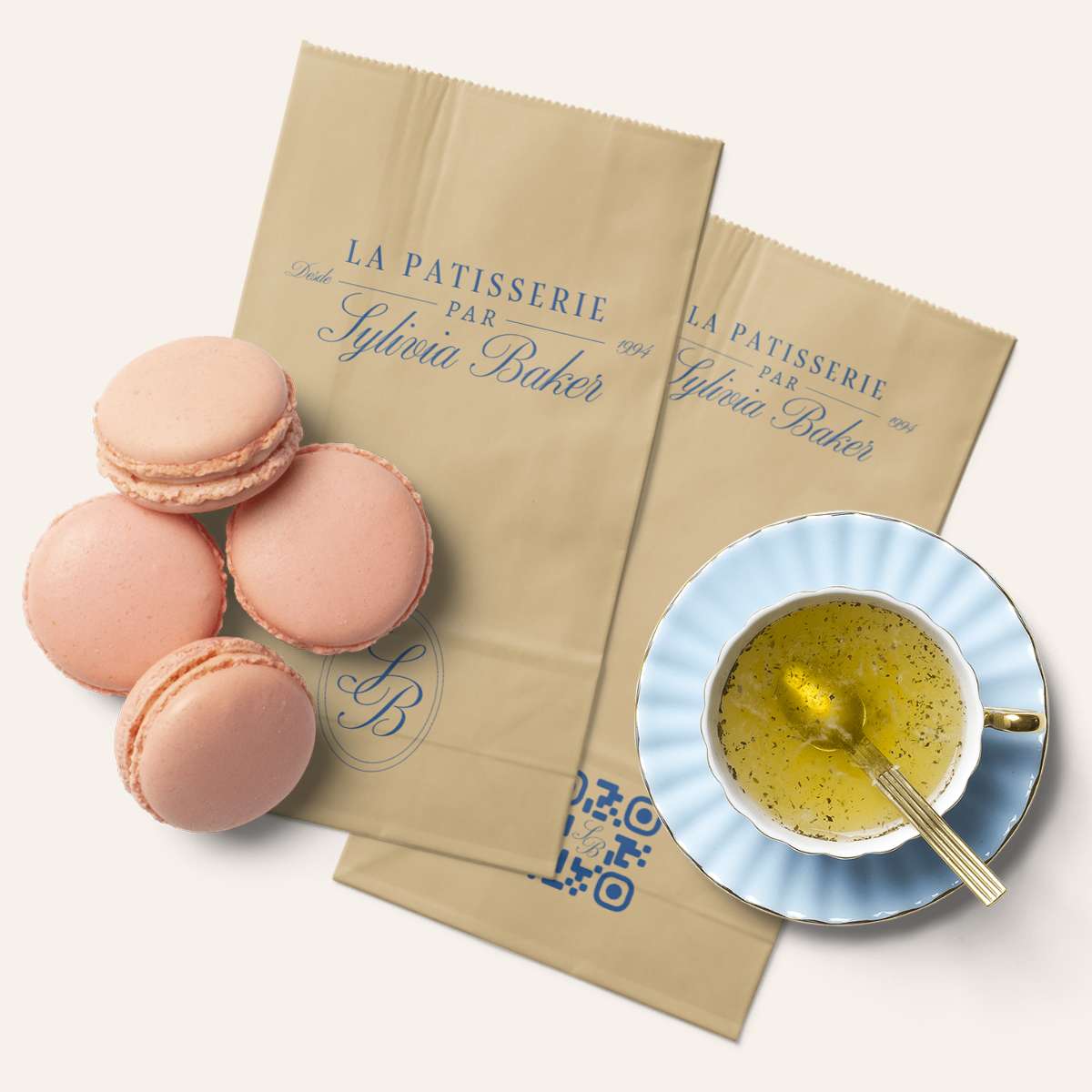 Custom bakery bags from noissue show your customers how your brand is going above in beyond in ensuring the quality of your goods without sacrificing sustainability!
🎁 Wrapping it up

Bakery bags that show off your branding will keep your baked goods looking and tasting scrumptious in style. Your customers will love how your food-safe packaging is sustainable, too – so they can chow down on your best bites with confidence!
Create your own design to go onto custom-printed bakery bags and make your food-safe packaging as memorable as your irresistible eats!