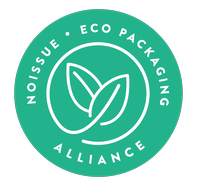 From cave paintings to your favorite children's book, animals and plants have been part of our visual culture ever since. They've become such go-to muses that we've collectively changed our perspectives towards them and have found creative ways to represent them in art.
Marie-Anne, a Montreal-based artist and the founder of our featured brand, Jaune Pop, loves to create beautiful illustrations of Flora and Fauna. Her unique take on these beautiful creatures has amassed great love from her art admirers.
Take a step into the colorful world of Jaune Pop in Marie-Anne's own words:
"Hello, I'm Marie-Anne. I live in Montreal and I love to create illustrations while drinking tea. I make articles that can be practical, entertaining or decorative, but always imbued with funny poetry. Among these are postcards, stickers, coloring illustrations, tea towels, and much more."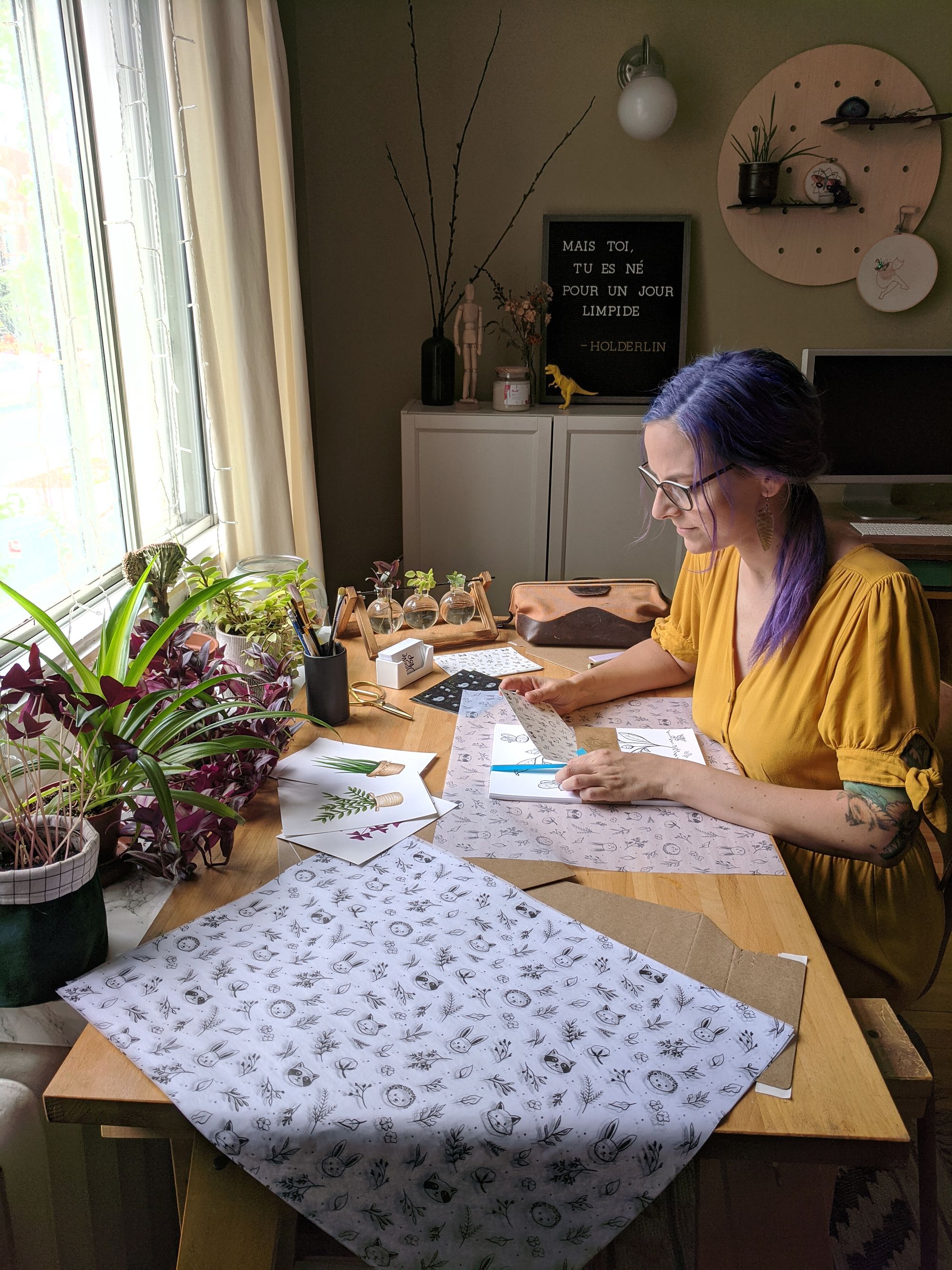 "Animals are very often at the heart of my illustrations, they inspire me a lot. I also really like flowers and plants, so they also have a place in my art. I choose my medium depending on the product I have in mind. I mostly use watercolor and wood pencil. But I now barter traditional mediums for my tablet when I create illustrations for coloring.
I have always drawn, but it was at the beginning of 2016 that I decided to start my illustration business. At this time, I only wanted to sell downloadable files, but I got caught up in the game and started to make "physical" sales after a few months. One of the things that pushed me towards the material sale is, among other things, the idea of packaging. I love thinking about the way my customers will discover their orders."
"My vision is to create pieces of joy in the lives of those who will let me in, through my illustrations. Happiness is a very complex thing, but we can easily add small joys to our daily lives, and sometimes, it makes all the difference. And it's not just my business vision – it's my life philosophy, and it's been there for a long time. I am the type of person who organizes an evening with friends thinking of different ways to punctuate it with little surprises. I very often carry ready-to-inflate balloons in my bag, just for "emergencies". I make detours to get from point A to point B just because I want to go through the prettiest lane in the neighborhood. Jaune Pop is simply an extension of my way of being and seeing life. And that's probably why it's never a chore for me to spend time in my business."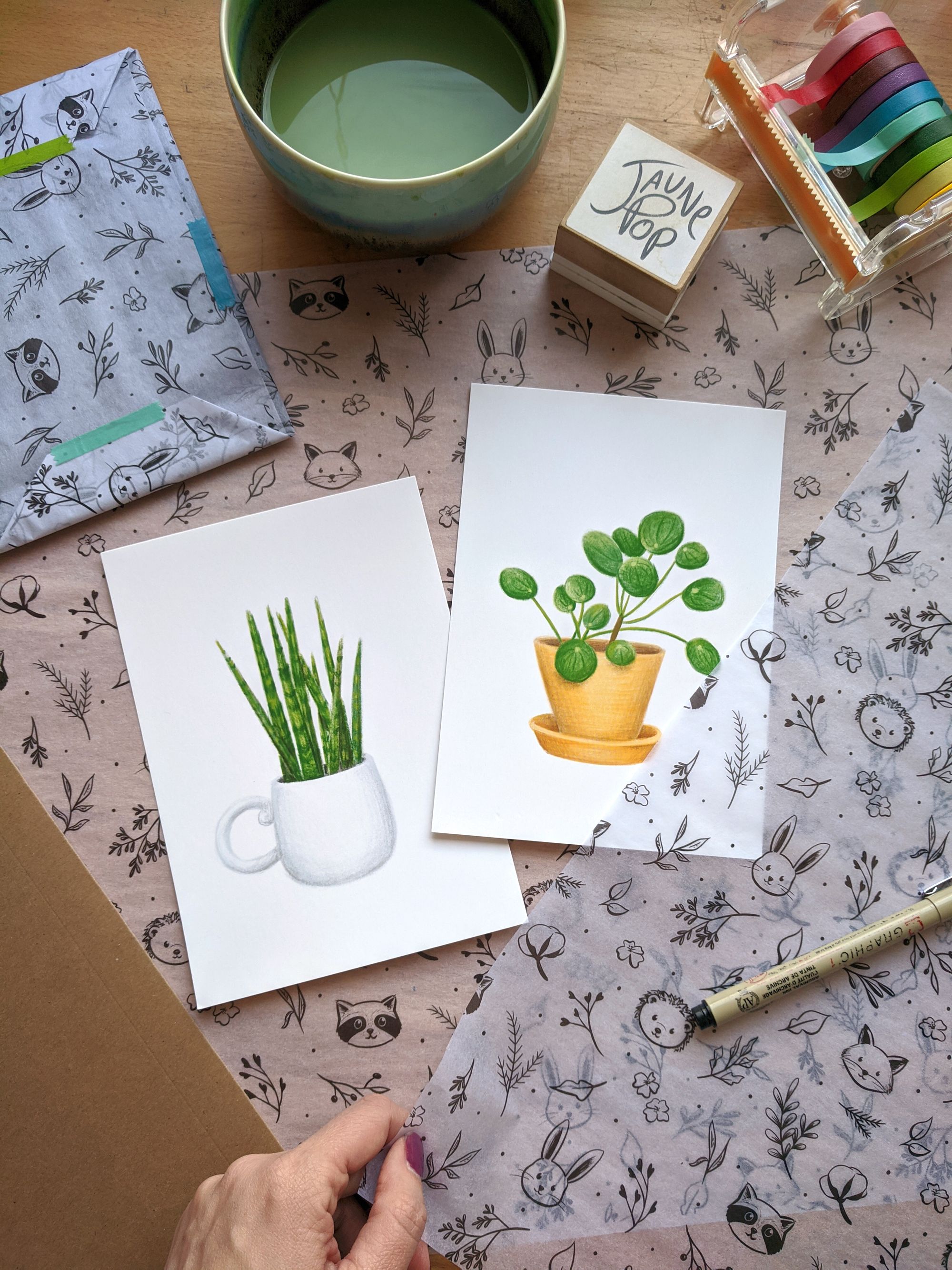 "My biggest challenge is managing my time; between family life with two young children and full-time work, I practically have to make up hours in my days for my business. I discovered, when I was in university, that there was plenty of time at night! Fortunately, I don't need a lot of sleep and my partner is there to sometimes tell me when it's about time I go to bed.
What keeps me going is my mind bubbling with ideas. I feel like I won't have enough of one life to create all the ideas I have in mind. So if I want to make it as much as possible, I have to go for it. It must be said that people's comments are also a very good source of motivation. I might not put as much energy into my crazy ideas if I didn't feel that there was an audience for my creations and that it was helping to bring them some joy."
"Making ecological choices, whether in terms of packaging, materials or local suppliers, all just seems so natural. Preserving our environment is everyone's job, I don't see why companies should be an exception. Especially when we have wonderful solutions available to us. When we have the option of providing a fabulous experience for our customers while doing our part for the environment, the choice seems obvious to me."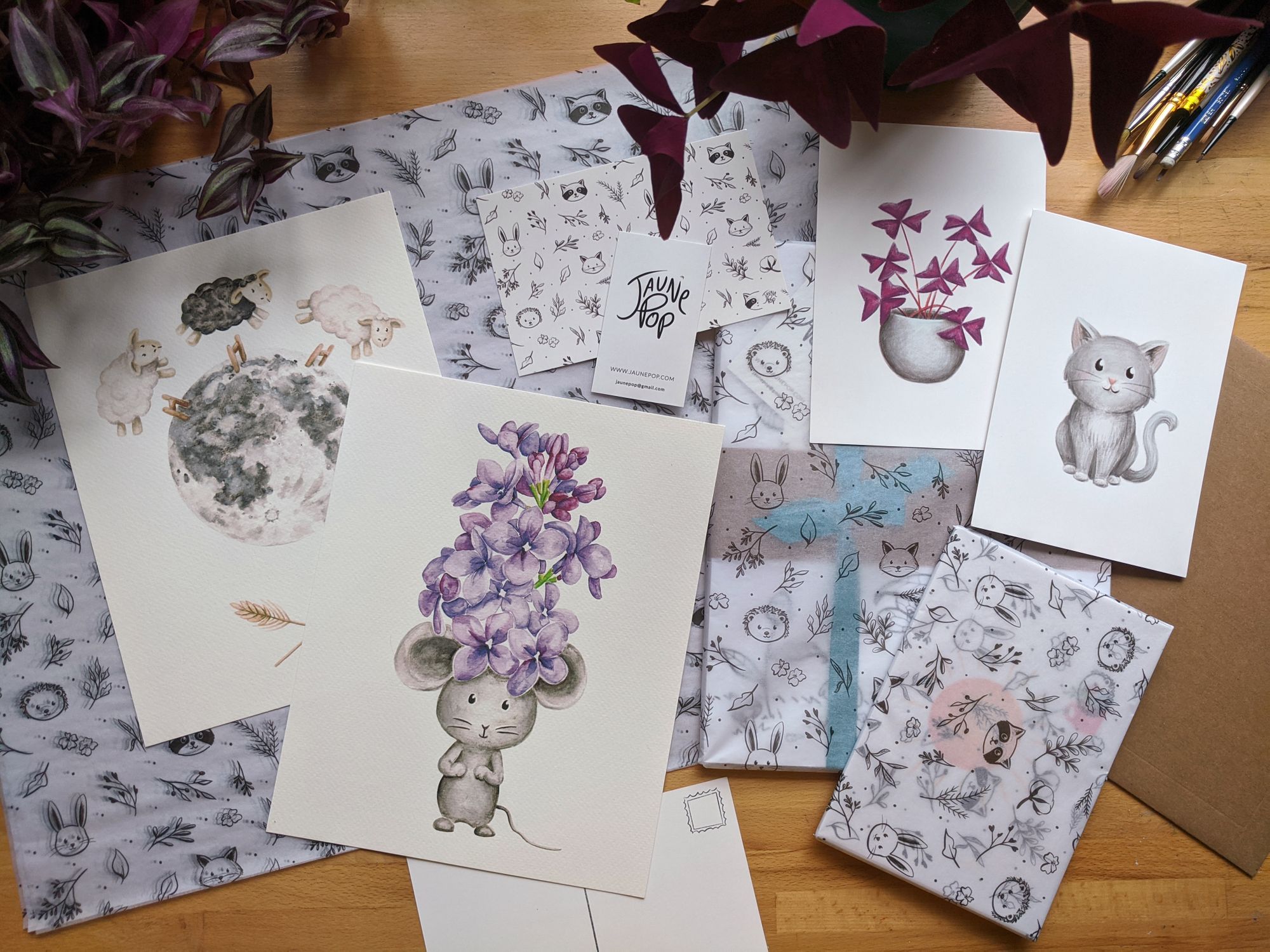 "I try as much as possible to buy my materials near my home and I found a talented seamstress for my fabric products where I can go by just using the subway! I do almost all of my mailings in kraft cardboard envelopes that I decorate with little characters. I like to believe that people keep them or reuse them, otherwise they go very well in the recycling. All of my products are also wrapped in tissue paper. I don't show my environmental side much to my customers, but it might be a good idea. 😊"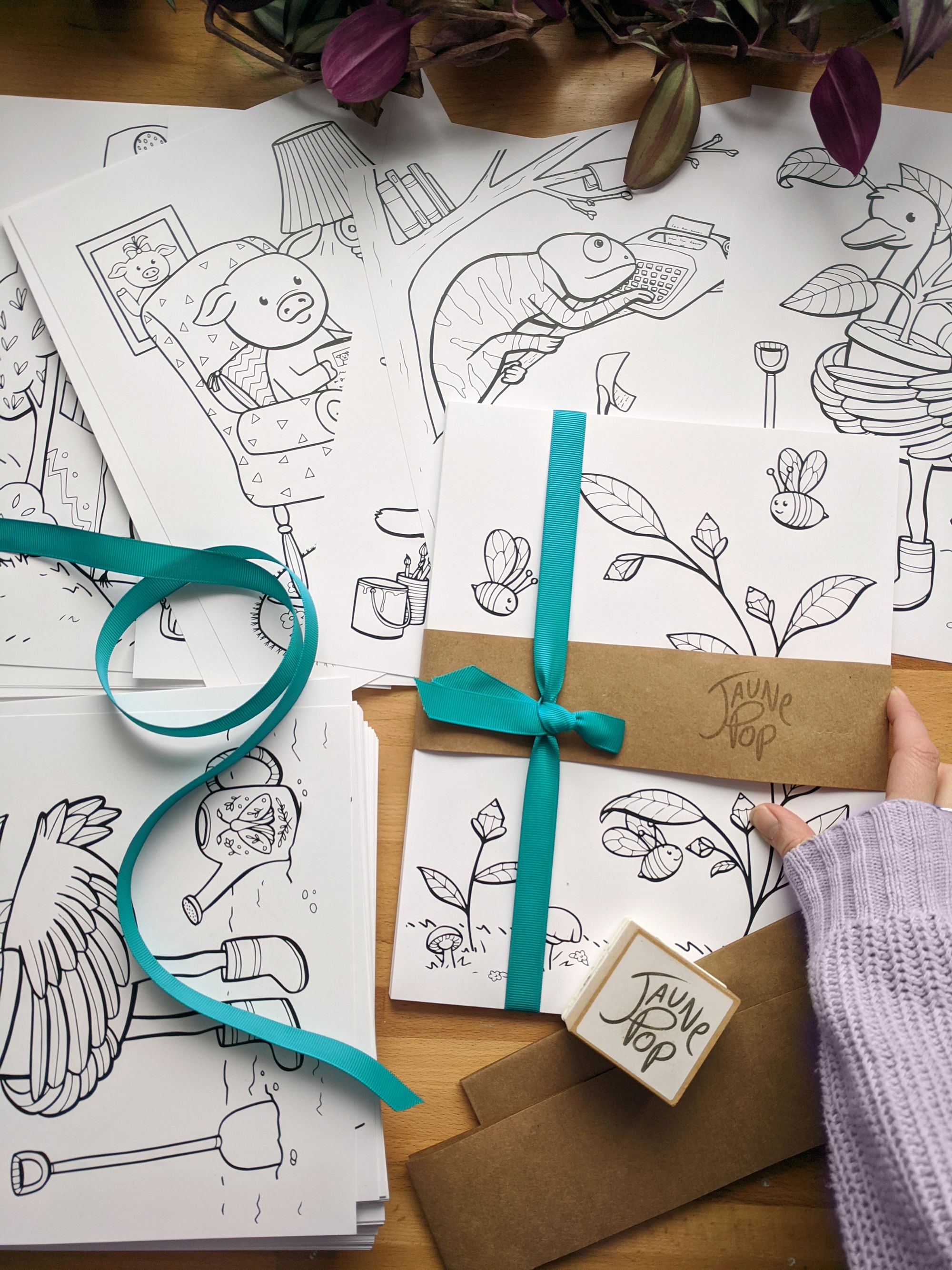 "I always wanted to offer my customers an interesting unpacking experience, something that would make them smile and make them keep a good memory of their purchase. My custom tissue paper allows me to take this to the next level."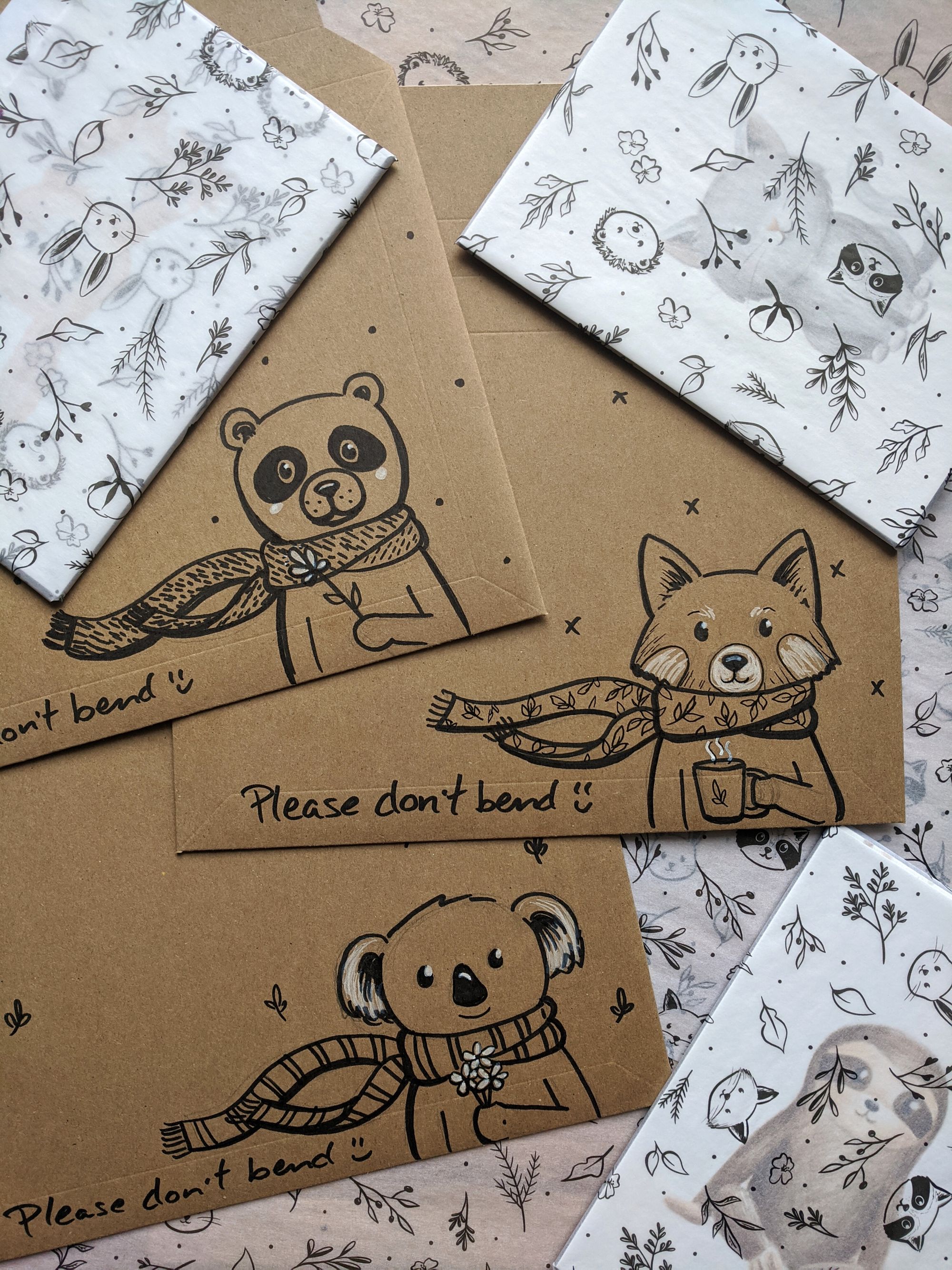 "I fell in love with noissue the first time I heard about them on Instagram. The time that passed then before placing my order is the time it took me to create the pattern design I wanted. The process to place my order was very simple. And what excitement when I received my tissue paper!"
Jaune Pop Fun Fact:
"If my brand were an animal, it would be a hedgehog, because he is small, cute, funny, he's sharp and has a lot of energy (which he likes to spend at night)."
---
Find more of Jaune Pop here:
Facebook: facebook.com/MarieAnneDubeIllustratrice
Instagram:@jaunepop
Etsy: etsy.com/shop/jaunepop