When we think about swimwear, it's usually hot summer days at the beach. It's not often that we have the occasion to think about sustainability.

But as a bigger spotlight is shone on the environmental impact of fashion, this has drawn attention to the problem of swimwear production.

Because swimsuits need to keep their shape in the water, manufacturers resort to using plastic-based materials like nylon and spandex. These shed tiny microfibers over time, which contribute to plastic pollution in our oceans.

While many brands are now experimenting with recycled plastic or regenerated nylon, we have a long way to go before affordable eco-friendly swimwear is a reality worldwide.

For Kimberley Champlin, creating a high-quality, eco-friendly swimwear brand has been a long time coming. She tells us about KIMKINI, and her mission to integrate sustainable values into her range.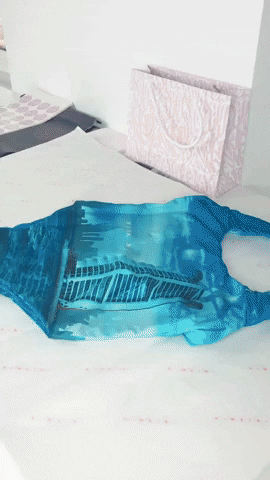 "I'm Kimberley Champlin, a 22-year-old Edinburgh University graduate and founder of sustainable swimwear brand KIMKINI, based in Dubai. I officially launched KIMKINI exactly one year ago but I have had the idea for about three years prior - it's been a long time in the making and a lot of careful planning!"

"I started KIMKINI as I was growing up in Dubai and was always wearing swimwear, but I felt there was a lack of sustainable and eco-friendly options that were both flattering and stylish. It's definitely obvious that there is a growing demand for sustainable fashion and I envision KIMKINI to be a major source of trendy vegan swimwear."

When it comes to sustainable fashion, eco-friendly swimwear presents some of the biggest challenges. Alternative materials to plastic have to be extremely hard-wearing and not degrade in water - not an easy find when R&D on low-impact fabrics is still limited.

For Kimberly, her biggest priority was to find a supplier who could meet her needs for cruelty-free and sustainable business practices:

"In the beginning, I found that a significant challenge was finding a manufacturer who could produce both affordable and eco-friendly swimwear."

"After reaching out to many different manufacturers around the world in places such as Italy, Brazil, UK and Bali, I finally found the perfect company to work with. The swimwear manufacturer I wanted to use is situated in Brazil and is PETA approved. They also take great care of their employees. BONUS: They produce pet beds from leftover fabrics and donate them to their local animal shelters!"

"I learned that by being patient, doing my research properly, and not settling for the first opportunity that came about meant that I was able to establish a wonderful business relationship with this sustainable swimwear manufacturer. I feel that I am making positive choices every time I work with them because of their ethical business practices."

However, it's not just the products for sale that determine the sustainability of a business. Their overall outlook and approach to daily activities is a key sign of whether brands practice what they preach.

While KIMKINI specializes in eco-friendly swimwear, Kimberley uses a well-rounded sustainability strategy that encompasses every area of her business, from content marketing to shipping and packaging:

"Sustainability is incredibly important to me. With all the information and heightened awareness of political, economic and social topics, it is impossible not to be motivated to make better choices in my own daily life and with my business."

"As well as living a plant-based diet myself, I try to reduce KIMKINI's carbon footprint through smart and ethical business decisions. I have taken multiple steps to ensure I lower the environmental footprint of my business. This is showcased in more detail through blog posts on KIMKINI's website and updates on our Instagram."

Here are just some of the steps I use to lower the environmental footprint of KIMKINI:

I use a PETA-approved swimwear manufacturer for my swim collections.

noissue's compostable mailers, custom tissue paper and compostable stickers (They also plant trees with every order contributing to global reforestation).

I do not place extra plastic tags on the swimwear - instead, I print the care label and logo on the interior which means less wastage.

I do not use paper slips within the packaging detailing the order (I use email confirmation instead).

Through blog posts, I spread awareness about harmful products to the environment. For example, in 'Beach Day Essentials' I informed my readers about switching to mineral-based sunscreens (e.g. Sunbum brand) as one drop of a chemical sunscreen contaminates coral reefs the size of 6.5 Olympic-sized swimming pools.

While sustainable packaging has been a major asset to the KIMKINI brand, the ability to custom-design her unboxing has been the biggest advantage for Kimberley as the owner of an eCommerce store:

"I think that custom packaging is so important, especially because KIMKINI is an online shop with no retail store that customers can visit. Therefore, the delivery process and packaging is significant as it is the first representative item the customer sees."

"Custom packaging adds that extra special touch for the customer. The personalised 'thank you' cards, branded tissue paper, stickers with our logo and the compostable mailers are special for the customer. They can clearly see the time, thought, and effort this has taken to perfect."

"After a lot of research, I found that noissue was the most eco-friendly option and that their company values match my own. noissue has helped maintain the sustainability of my brand, and they spread profound knowledge and insight to the importance of reforestation, which I really appreciate!"

"I especially love how noissue plants trees with every order so I don't feel guilty when creating packaging - every time I make another order it's great to see the total number of trees planted increase! It is so rewarding to say that KIMKINI has contributed to reforestation in places such as the Amazon rainforest. I will definitely continue to keep working with noissue for all of my future packaging orders!"