"Hello, I am Kristin! I have always had an interest for creating. I can remember back in my younger days of how important it was to express myself through art. I started my little business mainly because of my love for it. When I first started sharing my work on Instagram, I was really nervous. I kept it mostly for myself, since I did it as a way of relaxing. After getting to know other illustrators on the internet and getting positive feedback, it really gave me the courage to open my little shop."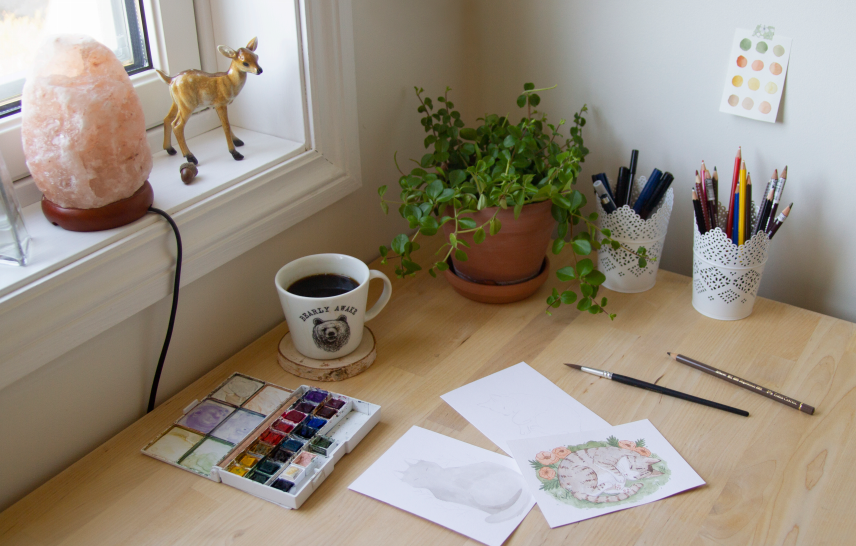 "My vision is mostly to create art that I like that resonates with me. It never feels right creating art just because you think it will be popular. Nature is definitely my biggest inspiration, and can usually be seen in my work. I like to create art that makes people happy, and gives them a cozy feeling. I like creating small scenes in my work, that the viewer can be transported into. I hope my customers feels the same way."

"I am based in a small town called Arendal, which is a city, south of Norway. I'm surrounded by both the ocean and forest which is a big inspiration to me and my work. It has been a great place to grow up in. My grandparents own a farm which I have visited a lot through my childhood. I have loved the opportunity to be near the city, nature, and also have animals nearby. I feel very lucky with where I grew up and where I am living now."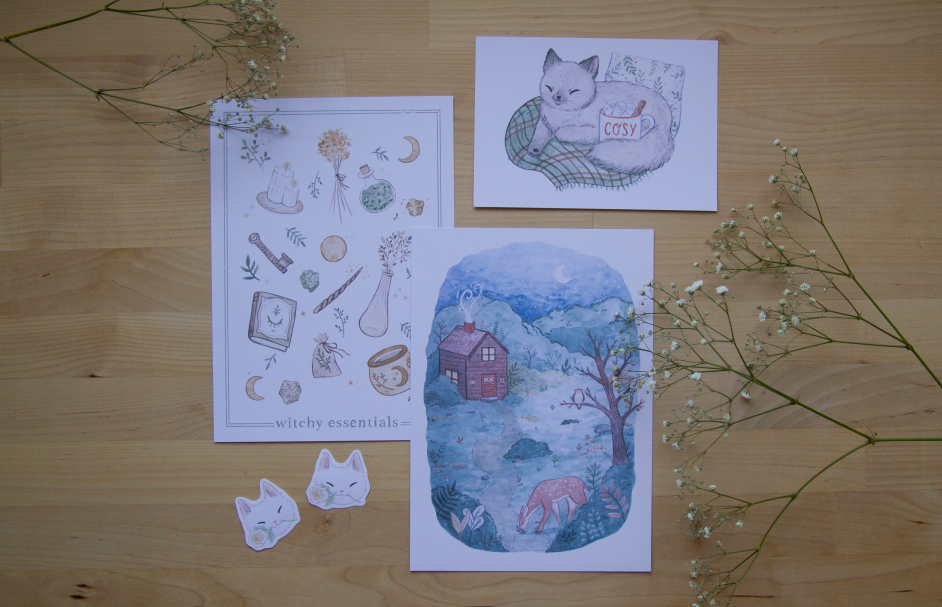 "I have learned a lot by running my own business! When I started out my little shop back in 2017, I had no previous experience. In the start I was really worried of doing something wrong, and having parcels going missing. Luckily I've had no big problems, and I like to think that everything is experience. Both the good and bad! It is so fulfilling seeing photos of my products at their new homes, and getting positive feedback. It makes it all so worth it. The thought of knowing someone has a piece of my art, seems so unbelievable and lovely! If you are thinking of opening up your own little business, I definitely think you should go for it! It may seem daunting at the start, but I'm sure you will get the hang of it!"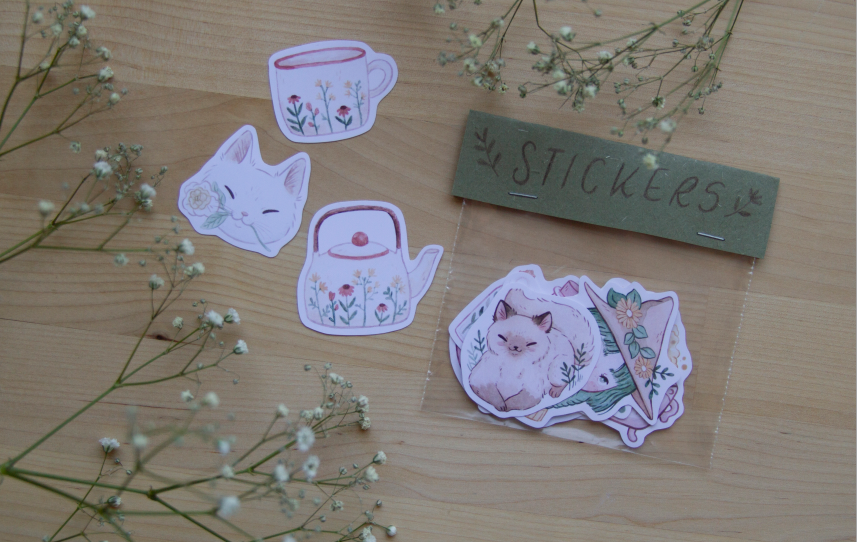 "I really put sustainability high. Both in my everyday life and also for my brand. I use mainly stiff cardboard mailers, recycled cardboard for protection, cute paper washi tape and hemp thread to finish it up giving that gift feeling. I am so happy to see both small business owners, and the bigger ones taking action and actually doing something towards making more sustainable choices with both products and packaging."
"I want my customers to get excited and happy when they receive packages from me. The opportunity to have custom packaging really enforces that. I want the orders to stand out, and feel like a little gift. I use the paper tape on the outside of my parcel, and then I like to pack commissions in the lovely tissue paper. I really feel like my packing has gotten better and more personal. After seeing so many wonderful artists creating their own custom tissue paper, I was so inspired! I love seeing everyone's personal tastes and styles translated to custom packaging."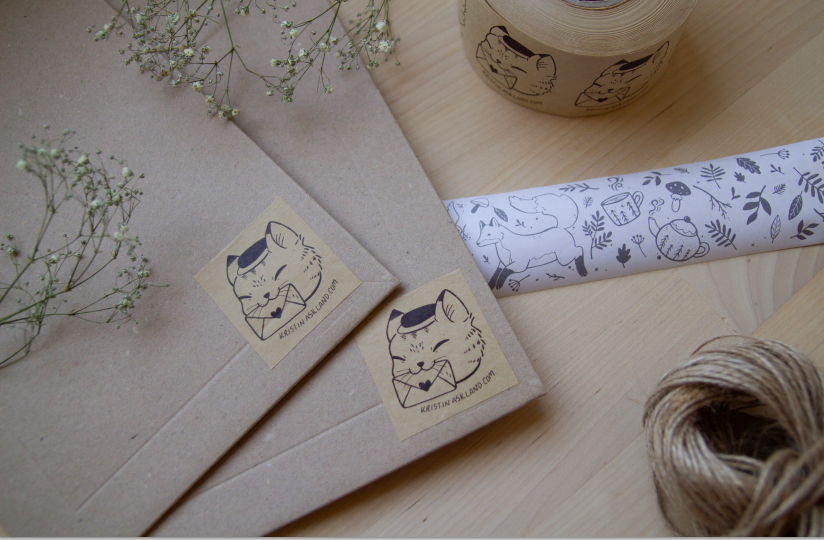 "I chose the custom tissue paper and the tape. There is something a bit luxurious with tissue paper, and the idea of having my own design on it really excited me! It's also a super big plus that it is made of eco-friendly paper, not plastic. I also  hope that my customers choose to reuse the tissue paper. That would be lovely! I am so amazed with my the paper tape as well. It is super sticky when the water is applied, and so easy to use."
"It was fun, and I learned a lot through the process. I had never really made a pattern before creating one for the tissue paper, so I really learned a lot through that experience. It was easy and straightforward. And If I had any questions the wonderful people at noissue helped quickly, and assured that the final product turned out great. I was pretty certain of what I wanted the design to include though, and that were plants, mushrooms and animals. Things that I really love!"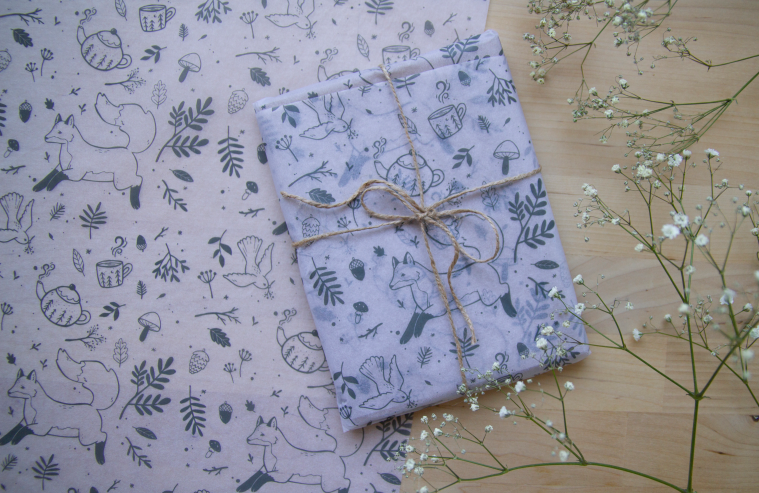 "I chose noissue because of the easy way of customising the different products. I am also very happy with how helpful they are, and they guide you through the whole process from start to finish. I also love how they focus so much on making their products earth friendly, by making the process and ingredients nature friendly! It is important to take care of nature and everyone living in it, and knowing that noissue cares make them stand out."