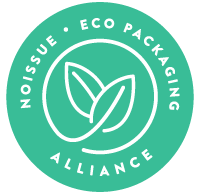 Bold, eye-catching, stylish, and also manufactured ethically with recycled materials, and made to last a long time? That sounds like a Lauren Holloway masterpiece!
Lauren Holloway runs a slow-fashion handbag and accessories brand of the same name. She specialises in making unique bags, purses, laptop cases, and toiletry storage—all designed in her home studio in Bristol, UK.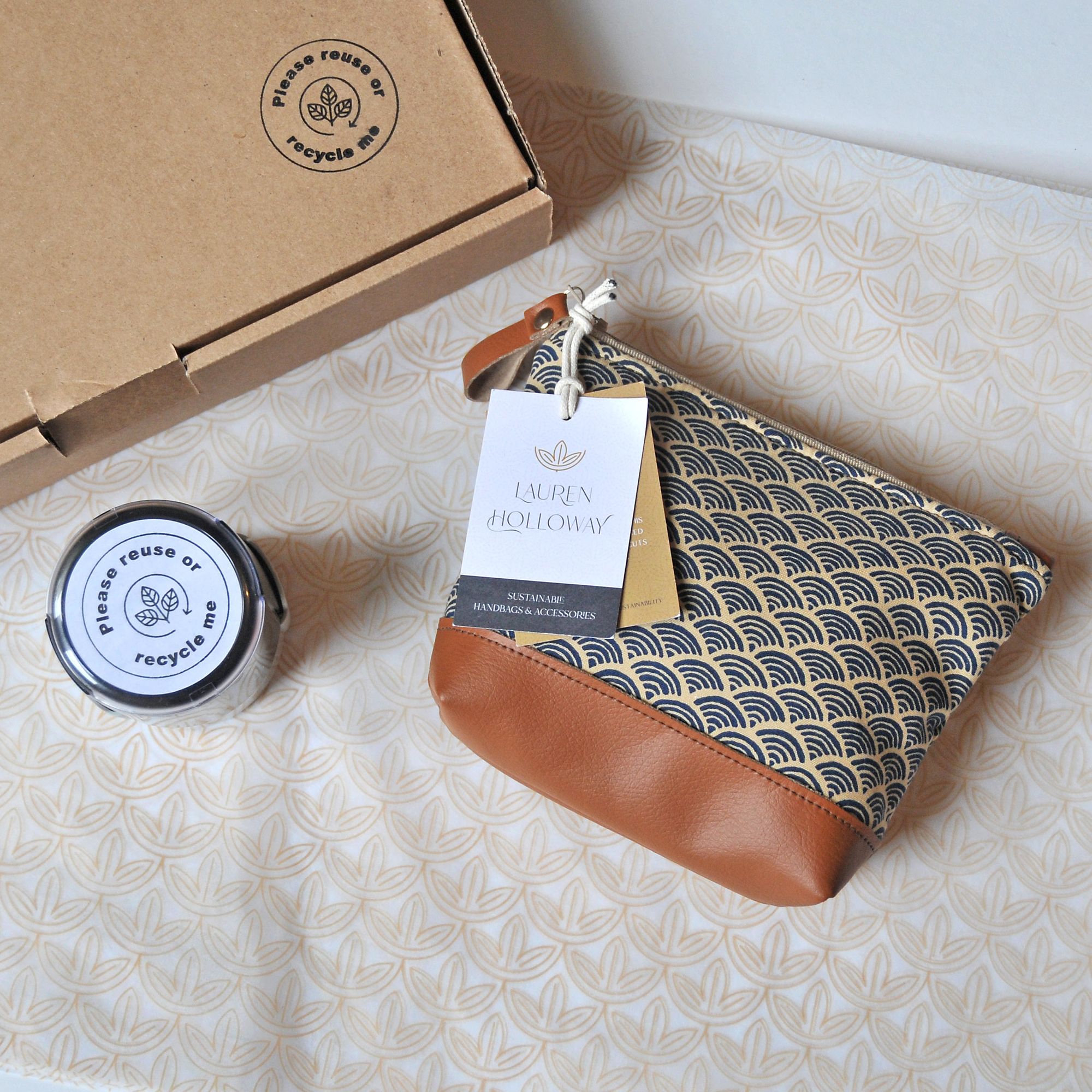 A lover of designing and making, Lauren Holloway has always been creative and done her own thing even from a young age. She loves coming up with ideas and handpicking each element from fabrics to hardware, focusing not only on functionality but on aesthetics and originality.
She was a photographer for many years before being an accessories brand, and it wasn't until 2013 when she started designing and making bags.
"There's something fascinating about taking a flat material and turning it into something useful!"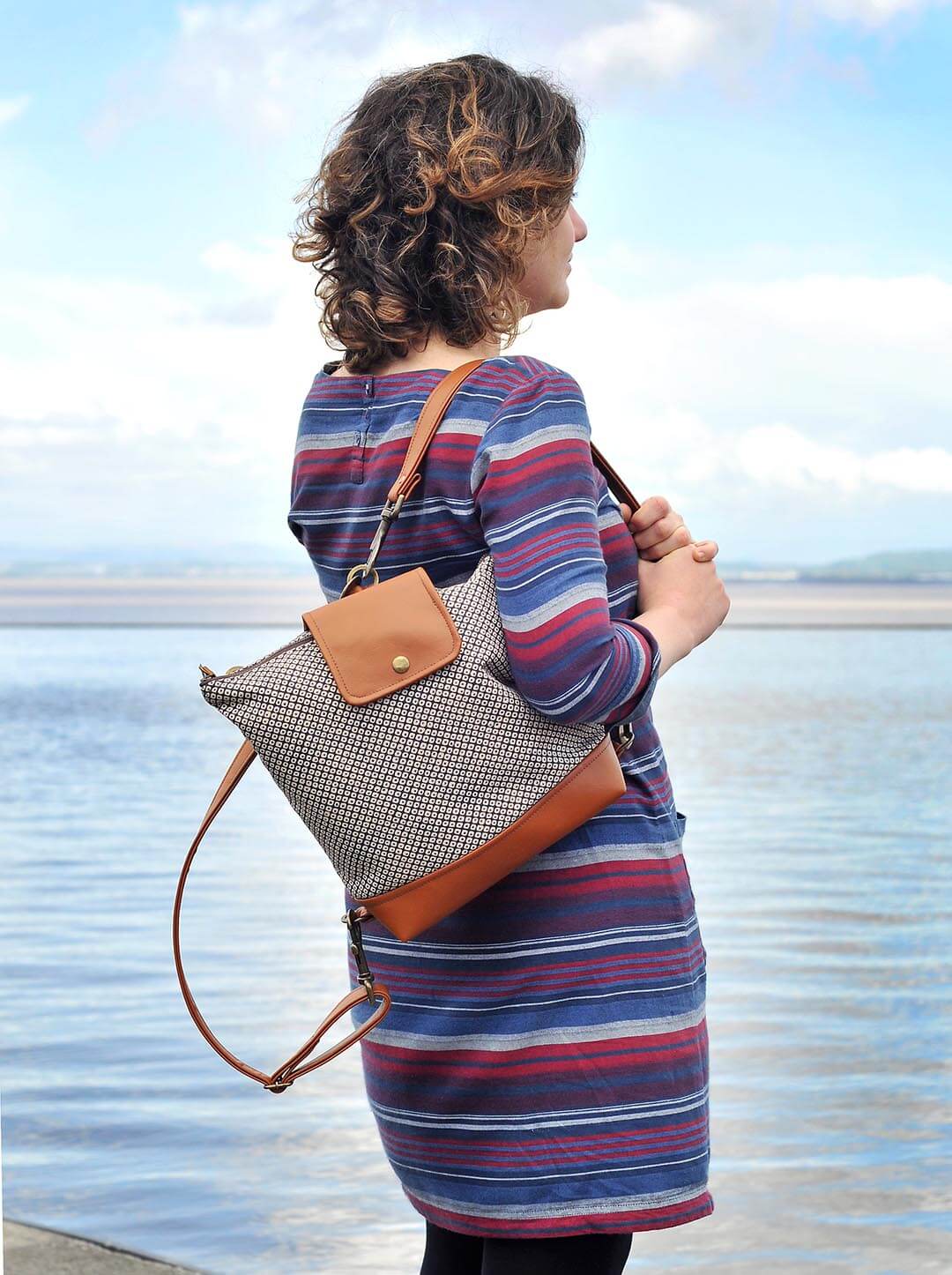 "My aim is to create beautiful products that are made with care and attention to detail with a focus on sustainable and ethical manufacturing. My small batch production means each piece is made with attention-to-detail and waste is kept to a minimum."
Lauren prioritises quality over quantity, and you'll notice this first thing as each of her bag is made to be delicately durable and not disposable.
The leather she uses for her creations is engineered from ELeather—a Peterborough-based company that recycles tons of waste leather hide and transforms them into new material while achieving significantly lower environmental footprint.
"They have won lots of awards and are pioneers in their field, so I feel proud to be able to use such a sustainable and innovative material in my products and also support another UK-based company."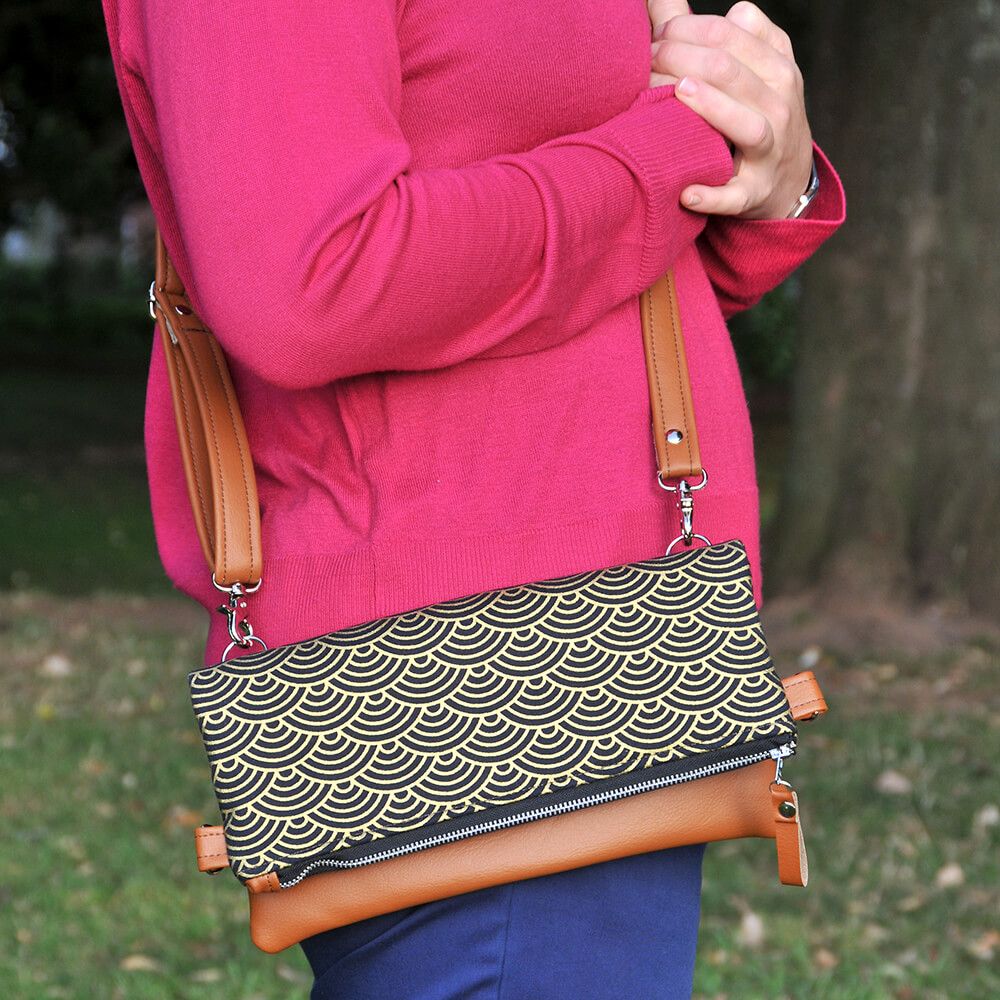 Sustainability is everything to Lauren Holloway, which is no surprise why her brand mission is to continue to promote and support the use of recycled materials and create responsibly-made products with the environment in mind.
"I want my customers to know exactly where their products are coming from, how it's made and what it's made from. I want to be transparent and authentic in my processes, values and objectives, and help pave the way to a better future in terms of consumerism."
Aside from engineered leather, Lauren is also designing ranges of handprinted accessories using linen, which is one of the most sustainable fabrics around.
"I believe it should be every businesses responsibility to be as sustainable as possible. I know that the people who buy from my brand care about where their products come from and want to support small independent businesses so being sustainable is very important."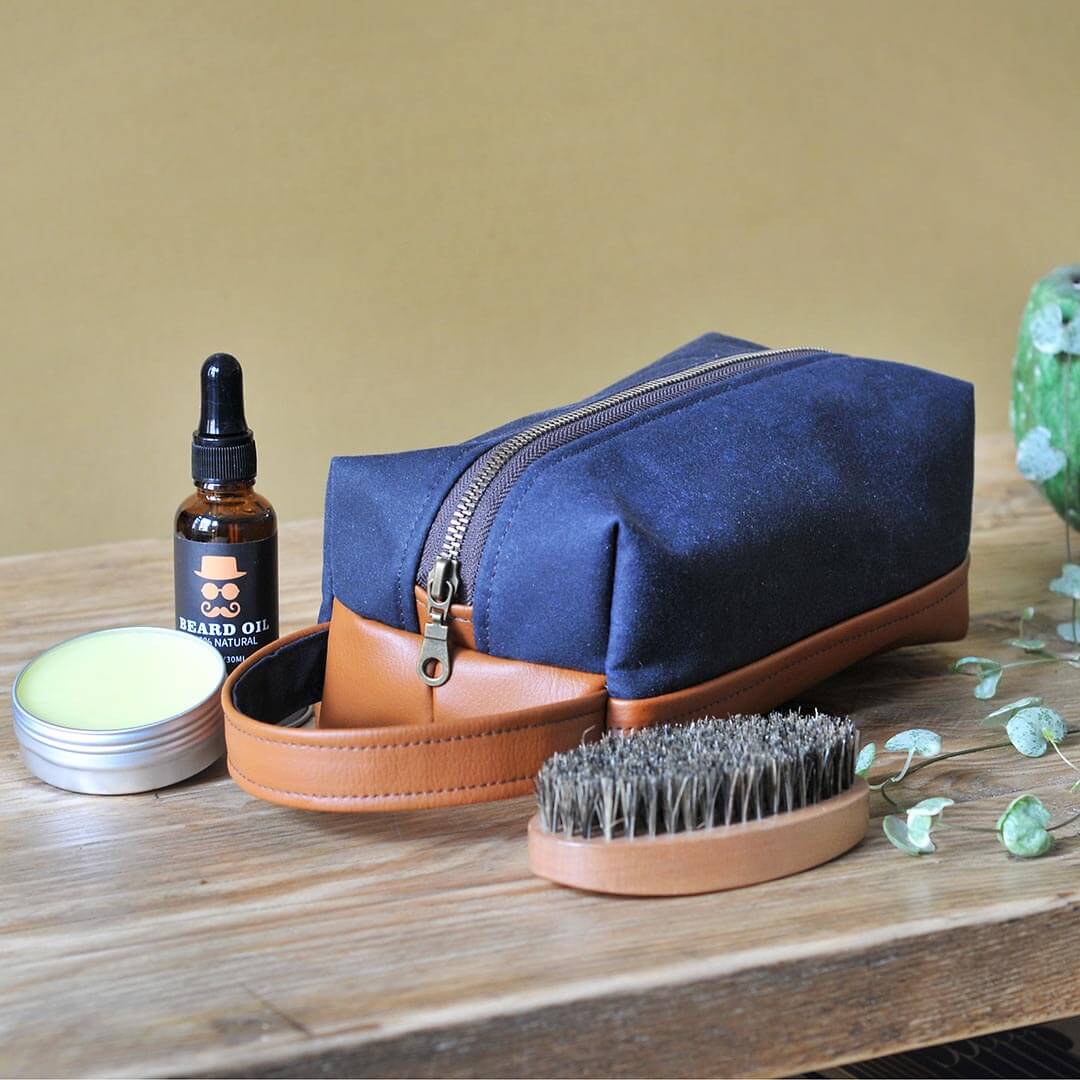 Lauren believes that it isn't enough in this modern day world to offer just one element of sustainability. One has to have the whole package, otherwise, you lose integrity. Having this said, she makes sure that her sustainable efforts run even outside of her products.
Packaging, which is responsible for so much waste, should also be sustainable. For her brand, she uses noissue. Wrapping her products in circular branded packaging not only helps her better connect with her audience, but also strengthens her name as a sustainable company. To top that off, Lauren is also a part of noissue's customer community called the Eco-Alliance, where like-minded sustainable business owners do their bit to save the environment, one circular package at a time.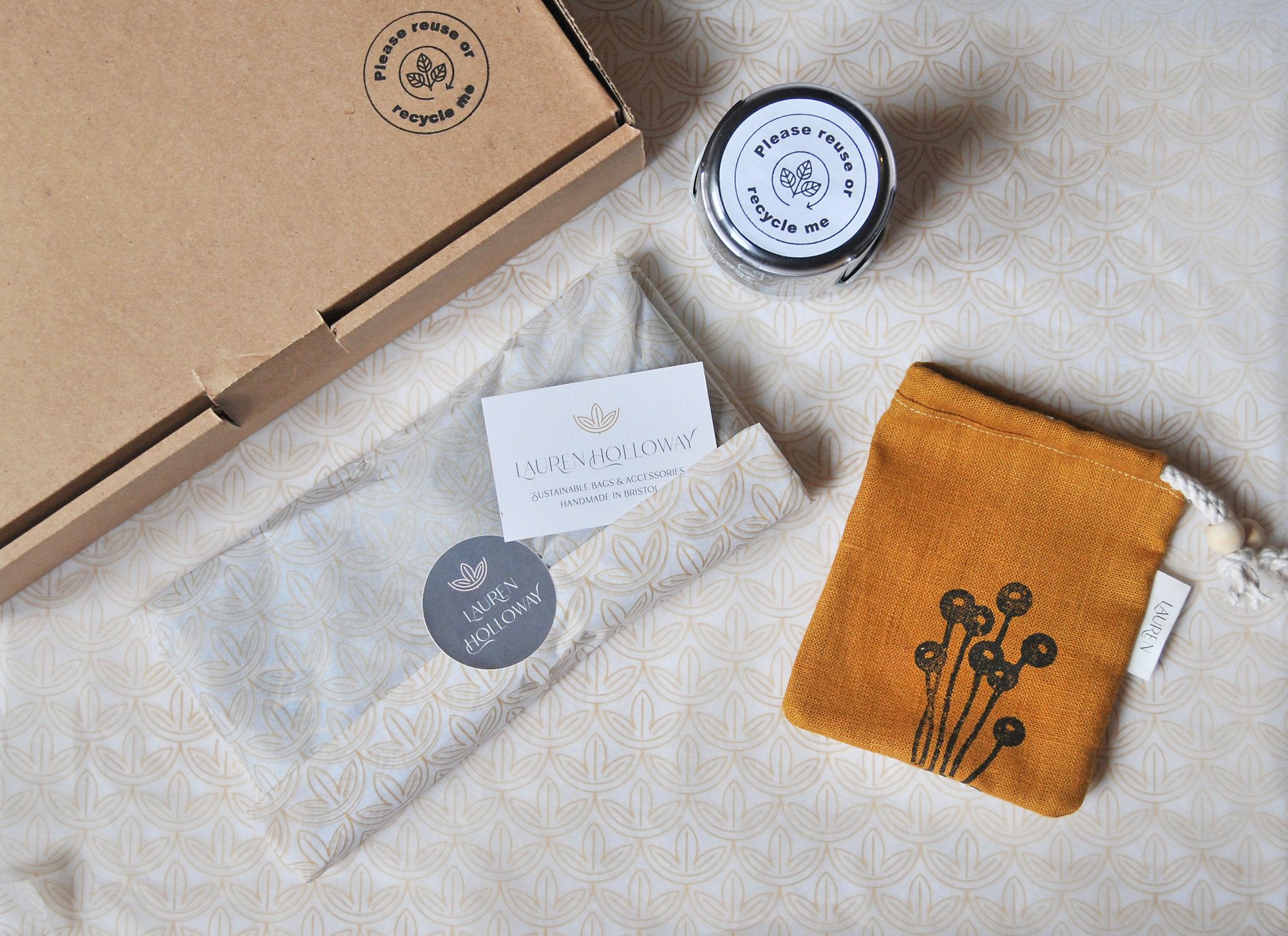 Aside from having a heart for the environment, what truly makes Lauren Holloway stand out from brands in the same industry is her customisation service. Everything is handmade and designed by herself in her studio.
"If someone wants to send their own special fabric, or get a bag in a slightly different size, or get something totally new designed then they can! Not many brands offer that."
Lauren is also very generous when it comes to raising awareness about sustainable materials, which she shares on her website. She aims to educate her customers by writing more blogs and articles about the important subject.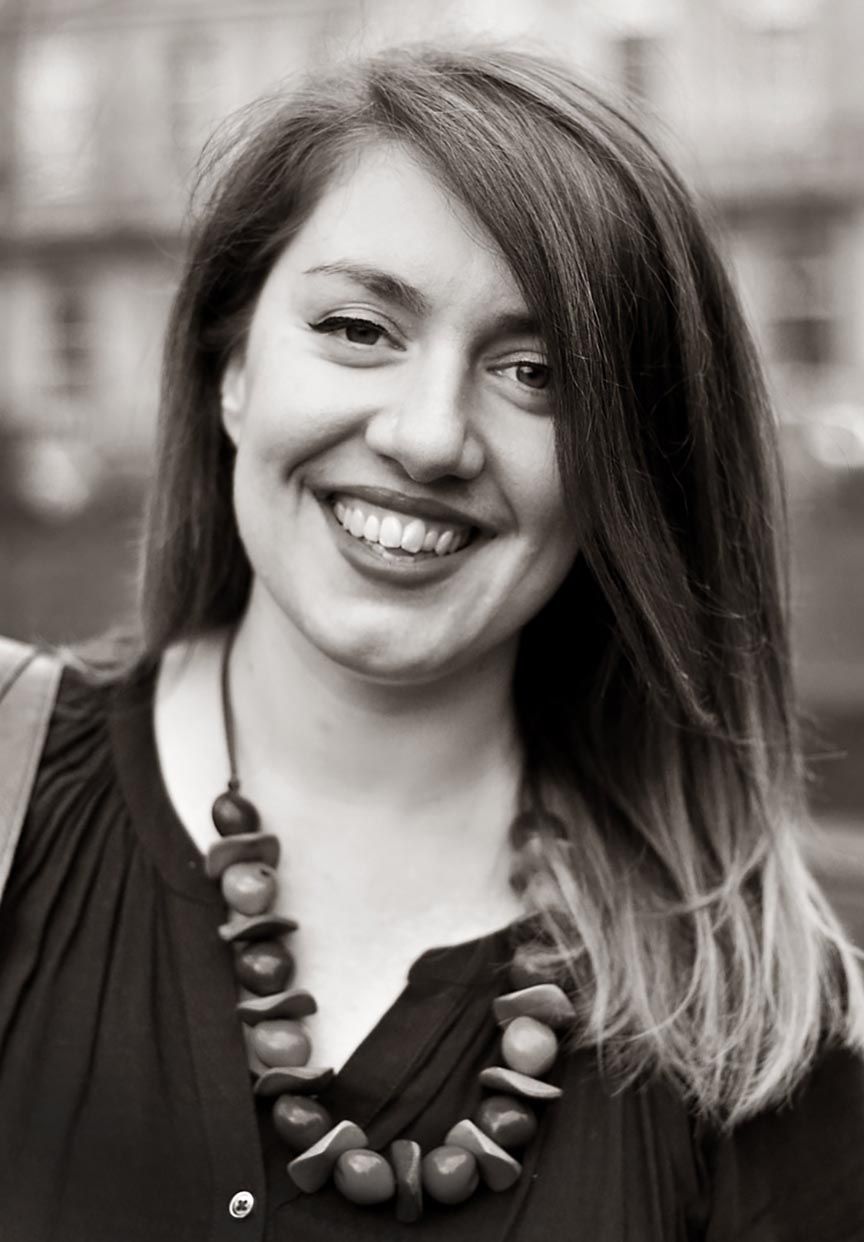 Juggling many different jobs and managing the ups and downs of income flow is difficult and overwhelming at times for the founder. But she's found a happy balance by taking on some part time work, and working from home which has taken some of the pressure off.
"There are always new challenges with the business but this is also something that I love about it and which keeps me motivated and on my toes!"
And the best advice she can give anyone who's planning to start a business is: "I would be realistic and say it isn't as easy as just putting some products online and waiting for sales, there is a lot of work involved and it will test you in every way! But if you have a good product and passion then it's definitely possible. Having great product photography and a strong brand identity is very important. I think a lot of it is about learning as you go." We couldn't have said it better!
Lauren's love for designing and creating is married to her love for the planet, and we think there's no better equation than that! She's boss, and her passion and hard work for her brand are something everyone should try to strive for.
---
Find more of Lauren Holloway here:‌‌‌‌‌‌

Website: laurenholloway.uk
‌Instagram: @Laurenhollowaydesigns
If you enjoyed this read, we bet you'll like this feature too:
Michael's Cookie Jar: Serving Batches Made in Heaven

‌Want to share your story? We'd love to hear it! Join the Eco-Alliance here and share your deets with us here to get a chance to be featured on The Wrap!
Questions? Email us at ecoalliance@noissue.co