"My name is Mélanie Johnsson. I am an Illustrator and Designer originally from France, now living by the sea in Margate, in the UK. I launched Spellbound Magazine in March, after working behind the scenes for the past year. Creating a magazine from scratch had always been a dream of mine, so the whole journey has been truly amazing. Funnily enough, I came up with the name and the concept for the magazine over three years ago… but it never felt like the right time to launch it until this year. My vision with Spellbound is to spread joy and raise awareness around themes that I deeply care about. Each issue of Spellbound will have three themes and this first issue's themes are JOY, PLANET and MIND. I've had conversations with amazing people around these themes and share those in the magazine, along with illustrations, tips, resources and more. It's also all about sharing the love for the Planet and getting people inspired and ready to make their own dreams come true!"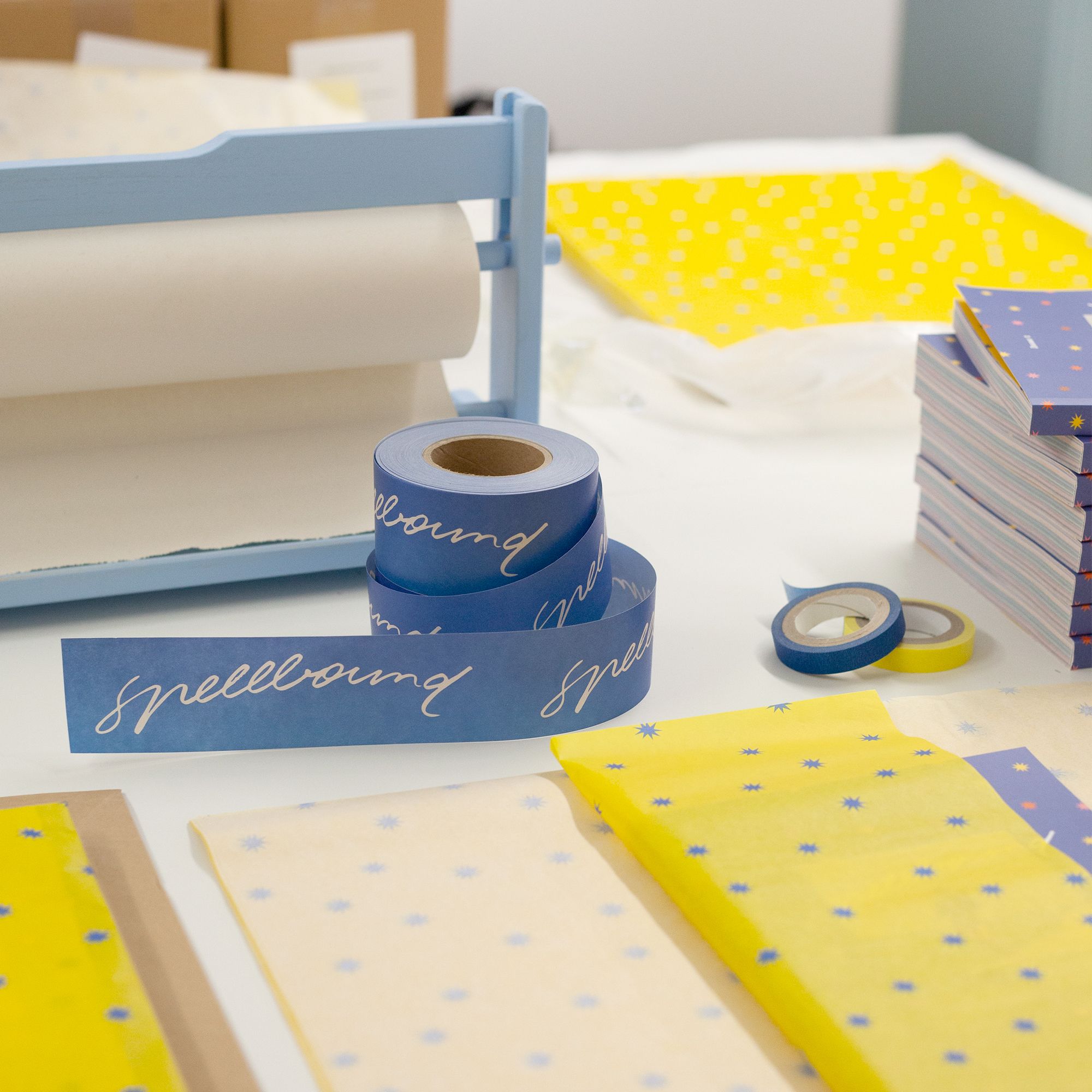 "My home studio is tiny but full of plants, colours, books and things I love. I keep my desk quite tidy (otherwise I can't focus) and I love using my pegboards for inspiration. I always keep paper, brushes and pens next to me in case I have a sudden idea for an illustration. I also have my little packaging station on the side, where I keep my noissue tissue paper and tape and some copies of Spellbound, so everything is ready when I get a new order. My biggest advice to keep your studio productive is to surround yourself with stuff you love! Everywhere you look, you should see something that could spark an idea and make you happy."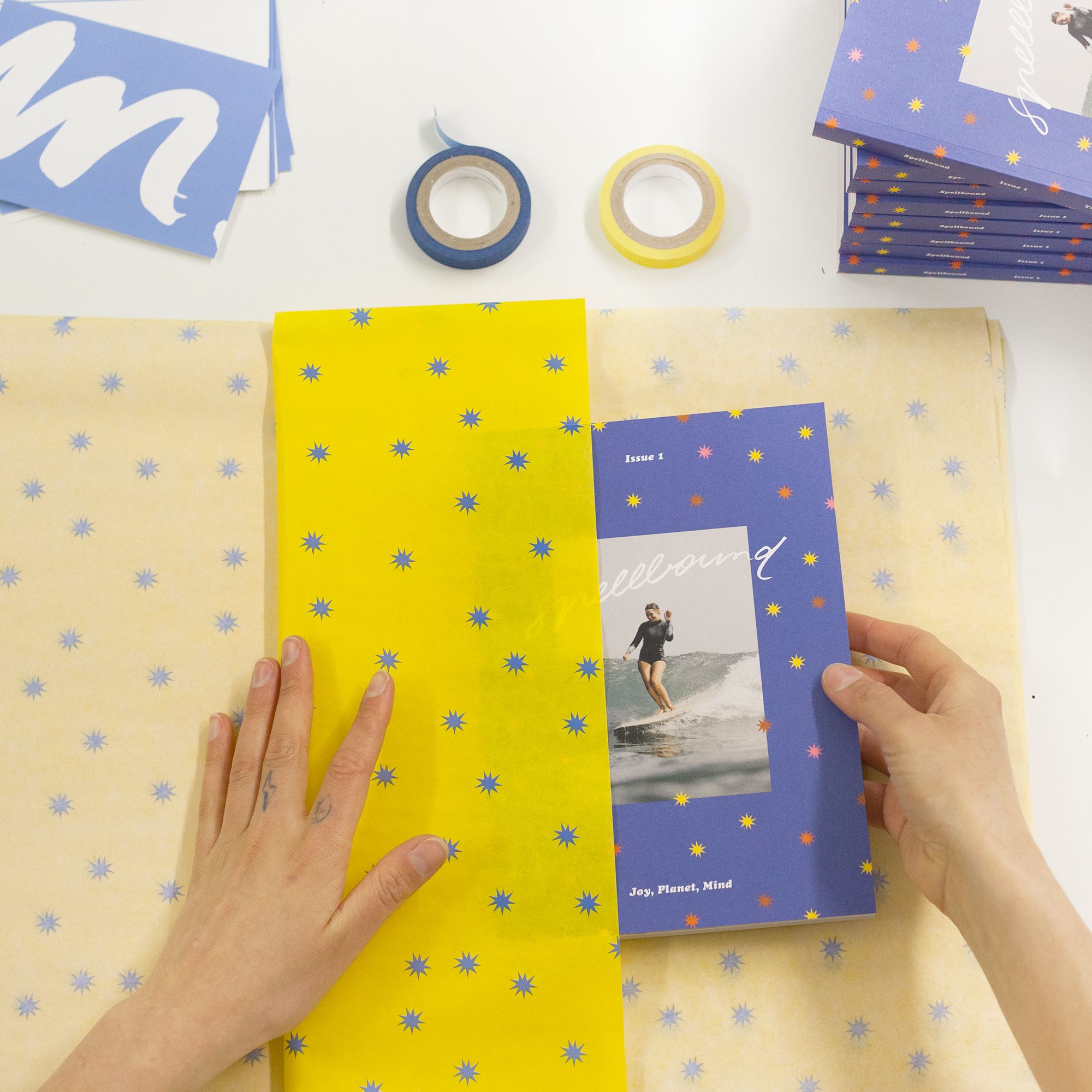 "Creating Spellbound was quite challenging, but not in a bad way. Because it was the first issue, I basically did everything on my own. I reached out to people, researched them, chatted with them and recorded our conversations to then transcribe everything to writing. I art directed, designed and illustrated the magazine, sent it to the printers, checked everything, created packaging for it and I'm the only one sending it out to people as well. I've been a one-woman team and it's been challenging at times! For the second issue, I'm hoping I can hire some talented people to help me out and make Spellbound even better. My advice would be to do it yourself once, so that you can know what your strengths and weaknesses are. It's then easier to ask for help if you need too. It obviously also helps with keeping the costs low and saving money for the printing."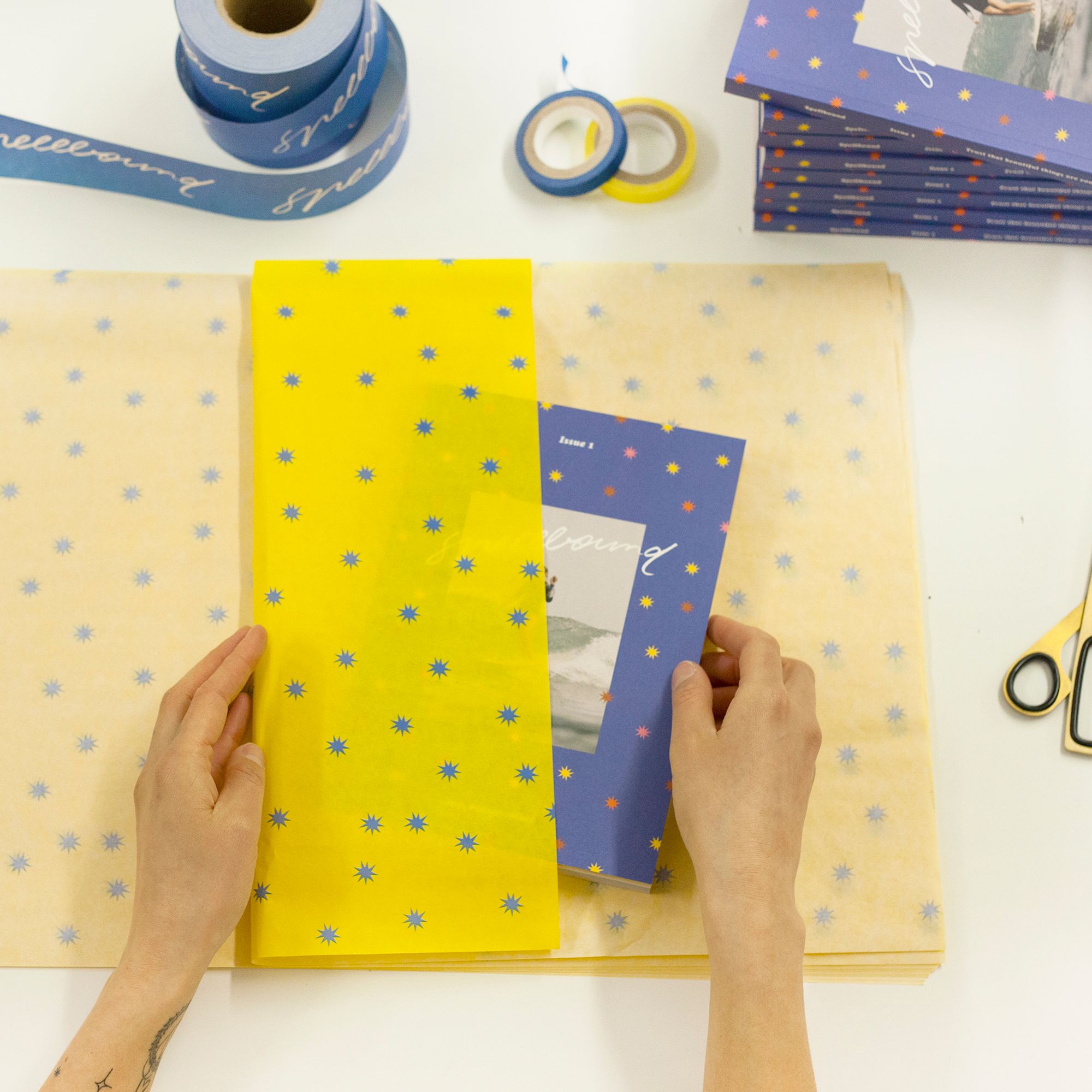 "It is extremely important for me to be as sustainable as possible with Spellbound. I decided to go for a print magazine because of my love for it and to help people disconnect from their screens and be inspired through a physical object. The paper used inside Spellbound is FSC certified, the laminating of the cover is biodegradable (no plastic in there) and I chose to avoid any foils to make sure the magazine can be recycled if needed (although, I'm hoping people will want to keep it and treasure it forever). The other thing I did is become a Climate Partner through my printers to be able to completely offset the carbon produced by the printing of Spellbound. So for an additional fee, Spellbound is helping to keep plastic from entering our Oceans (That is a project I chose through Climate Partner). In terms of packaging, I'm going for no-plastic, obviously. I chose basic but sturdy cardboard envelopes and tissue paper and paper tape from noissue. I also printed some thank you notes on recycled paper."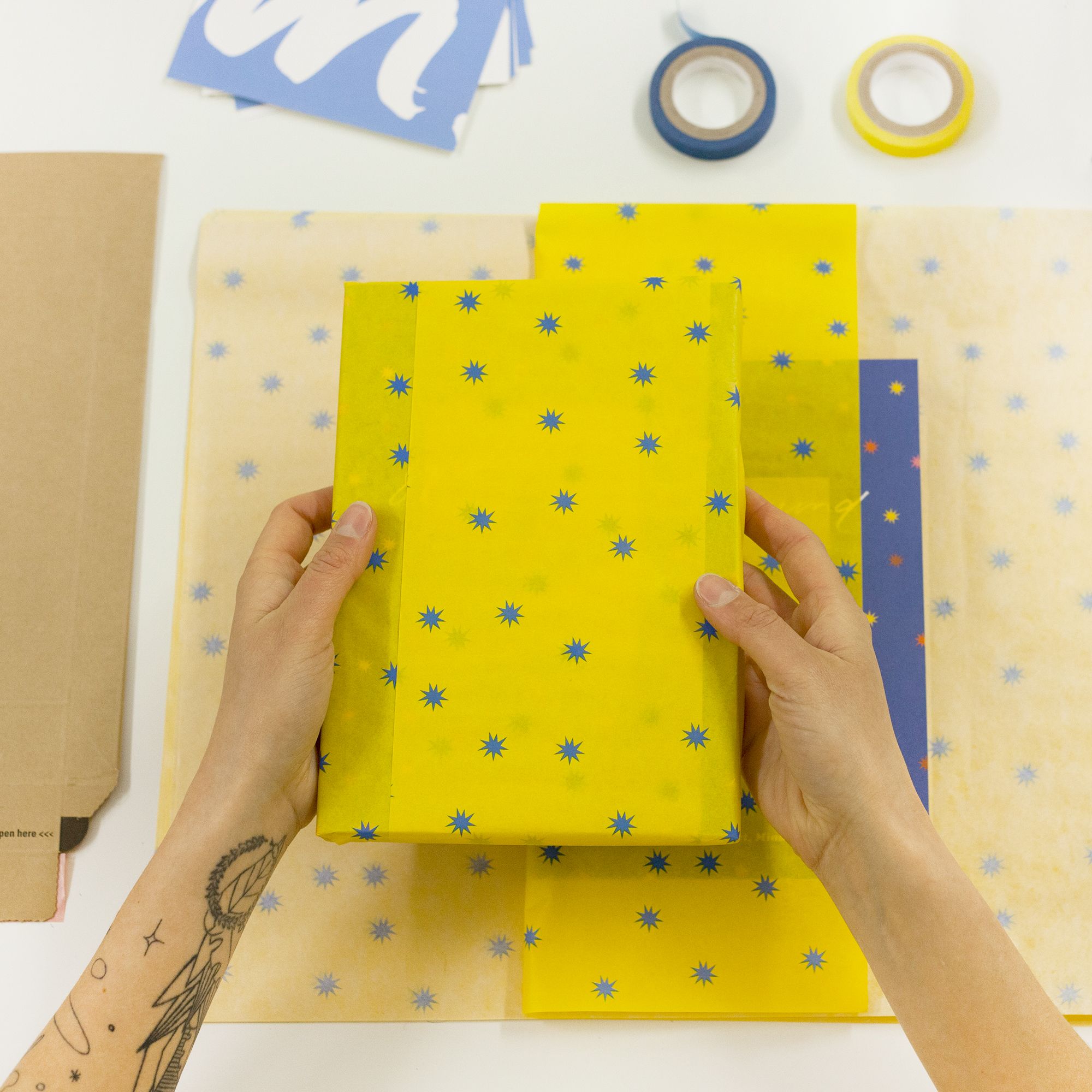 "I knew from the get go that Spellbound would need lovely packaging. I put a lot of effort into all the little details that can make someone jump for joy when they get their magazine. Packaging is super important and can make the whole experience of buying something so fun. So, of course, being able to create custom packaging for my magazine was on top of my list."
"I went for some custom tissue paper (so dreamy!) and paper tape. I've been using the paper tape as a belly band for the magazine, once it is wrapped up in the tissue paper. Although I've also been using it to seal parcels because it's so fun as well!"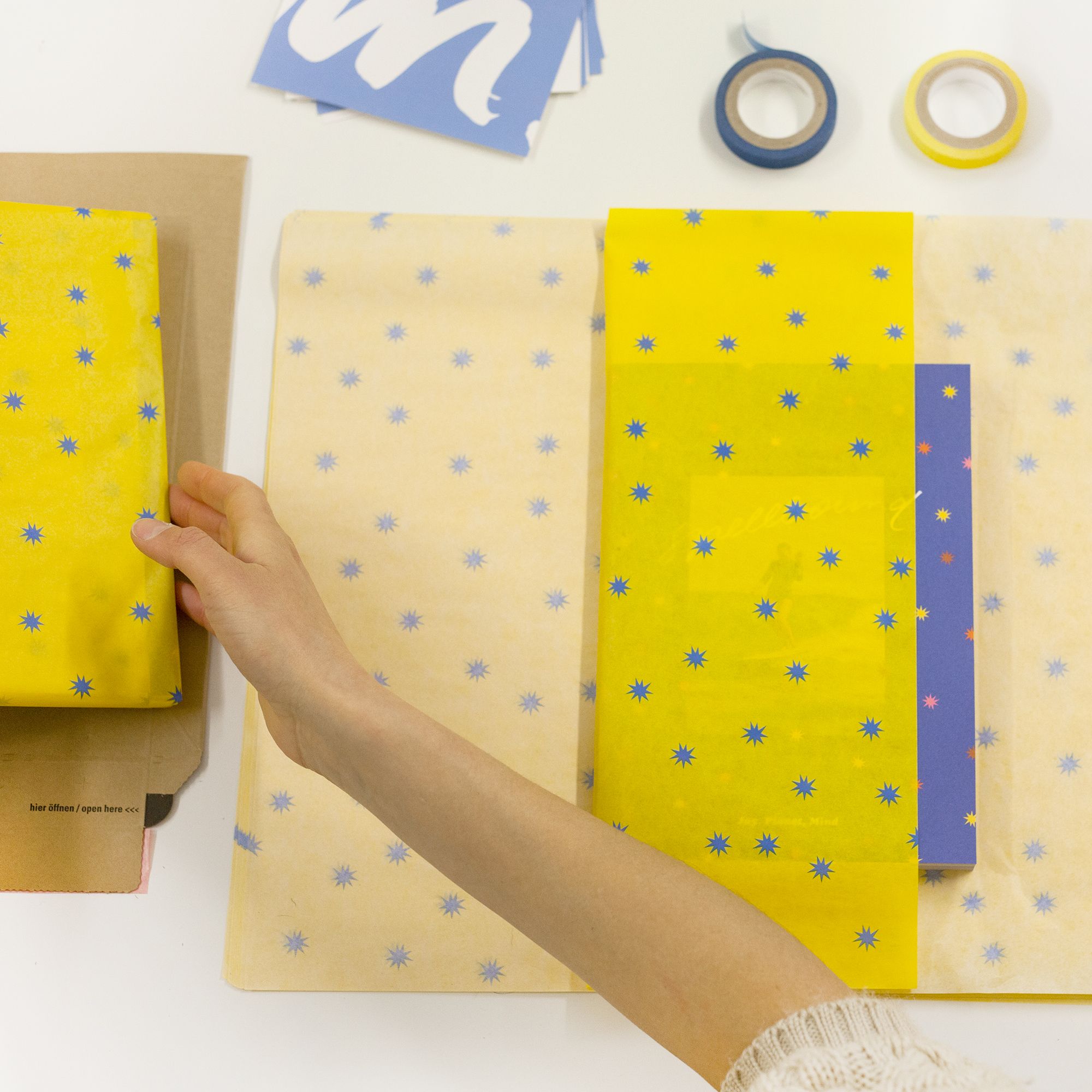 "[The design processes was] very easy. I didn't have any trouble there. The noissue team asked me to share Pantone references so the colours came out amazing and exactly how I intended."
"I had seen so many businesses I love use noissue that I knew I could trust the brand. Of course, the sustainability aspect was super important too. And the quality, of course! I think the people that have ordered Spellbound have been loving receiving it in such a bright, joyful packaging and that's all thanks to noissue! It's definitely helped spread the joy."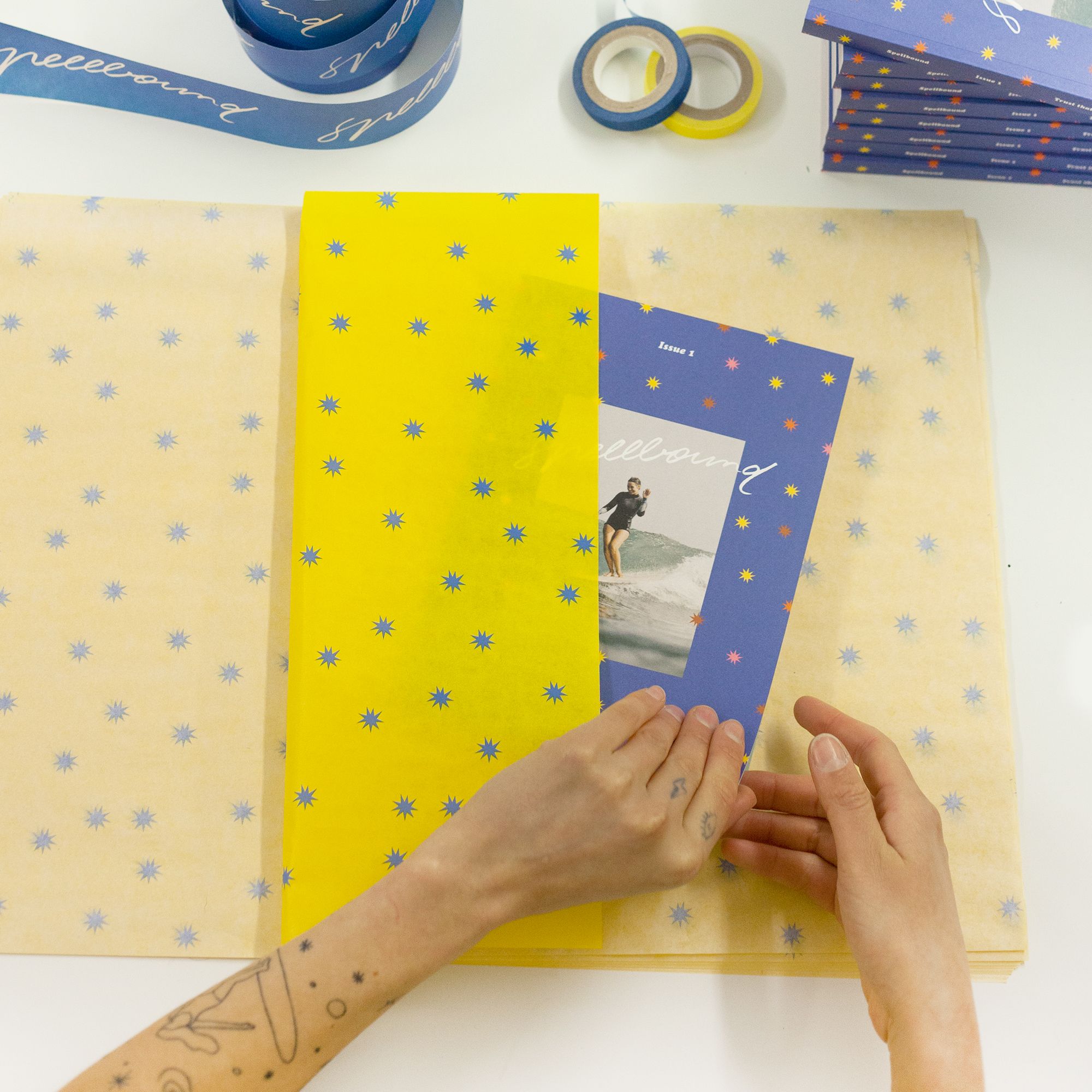 "If you want to read more about Spellbound and maybe even order one yourself, go to www.melaniejohnsson.com. I am still posting them if you're within the UK and Europe. I am excited for you to discover it! Oh and of course, you already know that you're going to get your magazine wrapped up in beautiful and joyful noissue tissue paper. That's bonus!"