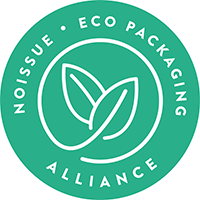 If there's anything that all child caretakers around the world can agree on, it's that babies tend to grow out of their clothes too fast, too soon—every few months is a new growth spurt that will need an entirely new set of clothing, which will then soon be discarded after a few weeks! The whole practice simply isn't sustainable, or practical, that it makes you think: what if our babies' clothes could somehow grow right alongside them, too?
At first glance, it may sound like something straight out of a fictional novel, but it's just what children's clothing brand Moosey Moose is out to create.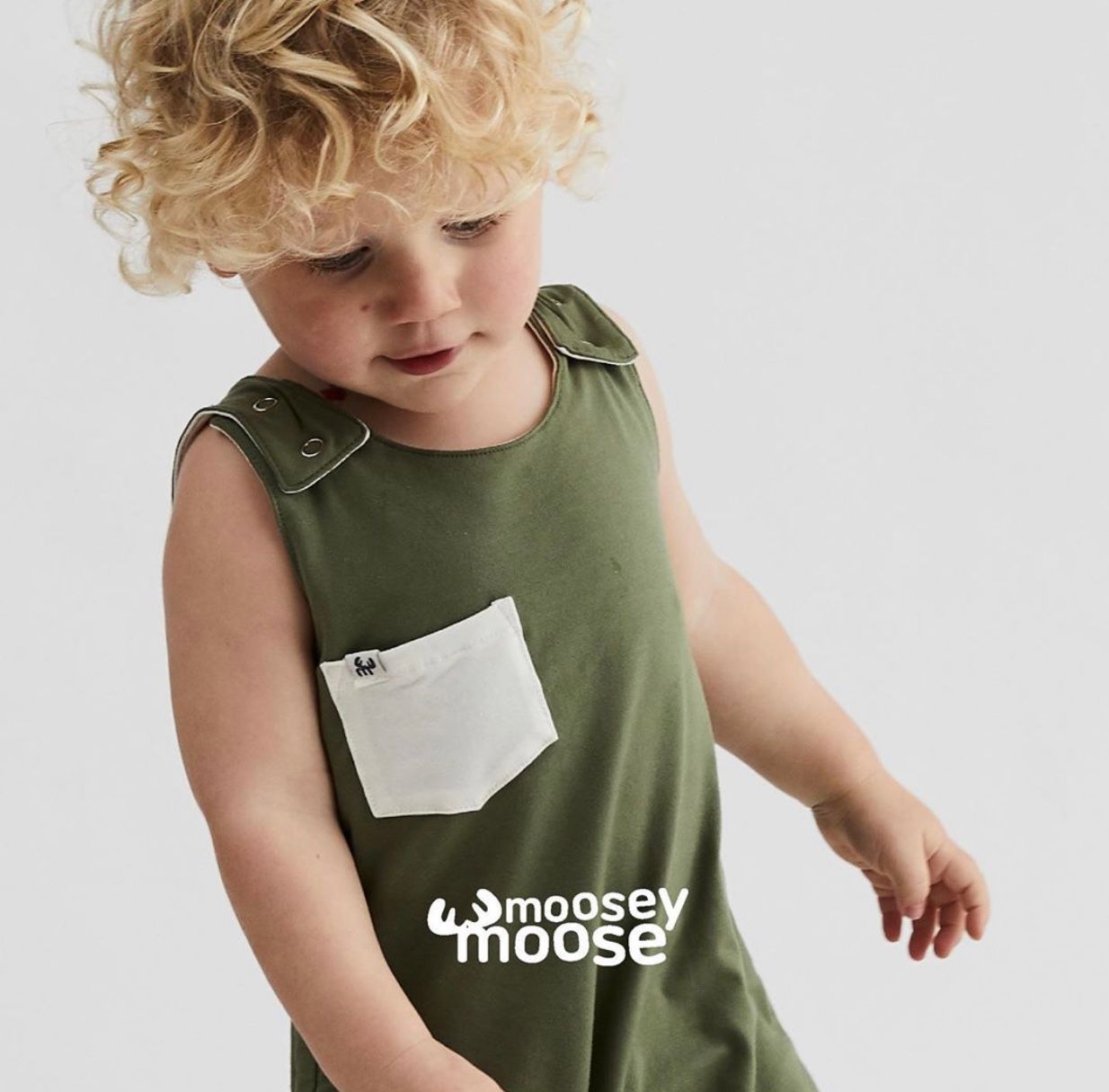 Based in Australia, Moosey Moose was created by Jax, a Canadian living in the area and a mother herself of a young boy. It was while pregnant with her first child, Finn, that the idea for creating a one-of-a-kind babies' clothing brand came upon her. When Finn was just five months old, she found herself surrounded by a mountain of all of his old, barely-worn clothes and found herself wondering how he managed to grow out of all of his clothes in such a short span of time!
She then dove headfirst into tons of research for solutions to this particular problem, and her investigations found some interesting facts about the industry: that babies grow several sizes within their first year alone, and that thousands of tonnes of textiles are sent to landfills in Australia every year, among other facts and figures. Another thing that struck her around the same time was that the maternity jeans that she wore had somehow magically adjusted to fit her throughout her pregnancy and back again.
Inspired by those same jeans that "grew" with her, Jax soon began conceptualizing designs for babies' clothing that could adjust and grow right alongside them—and thus, the base idea for Moosey Moose was born! Fast forward to two years later, and Jax's dream of baby clothes that grow and adjust is now live! Their first release so far is The Grow Romper, which fits up to five sizes, and is made with soft and sustainable bamboo.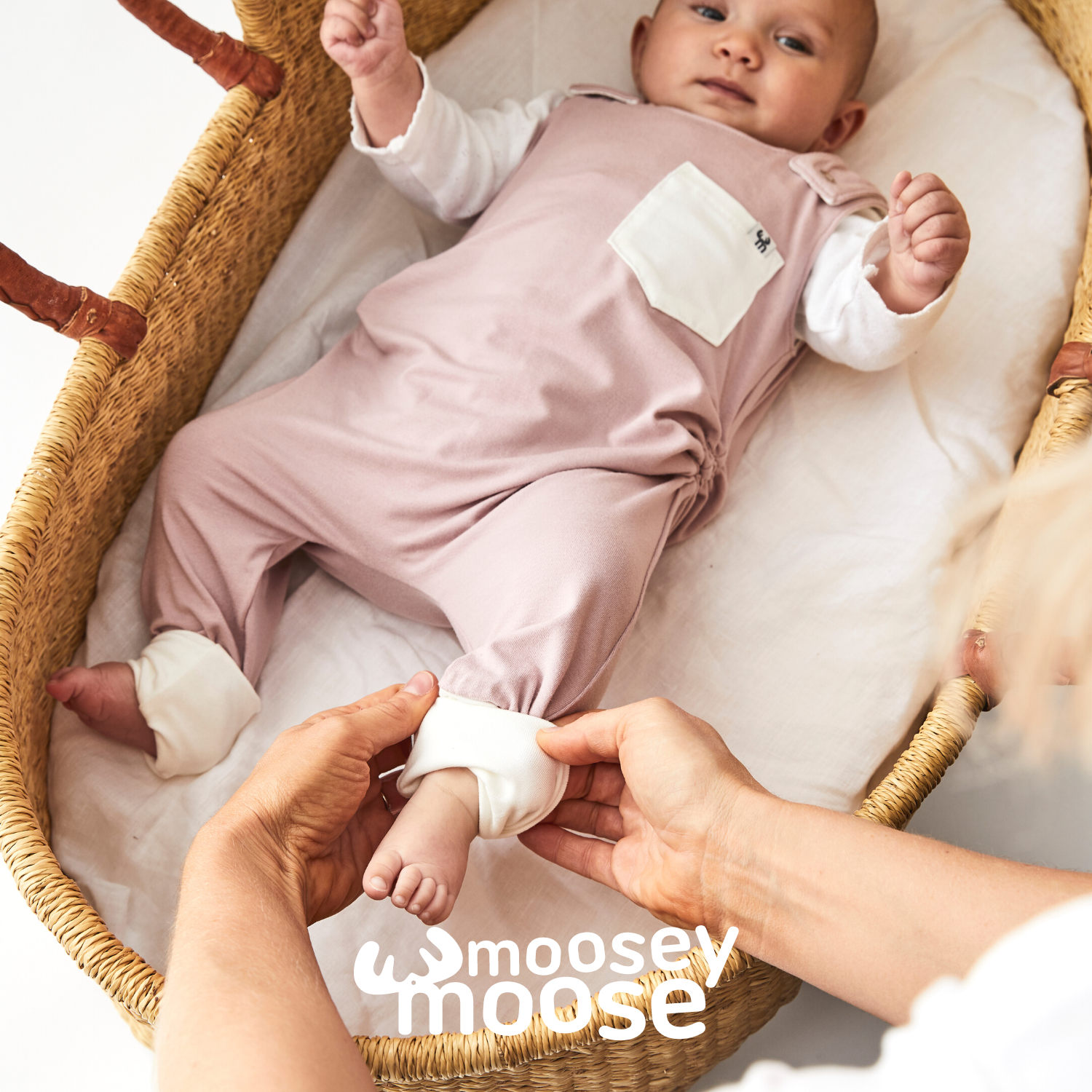 Moosey Moose began its life as a mere side project for Jax as a new mum, and although she'd always wanted to start her own small business, it wasn't until her son came along that she had a clear idea of what it would be. As a fast grower, Finn outgrew his tiny wardrobe immediately, and it served as a signal for Jax that the children's clothing industry had not been revolutionized in a long time. She took the idea behind the flexibility of maternity clothing and applied it to babies' clothing as well, to create a product that solves a very particular problem in the industry.
"The contribution of children's clothing to the textile waste problem is often overlooked when it comes to sustainable fashion. Yet most children grow by seven sizes in their first two years!"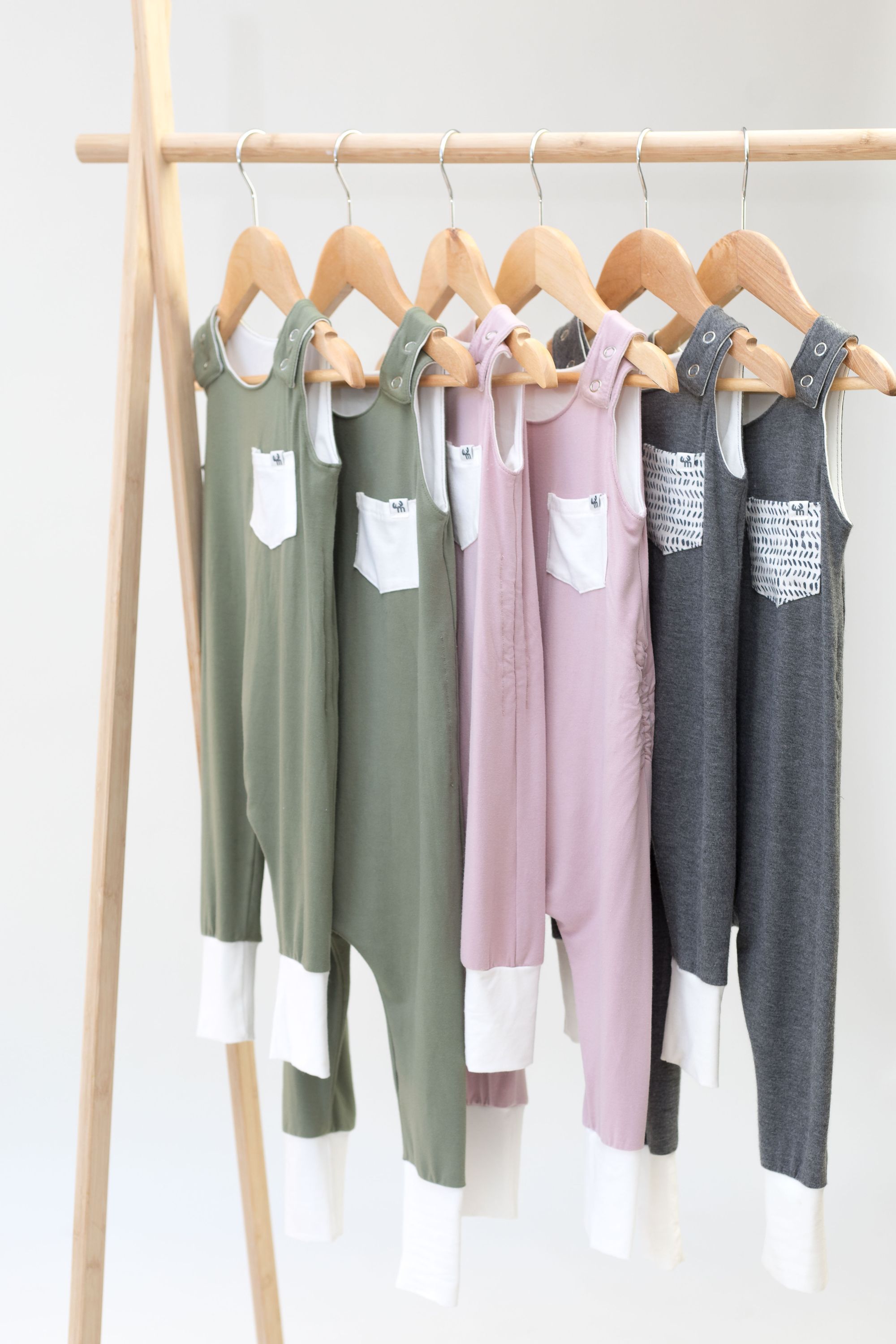 After two years of testing, trialing, sourcing, and developing, Jax is proud to say that Moosey Moose is now an Australian-made, sustainable clothing range for children that grows up to five sizes, and lasts three times longer for children compared to traditional clothing—which, in effect, will drastically reduce the amount of textile waste that ends up in landfills every year in Australia. What's more, the clothes themselves are also cute, comfortable, durable, and long-lasting—something Jax has made sure to take into account!
As a business, Jax also shares that Moosey Moose aims to help parents and carers rethink the way they purchase clothes for their little ones, by offering a more adaptable and sustainable alternative. Jax also recognizes that along with the high cost and limited lifespan of the current baby clothing industry, the mass production of garments places huge pressure on the environment through waste, water consumption, and carbon emissions. That said, with Moosey Moose, Jax is on a mission to keep kids comfortable and stylish while helping reduce clothing waste both in their closets and in the environment. The adjustable and flexible clothing that Moosey Moose offers is the perfect everyday solution to constantly growing children, and their first product so far, The Grow Romper, is made from soft and sustainable bamboo jersey and is gender-neutral in design.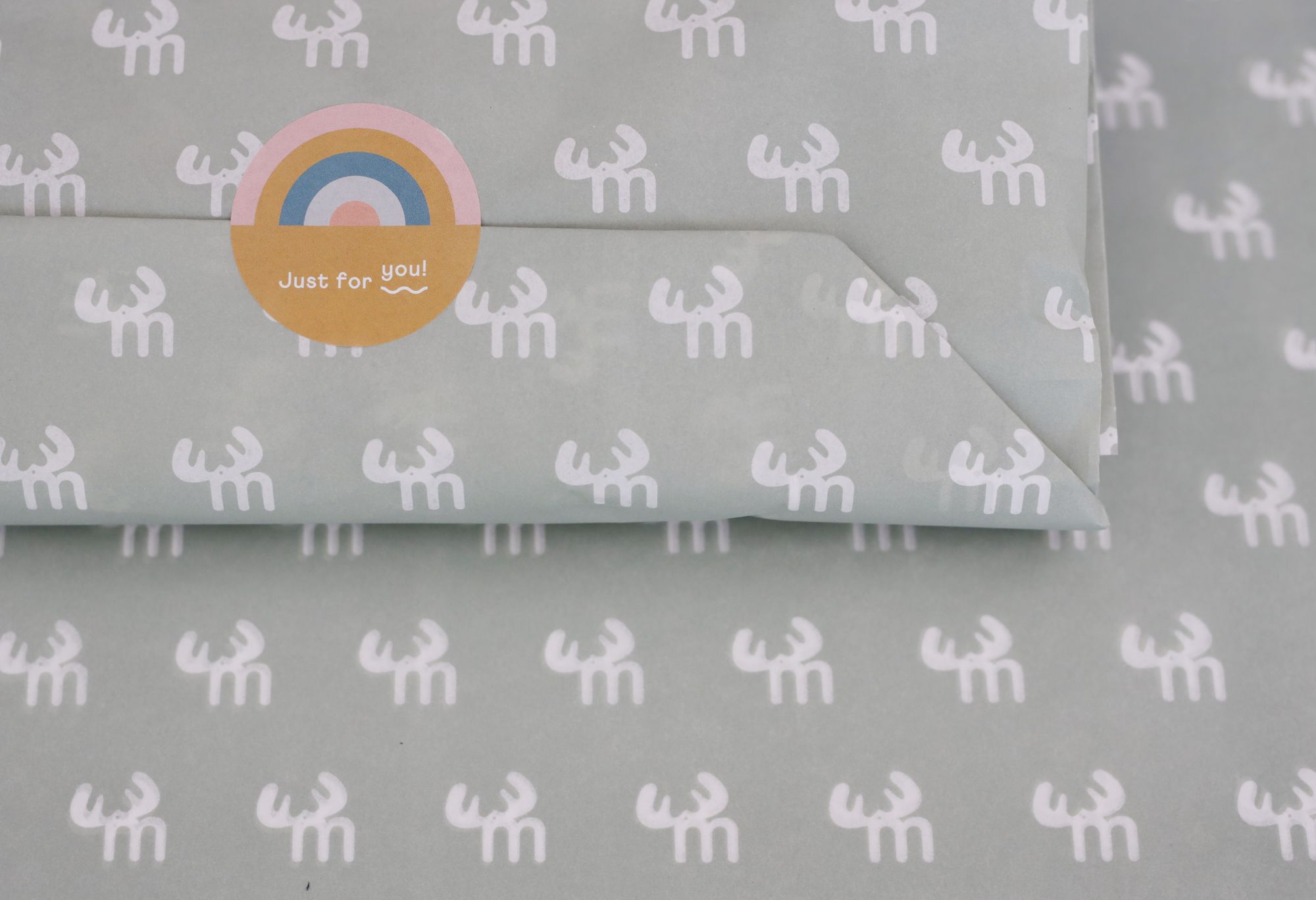 As a brand, sustainability is threaded into the very fabric of Moosey Moose—in fact, it's the very reason that it even exists! Staying sustainable and environmentally conscious is implemented in every step of the brand's production chain, from the way they are designed and produced, up until they are packaged and shipped out.
"We care deeply about the way our garments are designed, produced, packaged and shipped. We want to make sure that as a business we don't impact negatively on the environment or supply chain workers. We strive to make thoughtful and informed decisions about every facet of business operations."
Since the very beginning, packaging was always a significant aspect for Jax, and as a consumer herself of many online businesses, she's well familiar with the excitement of having a beautifully wrapped order arriving at her door, and feeling the love and thought put into it—which was what she aimed to replicate with her own brand. As a business owner, she feels that packaging is the first impression that customers get of her brand, as well as an extension of its values, which is why she made the decision to go with noissue! As Jax states, noissue allowed her to offer her own customers beautiful, custom-designed packaging in an ethical and sustainable way.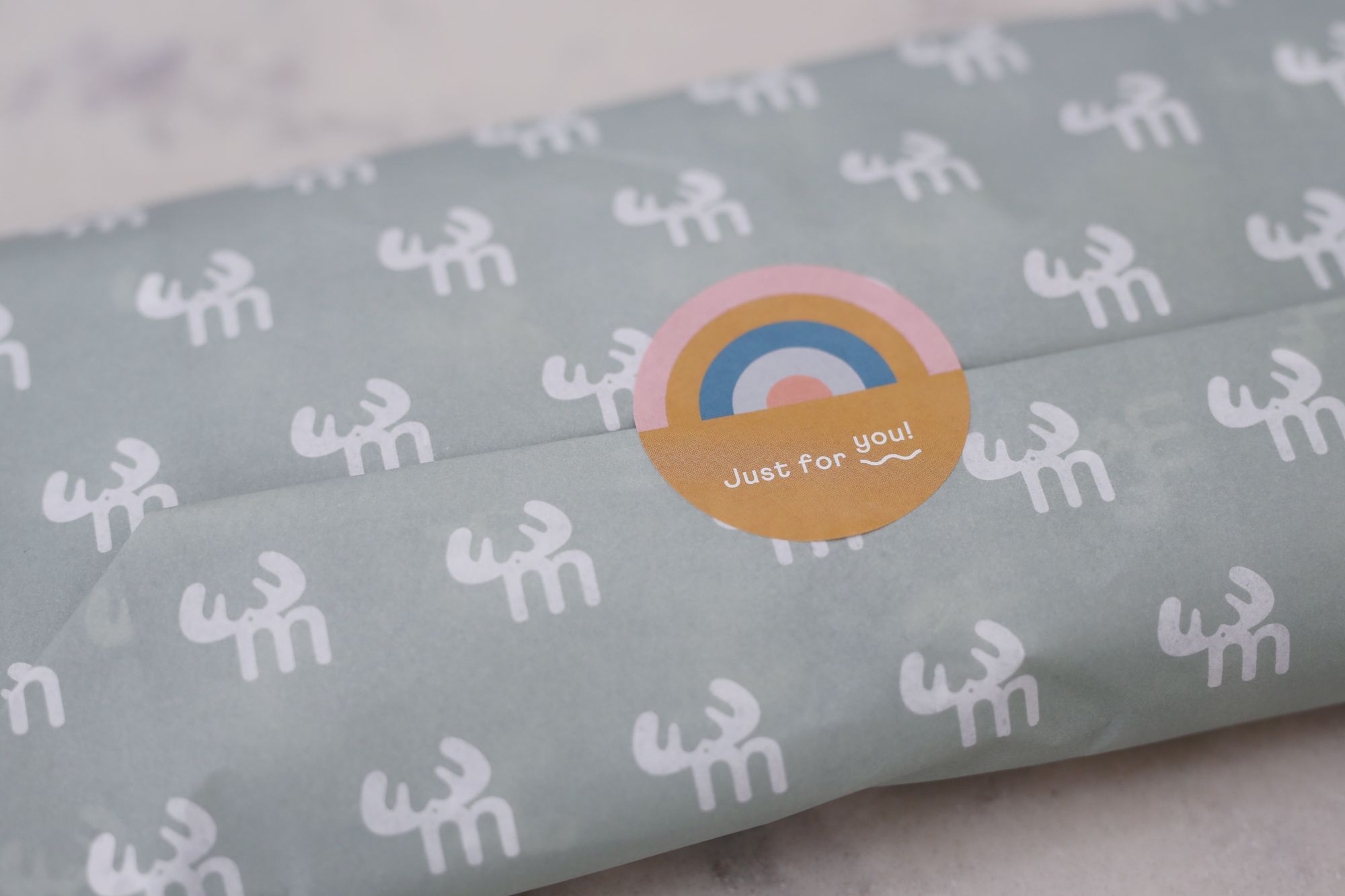 Aside from having her own customized and sustainable packaging, joining the noissue Eco-Alliance has also brought Jax closer to a community of like-minded businesses that also have sustainability at their core, as well as help contribute to reforestation with her every purchase! She also shares that most of Moosey Moose's rompers are bought as gifts, which just makes the whole giving-and-receiving process much more special. She wanted to offer her customers the option of having their orders wrapped in packaging that was both beautiful and earth-friendly, and was excited to discover that she could do both and more with noissue! In particular, she uses the noissue Compostable Mailers, Tissue, and Stickers to pack her products.
In addition to her sustainable clothing and packaging, Jax has also implemented other sustainable measures in her work too, most notably by designing and manufacturing locally in Australia. This was a conscious choice, as she also hopes to support the domestic market with her business, while also developing better relationships with her community. In doing so, she hopes to create a positive trend of transparency and quality control, so that she as a brand can confidently answer any queries about her clothes' production process.
And in terms of her products themselves, Moosey Moose's fabrics are made from bamboo jersey. Not only is it a hypoallergenic, anti-microbial, and thermo-regulating material, it's also durable, so it can last for years and be shared and passed on to siblings and friends for years to come. She also produces in small batches at a time and delivers her products in entirely sustainable, plastic-free packaging.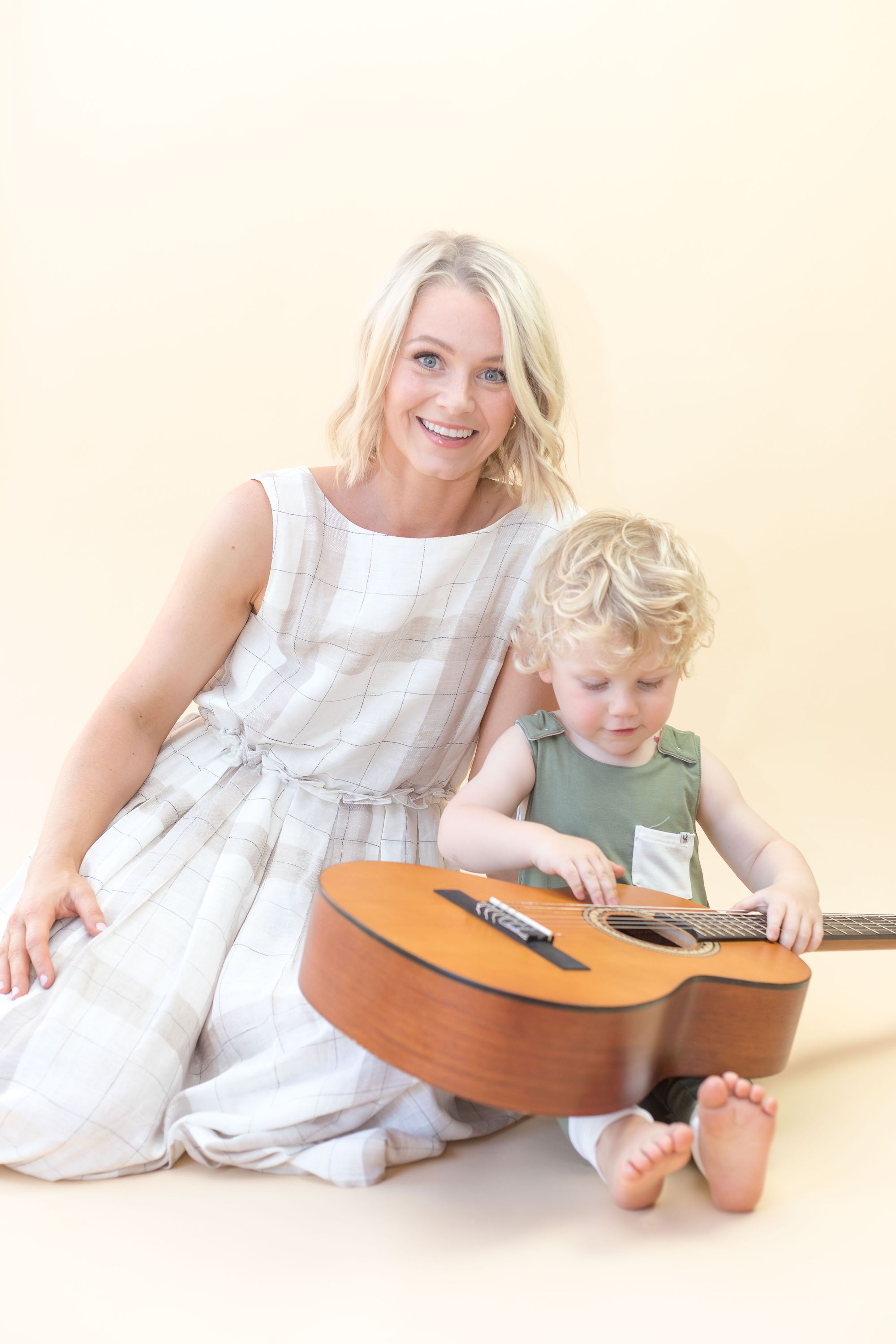 Although she acknowledges that secondhand clothing offers an effective way to reduce costs and environmental impact, Jax believes that intervening right within the design and production stage is what's key in inducing an industry-wide shift—which is just what sets her brand apart! The launch of a new and innovative approach to baby clothing could somehow be a catalyst for a wider change in the market, which is what she hopes for in launching Moosey Moose. Another subtle yet impactful way that she's been making change is by consciously using gender-neutral designs in their clothing, not just to move away from gender stereotypes, but also so their clothes can be passed along and worn by as many children as possible, no matter what gender.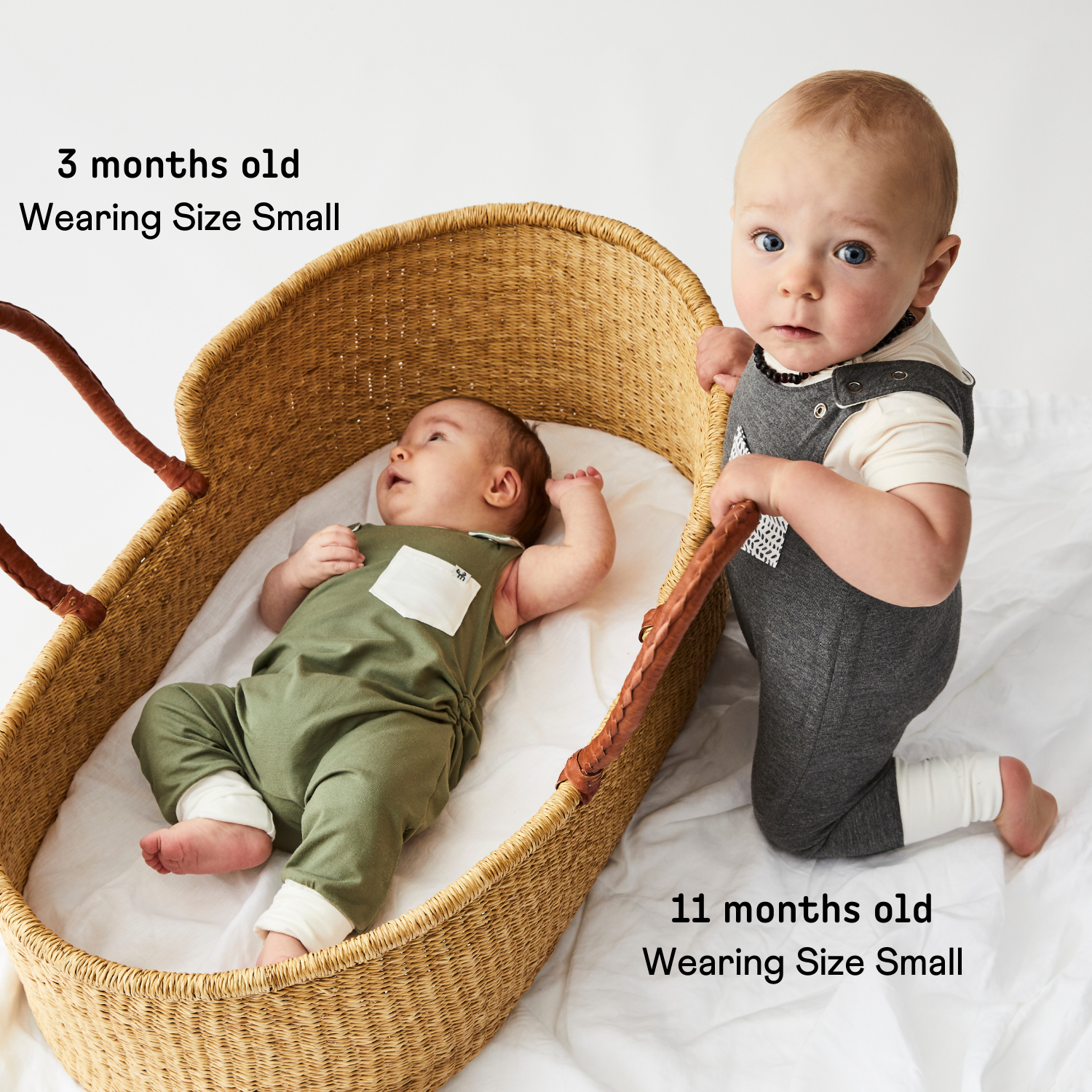 Of course, launching a new business—especially one as innovative as Moosey Moose—was no walk in the park. As someone whose background was primarily in HR and recruitment, the several various aspects of the production process were all very new to Jax, and her biggest challenge so far was learning to be easy on herself, and allowing the space for learning curves and mistakes. As a new mum, she learned to get comfortable with the fact that she simply didn't know everything about motherhood, and she applied the same lessons and principles to her work as well. As for her advice for others who wish to start their own businesses particularly in the baby clothing industry, she emphasizes on learning as much as possible from mentors, asking a million questions, and to not be afraid to not know everything. And to invest in a good coffee machine!
It's been a long journey for Jax, but it's all definitely worthwhile, seeing now how parents are loving her first product, The Grow Romper. Sustainable, values-driven, and intent on making a change—the future for baby clothing is here, and Moosey Moose is leading the way!
---
Find more of Moosey Moose here:‌‌‌‌‌
‌‌‌‌‌‌‌‌
Etsy: mooseymoose.com.au
‌Instagram: @mooseymooseofficial
Like this story? Tell us yours! Share your brand story and love for your custom packaging and get a chance to be featured on the wrap! If you're a noissue customer and are interested, you can join the Eco-Alliance by clicking here and answering a few questions here.
Questions? Email us at ecoalliance@noissue.co