It's pretty much impossible to talk about packaging without mentioning plastic. In 2016, there were 335 million tons of plastic produced worldwide. Half of this was for manufacturing single-use products - coffee cups, water bottles, and yes, plastic packaging.

For eCommerce businesses, packaging is a necessary expense to protect goods in transit. The versatility and cheapness of plastic is what helped turn it into the go-to packaging material in every industry.

Because of this over-reliance on plastic, finding packaging options that are protective, affordable and environmentally-friendly has historically been very difficult.

Yet widespread concern over plastic waste is causing business owners to re-examine their operations. We are seeing much greater efforts by brands to adopt plastic-free packaging designs - and more packaging suppliers who are catering to it.

For illustrator Laura Lhuillier, eco-friendly packaging is a must-have to reduce waste and do her bit for the planet. She tells us all about her nature-inspired custom tissue design and the importance of cohesive branding!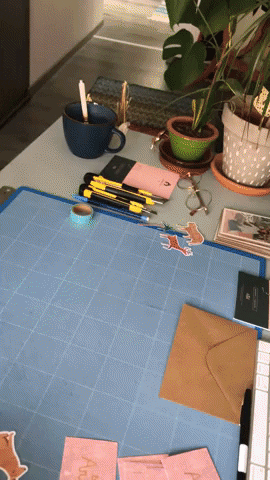 (In Laura's own words):

"I'm Laura, Arual the other way round! I'm from the north-east of France, and I'm currently living in a small town called Chaumont. I grew up in a small village surrounded by forest and meadows, where I developed a strong attachment to nature. Now, I'm working as a freelance illustrator / graphic designer. I've been in charge of my little shop for less than a year. My work is full of joy, I just want to bring a feeling of tenderness, sincerity, and serenity!"

As a new business, product packaging is one of the earliest investments you will need to make. After all, you can't send any orders without it!

But not all packaging is made alike. Some materials, like paper, are naturally biodegradable. But petroleum-based substances, like plastic, can take hundreds of years to break down.

As a result, your packaging design has a massive impact on the size of your carbon footprint.

For Laura, this was one of the most challenging parts of starting her Etsy store:

"The most complicated thing for my first orders was to find the right way to pack and ship my orders. It was not easy to find a plastic-free packaging solution that is pretty, not too expensive, and protects my orders! After some time (and a few mistakes) I realized that I had to make financial efforts to have the quality I wanted while also respecting nature."

"In my everyday life, I do everything I can to reduce my impact on the planet, so of course sustainability is very important to me. Concerning my shop, I've tried step by step to reduce plastic, so this is the reason I choose noissue's custom tissue paper to wrap my orders! For my posters and my postcards, I favour recycled papers and I try to use French local printers."

Plastic-free packaging solutions aren't just great for the environment; they also positively impact your brand image. According to research by the Paper & Packaging Board, two-thirds of consumers say that cardboard and paper packaging is more desirable than plastic. A further 63% say that paper packaging makes a product look more upscale.

In a saturated online sector, a more premium look is a great way to differentiate yourself from competitors. It speaks of a higher quality customer experience, and also opens up some fantastic branding opportunities!

"I have heard a lot about noissue through social networks, especially because many illustrators I admire use noissue's plastic-free packaging. noissue has helped me to spread my visual identity, and make everything is more coherent and recognizable. In addition, it protects my products while respecting the environment!"

"Since the beginning of my shop, I have created a cohesive visual identity where all my branding materials (thank you cards, stickers, business cards) are visually connected. So, all I needed was the custom tissue paper to add the finishing touch!"

"As a graphic designer, it is very important to me that my packaging is pretty so that the customer enjoys unpacking it and discovering every little detail. I want my customers to have a wonderful unboxing experience. The attention to detail of my Etsy shop keeps coming through in my customers' feedback, which I'm delighted by!"