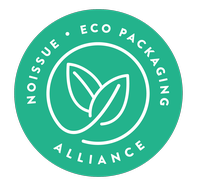 The ozone layer is the Earth's sunscreen. It is an effective absorber of ultraviolet (UV) radiation. Because it is depleting, there is an increase in ground-level UV radiation. Your eyes can be in danger due to long-term UV exposure; that is why you must take care of it.
Raie aims to protect you from this while making you look stylish. Unlike any other brand, they offer eyewear that gives 100% protection from UV and can be used with any trend or season thanks to its timeless core tones and monotone colors.
We chat with the founder herself, Gemma, as she talks about how she juggles her full-time job and a business that cares about the environment.
In Gemma's own words:
"My name is Gemma Lyndon and I am from Gold Coast, Queensland, Australia. I work full time in PR & Marketing for an e-commerce swimwear company, Lahana Swim. I have a side hustle and that is my business, Raie Eyewear"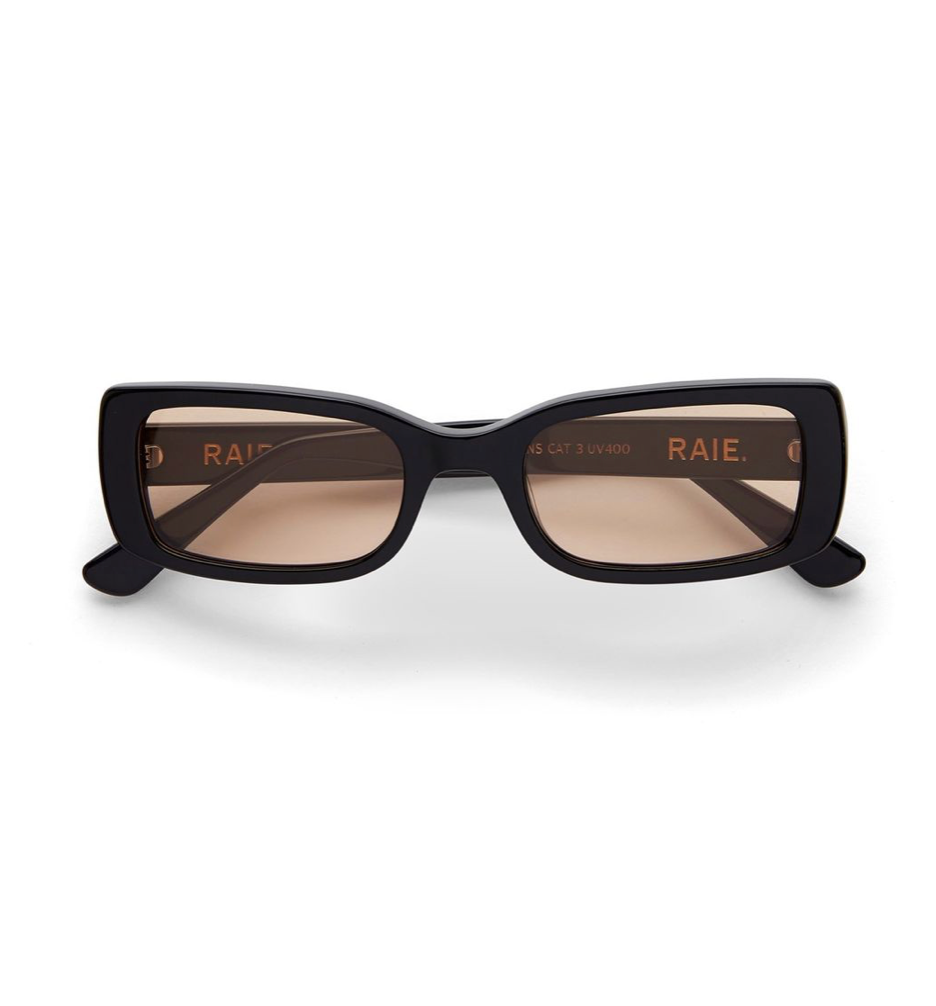 "I started the business last year as I felt there was a lack in the Australian sunglasses market for unisex, good quality, sun-safe, fashionable, and functional sunglasses.
As a business owner, my vision is to help my customers future-proof their faces and draw attention to the dangerous topic of skin cancer. I also aim to implement sustainable practices in my business in every aspect; this is why I love how noissue is changing the packaging game."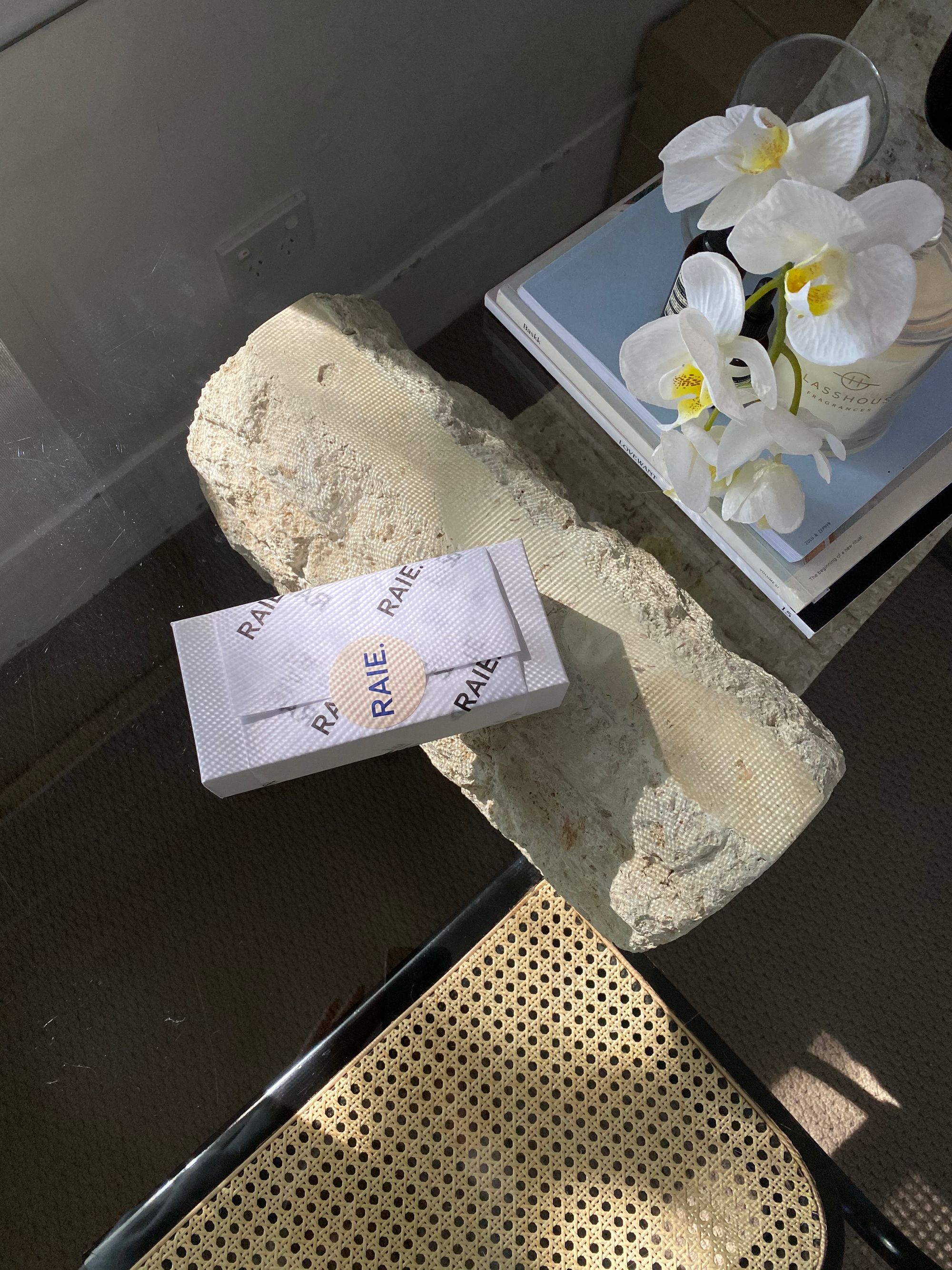 "Running a business on the side of a full-time job is tricky; my advice to those who plan to do it is to manage your time well, learn to prioritize, and pay people to do things you can't do! Your time is spent better somewhere creative, brainstorming new designs, and connecting! Also, plan for the long run! I started my business not thinking about the next step! You should definitely have a 2-3 year plan/vision for it when you start."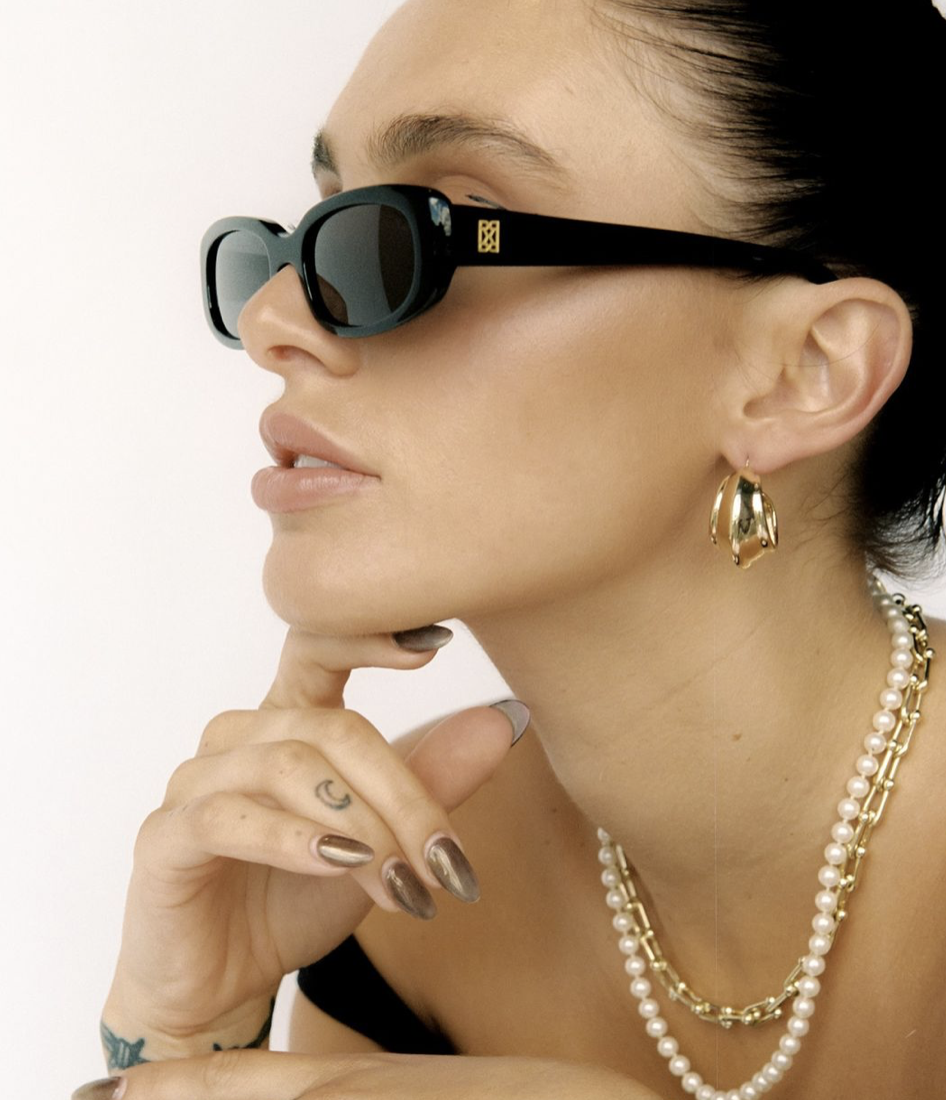 "I love everything about my business; My thousands of customers, seeing people tag Raie in their photos, people walking past me in the street wearing Raie, or sending me a message about the quality of the frames."
"As a business owner, you have total control in which direction you choose to take for your business. In this day and age, I think sustainable choices are the only choices you should make. It's never too late to switch materials or swap manufacturers to find a responsibly sourced fabric, etc.
My SS21 collection is made of bio-acetate, a biodegradable and renewable material made of cotton fiber. I made the switch from regular acetate because it was plastic-based. It's so important to me to be able to give my customers something that didn't cost the earth.
My customers receive a card with each order about the materials their sunglasses are made of and an option to send their old sunglasses back to us so we can restart the chain and start the lifecycle of a new pair."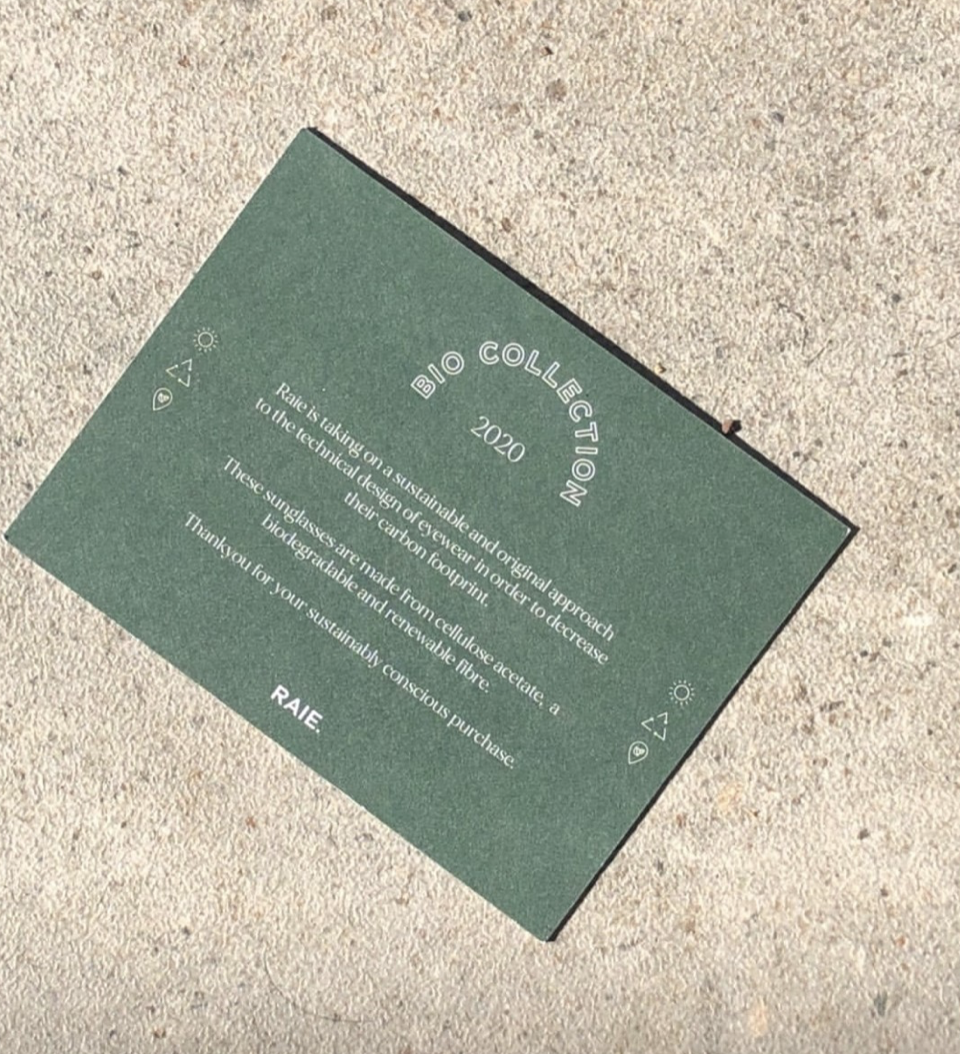 "The first thing customers see when they receive a pair of sunglasses is the beautifully monogrammed noissue tissue paper with my logo scattered everywhere. This packaging has helped strengthen my branding from one level to another. The sleek, minimal design fits in with my brand aesthetic, and the sustainable factor aligns with my brand perfectly."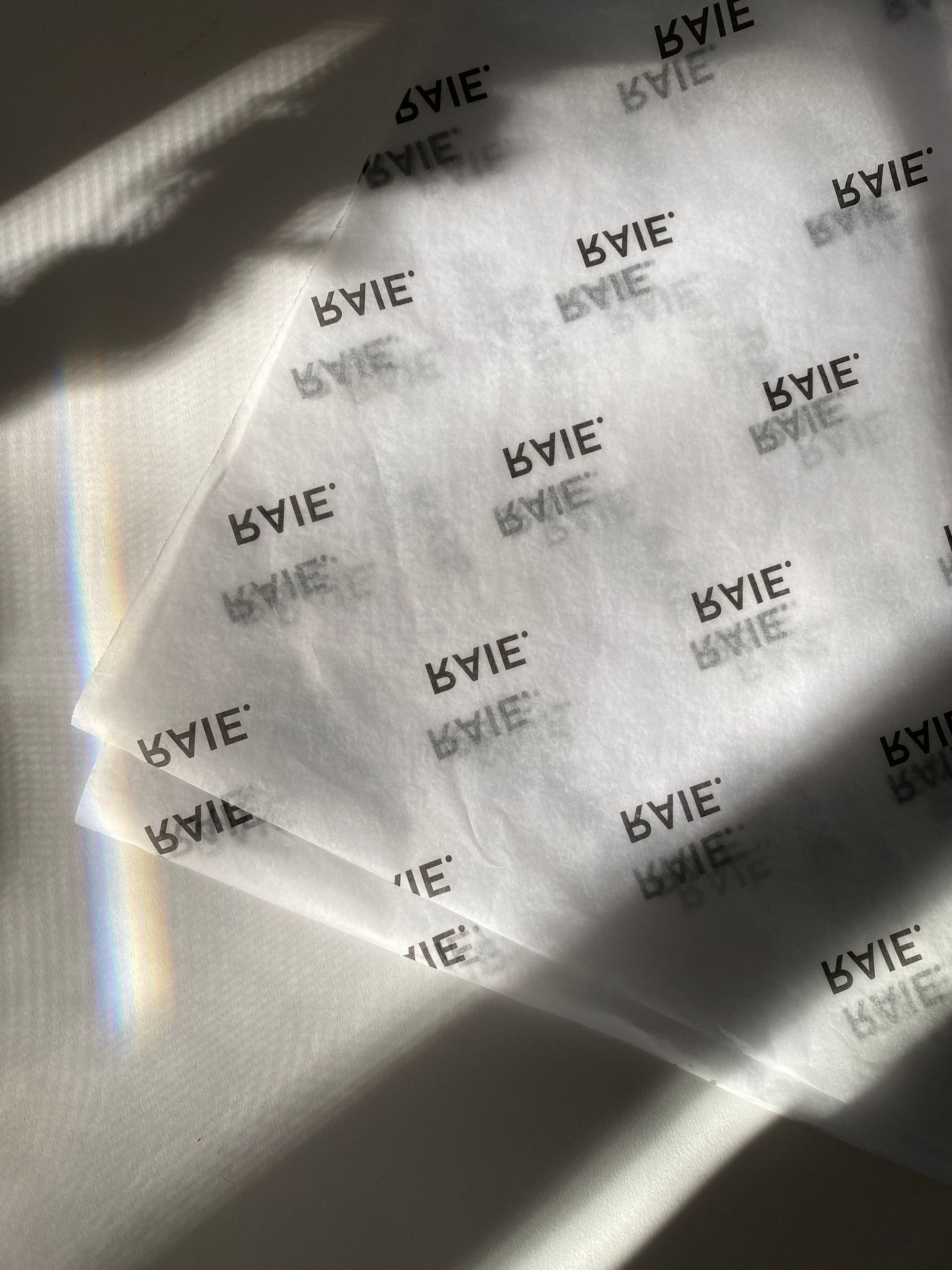 "I chose noissue because the design process was SO EASY. You just have to upload a logo, and boom, beautifully designed RAIE branded packaging. noissue was passed on to me by a friend who regularly uses their tissue paper. I received a present from her wrapped in tissue paper and fell in love."
---
Find more of Raie here:

Website: www.raieeyewear.co
Instagram: @raieeyewear