As part of noissue's sustainability framework, we are constantly developing and improving our packaging range to bring you a range of options.

When it comes to packaging materials, each of our products fits into one or more of three categories: compostable, recycled or reusable.

While our Compostable mailer has long been a firm favorite with customers, it was time to expand our mailers range to offer a variety of eco-friendly alternatives.

We are excited to announce that we have launched a Recycled Mailer and a Kraft Mailer, with a Padded Mailer coming soon – watch this space!

This means there are even more options for brands looking to replace the less eco-friendly options that are made with virgin plastics, which is great news for the environment.

Not sure which option would be best suited to your business? Here, we look at the different features of our sustainable mailers  and what our customers like most about them.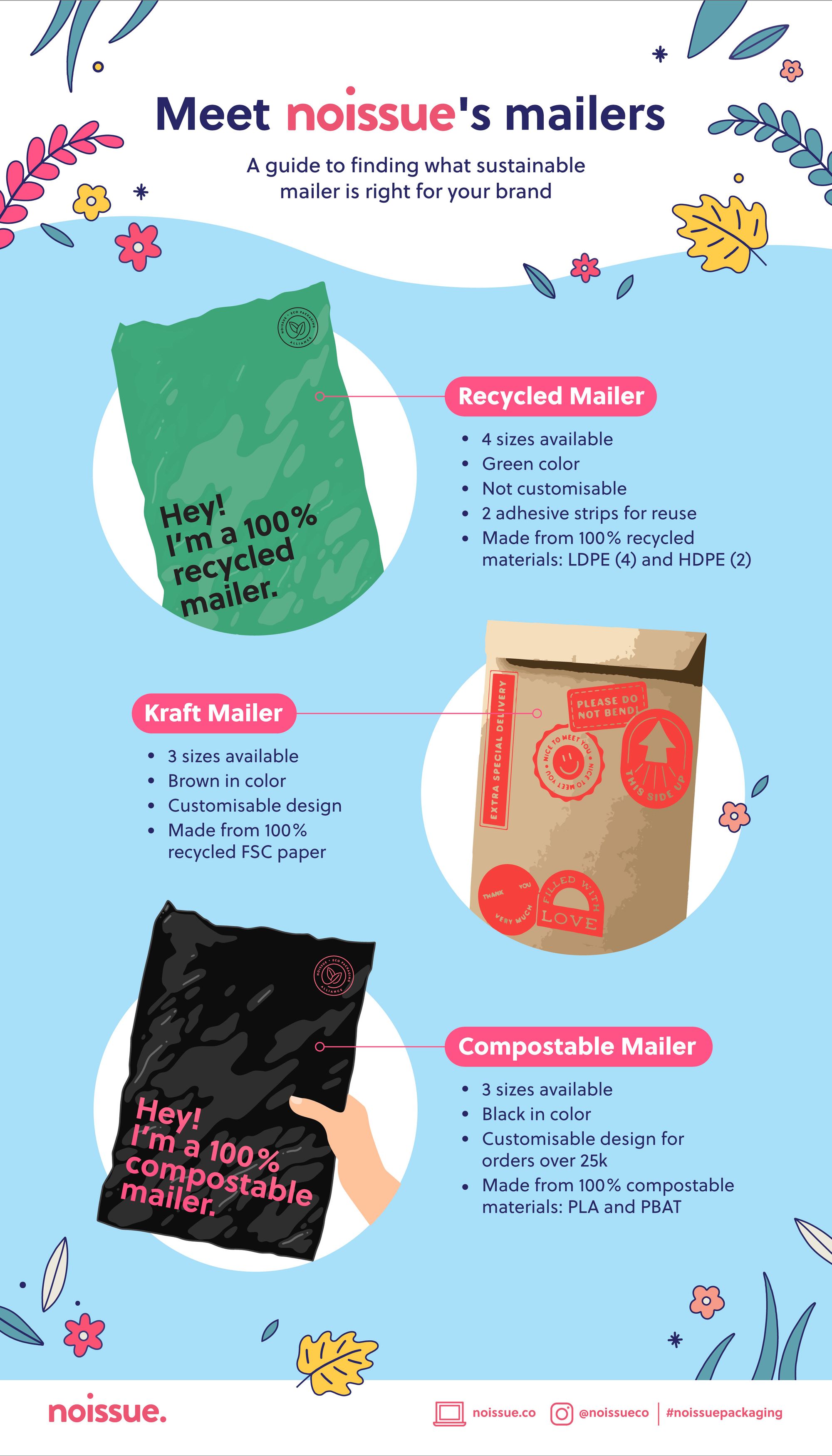 Recycled mailers



What makes the noissue Recycled mailers environmentally friendly?

Our Recycled mailers are made of 100% recycled plastic, which means non-new or virgin plastic. This gives plastic already in use a second life as a mailer bag, following the principles of the circular economy.

To get into the nitty gritty details, the bag  is made from a combination of recycled low-density polyethylene (LDPE), a material commonly used to make plastic bags, and high-density polyethylene (HDPE), a material  commonly used in plastic bottles.
How do they stack up when compared to the other mailers?

One of the unique features of the Recycled mailers is that they come with two adhesive strips so that they can be re-used by the recipient.

They can also be recycled where soft plastics are accepted and made into something else after fulfilling their packaging purpose. To recycle the bag, advise customers to check what regulations are in place in their city for recycling the materials mentioned above.

Another great feature is that there are four sizes available in the Recycled mailer. This means they're flexible to cater to product shipments of any size, small or large.

The Recycled mailers are customizable, with Minimum Order Quantity (MOQ) dependent on size.
What do noissue's customers think of them?

"I love the Recycled mailers! For what they stand for, for being reusable, for the quality and even the color," Azela Boutique founder Jahaira Rodriguez says.

"I have received very positive feedback from my customers. They love that they are reusable and can be recycled again. I'm happy to know that with such a small change in my business, I can contribute to a better environment."
"My brand revolves around secondhand and recycling, the noissue mailers are a perfect fit," The Closet Minded's Alexandra Mecherkany says. "My customers love that I am able to implement recycled packaging since they are buying a recycled product!"
Recycled mailer's features:

– 60UM or 2.36mil thick
– 4 sizes available
– Comes in a green color
– Customisable design: minimum order quantity (MOQ) dependent on size
– 2 adhesive strips for reuse
– Made from 100% recycled materials: LDPE (4) and HDPE (2)
Kraft mailers

What makes the Kraft mailers environmentally friendly?

Our Kraft mailers are made from 100 percent recycled paper that's been Forest Stewardship Council (FSC) certified. This means that all of the raw materials used to make the mailers are from recycled paper materials that have been used already, with no virgin wood pulp used.

These Kraft mailers are also customizable, with the option to upload a finished design to decorate the exterior. They use pantone colors and soy-based inks, or can be printed in CMYK – just let us know the color(s) in the color box when you're designing.
How do they stack up when compared to the other mailers?

Like the Recycled mailers, Kraft mailers offer flexibility and come in three sizes, which make them ideal for smaller product shipments. They aren't waterproof (though a few droplets of rain should be fine) but are thick and durable.

They're also not padded, so the products they're most ideal for are prints, cards, apparel, books and magazines over fragile items.
What do noissue's customers think of them?


"I really love the fact that it is recycled paper, and l also love that it is personalized," illustrator Milka Sukno says.

"I will be sending my art prints and other stationery stuff in it, and I'm very happy to know that whoever receives it will be happy to see a little of me, from the package to the product."
Kraft mailer's features:
– 230 grams per square meter (GSM)
– 3 sizes available
– Brown in color
– Customizable design
– Made from 100% recycled FSC paper
Compostable mailers

What makes the Compostable mailers environmentally friendly?

The Compostable mailers are made of 100% compostable materials. They're eco-friendly because they can be composted in a backyard or commercially,  breaking down in six months (180 days) at home and 90 days in a commercial compost setting. This meets American, European, International and Australian standards for composting.

The mailers are made from a combination of PLA (plant materials such as field corn and wheat straw) and PBAT, a bio-based polymer. These plant materials make up less than 0.05% of the annual global corn crop, which means the Compostable mailers' source material has an incredibly low environmental impact.
How do they stack up when compared to the other mailers?

When it comes to sustainability, the Compostable mailers hold a lot of value. When composted correctly, they return to the earth and leave no harmful residues or traces behind.

However, this requires the customer to be equipped with the knowledge of how to dispose of these bags correctly, so an education piece should go hand-in-hand with using these mailers for your business.

If your customers need to learn how to compost their mailer, here's a helpful video you can share with them below.

In terms of the Compostable material's features, the bags are stretchy, durable (they don't break under heavy weight) and waterproof, which are big perks for shipping products.
What do noissue's customers think of them?

"We love that the mailers break down naturally and can be composted by customers. What a brilliant, conscious alternative to plastic bags," Totum Women founder Erin Erenburg says.

"We use recycled materials for the bags that hold our cookie mix, so we were thrilled to find a mailing company that aligns so well with our intentions to serve women and love the planet as we grow the business."
"These seriously are the best mailers," founder of Mama Movement Faye Tan says.
"They are strong, waterproof, come with two removable sticker seals (so the same mailer can be reused for exchanges and returns!) and best of all, compostable! We often get photos or videos of our customers showing off the unwrapping process on their Instagram stories as they love supporting an eco-friendly brand, plus it's MUCH prettier than boring old unsustainable plastic!"
Compostable mailer's features:
– TUV Austria certified compostable
– 3 sizes available
– Black in color
– Customizable for orders over 25,000
– Made from 100% compostable materials
– Waterproof
The eco-friendly finishing touch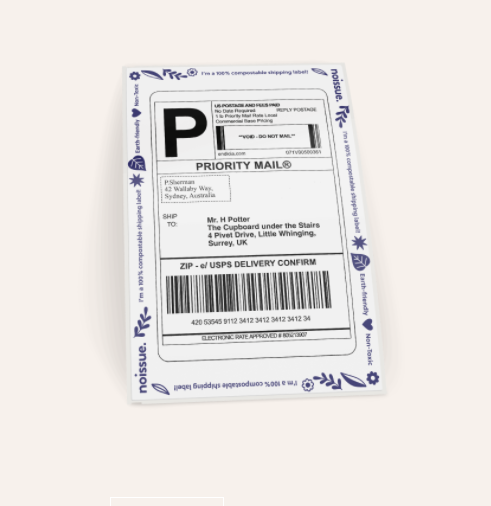 Once you've got your mailer sorted, it's time to think about the environmental impacts of the finer details.

Normal shipping labels need to be removed from Recycled, Kraft or Compostable mailers as they leave harmful residues behind and don't break down. This requires extra work on the customer's behalf, as they have to remember to remove them before disposing of the bag.

To solve this, we've launched compostable shipping labels to make your packaging even more eco-friendly.
What makes the Compostable shipping labels environmentally friendly?

Noissue's shipping labels are made from 100% Forest Stewardship Council (FSC) certified and recycled thermal paper that's heat sensitive and made sticky with a non-toxic adhesive. They're 100% compostable, so they can stay put on the mailer instead of needing to be removed when recycled or composted. The border design lets the customer know that the label is compostable.
Compostable shipping label's features:

– Made from 100% compostable materials
– Three sizes available
– 200 to 250 labels per roll
– Compatible with Brother, Dymo and Zebra printers
– White in color with blue border
– Sticks using non-toxic adhesive
Wrapping Up

We hope this guide has helped you learn more about our range of mailers! Seeing as mailers are a high-volume product in ecommerce, you can make a big difference by switching to a sustainable option.  

All the features we've talked about above can become part of your branding toolkit to show that your product – and business – is striving to have a lower environmental impact.
If you have any further questions about our new mailers, then get in touch with us here.