Social media platforms such as Instagram and Pinterest have been a real game-changer for creatives like Nia Gould. Where their work would once have only been seen within art shops or galleries, it can now be shared with a virtually limitless audience online. Nia talks to us about her feline-inspired brand Niaski, and how her custom tissue paper was the key to enhancing her brand's Instagram appeal.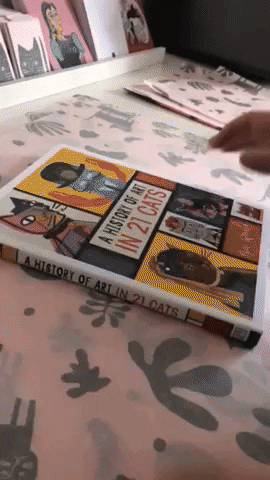 Nia Gould had always loved art and illustration growing up, which led to her gaining a degree in Graphic Design and working professionally as a designer. But it was a quite different passion which ultimately led her to start her own design business:

"I've always been a creative, but I spent over ten years working for other people. In the last few years, I decided to start my own illustration business. The inspiration came from my love of cats and my passion for the arts. I adopted a cat who has a white moustache, who I decided looked a lot like Salvador Dali. I now have a Pablo and a Frida cat, and the inspiration for my works came from them!"

Channeling an insta-worthy aesthetic

With such a distinctive subject matter, Niaski quickly built itself a very recognizable brand image. Its colorful, feline-themed product range naturally lent itself well to Instagram-worthy photos, something which has gained increasing importance as a content marketing tool for creatives. Social media has become one of the biggest selling channels for artists, as it gives them access to a truly global audience. Curating visual content with Instagram appeal is therefore paramount, something that Nia was aware of when it came to her packaging needs:

"It's really important to me as Graphic Designer that my brand is consistent. I sell pin badges, cards and prints, and I was looking for a way to package them safely to protect them on their journey to their new homes. But I also wanted something that made people feel like a lot of time and effort had gone into the way they received their purchase. The overall presentation and visual impact of a product is key to a successful business."


Interestingly, it ended up being Instagram itself that provided Nia with the solution. As well as being somewhere to attract customers, Instagram is also a place to connect with fellow creatives. It was through this network that Nia saw noissue custom tissue paper in action, and realized that it ticked all the boxes:

"I take great pride in making sure my work is of the highest print and paper quality, so it only makes sense to take as much care in the way I present and package the final product. I follow a lot of illustrators on Instagram, and I spotted that some of the products they were sending out were wrapped in this lovely custom tissue paper. I had been looking at ways to package my prints better, and it seemed like an ideal fit! I love seeing the joy that my work brings to other people. It's so nice having platforms like Instagram, as it allows people to share your work far and wide and see it in people's homes."

Designing custom packaging that reflects your brand

The key to any fantastic custom packaging design is making sure that it reflects your brand identity. This is especially important if you plan on using your custom packaging as visual content for your social media channels. A strong brand narrative ensures that your packaging design is cohesive with the rest of your social media content, which makes for some serious Instagram appeal!

Nia has kept her custom tissue paper on-brand by integrating both her logo and key design elements from her product range. Her switch from a white to pink background color in her latest order helps to add variety for her customers, whilst still keeping her branding consistent and recognizable.

Frida admiring herself in Nia's latest custom tissue paper design!

noissue's design tool makes it stress-free for businesses to re-order and even update their custom tissue paper designs as they see fit. Designs are saved to your account when you place an order, meaning that your fantastic custom packaging can be the inspiration for a new seasonal refresh!

"The paper and print quality of my custom tissue paper is amazing, and being able to add your own designs and logos to them makes it the most effective way of presenting your product and brand at the same time. I love seeing people post about their purchases on Instagram, and sending me stories about how nice it was to receive them so beautifully wrapped!"

Pro tip: For more tips & tricks on packaging design for social media, check out our blog!

Making sustainable paper goods

Being sustainable as a small business with a mostly paper-based product range might sound like a big challenge. But Nia has taken many steps to reduce her footprint - for her 'Naked Cards' pledge, she has switched out cellophane wrap for noissue's custom tissue paper (which is 100% recyclable!) as well as ensuring that each step of the production and order process is as eco-friendly as possible:

"Being a print designer, I am constantly full of guilt about how much paper waste I am potentially producing. I've taken some steps to help reduce this; any cards I sell direct to customers are no longer in cellophane wrap. The paper in which they are printed on is from sustainable sources. I use a local printer who is committed to eco-friendly printing, and have reduced their carbon footprint by working closely with the FSC to create more sustainable print options. All my parcels are sent in reused boxes and sealed with paper tape!"

Pro tip: noissue commits to using only FSC-certified sources for our custom tissue paper. You can find out more about our sustainability commitments here!