Create your brand's custom smart packaging, starting with handy hang tags! Check out this article on everything you need to know about noissue's QR Code Compatible Recycled Hang Tags. For budding clothing and accessories brands, we've got the ultimate guide to the best packaging products to use here!
If you've attended an in-person event in the past few years, chances are you've used a QR code to check-in, share your vaccine status, or even find your way to the venue. But these little powerhouses are capable of so much more.
QR codes aren't new technology. In fact, they've been available widely for more than a decade. In the past two years of the pandemic, however, QR codes held a starring role in a touchless society — most notably replacing physical menus and storing immunisation data.
These codes work much like standard barcodes you'd find on products at the supermarket. Similar to these, they contain data that can be accessed by scanning. The notable exception is that QR codes can be scanned by most smartphones and tablets.
noissue's products are QR code compatible, meaning you can cram a lot of info onto your custom printed products without extra clutter. QR codes (which can be printed as small as 2cm square) pair perfectly with our custom products like boxes, hang tags, cards, coasters, kraft mailers, and tape.
17 creative QR code ideas for small businesses

These small but mighty codes have tons of potential for small brands and businesses. To get you started, we've compiled a number of creative QR code ideas to level up your marketing, branding, and customer support efforts. Check out these examples of QR codes on packaging to inspire you for your own business!
1. Care instructions on garment tags or hang tags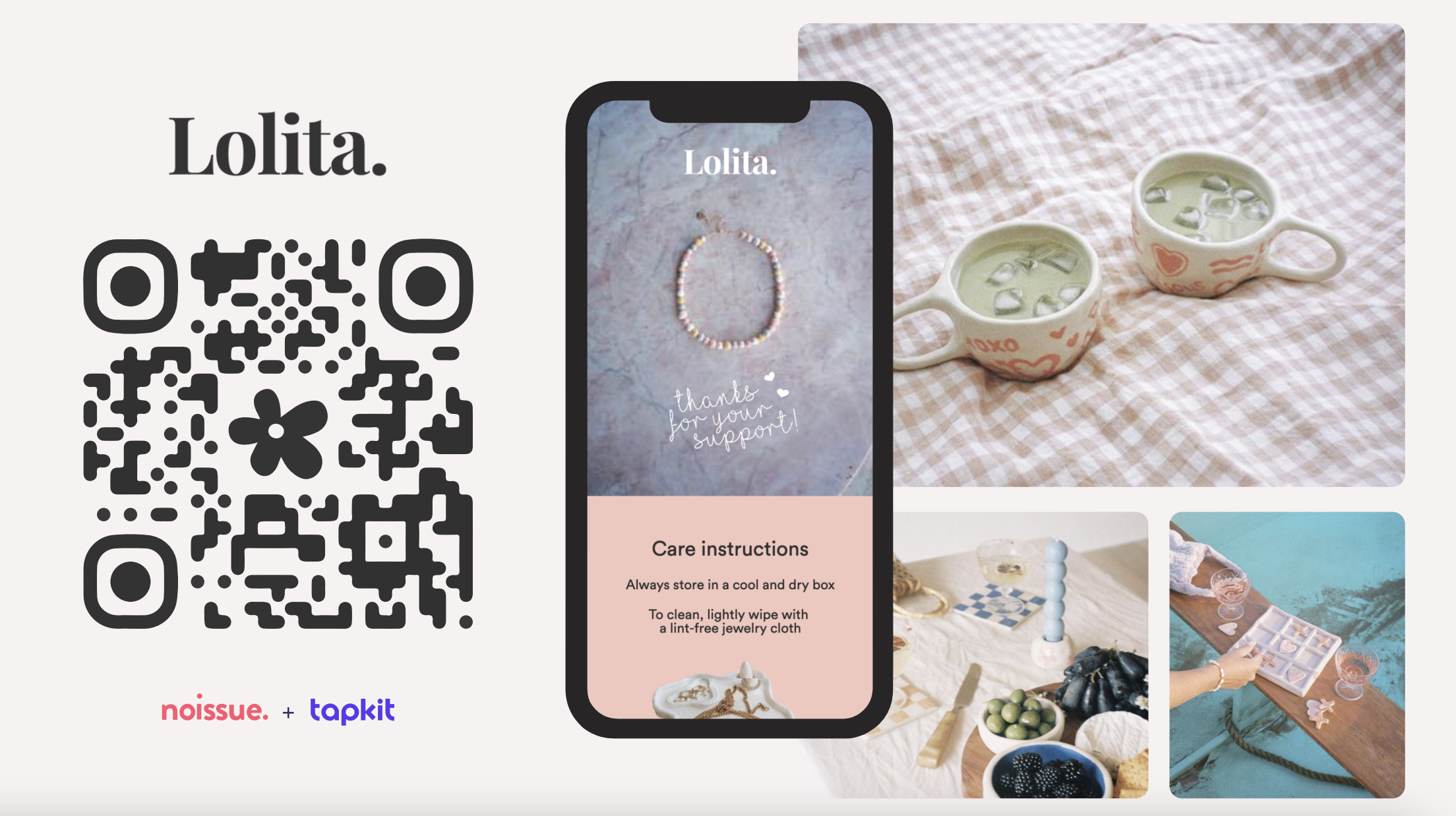 Rather than try to squeeze detailed care instructions in multiple languages on a tiny garment tag or hang tag, add a QR code instead. Link out to a page on your website that contains detailed cleaning instructions, care FAQs, and information in other languages.
2. Returns and exchanges information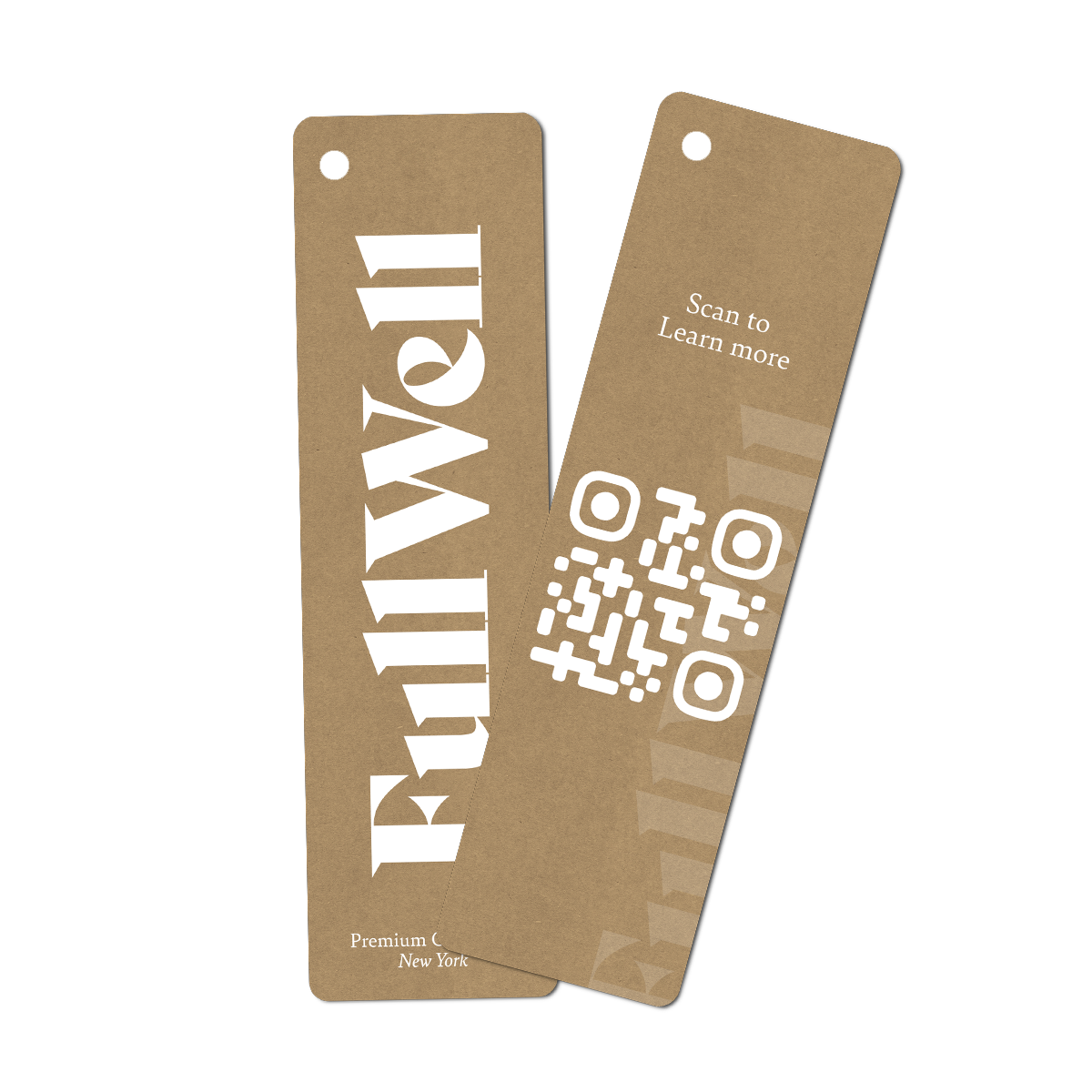 If you ship physical products to customers, streamline the returns and exchanges process by adding a QR code to packaging like hang tags, mailers, boxes, or card inserts. The code can link directly to an FAQ page or returns portal on your website.
3. Replacement for physical menus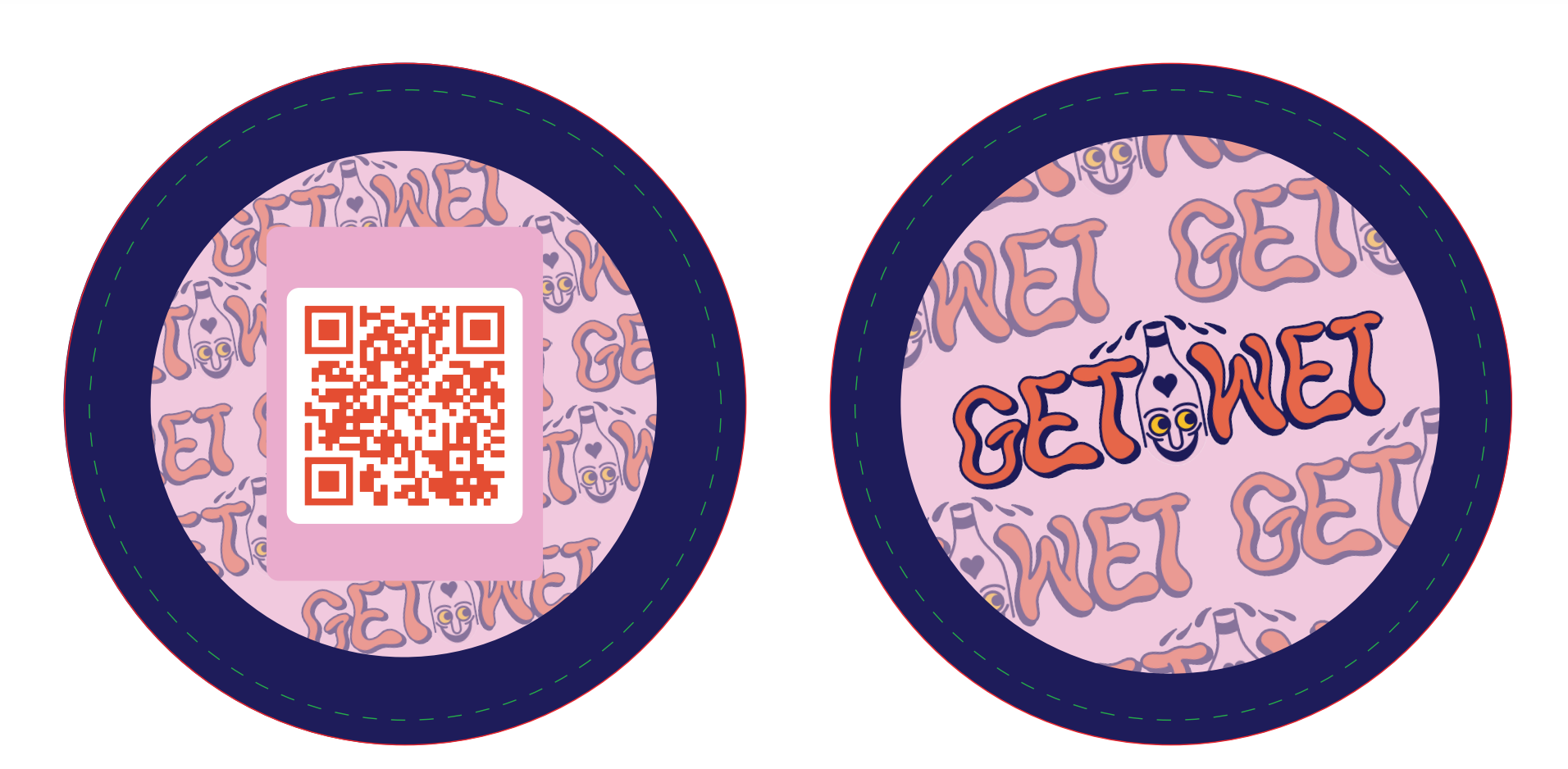 QR codes popped up often as restaurants moved to safer ways to do business during the pandemic. Menus, once printed on paper or plastic, posed a contamination issue. Instead, diners could access the restaurants' menus via a QR code printed on a custom coaster or tabletop sign. QR codes are also useful for mobile food businesses (like food trucks), outdoor patios, and always-changing menus.
4. Instant WiFi connection

If your business accepts clients or customers in a physical setting and offers free WiFi, avoid the hassle of giving out passwords by printing QR codes on cards, signs, or coasters within the space. The codes can allow instant connectivity without a password. This QR code idea also works for one-time events.
5. Digital user manuals and instruction guides
If you sell products that require extensive instructions for setup or use, save paper and shipping bulk by publishing these instructions on your website or as a YouTube video — then link to it from a QR code printed on your box or mailer. This allows you to publish the info in multiple languages and include features like video, audio, and live support chat. This QR code idea works for products like games, assemble-it-yourself furniture, or pottery kits.
6. Greeting cards

Print QR codes on your holiday greeting cards and link to a virtual greeting from you (say, a YouTube video). This way, cards can be used over and over while the QR code links to fresh content each season.
7. Online content
This QR code idea has so many possibilities. If you're an author self-publishing a book, you may use a QR code on a package insert to link readers to an audio or e-reader version of the book. QR codes may also link to companion content for your products. Amidira, a cancer care gift box brand, prints QR codes inside its packaging, linking to lifestyle content that provides support and advice to those diagnosed with cancer.
8. Events or business cards

Businesses with a physical space can simplify business information by linking a QR code on a custom card insert or on a business card. This idea also works for events where QR codes are printed on physical tickets and invitations. Use them on signs within a large venue to open a map of the event space on the attendee's phone.
9. Event ticketing and information
QR codes became widely used over the pandemic as a way for businesses to easily implement contact tracing. But they're here to stay. The technology is great for small events as a way to manage event ticketing and information — it's paperless and you don't need to invest in specific devices to scan it.
10. Recipes for meal kits or baking kits

Brands selling food products can print QR codes on packaging, shipping boxes, or box insert cards linking to recipes, baking kits or meal kits on a website or social media account. This is a great way to ensure that your customers have confidence in using your items to their full potential — and come back for more.
11. Pre-launch landing pages
A QR code printed on cards and dropped by another local business can introduce potential customers in your area to your soon-to-be launched business. Even if your website isn't live yet, try this example from Butter Baby and set up a simple landing page that provides brand info and links out to social.
12. Printable extras

A QR code can be used to give access to exclusive printable content to accompany a product. For example, a board game company may offer expansion packs or alternate play instructions that players can print via a QR code printed on a box. Similarly, journal brands can provide free printable page templates accessed in the same way.
13. Contact your business or leave a review
Help your customers reach you more easily without having to track down your contact page. A QR code printed on product instructions or on packaging can open a chat window or call a customer support line, just by scanning it with a phone. You can also link the QR code directly to your reviews page, so they can support your business and share their thoughts on your product.
14. On swag

Print QR codes on branded swag like a custom tote bag to give away at trade shows, events, or as a gift with purchase in-store. Fitness businesses can print a QR code on a branded water bottle — an item that customers and clients may keep and use for a while. Link the QR code to an always-updated YouTube channel with free workouts. Consultants and freelancers can print QR codes on swag that links to a services, portfolio, or contact page.
15. Production information
As labelling laws in many countries require ingredient and allergen information to be printed directly on packaging, that doesn't leave much room for extras if your product surface is small. Brands that sell skincare or beauty products may want to use a QR code on a tag or a QR code on product packaging to link to expanded ingredient information. Or use them to link out to a sustainability mission with details about how and where your products are made.
16. Reordering, freebies and promo codes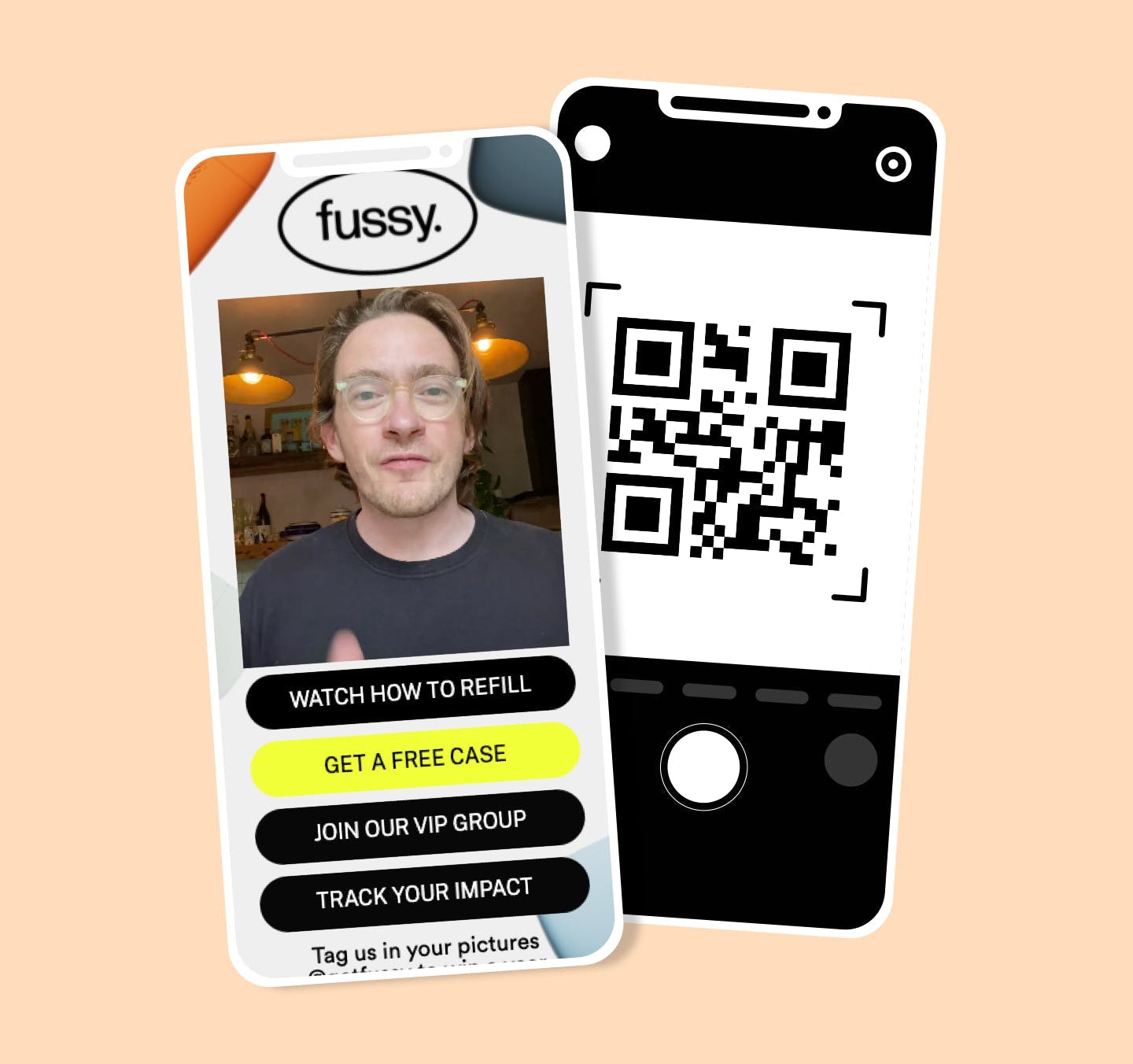 A direct mail postcard featuring a QR code can help you measure the success of the campaign. Incentivize scanning the code by offering a gift with purchase or a pre-filled promo code that's already applied to the cart. This idea can also be used for printed materials at trade shows or consumer shows.
17. Social media links
As a brand with new collections or products dropping regularly, printed materials can get out of date fast. Instead of going all in on printed materials for a new collection, create a simple branded card like this example from Bikinis Over Everything.
Stick to simple text and a QR code that links to the latest social campaign or your Instagram feed where the content is always fresh. A QR code can also link to a TikTok challenge, a callout for user-generated content, or a YouTube channel where customers can subscribe to tutorials and other video content.
Wrapping it up

There are ample ways to use a QR code to boost your brand's marketing efforts, from product QR codes to QR codes on your packaging. We hope this article has given you some great ideas on how to bring the digital world through to the physical world to increase your customer engagement! Get started with QR codes by creating your custom QR code with Tapkit and checking out our custom packaging range today.