@eastolivia
We all love opening the front door to see a parcel on the step. But an even better sight than that? When the parcel in question looks drop-dead gorgeous!
That's why the unboxing phenomenon has taken over the ecommerce world, and it's here to stay. Making a great first impression and promoting that all-important initial physical interaction between business and customer, results in increased brand loyalty and engagement.
Brands that take the time to add that memorable touch to their packaging show customers they care beyond a simple transactional relationship. What an awesome way to make everyone feel good!
💡 Inspiration Station

Paying attention to packaging designs, branding and opportunities to connect to your customers without harming the environment is more important than ever. For some inspiration, here are six businesses who have knocked it straight out the park with their perfect packaging.
Talk And Tell
Eye-poppin' products deserve equally awesome packaging! Fun and fashionable accessory brand Talk and Tell deliver a truly feisty unboxing experience. With a hot pink color palette and illustrations that promote an aura of positivity and fearlessness, we can't help but look their way and feel pumped!
This small but mighty business makes protective tech accessories and personalized stationery, and boy do they love putting that extra bit of funk in their designs. Starting out as an idea based on a love for design and technology, to being featured in Cosmopolitan magazine and naming the Kardashians as big fans, Talk and Tell have definitely made a bright mark on the world.
With a key focus to bring their customers quality, affordable products that they just can't wait to show off – now their packaging, featuring custom tissue paper and stickers, is getting the same treatment! Love it!
East Olivia
The team at East Olivia believes everything starts with beauty. This inventive, woman-led business believes the way they present themselves simply adds to the overall attraction of their products. Inspired by the city around them, this New York creative team specialize in fresh and dried florals that spread love, joy, and beauty to their customers.
Not only are they the best in the business in the floral arena, East Olivia brings creativity and artistry to the packaging of their products. Using branded blush pink tissue alongside an elegant rose-illustrated sticker, each bouquet is wrapped up to perfection. The colors feel warm and inviting like the packaging itself is whispering sweet nothings delicately in our ear. We dare you not to blush!
And, with a commitment to sustainability and the environment, the fact that their custom noissue Tissue and Stickers are made from FSC-certified paper and printed with soy-based inks makes things even more irresistible.
Street Grandma
Young, hip, and trendy are not words you'd usually associate with grandmas (although ours are pretty cool!) but it's exactly how you'd describe fashion brand Street Grandma. Designing fashion pieces that you'll wanna keep 'til you're old, Street Grandma exudes an air of effortless coolness, and their classic black and white tissue packaging is no different.
The timeless color combo depicts intriguing illustrations of 'cool as' grandmas adjacent to a clean-cut brand name font. We also love the added subtle touch of a simple black dot sticker to hold it all together.
Throw in the little custom card that details how the Street Grandma brand only produces clothing that is made from sustainable and ethically sourced materials and you've totally got yourself packaging worthy of sharing on Insta-gran!
The Pastry Project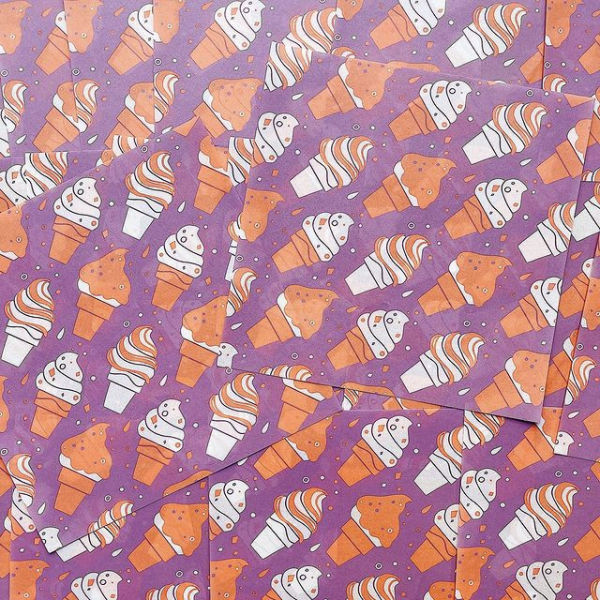 The Pastry Project is all about spreading a mixing bowl full of love to the world. Providing free baking and pastry classes to people with barriers to opportunity, The Pastry Project works with nonprofits to find students who would benefit most from the program, and then help them find fulfilling jobs once they graduate.
And what's the scoop on this bright and brilliant tissue design? It's about sending their beautiful branded colors and good vibes out to the world. Used to line subscription boxes of freshly bakes pastries (the key to raising funds to run their awesome classes), Pastry Project subscribers are met with packaging that's just as delicious as the sweet treats inside.
Their soft-serve ice cream tissue paper, designed by Seattle based illustrator Erin Wallace, serves up cones full of fun. Good deeds, good vibes, good food? It's enough to make us melt.
Cagla Zimmermann
It's no secret that plain brown mailers or boxes don't quite hit the spot when making a good first impression. Luckily, fixing that lack of personality is as easy as slapping on some creativity! Vienna-based freelance artist Cagla Zimmermann creates folk art that is touched by elements of nature, poetry and music, and uses all this feel-good artwork as the ultimate instant ice breaker for her customers – all thanks to her customized packaging tape.
Letting the world know she is committed to sustainability is very important to Cagla. She cements this commitment the moment her work arrives on a customers doorstep by using noissue custom packaging tape on the exterior of her packaging.
The perfect way to instantly showcase her wonderful work, Cagla says: "We all know that packaging gives the first impression, I want people to know that I care about our environment and also try to keep my packaging playful. Giving people that warm, friendly, but at the same time professional feeling is my goal." Mission accomplished Cagla!
Simonaesarts
Simon of Simonaearts is a freelance illustrator who has been making art since he could hold a piece of chalk – and has no plans to stop any time soon. Portraits of cute and kooky girls with big eyes and voluminous hair take up the main space of this artwork, with a gorgeous edge of quirky color and tone mixed in.
Making the sustainable switch from poly mailers to compostable noissue kraft mailers, Simon invested in some customized packaging tape to bump that plain envelope style up a few levels. Simon's customers receive some positive art therapy as soon as they pick up the package, and know exactly who has sent what's inside.
We love the contrast of the fresh orange background with the bold illustrations – especially the portrait of the purple-haired beauty! Such a vibe.
🎁 Wrapping  It Up

Ladies and gentlemen, there you have six amazing businesses who treat their customers to top unboxing experiences, complete with quality materials, amazing designs, and all without harming the planet.
Ready to take your packaging to the next level? Take a look at our range of noissue products, from mailers to tissue, stickers to stamps, all guaranteed to elevate your packaging into a phenomenon.