Picking your present's packaging never looked better! Customize your brand's noissue Tissue and Tape for gifts that'll impress. Sending your season's greetings is no issue (pun intended) in protective and earth-friendly Mailers. Our packaging is reusable, recyclable, or compostable – so no excess waste gets generated. See more holiday packaging ideas in this story!

Still perusing for the perfect present for friends and loved ones? Be sure to show some love to your furry family members, too. 🐶🐱💕

Don't break a sweat; you're in luck this season! Fur-tunately, we've gathered some of our favorite pet accessory brands for gift ideas that any canine or feline will enjoy. These noissue customers are not only pumping out everything from pet toys to custom portraits, but they're also protecting the planet and encouraging conscious habits by using sustainable noissue packaging. Get your playful pal a gift that goes beyond the typical treat – and bonus puppy points for a product and packaging that's good for them and the earth!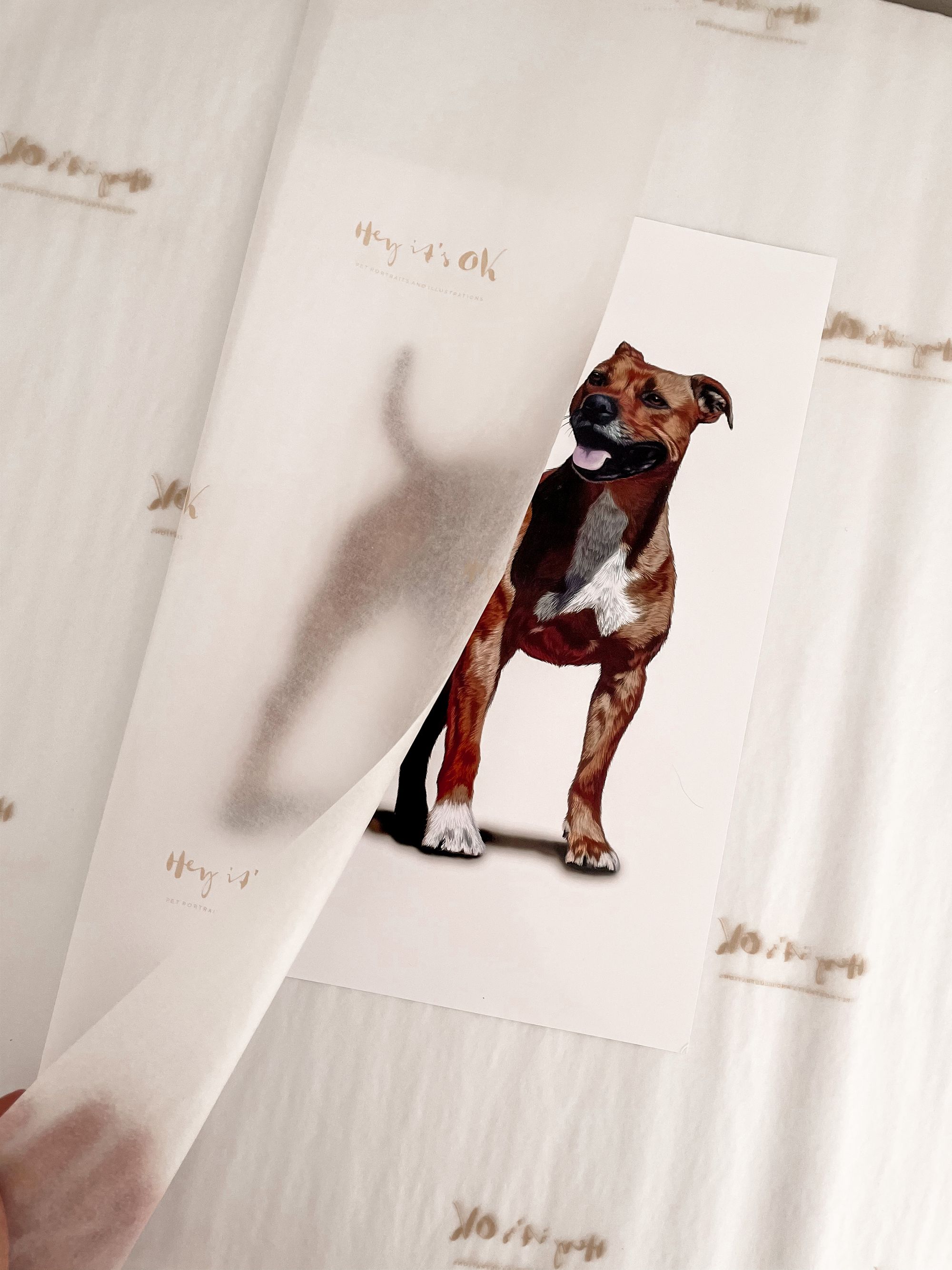 Giving your holiday gifts in festive, custom packaging can be as easy as fruit pie. If you want to add some pizzazz to your presents, consider creating your custom design on compostable noissue Tissue and Tape! And a customized Recycled Box, sealed with a sustainable Sticker or Stamp, ensures all your gifts have a safe and stunning delivery. The apparel brands below score high on our creativity cards with exciting packaging using noissue products for an up-leveled unboxing experience!

So if you're in the market for matching bandanas, pet-friendly charcuterie boxes, or nifty name tags, dive into the only list you'll need for the ulti-mutt holiday gift. Check out the products from these eight pet gift professionals, and find your furbaby a present that they'll paw-sitively adore!
LollyPop's Catwalk

LollyPop's Catwalk is a North Carolina-based pet accessory brand that's fixing up fashionable pieces for pets and their loving humans. Ever wanted to match your scrunchie with your pet pal? LollyPop's Catwalk produces scrunchie and bandana sets, face masks, and bows in plenty of patterns and color palettes to fit your furry's fancy! And with every purchase from LollyPop's Catwalk, a portion of the profits are donated to conservation efforts and human and animal welfare organizations.

Pick up this scrunchie and bandana in an original origami print to stop other pets and humans in their tracks! Plus, each order comes with a compostable card in eco-friendly noissue Recycled Mailers so that you can gift stylishly and sustainably.
Peachie Bagels

We seriously can't stop our obsession with Peachie Bagels' handmade hamster homes! Quality builds for smaller pets like hamsters, mice, and more can be hard to come by, and Peachie Bagels is here to change that by handcrafting unique wooden homes in California. Peachie Bagels offers a variety of themed pet hideouts and accessories to fit into any sweet little setup. Spot Peachie Bagels' precious logo stamped onto your order's package with a soy ink-based noissue Stamp!
Personalize this sweet Leaf Hamster Feeding Bowl to make things extra homey for your miniature bestie.
Hi Mr. Doggy

Dressing up your pet with different dapper accessories is always fun. But doing so while helping other furry friends in need feels even better! Hi Mr. Doggy is a Texas-based pet accessory brand dedicated to making a major difference with its products and proceeds. Max and Mafer, founders of Hi Mr. Doggy, believe that all animals deserve a chance at belonging to a loving family. The brand creates cute bandanas, bow ties, and paw balms from natural materials to keep its collection as eco-friendly as possible. And at the end of every month, Hi Mr. Doggy gives 10% of the brand's profits to animal shelters!
There's nothing else like spreading joy in style – especially when Hi Mr. Doggy's designs are as chic as they come! Buy a bandana or two in plentiful patterns and colors, which comes lovingly packaged with eco-friendly noissue Stickers and Stamps for an all-around dashing doggy gift.
Woofboard

Charcuterie boards aren't just for humans anymore. Any pup will feel like a posh star when they're gifted a barkcuterie board, and Woofboard is all about making our pets feel as special as they really are! Woofboard offers a variety of themed bark-friendly boxes filled with an assortment of dog-approved treats and eats. From celebrating a barky birthday to welcoming the winter woofs, the barkcuterie boxes that Woofboard produces are crowd-pleasers for all puppy taste palettes.
Want to put a personal touch on a barkcuterie box? Woofboard offers custom boxes to ship, or you can choose curated themes like Pawty, Ramen, Pawtumn, and more to pick up if you're local to the San Jose area!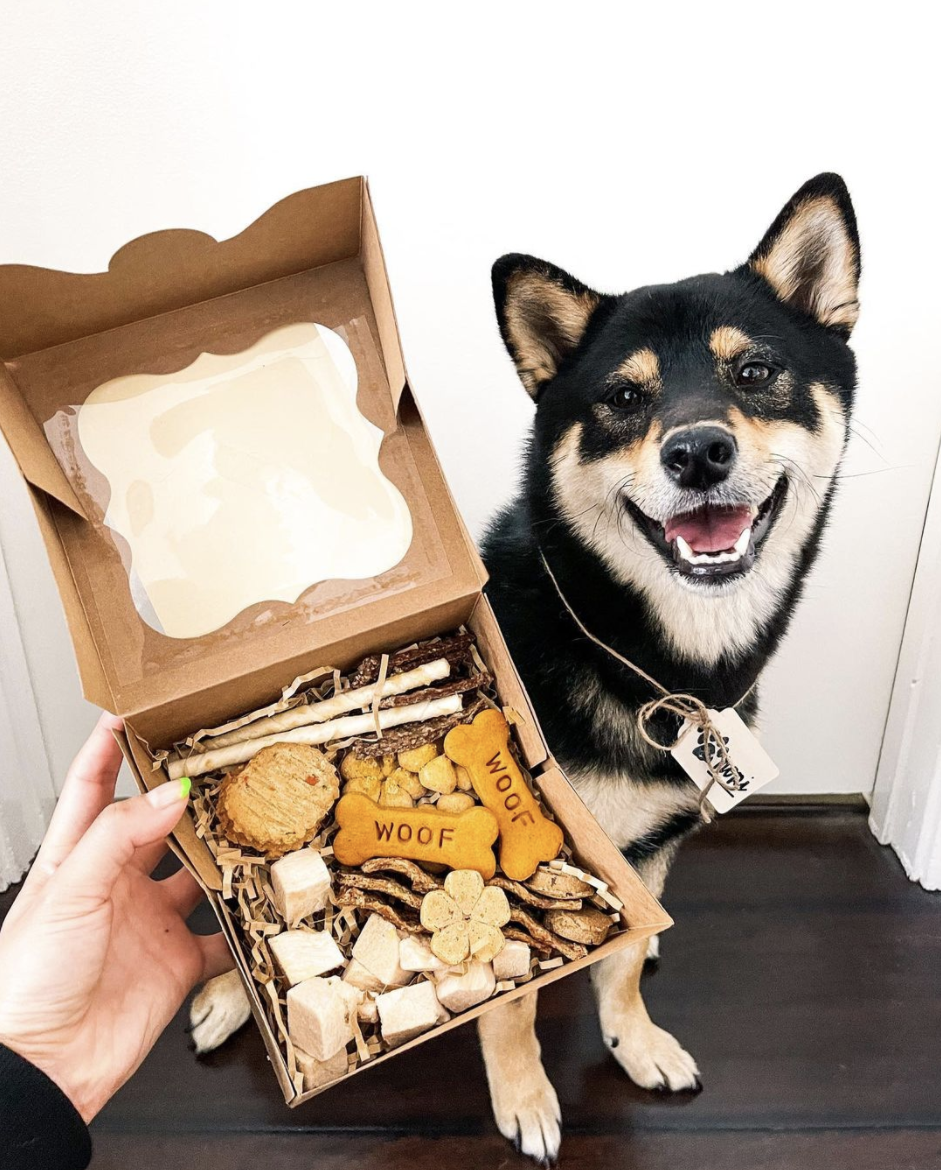 But First, West

We spy a custom noissue Stamp on But First, West's packaging! But that's not the only earth-friendly thing about But First, West. They're sewing up some sustainable and handmade pet gifts this holiday season! Hannah, the creator of this California-based brand, started But First, West with her two loves in mind – sustainability and pets. But First, West offers hand-sewn accessories that have a low negative impact on the environment. Every purchase from Hannah's shop comes jazzed up with compostable noissue Stickers for a paw-fect and earth-conscious unboxing experience.
The Ultimutt Basket is another one of Hannah's love letters to pets and the planet, as the entire assortment comes in a natural woven seagrass basket that can double as a toy bin! Pick a bandana of your choice to go inside, and you're bound to get a round of compliments in barks.
Sew Fetch

Why not have the furriest family members be as trendy as their human counterparts? Sew Fetch, a Melbourne-based small business, specializes in just that. Sew Fetch had initially started as a personal project in sewing bandanas for owner Sarah's Cavoodle pup, Ryder – whose sweet smile serves as the brand's face! The brand is committed to having every bandana order remain as sustainable as possible, from the creation process to arriving at customers' doorsteps in noissue Compostable Mailers stuffed with custom Stickers, Tissue, and Cards. Sew Fetch shows pet parents that even the littlest details from product to packaging matter in being kind to the earth and animals.
Put the Pawty Animal Reversible Bandana on your zany zoomie for a look that'll bring big smiles at the dog park!
Hey It's OK

If you're reading this, then we can bet you're into pretty packaging designs. And Olivia, the illustrator behind her brand, Hey It's OK, is quite the purveyor of aesthetically pleasing packaging herself! Olivia works out of her UK home to bring portraits of pets to life through illustrations that appear as if they're right in front of you. Not only will her pet portraits include a personal touch in her signature style, but every order from Hey It's OK comes delicately packaged in eco-friendly logo noissue Tissue and sealed with a dear doggy Sticker. BRB, we're just crying from the cuteness.
Make sure to check out Olivia's work on Instagram, and keep an eye out for when her books open to commission a portrait of your or a loved one's pet pal!
Scruffy Little Terrier

As if they couldn't be any cuter based on their brand name, Scruffy Little Terrier is bringing out all the dogs with their assortment of adorable pet accessories, edible treats, and clothing for humans! Michelle is the proud fur mama of Scruffy Little Terrier and was motivated by her pups, Barney and Sandy, to create natural products that are kind to the earth and our pets. On Scruffy Little Terrier, you'll find practical, ethically-sourced, and sustainable pet products made to last. Tying together a wholesome unboxing experience, Michelle makes sure that purchases from her brand are packed in noissue Compostable Mailers and beautifully branded Tissue.
Pet owners also deserve to be treated to something special (even if they're sometimes completely covered in fur), like this comfy Chunky Cable Knit Beanie!
🎁 Wrapping it up

Check out these noissue customers who are filling the howl-idays full of puppy love. Santa Paws better hurry – remember to get your online orders in to beat the holiday rush!
Don't forget to get your gifts presentation-ready, too. A great way to make any pet or pet owner feel extra loved is to wrap your presents in packaging that won't harm them or the planet. From custom and festive recyclable Boxes to soy ink-based Stamps for sustainable decoration, noissue is your one-stop holiday packaging shop. Just upload your custom design, and we'll take it from there to make your packaging Christmas miracle happen!