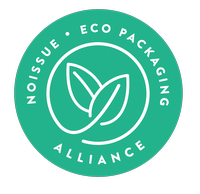 It's not easy to be creative in quarantine. While most artists take inspiration from their experiences and surroundings, all of this had to shift when the pandemic hit. For self-taught artist Aenid, it's been around three years since she began her journey with calligraphy. However, it was only last year when she realized that painting was "the one" for her. She's been trying to find her voice and style in the art world for quite some time and  found that she was testing the waters for far too long already.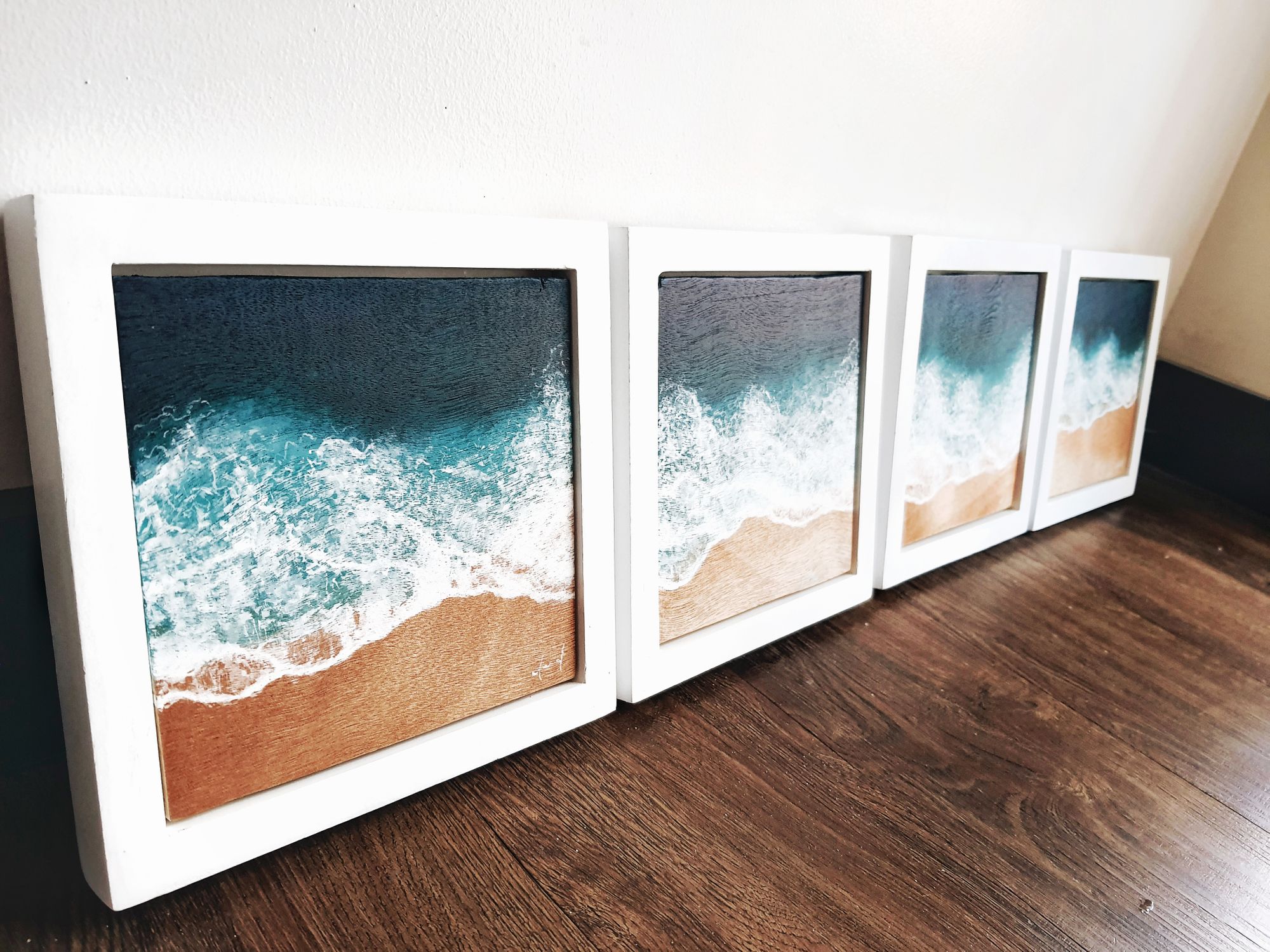 Having the privilege to stay home in Manila, Philippines during the pandemic, the 31-year-old decided to take art more seriously and turned her one-piece painting experiment into a collection. Channeling her newfound joy in painting with fluid mediums like watercolor and high flow acrylics, she debuted her artworks in her little online space Aenid Studio.
While she was working on her first collection, she decided to do a major upgrade on her art profile. From coming up with the business name, logo, and setting up the website to designing and collating branding and packaging materials, Aenid took her work and herself seriously because she wanted others to see her the same way.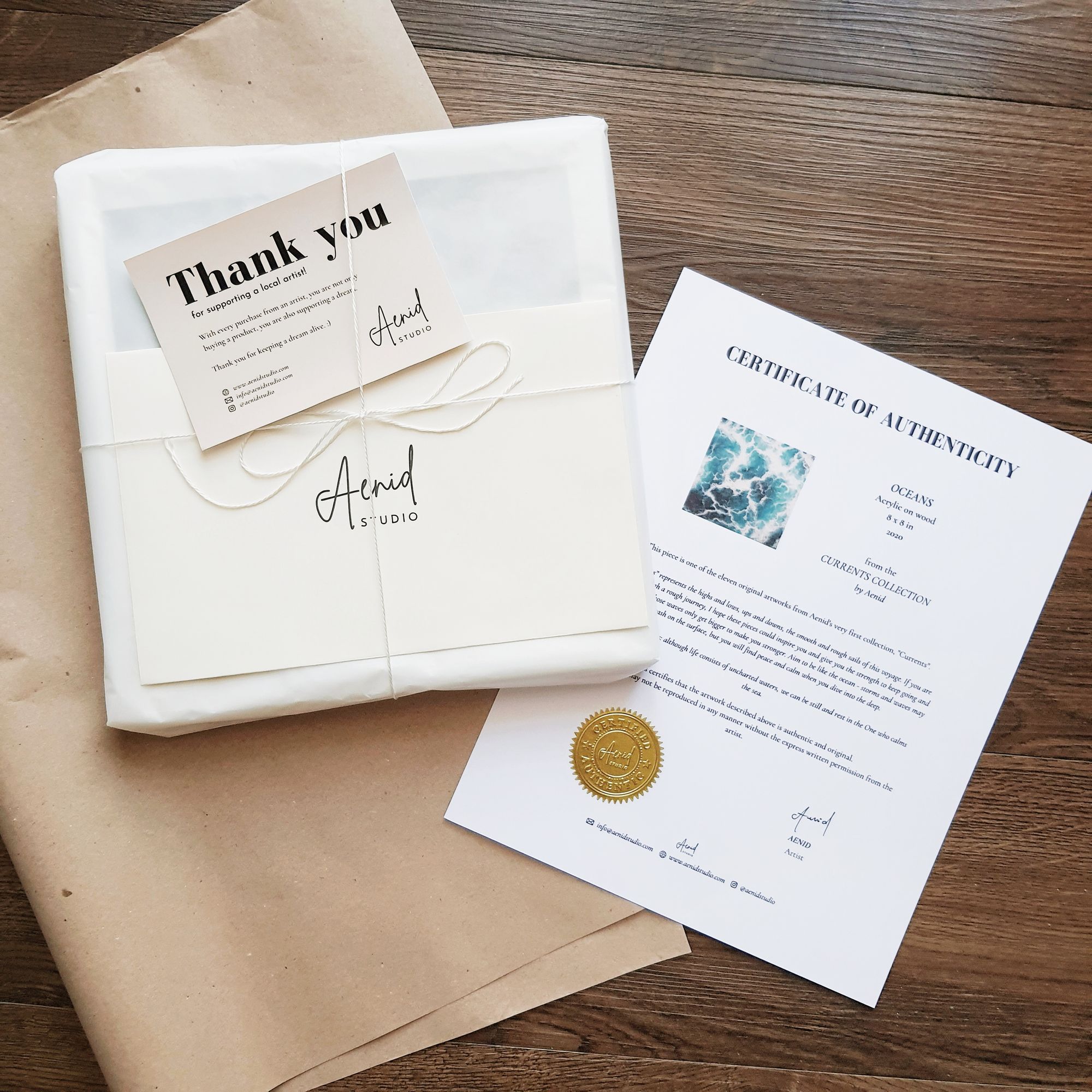 The young architect's art is very personal to her that with each piece she makes, she imparts the love and comfort she feels for art in hopes that those who see her work would pay it forward.
"I believe this is true for every artist: for every work of art, a part of the artist's heart and soul goes with the artwork. I want to bring more color into people's lives. I feel rewarded knowing that my work helps them in a way to get through a stressful day."
To her, sustainability means being a good steward of the planet. She mainly draws inspiration from nature so she makes an effort to contribute in its preservation in any way she can.
While it's Aenid's goal to use only sustainable and reusable materials for all her packages, she acknowledges that using protective cushioning for transport such as bubble wrap is necessary to secure her fragile pieces. She compensates for this by reusing old packaging materials from her personal purchases instead of throwing them away. She also wraps her artwork carefully so that her customers can reuse her packaging as well.
To further inject her branding into her business, Aenid opted for noissue's custom-made stamps to personalize her certificate envelopes. She likes that these stamps use soy-based ink compared to others and uses them on the backs of each of her art pieces so that they carry the brand with them wherever they go.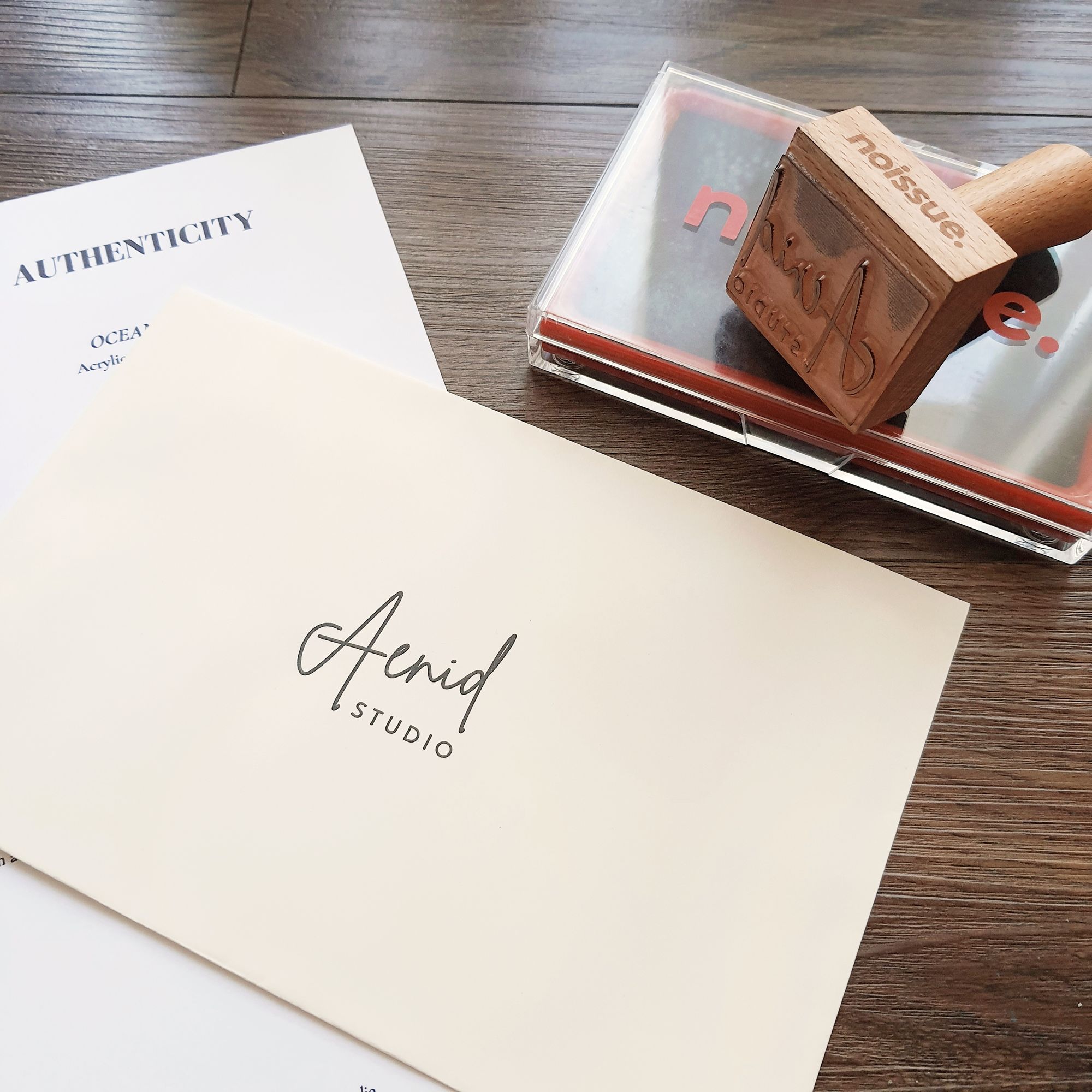 While it's just been a couple of years since she started her journey, Aenid learned that she feels the most alive and herself whenever she paints what speaks to her the most. She discovered an affinity for the sky and the ocean and decided to focus on that instead of sticking to what's popular. This allowed her to be authentic with her work which she advises to other aspiring artists as the best way to connect with the right customers and connections. At first it was a challenge for her, but she discovered that sharing parts of her life through art allowed her to be more relatable to her followers because they see a genuine and personal storytelling experience on her platform.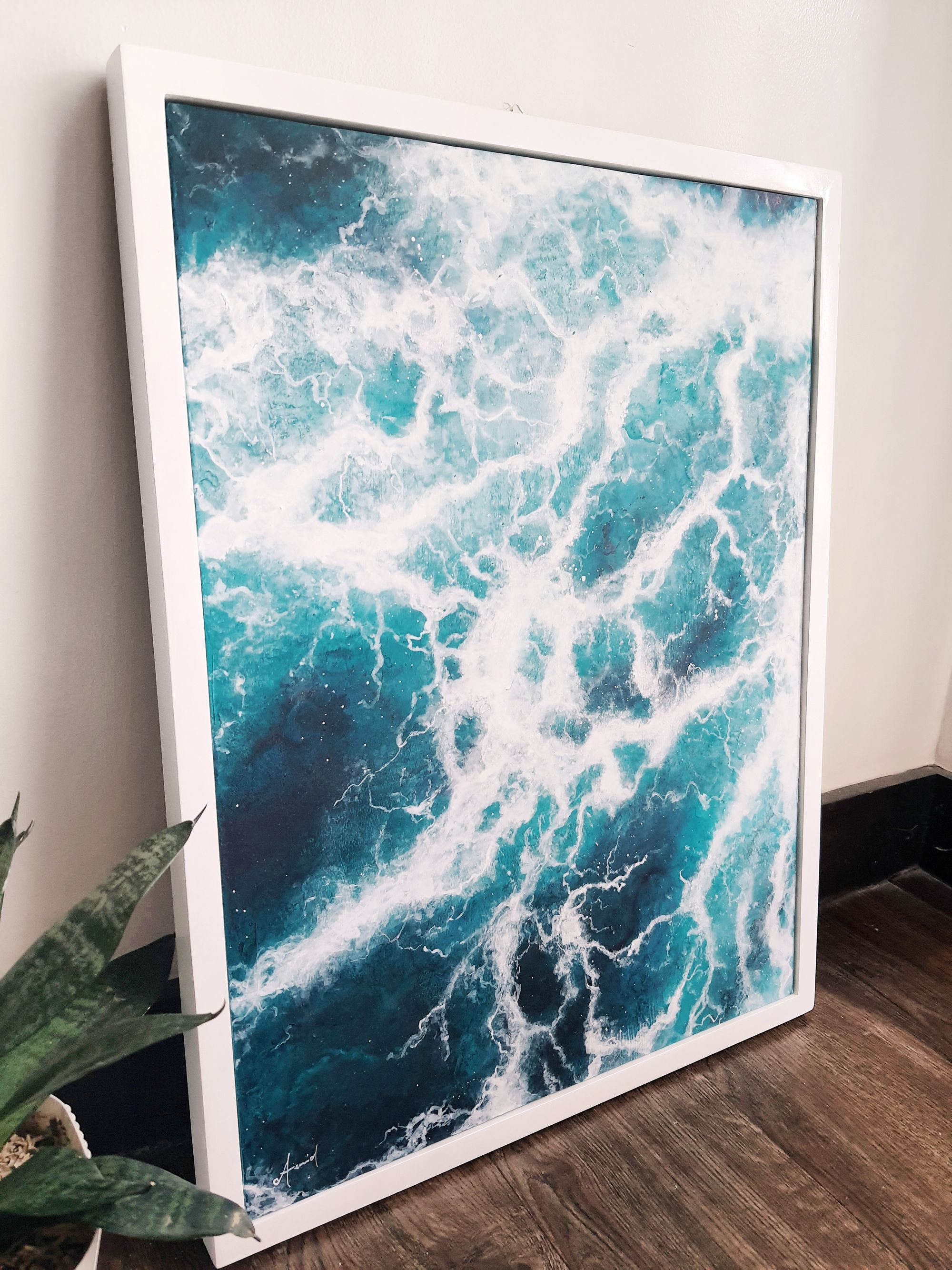 "I share the good and ugly, the joys and milestones, the struggles, the incomplete and the messy. I am the one going through the journey but I want them to feel that they're in the ride with me."
The story behind her first collection "Currents" mainly visualizes the highs, lows, struggles, and frustrations she went through. It took her more than a year to complete the entire collection together with her brand identity, but she did not expect the overwhelming positive response and support she received from her family and friends. She even sold four paintings on the day of release. (How amazing is that?)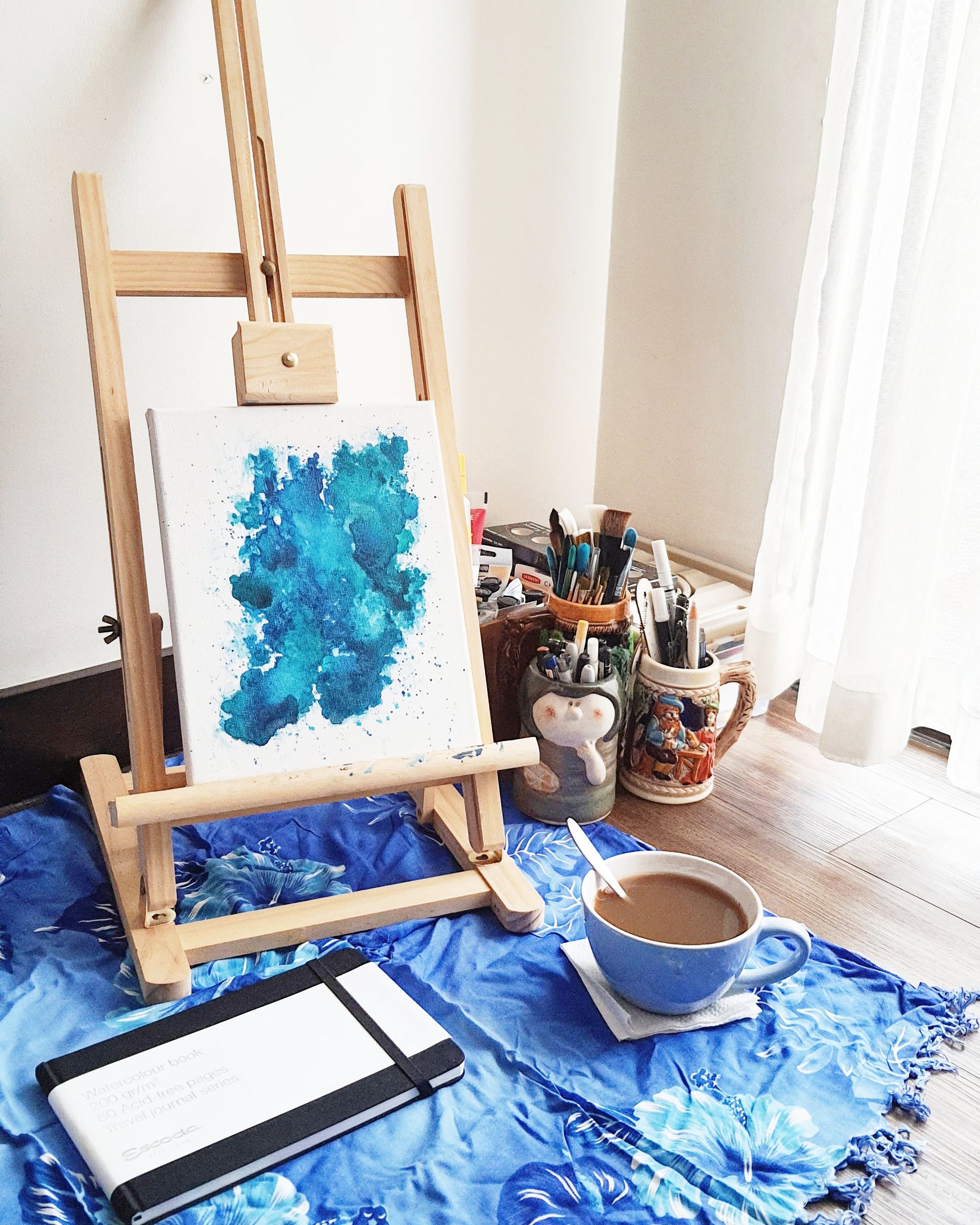 Our sustainability journeys aren't linear and not everyone can commit to a 100% zero-waste and eco-friendly business from the get-go. For Aenid, she wants to leave a positive impact through her art and taking care of the planet was no exception. She started by reusing old packaging materials and teaming up with noissue—a business that supports and shares her sustainability values. No matter how small your step is towards sustainability, it matters and it makes a difference. The question is, when do you plan to start?
---
Find more of Aenid Studio here:
Website: www.aenidstudio.com‌
‌Instagram: @aenidstudio
Like this story? Tell us yours! Share your brand story and love for your custom packaging and get a chance to be featured on the wrap! If you're a noissue customer and are interested, you can join the Eco-Packaging Alliance by clicking here and answering a few questions here.
Questions? Email us at ecoalliance@noissue.co.