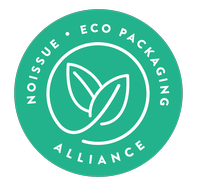 Unique homeware is a fun way of expressing yourself and brightening your space at home or at work. Irish artist Annelies Cullen offers a sustainable alternative to concrete, plaster, or resin-based artsy candles and coasters. Each piece is made out of Jesmonite, an eco-conscious alternative to conventional building materials, to bring that spark of joy to every homebody.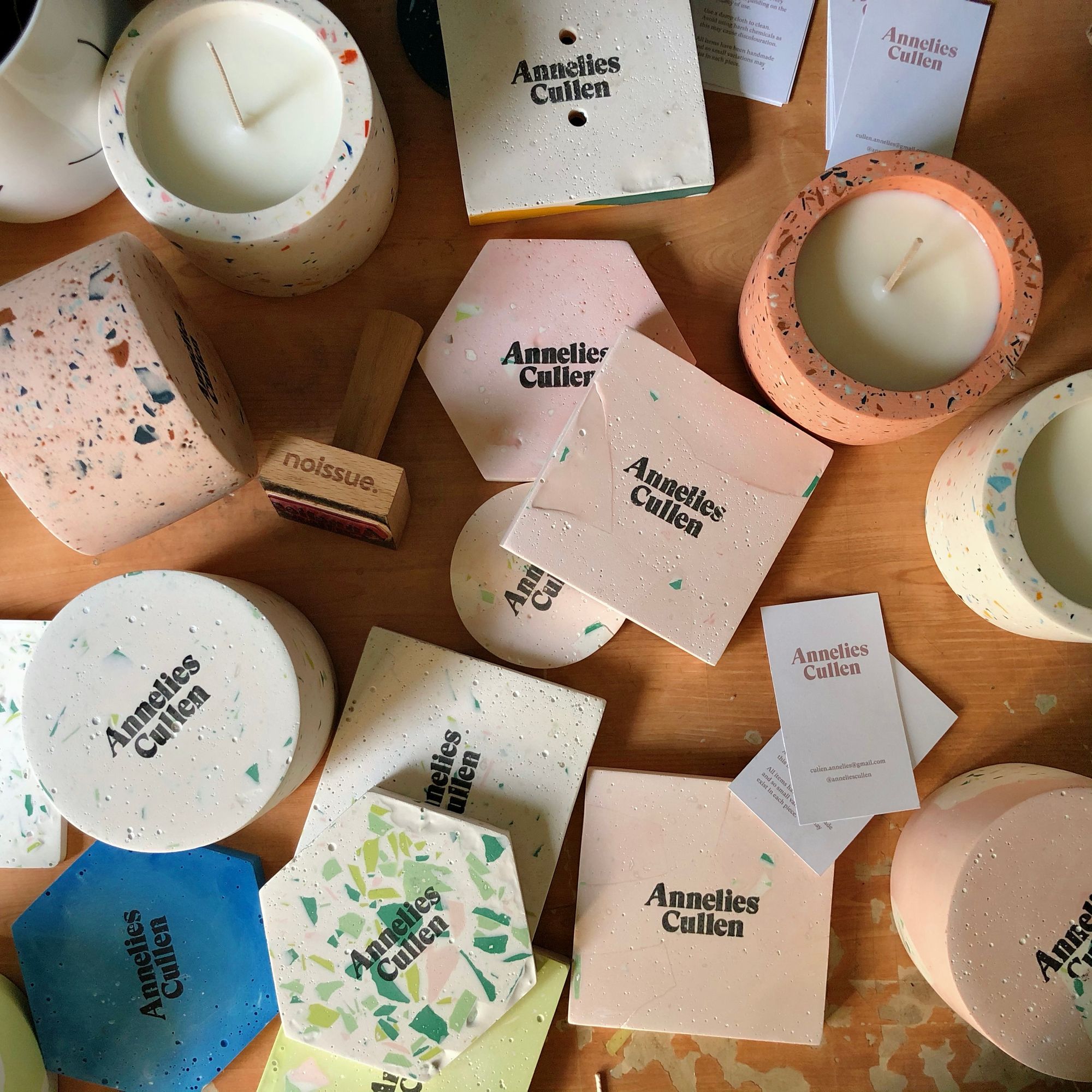 Annelies always had a love for all things creative. Working with a university background in ceramics, the maker has worked with a variety of materials and processes across the years. Through the support and encouragement of those around her, she started to launch her brand and sell her work.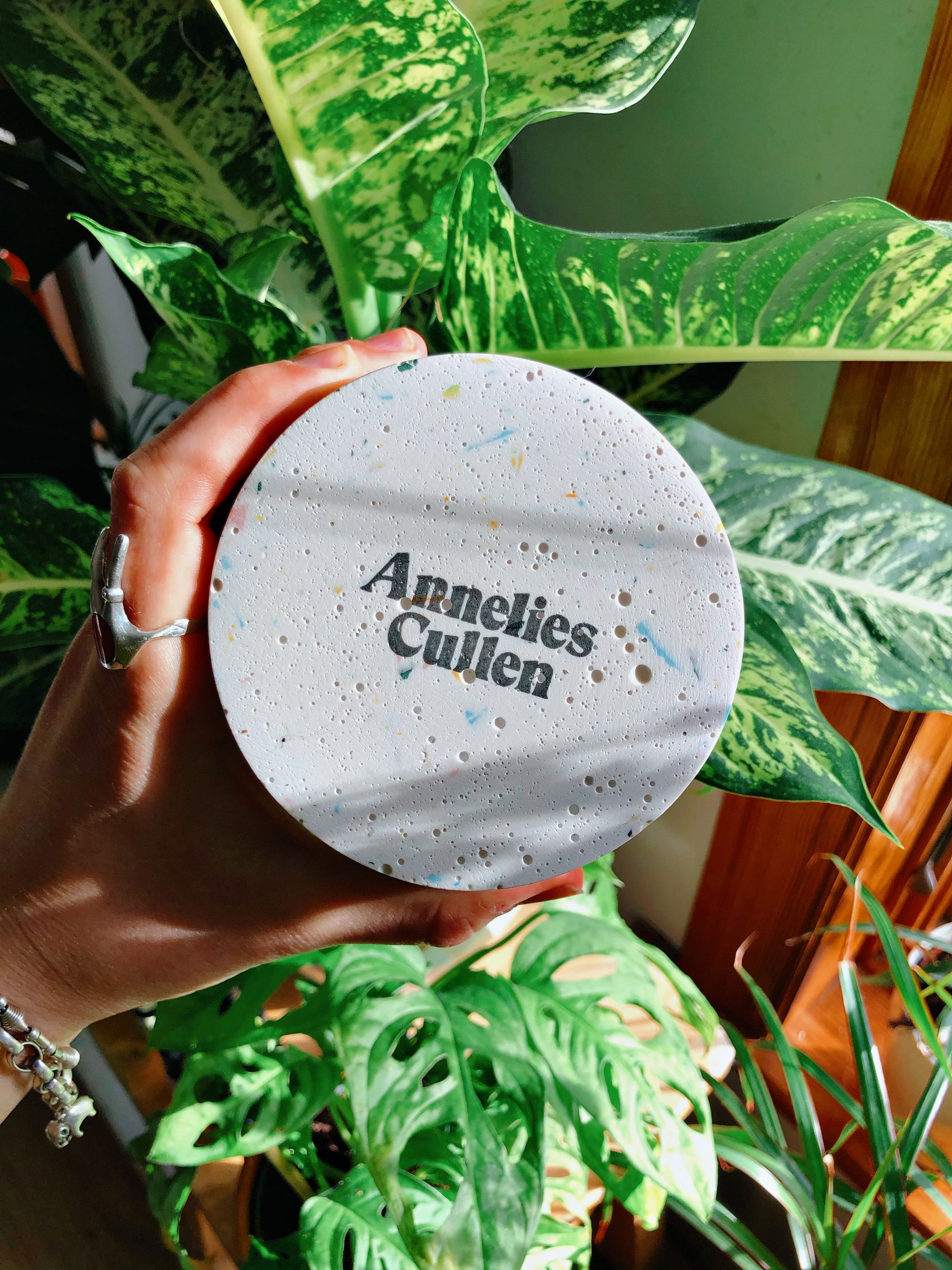 Sustainability means a lot to Annelies as an artist and a business owner. With her experience of creating with different materials, she decided to search for an environmentally-friendly material for her art practice to be more sustainable. After thorough research, she came across Jesmonite, a water-based and solvent-free material. Throughout her journey as an artist, Annelies feels that there will always be new ways for her process to adapt and improve in becoming kinder to the planet. She carries over her sustainable values to her packaging, which she recycles and reuses as much as possible while sourcing them from like-minded suppliers.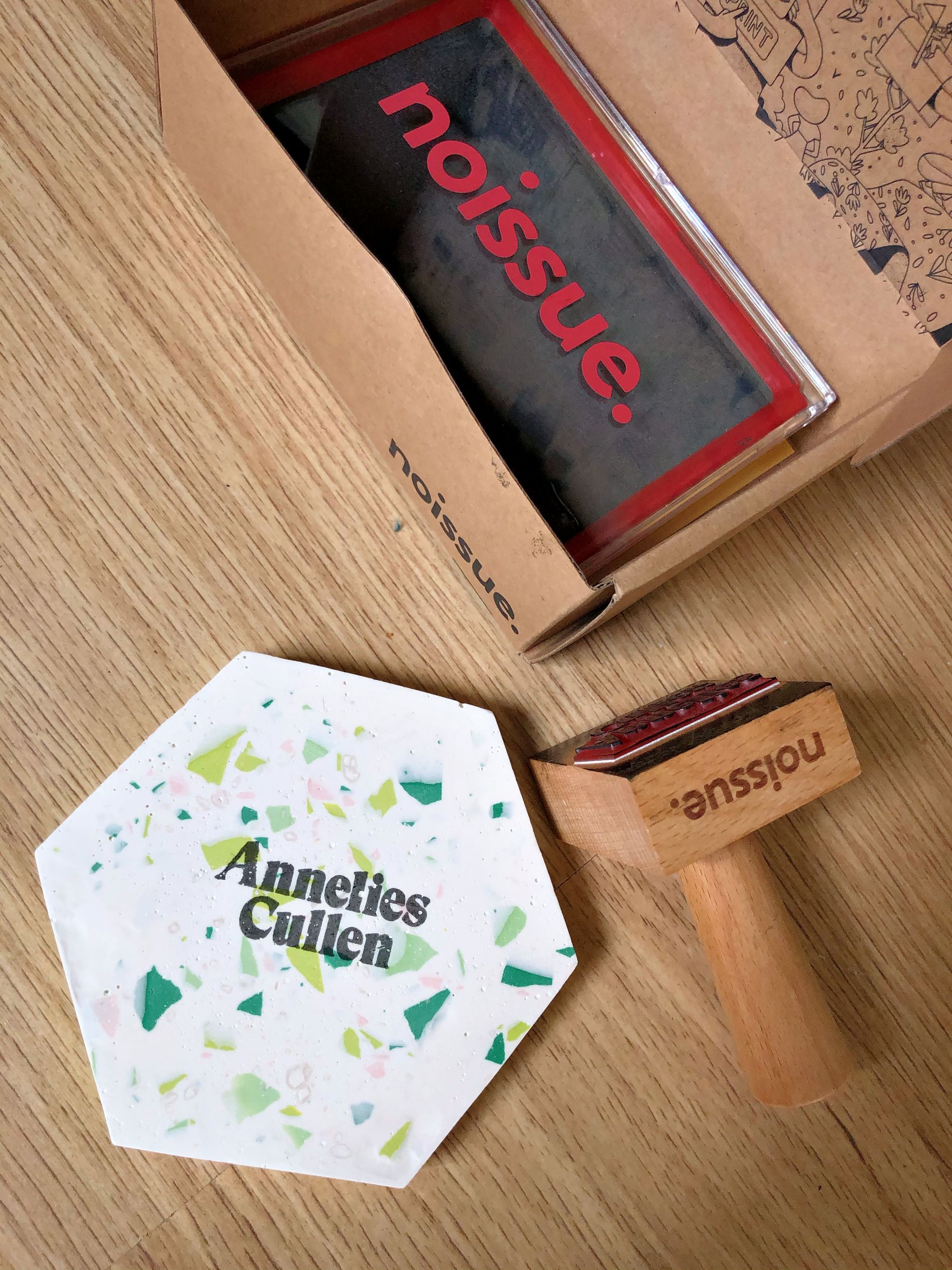 "While I have worked with many materials over the years, I have always wanted my art practice to be more sustainable."
Annelies made the switch to sustainable packaging with noissue when she was looking for a custom stamp for her pieces. She was overjoyed to find out that noissue provides sustainable packaging materials for both big and small businesses. Through her earth-friendly noissue Stamp, she gets to inject her branding and make each package look extra special with soy-based ink.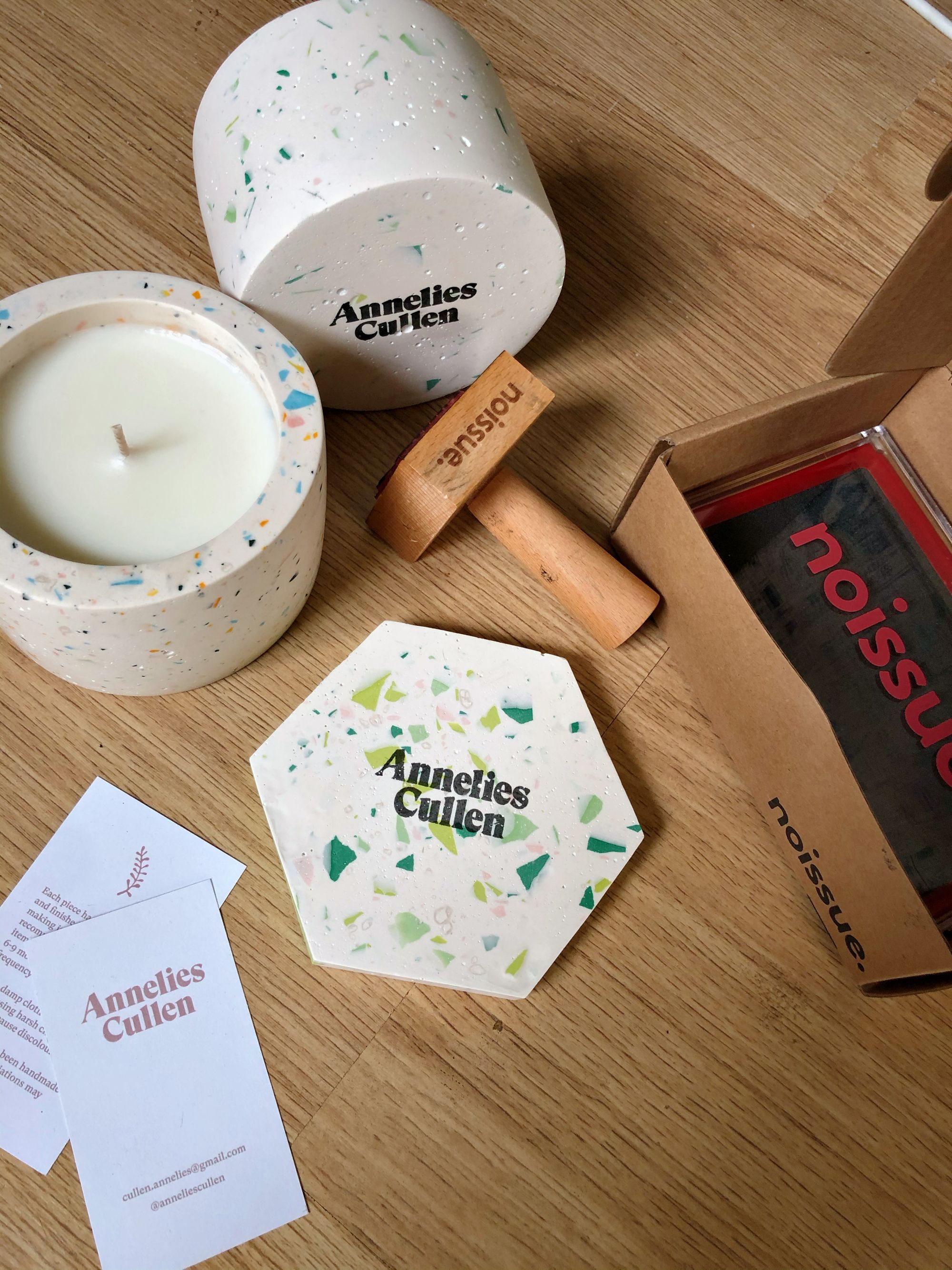 Soy is a natural and renewable source that has been proven to be more beneficial compared to other man-made materials. Aside from the ink for her stamp, Annelies also makes her candles out of soy and coconut wax.  She pours these in different scents and in beautiful Jesmonite containers that are meant to be reused in any way you want once your candles run out. It's the Irish maker's goal to create high-quality homeware pieces in small batches that last a lifetime.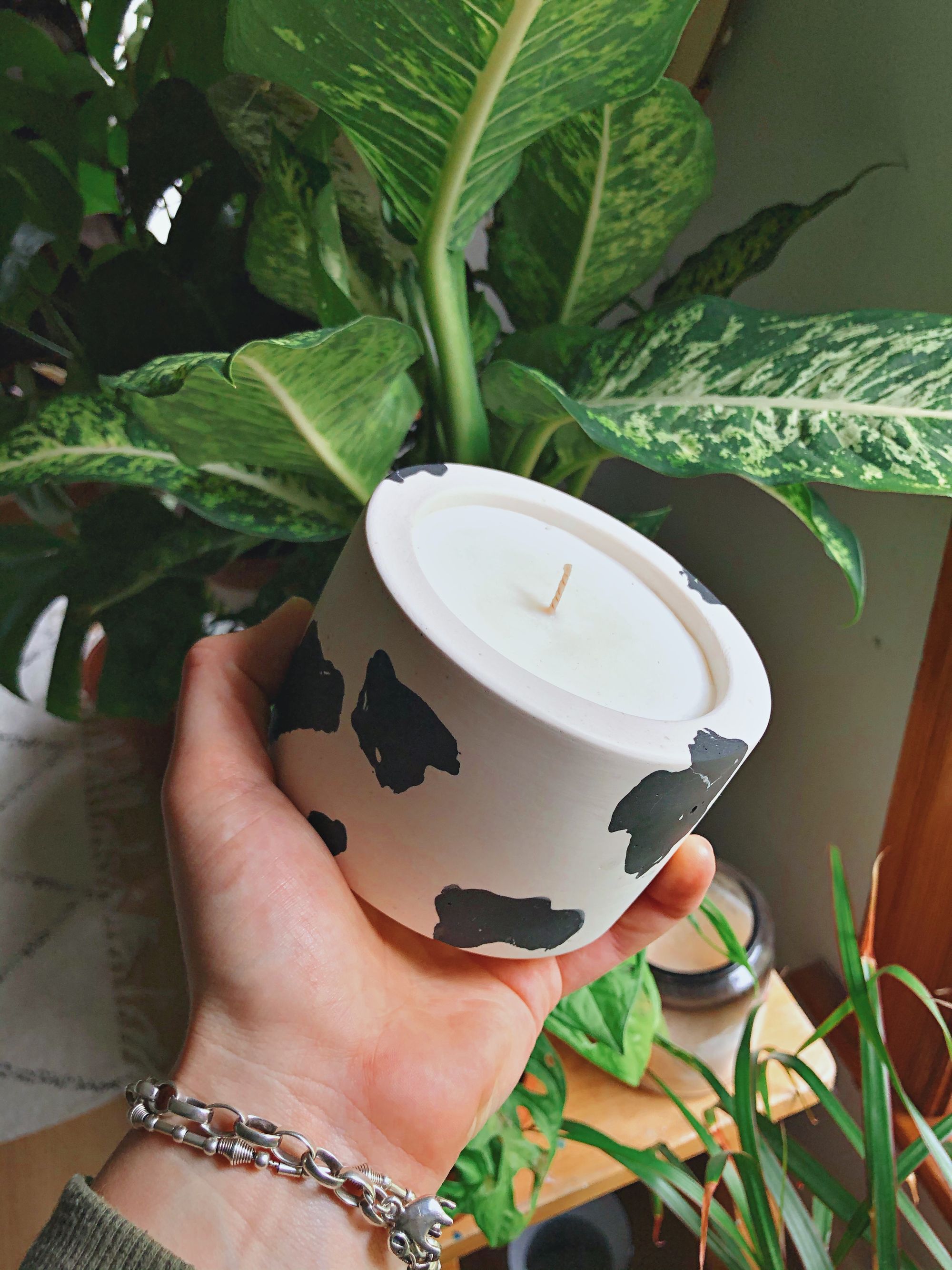 As a one-woman business, Annelies often tries new things and new processes, which bring unique patterns and variations in each collection. Her main challenge as a small business is making her art practice as sustainable as possible. Sustainability is a journey and no one has a perfect one. There will always be changes that need to be made and Annelies overcomes this through research and practice.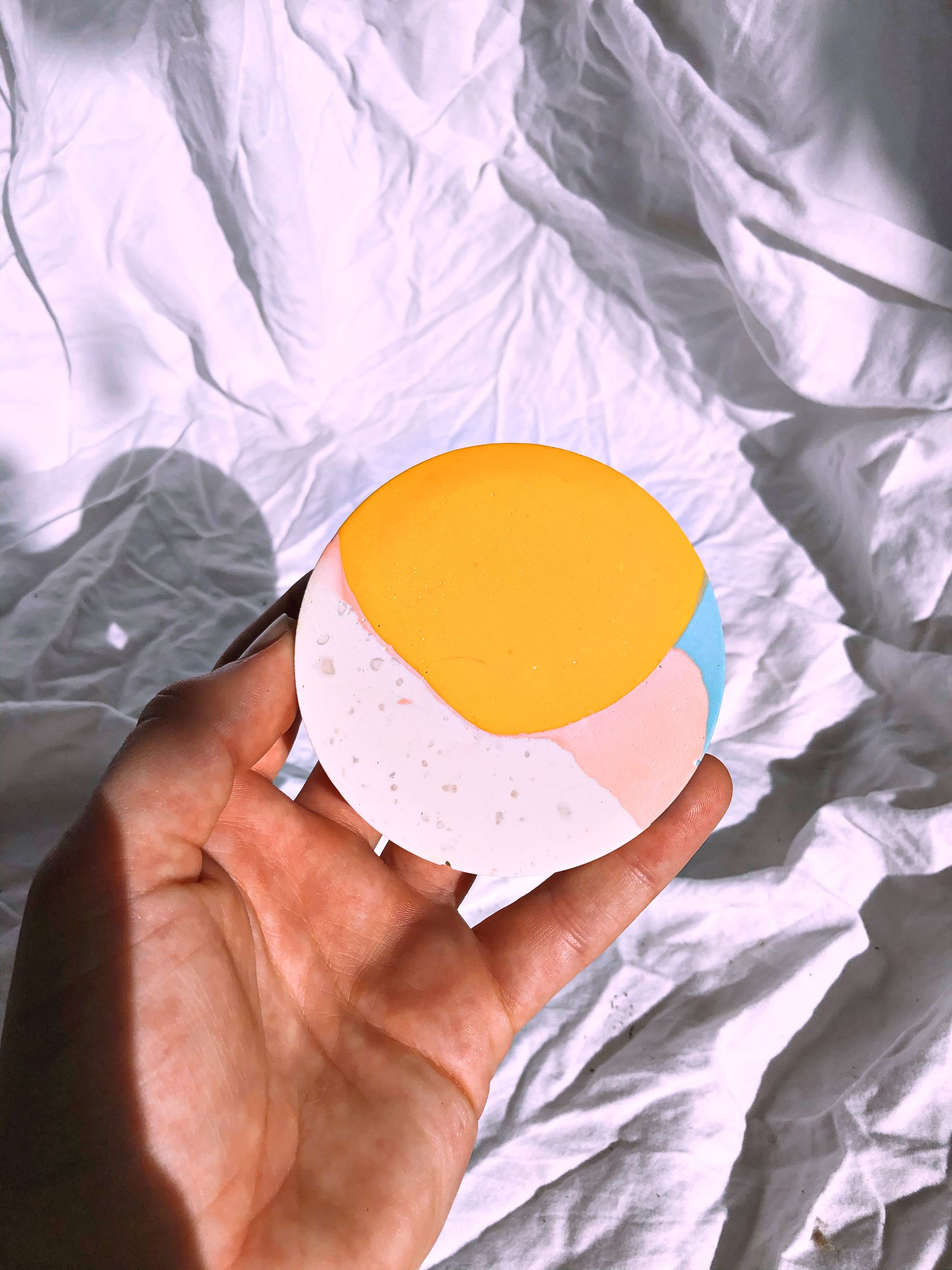 Her advice to aspiring business-owners is to enjoy creating and to take things slow. There are undoubtedly many questions and doubts with launching your own brand, so it wouldn't hurt to take time and do the research!
---
Find more of Annelies Cullen here:‌‌‌
‌‌‌‌
Instagram: @anneliescullen
Like this story? Tell us yours! Share your brand story and love for your custom packaging and get a chance to be featured on the wrap! If you're a noissue customer and are interested, you can join the Eco-Alliance by clicking here and answering a few questions here.
Questions? Email us at ecoalliance@noissue.co.