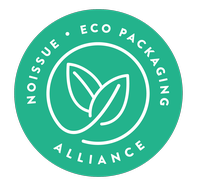 On a surface level, we see artists and athletes occupy opposite ends of the world, as art and sports are perceived to be two different things. And yet, we have them as our most universal languages – transcending cultures, generations and closes gaps made by such differences. Through them, we can express ourselves, not just physically, but emotionally too.
Zoe, a Vancouver-based artist, believed that art and sports create a different kind of beauty when combined. She created unique artworks inspired by her unusual combination. And being attracted to movements in sports, she was inspired to start her business.
"Hi, my name is Zoe Alexandra Glass. I'm the Artist and owner of Art Jiu Jitsu Life, a fine art print business specializing in Martial Arts based out of Vancouver, BC.
I never really planned Art Jiu Jitsu Life- it just appeared. My journey as an artist has taken many incarnations, but when I began to train Jiu Jitsu, I began to see a lot of beautiful gestures in the demonstrations the instructors gave. Given my background in Anatomy and Figure Drawing, I was inspired to see what kind of work I could create off the photos I took from the gym. People enjoyed the work, and my friends loved being my subject matter, so I just kept going and experimenting. At some point, my business name came to me, but I can't even recall how or why."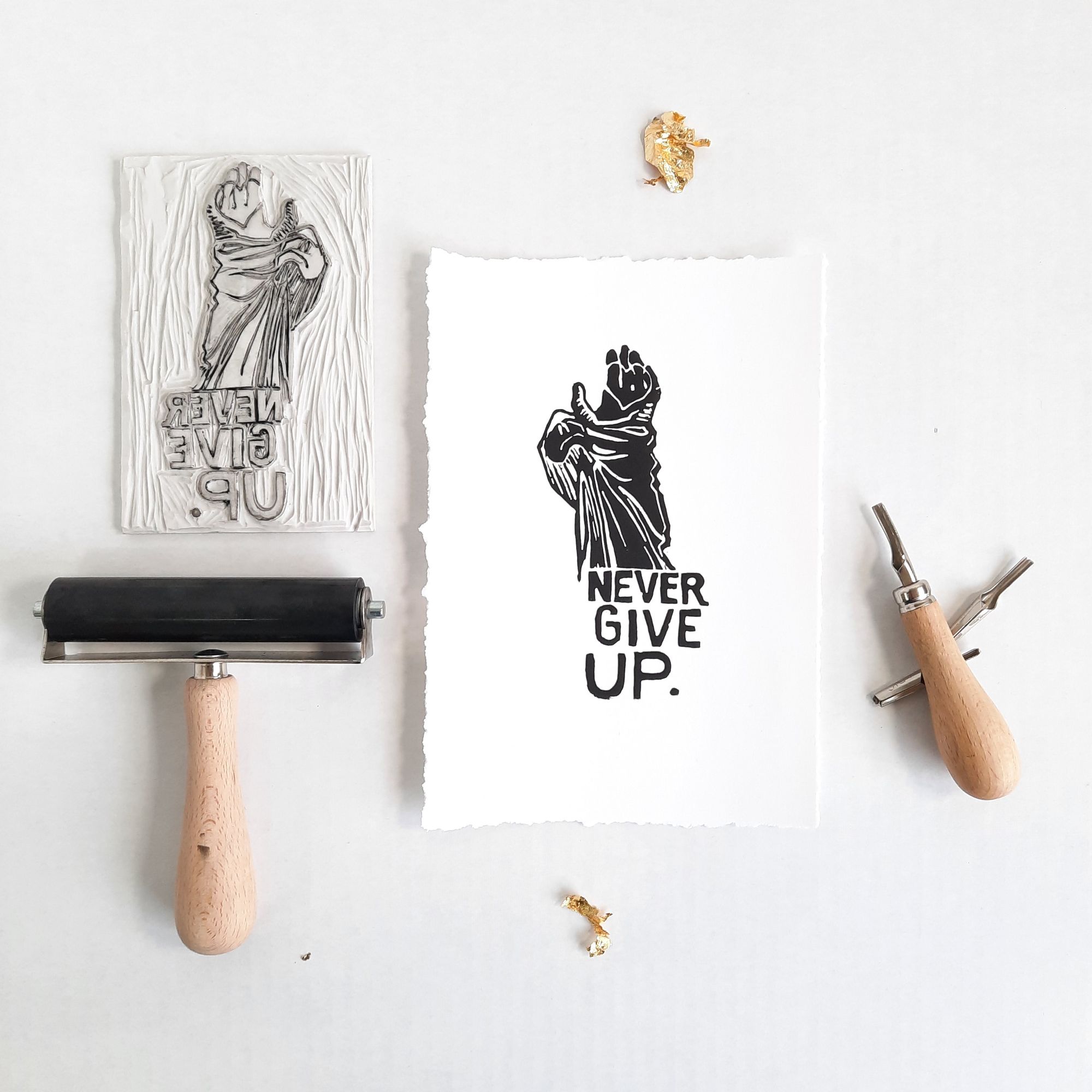 Zoe shares that having her business is a dream come true that she never planned. She didn't have a vision when she started and just had the desire to create.
"Early on, I didn't have a vision; I was just drawing what I liked and wanted to see where it would lead. I thought, maybe I'll have a small body of work from this. Now, 5 years later, I couldn't have imagined building a business off Art and Grappling. I never expected to have people from all over the world purchasing my prints, originals, and commissions based on our common love and passion for the sport, but it's a dream come true that I didn't even know I wanted."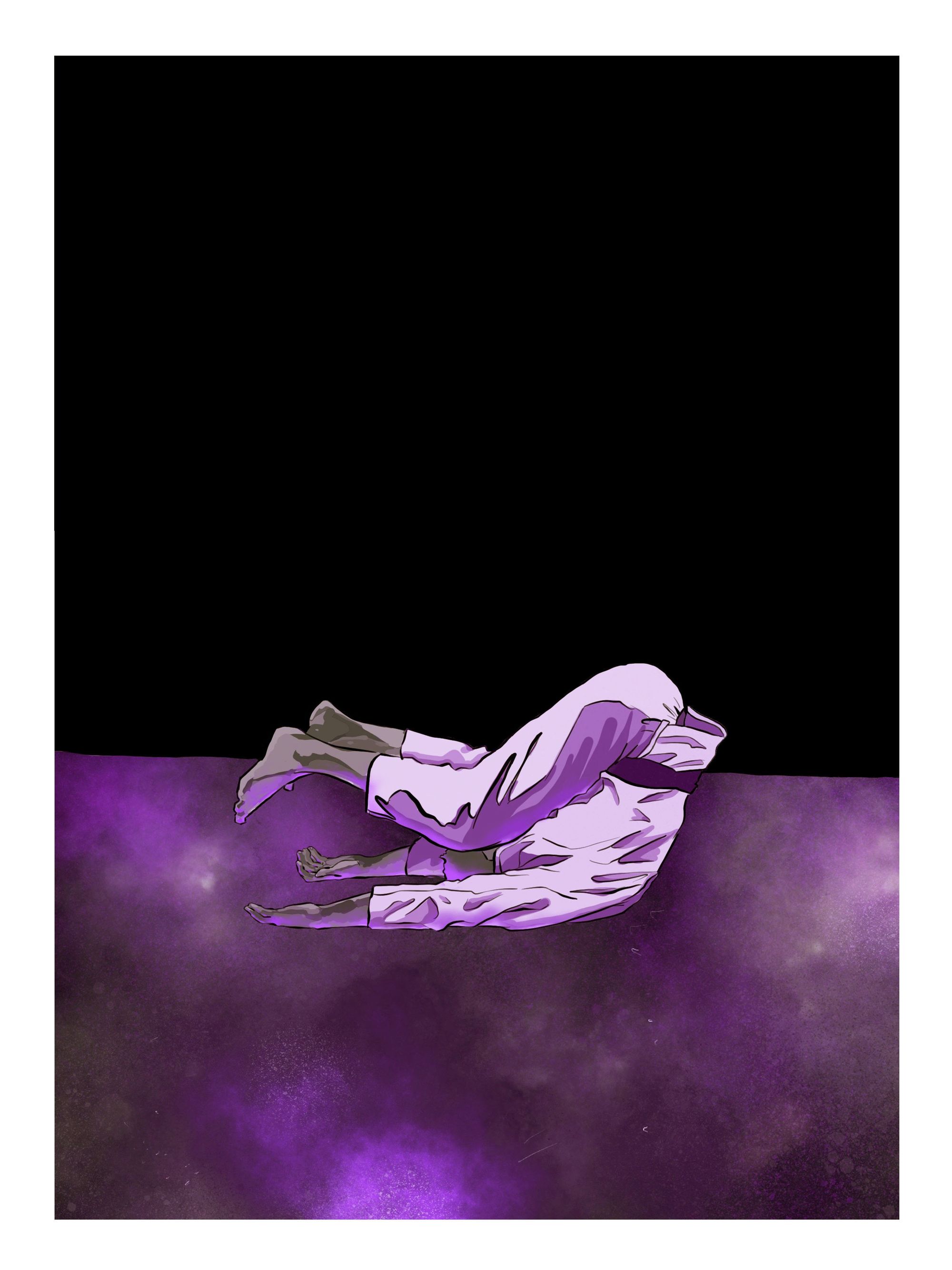 She enjoyed making the pieces but later realized that creating art and having a business are two different things. There's so much more to it than just preparing the orders.
"Starting it was easy; the daily adaptations were the challenge. I quickly learned that what worked for ten orders a year doesn't for over 100. Building my business is about 10% creating work. The rest is research, shipping, math, Photoshop, packing, printing, packaging, finding new tools, hacking and problem solving, upgrading, restructuring, marketing, social media, and ad budgeting—all within a sustainability framework without losing the elegance and professionalism I strive for with every order. Even with describing all that, it's the tip of the iceberg. Making artwork is the easiest aspect of the job."
Thinking of your business and imagining it is exciting, but taking steps to build it can be quite stressful. Zoe was thrilled when she knew she was succeeding, but then came her 'what ifs.'
"When I began to have success last year at the (2019) holidays, I spent it really worked up for no reason, worried about all the bad 'what ifs' which never materialized.
You simply have to accept the whole process is a learning curve, and there's no arrival point, just a series of shifting goalposts you get better and better at scoring on. Oddly enough, the thing that relaxes me is being accountable and honest with customers if issues arise. I only have control in how I handle my business in the face of the unexpected, not the external factors that may have created the issues, to begin with. In my experience, if you are honest with your customers, 99% of the time people are understanding and appreciative of it."
Seeing the results of her hard work keeps her moving forward. It brings her joy knowing that she is able to make a living from something that she does best.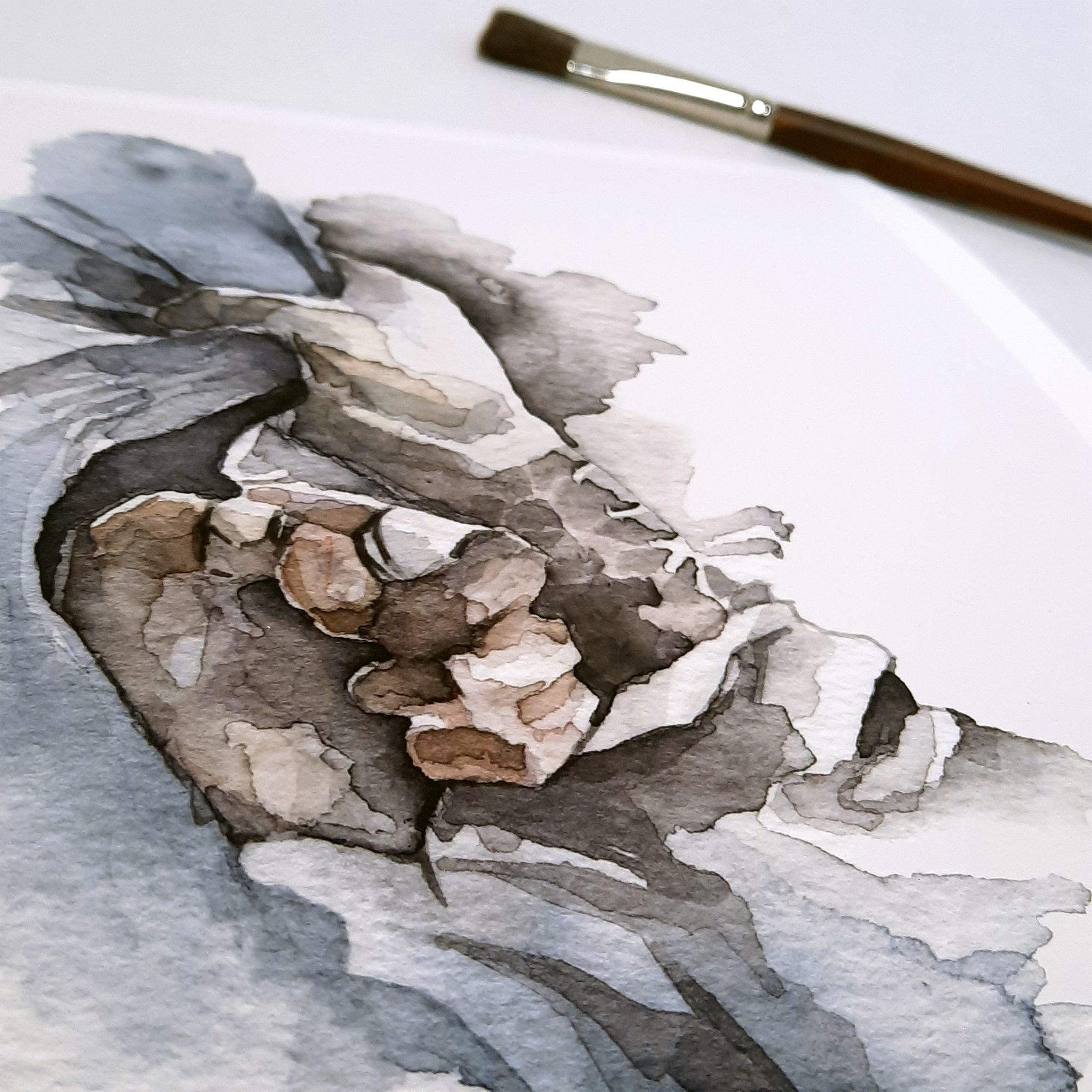 She has always wanted to keep her business as sustainable as possible. When there's a setback to keep it that way, she isn't held back. She ensures that her process is eco-friendly and looks for other ways to maintain it.
"Being a sustainable business has always been on my mind. I began packaging my work from up-cycled cardboard from the grocery. However, when I leveled up my prints from Kinkos to a Fine Art Printer—who I have been with for several years—my prices went up, and I needed stronger protective packaging to guard against transit damage. For a little bit, I tried backing the work with foam-core but not only was it expensive, I knew it would go to the landfill. I then began to re-purpose the cardboard that my printer delivered my works in, but as my orders grew, I have now invested in double-wall, wholesale cardboard and am happy knowing my customers can either repurpose or recycle."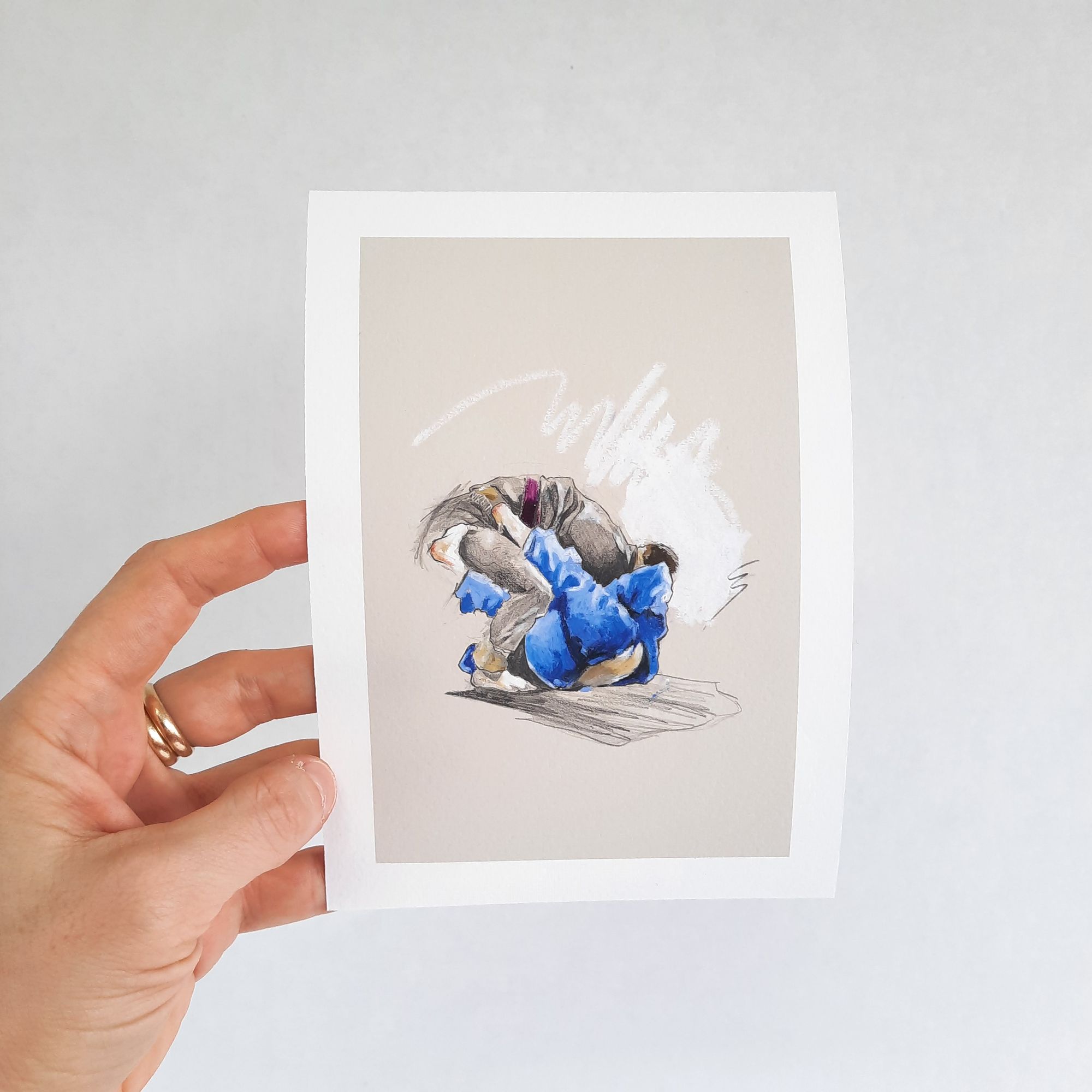 Sending out artwork can be worrisome. Zoe has to make sure that her pieces arrive perfectly with no crumple in sight. The packaging must be 100% safe and secure.
"It's a challenge with Fine Art, as it requires extreme packaging to make sure the work does not get damaged in transit, broken, or bent. I have been through many incarnations in my packaging, and right now, I have a system that relies on minimal waste with offcuts for bubble wrap or cardboard being repurposed or used within my studio. When prints are delivered, I cut down the cardboard for future use and even reuse the painter's tape used to seal the folders of prints together. My biggest hurdle is tape and labels, and I hope to sort more economical and environmental solutions for 2021 soon."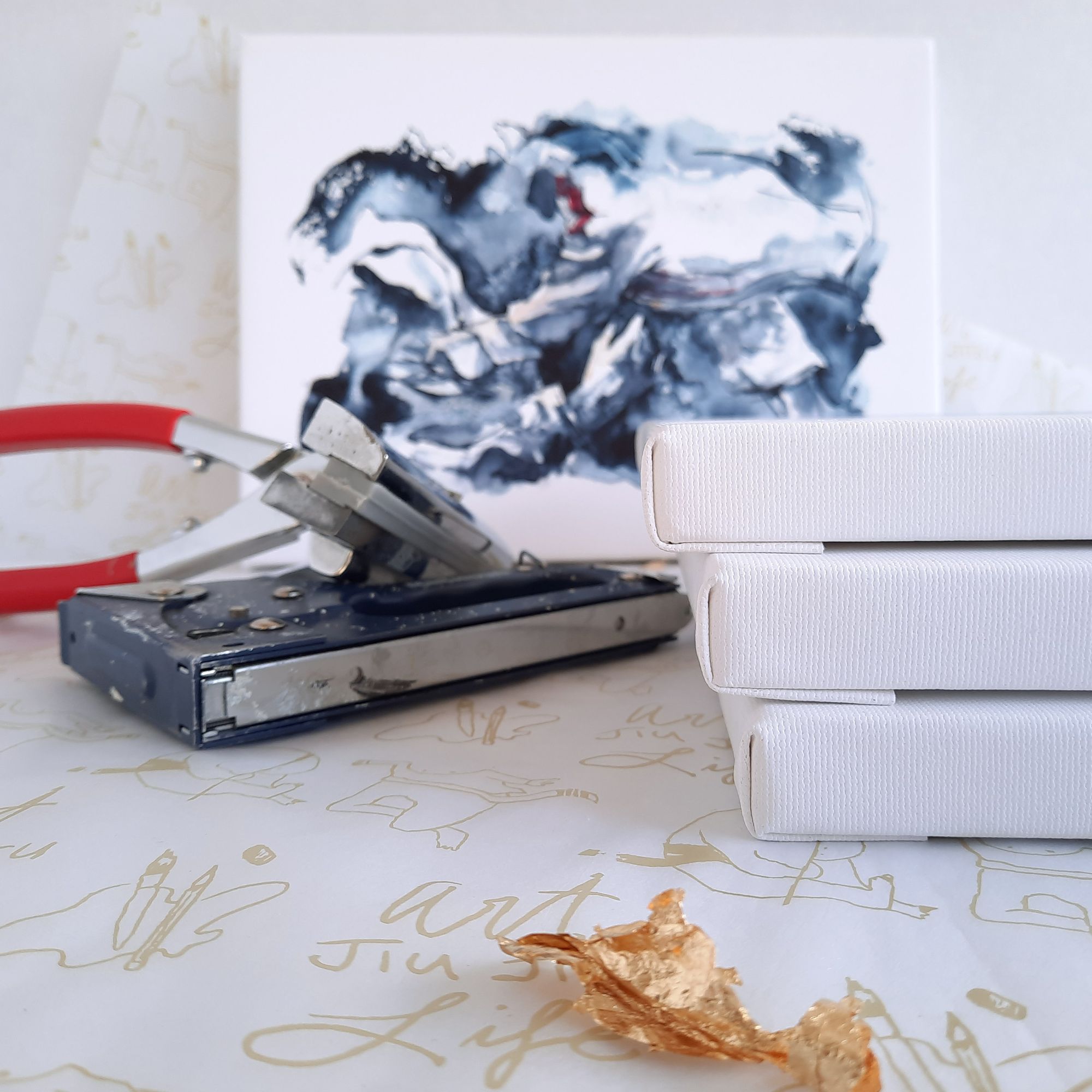 Knowing that her work gives out a profound vibe, she chose to have custom packaging that has a light-hearted design to give it a good balance.
"I always offered a free gift wrap but didn't like how store-bought tissue had fold and crease lines. After having noissue in the back of my head for a year, I decided I would try it out and offer it as a gift wrap option. But upon receiving it, I loved it so much I decided to implement it into my packaging to add to my visual branding. My work is more on the serious art side, and the design I created for the tissue is more light-hearted and whimsical, which I feel gives a nice balance to my brand overall. It echoes my [grappling] training philosophy where you must be serious and trains hard...but you gotta have fun too for otherwise, what's the point?"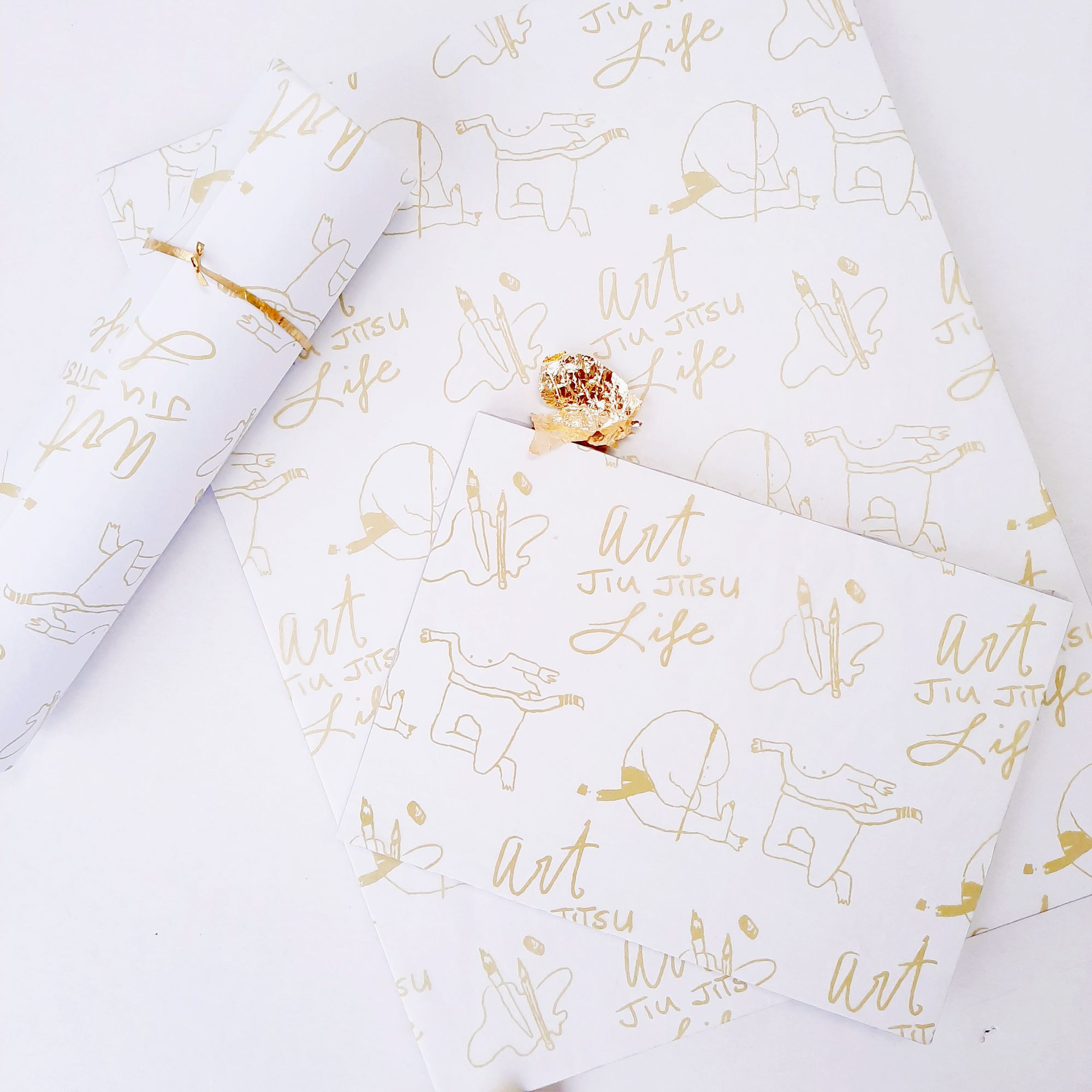 "It wasn't so much a need as a want and a signal that I am in a place where it is a good investment to have an instantly recognizable pattern. I am (very wearily and late at night) planning to expand my social media and to have it look consistent across all my current and upcoming channels. I wanted something sweet and visually catchy since my catalog of artwork is quite varied. I was smitten with my tissue paper and it jump-started my imagination for the possibilities to plan for in 2021 and beyond."
If there's one thing that she wants to remind the readers and her peers out there, she says, "Never give up."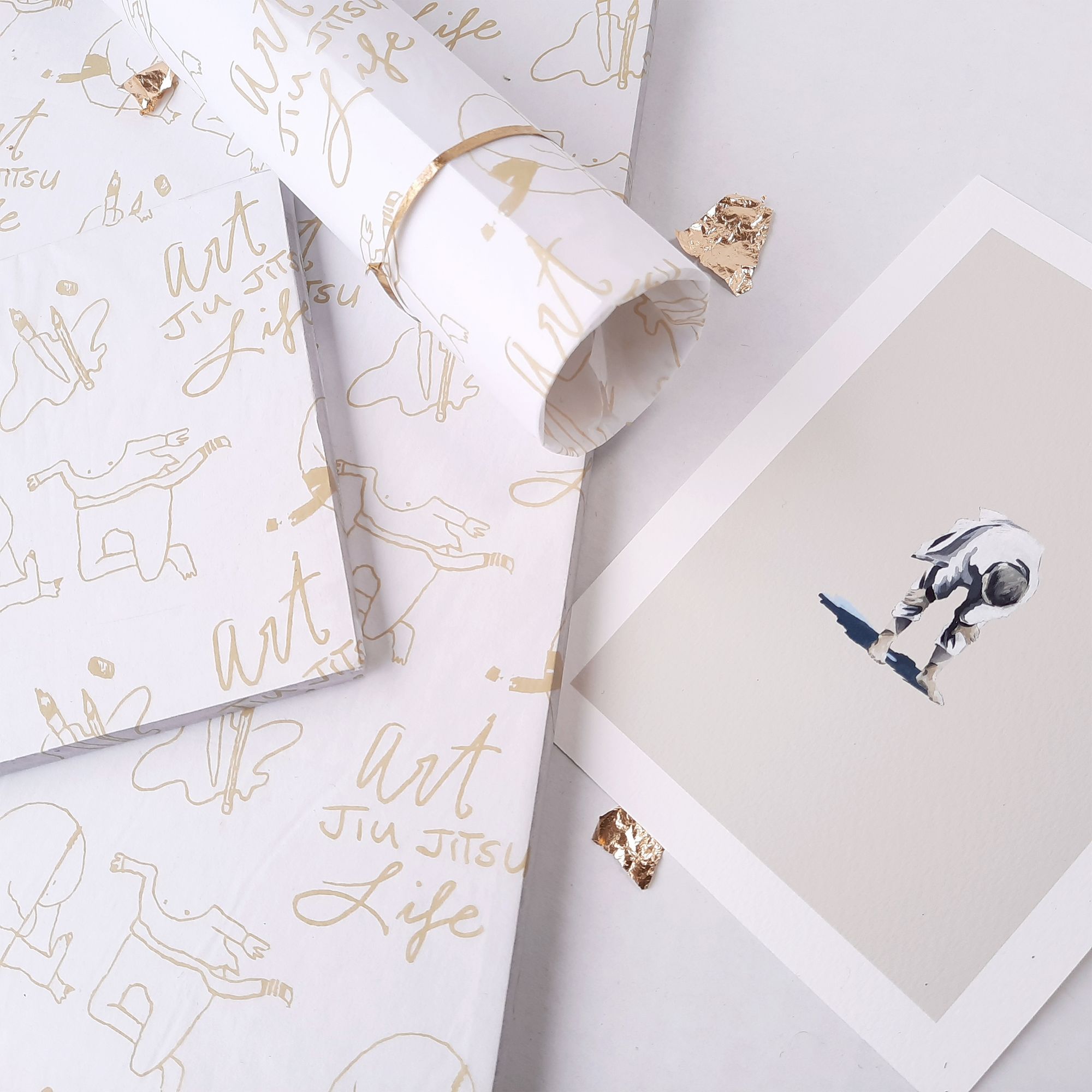 Art Jiu Jitsu Life fun fact:
"If my brand were an animal, it would be a turtle because they will not be rushed and are tough little creatures. They have a steadfast resilience and wisdom to me that I wish to embody as a business-woman, artist, and human."
---
Find more of Art Jiu Jitsu Life here:
Website: www.artjiujitsulife.com
Instagram: @art.jiujitsu.life
Like this story? Tell us yours! Share your brand story and love for your custom packaging and get a chance to be featured on the wrap! If you're a noissue customer and are interested, you can join the Eco Packaging Alliance by clicking here and emailing us your story at ecoalliance@noissue.co!