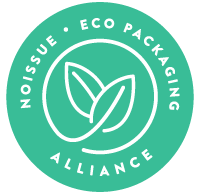 What we wear, head to toe, speaks about our personality—including our jewellery. For Eleni, silver meant the most to her and played a role in creating Asimi Studio. A brand where they celebrate individuality and uniqueness in each handcrafted silver jewellery made.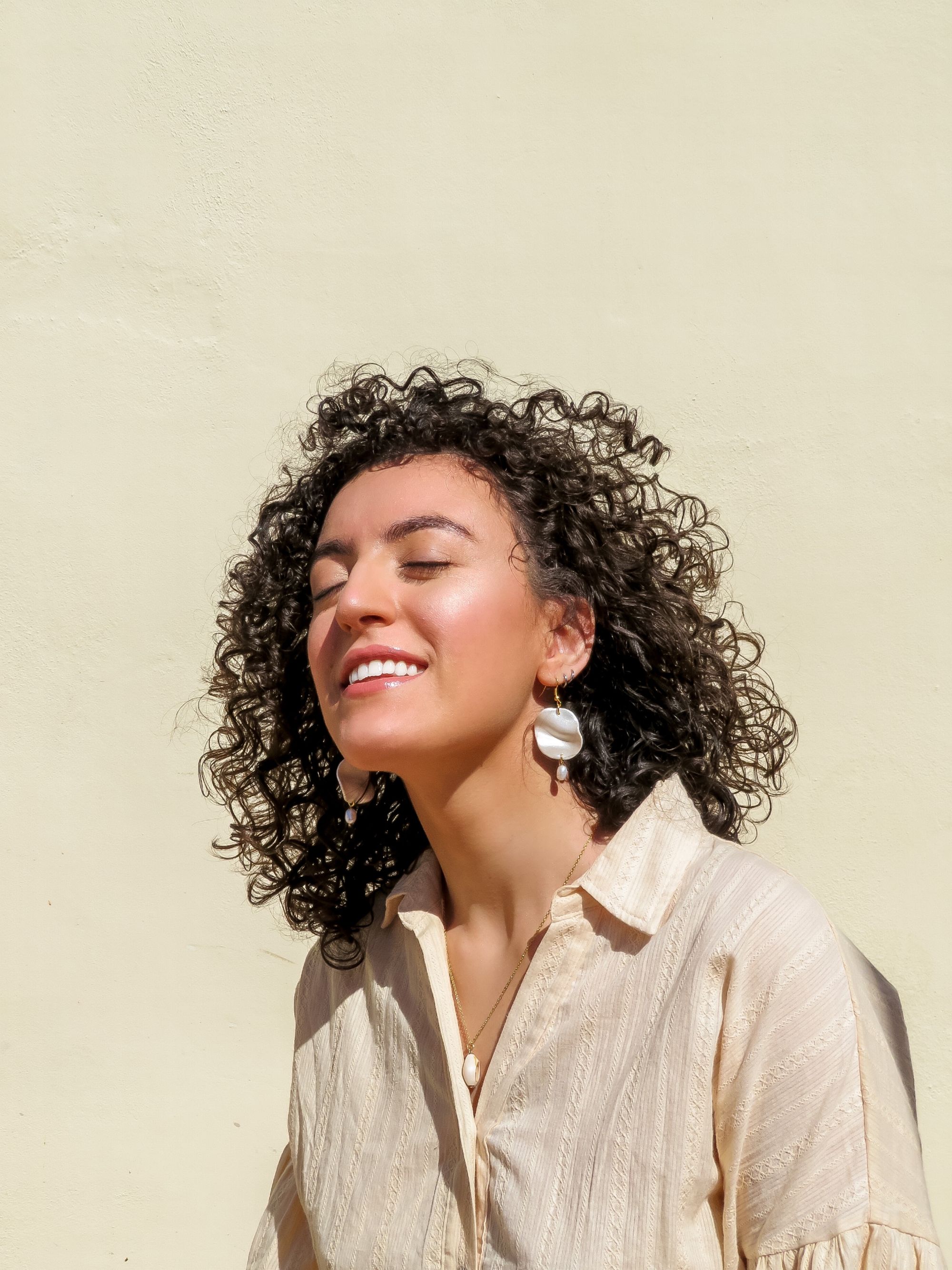 Being Greek, Eleni wanted to add a part of her language into her business. So She named it Asimi which directly translates to Silver in Greek. All her jewellery is lovingly handcrafted from scratch in their small London studio, with only the finest .925 sterling silver, and a hefty range of gemstones.
Her goal for the business is to deliver unique, durable, and sturdy pieces that can be worn on a daily or on occasion, and can withstand the test of time.
"Our ethos is creating jewellery made to last forever because we believe that everybody deserves to be themselves and be unique."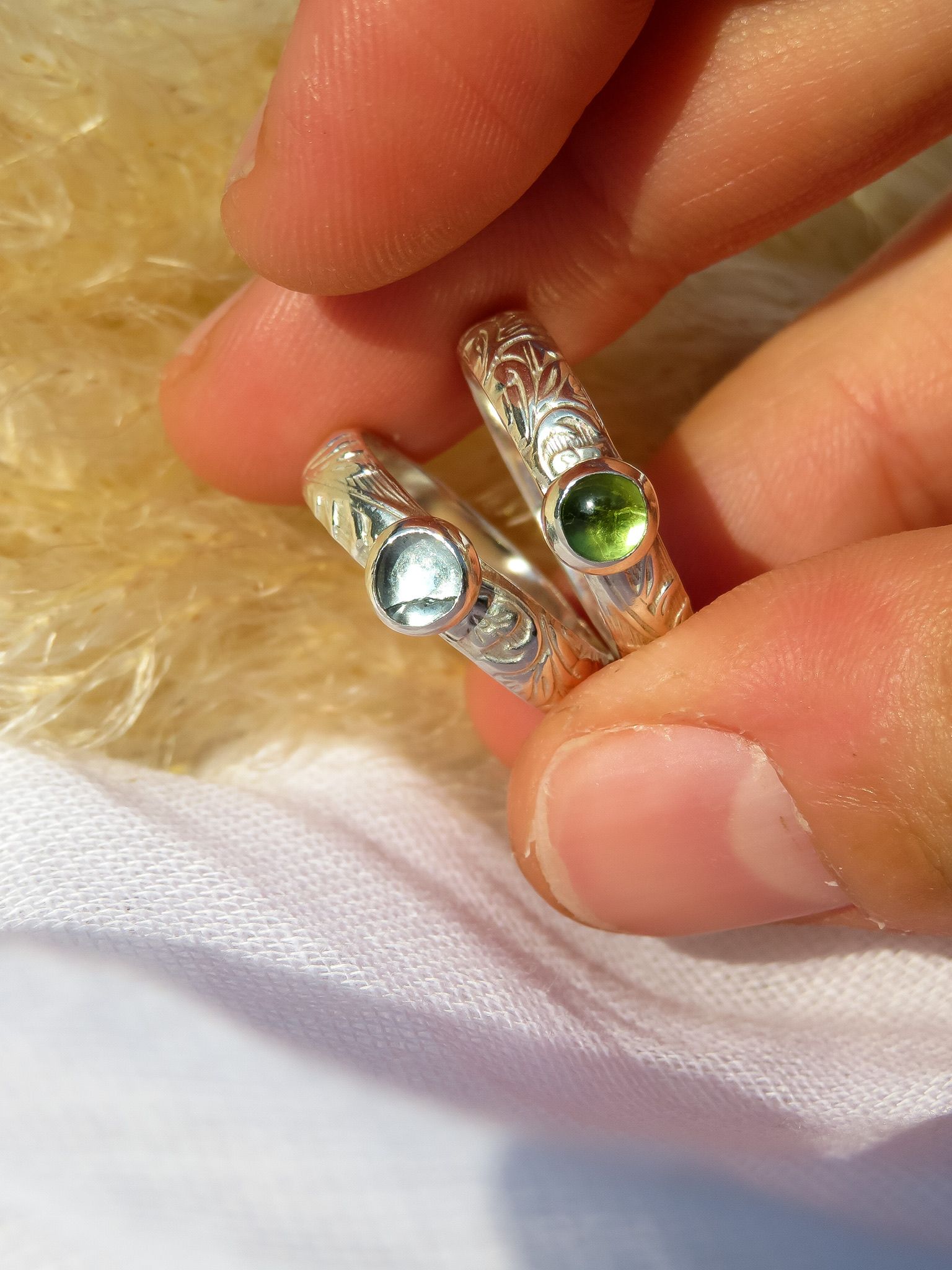 Her passion for jewellery, specifically rings, led Eleni to start her business. Rings are her biggest weakness and ones that captured her imagination. To the artist, they define you and tell a story of who you are. Wearing rings has always made her feel special and given her confidence that she wanted to share and pass on to everyone.
Asimi Studio's mission and vision is to deliver hypoallergenic and handcrafted pieces with passion. Asími takes great pride in each and every piece of jewellery design.
"We aim to deliver this as we feel each and every one of you deserves, through our technique and inspiration, an heirloom that can be cherished forever."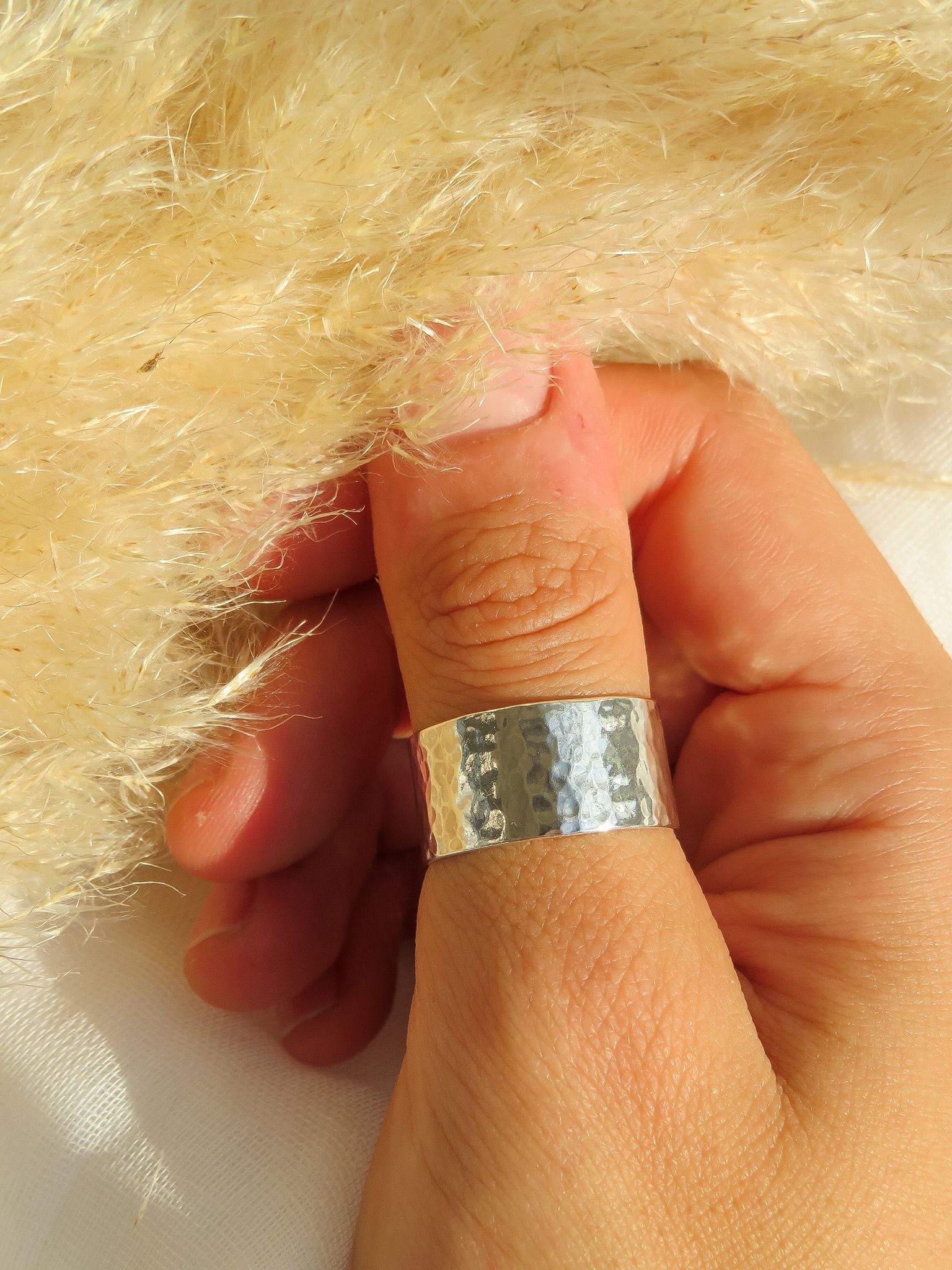 Sustainability is at the core of everything that Asimi Studio stands for. When they create collections, they catch the shavings from sawing metal to reuse for making jewellery, rather than throwing them out. They are transparent, showing everything to their customers. They realized that they often enjoy finding and learning ways other people reduce their footprint.
They also source materials locally as much as possible, reducing their footprint by working with local manufacturers. They also reuse and recycle metals and work in a sustainable and responsible environment. They even use recycled ring boxes to encourage customers to reuse packaging.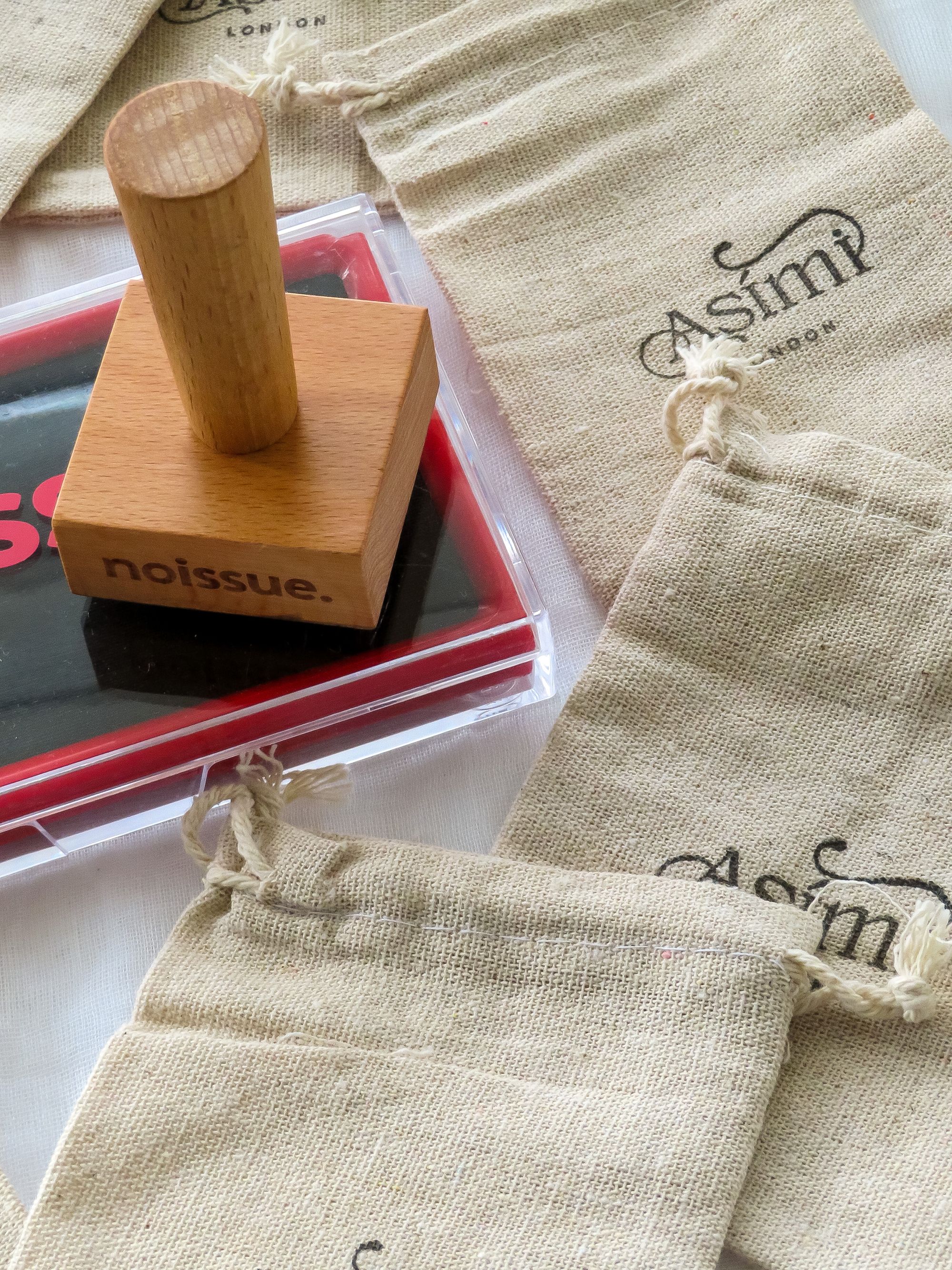 In their sustainability journey, they came about noissue and immediately fell in love. Sustainable packaging resonated with their values. There are not a lot of businesses that provide custom sustainable packaging for businesses, so for the Asimi Studio team, it was a great feeling knowing that they can provide their customers with the experience of opening a box that is eco-friendly, and hopefully can encourage them to live a more sustainable lifestyle. They use noissue's Reusable Soy-Based Ink Stamp.
Asimi Studio is also part of noissue's Eco-Alliance, a community of like-minded business owners making a difference in the world by being better together.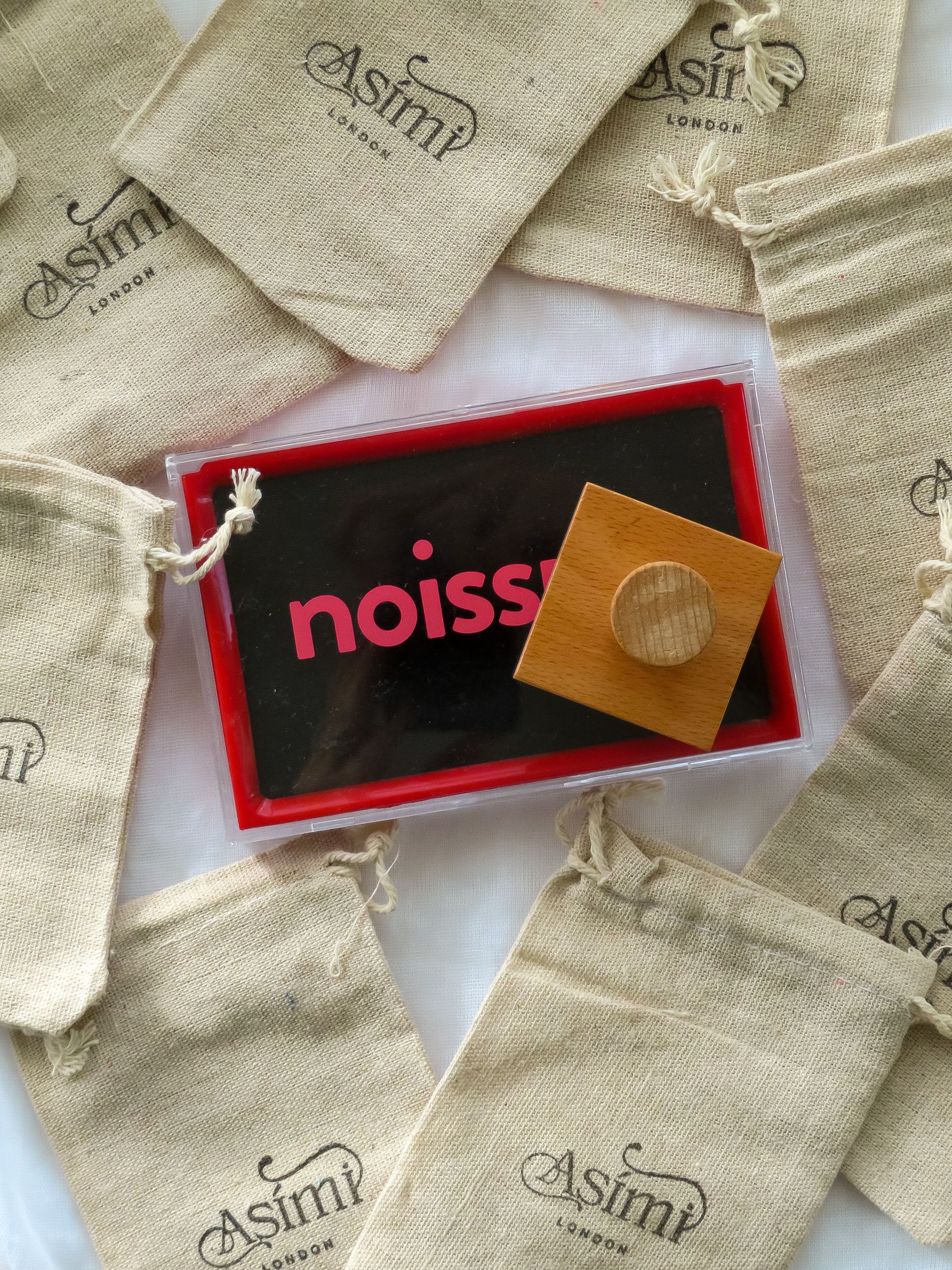 It was a challenge to get customers to purchase recycled metal jewellery, but it helped a lot to educate them that this is a huge help to the environment.
"So everything worn by customers, will not only have them feeling confident and special in their new jewellery, but they will also feel happy knowing that their jewellery has helped the environment as we try our best not to waste metal."
The advice Eleni would give other business owners is to take things slow, pace one's self, trust the process, and do the necessary research that is required as it will benefit and make things easier as things progress. It will also give you a sense of direction for the future. Also, investing in good branding from the beginning is beneficial.
Asimi has a lot of beautiful pieces in its collection. But Eleni's favourite product that she crafted is their hand-painted earrings. She loved it as she hand-painted live female nude models onto clay earrings, which sent out body positivity that gave their wearers confidence.
A jewellery brand that brings confidence into each person's individuality and uniqueness, Asimi Studio is one to watch out for!
---
Find more of Asimi Studio here:‌‌‌‌‌‌

Website: asimistudio.com
‌Instagram: @asimistudio
If you enjoyed this read, we bet you'll like this feature too:
Dragons' Garden: Plushie Friends to Keep You Company

‌Want to share your story? We'd love to hear it! Join the Eco-Alliance here and share your deets with us here to get a chance to be featured on The Wrap!
Questions? Email us at ecoalliance@noissue.co