noissue Custom, Compostable Kraft Mailer by AQUA REE.
As modern busy-bodies, it's a little too easy to put our well-being on the back burner. Staying hydrated is vital to operate at our best, but it's often left behind during the most bustling days when we've got a million and a half things to tackle.
Your well-being is a priority, and it's why AQUA REE is creating expertly crafted, energizing, and tasty options that take less than five minutes to make and enjoy!
After sharing delicious drinks within the Northern California community for years, founder Quinn Begen was inspired to pursue her dream of combining nutrition, energy, and unique flavors into high-quality, healthy products. Thus, AQUA REE was born in 2018!
"Our first product was sparkling water with pureed root vegetables and vitamins.  However, due to the pandemic, I made the decision to switch to a more compelling product mix." AQUA REE was thus reborn to provide folks with a more refreshing, filling, and nutritious product. "I reinvented AQUA REE with a new product that still respects our mission statement."
Begen further shares, "Our mission is to enliven your wellness and heighten your senses. Your well-being is our priority, and AQUA REE was born out of love, and the love for wellness, innovation, and entrepreneurship."
Her dream of making innovative wellness products that would change the world and simplify life resulted in a wellness mix in collaboration with Nordstrom. "Our strategic partner, Nordstrom, created a new item called UPBEET & BERRY with this mix, and it has been extremely successful!"
This beetroot-based product contains plenty of natural benefits and vitamins, and AQUA REE simplifies the hydration and nutrition routine to blend into "hydrition." She supplies, "Our concept of 'hydrition' where hydration meets nutrition, started with my passion for wellness and has turned into so much more."
In its earlier years as a small business, AQUA REE faced many hurdles in getting off the ground. One instance that transformed from hardship into triumph, which Begen still draws major motivation from, was when the brand acquired its first client. "I learned very quickly that the barrier to obtaining the first client is extremely difficult in the food and beverage industry. To overcome this, having an innovative product which provides unique value is essential."
"To that end," Begen reflects, "I would like to express my gratitude to Nordstrom for being my very first client. Without Nordstrom Ebar & Restaurants, AQUA REE may have just been a dream."
UPBEET & BERRY quickly became a fan favorite among customers across the nation and Canada! Begen remembers how the need to scale AQUA REE's products soon became clear through her first client. "I realized that we need to scale up AQUA REE when we got traction and collaboration from our partners," She says. "This validated my personal beliefs with actual data points. I consider 'scaling up' a privilege, and there are quite a lot of questions that we are still working through."  
As the brand scaled up, much planning and even more planning were significant considerations. "As a new brand, it is always challenging to find a distributor. Logistics is a huge part of a consumer product company, especially because the scale is imperative. Supplying all Nordstrom Ebar locations within the US and Canada could potentially cause challenges if you don't have a top-tier distributor. We were fortunate enough to partner with Bargreen-Ellingson, and I am very thankful for that opportunity."  
Looking back, Begen expresses immense gratitude toward the fantastic partners that helped strengthen AQUA REE's presence and products. "We had many questions around pricing, inventory, and marketing, which we were able to work through seamlessly with a lot of help and support from our partners."  
On top of its nutritional benefits, the brand's products and packaging don't skip out on being good for humans and the environment. Begen turned to noissue for eco-friendly, branded shipping supplies that embody AQUA REE's mission of improving people's and the planet's health!
AQUA Ree's noissue Custom Kraft Mailers are made from recycled materials, printed in eco-friendly inks, and feature a show-stopping design. Customers can't help but admire the creative logo, lively illustrations, and eye-catching color palette!
Begen intentionally crafts an immersive packaging design for customers to relate to her brand's vision and motivations. "I love art and music, and they are an integral part of my life. Even though I have an extensive appreciation for art, I am not an artist, but I collaborate with Ryan Dalton, a local artist in Las Vegas, to design our packaging. He has created some amazing murals in town."
She adds, "I shared my vision with him and how I would like our packaging to be an empty canvas from which he could create designs that evoke wellness emotion." What resulted was a bold and beautifully customized kraft mailer that artfully incorporates the brand's values! "I hope that our customers can see and feel the passion of our brand through our packaging. We want to curate a wellness experience in an art form that you can take on any journey."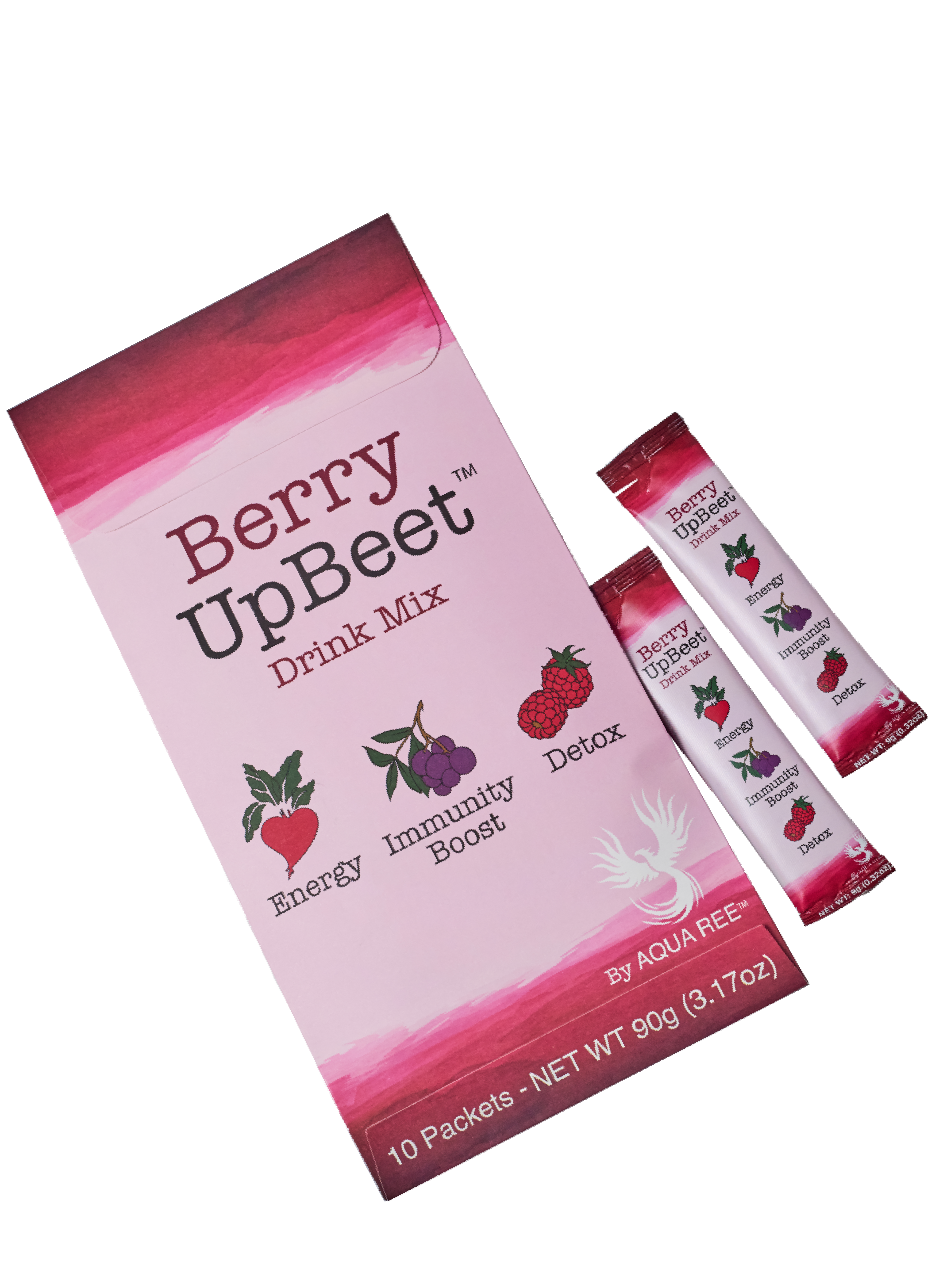 The wow-worthy, recyclable, and compostable kraft mailers that AQUA REE custom prints with noissue are made from recycled materials, preventing waste from cluttering landfills! The brand's mailers are also curbside recyclable and home compostable, so folks need not worry about their environmental impact.
AQUA REE's mission of simplifying hydration and nutrition is inspiring as it is delightful to enjoy a delicious drink of UPBEET & BERRY! The brand loves to see its customers thriving and energized without compromising taste, convenience, or consciousness.
Through thoughtful products, a passion for wellness, and sustainably stylish packaging, AQUA REE makes prioritizing "hydrition" and happiness all the more easily achievable!

See more of AQUA Ree at liveree.com.
Making sustainability a core pillar of your business is easy when using custom-printed packaging designed from better materials! Check out noissue's custom and stock products to create on-brand, sustainable packaging and shipping supplies.