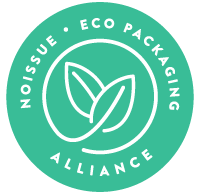 Accessories for young and old alike, knits are always such a fun way to make everyday outfits pop! Ashley Victoria Valsin-Luu owns Avail Knit, a knit business that sells cute macrame accessories, crochet koozies, tassel garlands, scrunchies, t-shirts, and lots more! What started as a hobby is now a full-fledged business founded to encourage gifting handmade items wrapped in charming, circular packaging to others, making each package seem like a special little birthday present!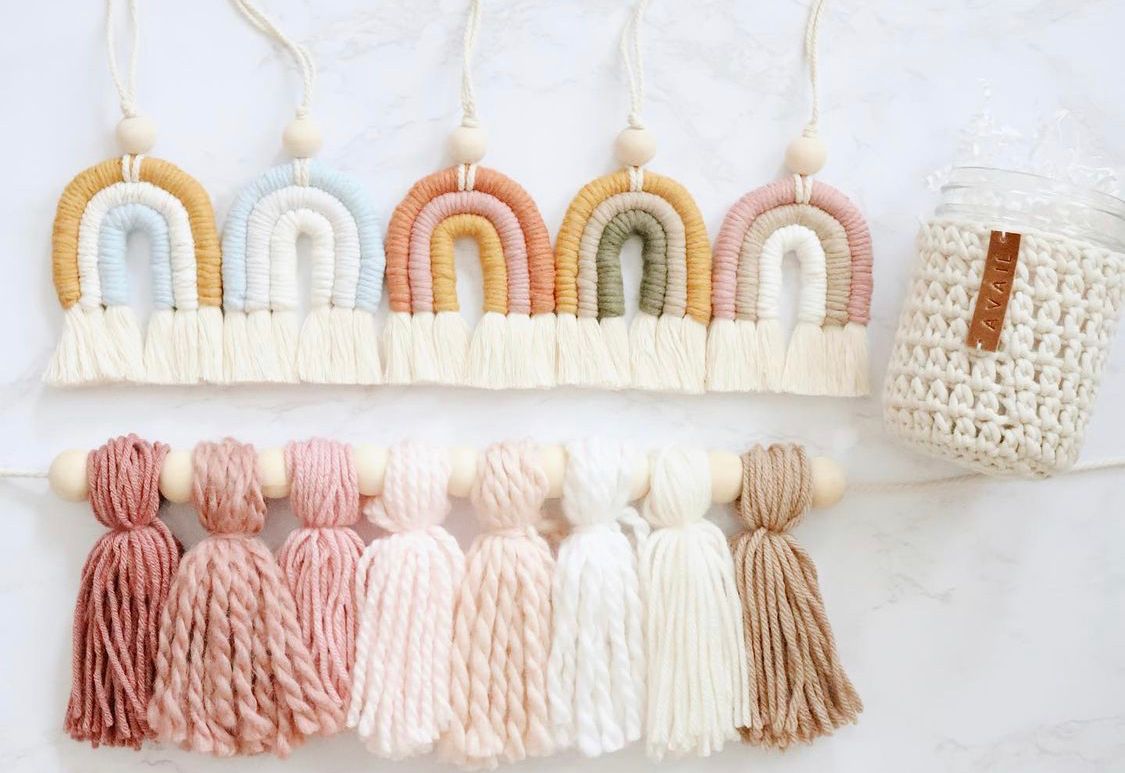 Established in 2019, Avail Knit is a business with a name that doubles as the founder's (and her brother's) initials and a synonym for her mission to "serve and help." Ashley envisioned Avail as what she'll continue to do as the business grows each year.
Growing up with crafty parents, their family would always make trips to arts and crafts stores when she was younger. Each time they went, everyone was allowed to pick one craft item; she picked up yarn and began knitting beanies to use as Christmas gifts.
As years passed, Ashley went into college and majored in Accounting and Finance, which didn't give her much of a creative outlet. This encouraged her to pick up needles and start knitting again. Ashley would wear her creations out until one day, during her winter job in college, when a random woman purchased the beanie she was wearing upon finding out she knitted it herself. The woman told her to sell them online, and everything else was history!
After Ashley sold quite a bit, the crafter felt like she needed to give back somehow and decided to collect a percentage of proceeds from every sale to go towards materials needed to knit beanies for cancer patients at Texas Children's Hospital for Winter. "Not only did I have a creative outlet and a business, but I also was giving back, which is how it was intended initially when it was a hobby."
Avail aims to spread love, joy, inspiration, and the gift of creativity to others through various community projects. All products are handmade with love and care. Thus, each item is made unique, and no two are the same! Imperfection keeps the business interesting.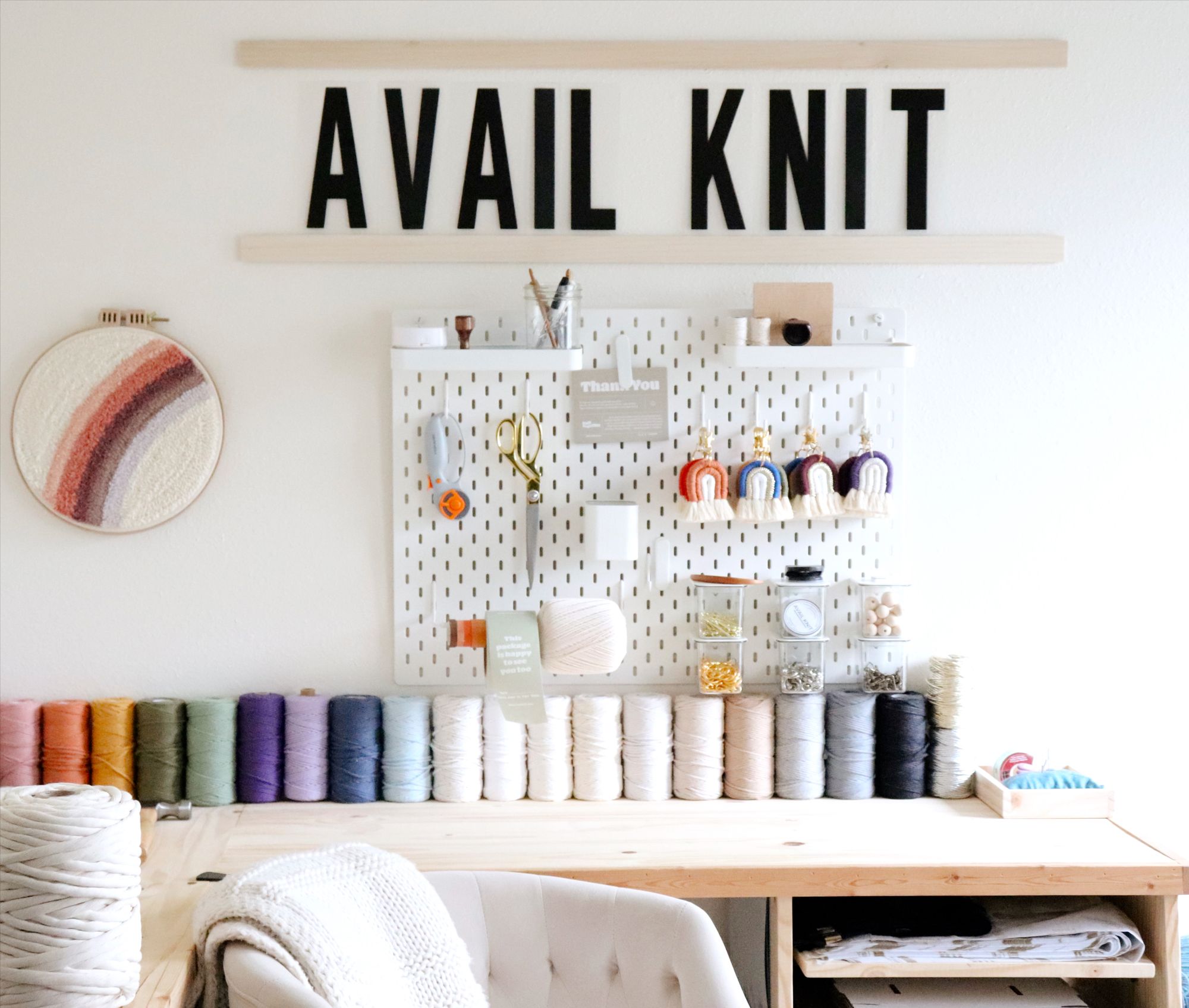 At the beginning stages of the business, Ashley didn't consider sustainability regarding her packaging. She ensured that the yarn she purchased was sustainable, but she didn't consider other supplies and materials. As her business grew, she decided to be more mindful and not be wasteful. "Not only do I want to give back to the community, but I also want to be giving and not taking away from our environment."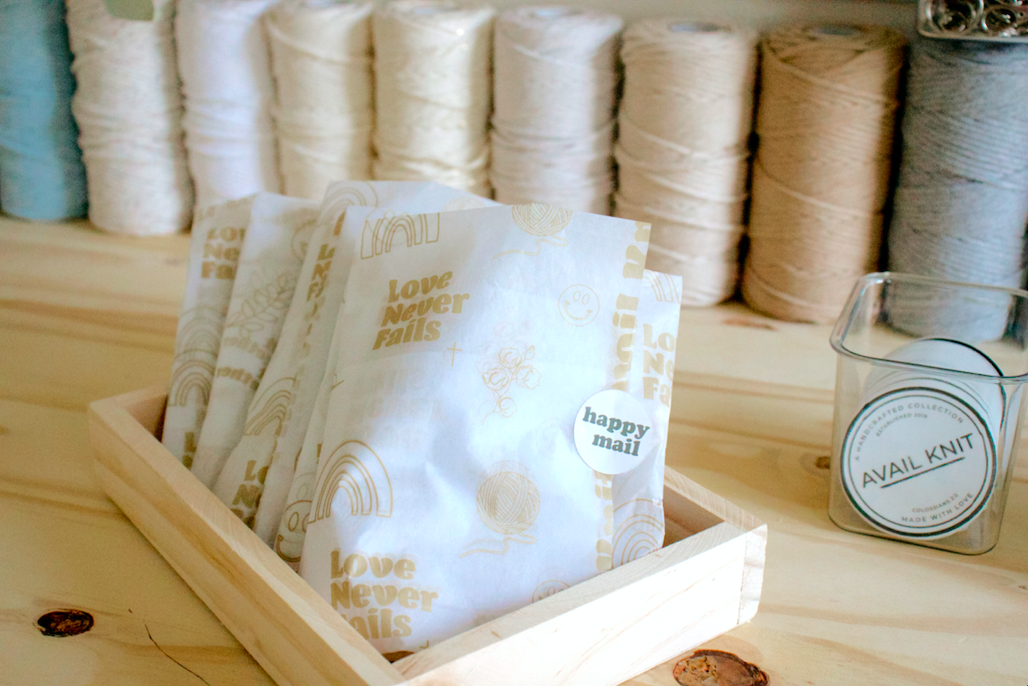 To lower Avail Knit's environmental footprint, aside from making sure all yarn supplies are sustainably sourced, Ashley's overall packaging is recyclable and reusable; thank you cards, stickers, boxes and even her poly mailers. She tries to customize all of her packaging to make it cute so that customers are more inclined to reuse the tissue paper, the boxes, or thank you cards instead of just throwing them away!
She's able to do custom tissue paper through noissue! "I've wanted to upgrade the look and feel of my packaging to elevate it and look more professional. I wanted to go with a company that offered custom printed sustainable packaging. noissue checked all the boxes and more." With custom sustainable packaging being pricey, Ashley took a leap as she was willing to provide her customers a better experience when opening their goods.
Not just a go-to for circular packaging, noissue also has a community of like-minded small business owners who want to contribute to global initiatives through they're packaging and own small steps called Eco-Allliance, and Ashley is a proud member of it! "For every order I make, noissue plants trees in areas of need. When I ordered my tissue paper, I chose the option to plant trees in Vietnam! How cool is that? I chose Vietnam because my dad is Vietnamese, but there were many other options to choose from also."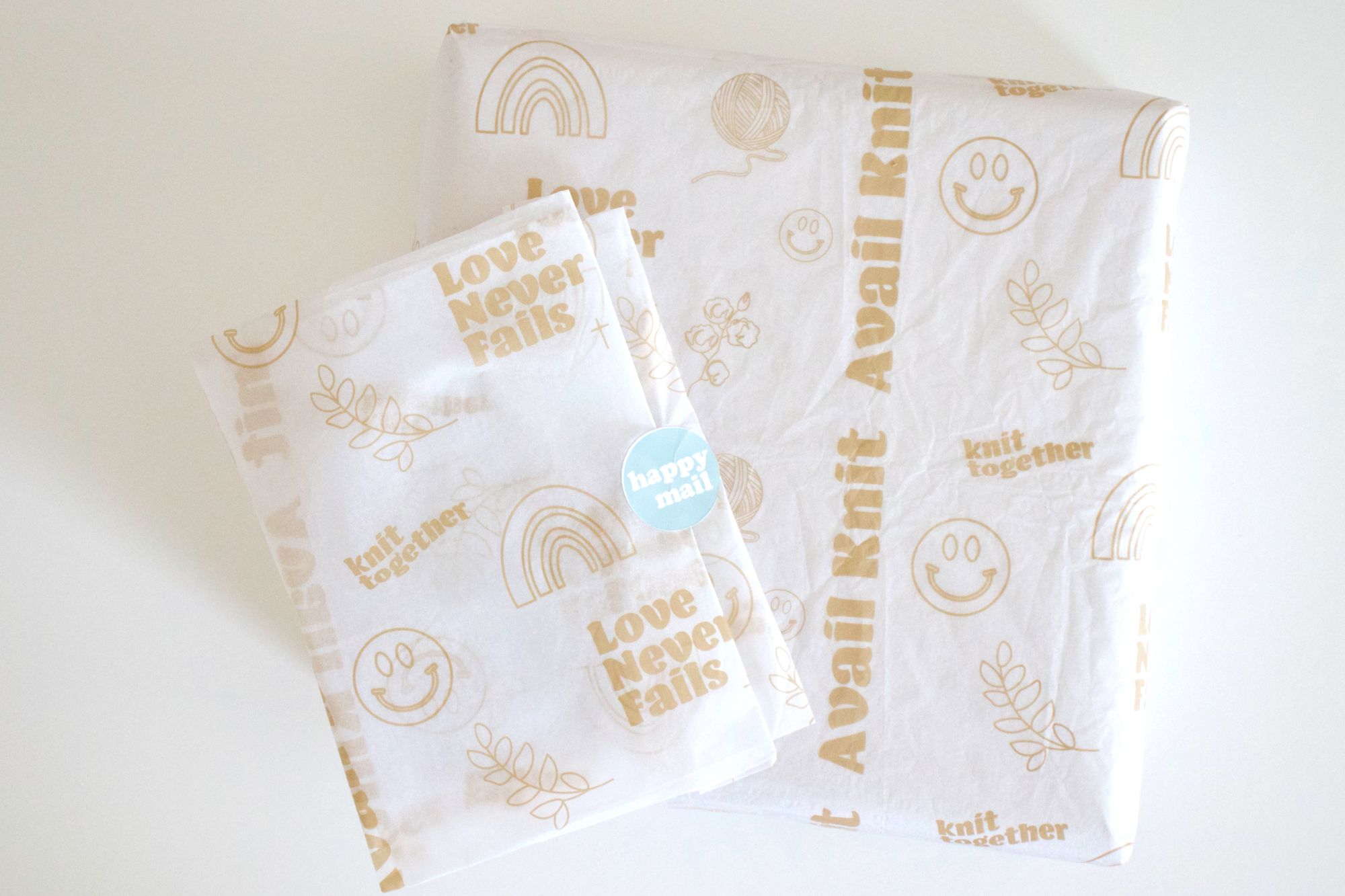 A brand that you can set apart from the rest with it's uniqueness and selfless mission to give back, Avail knit also had a share of challenges.
One of them is the fact that in any small business, the owner has to wear all of the hats where they become the product designer, product tester, web developer, social media marketer, packager, photographer, customer service, accountant, legal department, researcher, and so on. But as years went by, Ashley realized that she can't be perfect at every "hat" she has to wear. "Being perfect is overrated, and it'll stretch you too think if you try to be perfect in every position needed to operate your small business."
Another challenge she faced was coming up with new products other than beanies. Her business began with them, but she admits they're not needed every month (especially in Texas). She knew she needed to develop new products that she could sell outside the Fall and Winter months that incorporated yarn. She then decided to sell macrame rainbow car charms and keychains, knitted scrunchies, t-shirts, and macrame wristlets, crocheted cozies, and a lot more other cute stuff!
It's never easy running a business, so the crafter's advice for someone interested in starting their own would be to simply start it. Do your research and your due diligence, but go for it and start today! She said it best with, "don't let the fear of not having the perfect business plan, or the fear of failing stop you from taking action."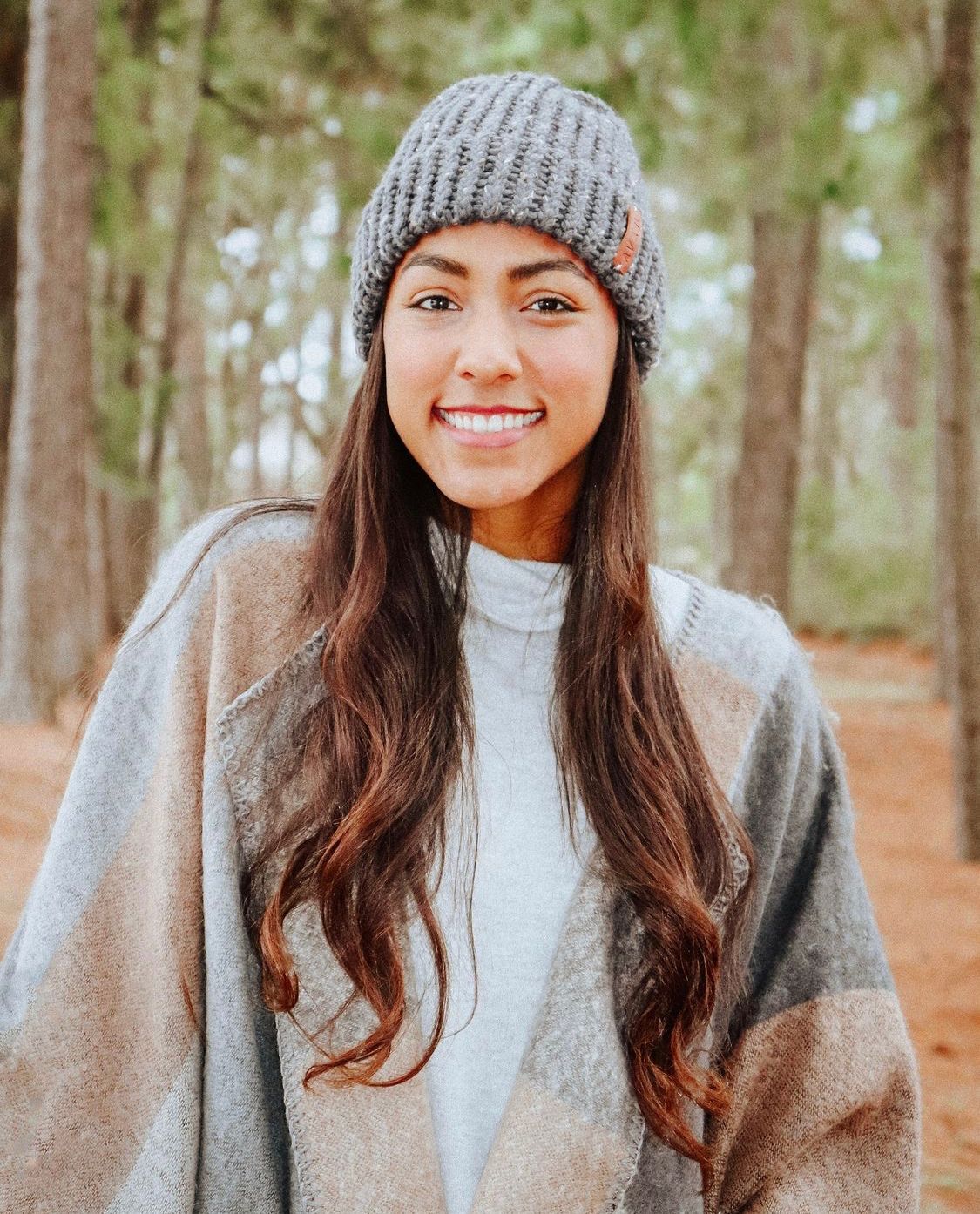 Though Ashley had already come a long way from knitting for fun to actually establishing a business, she's always going to have a special place for beanies in her heart, and up to this day, they remain to be her favorite product in her collection.
Her favorite customer story also revolves around her beanies. A very touching story that truly warmed the crafter's heart happened during a job interview she attended. She had put Avail Knit in her résumé which she sent in before her schedule, and the interviewer had her in tears at the end.
That previous Winter, she had donated her knitted beanies to the cancer wing at Texas Children's hospital. Her interviewer explained that her résumé caught her attention when she came across Ashley's business name because she said her son had received one of her beanies. She told the selfless artist her son's story of battling cancer, how he received an Avail Knit beanie, and how special it was.
She told Ashley that receiving handmade gifts from strangers showing their love and support always meant the world! Especially to know that there are people in the world who think about kids like her son.
"They may not have purchased the beanie because it was donated, but this is my favorite story because [it] touched my heart and motivated me to continue my mission and vision for Avail Knit. This just shows how it's possible to knit together our community."
---
Find more of Avail Knit here:‌‌‌‌‌‌
‌‌‌‌‌‌‌‌‌‌
‌Website:‌ availknit.com‌
‌Instagram: @avail.knit
If you enjoyed this read, we bet you'll like this feature too: ‌
Throwshop: Liven Up Your Space with Pillows Handmade from Start to Finish
‌‌
‌Want to share your story? We'd love to hear it! Join the Eco-Alliance here and share your deets with us here to get a chance to be featured on The Wrap!
Questions? Email us at ecoalliance@noissue.co