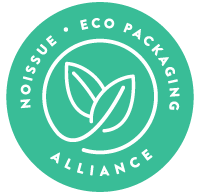 What more could be said about the beauty of nature in the wild? It's long been the stuff of fantasy and fiction and inspiration for art, except it's even better, because it exists in real life! And that only gives us all the more reason to protect all the many exquisite natural wonders of our one and only planet.
When it comes to art that celebrates the planet's natural beauty, there are few artists who better encapsulate that than Bex Parkins! Based in the UK, Bex is the artist and founder behind Bex Parkins Illustration, whose art and stationery centers on celebrating the natural beauty of the earth. Vibrant images of flora and fauna populate Bex's art — from jungles and flowers to wildcats and cockatoos — that make looking through her store feel like walking through a natural museum, or leafing through a children's storybook! But beyond celebrating the wonders of our planet through her illustrations, Bex is also passionate about caring for it, which is why she chooses to pack her art in environmentally-friendly packaging Bex proudly packs orders with her compostable noissue Tape, which she's also customized with her own original art!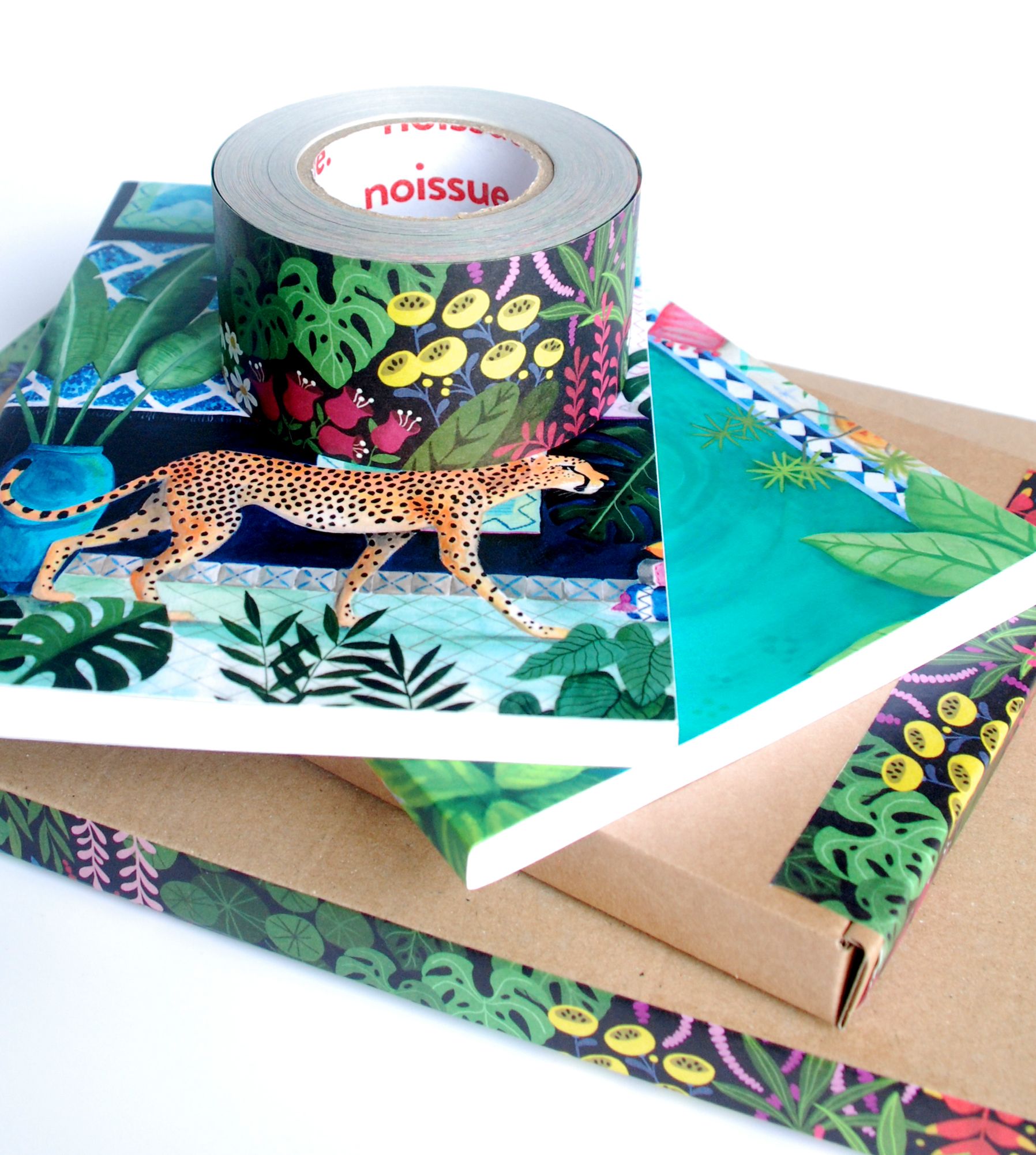 Painting had always been a passion for Bex, and something she always knew she wanted to do for a living. Creating and designing her own original products seemed to be the best idea, so that's just what she did and she hasn't looked back since! Looking through Bex's many alluring paintings, her passion for her work clearly comes across and she's grateful to be able to work at a job that she truly loves.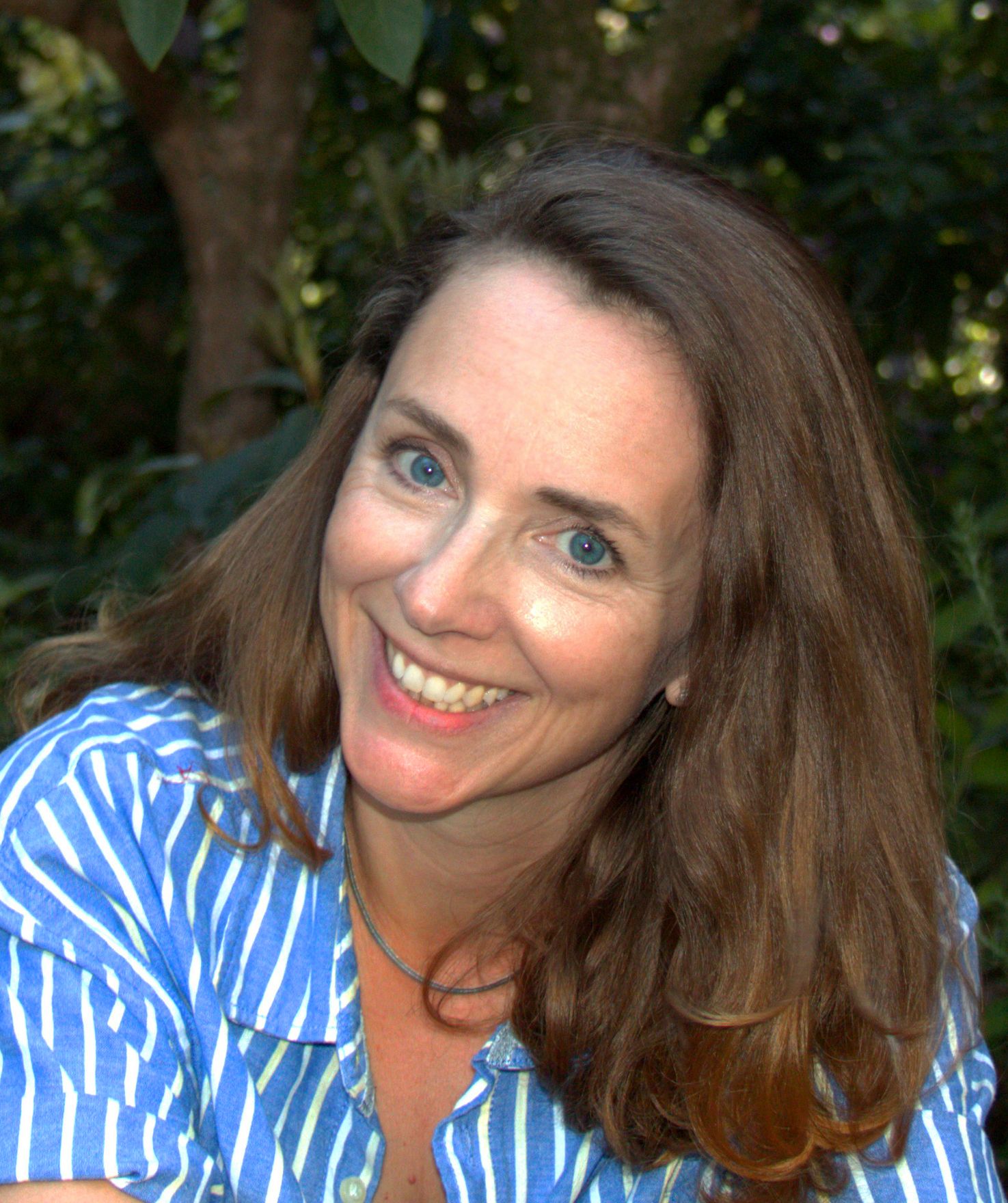 Bex's mission as an artist and brand is to create fun, colorful stationery that doesn't compromise on quality. This means that not only are all the stationery and prints you'll find at her store adorned with stunning original designs, they're also made with the highest paper and print quality! Every product starts out as a gouache painting by Bex, so everything from cards, notebooks, and scarves are filled with the same detail and vibrancy.
And when it comes to sustainability, Bex makes sure not to compromise on that either! This runs through every step of her process — as a business owner, she recognizes her responsibility to regularly be conscious of her ecological impact.
"It's important that as a business, I am frequently checking in our approach to sustainability."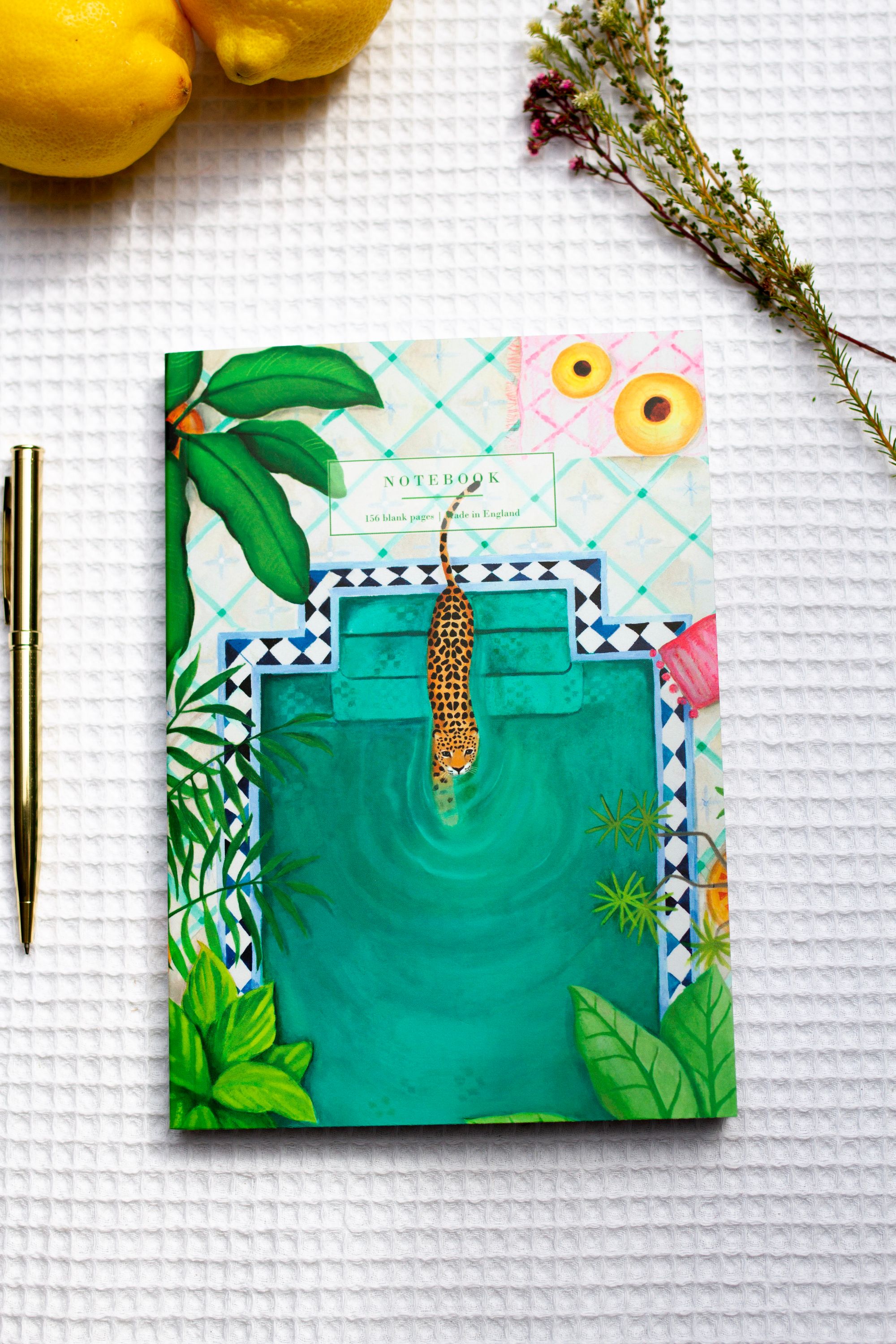 This also extended to the packaging she used for her products, which was why she was happy to find just what she needed with her compostable and customized noissue Tape!
"The design of my noissue packaging tape was made to pair nicely with our recyclable brown postal boxes and proof that sustainable products can look stunning too. [...] Initially I was enticed by the idea of having a custom design tape which was printed in my brand illustration. The fact that it is also sustainable makes both myself and my customer happy too."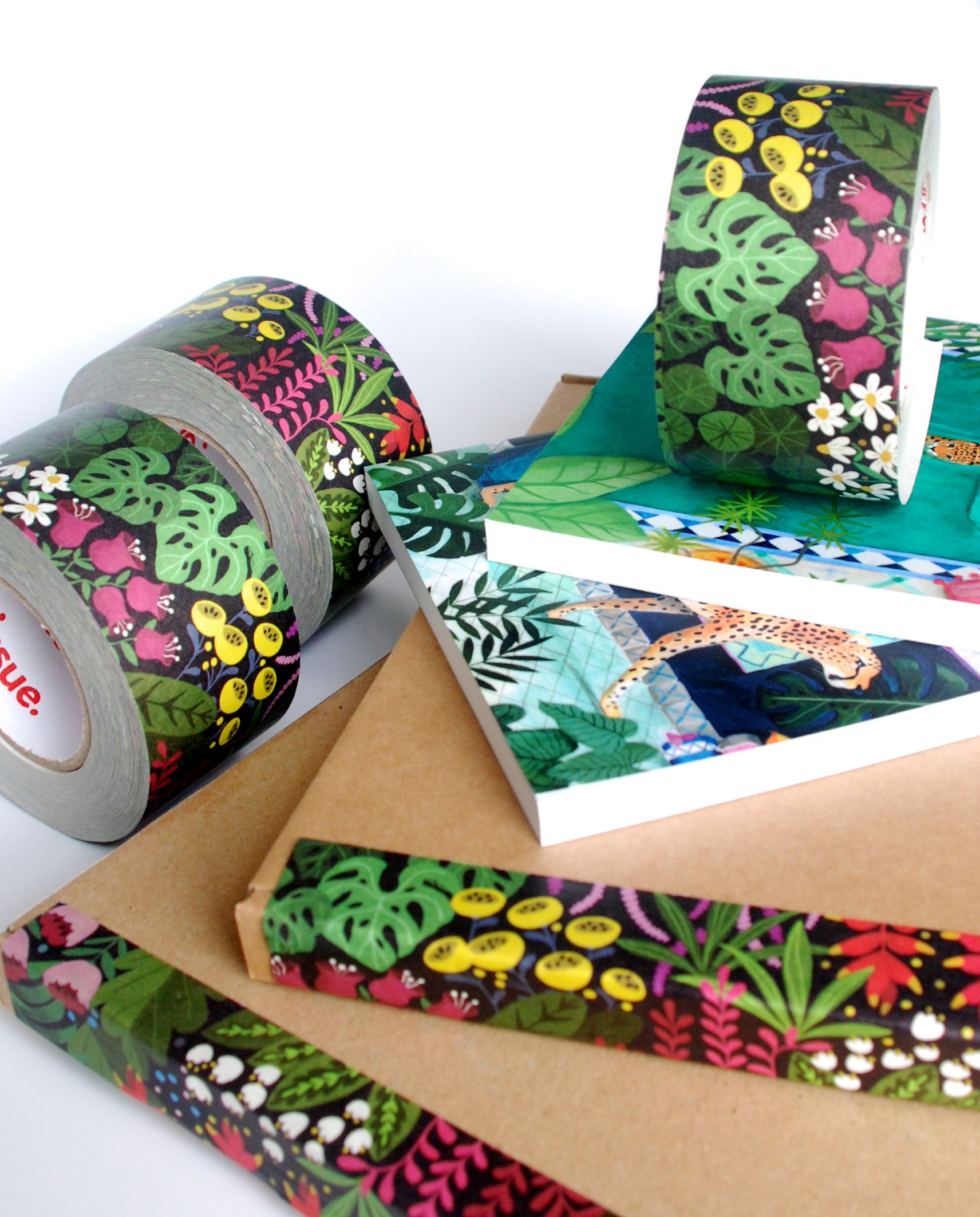 It's undeniable that Bex has a heart for the natural wonders of the planet, which is evident in every piece she creates. Animals, jungles, and insects and are what she counts as her passion, and she even hikes in the countryside in her spare time! It's of personal importance to Bex that she does what she can to help conserve these treasures, which is why she was also happy to join the noissue Eco-Alliance. In doing so, she's been able to contribute to environmental conservation efforts around the world in her own way that she counts as a win both for her and her customers!
Along with making a switch to sustainable packaging, Bex has consistently been implementing such practices in her own studio, too. She's since replaced her materials with more ecologically-friendly ones, which she's excited to communicate with her customers through her website and Instagram account!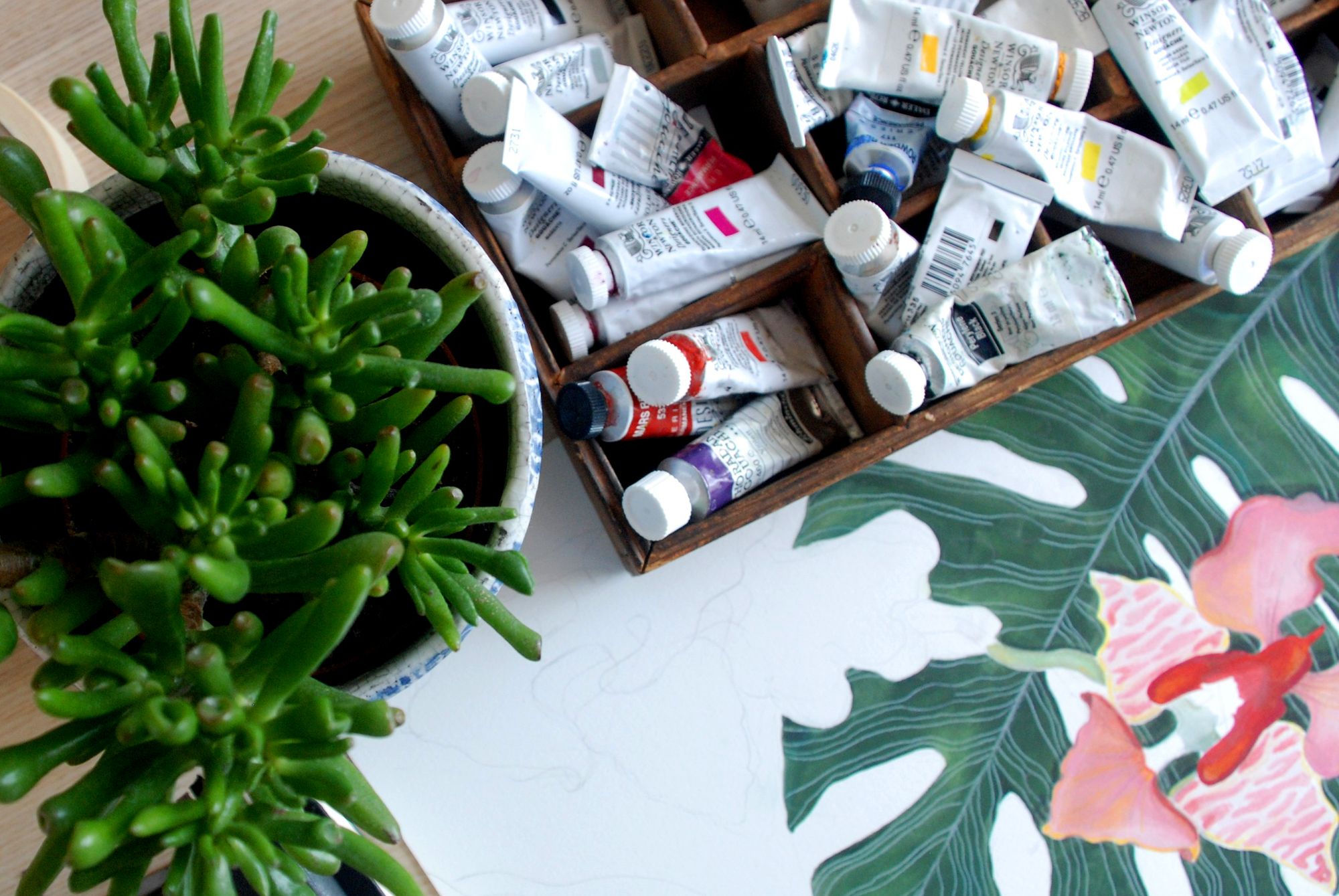 It's crystal clear that Bex's art is unique enough on its own, but what also sets her apart is the pure passion she inputs into every original piece. Bex declares herself — and her customers — as "stationery addicts", so maintaining the highest quality standard for her product range is also of paramount importance!
Bex's passion for her work is undeniable, but it wasn't always the easiest journey! For one, besides creating all the artwork by hand, she's also had to wear many hats as a one-woman business. From artist and graphic designer to accountant, stock control, and dispatcher, she's taken on every role in running the business, alongside her freelance work. She's thoroughly been enjoying the ride, however, and is grateful for everything she's been able to do so far!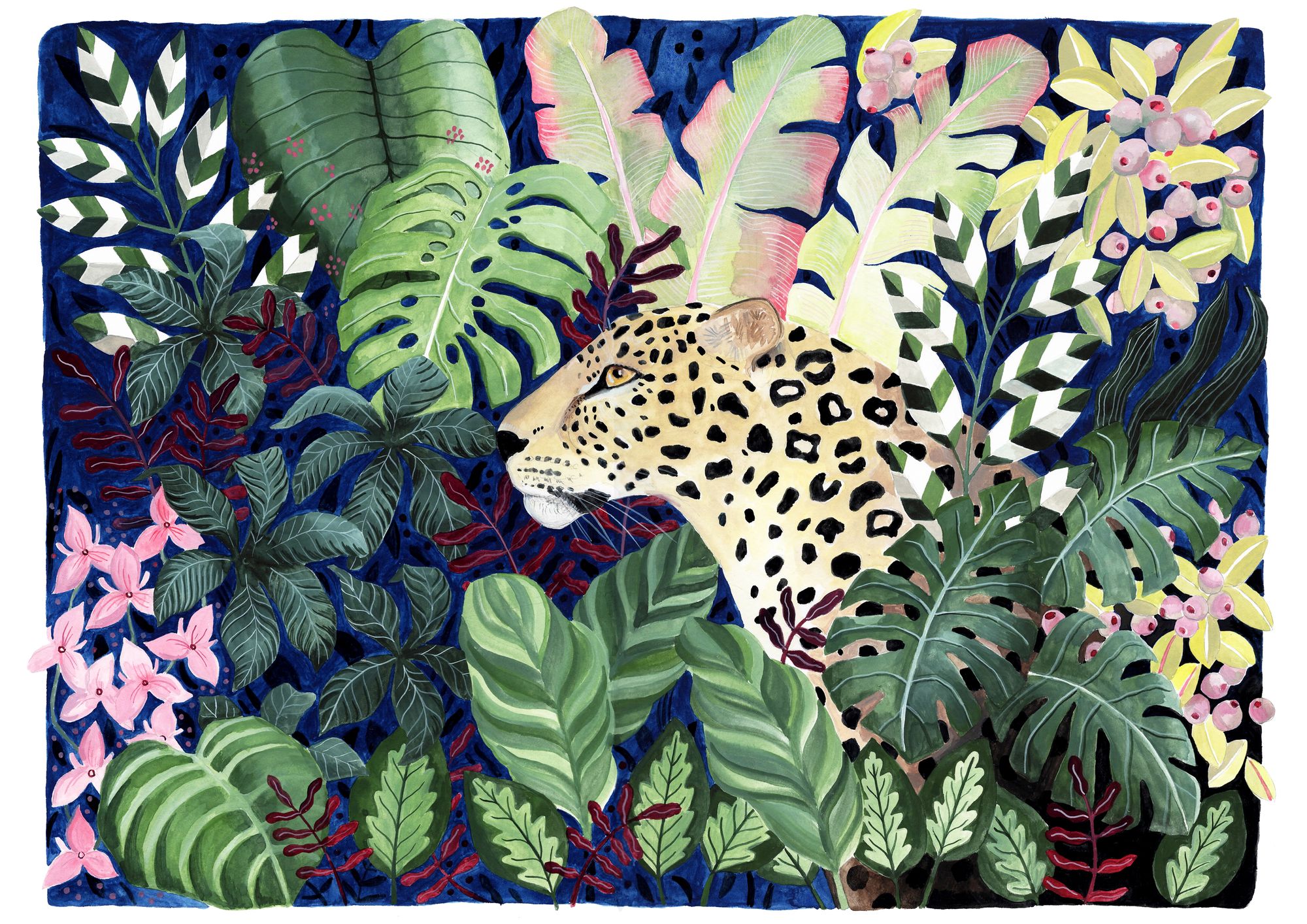 For other artists who hope to make their own mark on the world, Bex's advice to start small. And to start an Instagram account! Putting out content on social media and working up a following will be helpful in the long run. Moreover, she also advises to just keep going! Mistakes are all part of the process, and will eventually point your brand in the right direction.
Bex counts herself lucky to be on the journey that she's on, and one of her most favorite aspects is always hearing from her customer community! Reading messages and building relationships beyond the transactions will always bring her joy — most especially when they send photos of her art on their walls. She recalls one particular customer that simply brought her to tears: a teacher whose class of seven-year-olds based their art project on one of her cheetah prints! The incident is still a memorable one that she holds close to her heart.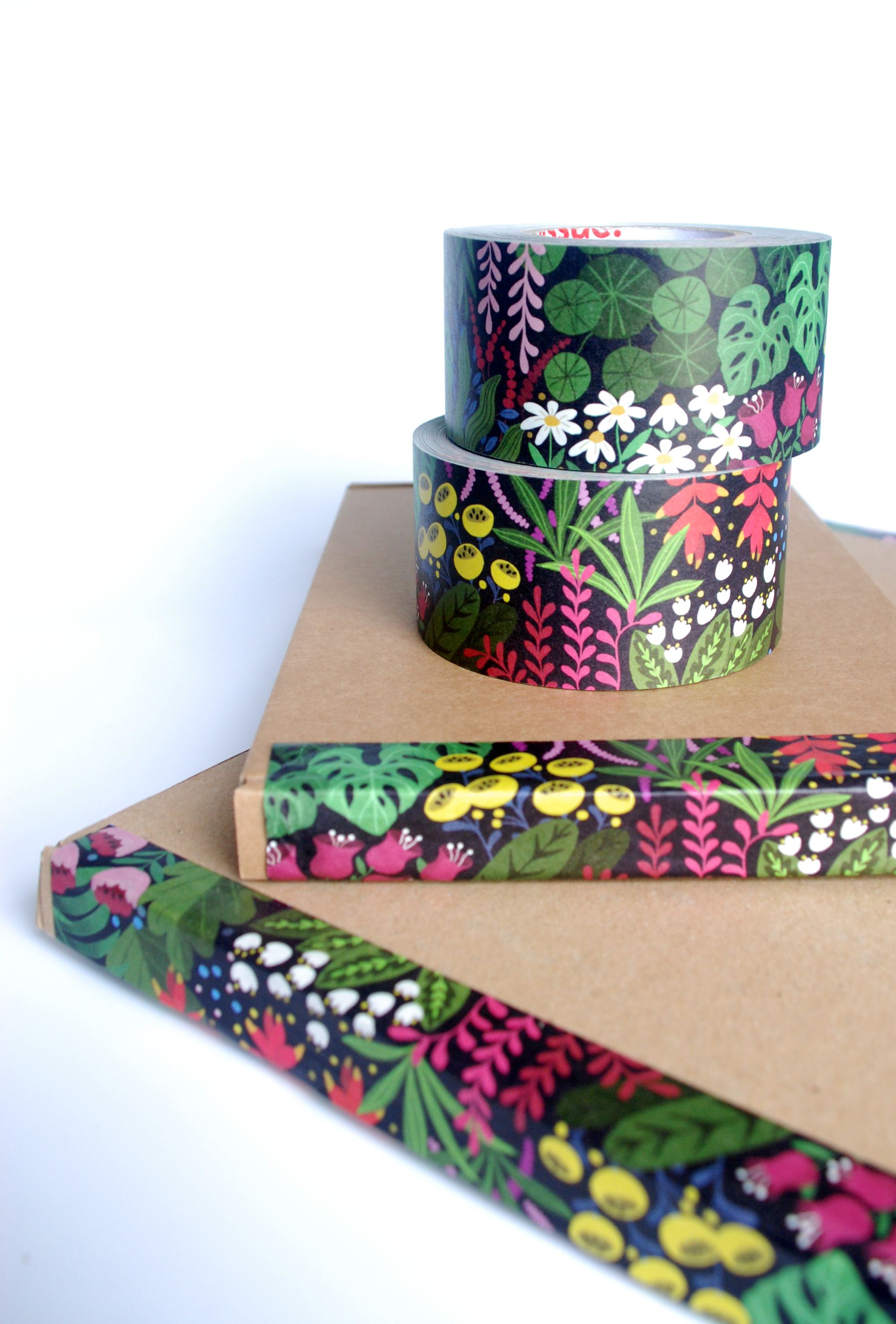 Beautiful stationery that celebrates the earth's natural wonders, and helps protect it at the same time? One thing's for sure: Bex Parkin's illustrations definitely put the "art" in "earth" — and we couldn't be more grateful!
---
Find more of Bex Parkin Illustration here:‌‌‌‌‌
‌‌‌‌‌‌‌‌
Website:‌ bexparkin.co.uk
Instagram: @bex_parkin
Like this story? Tell us yours! Share your brand story and love for your custom packaging and get a chance to be featured on the wrap! If you're a noissue customer and are interested, you can join the Eco-Alliance by clicking here and answering a few questions here.
Questions? Email us at ecoalliance@noissue.co