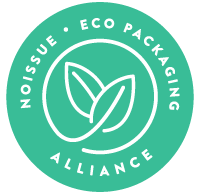 Sometimes, self-care can be as simple as filling your home with little things that bring a smile to your face. And one of the easiest ways to do that? By having thoughtfully crafted homeware pieces that suit your personality, and are unlike any other in the market! And if you're looking for just the right match, there are small businesses that create fun, unique homeware pieces that are sure to catch your eye, like California-based brand Binamade!
Located in Los Angeles, Binamade is all about adding the charm to ceramic homeware. Looking through their online store and Instagram, you'd be greeted with an array of colorful smiley faces or pastel flowers and hearts adorning ceramic cups, mugs, trays, and more. Altogether, they create unique and adorable homeware pieces that turn the charm up several notches! Part of the presentation is in the packaging, which is why Binamade brands their packages with custom (and compostable!) noissue Cards as the cherry on top!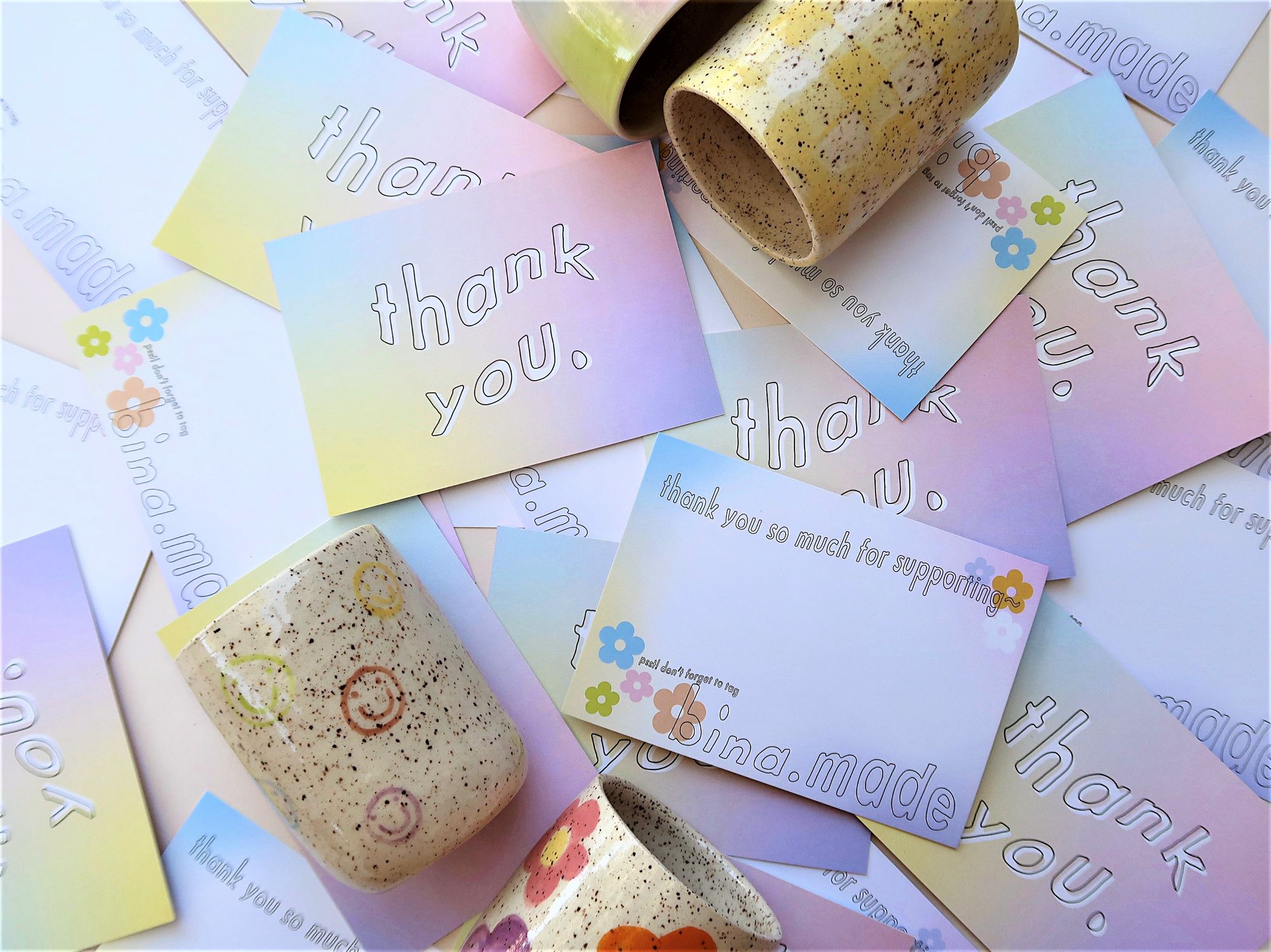 It was during quarantine that Nadine, the potterer and creator behind the brand, first took up an interest in ceramics. It started while scrolling through Instagram: Nadine started binge-watching potterer accounts on the platform, and was immediately fascinated by the whole process. Soon enough, she wanted to try her own spin on the pottery wheel, so she took the plunge. She bought her own pottery wheel and kiln and got to work. After many hours of practice and design—and lots of clay—she was ready to share her creations with the world. And thus, Binamade was born!
Binamade's mission is simple: to create ceramic homeware pieces that people fall in love with and enjoy using! For years, ceramics have held a rather traditional reputation, not always geared towards younger generations. And that's just where Binamade comes in: to create fun, adorable pieces that are enjoyable for anyone to use in their homes, no matter what age!
While admittedly, pottery isn't always the most sustainable craft due to the amounts of water and power used in the process, Nadine's still adamant about being as circular as possible. To offset her carbon footprint, she reduces her waste and recycles materials wherever she can. And when it came to her packaging, it was her mission to go plastic-free and avoid polluting the environment, which was why she was ecstatic to partner with noissue!
"In regards to packaging, it is my mission to avoid plastics and any material that would cause pollution. This is where noissue comes to the rescue. I love that I can give my customers high-quality cards and use packing slips that don't take a toll on the environment."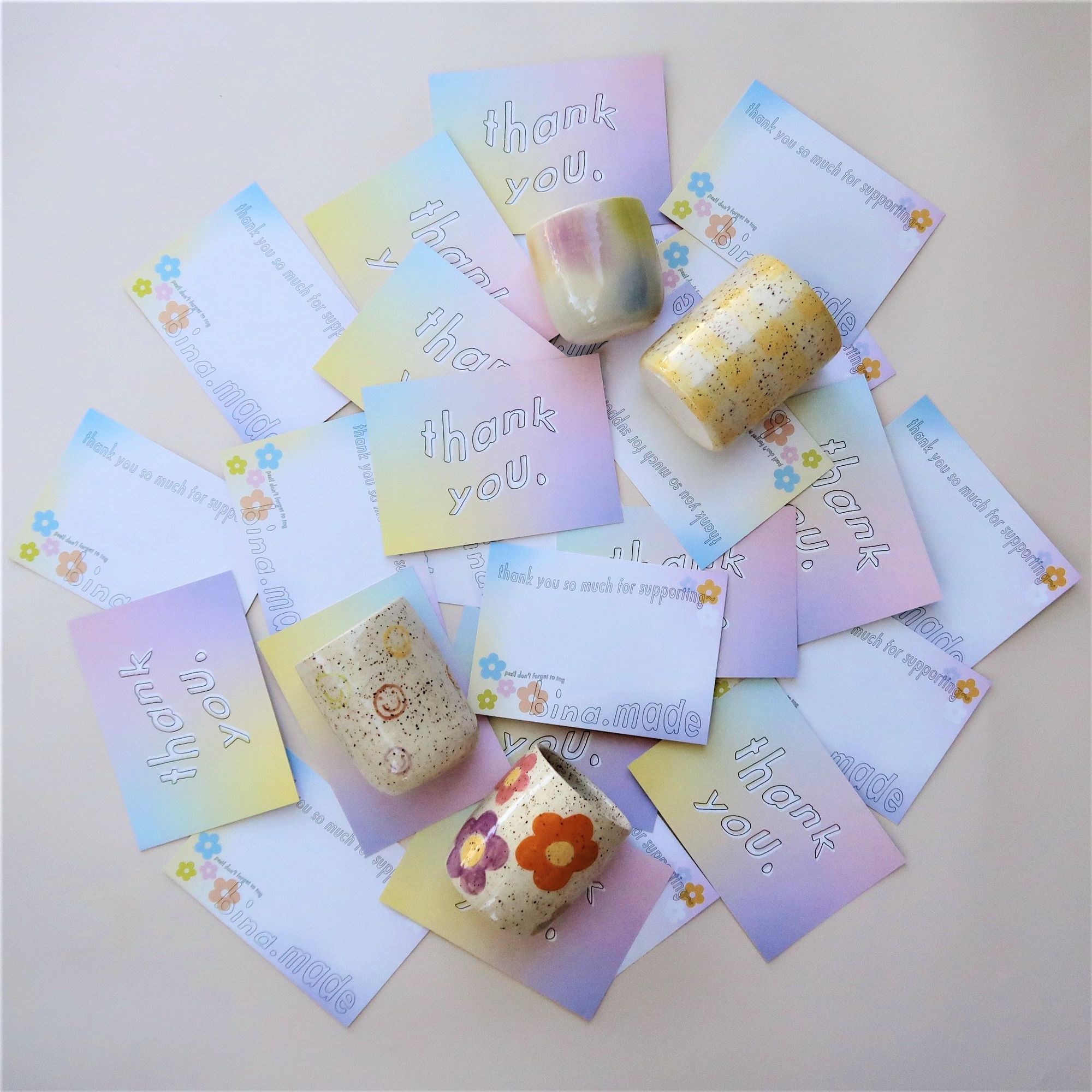 Nadine's compostable thank-you Cards are also 100% customized to fit her branding, so every package she ships out is as charming as ever, while being low-impact on the environment!
"High-quality products that are sustainable? Yes please! To be honest, I didn't switch to noissue, noissue was my first choice!"
To further reduce her brand's environmental impact, Nadine was also happy to be a member of noissue's Eco-Alliance community, where her every order contributes to climate action initiatives in areas of need. It also puts her alongside other small businesses around the globe that are committed to building a better future for the planet! Being a member of the Eco-Alliance also shapes Binamade into a brand that prioritizes circularity and environmental responsibility, while not compromising on branding aesthetic.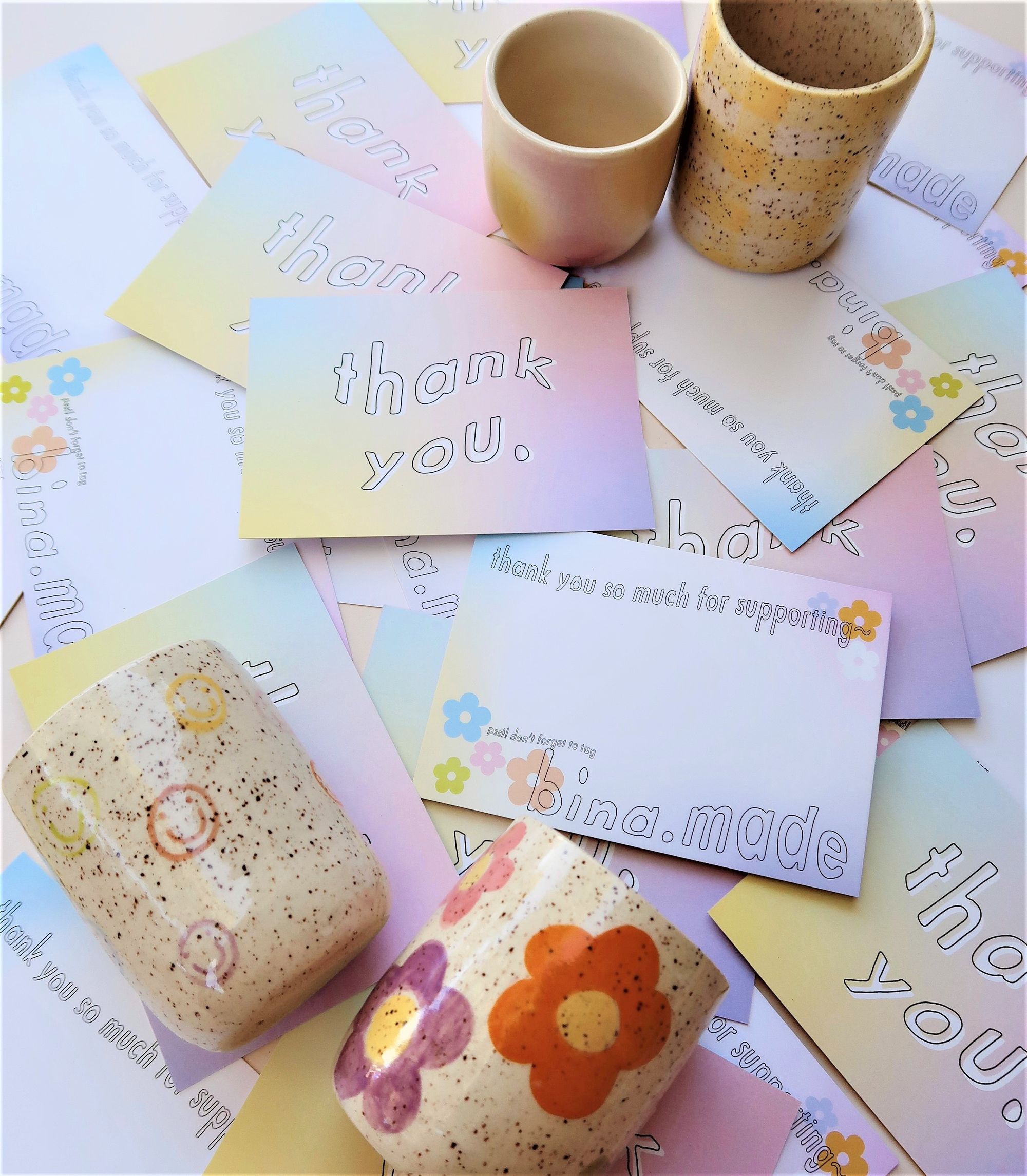 "I hope this will help shape Binamade into being a brand that prioritizes sustainability when it comes to packaging. Thankfully, aesthetic is not compromised with noissue packaging!"
Circularity is a journey Nadine's looking forward to taking further as her brand grows. She takes each step at a time and celebrates every small environmental victories, such as recycling plastic clay bags into drying covers, only firing full kilns, and reducing water usage or using the excess for her plants! It's the small but necessary actions she can control in her process that altogether help her become more circular as a business.
You certainly won't find other ceramic pieces like Binamade's in the market, but what also makes it special is that it's proudly AAPI-woman-owned. It's also a brand that hopes to bring out the inner child in everyone! Nadine has an affinity for smiley faces and daisies, which she hopes brings a dose of cheer to anyone of any age. After all, sometimes, having your morning coffee from a cup covered in smiley faces could just be what you need to start a great day!
It wasn't always the easiest journey, however. Binamade is a one-person business, which always comes with many struggles, especially having to deal with everything on her own. But one thing that's been key all throughout? Time management. Pottery itself is tedious and time-consuming, so to-do lists and calendars are what helped her cope, along with a good playlist and a cold drink!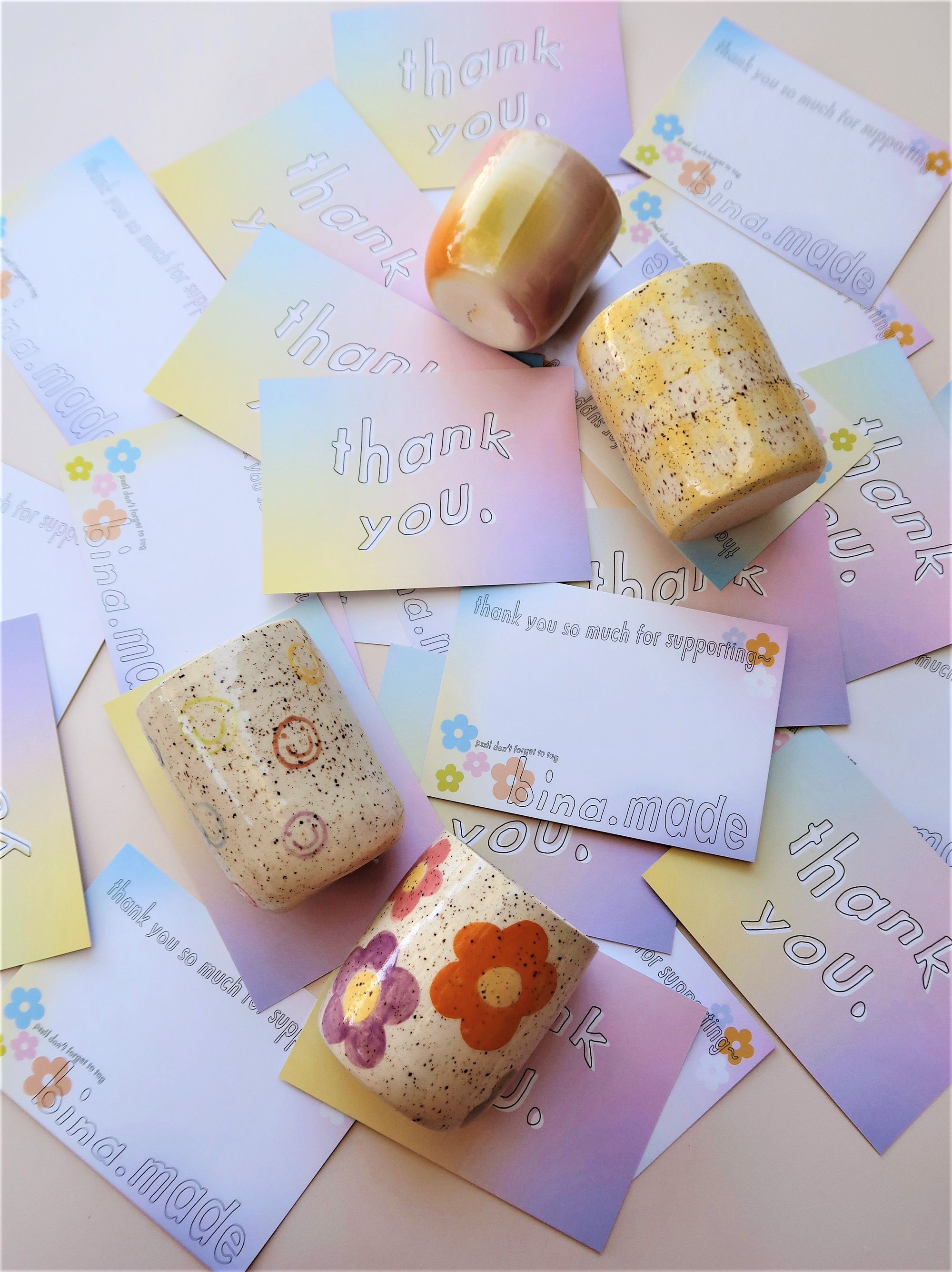 For those who also hope to start their own ceramic businesses, Nadine's advice is to just go for it! Cliché as it sounds, taking that first plunge is scary but essential. Take classes and learn as much as you can about your craft, and resist the urge to compare your creations with others. Each ceramist has their own personality embedded in their work—find out your own, then you're all set. Finally, be ready to make connections. The ceramic community in particular is very friendly and inviting!
And if you ever want to bring home a piece of Binamade's creations, Nadine's personal favorites are her berry bowls for drying berries. Equally charming and useful, the bowls always remind her of the process that goes behind each ceramic. It always warms her heart to hear that customers use her pieces everyday—it makes the entire process so rewarding!
Adorable homeware pieces that add a dose of charm to any home and care for the earth? Binamade is totally a brand we're calling bina-mazing!
---
Find more of Binamade here:‌‌‌‌‌
‌‌‌‌‌‌‌‌
Website:‌ binamade.com
Instagram: @bina.made
Like this story? Tell us yours! Share your brand story and love for your custom packaging and get a chance to be featured on the wrap! If you're a noissue customer and are interested, you can join the Eco-Alliance by clicking here and answering a few questions here.
Questions? Email us at ecoalliance@noissue.co