During the holidays, consumers want to keep their gift-buying as stress-free as possible. It's the brands that offer clarity and convenience that will find the most success during the festive season.

For this reason, an online holiday gift guide is a powerful marketing strategy. It allows you to spotlight your top offerings, inspire your customers with thoughtful gift ideas, and provides a rich source of promotional content.

We all know that the holiday season is an important time for retailers - those weeks represent as much as 30% of a retailer's annual revenue. So, it's well-worth brands putting in the effort to attract both new and current customers.

This post covers our 6 top tips on how to create a holiday gift guide that gives your brand a competitive edge. We will examine the best holiday gift guide examples so that you can put your best foot forward at this time of year!


1. Consider the Best Way to Organize Your Products

Before you start choosing what products to include in your holiday gift guide, you need to decide how to arrange your gifts by category.

If you start by picking items at random, your guide is going to look chaotic and disorganized. Not really what consumers are after during the holiday season!

The key to any successful holiday shopping guide is to keep your product selection cohesive and reflecting a clear theme.

There are many different ways to organize your guide. However, it's likely that your brand will be suited to some categories better than others. This will really depend on your product range and your target audience. Let's take a look at a few holiday gift guide examples: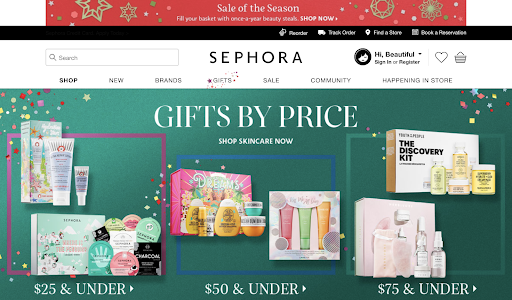 If the items in your store span a wide price range, categorizing your holiday gift guide by price is very logical.

Beauty retailer Sephora stocks a huge variety of cosmetics brands, from its affordable 'Sephora Collection' to high-end labels. Organizing their gift selection to reflect this makes their guide very easy to navigate.

If you are a less specialized retailer with a broad target audience, organizing your holiday gift guide by recipient offers a lot of clarity to customers. One version of this is the 'gift for her' and 'gifts for him' categories, as shown by Etsy's holiday gift guide from 2018: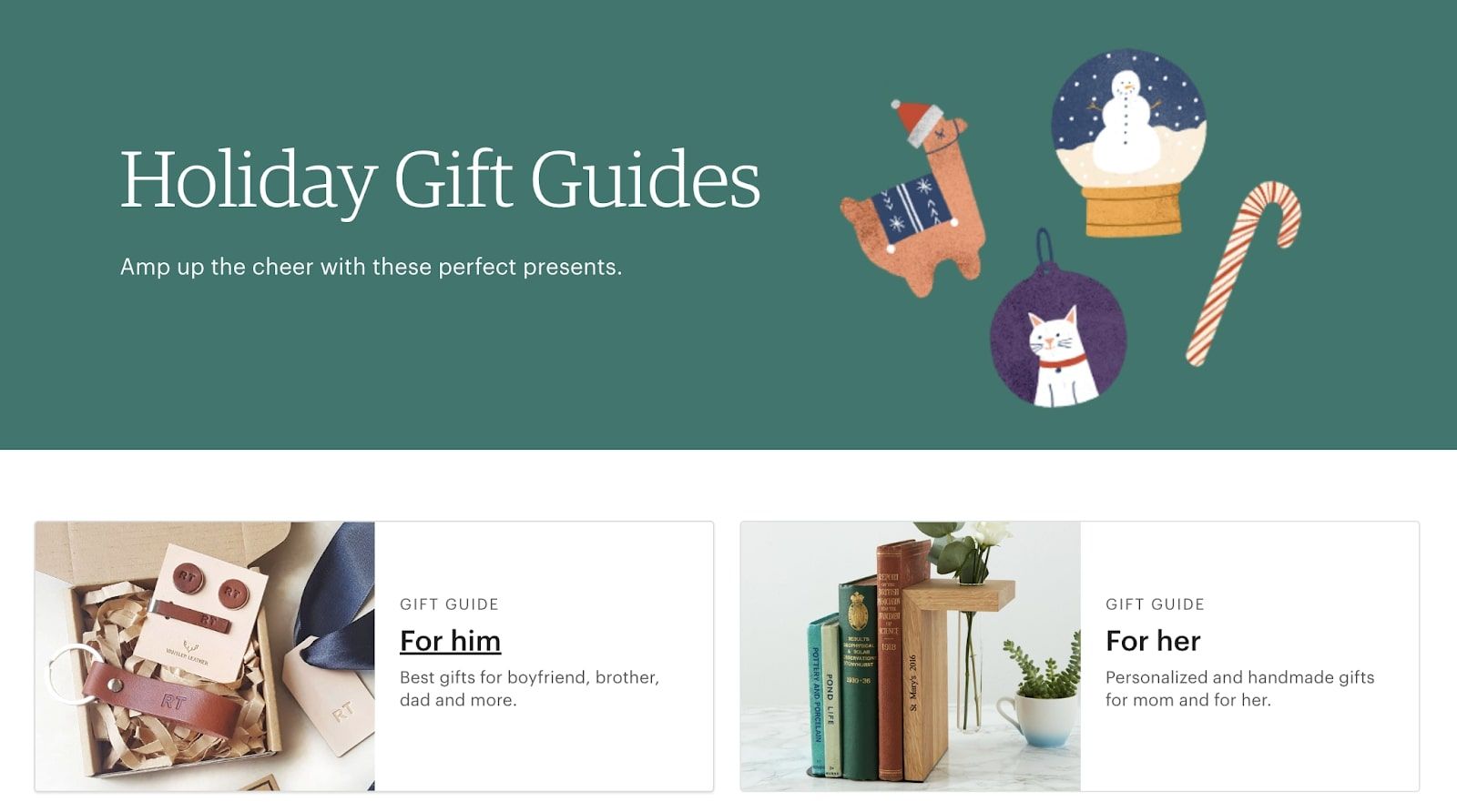 However, you can also go completely thematic in your selections. This works best when your target audience has a specific amount of spending power i.e. either low or high. Below is a great example from the famous department store Selfridges, whose luxury holiday gift guide covers how to find the perfect Christmas gift: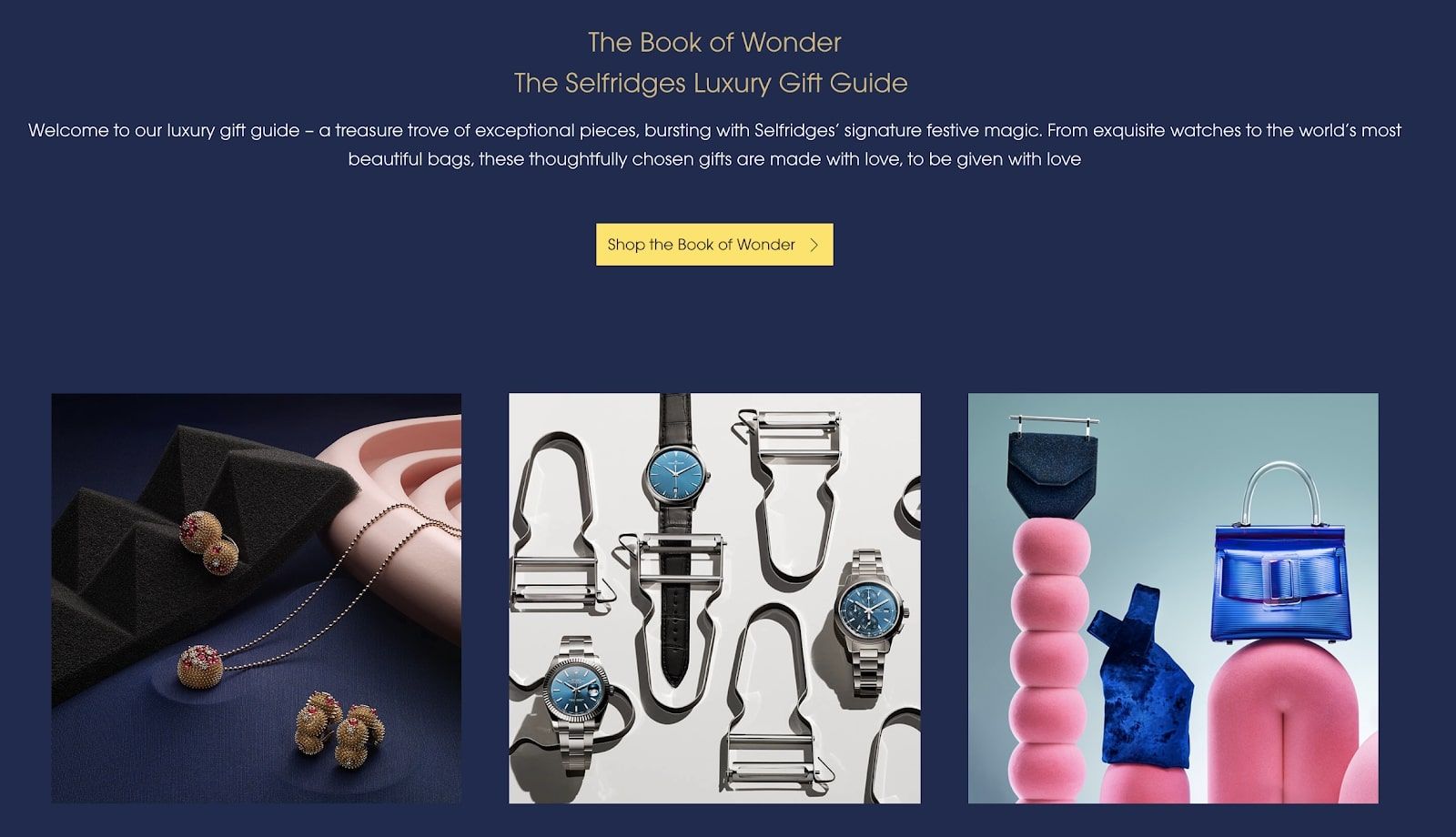 2. Use Sales Data to Decide Which Products to Include in Your Gift Guide

It's time for the trickiest question of all: Which products should go in your holiday gift guide?

Fortunately, you already have the best tools at your disposal - sales data and product reviews. These will give you a great indication of which products and categories are most popular with your audience.

However, creating a successful holiday shopping guide isn't just a matter of including the products that are performing best. You also need to think practically about which products are going to be the easiest to source and stock.

To create the best holiday gift guide possible, it's better to exclude the following:

Products that are likely to sell out quickly (and that you can't easily restock).
Products that don't fit with other items you have selected (this reduces your ability to bundle products).
Products that are outside your median price range.

Also: Take Note of Under-performing Products

Although it might seem counter-intuitive, it's also a good idea to take note of products that aren't selling well. The issue might not be that a product is unpopular, but that you haven't given it the right profile. Giving it a spotlight in your holiday gift guide, or otherwise bundling with better-selling items, is a fantastic way to give stagnant items a boost!


3. Add Some Exclusive Incentives to Encourage Repeat Business

Launching a holiday gift guide isn't just about boosting your holiday revenue; you should be aiming to increase sales year-round. To achieve this, your gift selections need to offer a clear incentive to shop again in the future.

During the holidays, it's important to think about every purchase as representing not just one, but two customers: Person A, who is buying the gift, and Person B who is receiving it. While Person A has likely shopped with you previously, Person B might never have encountered your brand before.

If the products in your gift guide compel the recipient to buy something else for themselves, this is a powerful long-term sales strategy for your brand!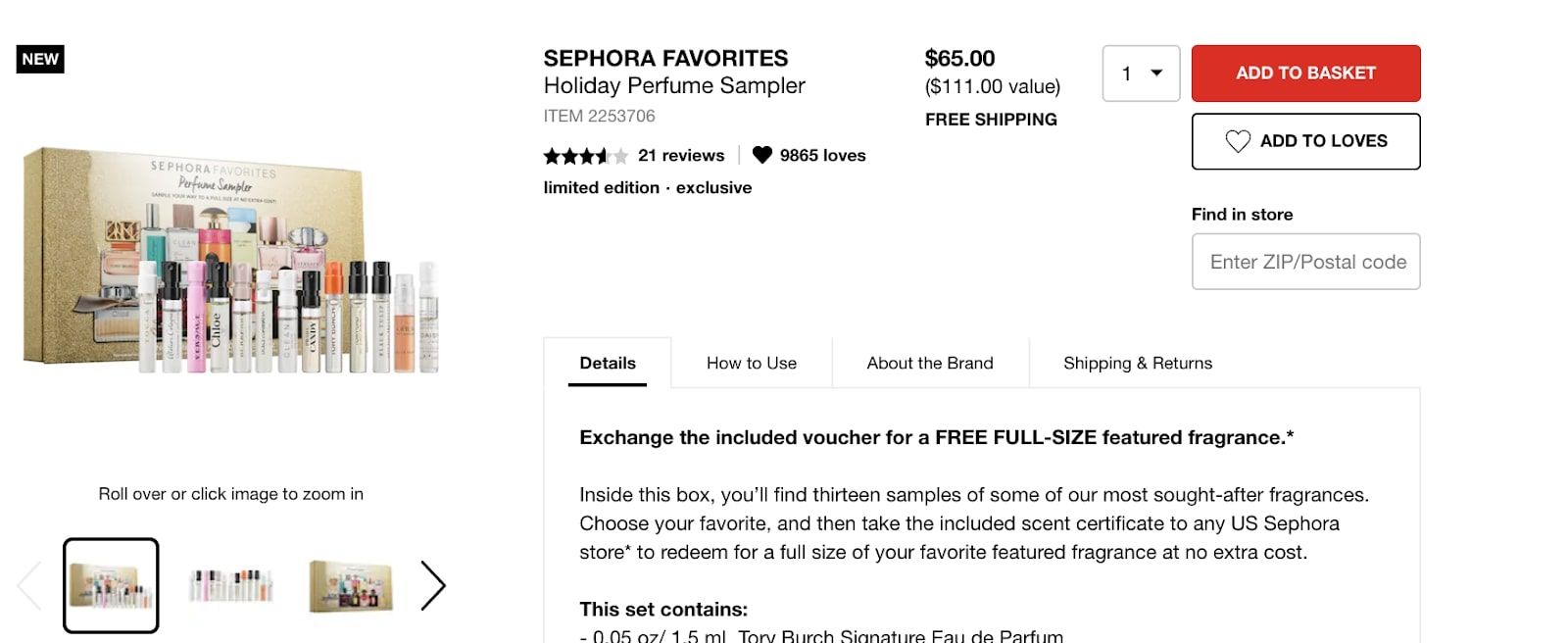 These kinds of incentives give your holiday gift guide selections a much higher value in the eyes of customers. They are, quite literally, gifts that keep on giving!


4. Publicize it across your marketing channels (social media and email)

It's easy enough to set up a banner promoting your holiday gift guide, but this relies on people actually visiting your website. It's important to make use of your other marketing channels to spread the word.

Social media and email are your biggest assets to let consumers know about your brand's great offerings this holiday season. Best of all, they also allow you to do a bit of research at the same time.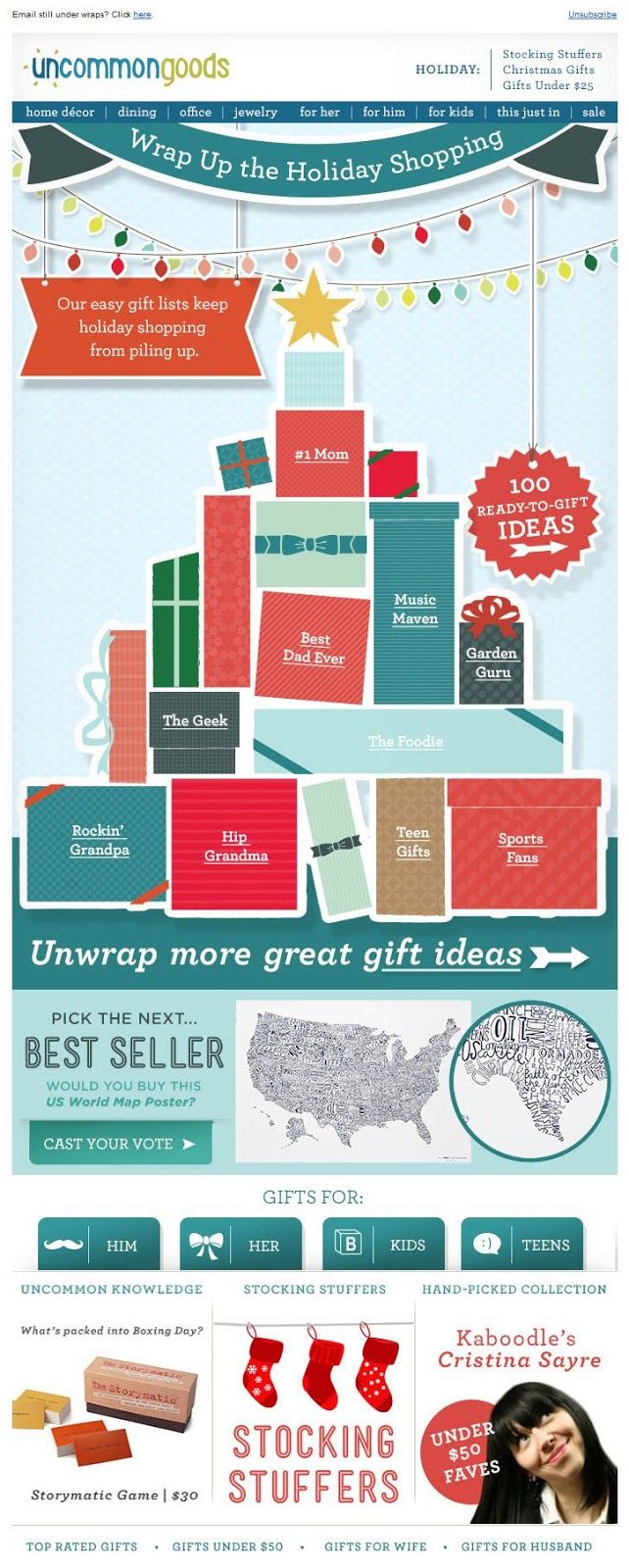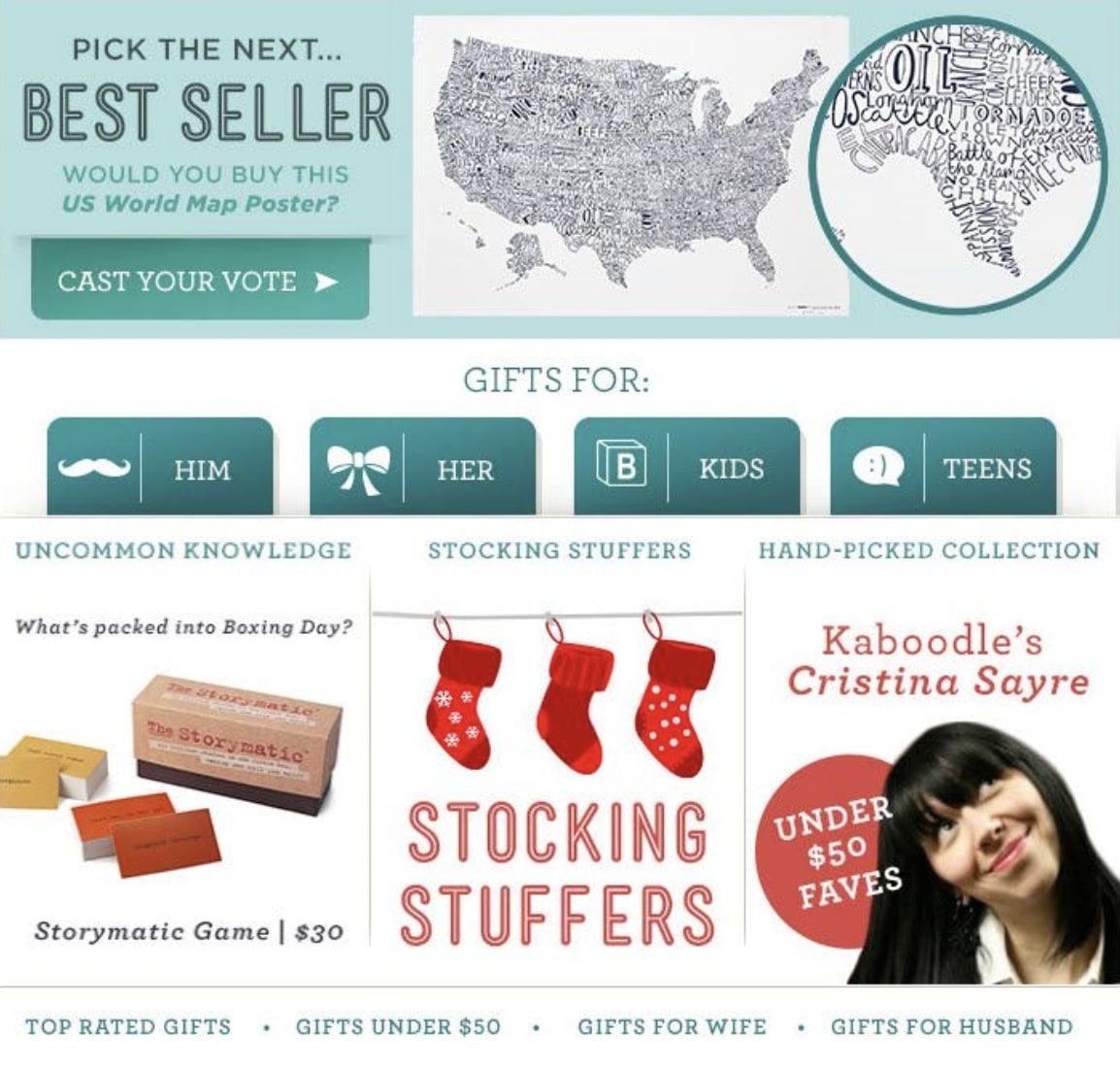 Social media also presents the opportunity for quick customer surveys. Here, Tarte Cosmetics features a selection of products from their upcoming #tarteholiday guide, asking followers to choose their three favorites. This is a great way for the brand to both promote their holiday selection, and also gauge which items are likely to sell the fastest:

5. Get Creative and Think Outside the Box

Releasing a holiday shopping guide has become a pretty standard marketing practice during the festive season. This makes it a lot harder to stand out from the crowd, especially when you are competing against larger retailers.

If you are a more specialized retailer, this is where you have a big advantage. You can create more specialized holiday gift guides that attract consumers actively searching for specific items.

Subscription box platform Cratejoy offers thousands of monthly subscription boxes that cater to niche categories. They have created highly unique holiday gift guides by organizing their offerings by specific interests i.e. 10 of the Best Subscription Boxes for Outdoor Lovers.

This is more compelling than the generic 'Holiday Gift Guide 2019' - and much more likely to appear in the search results!


6. Consider Hosting a Holiday Gift Guide Year-round

Although we usually discuss gift guides in reference to the holiday season, it's worth considering how your brand might benefit from catering to consumer's year-round gifting needs.

There are many other occasions throughout the year where people buy gifts - birthdays, anniversaries, Mother's Day - but these are far less commonly targeted by holiday gift guides.

In fact, 65% of consumers keep shopping for gifts after the holidays have finished to take advantage of good ideals. So, catering to this need will give you a massive edge. It's a great opportunity to introduce your brand and attract new customers beyond the holiday season!

Ballantynes department store has set up a specific 'gifting' tab on their website, which categorizes gift items by both the recipient and occasion. This creates a timeless resource for its customers' gifting needs.

When your customers are looking for gifts, a well-curated guide can make all the difference between them buying from your brand or from a competitor. So, knowing how to create a holiday gift guide is a valuable strategy to attract and retain customers beyond the festive season.