Tissue paper can be used to gift wrap your products, or as a form of packing filler. Using it to line the inside of a box will give any order a classy feel. Placing tissue paper in a shopping bag or mailer is also a great way to add some branded flair!

In short, tissue is one of the most versatile packaging elements available. With that in mind, why not consider choosing custom tissue paper for your packaging needs?

Using custom tissue paper for packaging might seem unrealistic for a small business. After all, there are many other expenses at your doorstep. But custom tissue paper is a fantastic investment because it's far more than just attractive packaging. It's a branding tool, a marketing strategy, and a customer service booster, all rolled into one tidy sheet!

Custom Tissue Paper is a Powerful Branding Tool


"Showing off my custom tissue paper on social media has helped to spread the word that I offer something a little different, and that the finishing touches really do matter." Michelle Kreussel, The Fox in the Attic

To be successful, every small business needs two things: A unique brand identity and high-value offerings. But in the age of eCommerce, success isn't necessarily a guarantee even when you've ticked those boxes.

There are simply too many brands fighting for attention online, and standing out from the crowd can be challenging. Especially for retailers curating a selection of products, it can feel as though there is less and less separating you from your closest competitor.

In such an oversaturated market, it's crucial to make your mark in a different way to ensure that your customer remembers you.

Designing your very own custom tissue paper, logo front and center, is a simple and lasting way to build brand recognition in your customers. Custom packaging is usually reserved for the bigger brands of eCommerce, so this automatically gives you a point of difference. As a brand, the point of opening a package is one of the highest moments of engagement for your customer, meaning you have their full and undivided attention — a little extra emphasis on your brand at that time is never a bad idea!

Custom Tissue Paper Improves the Customer Experience


"Having custom tissue paper was the perfect finishing touch. It's something high-end shops do regularly, but to have it in a temporary store was incredibly special." David DuGoff, HOMOCO

When we think about custom packaging of any kind, whether it be gift bags, gift boxes or tissue paper, we associate it with luxury. Why? Because traditionally it is high-end brands who have made use of it. It's all part of a very calculated customer experience strategy; to justify premium pricing, brands offer a premium experience that can't easily be matched elsewhere. A memorable 'unboxing' experience creates a key point of difference that leaves customers with a favorable impression of the brand.

Any business can benefit from taking advantage of this association. It's the special add-ons that are the key to offering a stellar customer experience - those value-added extras that customers haven't paid for, but love to receive.

So, taking the time to wrap your orders in custom tissue paper might seem like a small touch, but it speaks volumes. It tells your customer that you value them, and that you value your brand enough to make that extra effort. Lots of brands tell their customers how valuable they are and how they should feel about their products — custom packaging like tissue paper shows it!

Custom Tissue Paper Gives Your Brand Valuable Marketing Opportunities


"We are starting to see people unboxing their apron box/package and documenting the experience on social media to comment on how much they love it, which is amazing for us to see!" Sarah and Lorcan Quinn, Enrich and Endure

It used to be that your lovely custom printed tissue paper would only be seen by your customers. With the power of social media, however, your reach can be amplified considerably.

It's quite common to see customers taking photos of their orders, packaging and all, and uploading it to Instagram where it can be seen by hundreds if not thousands of their followers. These are thousands of potential customers who are now aware of your brand and your unique way of engaging customers! Brands often focus on "influencer strategies" to try to reach as many people as possible, but the real opportunity lies in genuine referrals from your typical customers!

The takeaway here? Using custom tissue paper for packaging is a clever marketing strategy. It provides a fantastic value proposition by leveraging user-generated content for your benefit. It's a visual pitch to potential customers about how you like to do business - with great style and great service.

Why You Should Use noissue:

Low minimums

"One of the biggest reasons I refreshed my packaging was because I could! The low minimums give me the ability to try new designs without having to overcommit." Angie Chua, Bobo Design Studio

Custom packaging has long been out of reach for small businesses due to high MOQs (Minimum Order Quantities) which make the upfront cost too steep. noissue has always believed that the benefits of custom-branded packaging should be available to every stage of business.

That's why we have such competitive prices, with the MOQ for our custom tissue paper printing starting at just 250 sheets! We make it easy for you to dip your toe into the world of custom packaging, or to get experimental and refresh your designs as frequently as you want.

A simple design process

"I chose noissue for my custom tissue paper as I found the team to be customer-oriented with their communication, ensuring satisfaction in their clients like myself. The design part is totally up to me and they just make it so easy to create and place an order online." Ayla Pena, The AYLA View

Whether you are a pro designer or a novice, don't worry - we have you covered! Our design process allows businesses to create the perfect custom tissue paper logo or full design. We offer two options to our customers depending on their needs. Our online design tool allows you to upload your logo and choose from existing templates, while our offline design tool is where completed designs can be uploaded directly. With both options, we will have a completed proof back to you within 24 hours! It's fast, easy to use, and takes all the stress out of the process.

Always eco-friendly

"Working together with brands like this who are doing the best for people and the planet, are the perfect brands to align my own business with!" Tanya Hodgson, The Book Playbox

Sustainable packaging is fast becoming a major asset for both brands and consumers. noissue tissue paper is acid-free and FSC certified as both environmentally and socially sustainable. We also only use 100% renewable soy-based inks for colored tissue paper printing. This makes our custom tissue paper completely recyclable, as well as producing much more vibrant ink colors for your design!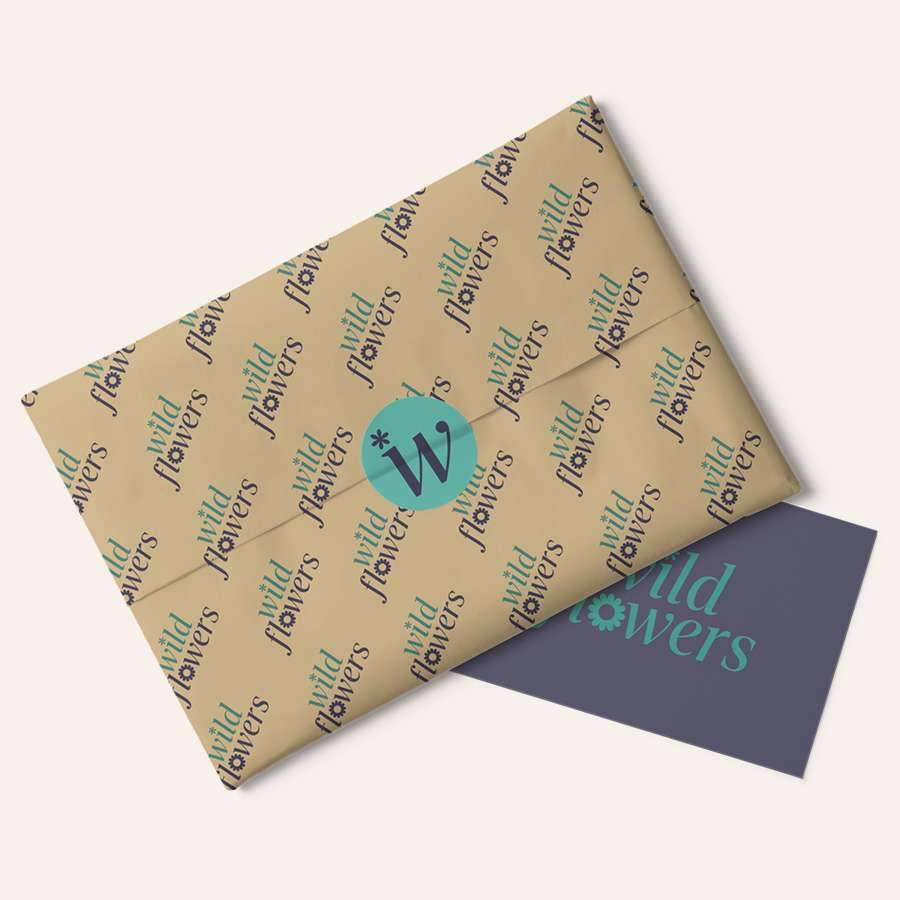 You can also customize your noissue Tissue on a Kraft tissue paper base that signals to customers how your brand is prioritizing sustainability in style. Or, if you want to boldly go above and beyond with your branding or artwork, then check out our Multi Colored Tissue Paper where you can print your design in vivid CMYK soy-based inks.

Additionally, all customers have the option of joining our Eco Packaging Alliance. By joining you can select an area of the world in need of reforestation to plant a tree, AND get a cool badge to show off your commitment on your website!

All of us should be doing our bit as businesses to help protect the planet. So, why not make one of those ways designing some fantastic and eco-friendly custom tissue paper?