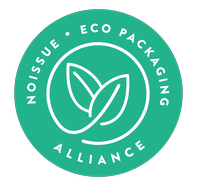 Life leads us to different paths and often a route we flourish in. Sometimes though, even with all the successes, we might not feel entirely complete. In times like this, we try to explore and discover more of ourselves and the real reason for our happiness.
For Graeme Corbett, the floral artist and creative visionary behind Bloom and Burn, taking a short course on floristry gave him the boost he needed and a chance to live life in full bloom.
Read on and get inspired as Graeme takes you on his journey with Bloom and Burn.
In Graeme's own words:
"My name is Graeme Corbett, I run a floristry studio from my home in North London. I have converted my garage into a workshop where I design from and I do all of my admin tasks on my laptop around the kitchen table."
"I worked in TV production for 12 years, casting reality shows like Big Brother and The Voice, and I loved it but was always searching for something more creative. As a freelancer I would work on projects for 6 or 8 months at a time then have a break until the next job started. In these breaks I tried my hand at a few different business ideas from selling vintage furniture to setting up my own pickle company, neither of which I really enjoyed. I enrolled on a two week floristry course about 5 years ago and have been working with flowers ever since."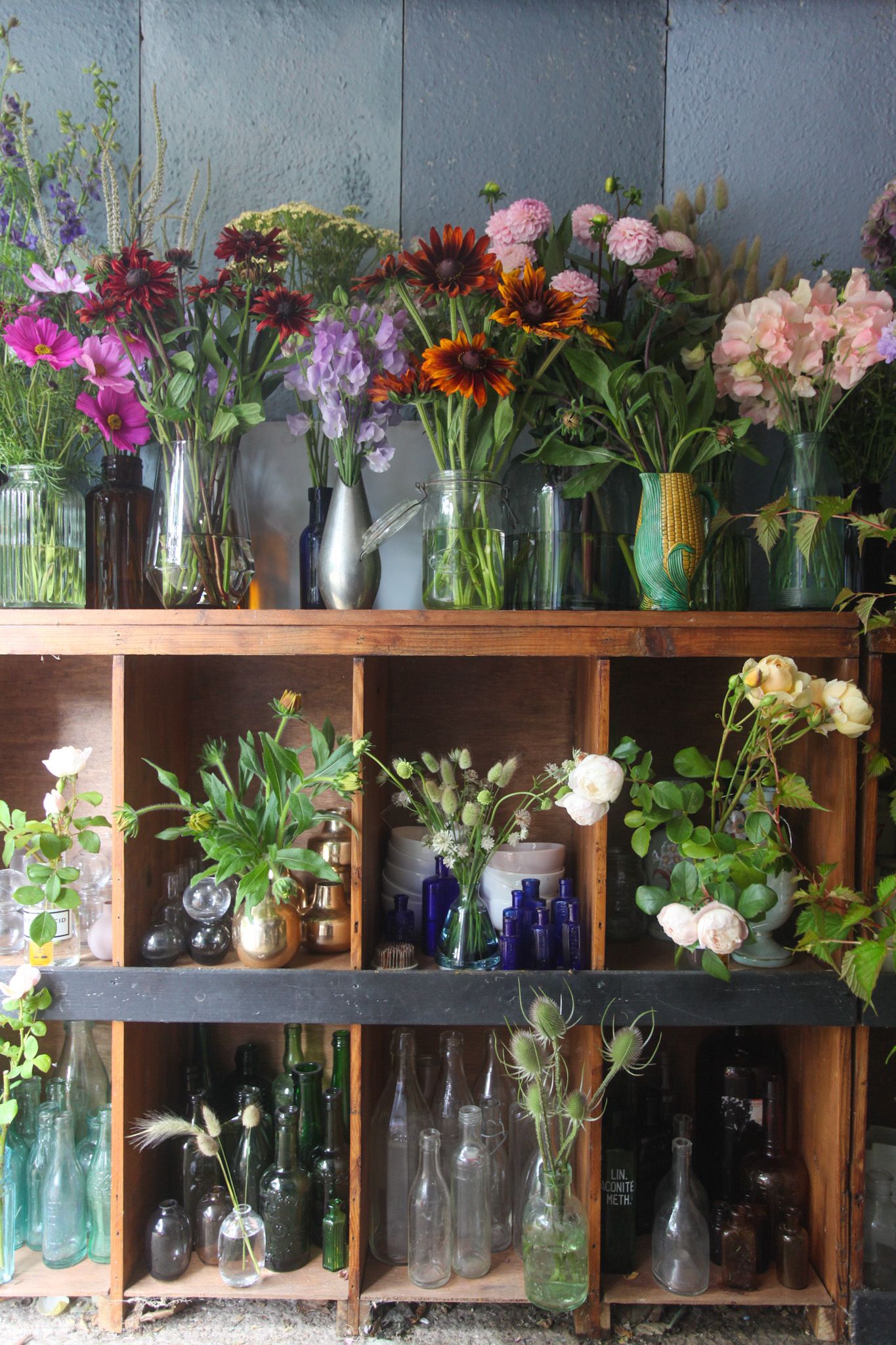 "I run the business on my own and although I have had lots of successes and great jobs I always felt there was a slight crafty, DIY element to it. I have been wanting to make the brand look and feel more professional for a long time but there always seemed to be a reason to put it off. As London started to go into lockdown and all my event and wedding work was getting postponed I realised that I was going to have to add a few products to my repertoire. I decided to start delivering dried flower kits by post and am also working on my own signature candle, both of which needed some kind of branding. With more time on my hands it was a great opportunity to finally tackle the branding. I worked with a friend of mine, Chris Clarke, a graphic designer and he brought the vision to life. I've only been using the new branding and packaging for a few weeks and I already feel more confident when I deliver bouquets to clients, it's just given it an edge that I didn't have before."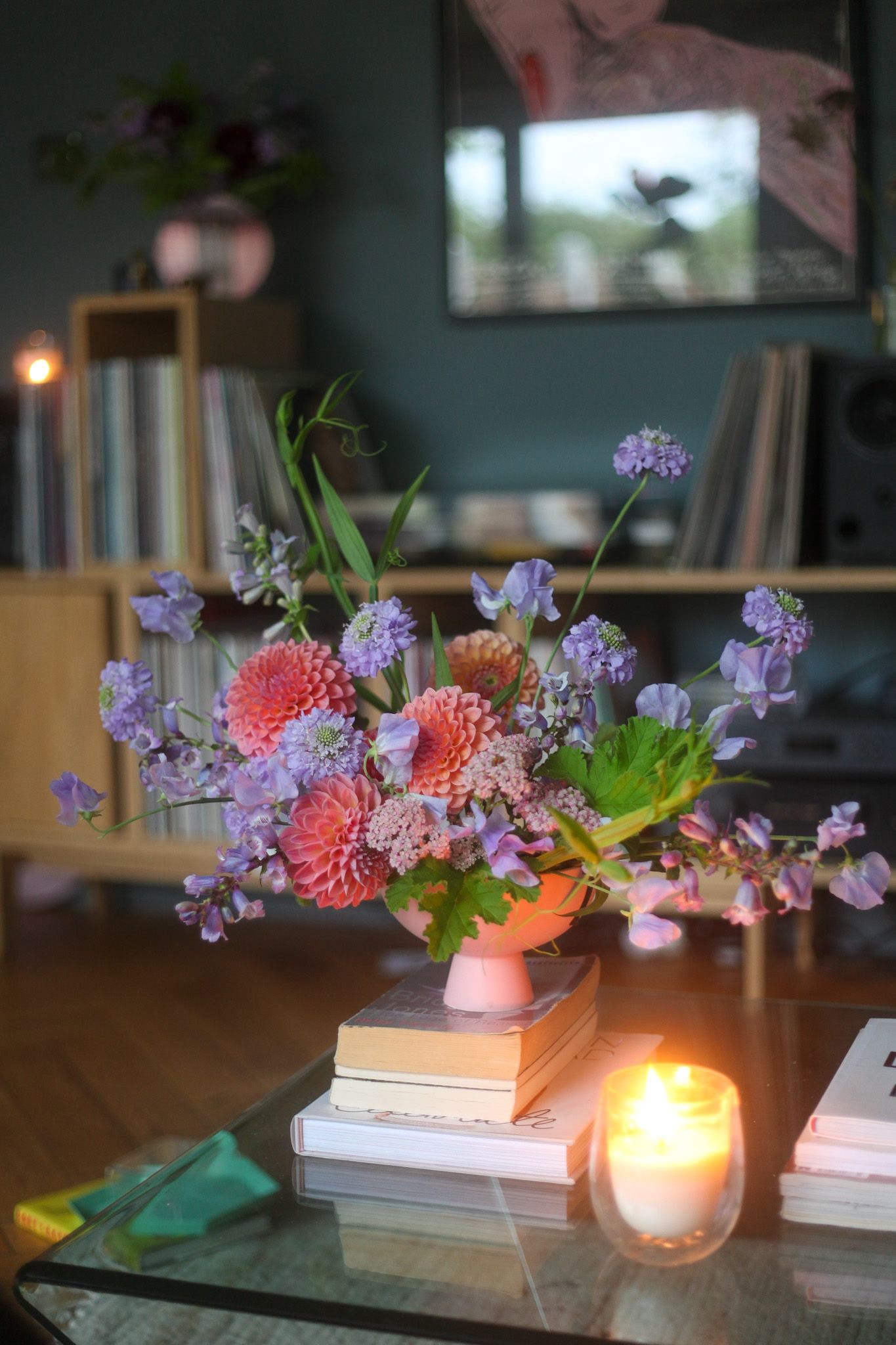 "Running a business on your own can be very lonely, so it's important to connect with other people in your industry. Florists are generally pretty friendly and Instagram has allowed me to build relationships with people that own similar businesses to mine and understand the day to day struggles. The pain of the 3am alarm clock for the market run, the boredom of cleaning buckets and the joy of discovering a flower for the first time!"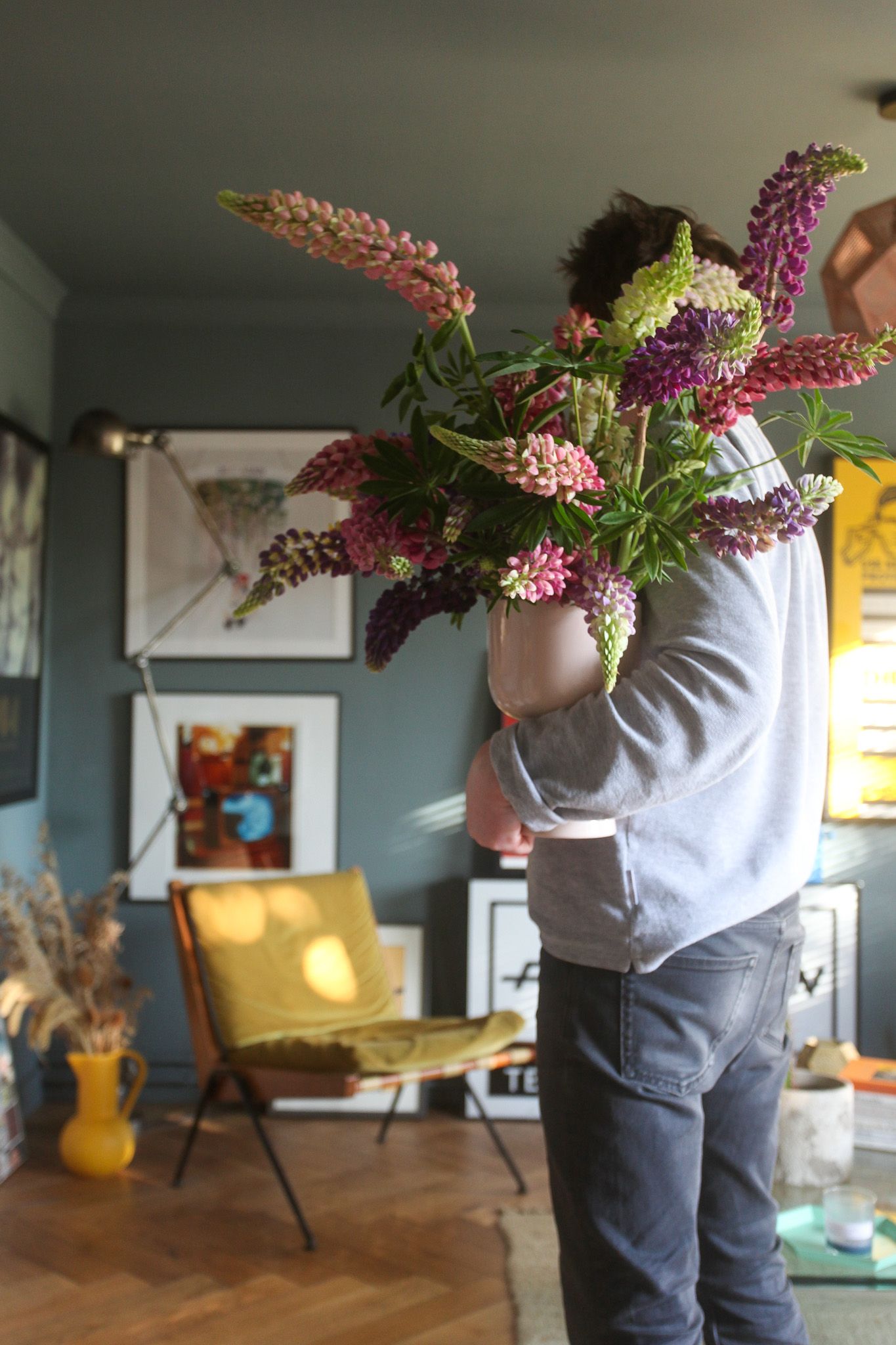 "Floristry is like most creative businesses, you will spend more time doing admin than you will doing any actual hands on design work. I didn't really realise that when I started. Like most people coming into the industry I had a romantic vision of spending my days surrounded by beautiful flowers and weaving them into floral fantasies. There is that element, but in order to get to that bit you need lots of other things in place - a website, social media presence, an accounting system, and a business plan also come in handy!"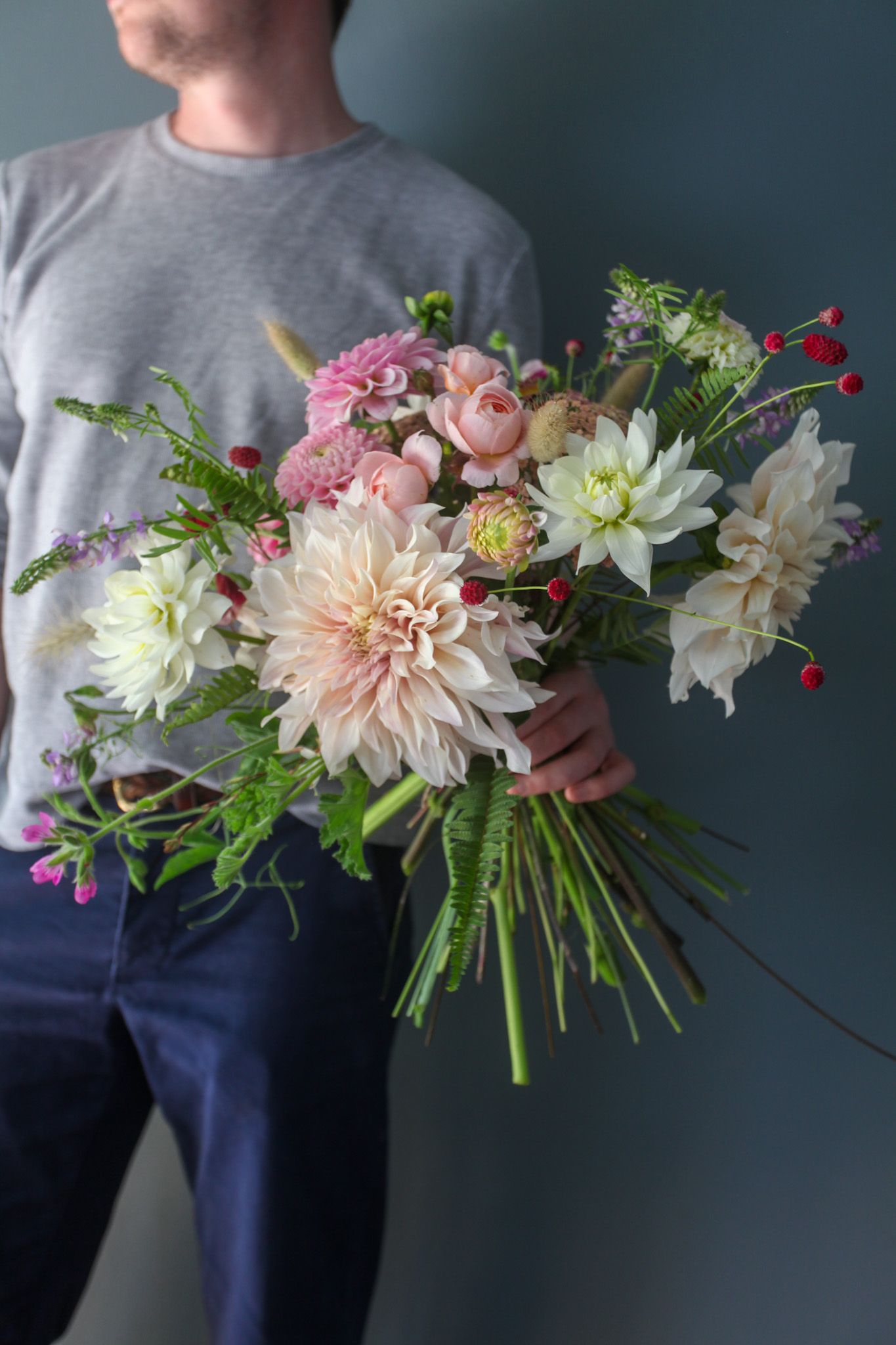 "Flowers have given me the creative outlet that I've always been looking for. The brilliant thing about working with flowers is that some of the hard work is already done for you - they are already beautiful so you just have to arrange them in a way that shows them at their very best. I also love the variety of jobs that I have been able to do while working with flowers, from weddings, to album covers as well as teaching workshops to other florists from all over the country."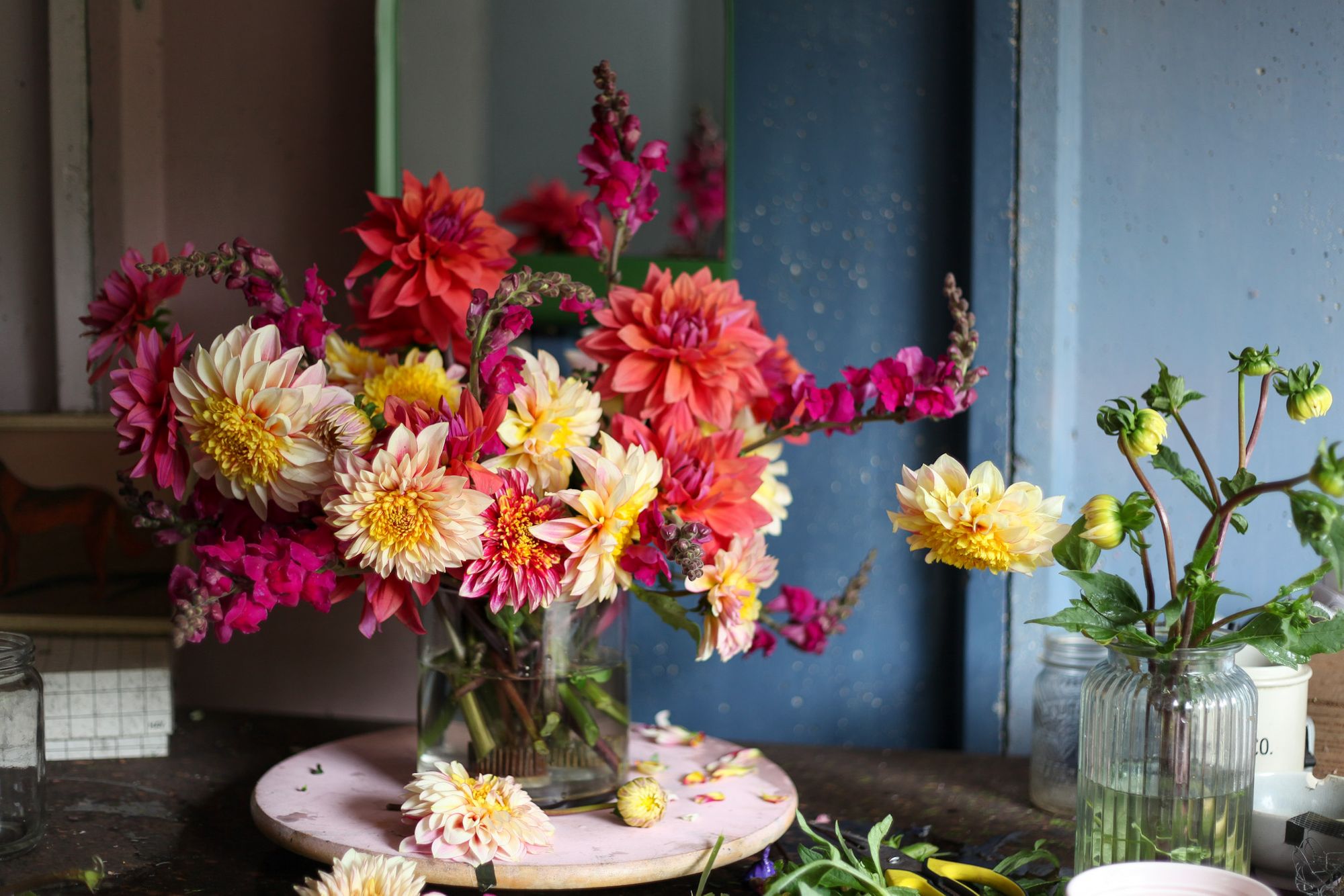 "Sustainability is a huge talking point in our industry at the moment. There is a lot of pressure on florists to become more eco-friendly in all parts of their work. From buying flowers from local growers rather than imported blooms and avoiding the highly toxic green floral foam when arranging flowers. It took me a long time to get my head around designing larger scale pieces without floral foam, most of the flower schools and career courses still use it in their classes. So it took me a few years of experimenting with different techniques to feel confident not using it. I think for me it's been about taking small steps to become more sustainable rather than trying to do everything all at once."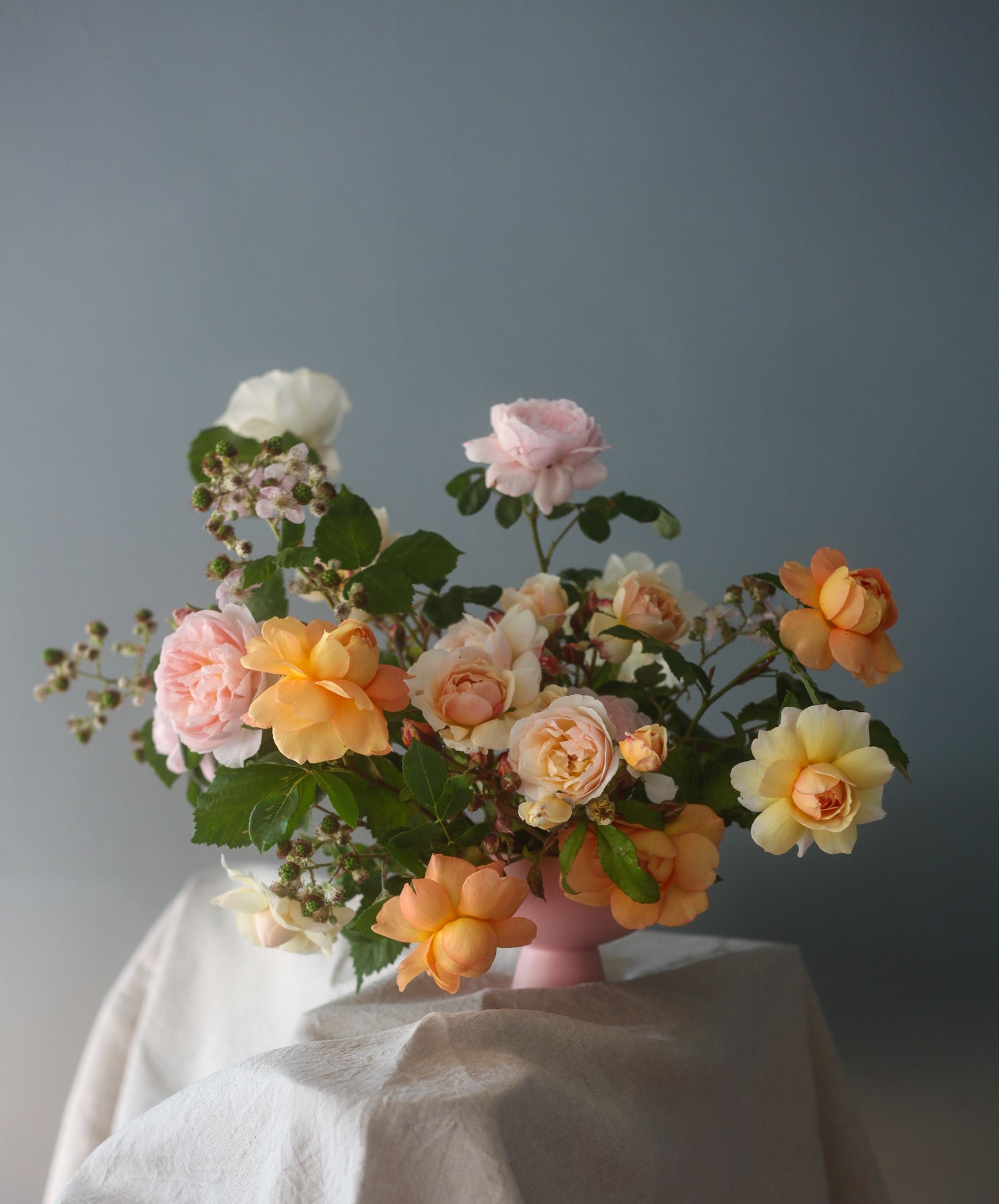 "There is a lot of plastic in the floristry industry so I have made a real effort to remove it from my business. I deliver my bouquets arranged in recycled jam jars instead of those water filled plastic bombs that you often see on delivery bouquets. I also offer bespoke designs arranged in vases that clients can reuse when the flowers have gone. When looking for new packaging it was really important to me to find a company that was environmentally conscious, without compromising on design."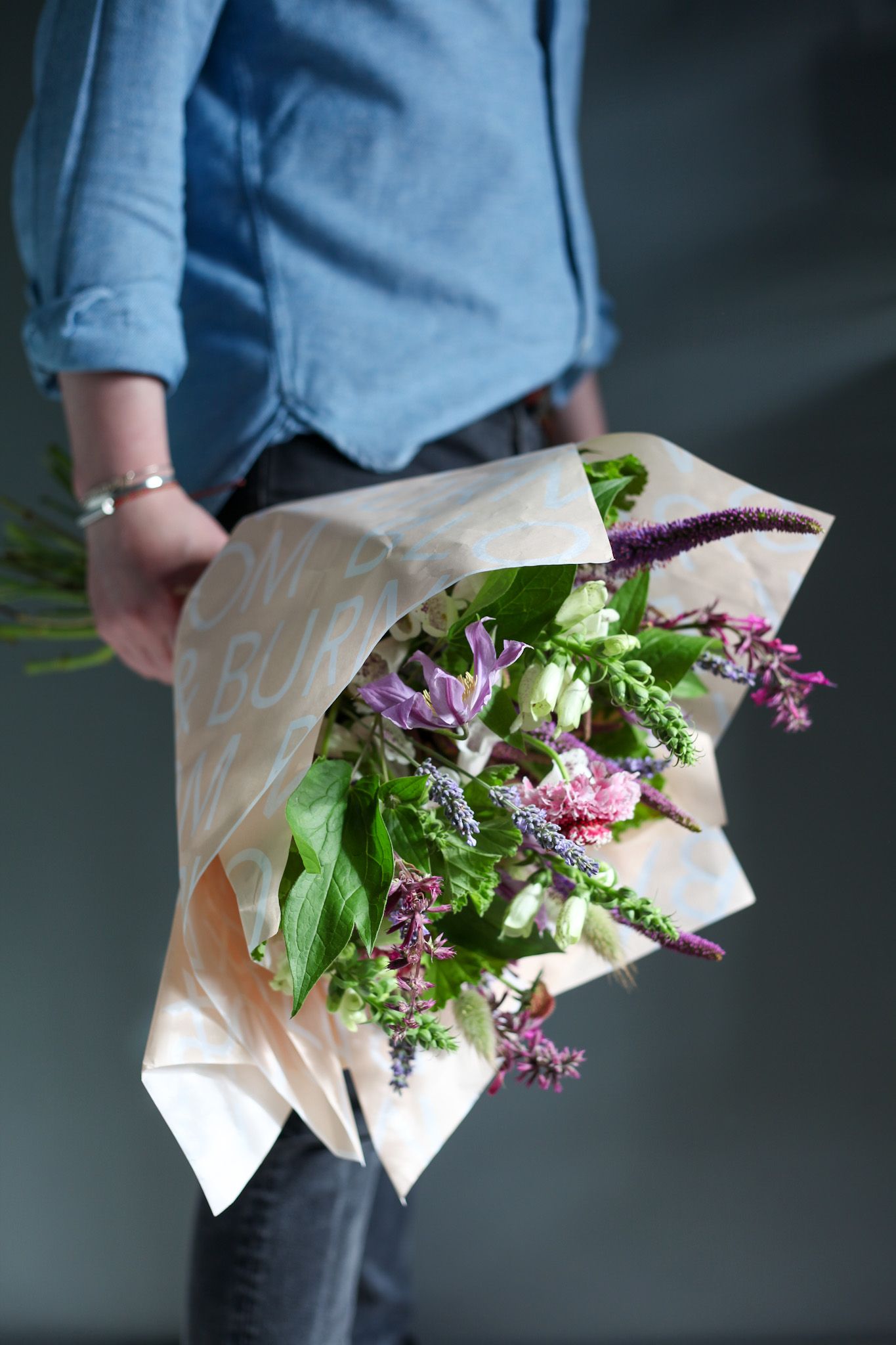 "My business and my lifestyle is about to go through a huge change. My partner and I have sold our house in London and are moving to a new home in the middle of the Suffolk countryside. I will be moving away from wedding flowers and focusing the business on teaching workshops, using flowers I've grown in the garden as well as sourcing from local flower farms. With this in mind I started to work with my graphic designer to create a brand identity that could change with the business. The colours of the tissue paper design can change with the seasons and we have produced a number of logos that all work to create a brand identity that is recognisable but add a little bit of variety for repeat customers."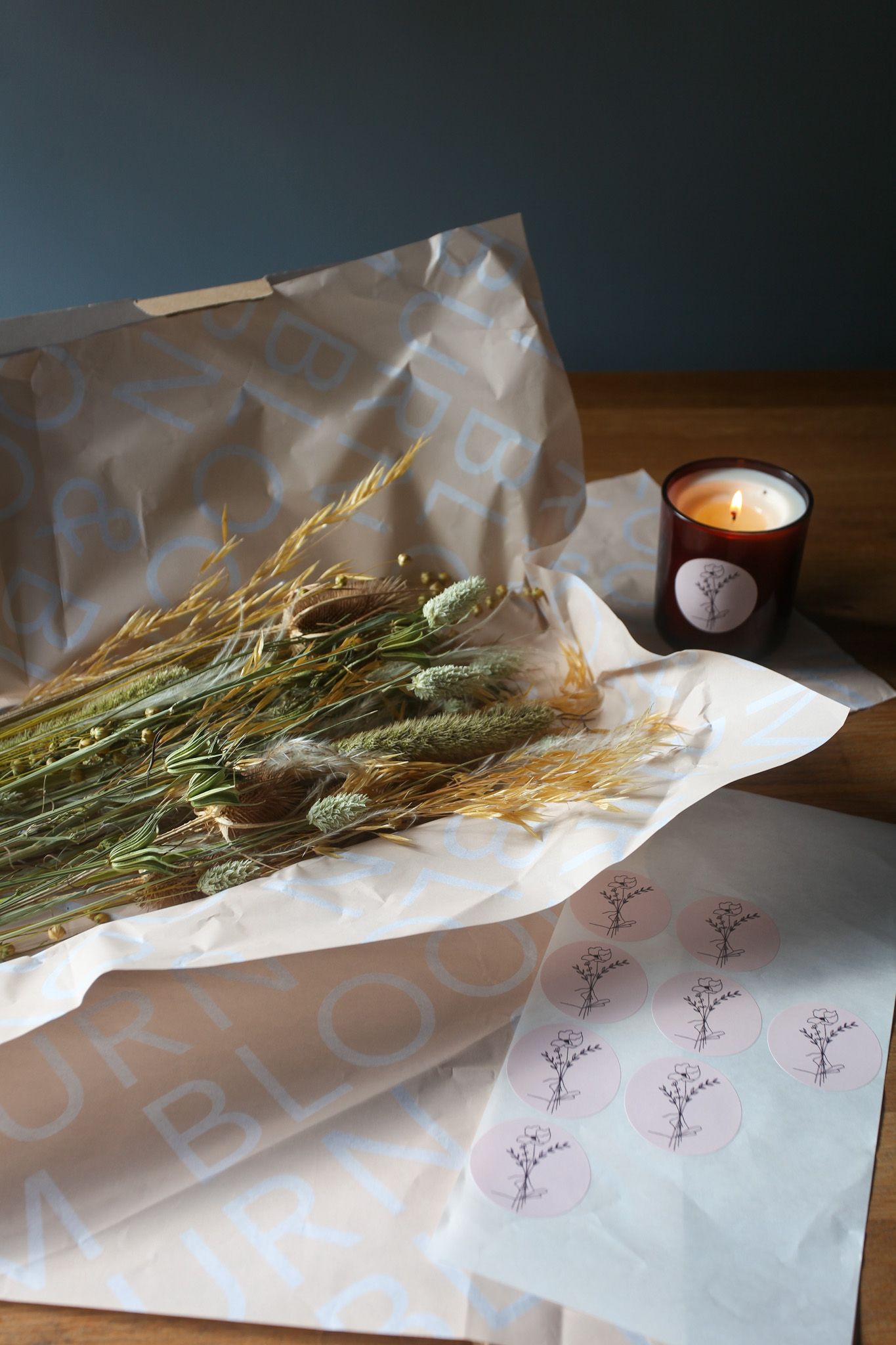 "I had been looking at noissue products for a long time before placing an order,  the second I saw the branded tissue paper  it became this thing that I was a little obsessed with. As I'd always created my own branding and was never one hundred percent happy with it, I knew I had to wait until I had a brand identity I was really proud of before ordering. Luckily now i have a brilliant graphic designer who set up the whole order for me so it was super simple to get going."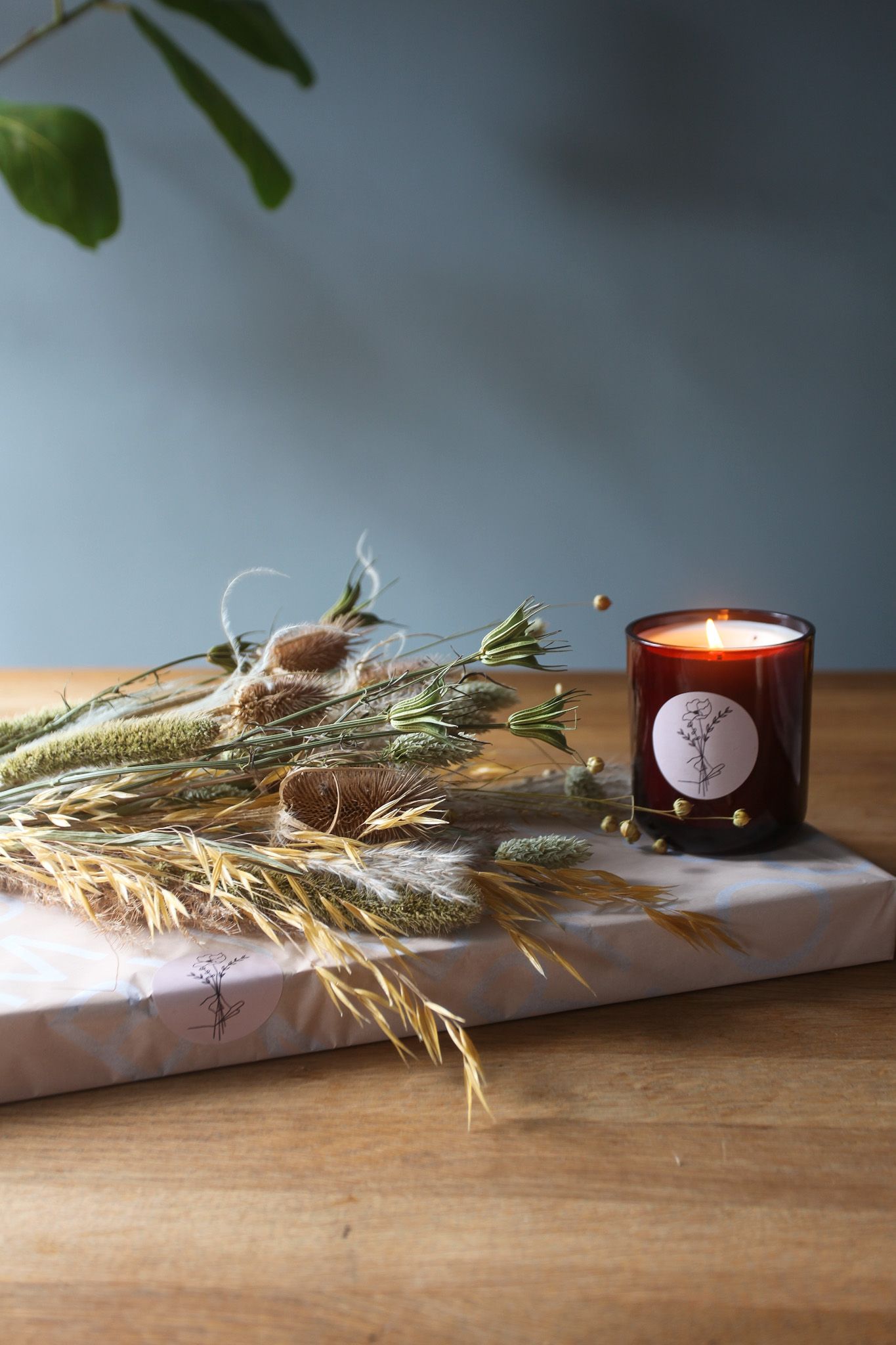 "With our move to the country, the focus of the business will shift to teaching workshops, to other florists as well as total beginners. I want it to feel like a really special experience - on arrival they will be greeted with a studio full of flowers for them to create with, we take a break to have a home cooked lunch together, then back to the flowers for the afternoon. I want the experience to last after the workshop is over so they will leave with one of my handmade candles, finished with the branded stickers, and a tote bag filled with their creations from the day, all beautifully wrapped in the branded tissue paper."
Bloom and Burn fun fact:
"If I could find out one thing about my brand's future using a crystal ball, it would be that it will continue to be successful after we relocate. As a Londoner you can't help but feel like you live in the centre of the universe and nothing happens outside the M25! Before lockdown we had no plans to move, but those weeks of being at home showed that we didn't miss all the things that you feel tie you to the city, the bars, restaurants, theatres and art galleries. The closer we get to the move the more excited I get about the potential for the business to grow, having more space to work in and dreams of hosting weekend retreats that cumulate in a feast on the last day. Simple food, a glass of wine and a table overflowing with arrangements created by the attendees."
---
Find more of Bloom and Burn here:
Website: www.bloomandburnflowers.com
Instagram: instagram.com/bloomandburn