The holidays are the perfect time to gather around the Christmas tree and enjoy each other's company. However, it hasn't been the easiest to do over the past year, with all the lockdowns that occurred and seeing multiple occasions put on hold. Now that the holly, jolly season has arrived, it's become all the more necessary to appreciate and celebrate every moment! Credo Beauty recognized the importance of celebrating this time of year and creating an enjoyable experience for customers to remember what the holidays are all about. And with the help of noissue's custom printed Tissue Paper, every customer that steps into Credo's stores can easily get into the seasonal spirit while bettering their beauty routine with cleaner choices!
Credo Beauty's mission is steeped in sustainability and holds the beauty products we use to high standards, which the brand exemplifies through its efforts in changing the beauty industry for the better. The brand saw the opportunity for improvement in an industry that is one of the least regulated consumer categories – and is rife with materials and chemicals that are either unsustainable, harmful to the skin, or both. That's why they've created their own Credo Clean Standard, which sees the largest assortment of the best beauty brands sold by Credo Beauty to meet requirements that ensure products are safer, more sustainable, ethical, and transparent!
Credo Beauty is not only aiming to redefine what business-as-usual means to the beauty industry, but they're also going for gold in creating an environment where customers feel extra special and empowered this holiday season. Since the start of COVID-19, plenty of people haven't been able to enjoy holidays or special occasions as much as before. Staying safe, however, doesn't have to mean missing out on the fun and festivities – and as things start to improve throughout the United States, Credo Beauty is on a roll with leveling up the IRL shopping experience!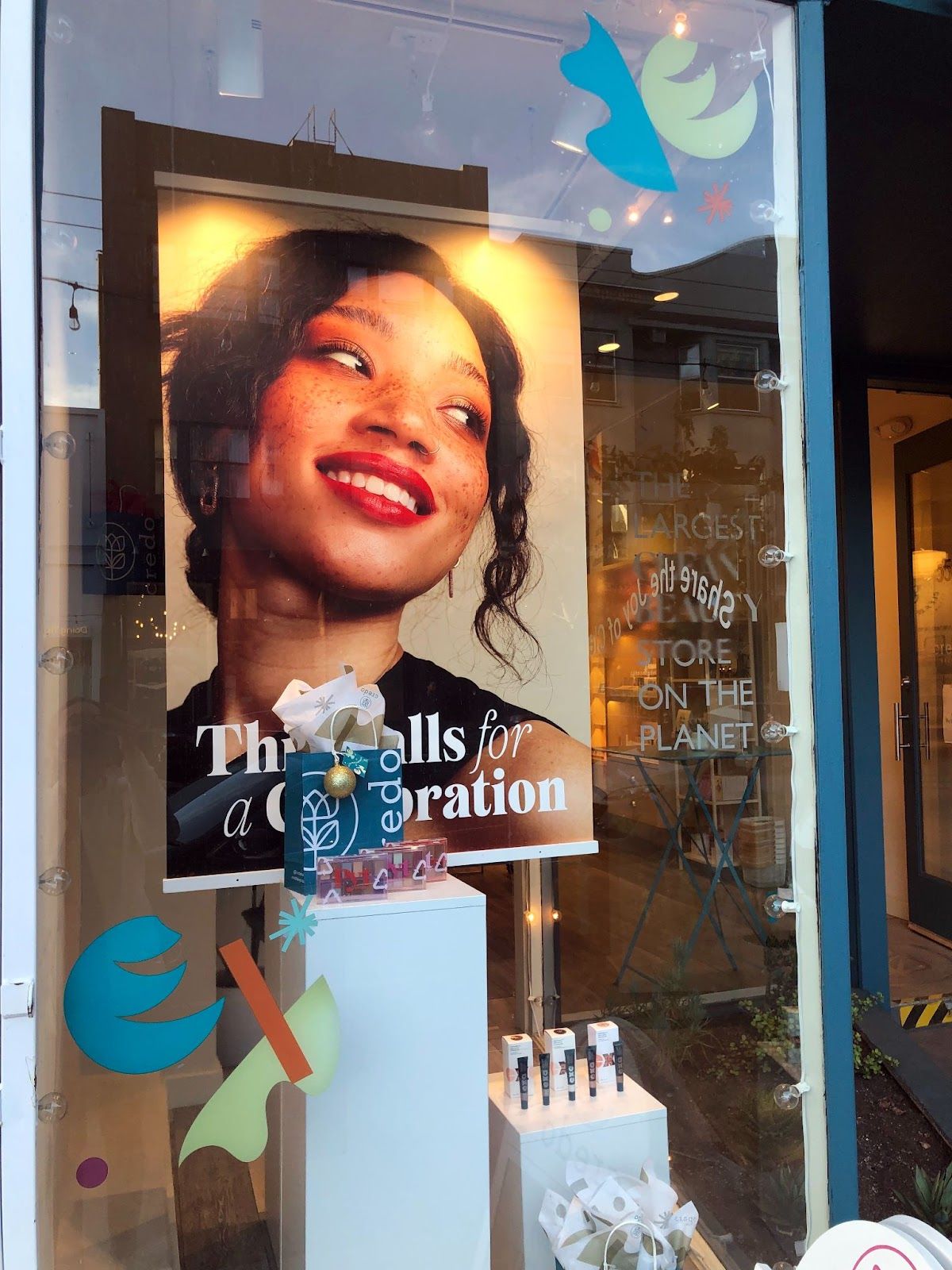 "This season is all about celebrating the holidays with our customers in a way we haven't been able to in the last couple of years due to the pandemic," says  Karlee Yong, Marketing Project Coordinator at Credo Beauty. "We're thrilled to see our customers IRL again and wanted to bring a touch of sparkle and fun to elevate all stages of the store experience."
To uplevel the in-person shopping experience, the brand went all-out by turning their stores into a holiday headquarters. They also turned to noissue's custom Tissue for a one-of-a-kind, bulk holiday tissue paper design for customers to experience a fully festive treatment, from browsing through the windows and up to check out! "From the festive outdoor signage and window posters as a friendly greeting, to the in-store designs to get everyone excited to treat their loved ones (and themselves) with products from our assortment of 130+ clean beauty brands, to the beautiful noissue Tissue offered at checkout to top their experience off with a little gold and sustainable flair; we make sure our Credo customers are celebrated every step they take in our stores," says Yong.
Credo Beauty's noissue Tissue features the brand's signature logo and sports organic shapes with a bit of metallic magic – just enough to turn heads and add a pleasant surprise to customers' unboxings! And since noissue Tissue is printed on Forest Steward Council (FSC) certified paper with soy-based inks, it can be curbside recycled, composted, and even reused to wrap more presents. noissue's Tissue is Acid, sulphur, and lignin-free, so customers can gift responsibly and consciously to people and back to the planet!
"In the spirit of sustainability, the Tissue not only served the purpose of adding to our customer's shopping bags to be repurposed for their gift wrapping needs, but also for decor to liven up our stores in a sparkly, yet tasteful way." Yong continues that this year, Credo Beauty launched a campaign encouraging customers to choose clean beauty gifts throughout their holiday shopping while going above and beyond to create a memorable experience in stores and online.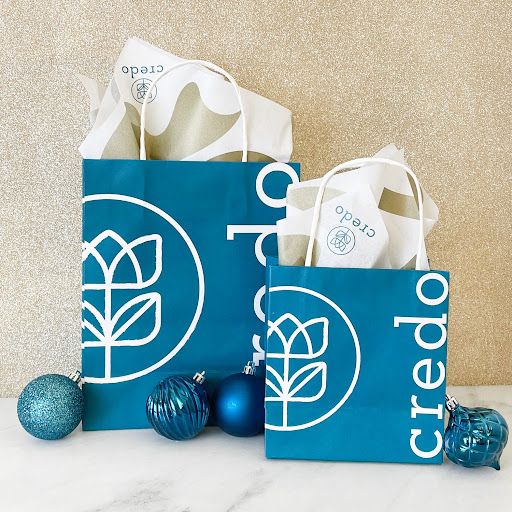 Yong shares, "As captured in the campaign tagline, 'This Calls for a Celebration,' this year's holiday campaign is all about celebrating you, us, them, and everyone. Our goal was to be a warm and cozy ultimate destination for intentional gifting for everyone, because what's a celebration without presents and a bit of dressing up, right? We always want everyone to feel welcome and at home when they come to our store (IRL or online) and this meant that our holiday look had to be as universal as our customers."
"At our campaign brainstorming, many of us shared what we loved about our holidays, what makes us feel like a celebration," Yong explains about the brand's noissue Tissue design. "The warmth, the joy, the togetherness, the laughter, the sparkles, the glitters, champagne gold, and rich jewel tones… The design took all these things as inspiration and interpreted them in an abstract fashion."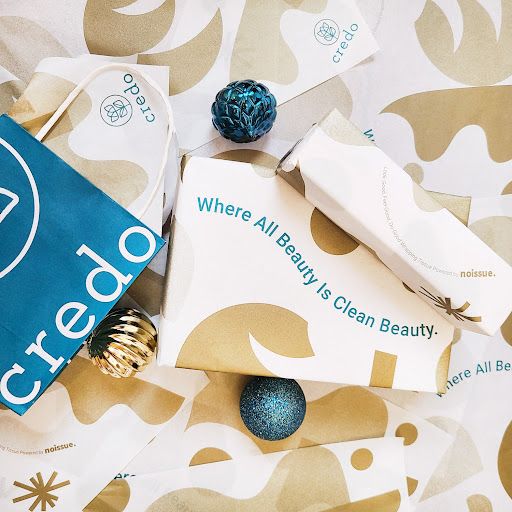 Though the holidays bring lots of jolliness and joy, they can also result in massive amounts of waste from unsustainable packaging. Yong shares some insight on Credo Beauty's initiatives to combat this to create a more sustainable gifting experience, without losing the special feeling incited by opening presents with seasonal packaging designs. "In June 2020, we introduced our Sustainable Packaging Guidelines to further our commitment to our planet. This meant our brand partners are required to meet specific standards meant to reduce the use of single-use items, virgin plastic, and non-recyclable materials."

"For this holiday season, it only made sense to offer our gift wrapping options that followed the same standards. By offering beautifully designed tissue paper and "To:...From:.." gift tags, that not only looked good but did good, we wanted to show that sustainable gifting was very much possible. Speaking of looking good, we were absolutely thrilled to find out that noissue had the ability to print with metallic gold that was still sustainable!"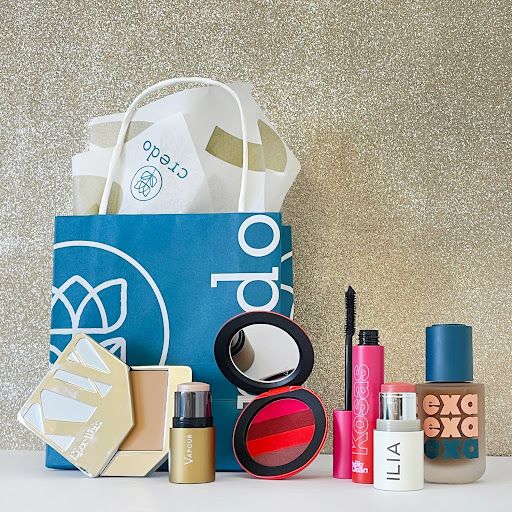 Everyone starts somewhere in their sustainability journey, and for Credo Beauty, clean is more than hype or a hashtag. It's their mission! Acknowledging that the first step toward a better beauty industry can't be done alone, the brand shares some insight for beauty brands and retailers to take steps to become more conscious and circular.
"The industry as a whole has a LONG way to go. But there is no better time to start, and we all have to start somewhere. Only 9% of the plastic that has ever been created has been recycled, and almost nothing designed for single-use is recyclable, whether it is a wipe, a sample sachet, or a little plastic spatula. As a society, we need to stop making/buying stuff we only use once, but stays on the planet for thousands of years. Credo is rolling up our sleeves, and we hope others in the beauty industry will join us-- it is going to take all of us to reduce impact in a meaningful way."
As the most innovative beauty company of 2021, Credo Beauty shows us and the industry that compromises don't have to be made to be more sustainable, thoughtful, and good to both people and the earth. And, as the holidays arrive right outside our doorsteps, we couldn't be more ready to celebrate this time of year, our loved ones, and better, cleaner beauty!
---
Happy holidays from Credo Beauty and noissue! Check out Credo Beauty's custom noissue Tissue paper specially designed for the holiday season this year, and pick up a few clean beauty presents for yourself and your loved ones! Learn more about the brand and shop online or in-stores at credobeauty.com, and follow them on Instagram for the latest clean beauty updates, product releases, and more.
For your brand's bulk holiday tissue paper packaging and other branded packaging needs, look no further than noissue's custom and stock products! From branded Boxes, Totes, and Hang Tags to filling your packages with custom printed Tissue Paper, we've got you covered on the right retail packaging products for your brand that are also sustainable by design. Shop custom and circular packaging materials and refresh your brand's packaging for the new year on our easy-to-use design platform, with templates that you can upload your logo to or customize with your own artwork!