Custom noissue Eco-Friendly Tissue Paper, Compostable Sticker, and Compostable Mailer by @spoonflower
Earth Day is April 22, and for many brands, it's an opportunity to pay homage to our planet and reflect on its environmental impact. To Spoonflower, this is more than just a concept tied to a single day. Honoring the Earth is a non-stop process that includes becoming more sustainable across all aspects of their brand. And Spoonflower doesn't disappoint in delivering a best-in-class customer experience through their products and packaging!
At Spoonflower, customers can create, print, and sell their own fabric, wallpaper, and home decor. Makers and consumers can connect in this global marketplace full of neverending creativity. To match the goal of providing ceaselessly creative options on demand to their customers, the company operates with eco-friendliness as a constant priority and zero to low-waste processes as a standard. Spoonflower uses sustainable materials, inks, and dyes to print customer designs and produce as little byproduct as possible.
Transparency with customers is a value that Spoonflower holds every aspect of their business to, so customers can fully enjoy their Spoonflower fabric wallpaper, pillows, bedding, and more without worrying about the potential impact on the planet. It's in Spoonflower's nature to be conscious of its community and the environment, and no detail – even down to their packaging – is left to be dumped as waste.
Custom alternative packaging is more than complementary to Spoonflower's mission as a brand, and packaging made from eco-friendly materials is a core pillar in how the brand champions circularity to their customer community! The brand is unafraid to show their packaging process from their factory directly to customers and confidently chooses noissue's sustainable packaging solutions for exciting and eco-forward unboxing experiences. And in April, Spoonflower went beyond the extra mile in bringing awareness to sustainability. They helped better the health of the earth with a special week full of eco-friendly fun leading up to Earth Day 2022!
To celebrate Earth Day this year, the Spoonflower team volunteered with a local community agriculture non-profit organization, Raleigh City Farm. The brand also partnered with EarthShare NC and Durham Bike Coop to help disassemble bicycles, working to keep over 700 pounds of metal parts out of landfills during the week of Earth Day.
But how Spoonflower honored the Earth for the special day doesn't stop there – the brand turned their website into a sustainability education hub to share the green goodness!
Spoonflower's website customers are greeted with a new look on their Sustainability page, which details social responsibility initiatives that the brand currently actions and planet-positive tips and tutorials around proper packaging disposal. From recycling and reusing marketplace fabrics to cutting its carbon footprint by localizing factories, Spoonflower spared no energy in sharing its entire sustainability model with customers.
And the cherry on top? The brand included instructions on how customers can compost their planet-positive noissue Packaging at home! The noissue Tissue Paper, Compostable Mailers, and Thank You Cards from every Spoonflower order are 100% compostable, so nothing is left behind to harm the planet's health. Spoonflower keeps on walking the greenest walk through compostable and recyclable packaging materials.
Peek at how Spoonflower's Custom Tissue Wrapping Paper features a beautiful design representing their community of creatives and makers, created by Spoonflower artists and customers themselves! The brand is always keen to show love to its biggest support system, and three different designs do so through sweet illustrations and colorful patterns. Spoonflower's compostable tissue paper packaging pairs perfectly with a Custom Card and Sticker made from recycled paper, bringing out the very best of its products during the unboxing experience while staying true to its mission statement.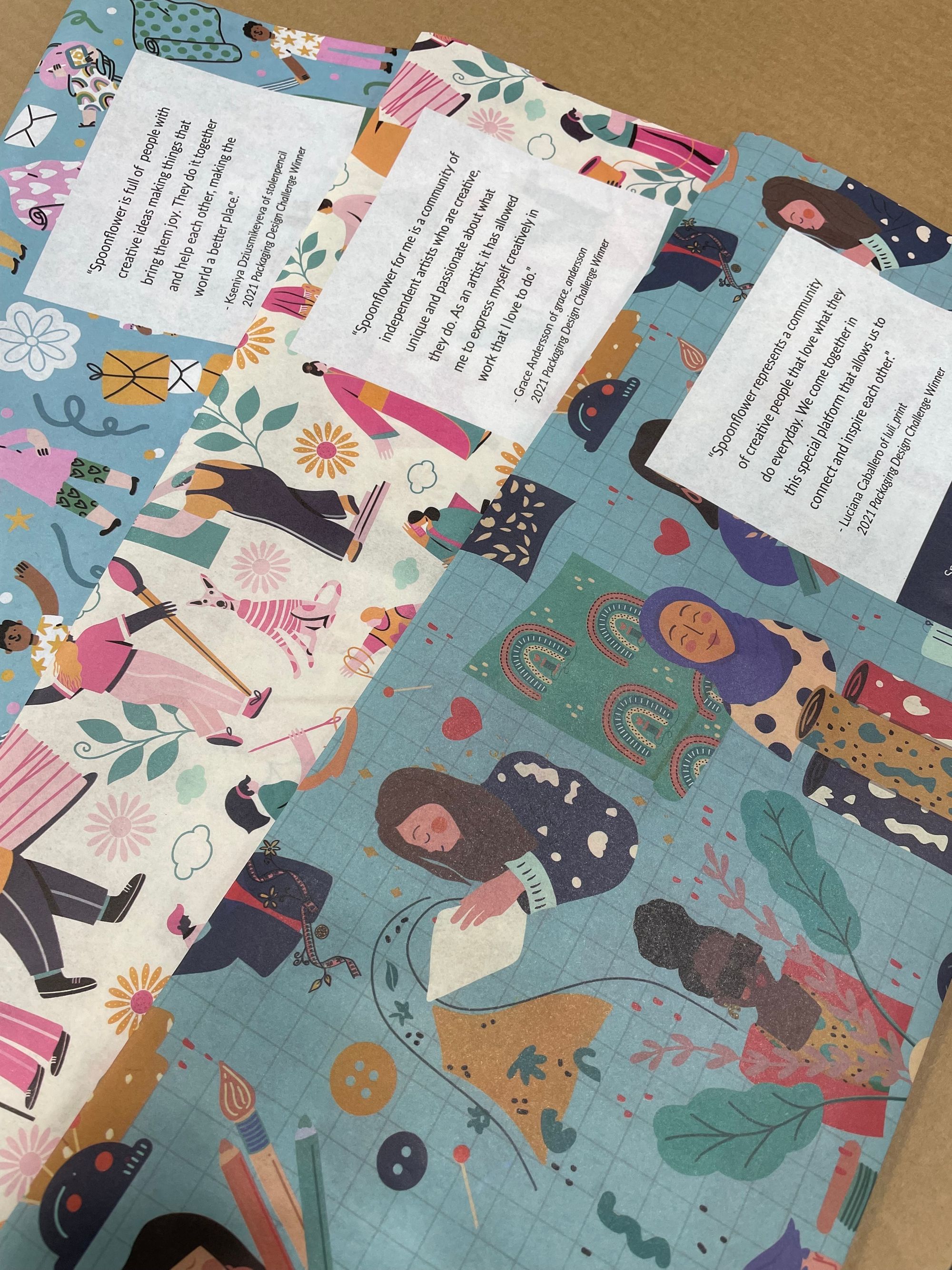 The planet-friendly praise doesn't end there – Spoonflower is part of noissue's Eco-Alliance, to boot! Even after Earth Day, the brand gives back to the environment every time they purchase with noissue. Spoonflower's Custom Compostable Mailers sport a chic floral motif inspired by the brand's vision of thriving in harmony with the planet. Spot the Eco-Alliance badge proudly displayed right at the forefront!
Being an earth-forward brand doesn't happen overnight, and dedication to sticking to sustainable initiatives is an essential part of Spoonflower's brand DNA. And others can follow suit, starting now! What better way to celebrate Earth Day every day of the year than to transform your brand with alternative actions and sustainable solutions? Taking the first step with your brand's sustainability journey will go a long way in reaching your customers and leaving a lasting statement!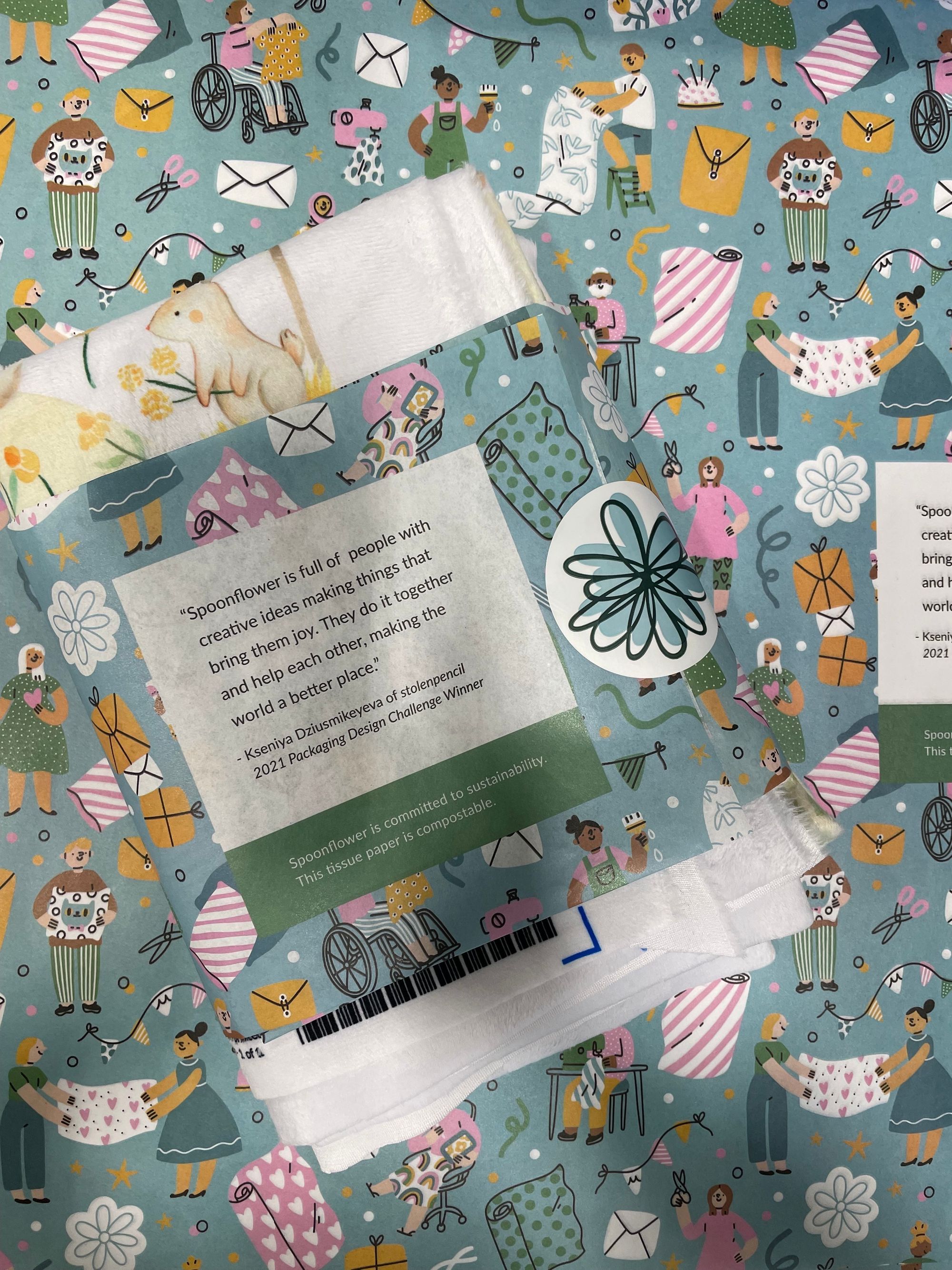 Eco-friendly branded packaging is a swift solution to lessening your business's environmental impact and building your brand. Join Spoonflower and other amazing brands in turning to custom packaging made from better materials! Don't skip out on style or showing off your branding on sustainably designed, quality packaging products. If you're a budding business interested in premium packaging at wholesale quantities, head over to noissue Plus! Receive a dedicated Account Manager to help you create your brand's dream custom, conscious packaging.