It's no secret that fast fashion is causing serious problems for our environment. According to The University of Queensland, we are now consuming 80 billion pieces of new clothing each year globally - an increase of 400% compared with 20 years ago. But what ultimately happens to all of these garments?

The answer is not a good one. Apparel and textile waste is on the rise. When the average fast fashion garment is only capable of withstanding a few wears, around 85% of the textiles we buy end up in the landfill.

Fortunately, increasing consumer awareness means that we are seeing rapid growth in sustainable fashion systems. Whether it's popular reCommerce sites such as Poshmark, or fashion rental services like Rent the Runway, the term 'circular fashion' definitely has a new lease of life.

Another participant of the circular fashion movement is Rosie Drake-Amery, founder of the women's ethical fashion brand Roake Studio. In this case study, Rosie tells us about her commitment to circular design and helping consumers transition to a circular economy.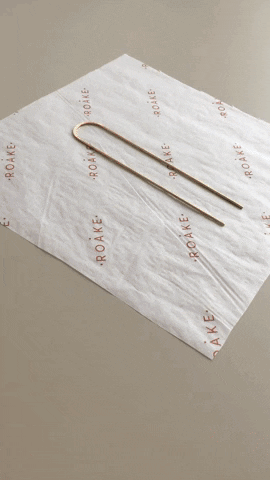 (In Rosie's own words):

"I'm Rosie, the founder of Roake Studio. I live by the sea in Devon, UK, where I run the studio. We design womenswear for fellow advocates of modern craft, whose loyalties lie within quality workmanship and traceability."

"Our womenswear pieces are minimal and clean: Designed to be worn and loved, from day through to the evening. We truly believe that fashion and textiles are forever, that the clothes we wear should be designed for versatility, and manufactured ethically and sustainably to support longevity."

There is a greater interest in ethical and circular fashion than ever before - but this also puts immense responsibility on brands to help educate consumers.

A whopping 96% of consumers believe that donating and buying ethical clothing makes a big difference to a sustainable and circular fashion economy. However, 88% want more support from the brands to help them be more environmentally-friendly.

For Rosie, educating consumers on the impact of the fast fashion and textile industry has been one of the most challenging but rewarding parts of her business:

"One of the key challenges has been building an understanding of the importance of ethically-produced fashion and reduced consumption. It's a constant drive for us, to provide education and easily digestible information on this subject and although we're still pushing for awareness every day, we've seen a huge support build in the last few years, from our community of start-ups, but also from the consumer."

"Sustainability means considering every part of your design strategies and manufacturing process, and building in actions wherever possible to close the loop and eliminate waste. We are now producing products that are completely circular (circular design is the creation of a product that doesn't have a beginning, middle and end to its life cycle but is instead... You guessed it, circular!) and adopt policies in the studio to promote recycling, reusing and repurposing."

"We've been doubling in growth year on year, and that goes to show that people are becoming more aware and educated on the issues of fast fashion and the dangers that it creates for our planet."

"We have a plastic ban in the studio, and we design our products to produce as little waste when cutting out as possible. The little waste materials we produce are donated to a local scrap store to be utilised for creative learning. We also collect any surplus materials and create limited edition products for sale once a year. Our orders are shipped twice weekly to reduce our carbon footprint and parcels are taken to the local sorting office by bike and trailer. I could go on.... there are heaps more positive actions that we take at Roake every day!"

"We aim to showcase our sustainable outlook to our customers by providing as much information as possible. We list provenance information for every product we sell, and encourage our customers to reuse and subsequently compost their packaging. We're proud to be part of the solution, not the problem!"

Creating a closed-loop that eliminates waste doesn't just refer to production; it also means paying close attention to how products are packaged. When packaging materials cannot be recycled or reused, this linear system creates a huge amount of excess waste. According to the EPA, packaging makes up a third of all household trash.

However, being sustainable doesn't have to mean losing valuable branding opportunities as a business. In fact, sustainable packaging is a major asset. It's a tangible sign to customers that you practice what you preach!

For Roake Studio, noissue custom-branded tissue paper and stickers are more than a green strategy; it's also a way to add some style and flair to the unboxing experience:

"As our products all ship out in biodegradable packaging (which can be visually fairly bland), we wanted to add some colour and luxury to our orders. It's a simple way to add value to your product and create a great customer experience."

"We chose noissue for a number of reasons. The commitment to global reforestation, that their custom tissue paper is FSC Certified, and that the ink is soy-based/acid-free. The design process was so simple and professional, and it took literally minutes to create. Custom packaging has helped our brand by creating that customer experience on delivery - this, in turn, has encouraged our customers to share their orders online, therefore educating more people on the accessibility of ethical and circular fashion via Roake Studio."

"We went for a fairly simple design, with our branding as a repeat. We chose this for the reasons above - marketing and promotion. Next time we order, we'll be looking to create something more generic with a pattern, to encourage our customers to reuse before they recycle. There are endless possibilities with the designs, so I don't know how we will choose when the time comes!"