Alright, retailers, we have some good news for you: the holiday season is upon us, and things are looking up.

The National Retail Federation is forecasting holiday sales this year to increase by 3.5 to 4.4%, thanks to growing consumer confidence and spending.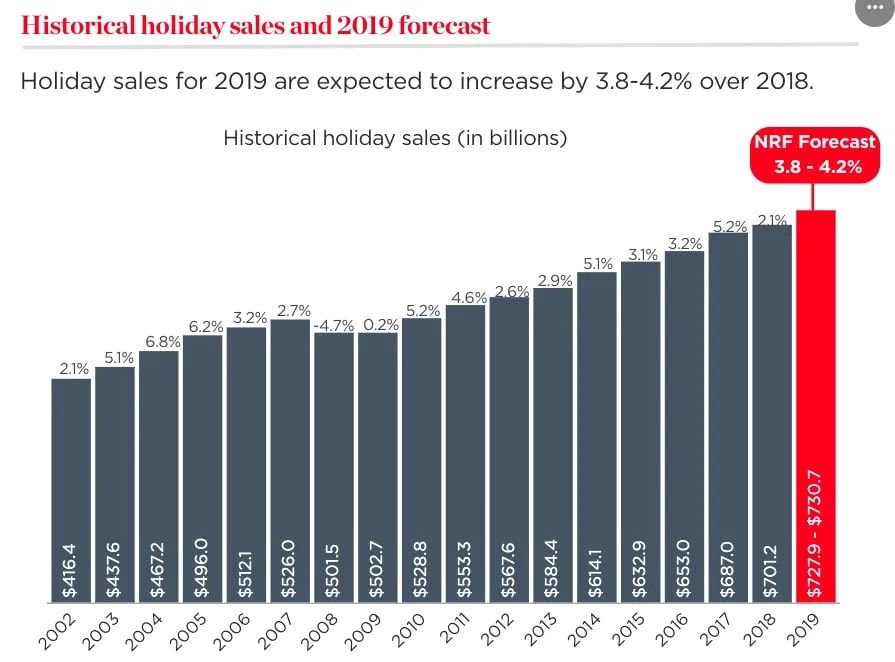 That's definitely a reason to smile, but it doesn't mean that you should rely on strong consumer spending alone to drive traffic and sales in the coming months.

Because while the holiday season is the biggest retail event of the year, it's also the most competitive. Retailers will be pulling out all the stops in the weeks ahead to attract shoppers, so you have to bring your A-game to entice people to pick your store over the competition.

How do you accomplish that?

Start by having a strong foot traffic strategy. Cook up ways to get shoppers to walk through your doors, and once you've reeled them in, wow them with top-notch products and services.

In this post, we'll explore the various ways that you can attract more customers into your retail store.

Have a look at the tips below and find ways to apply them to your holiday marketing strategy!

1. Boost your curb appeal

The phrase "curb appeal" refers to how attractive your storefront is when viewed from the street. Needless to say, the more appealing your store is from the outside, the more visitors you'll attract.

Use your window displays to grab attention.

The most obvious step to boosting your curb appeal is to create attention-grabbing window displays. And since it's the holiday season, you'll want your window to have a festive feel to it.

Check out this display at one of the GUESS stores in Spain.

The shop looks completely festive thanks to the red backdrop and big gold balls. The outfits on display also fit the season. The window does a good job of encouraging shoppers to check out GUESS products in-store.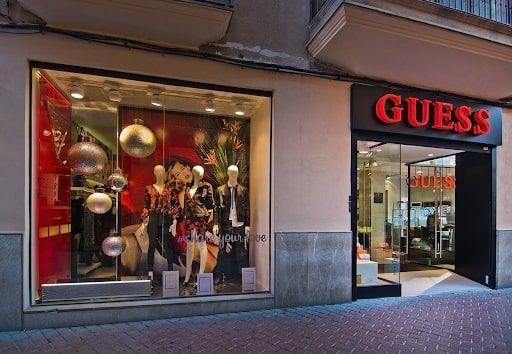 Stay on top of maintenance

Another way to keep your shop appealing is to maintain it well. Don't neglect daily upkeep tasks like wiping your windows, sprucing up your signage, and sweeping the pavement.

Go beyond your windows

While well-merchandised mannequins and window signage can certainly drive traffic, you can also boost your curb appeal by adding curbside "extras" like sandwich boards, outdoor seating, and bike racks.

These things make your shop stand out and look more inviting.

You can use sandwich boards to promote your seasonal offers or simply display a funny statement that puts a smile on people's faces.

Check out this example from Dress Up, a fashion retailer with locations across the US.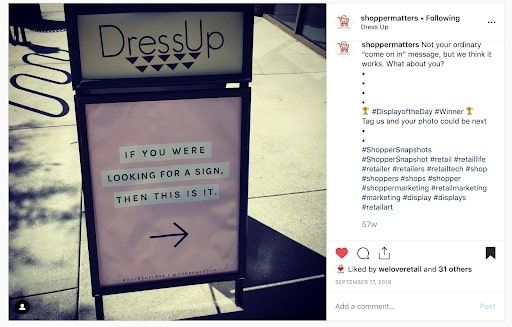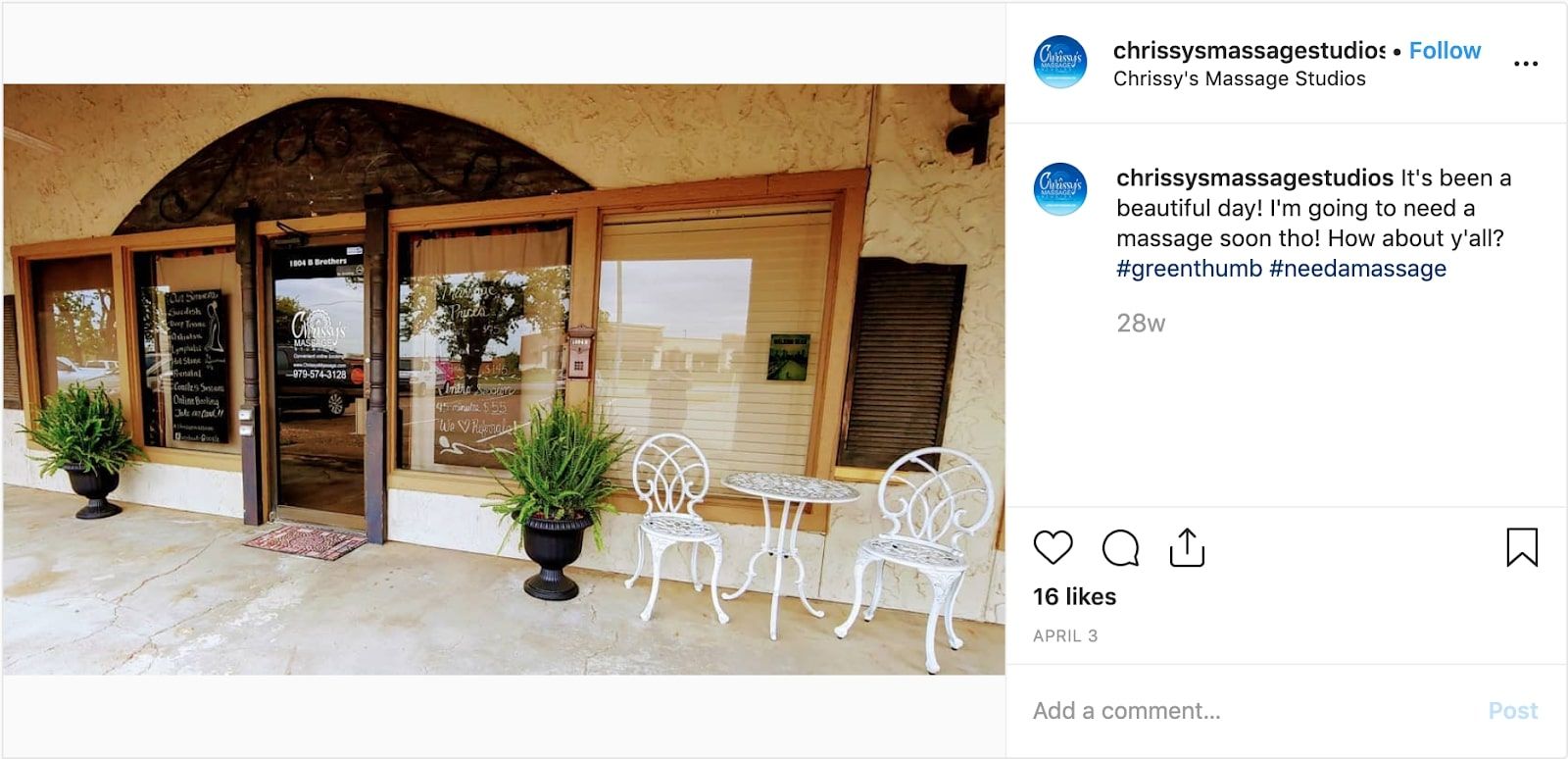 2. Create a strong Google My Business listing

Google can boost your offline traffic in a huge way.

The search giant has seen a 500% growth in "near me" queries in recent years, which means consumers are increasingly using online and mobile search to find businesses in their area.

What does this mean for you?

Simple: if people can't find your business on Google, you're missing out on tons of foot traffic opportunities. Fortunately, it's easy to establish a presence on Google.

If you're a local business, you can set up your Google My Business account and create a listing that would show up for relevant searches. Simply follow the setup and verification steps on google.com/business to get started.

That being said, simply creating a Google My Business account isn't enough. You want to make sure that your listing stands out by:

Including as many details about your business as possible (e.g., type of store, hours of operations, specialties, deals, etc.)
Adding lots of photos
Having numerous positive reviews

RETROSUPERFUTURE, an eyewear store in Los Angeles, serves as an excellent example of a GMB listing done right.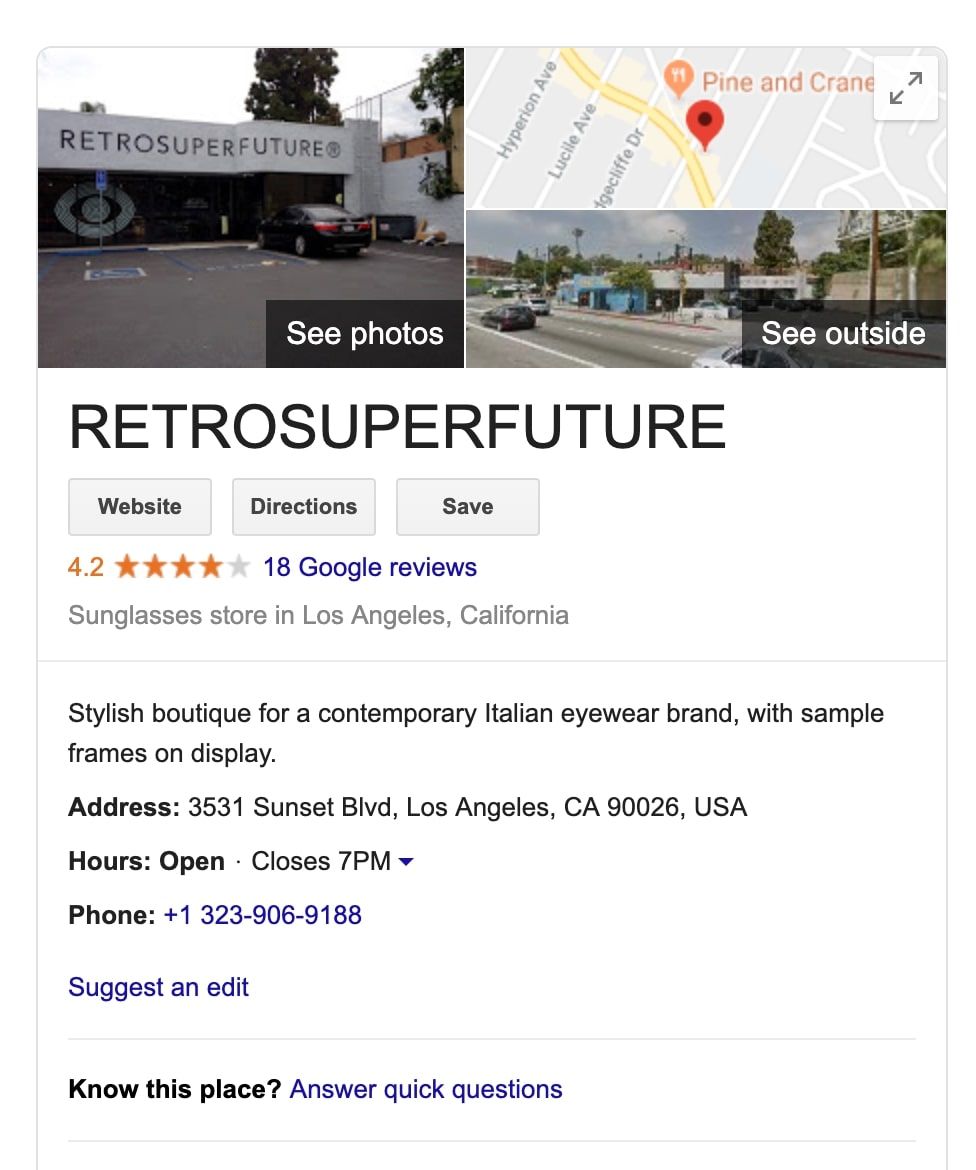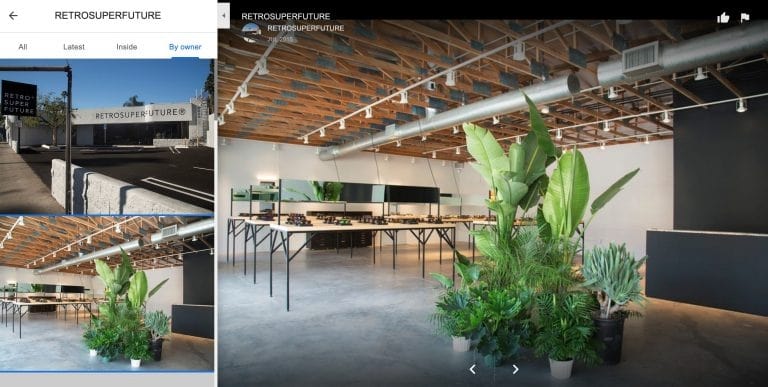 3. Offer value-added services

Nearly every retailer out there will have some sort of seasonal promotion or sale, so simply running a BOGO offer or giving people 20% off won't cut it during the busy and competitive holiday season.

One way to drive foot traffic is to provide valuable services that shoppers won't find anywhere else.

The right service will vary from one retailer to the next. The key is to find what works for your customers and go from there.

Put yourself in your shoppers' shoes. What would make their lives easier during the holidays? What can you offer that your competitors aren't?

For some stores, the answer lies in custom gift-wrapping or packaging. Softly Studio, which sells journals, stickers, and stationery, uses gorgeous and delicate packaging for its products.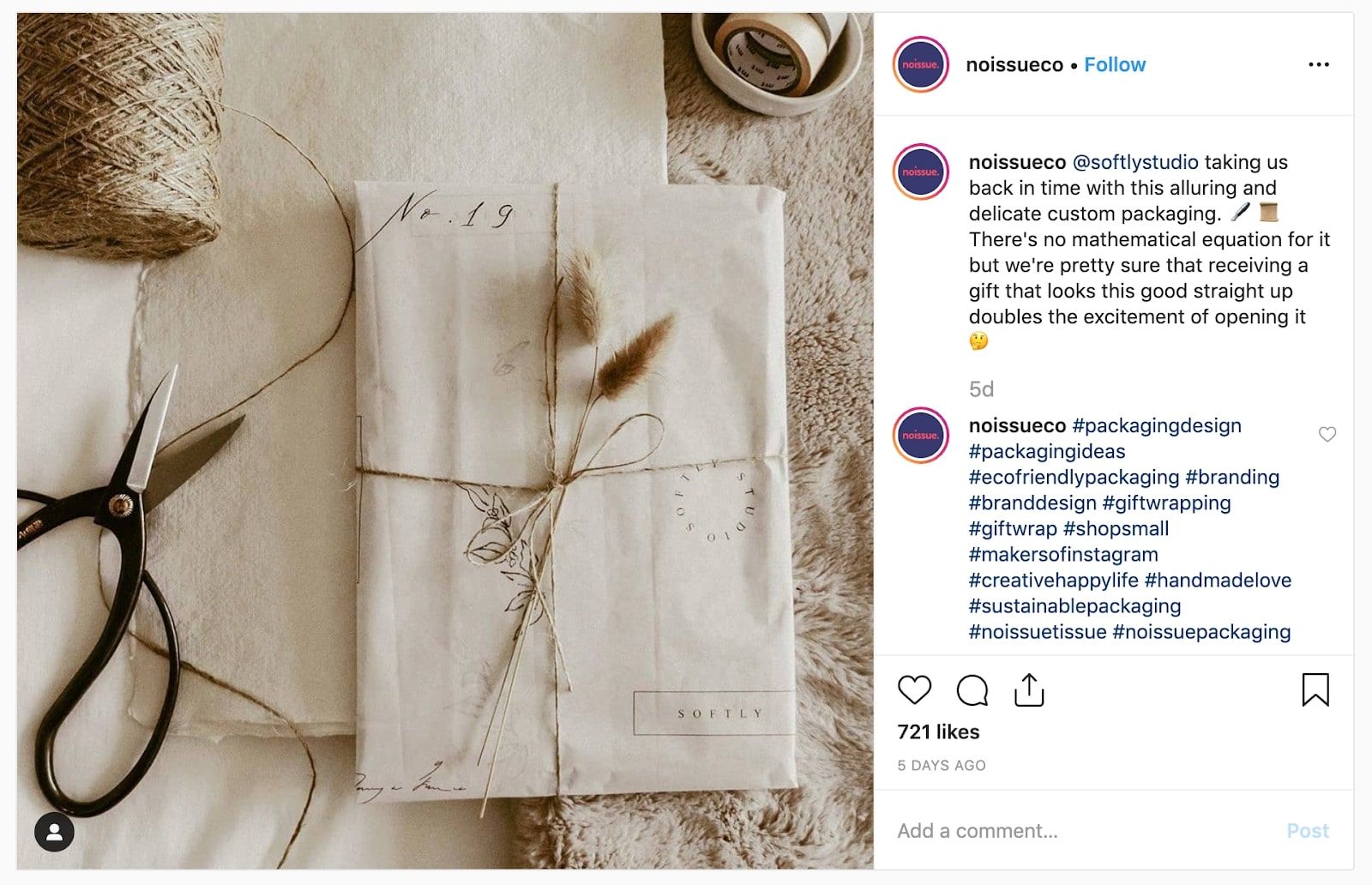 Meanwhile, other stores are providing services to add more value and set themselves apart.

Consider Poopsie's, a gift and toy shop in Galena, IL which offers "Poopsie's Live," an online personal shopping service that's done via video chat. Poopsie's found a way to make shopping more convenient for its customers, and this helps differentiate the store from other shops.
4. Offer click-and-collect

Click-and-collect, also known as "buy online, pick up in-store," drives foot traffic because it literally gets people to visit your shop and pick up their purchases. If you have an eCommerce site, you should definitely give your online shoppers the option to pick up their items at your store.

Click-and-collect is a valuable offering, particularly during the hectic holiday season when consumers don't have time to navigate physical retail stores. Many shoppers, — 68% according to Forbes — have participated in click-and-collect, and we can expect that number to grow.

As a bonus, "buy online pickup in-store" can also boost your in-store sales. That same study cited above found that 85% of people who engage in click-and-collect end up buying additional items when they arrive at the store to pick up their orders. Click-and-collect is clearly a boon for retailers, both from a traffic AND sales standpoint. If you're not offering the service yet, it's high time to connect your online and offline stores so you can start offering the service.

Click-and-collect is clearly a boon for retailers, both from a traffic AND sales standpoint. If you're not offering the service yet, it's high time to connect your online and offline stores so you can start offering the service.

5. Market to your existing customers

It's always great to get new shoppers through your doors, but don't neglect your existing customers.

People who've visited or purchased from you in the past are much easier to convert, so find ways to engage them.

There are several ways to do this.

One idea is to give exclusive experiences for members of your loyalty program.

Take Nordstrom, which offers several members-only benefits to shoppers who are part of its reward program, The Nordy Club. These perks include early access to sales, complimentary in-store alterations, exclusive events, and more.

Aside from driving in-store traffic, these benefits also do wonders for customer loyalty!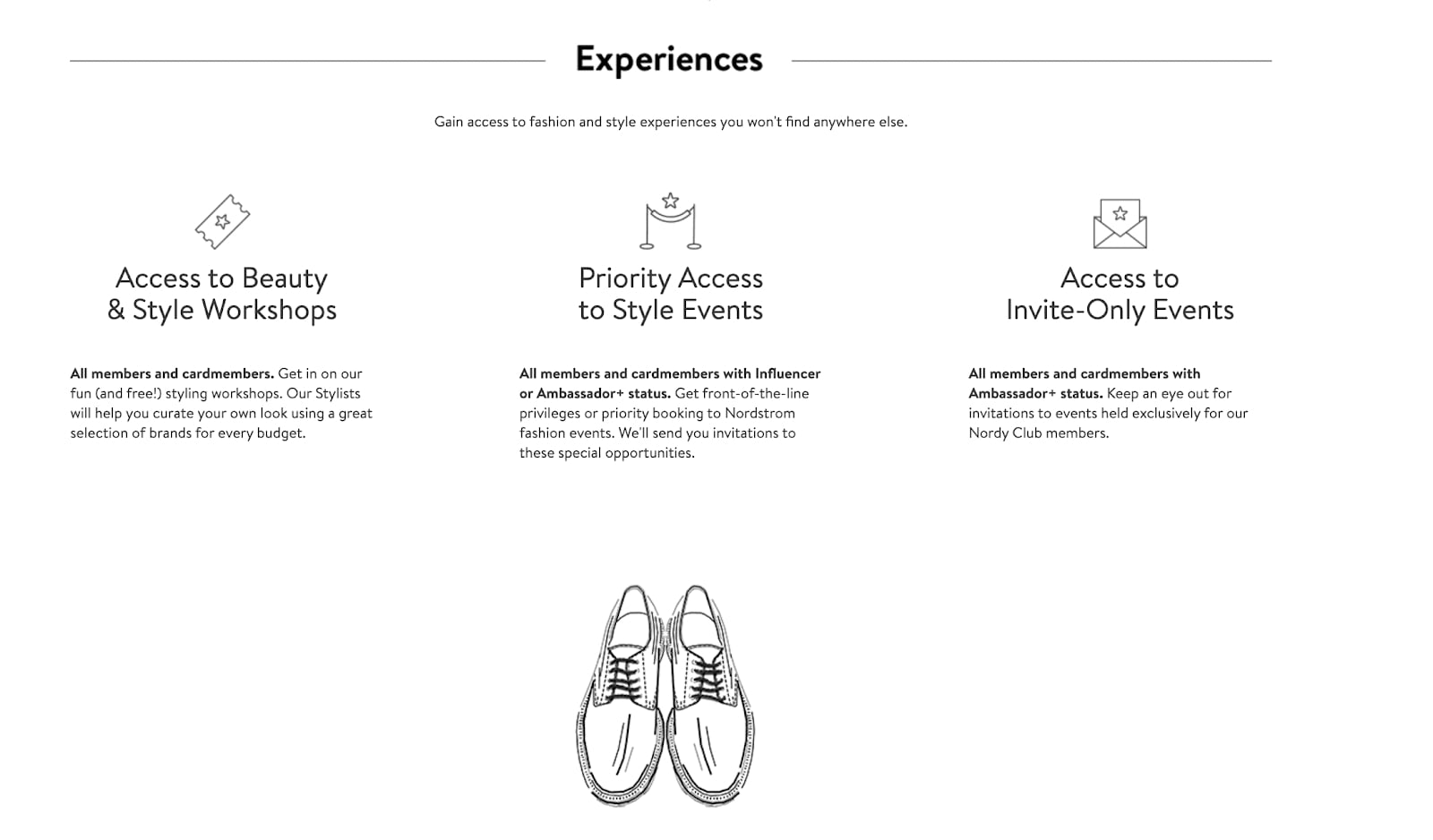 Another tip is to prompt shoppers to reorder items they've purchased in the past.

For example, if you sell hair care products and you know that it takes about 3 months for your customers to go through a bottle of shampoo, you can send them a message right before the 3-month mark to remind them to reorder the item.

One retailer that does this well is Sephora, which sends emails reminding customers that it's time to restock their stash. Sephora even uses this as an opportunity to drive in-store traffic by adding a map to the nearest store.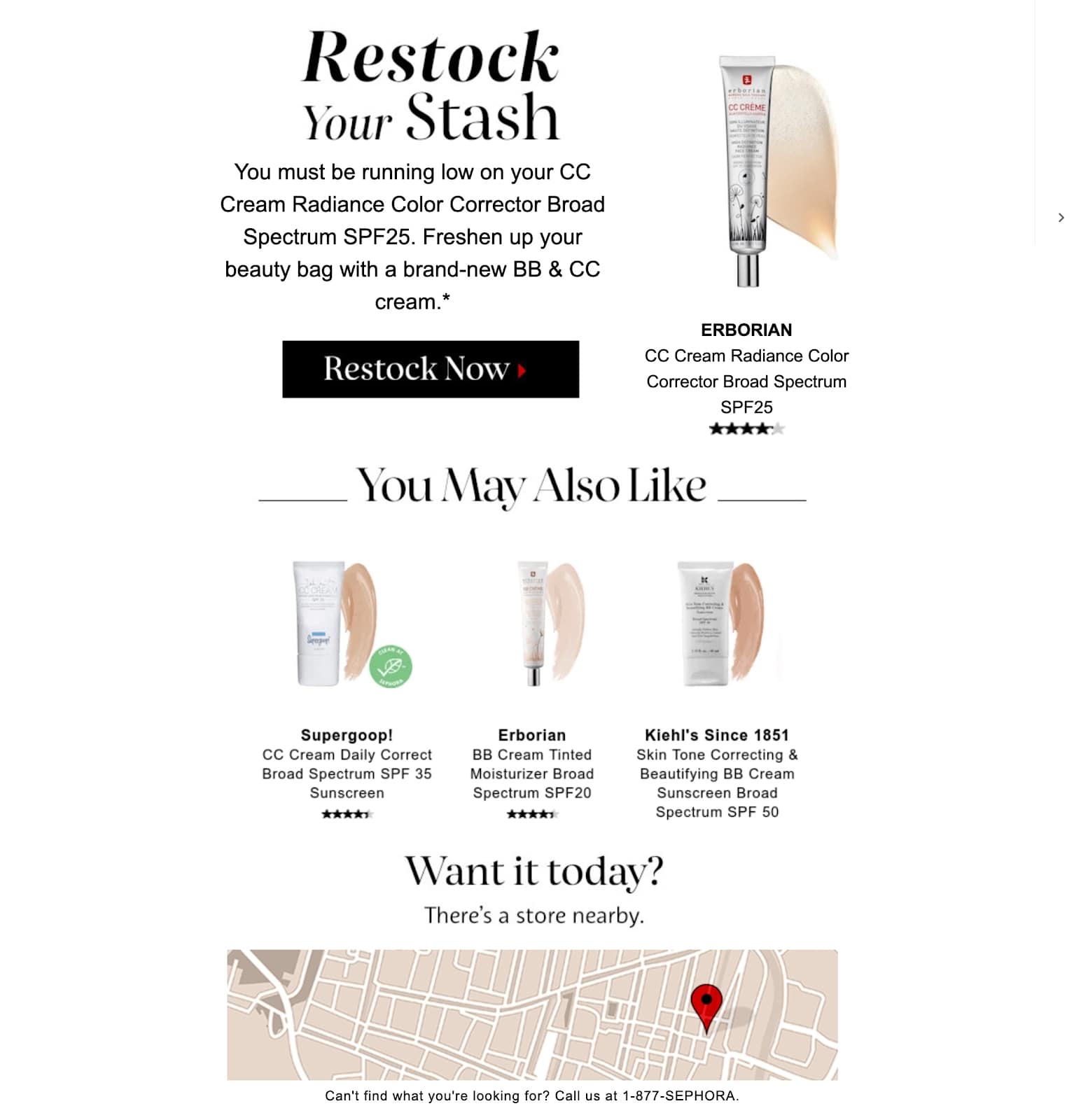 6. Use mobile marketing

It's no secret that modern shoppers are glued to their phones. Research has shown that the average consumer checks their phone 52 times a day.

As a brand, you can use this to your advantage by engaging in mobile marketing.

If you're collecting your customers' mobile numbers, consider leveraging SMS marketing to drive in-store traffic. (Just make sure you have permission to text them!)

Here's an example of mobile marketing done right from Kape Republik.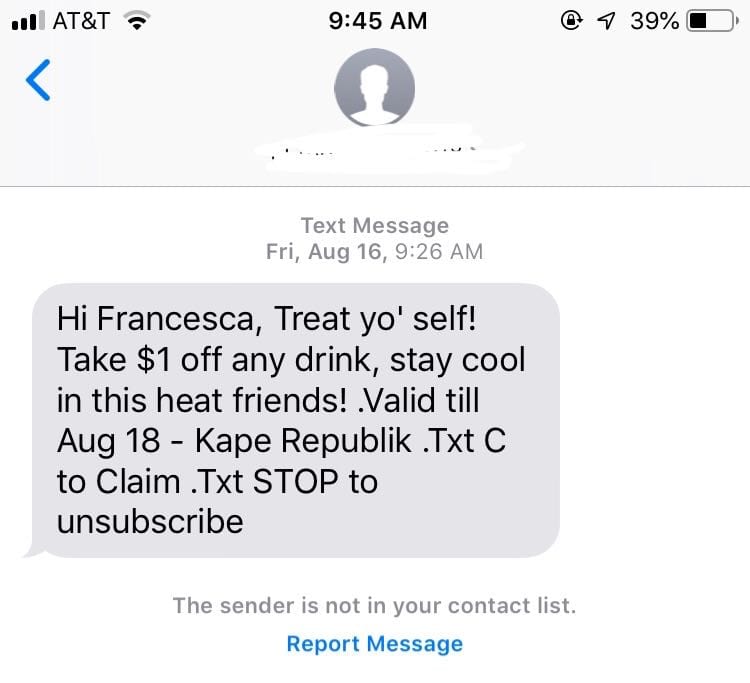 7. Get active on social media

The majority of consumers — 76% according to this study — have purchased items they've discovered on social media.

Social sites apps like Facebook and Instagram are playing an increasingly important role in people's purchase decisions. As such, it's important to leverage them for driving traffic and sales.

Here's how.

Post content on a regular basis

Consistency is critical to social media success. If you want to stay on the radar of your customers, you need to post relevant and engaging content on a regular basis.

The rules for how often you should post content aren't set in stone, because each brand is different. But the folks at CoSchedule offer the following guidelines based on 14 different studies:

Instagram - 2 posts per day
Facebook - 1 post per day
Twitter - 15 tweets per day
Pinterest 11 pins per day
LinkedIn 1 post per day

It's also important to develop a social media calendar that contains a variety of content types. Figure out the best types of posts that work for your audience (i.e., product posts, memes, inspirational content, etc.) and then create a calendar that has a healthy mix of content.

We can see this tip in action in Joanne Hawker's Instagram account, which has a good variety of content types, including promotional posts, seasonal content, inspirational messages, and even personal updates.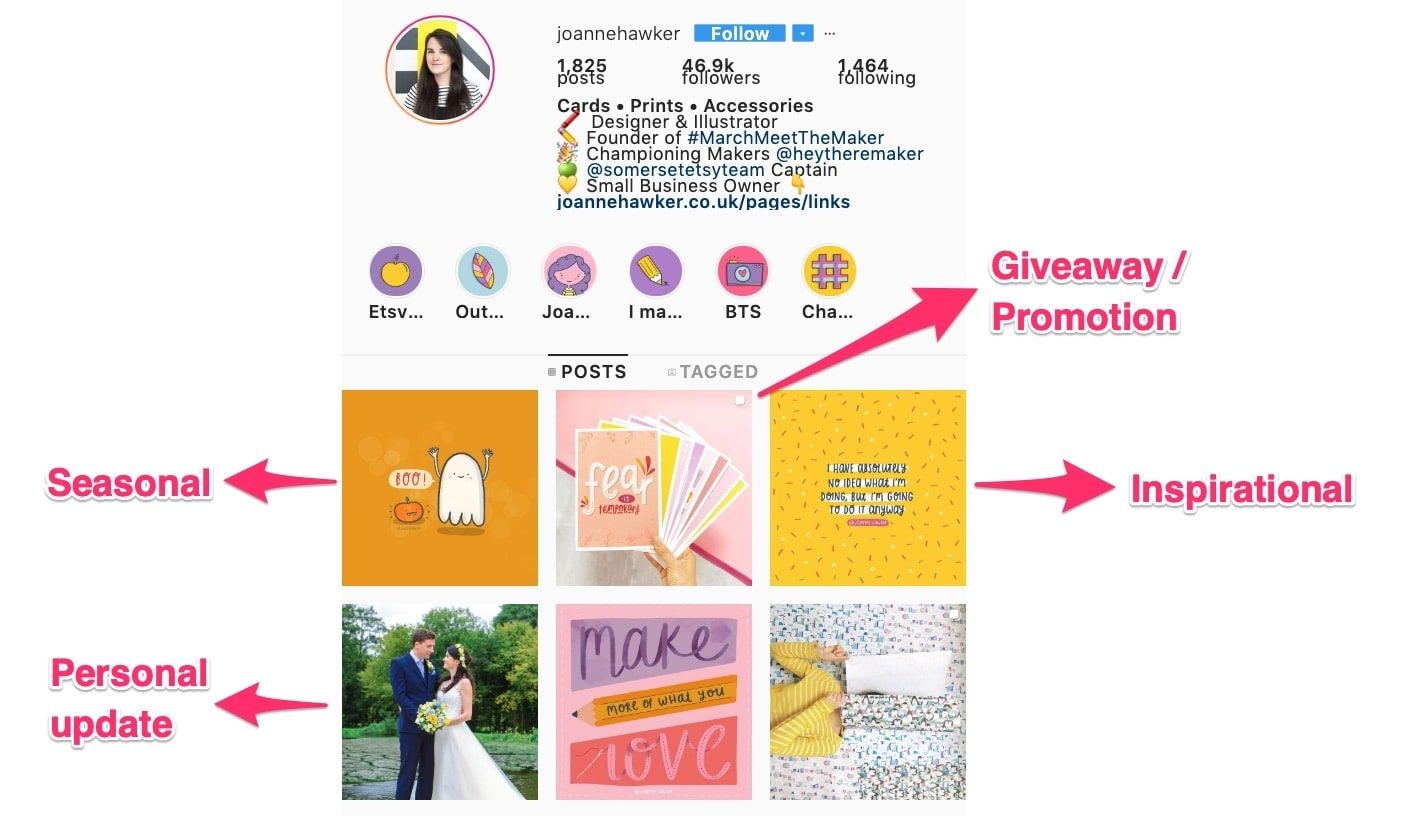 See if you can do something similar in your social media strategy!

Consider influencer marketing

Influencers — particularly micro-influencers who have less than 50,000 followers — are all the rage, and for good reason. Research by ExpertVoice found that 82% of consumers said they "were highly likely to follow a recommendation made by a micro-influencer."

For this reason, you may want to consider including micro-influencers in your marketing strategy.

While many brands leverage these individuals to drive product reviews and eCommerce sales, micro-influencers can also be used to increase foot traffic.

Take a leaf out of the Caudalie's playbook, which invites influencers to its physical location in Venice, CA. The visits and treatments are complimentary, and influencers are encouraged to post about their experience — ultimately spreading the word and driving awareness around the store.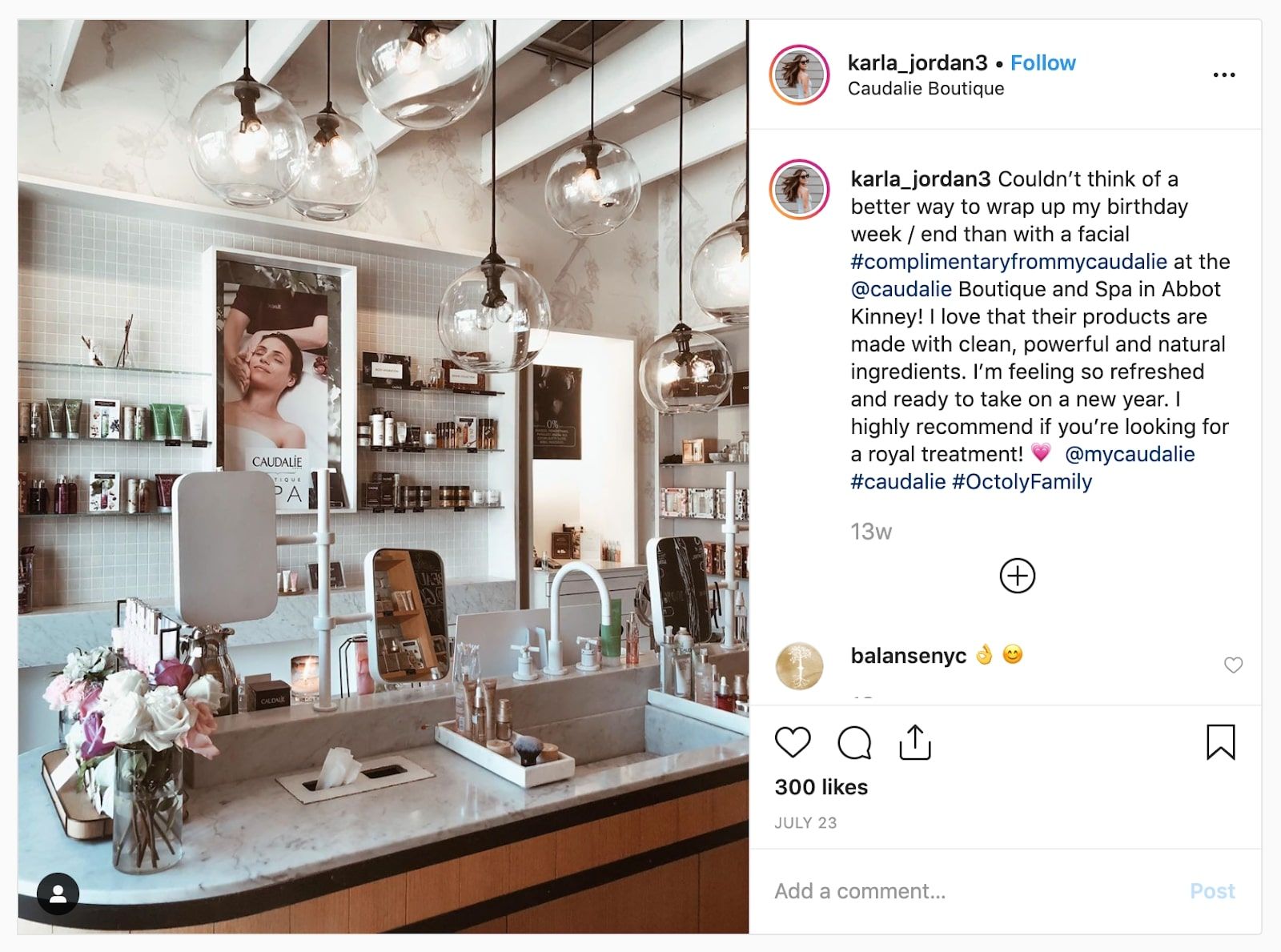 Now is the time to ramp up your traffic and sales campaigns!

The holiday season brings tremendous opportunities for traffic and sales, but you need to take action to reap the benefits. Hopefully, the tips and examples above have inspired you to take your holiday initiatives to the next level!