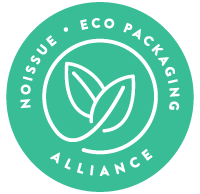 One thing sweeter than receiving chocolates? Receiving delicious, thoughtfully and meticulously homemade ones wrapped in special packaging!
Carla Ferguson, a Neonatal Nurse slash Baker Momma, is the owner of Coco Gems, a small chocolate truffle business that has perfected the decadent confectionery. Paired with her innovative packaging and custom branding for her sweets, Carla's Coco Gems are difficult not to take notice of and are utterly perfect for gifting.
With the world in turmoil in 2020, Carla decided to take a leap of faith and nurture her truffle making passion into a small business. Coco Gems evolved from a dream into a reality in November of that time after some good years of truffle making in Carla's farm kitchen in Southland, New Zealand.
Innovative packaging and custom branding is very important to the entrepreneur as it ultimately reflects who she is and her business. Each Coco Gem, which name is a play on her daughters Chloe and Jemma's names, is lovingly handmade by Carla from scratch using only premium ingredients. The brand name has the ability to mean more than one thing, too, with Coco as chocolate and Gems as something small and precious. And to top that all off, she carefully hand packages these treats, as well, which goes to show just how much love and care are put into these masterpieces. With that said, it's not difficult to believe that, into Carla's journey of delicious truffle making, few changes were inevitably made and many truffles were devoured to perfect the recipe.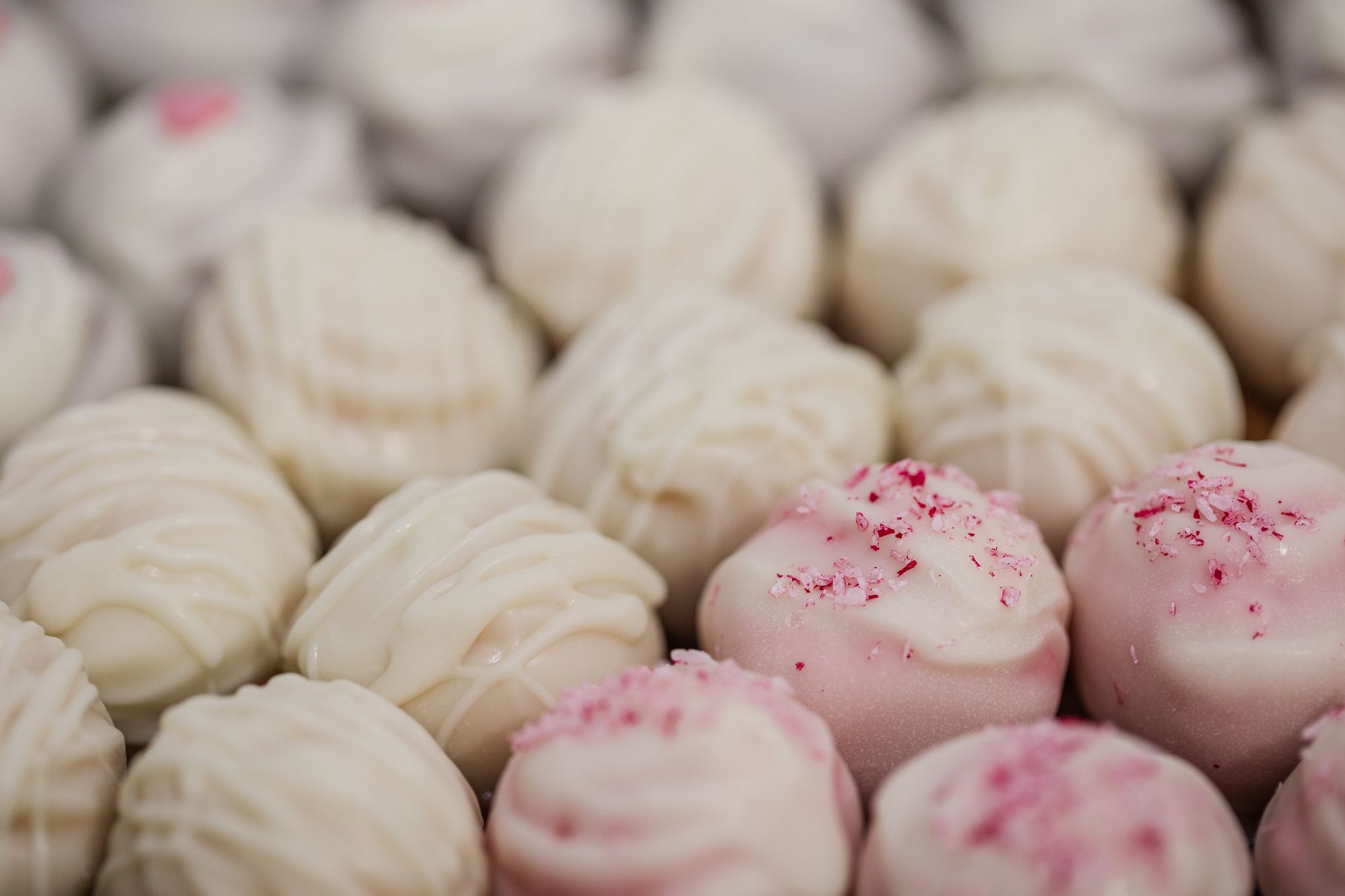 Initially, one of Carla's biggest challenges was actually finding packaging for the Coco Gems truffles. She wanted to insert trays into her boxes so the truffles would sit perfectly and be cushioned during shipping. But it was important to her that they were compostable and met food safe recommendations, too. For that case, she had custom made boxes and sleeves designed to meet the requirements.
The packaging went through several rounds of testing, initially starting with bags of truffles, and then becoming boxes of truffles. The new box design allows the truffles to be more secure and look more professional while small elements like custom tissue paper and stickers add quirky elements of surprise. The Coco Gems colour palette is clean and soft to compliment the product.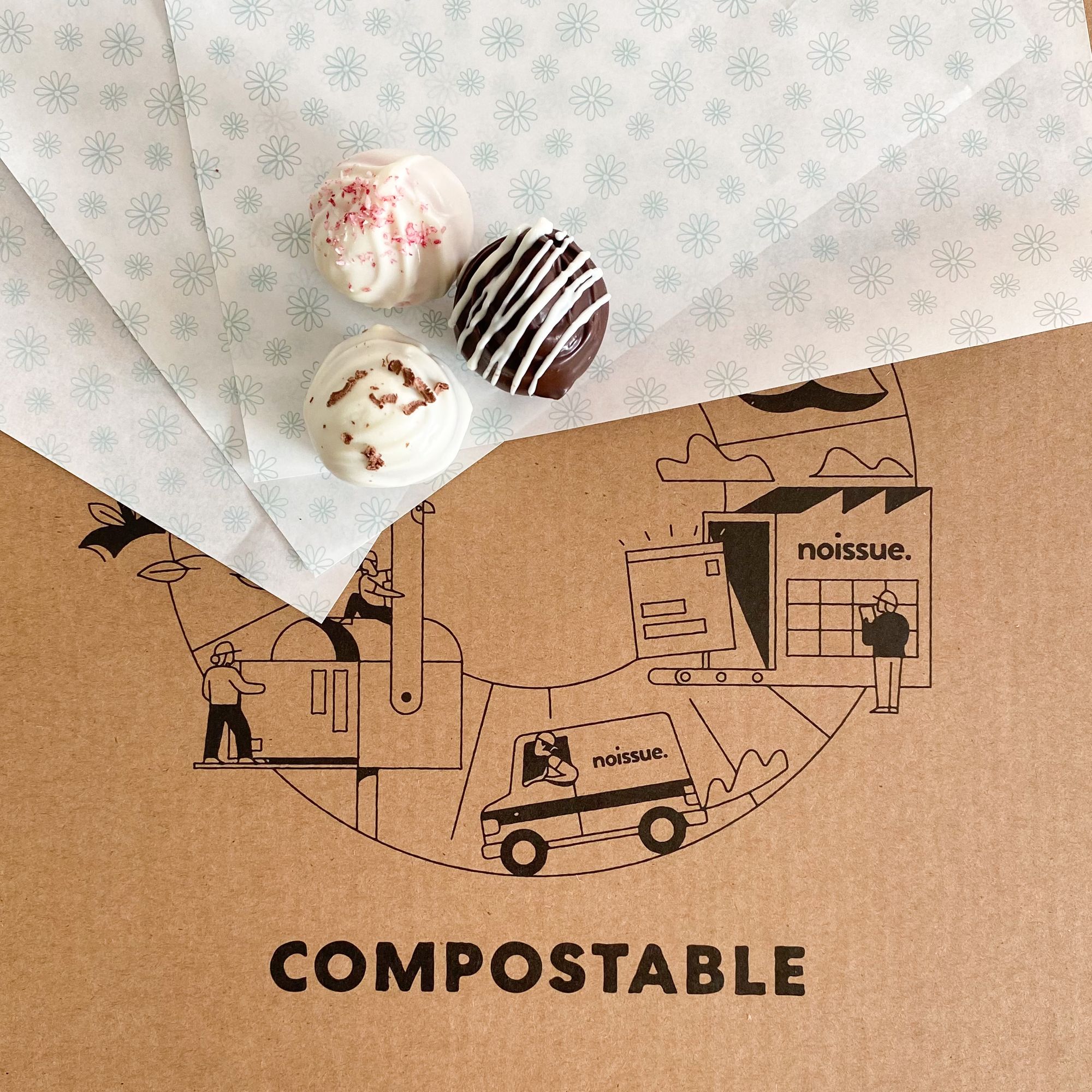 Carla found that for tissue paper, noissue's Foodsafe paper ticked all the boxes for her! With it being greaseproof, fully compostable, and customizable with her own cool design, she knew it was exactly what she needed.
For branding being a crucial part in starting phases of Carla's business, she wanted to make something that was as yummy as her products; chocolatey, elegantly delicious, and like nothing else on the market, so she worked with Laura Wharehinga of Designs by Loz to create the perfect Coco Gems Logo and packaging design.
Coco Gems are the perfect treat. They help cement a celebration, lift your spirits in a moment of sadness, communicate care and lavish love on the recipient. Anyone lucky enough to indulge in a Coco Gem knows the taste is like nothing else you have ever sampled before. Each creamy and delicious bite leaves you longing for more! Whether you choose to gift a box of Coco Gems or simply indulge in the pleasure yourself, you will not be left disappointed.
And with it looking extra delish in custom, eco-friendly packaging, sharing it with someone special will only make it sweeter with every bite!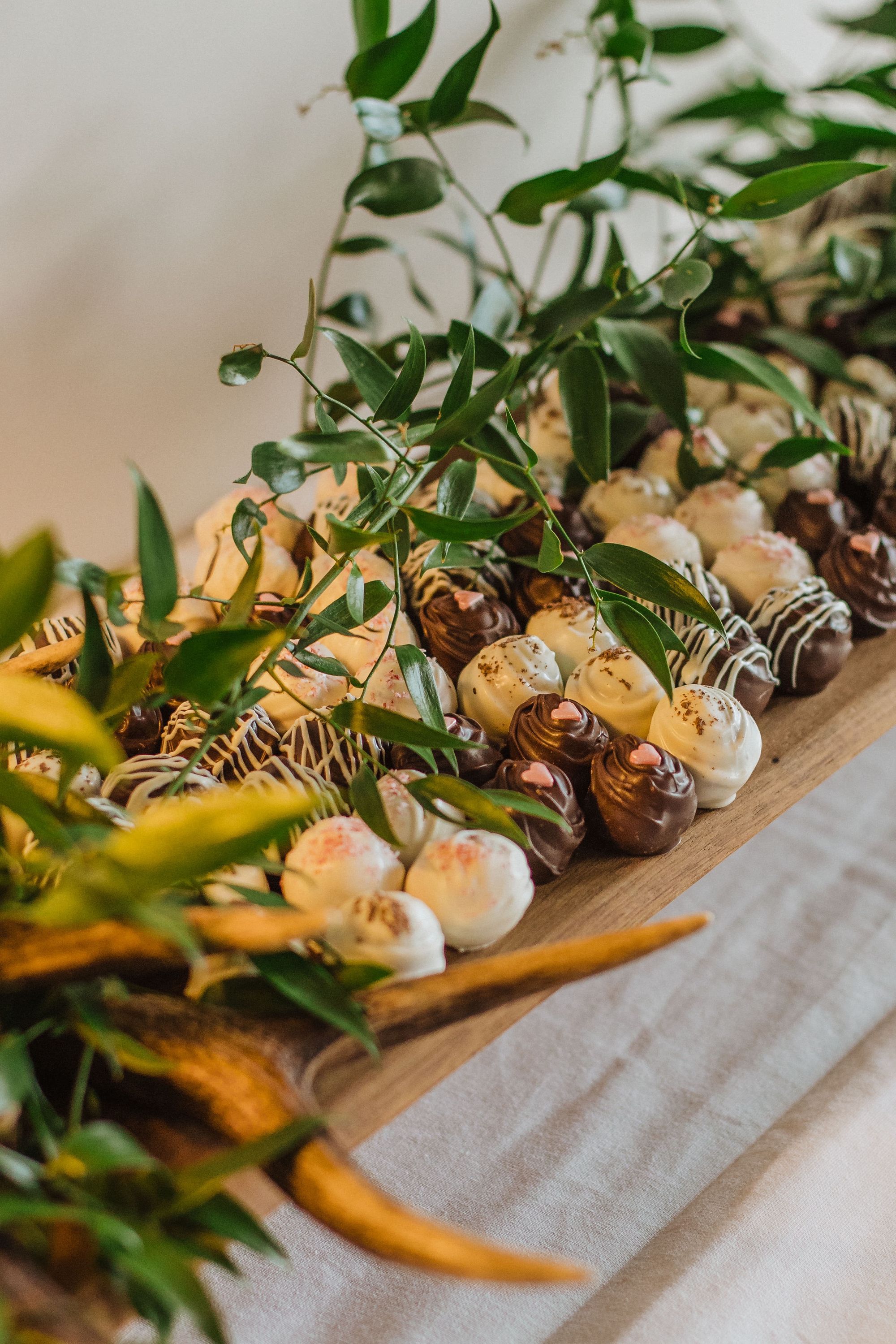 ---
Find more of Coco Gems here:‌‌‌‌‌

Website: ‌‌‌‌‌coco-gems.myshopify.com
‌Instagram: @_cocogems_
Like this story? Tell us yours! Share your brand story and love for your custom packaging and get a chance to be featured on the wrap! If you're a noissue customer and are interested, you can join the Eco-Alliance by clicking here and answering a few questions here.
Questions? Email us at ecoalliance@noissue.co