Happydashery is owned and run by Carrie Wainer and Sarah Arkle. What started out as a small pop up within Lucy's Chocolaterie then fully took over the store when Lucy decided to move and expand into a different unit.  They had fully opened their store in Leighton Buzzard, Bedfordshire, in 2019 with the aim to be a bright and colourful beacon on their local High Street.
As their business began to bloom and take shape, they needed just the right branding to reflect their vision. Being a bright and cheerful gift shop, they wanted their online presence to be just as warm and happy as their physical space. To help out with this project, they collaborated with Bedfordshire-based creative, Lucy Elliott.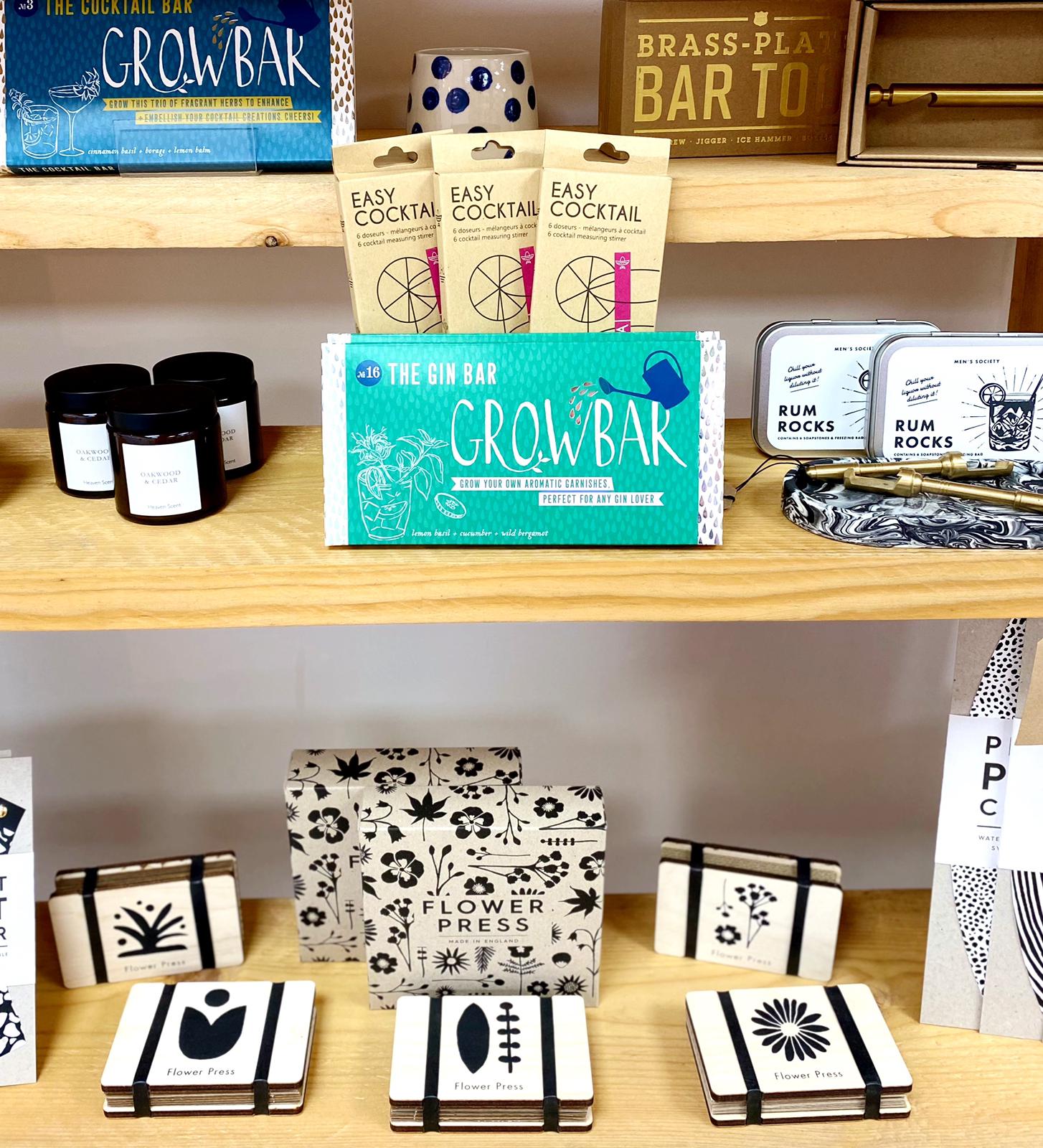 Being an independent retailer, Happydashery provides their customers with utmost personal service – from placing your order right through receiving it at your front door. Upon request, they are also able to write up personalised messages, gift wrap the goods and include greeting cards!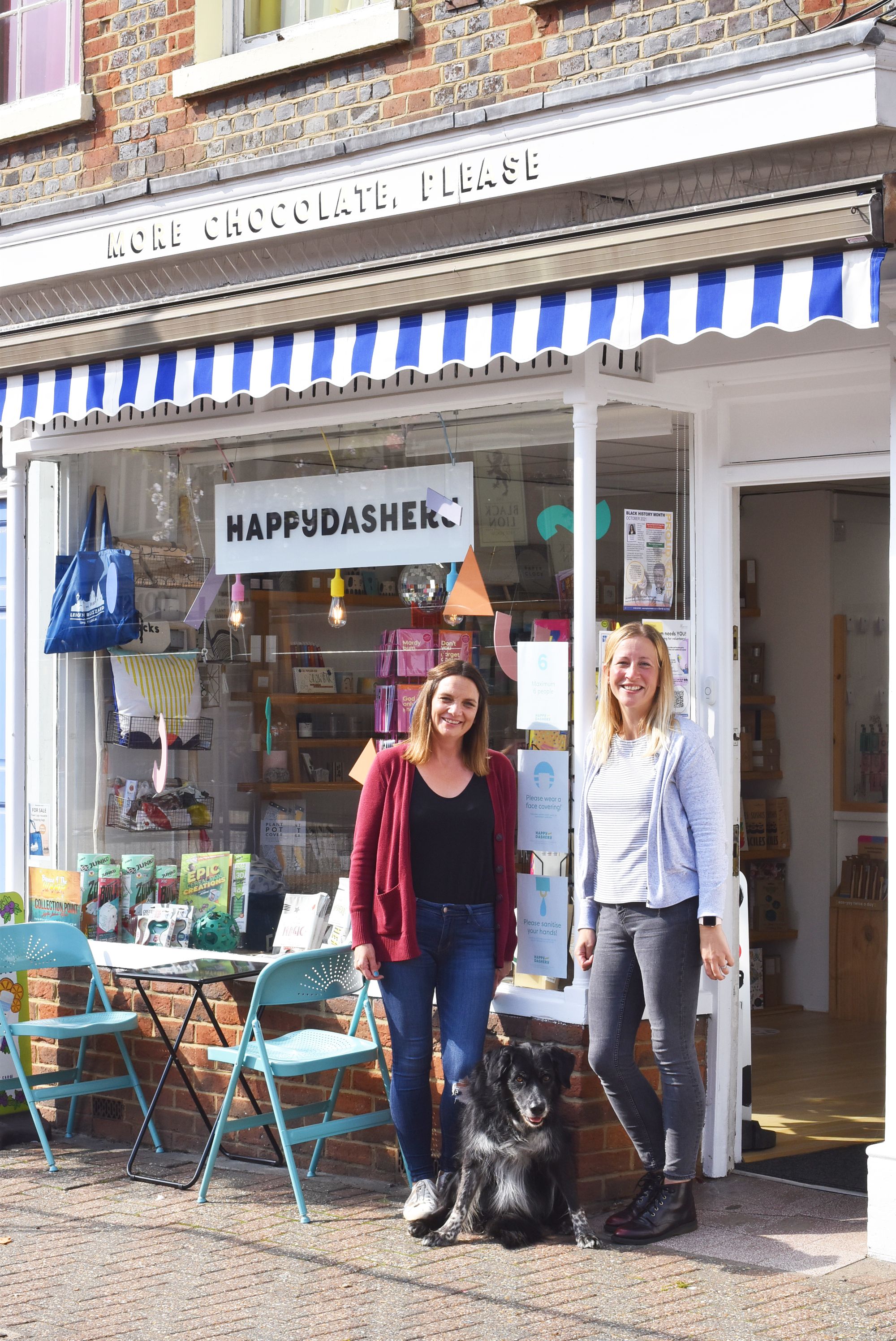 Carrie and Sarah had decided to use their time in lockdown as an opportunity to further develop their branding as well as branch out into producing their very own line of products. As a business, they want to be able to provide the same joy and impeccable experience that their customers, whether online or in store.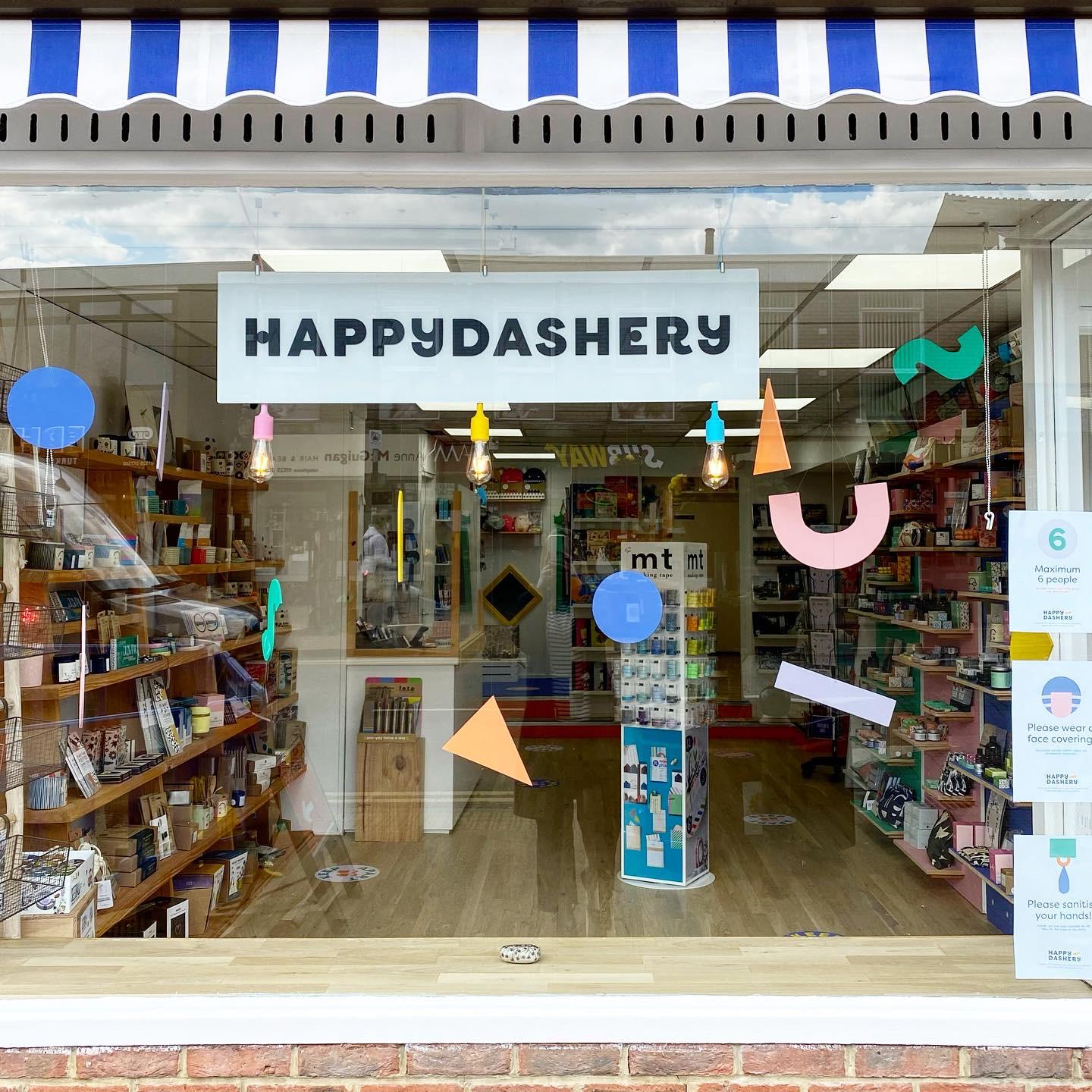 "We are experts in gifting, and wanted our online store to be a warm and happy place to spend time choosing the perfect gift for friends, family or even yourself.  We wanted to look after our online shoppers just as well as our local customers seeing as our full range is available to browse and order for Nationwide delivery too. We needed our online store to be just as personable and welcoming as our physical store is so that no matter if you could come shopping with us in person or not, you would still feel like you had the same high quality experience." – Carrie and Sarah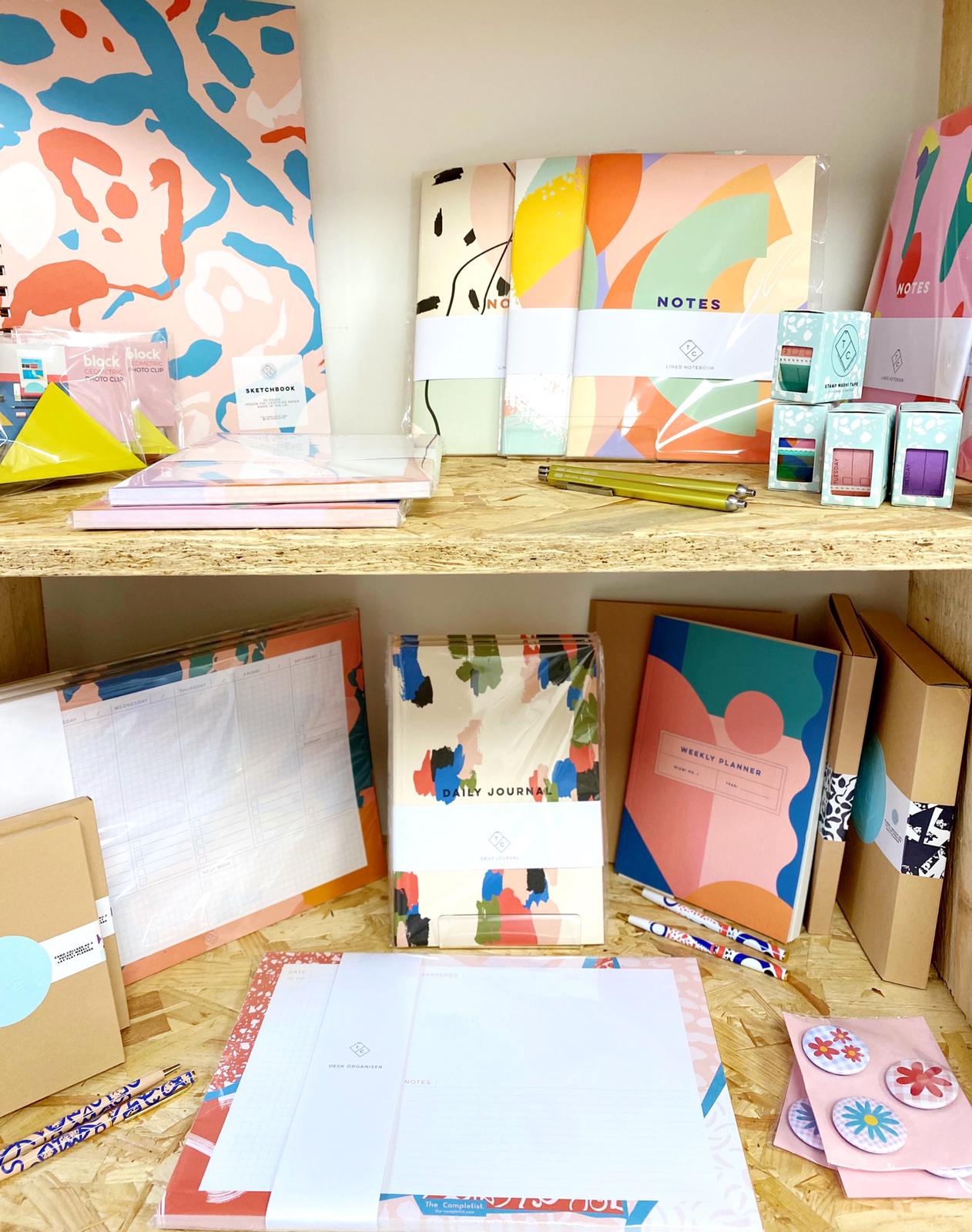 For their brand refresh, Carrie and Sarah knew exactly which creative to turn to.
Lucy Elliott is a colour-loving, sweet-toothed creative with a lifelong love for design. She's best known for being the founder of cult chocolate brand, Creighton's Chocolaterie. After closing her brand in 2020, she now works as a freelance designer through her own studio, I'm Lucy.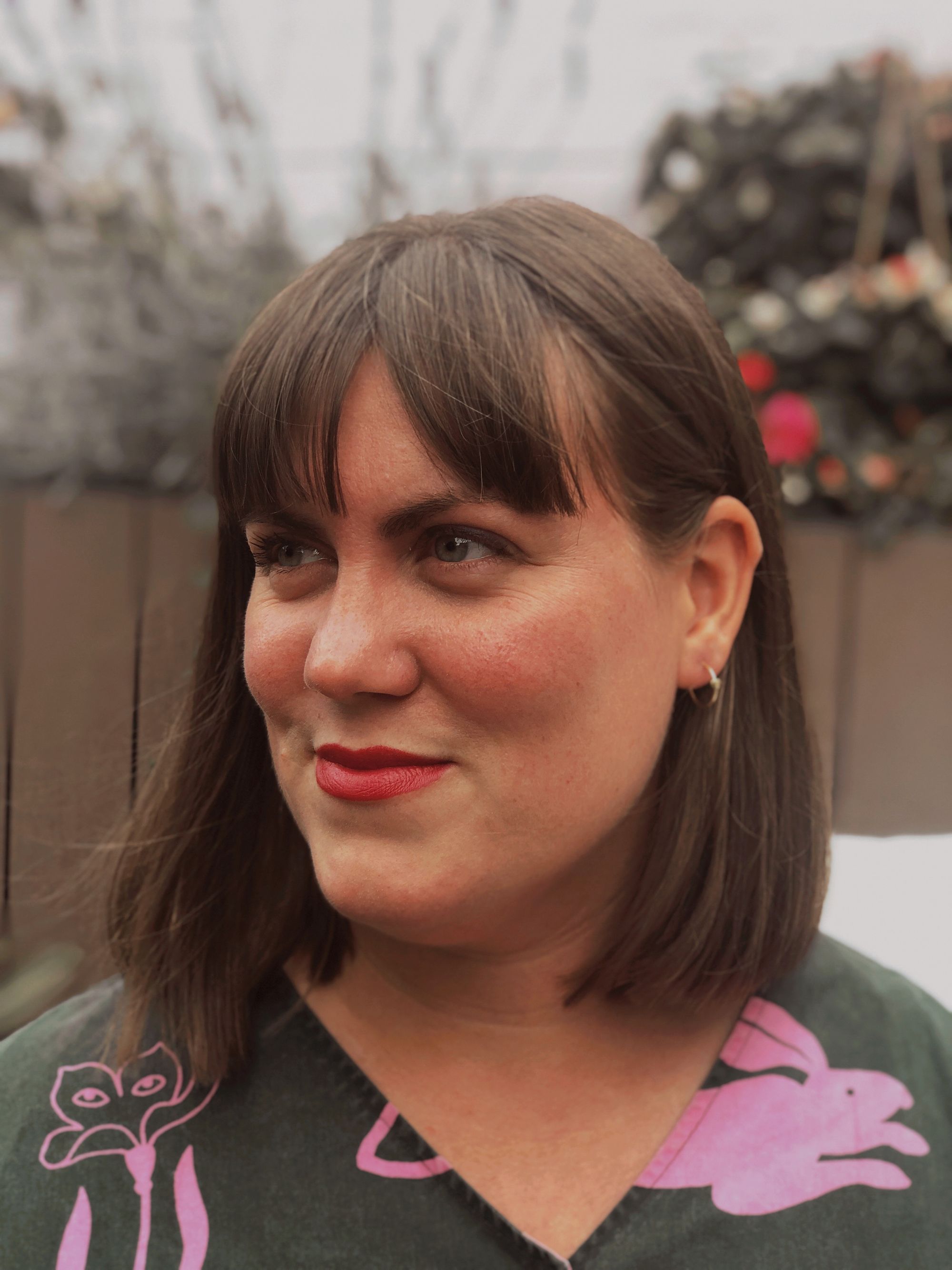 Before becoming a full-time designer, she ran a chocolate business for 10 years with three retail locations, 250 stockists and a production facility. Her experience had allowed her to fully hone her expertise in building visually exciting brands and being able to give her clients the benefit of knowledge, being a business owner herself.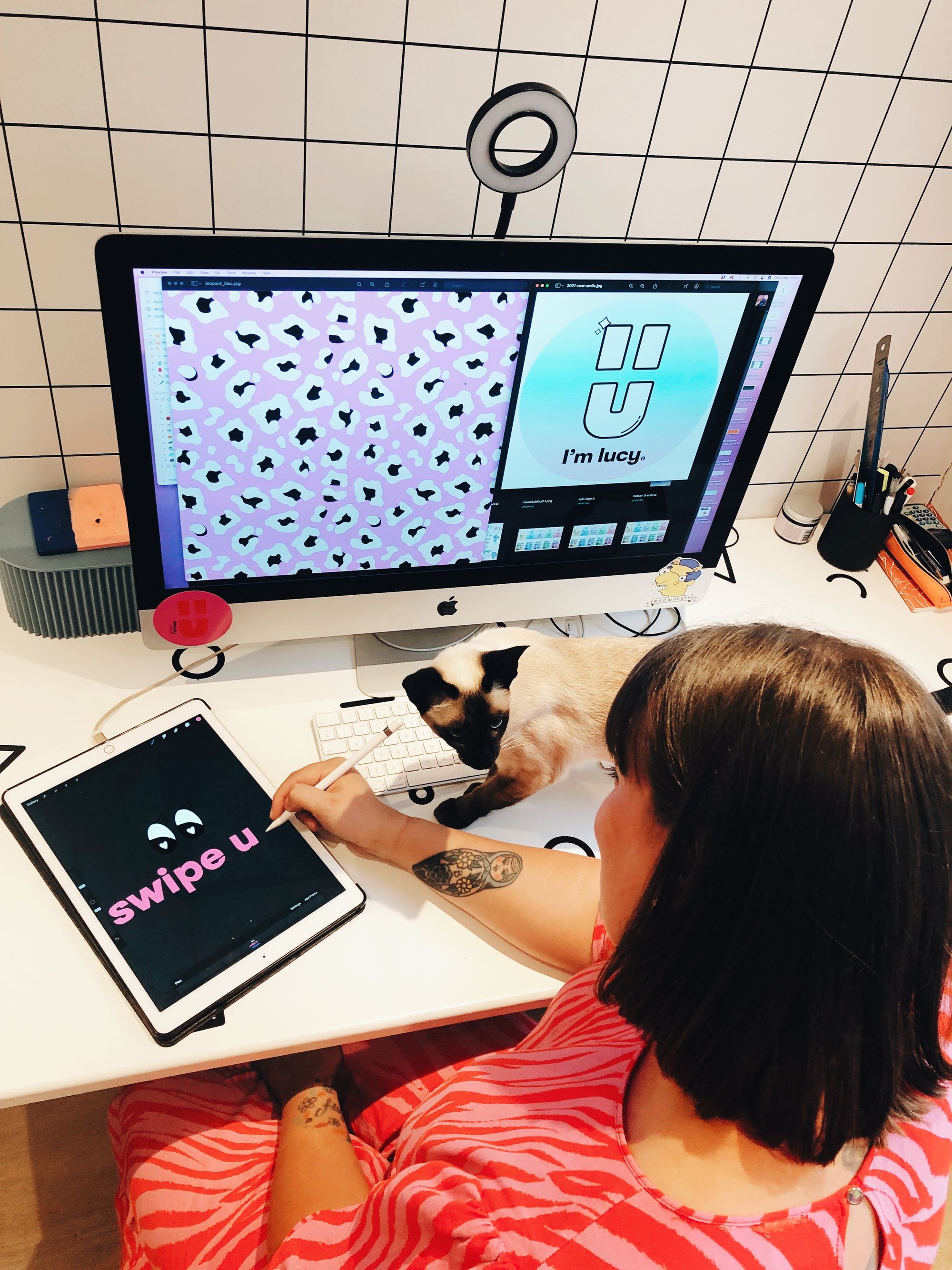 "I love creating brand identities which is the core of my work. Second to that, packaging design is something I get very excited about because I love to see people interacting and using a physical item I have designed." - Lucy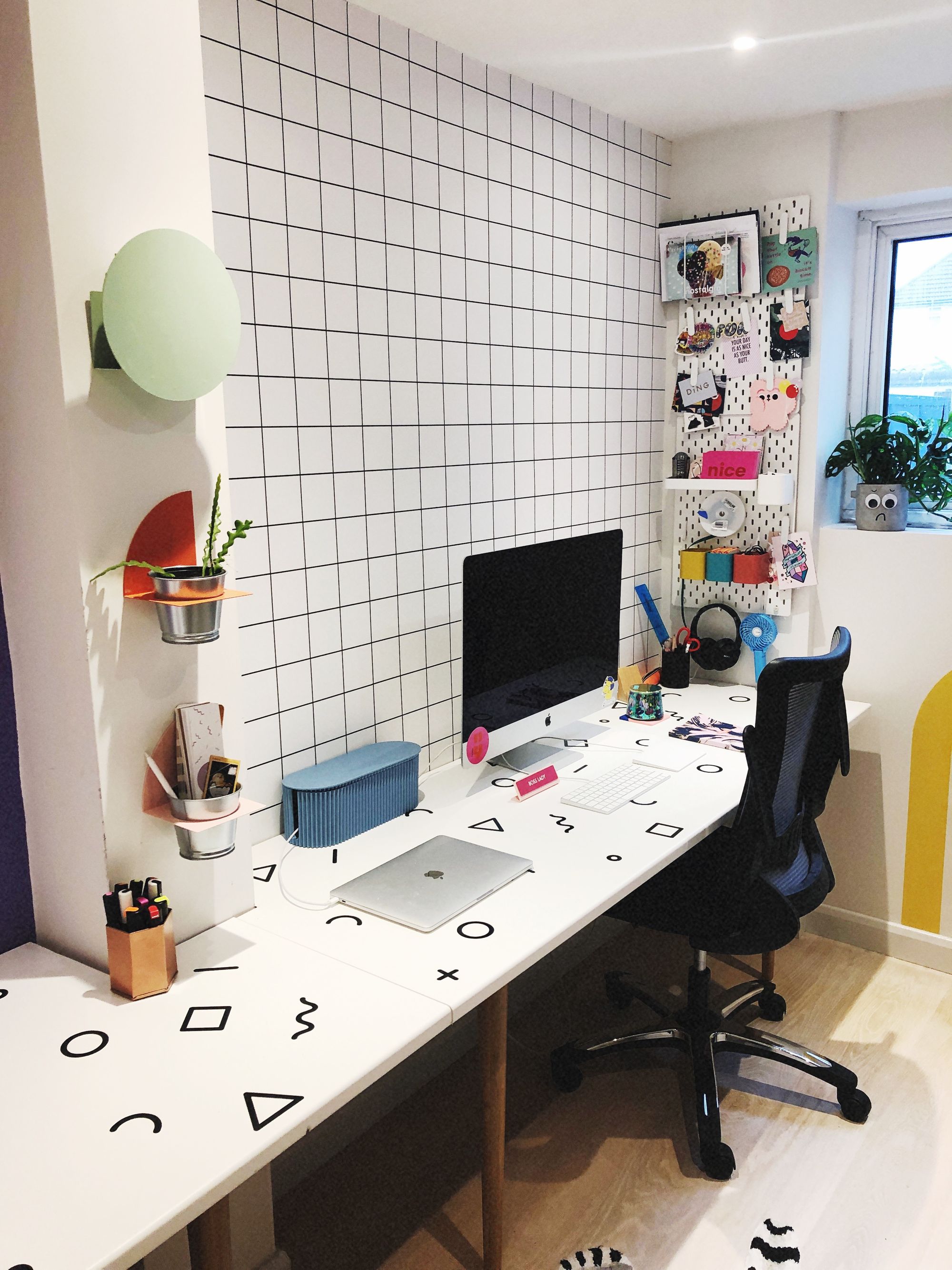 Lucy and Sarah had met a local pregnancy yoga group 6 years ago and found out they had a shared appreciation for product designs. They've stayed friends and kept in contact all these years and Lucy had even helped Sarah develop her early idea in starting a gift shop.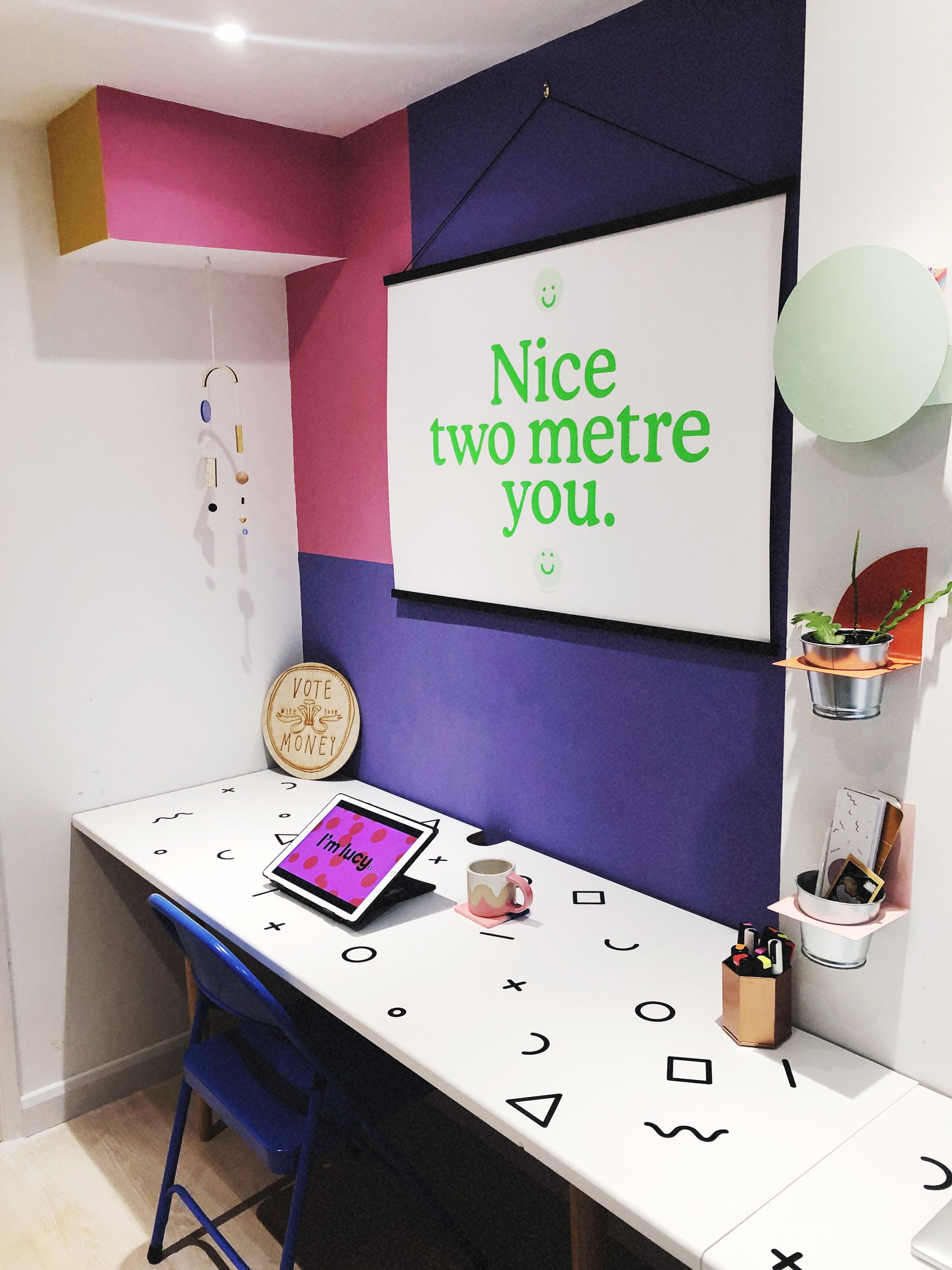 Lucy shares: "Basically, I was constantly saying "Hey! Look at this cool thing I found!" and forcing her to sell that cool stuff in an unused area of my shop. She introduced me to Carrie and together they eventually took over the entire lease and Happydashery was born."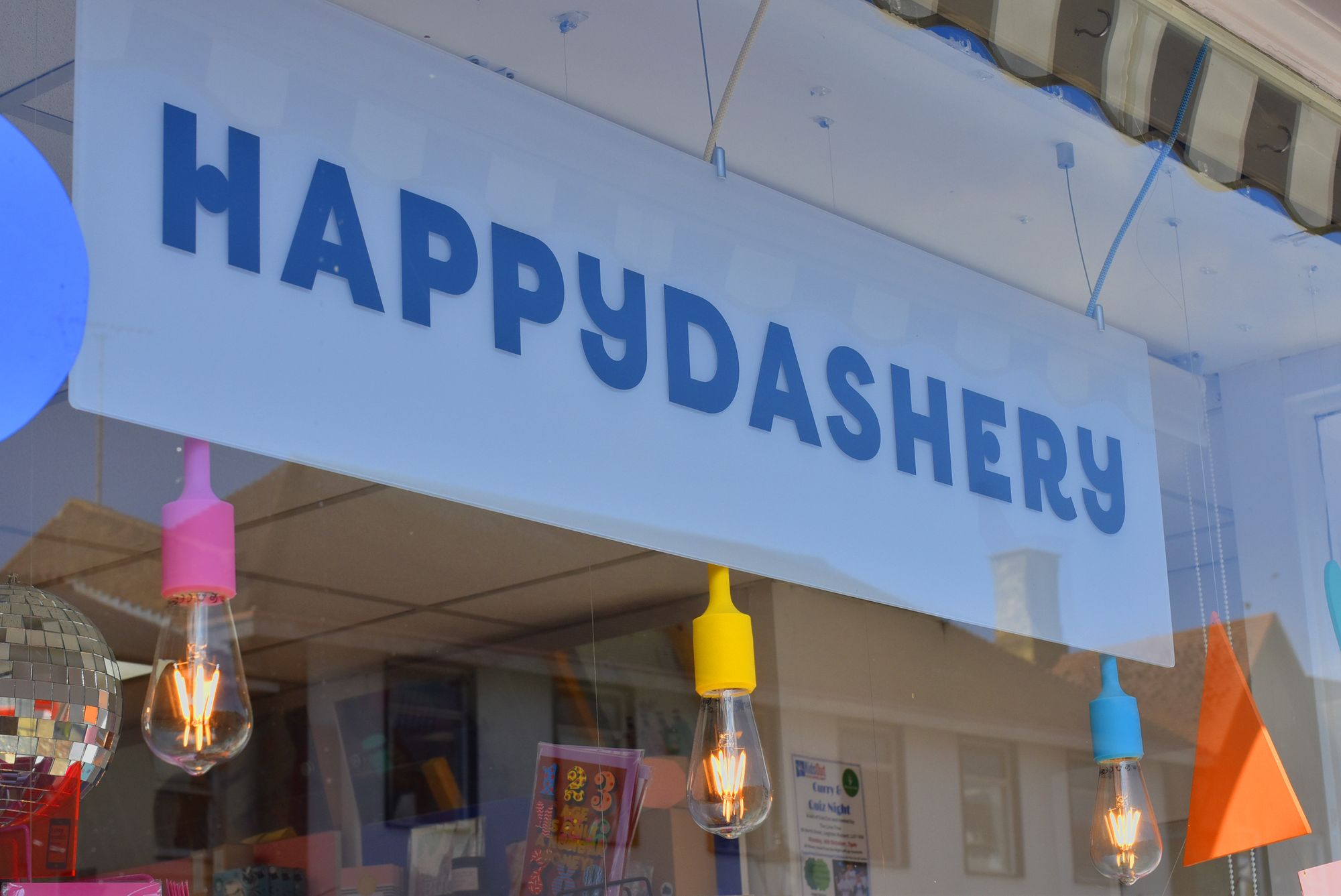 For Sarah and Carrie, no convincing was needed on selecting a designer to work with as they already had their sights set! Having their project in mind, they felt that Lucy was the perfect person to go with and didn't even consider working with anyone else.

Lucy has been involved with Happydashery from the very start, so Sarah and Carrie had full confidence in trusting her with their passion project. They had a rough idea of the direction they wanted the branding to go, but the designs and colours were all Lucy. Through a consultation and brainstorming process, Lucy was able to visualize the new direction of the brand refresh and the next steps they wanted to make for Happydashery.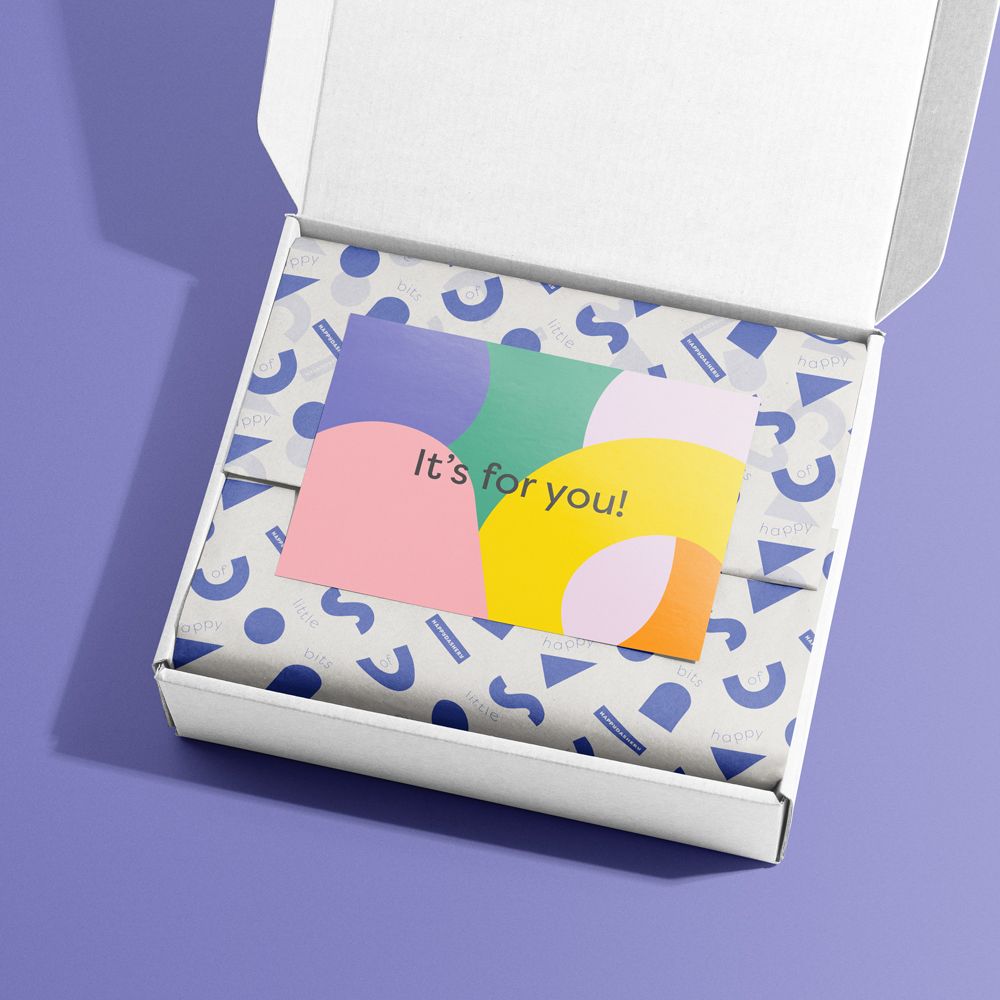 "I brought some fun and personality back into the visuals, keeping the tagline 'little bits of happy' at the forefront of the designs. Colour and playful typography lead the way, and I designed a set of shapes that come from the letters of the logo which are used throughout the packaging and stationery to create a strong visual identity. It was really important for this project that Happydashery's branding is recognisable and has its own style, but does not dominate or dictate over the products and pieces they sell from other designers and brands. I also had to be careful that the colour was used sensitively to appeal to a broad range of customers, especially on packaging that is intended for gifting." - Lucy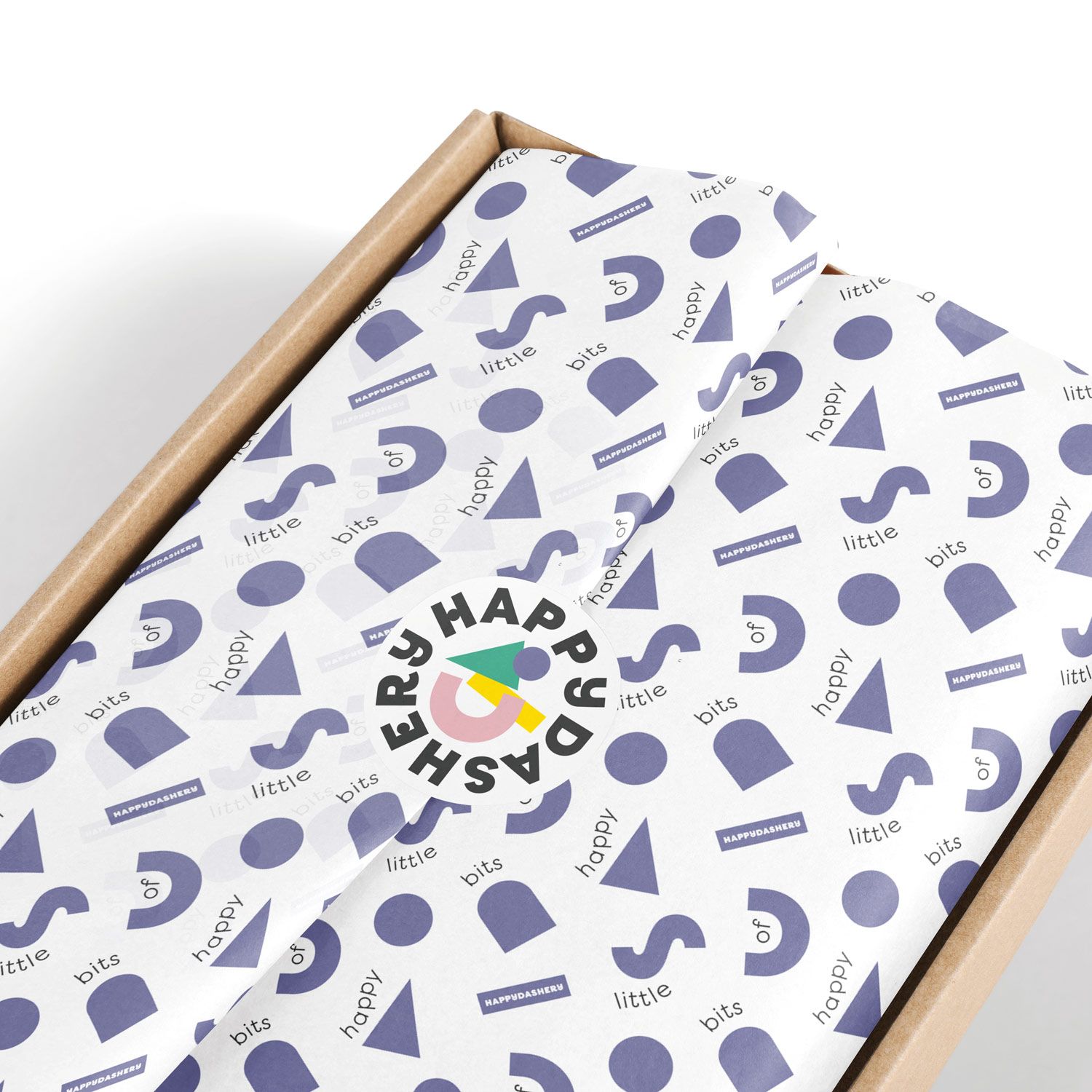 For Happydashery, eco-credentials and packaging recyclability is very important to them as a brand and as well as to their customers. With this in mind, they opted for noissue's custom tissue paper due to their sustainable and smaller runs of custom product. They were able to really carry the branding right through the customer experience without worrying too much about the investment.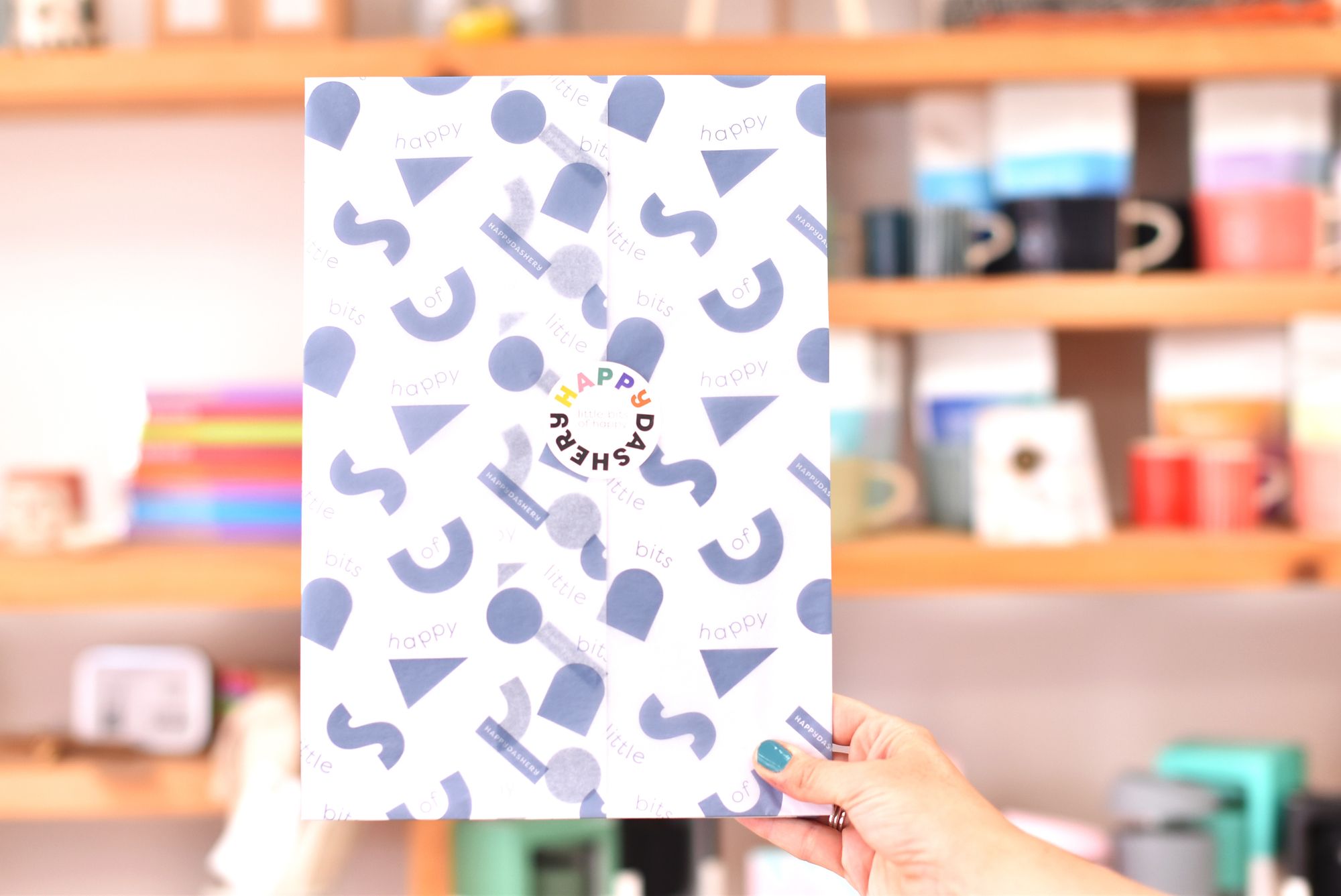 "We love everything about noissue.  The sustainability ethos, the quality of the products, the ease of the process!  We know that all of our orders are packaged in our bright and cheerful branding, using sustainable and recyclable materials from noissue." – Carrie and Sarah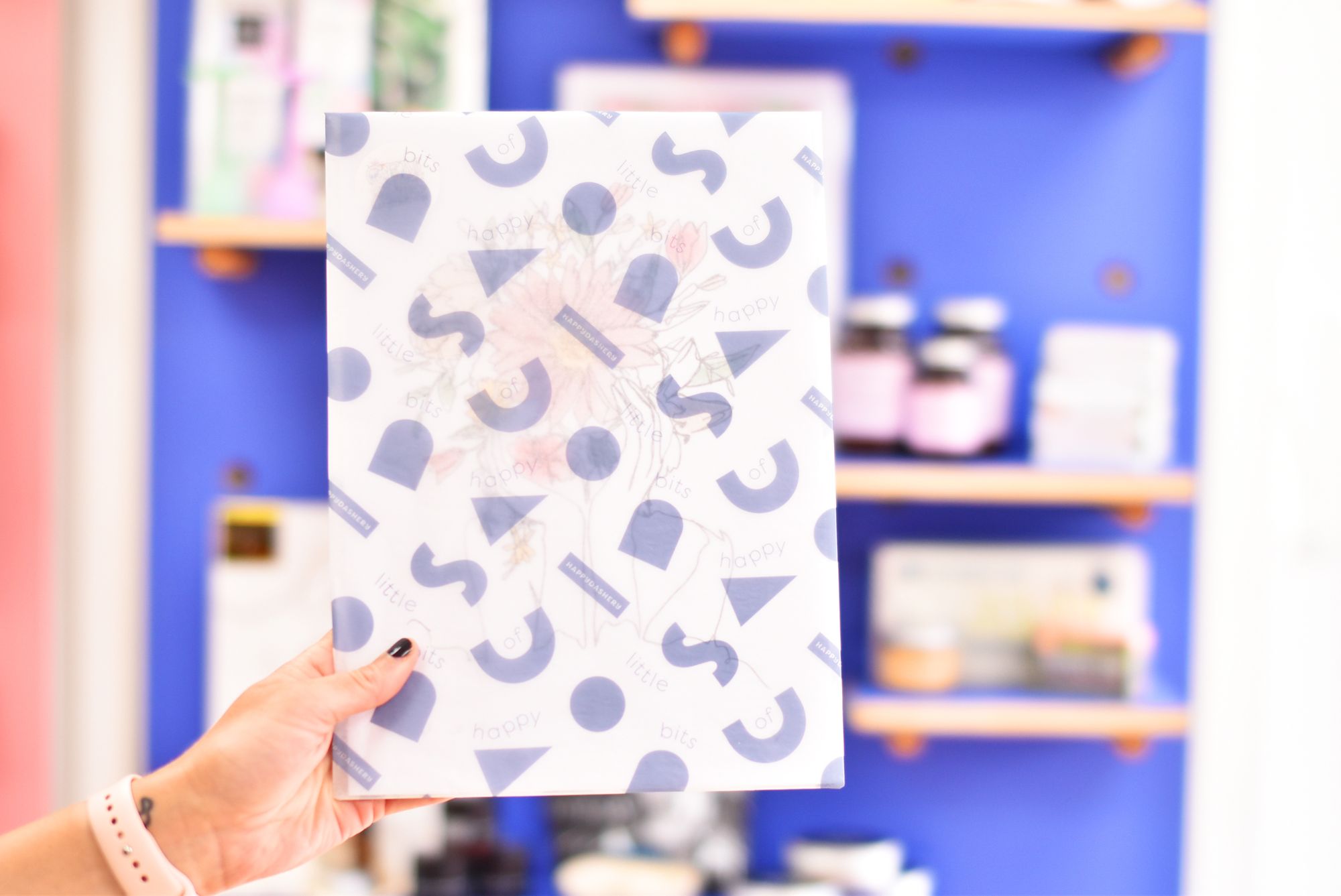 In concluding such a successful project together, Carrie, Sarah, and Lucy couldn't help but share a few fun details:
Carrie and Sarah exclaimed: "This entire project was worked on during one of our lockdowns in the U.K. This is the first time that we have worked with Lucy completely remotely. Normally we like to have a catch up and a chat over a cup of tea or a cheeky G&T as well but this time, the whole project was worked on over Zoom! "
Lucy expressed: "I put a little Easter egg in the branding - the shapes I created from the letters in the logo are all I used to create the icons on the website. It was really fun to constrain myself to puzzle piece shapes and then use those to create a huge library of symbols and illustrations for categories and seasons."
---
Find out more about Lucy Elliott and Happydashery here:
Lucy Elliott
Website: https://www.lucyelliott.co.uk/
Instagram: @imlucyelliott
Happydashery
Website: https://happydashery.co.uk/
Instagram: @happydashery