In this day and age, it is important for your brand vision to reflect in your packaging, as well as your products. Opting for custom, sustainable packaging elevates your identity, enhances the customer experience, and allows you to give back to the environment – all at the same time. For this feature, we'll be exploring how Succulent Calm + Inspired, a local beauty & wellness shop, came to life with the help of FOLK, an Oregon-based creative studio.
When inspiration is encaptured in a chemistry of butter, oils, salts and aromas – you get Succulent Calm + Inspired. Succulent Calm + Inspired was founded by Chelsea Graff, as a result of her lifelong interest in self-care and massage therapy.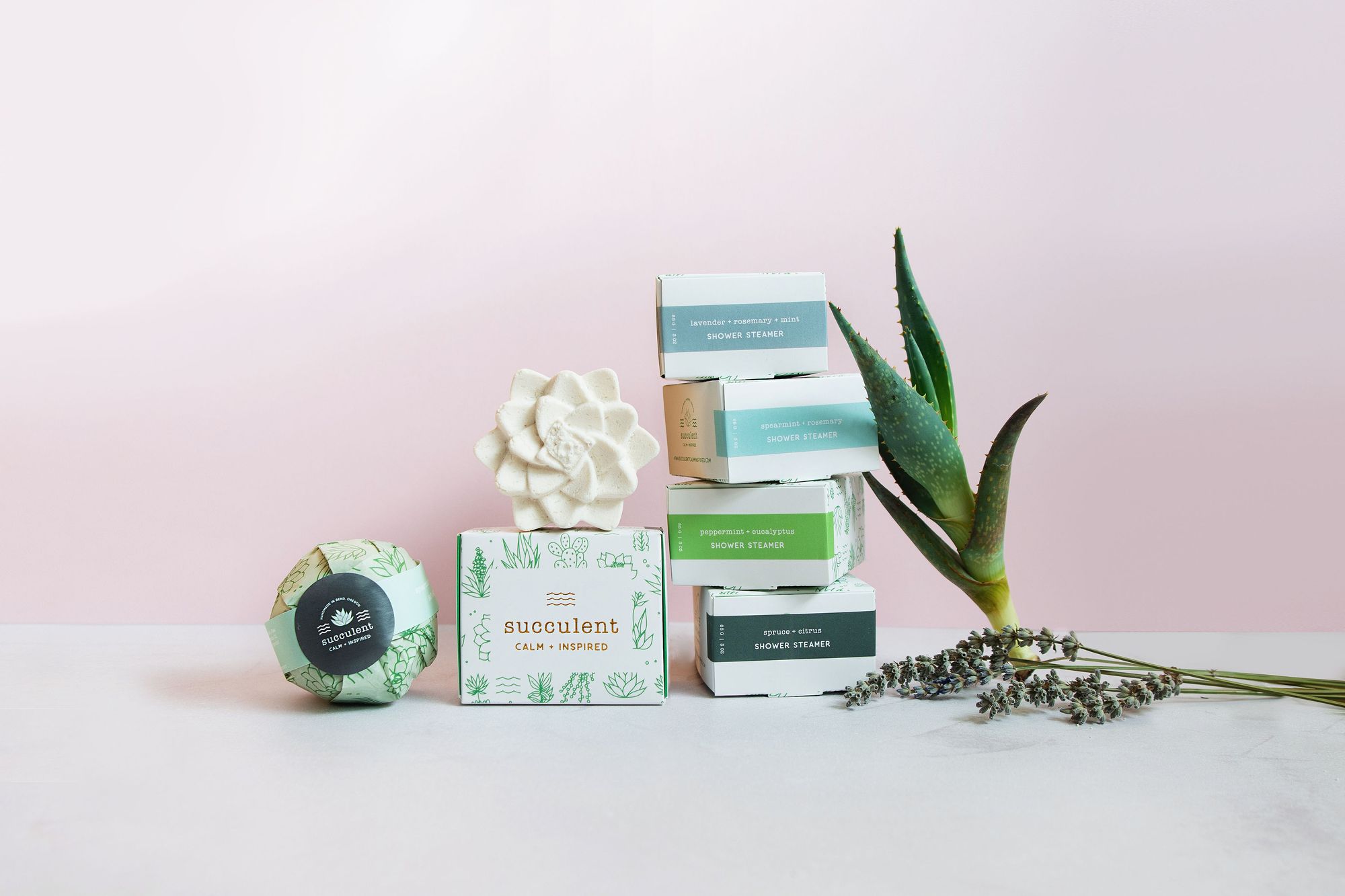 "While working as a pediatric nurse, I became interested in self-care for health care workers, with a strong belief that the more we are able to take care of ourselves, the better we are able to take care of others. I obtained my massage therapy license with goals to offer this benefit to the health care team. Although I didn't end up practicing as a massage therapist, it provided the spark of an idea." – Chelsea says.
After the lockdown hit, homeschooling two school age boys and working as a nurse became the ultimate juggle and struggle. Finding "me time" condensed to just 5 minutes in the shower, she would purposely inhale the scent of eucalyptus soap from a local shop and just breathe. Her daily self-care habit eventually led to the creation of what we now know as Succulent Calm + Inspired.
The beginnings of a brand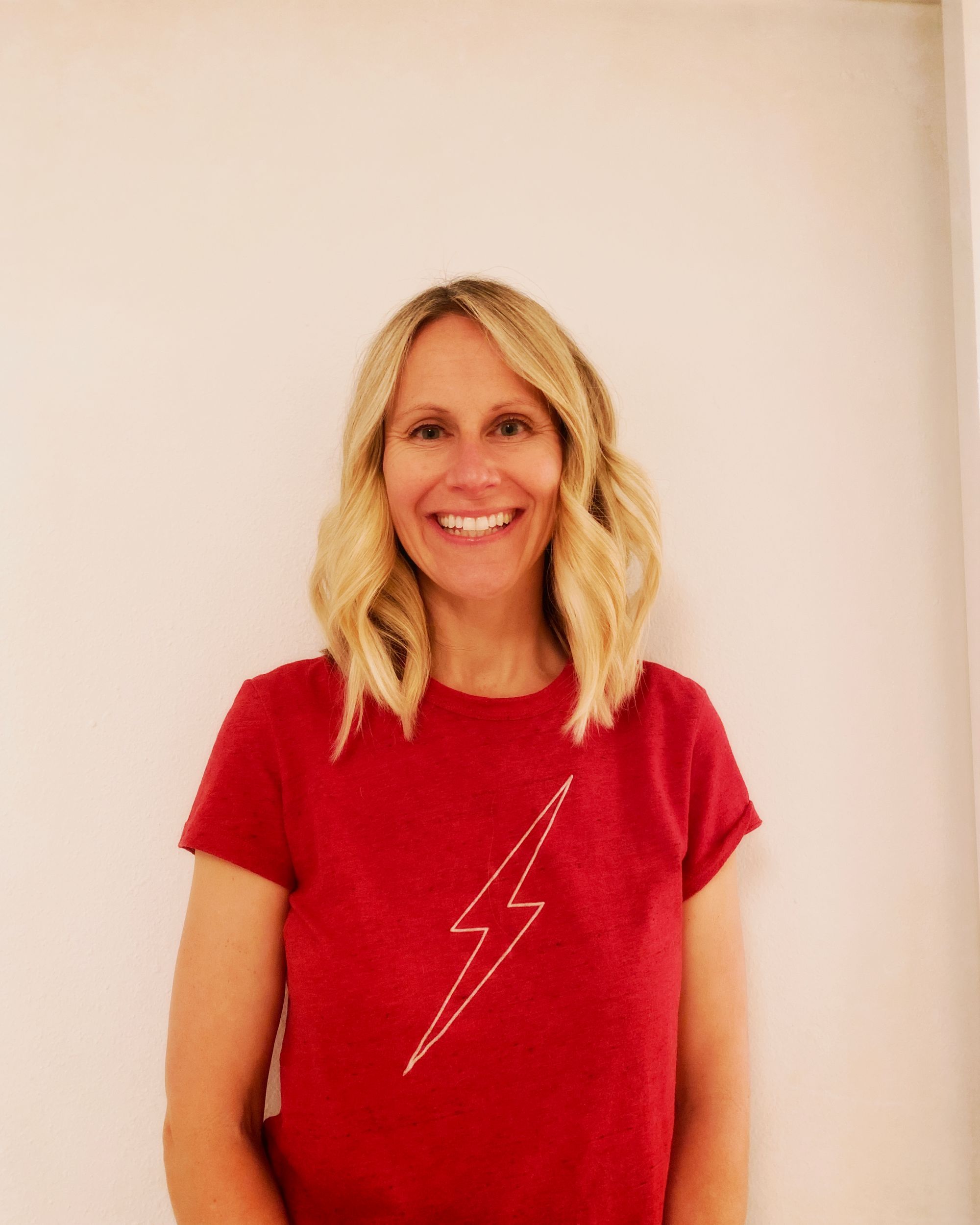 "I found myself wanting to support local shops as they were on the brink of a potential financial crisis while giving back to my co-workers as they provided exceptional care in the midst of a pandemic. And then, the idea began to take shape. I've made a career out of taking care of others - why not create a buttery treat for the skin and gift for the senses? Why not infuse your personal sanctuary with relaxation and inspiration, even if it's just for 5 minutes?", quoted by Chelsea.
Succulent Calm + Inspired was inspired by none other than succulents themselves. Succulents are adaptogens, meaning they have the unique abilities to survive in harsh climates and store water necessary for existence, which resonated with her brand vision perfectly.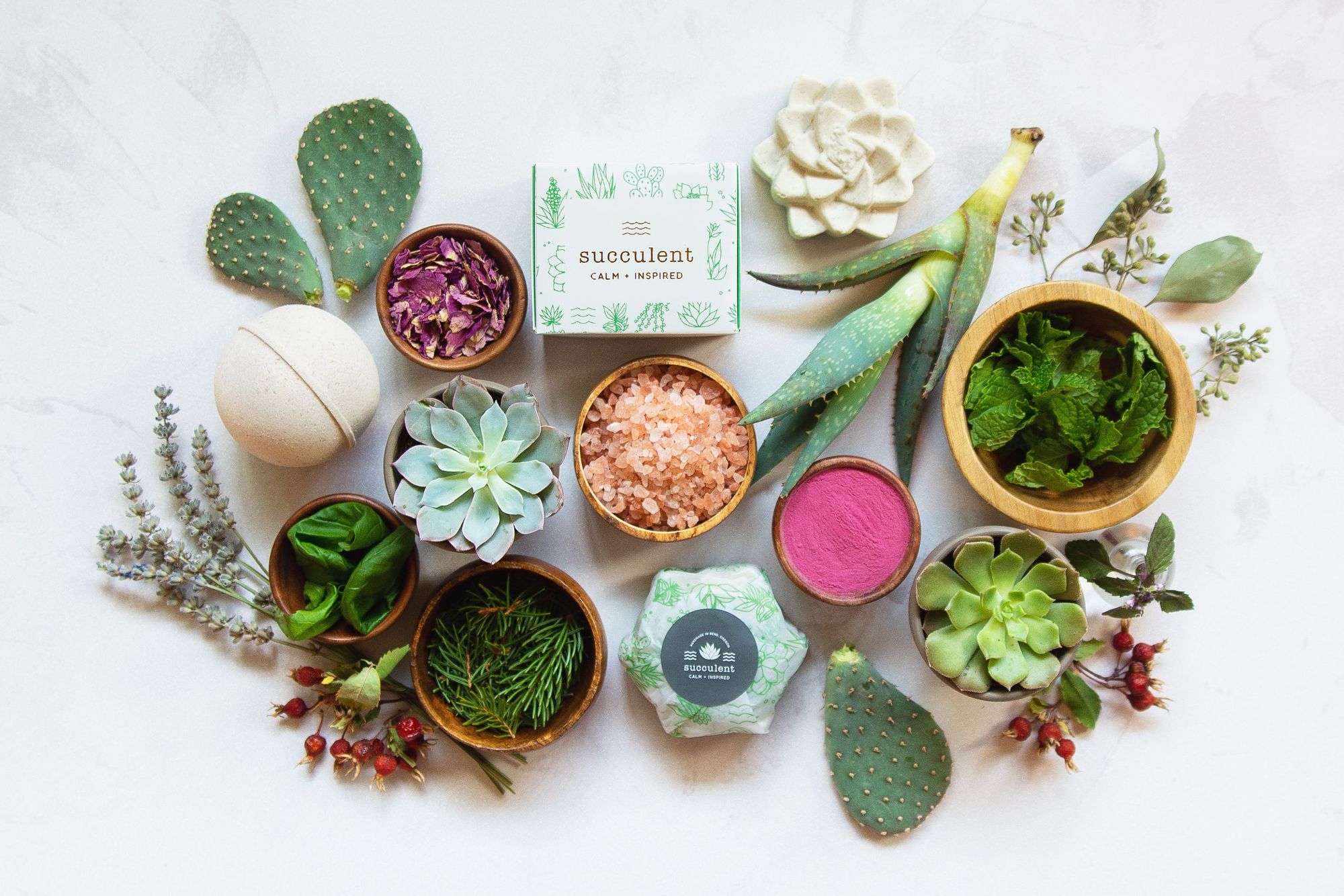 Chelsea says: "Succulents were an ideal icon to represent our ability to adapt to change, the resiliency and strength to tackle our current environment, and flourish with grace and beauty. In order to replenish our skin and revitalize our senses, I naturally decided to incorporate ingredients derived from succulents and adaptogens. Integrating fair trade organic ingredients was essential to support fair wages with the intention to preserve soil quality and address long-term sustainability."
The collaboration: finding a design match
Embarking on her branding campaign and in search for a designer, Chelsea reached out to her childhood friend, K Dimoff Photography, for help and was immediately recommended to Alyson, the creative director of FOLK Creates.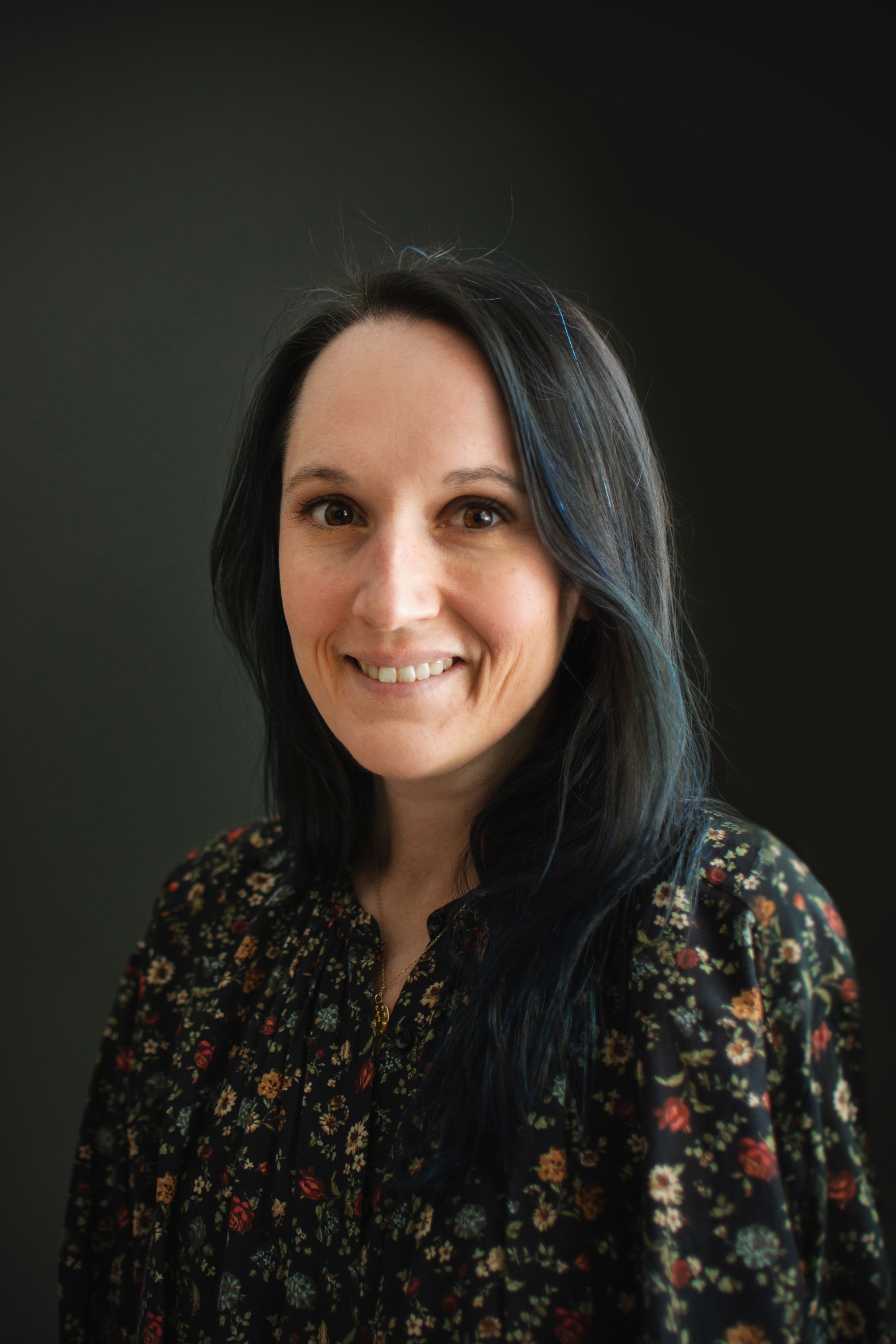 Alyson Brown has been a professional designer in both corporate and boutique studio environments for almost a good 15 years, yet it wasn't until she developed Folk that she really found her passion and creative path. Alyson excels in all areas of product photography and brand development, her true passion lies with working with botanicals, so naturally, Succulent Calm + Inspired was a true match.
Chelsea and Alyson proved to be a perfect fit right from the start. They found they had many similarities including shared interests, where their kids went to school and a similar background and appreciation for skincare – which made working together a breeze!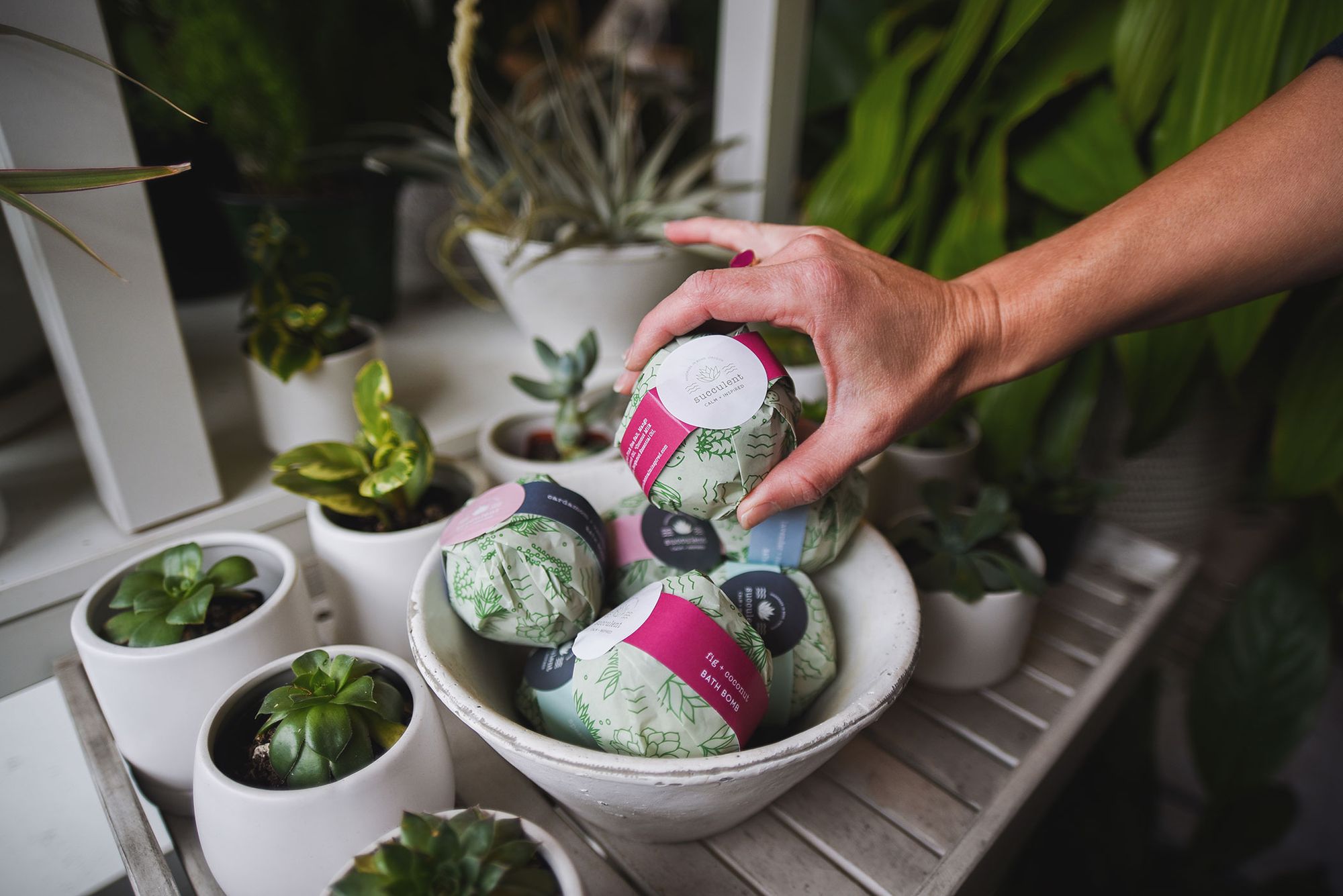 The design process involved exploring everything from product development to ingredients and learning how best to represent the brand.. Chelsea gravitated towards simple, creative, and bold designs, so FOLK utilized the brand's logo and icons of other key ingredients to create a striking repeat tissue design.  Being eco-friendly was an absolute must and the design which printed beautifully onto noissue's FSC Certified tissue. Their packaging featured the use of two different color combinations on tissue and a matching noissue sticker to secure the wrapping.
"Chelsea suggested we use noissue for the packaging. She was very inspired to keep the project as minimal and eco-friendly as possible. Knowing how much packaging typically ends up being thrown in the trash, makes it very important as a designer to want to work with companies that follow high eco standards.", stated by Alyson.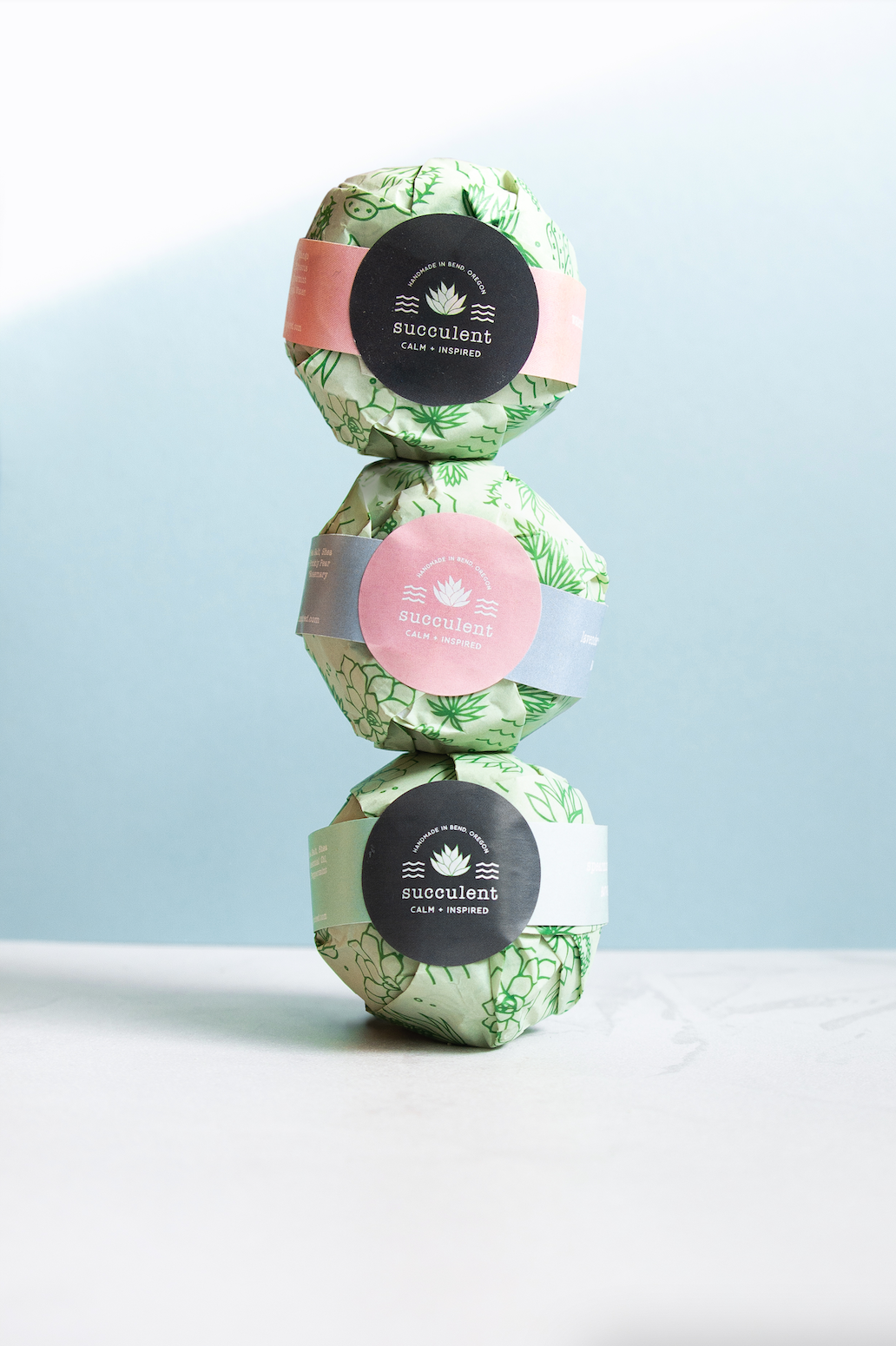 "I really liked her mission and vision for her company. She was very passionate in the time of COVID about bringing peace and joy through her products. I love a project that I can be a part of from the ground up. Branding, packaging, photography, and website - we did it all." Alyson says.
When working on a project, it is definitely a plus if both parties are able to connect and be on the same wavelength. Both Alyson and Chelsea clicked right at the start, which made the whole process a breeze! The resulting outcome was absolutely beautiful and we are delighted to have been a part of the project.
Currently, Succulent Calm + Inspired are offering a plethora of handmade beauty and wellness products all available online.
---
Find more of FOLK and Succulent Calm + Inspired here:
FOLK
Creative Profile: https://www.noissue.co/partners/creative-community/folk
Website: https://www.folkcreates.com/
Instagram: @folkcreates
Facebook: https://www.facebook.com/folkcreates
Succulent Calm + Inspired
Website: https://www.succulentcalminspired.com/
Instagram: @succulentcalm