Haus of Graze was built out of the passion project of creating soulful and sustainable grazes, designed to bring more joy into your life. What started off as just a hobby and creative outlet, quickly turned into an unexpected passion! Thuong Nguyen, the creator and chief motive behind Haus of Graze, had the idea of sharing fresh and organic produce handpicked from her very own home garden and sourced from local markets. This project naturally blossomed into a full grown business!
As Thuong was starting her business, she knew she needed the help of a creative to truly help bring her brand vision to life. For this project, she collaborated with New South Wales-based Miller Design Studio to craft the perfect branding.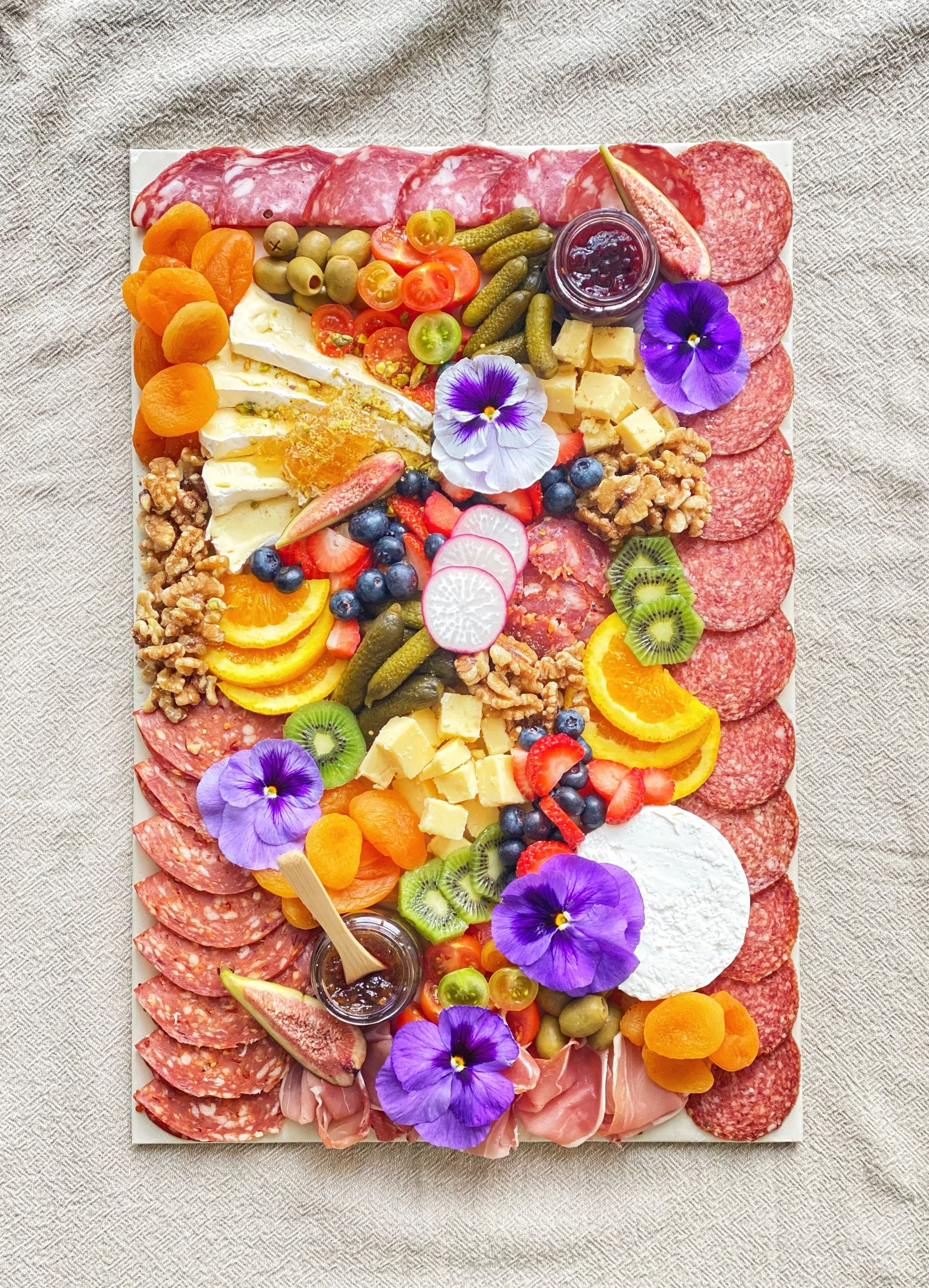 Since 2019, Haus of Graze specializes in using farm fresh ingredients and attention to detail to create a variety of gourmet graze boxes, boards and tables that are impeccable and oh so satisfying! They source all of their products from the passionate Australian makers they love and respect. The art of cheese and charcuterie is perfect for all occasions. Haus of Graze aims to bring people together, accompany conversations and create memories that will last forever.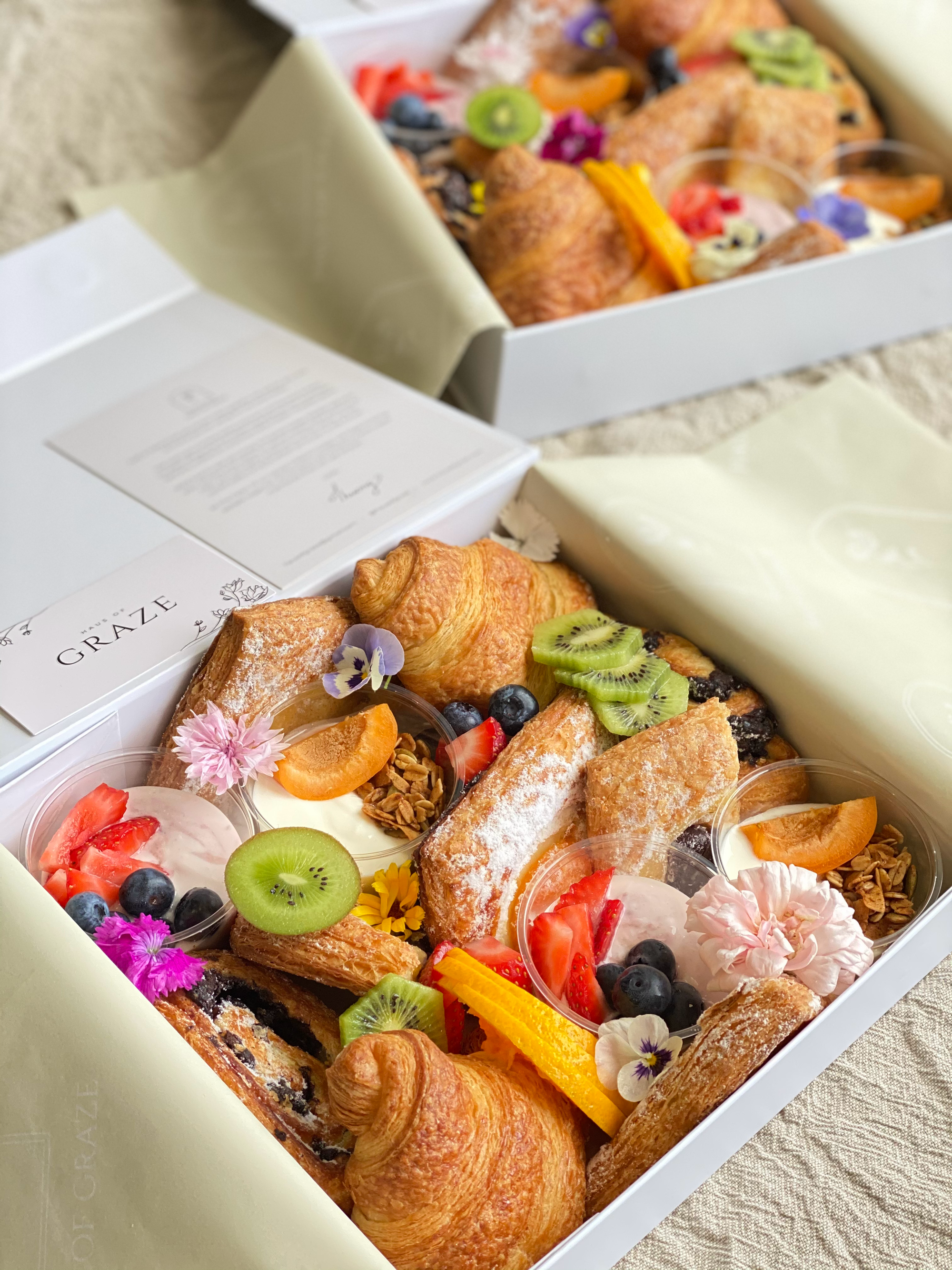 Thuong believes that creativity and creative thinking are valuable skills that continually challenge human beings to flourish purely. With a soulful, sustainable, and unique vision, Haus of raze has an abundance of qualities to be grateful for! As with every new business, they were in search for the perfect creative that could produce their ideal brand vision. Luckily, the creative they were looking for was right around the corner!
Emileah Miller is the director and designer behind Miller Design Studio, based in Avoca Beach, NSW, Australia – about an hour North of Sydney. She's always had a strong eye for design and is passionate about developing visually-pleasing brand identities that help her clients stand out from the crowd.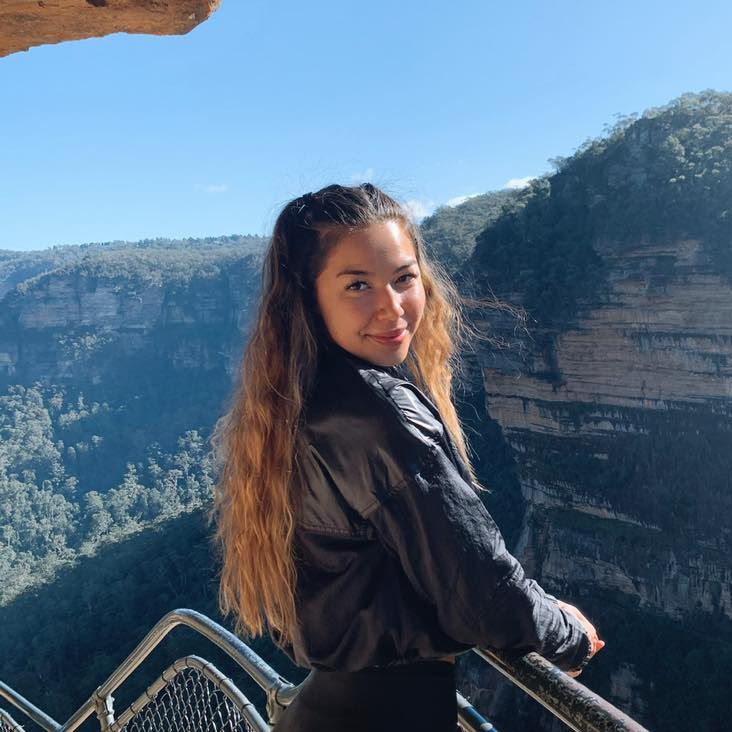 Miller Design Studio is an all-around design agency which accommodates businesses across the globe. Emileah's work spans across industries including hospitality, retail, lifestyle, corporate and more. She's here to work collaboratively with you by understanding the true values and goals of your business, and creating a strong visual identity that aligns with your vision.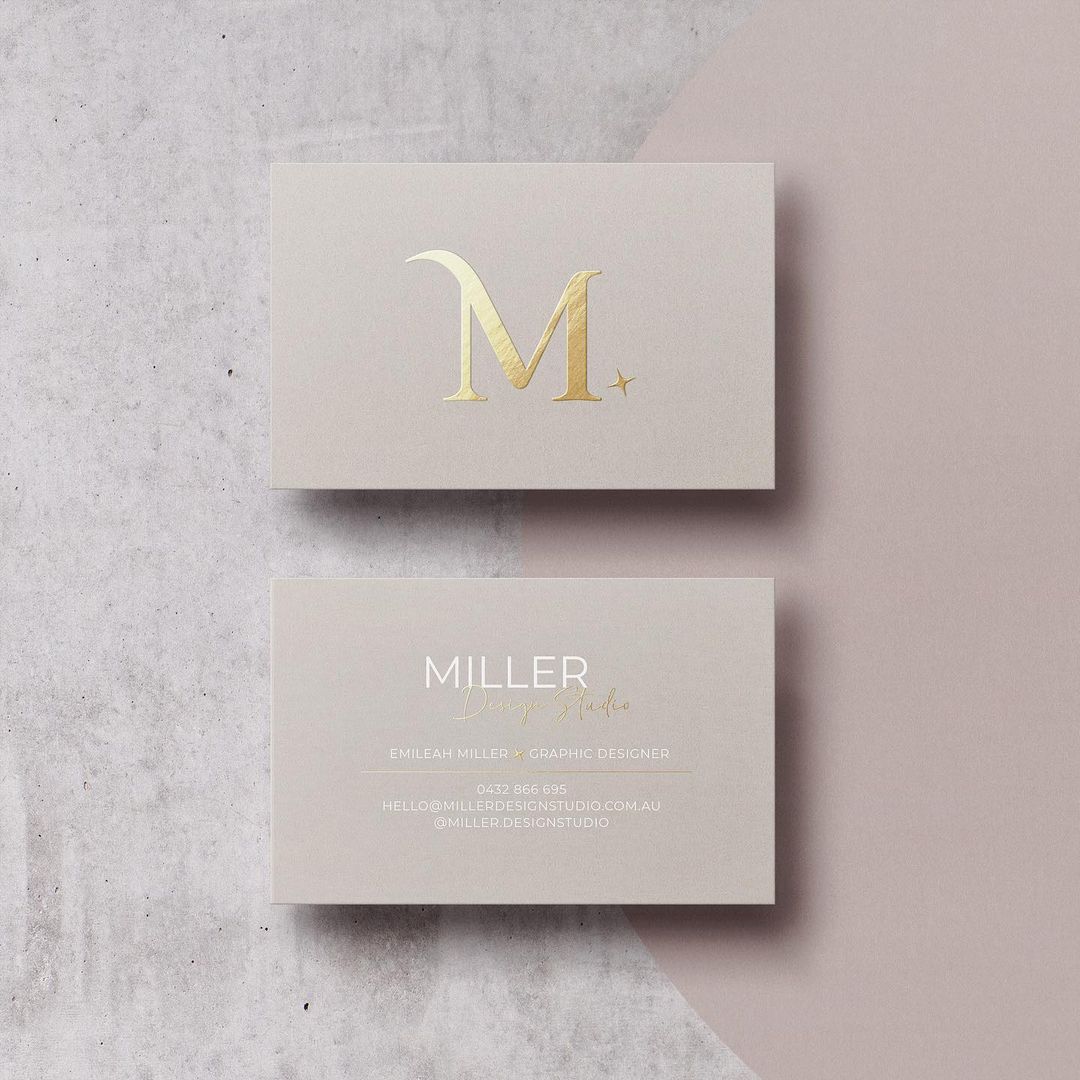 "I now run my own design agency which accommodates all types of businesses, and honestly I enjoy working for every client just as much as another. I love speaking to business owners and understanding their story and vision, whether it be a client from the corporate sector or one from the beauty industry. I love having a diverse range of clients from all different industries and locations." - Emileah
In her search for the ideal designer for this project, Thuong was looking for an art director that had the ability to bring the three qualities of their brand and business to life. They expressed the necessity of custom illustrations that would bring forth their values of authenticity, impact, and organic ingredients.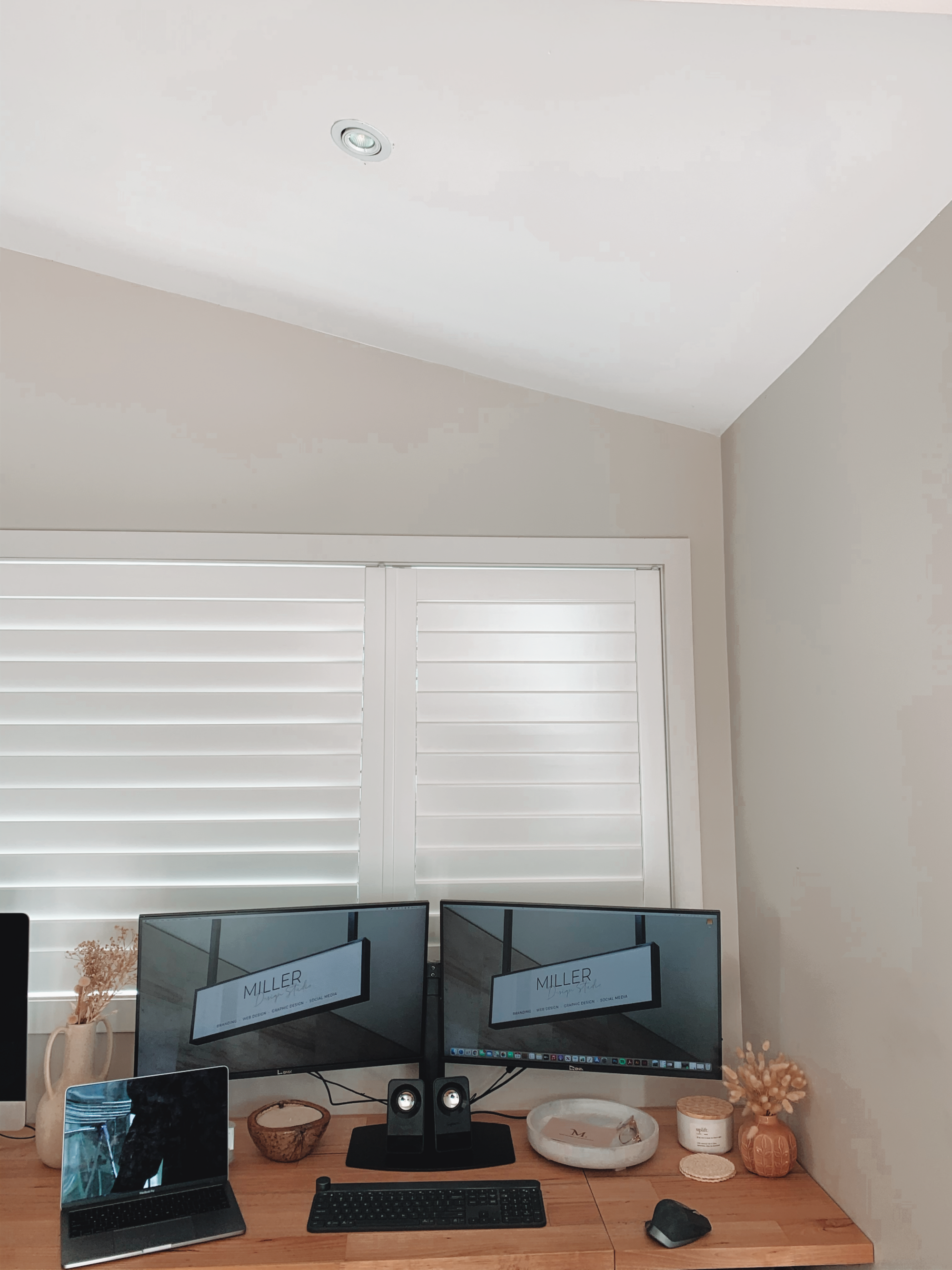 Thuong says: "Custom illustrations to represent an exceptional profile that is authentic, impactful, and organic was important. Our goal was to find a creative to transcend a beautiful neutral aesthetic for a high end, luxury, timeless experience. We came across Miller Design Studio whilst browsing on Instagram. The beautiful projects showcased on Emileah's page brought us joy instantly. That's when we knew she was the creative we wanted to work with to bring the vision of life for Haus of Graze."
Emileah was ecstatic to work with Thuong to create the new branding for Haus of Graze. She absolutely loved their grazing boxes, expressing that they went above and beyond. To get the ball rolling, Emileah carried on discussions with Thuong to get a grasp around her vision for the overall branding.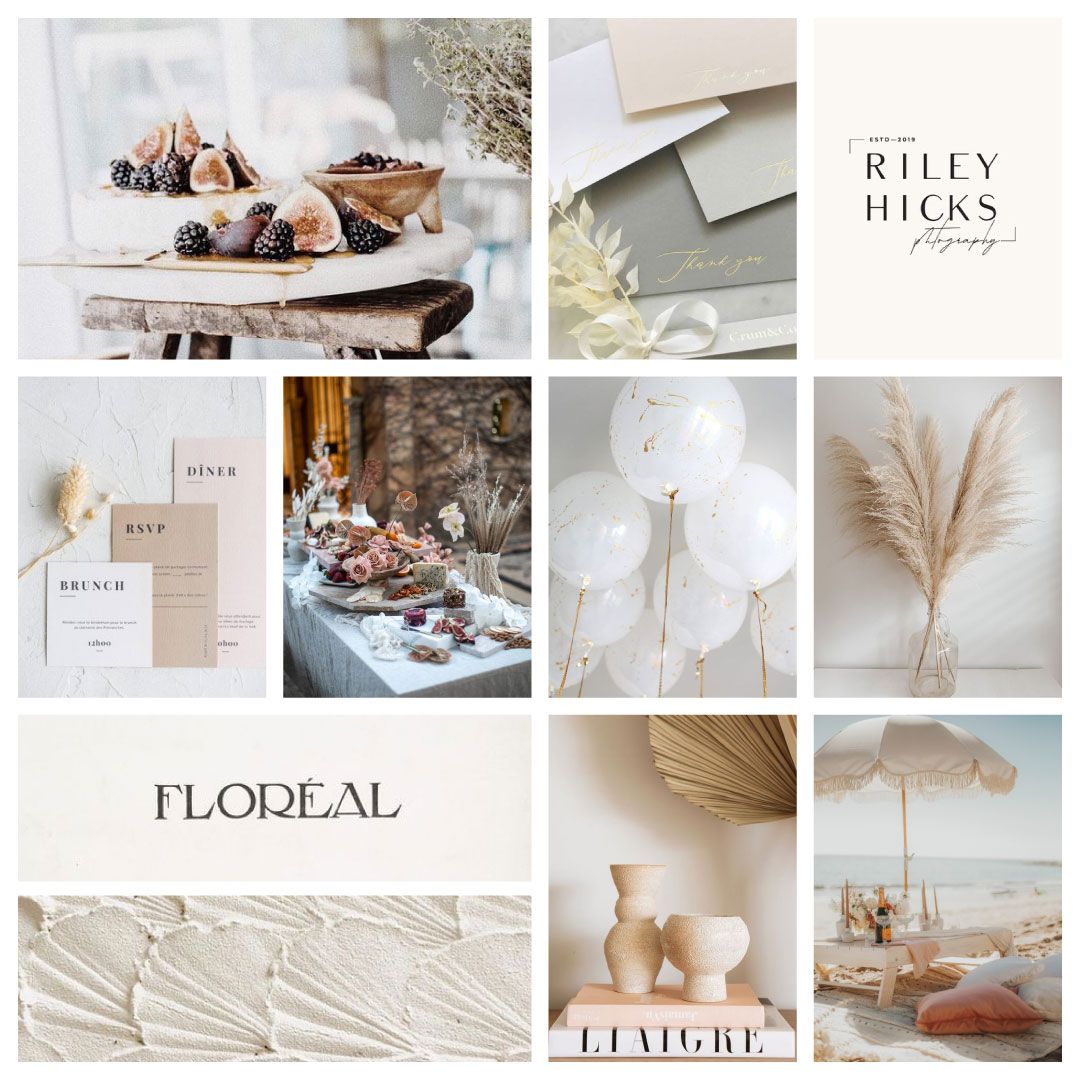 "Thuong gave me a lot of creative freedom with this project. She guided me on what she wanted the branding to feel like, which was organic, sustainable, timeless and luxurious. From our discussions around her vision for the branding, I was able to build out her brand strategy, from which I created a visual identity that aligns with her true overall values." - Emileah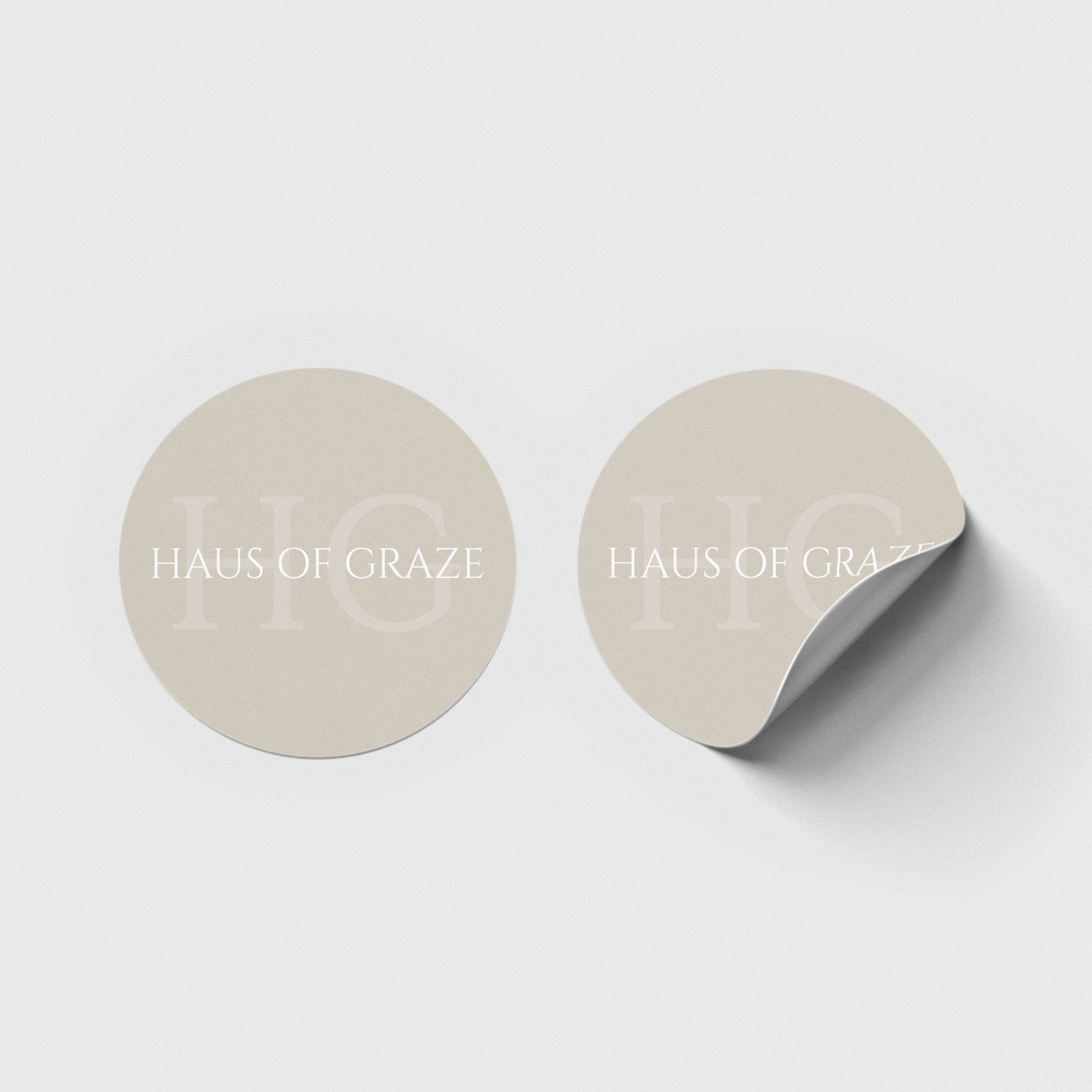 After a bit of back and forth including the drafts of logos, color palettes and fonts, Emileah offered options which ensured Thuong had the ability to pick and choose certain design elements she loved the most. The variety of choices and being able to pick out specific design factors allowed the perfect creation of their brand vision, down to the dot.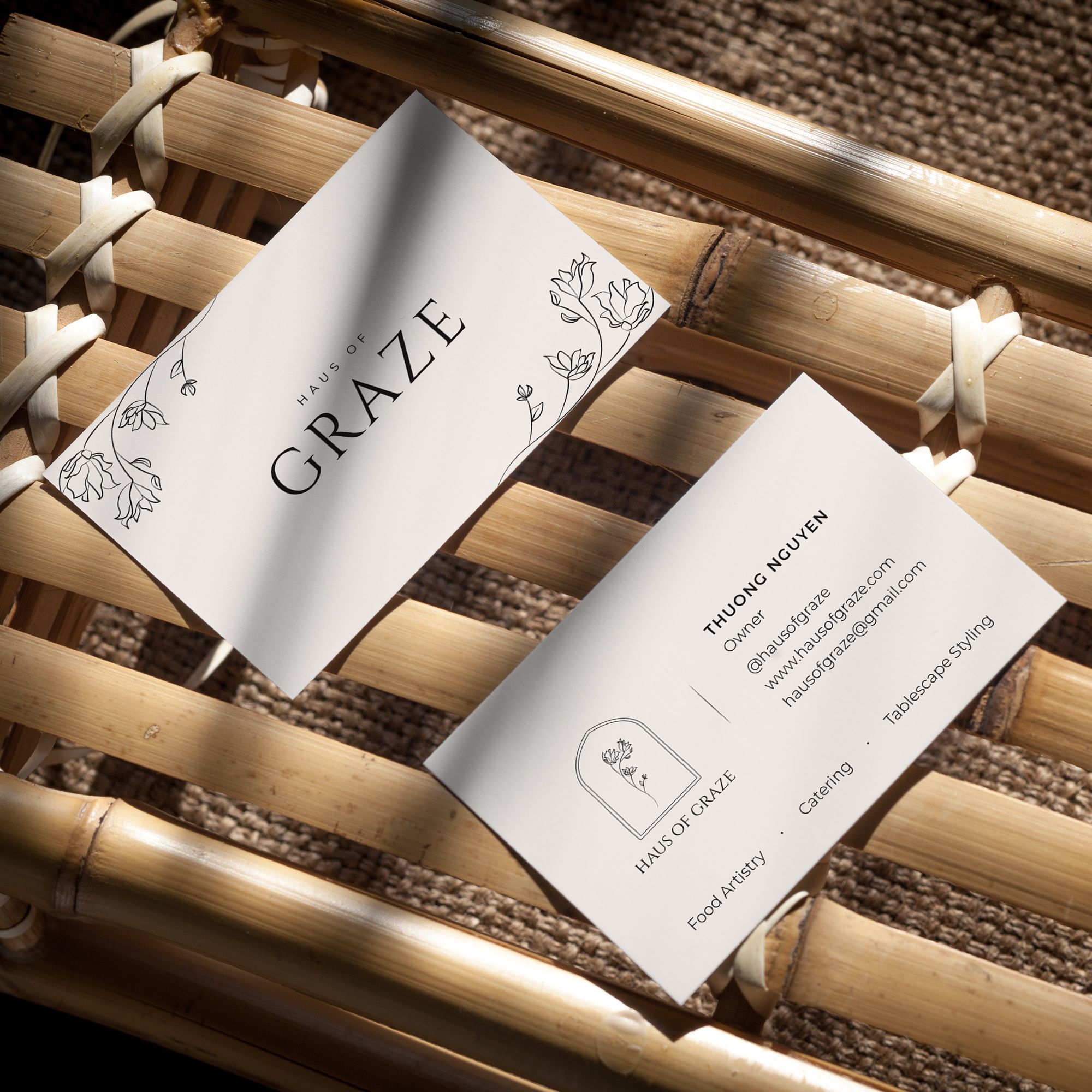 "The placing of typography and illustrations was very difficult, as I wanted the logo to still look clean whilst portraying an organic feel with the freehand drawing. Emileah created a business card and thank you card mockup to demonstrate the overall feel and flow of the design concept. By working closely and honestly as a team, Emileah and I were able to bridge the gap between the language and visuals for Haus of Graze." - Thuong
At Haus of Graze, they aspire to spread joy and create special bonds amongst people with their graze boxes, boards and tables, while being a guardian for the planet we live on. Their role is not only to offer incredible products by using the best ingredients they can get their hands on, but to also protect what matters. With that in mind, they had decided to make commitments towards utilizing noissue's custom, sustainable packaging.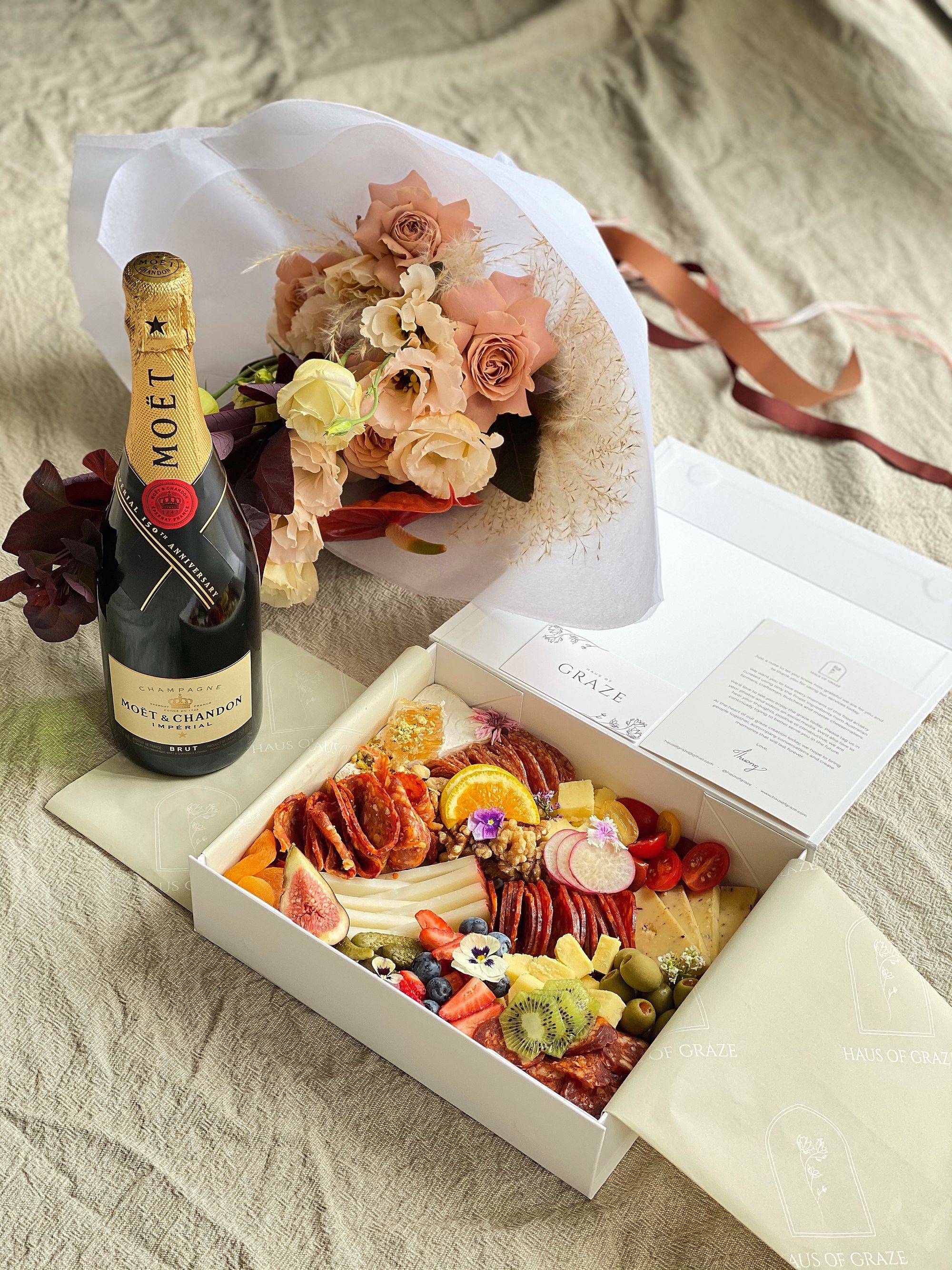 "These biodegradable, compostable and recyclable materials will not only help reduce any unnecessary wastes to our land and protect our natural resources, but also give our consumers the chance to contribute to a greener and healthier Earth. We strive to do better for the planet by being a sustainable and ethical brand and hope to create wonderful experiences for our consumers by delivering lavish grazes with environmental benefits." – Thuong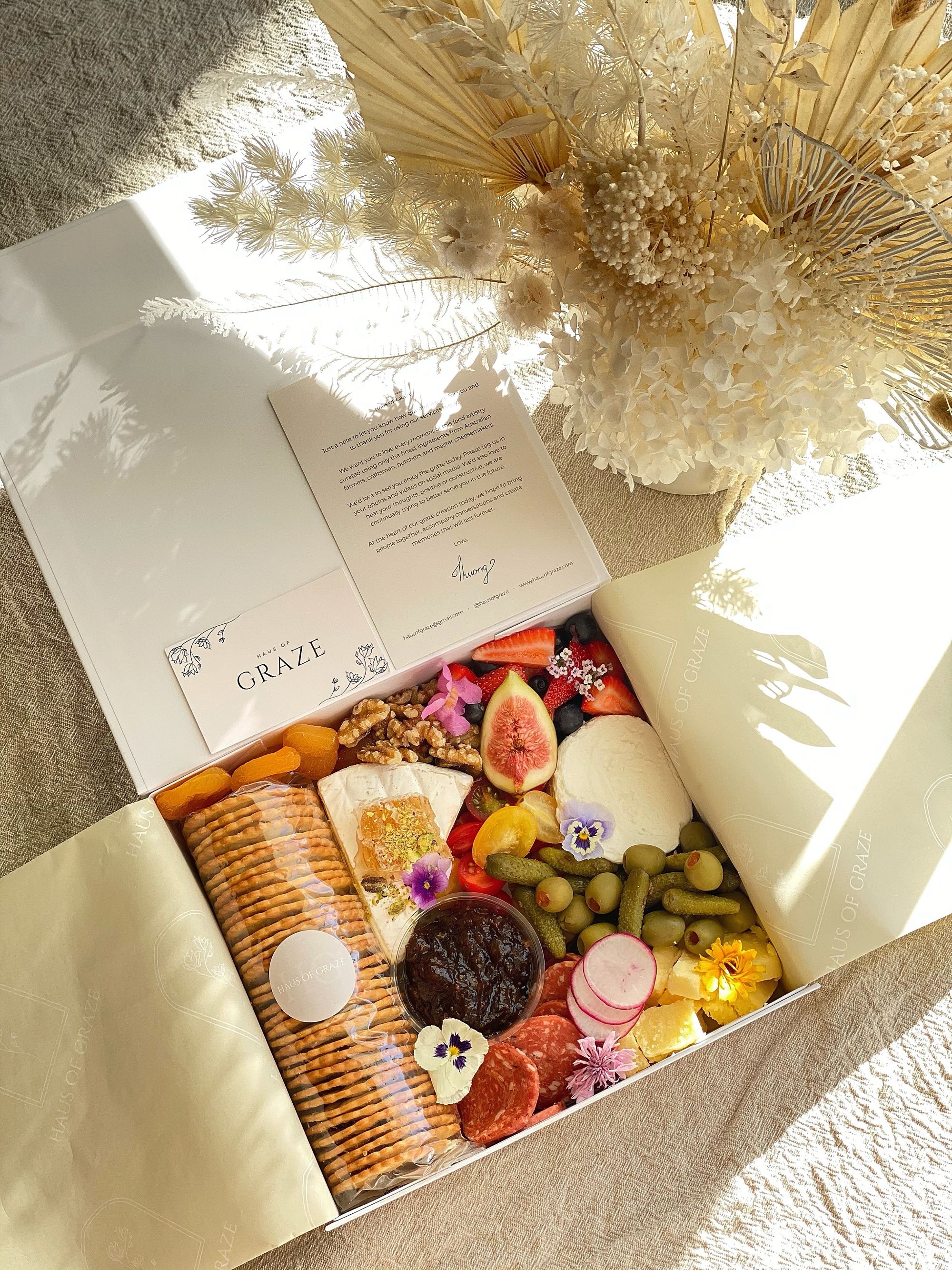 Having had a blast working on this project together, both Emileah and Thuong had a few sentiments to share:
Emileah shared: "I loved and am grateful to have met Thuong (over the internet since we're in different states). She was so easy to work with and such a genuine and kind soul."
Thuong expressed: "Emileah is by far the most thoughtful Brand Designer I have ever worked with. She was pleasantly easy to approach and to talk to. The transparent and meaningful relationship we flourished under made the designing process pure and fun. Deciding on the style direction and color palette which will work best for Haus of Graze filled me with joy. I felt immeasurable excitement and enthusiasm being able to pick and choose fonts, colors, and illustrations with the help of Emileah. The creative ideas and guidance she gifted me was extremely helpful. She made me feel as though this wasn't just my brand. It was also hers and she gave 100% soul and action to bloom an amazing branding for Haus of Graze."
Catch Haus of Graze and Miller Design Studio's packaging in action here:
---
Find out more about Miller Design Studio and Haus of Graze here:
Miller Design Studio
Creative Profile: https://www.noissue.co/partners/creative-community/miller-design-studio
Website: https://www.millerdesignstudio.com.au/
Instagram: @miller.designstudio
Haus of Graze
Website: https://www.hausofgraze.com/
Instagram: @hausofgraze