A Fashion Designer with big love for coffee, Monique Hope, our featured creative is here to wow everyone with her talent for designing – and multitasking!
Recently returned to rural NSW, Monique is based in Tamworth. She is always creating and enjoy putting her business skills and entrepreneurial mind to work, seeking challenging new projects and creative teams to join.
Know more about our talented creative (and her business) below:
ABOUT OUR CREATIVE
Tell us a bit about yourself/your team:
Monique (Mon) Hope, my brand is me - Monique Hope. I am based in regional NSW Australia in a town called Tamworth.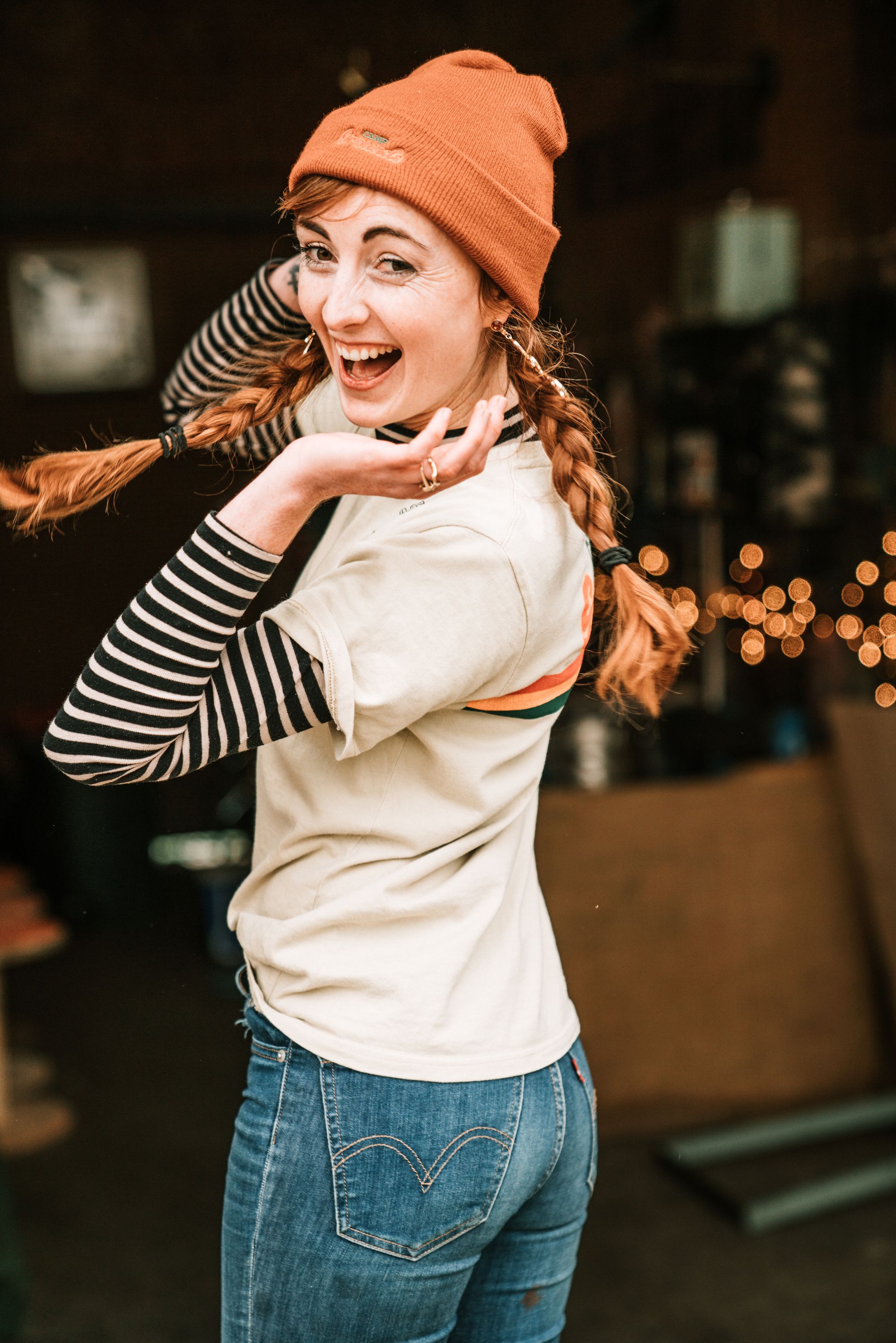 How and why did you start your brand?
As much as I love doing art for myself, I am so much more energised by creating for and with others. Bringing a concept or idea into reality is what I love most about being a designer. I started my brand because I want more of that!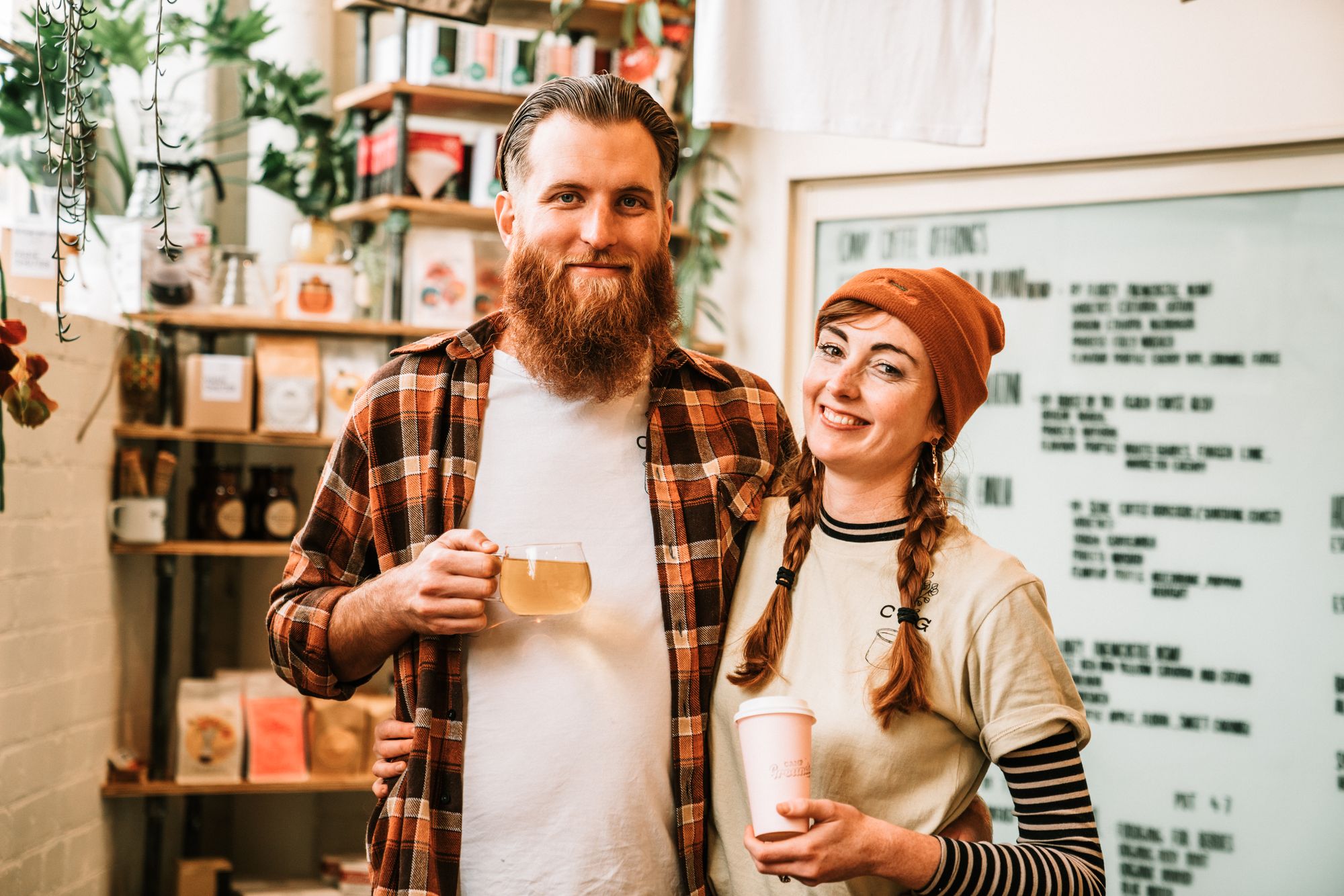 What's your brand vision and why is this important to you?
To create connections and build community. Now more than ever I am reminded that we were never meant to do it all on our own. There is so much power and potential in communities. Through art we can connect with each other and feel less alone. By expressing ourselves we give other people the power to express themselves . Creativity sparks connectedness.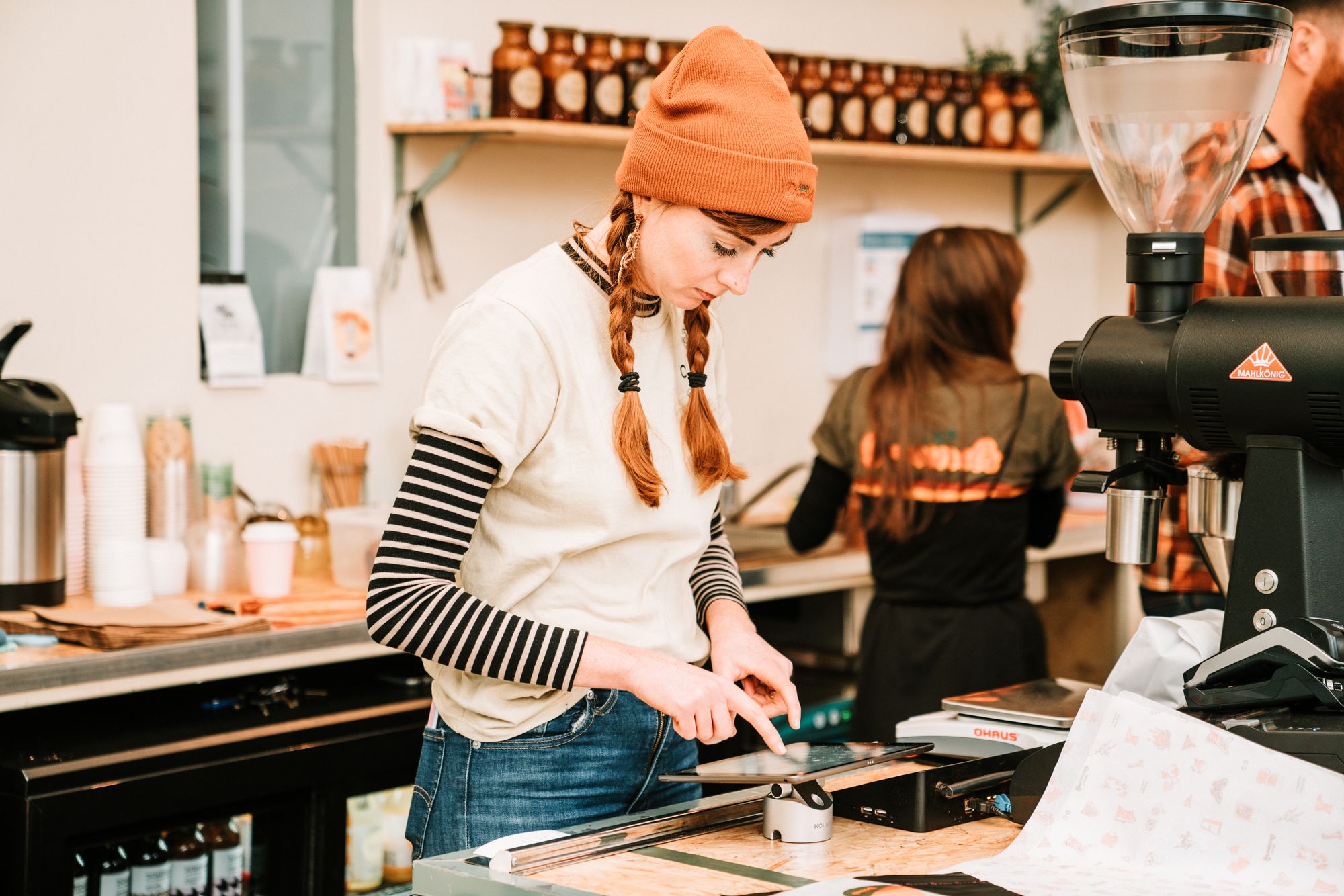 What's your design process like?
Where do you usually get inspiration? My process usually starts with gathering inspiration and then moodboarding it to draw out colours, themes and concepts. I get inspiration from everywhere but I am especially inspired by nature, films and tv as well vintage homewares and textile design. I am obsessed with patterns, especially retro florals.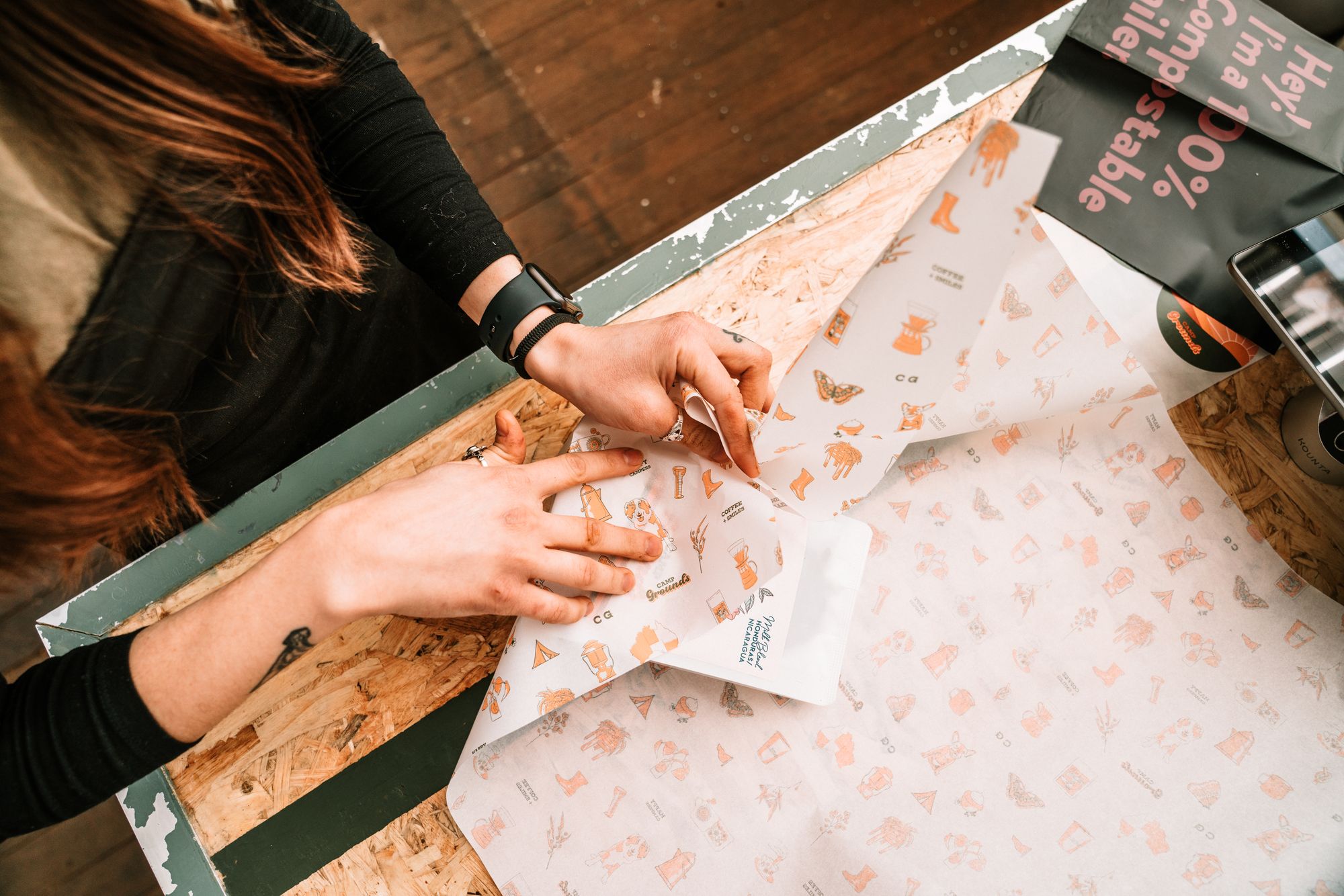 What does visual storytelling mean to you?
It is a way to connect with others - through visual storytelling I can share a message in search of like-minded people. To me it is a way of saying "this is who I am" or  "this is what I think and feel". I imagine that it is a beacon for others who can relate. In that way it is telling a story not just to make someone smile but to reach out to others and find kindred spirits.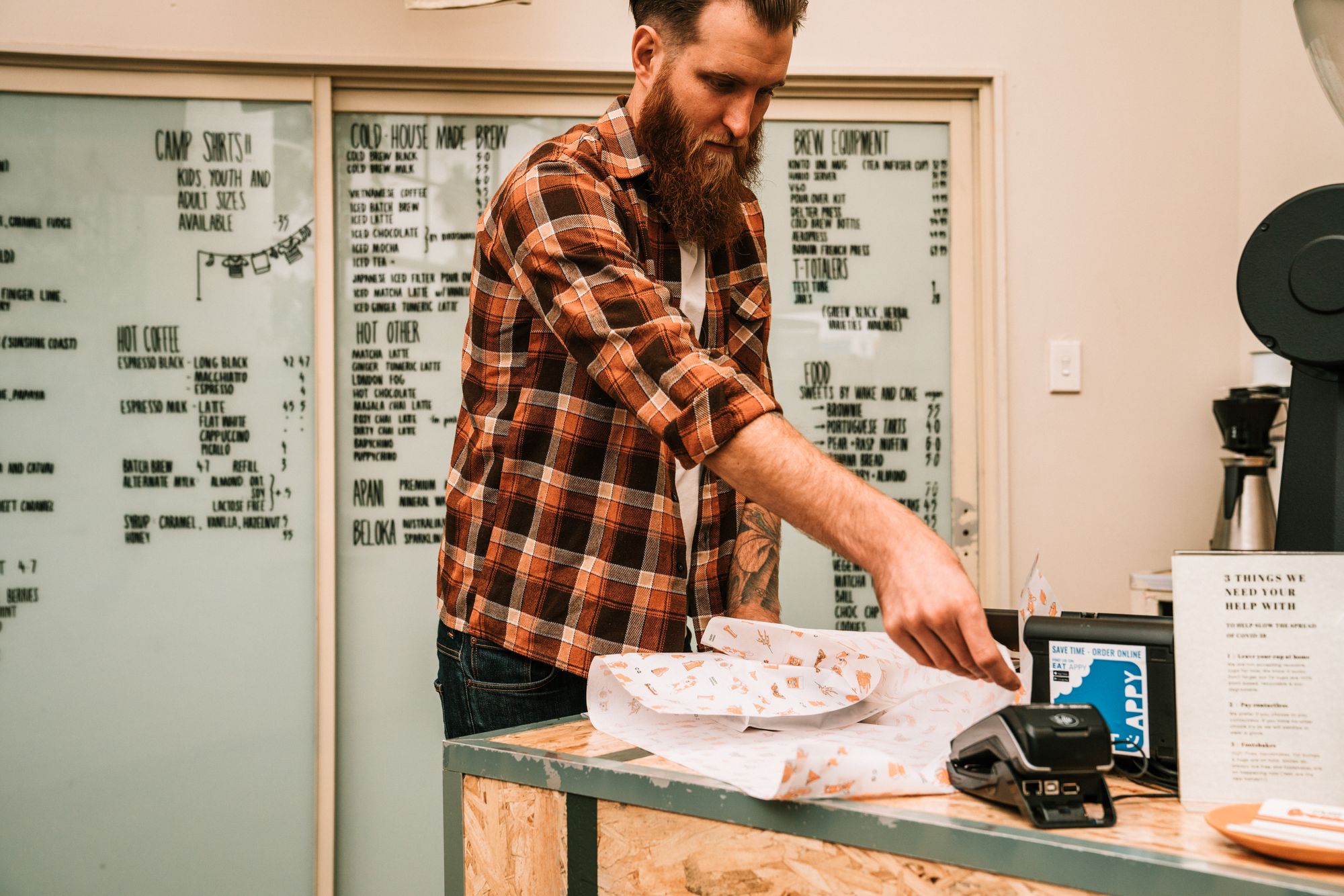 What qualities do you look for in a client/collaborator?
Fun! I don't take myself too seriously so I gravitate to brands that also have a childlike enthusiasm. It would be a dream to collaborate with a childrenswear brand because kids can be so brave and naturally expressive with colour and pattern.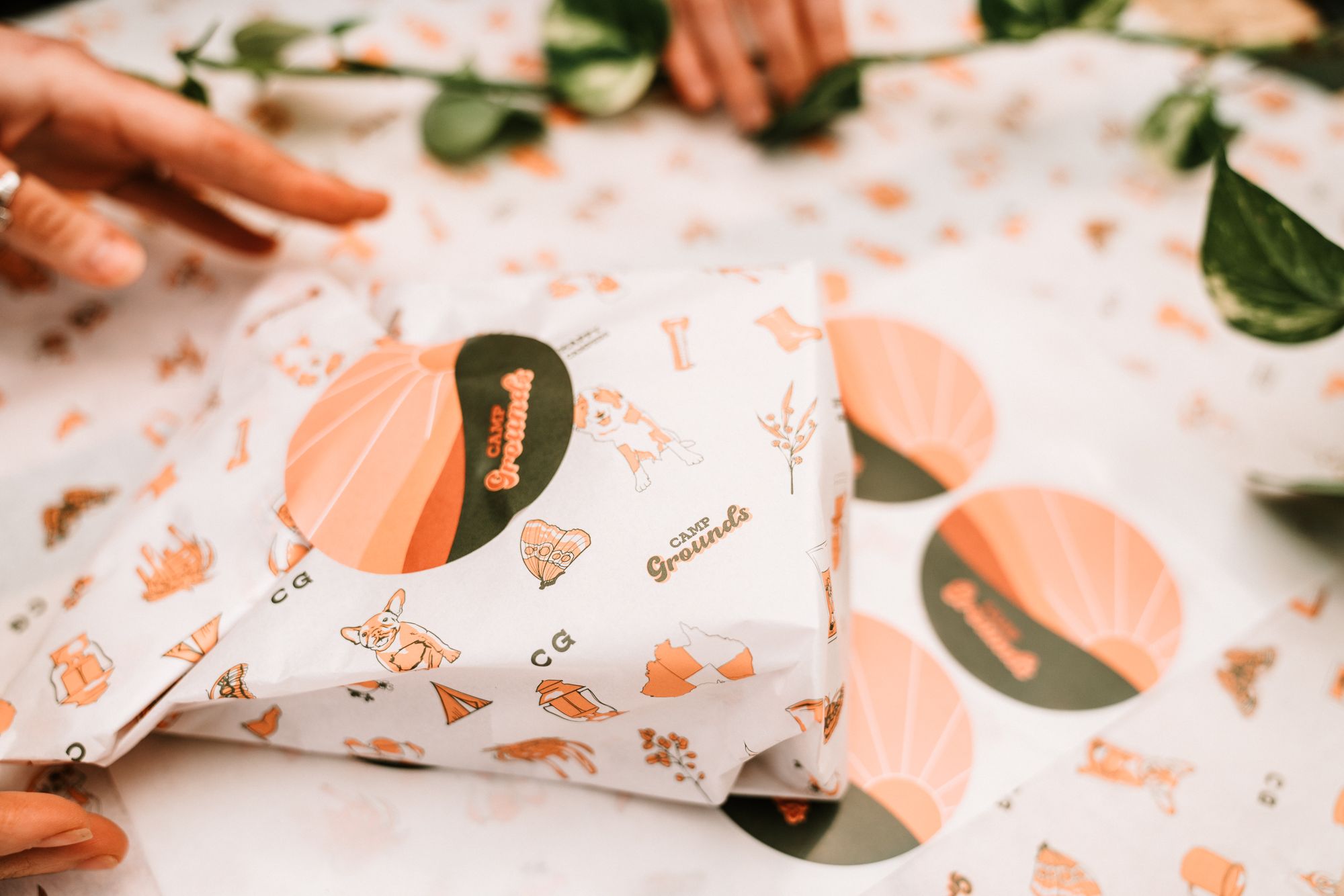 ABOUT THE COLLABORATION
Tell us a bit about your collaboration with Camp Grounds Tamworth. What are their products and what kind of business do they run?
I own Camp Grounds with my husband Matt - so this collaboration was very close to home. Camp Grounds is a rad little 'hole in the wall' specialty coffee bar in Tamworth. Our shop opened in December of 2019 out of a desire to showcase different brewing techniques and specialty coffee roasters. We are all about creating a special experience and unlike other cafe's we do not have a kitchen so beverages are our number one focus. With many different brewing techniques as well as changing retail beans on show - we are a first for our kind for this regional town.  The local community has really embraced our changing filter batch brews and are so keen to learn and experience everything we share with them. Unlike places where you will get the same mass produced blend ever visit - we are showcasing many different independent Australian Coffee Roasters. We are all about education and making coffee super approachable and really love helping people learn more about it in a fun and inclusive way.  We have our own Monthly Coffee Subscription and Apparel brand which is pretty special and a fun extension of the brand. People say that they come to us for the good vibes and bloody good coffee.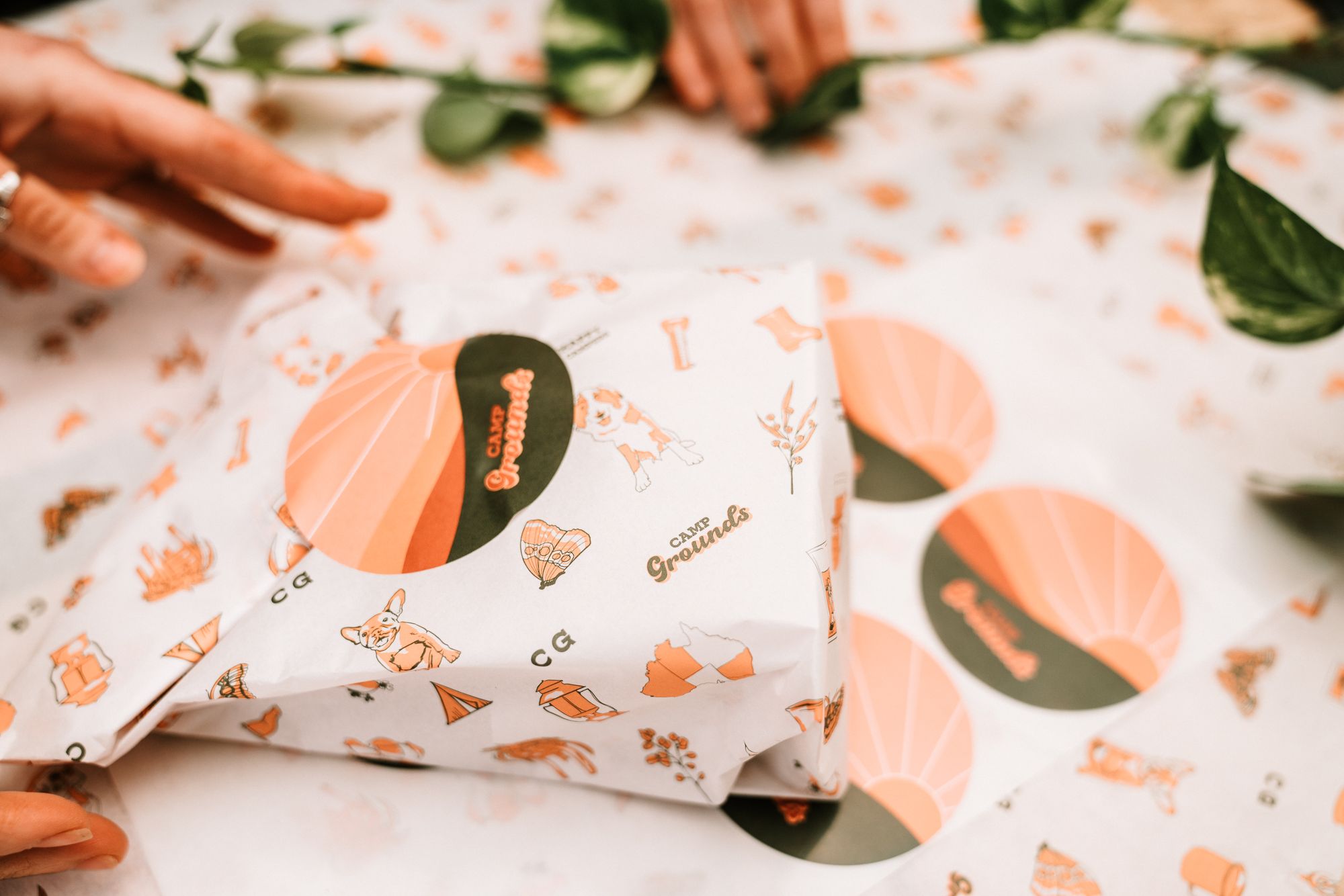 How did you and Camp Grounds Tamworth begin to work together?
I am the in house designer/marketing/creative for Camp Grounds. I am proud to be responsible for all apparel and digital design.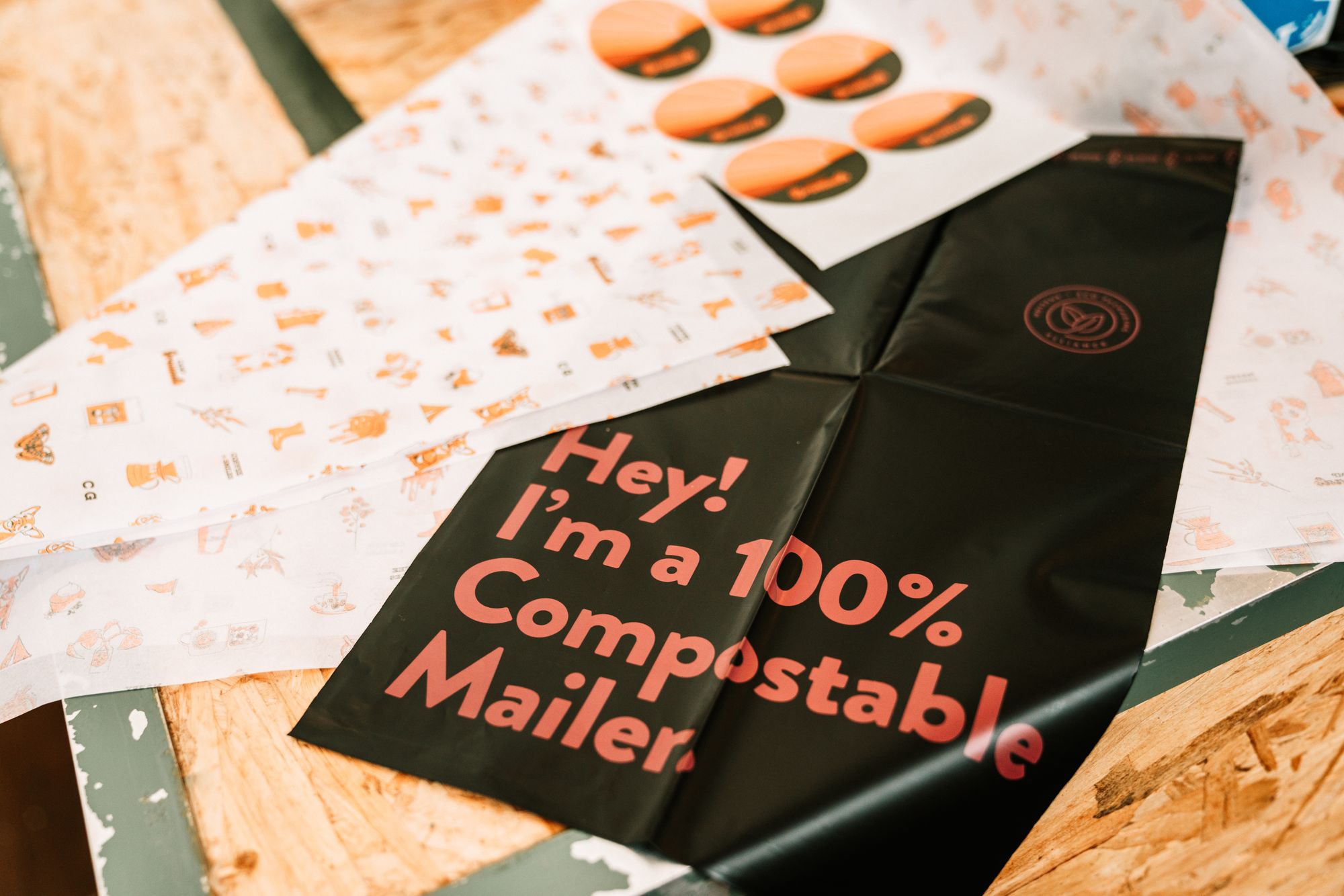 What inspires your designs for this collaboration?
People describe being at Camp Grounds coffee shop as a special experience and I wanted to capture that with the packaging designs. The 70s vintage patterned cups, iconic potted greenery and familiar dog faces are some of things you will see in the tissue paper and when you visit the shop. I sketched these in Procreate with the Apple pencil to get a hand-drawn feel before playing around with colour and repetition in Adobe Illustrator. The sticker is a nod to the hilly landscape that hugs our little town. The aim with this packaging was to reflect the simplistic but special nature of the shop. It is both fun, minimal but nothing too polished with visual connections to the things that make the coffee shop and Tamworth special.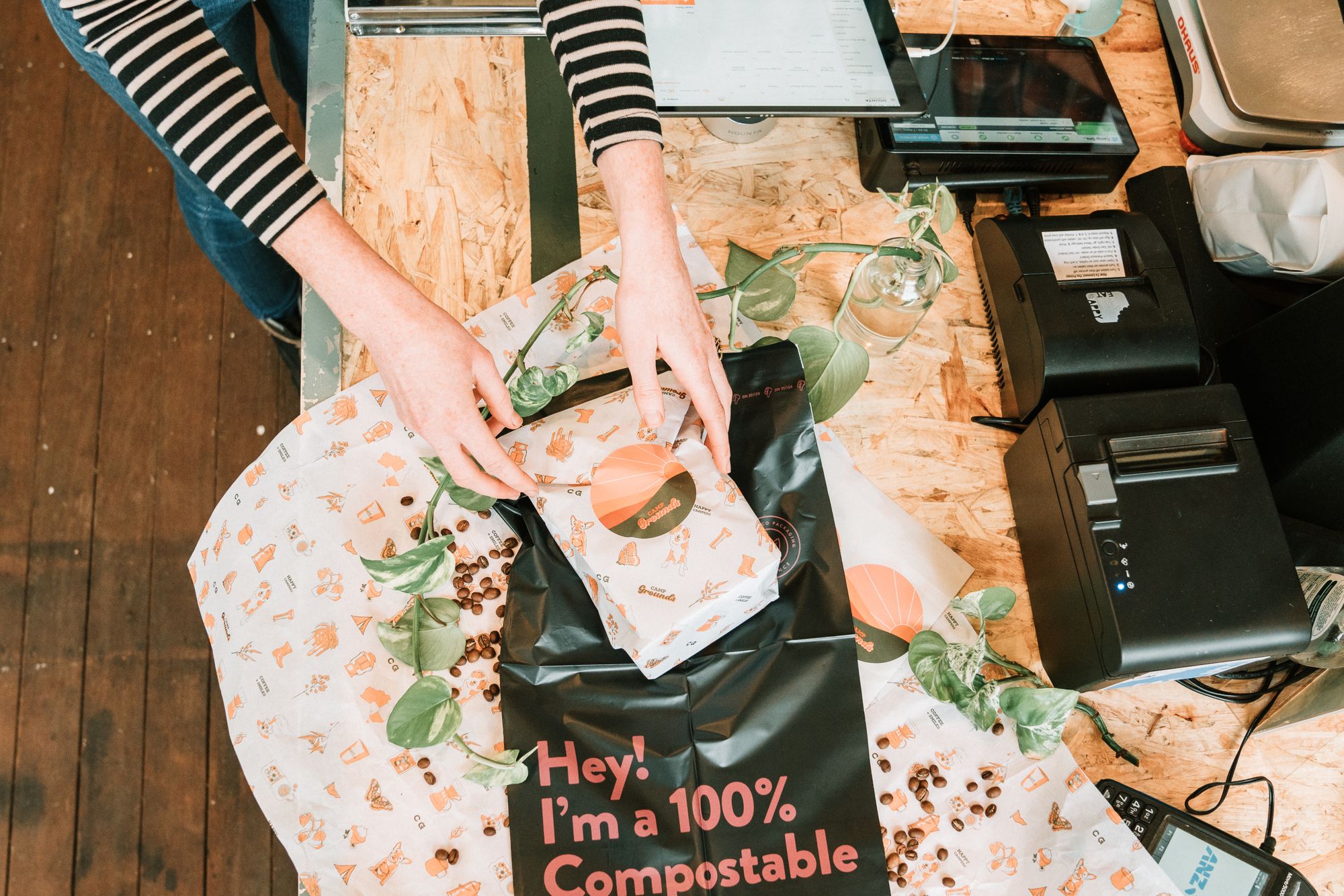 What was something that stands out about this collaboration for you?
Being able to see the interaction of people with the packaging because of my unique closeness to Camp Grounds has been really cool. I love how people look at the details of the tissue paper for a while and then have that 'moment of realisation' that it is our own custom design. It is like a fun game for adults to find the particular items on the paper within the shop. This playful element is something I didn't anticipate but really get a kick from. I love how special and unique of an experience this creates - it seems to add a sense of fun and surprise - which is exactly what you want from packaging.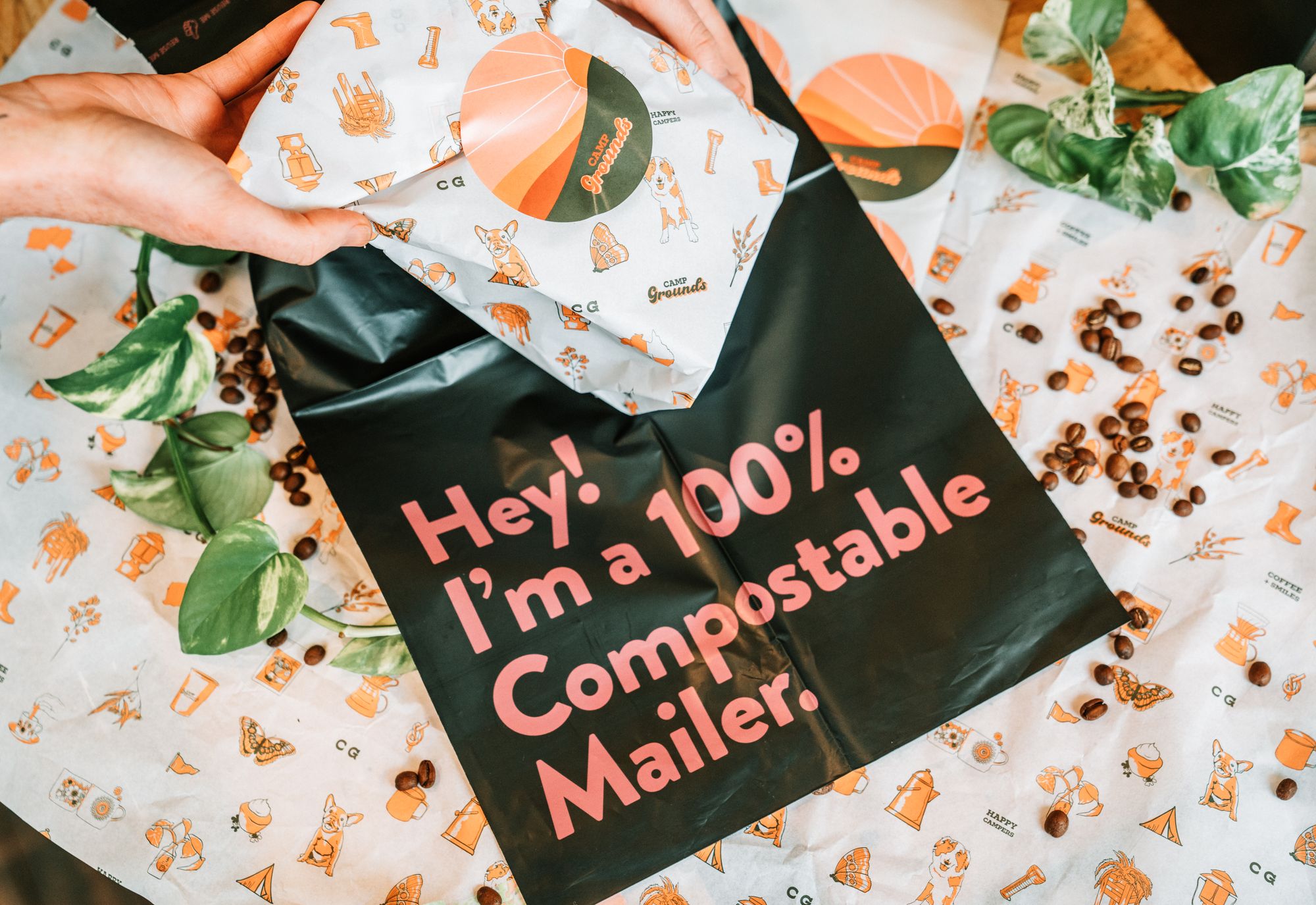 Why did you choose noissue for packaging and what products did you choose from our range?
After much research we chose noissue because of the commitment to the environment. At Camp Grounds and in my personal work I am always seeking to minimise the harm of what we are creating and noissue provides the solution. We chose to go with the pack of tissue paper, stick and mailer. The original aim was to create a special and eco-friendly experience for our online customers so they can feel connected to the essence of the Tamworth store without having to be there physically.
---
Find more of Monique Hope and Camp Grounds Tamworth here:
Monique Hope
Website: moniquehope.myportfolio.com
Instagram: @monhope.art
Camp Grounds Tamworth
Website: campgroundstamworth.com
Instagram: @campgroundstamworth