Alisha Ing is the macramé fiber artist behind the brand I Would Rather Knot. She has always enjoyed the art of knotting since she was little and once she stumbled upon it again as an adult, it became a fun hobby that progressed into a full blown business in the blink of an eye.

Alisha got into macramé about 4 years ago, but never did she imagine that her small decorating project would turn into an all-consuming passion. As her hobby began to blossom into a thriving business, she knew she needed the branding and web presence to match. To achieve this, she collaborated with Natalie Sanders, a Seattle-based UX designer, to build out her business.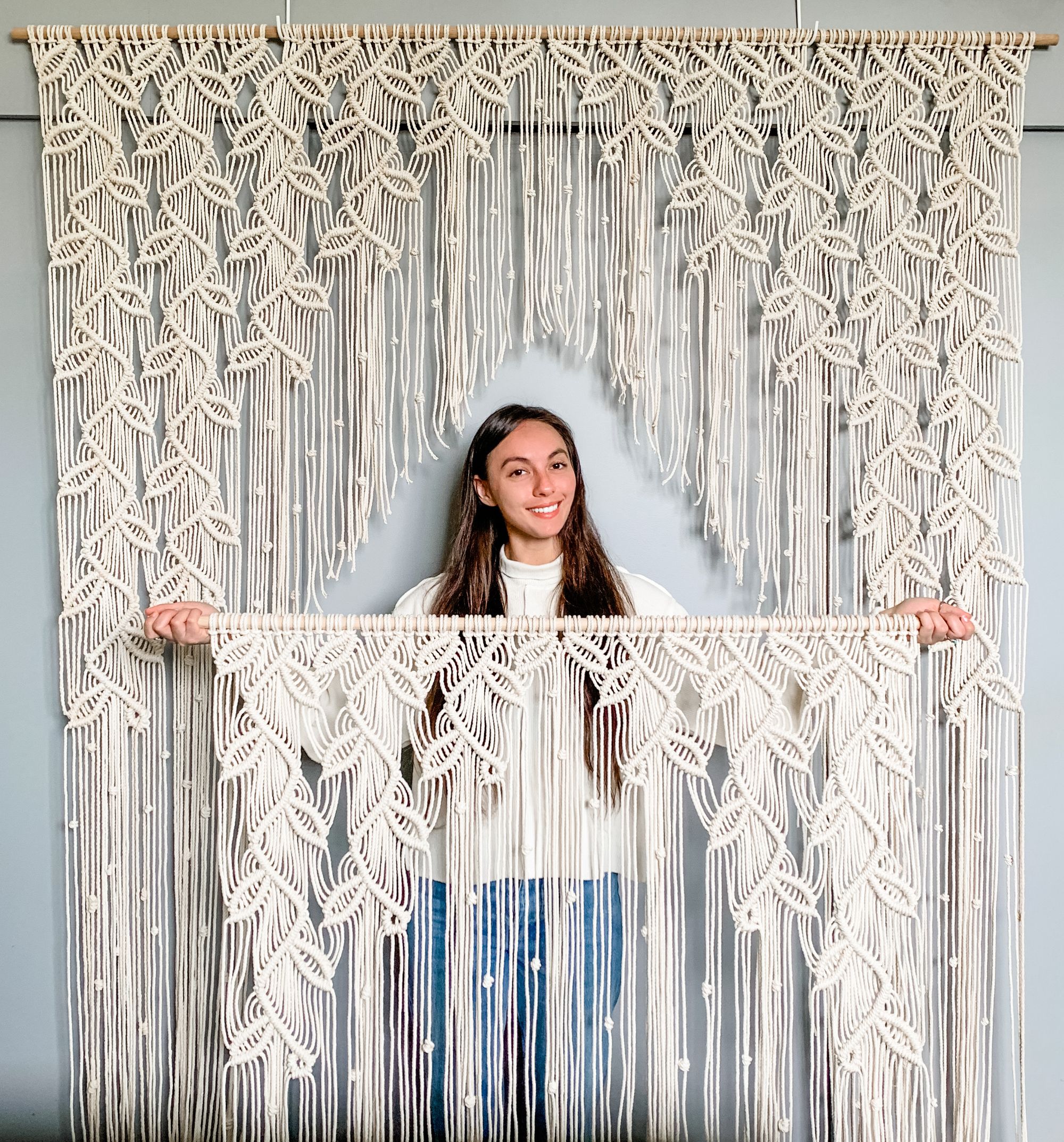 Alisha absolutely fell in love with all things macramé! She adored how there were endless possibilities to create and design unique pieces. Apart from her signature wall-hangings, she could create jewellery, coasters, bags and even wedding décor! The endless potential to come up with various types of art was one of the reasons why she got into it. The vast variety of products and ideas made her feel it was something that could also help her keep learning and growing.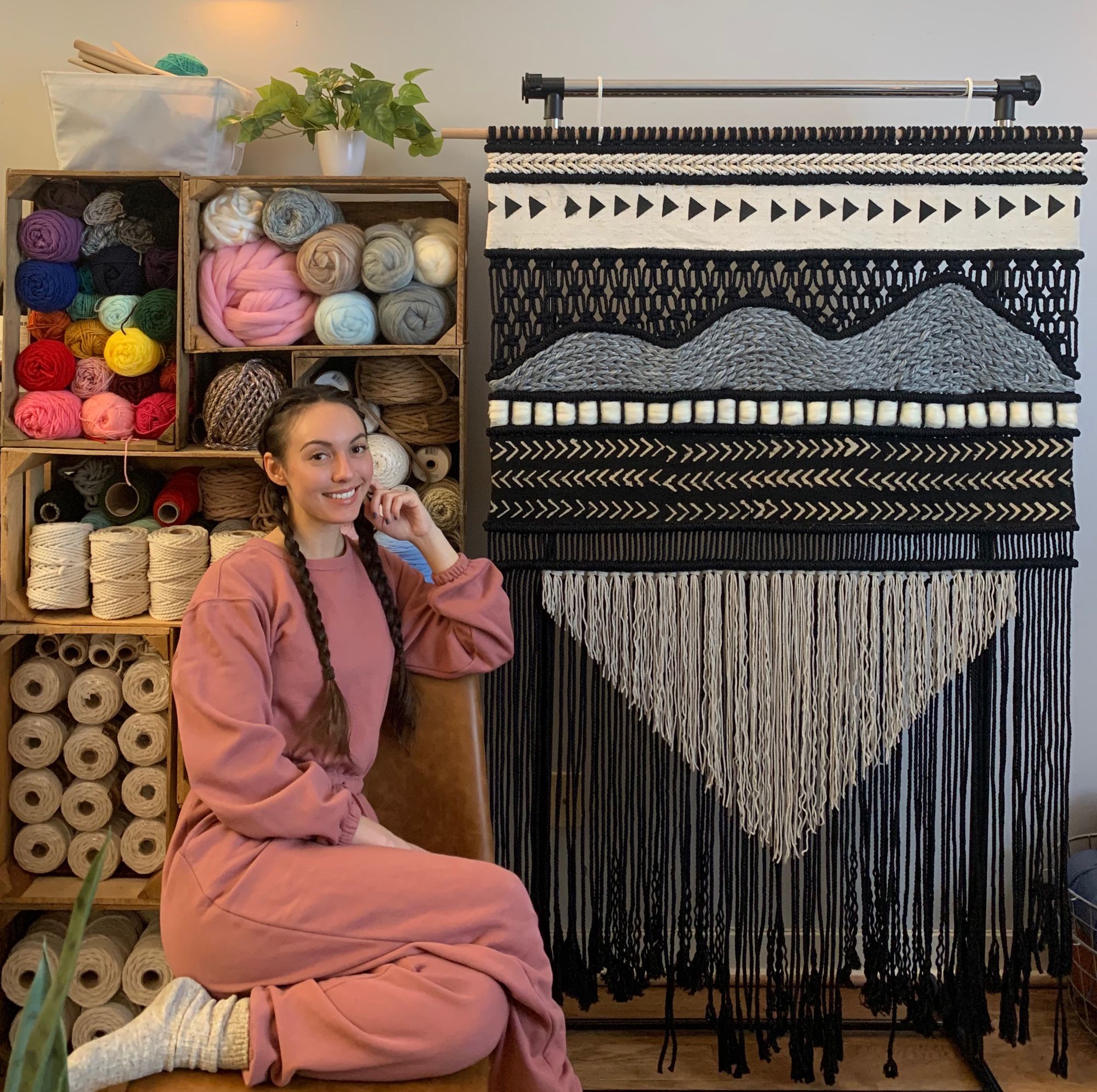 She takes most of her inspiration from nature, geometric shapes and even fashion. For her custom pieces, Alisha loves the challenge of understanding exactly what a person envisions and then bringing it to life. She likes working with people so that they feel connected to the piece that is created uniquely and specifically for them. She always aims to create pieces that stretch her abilities and allow her to push her craft forward.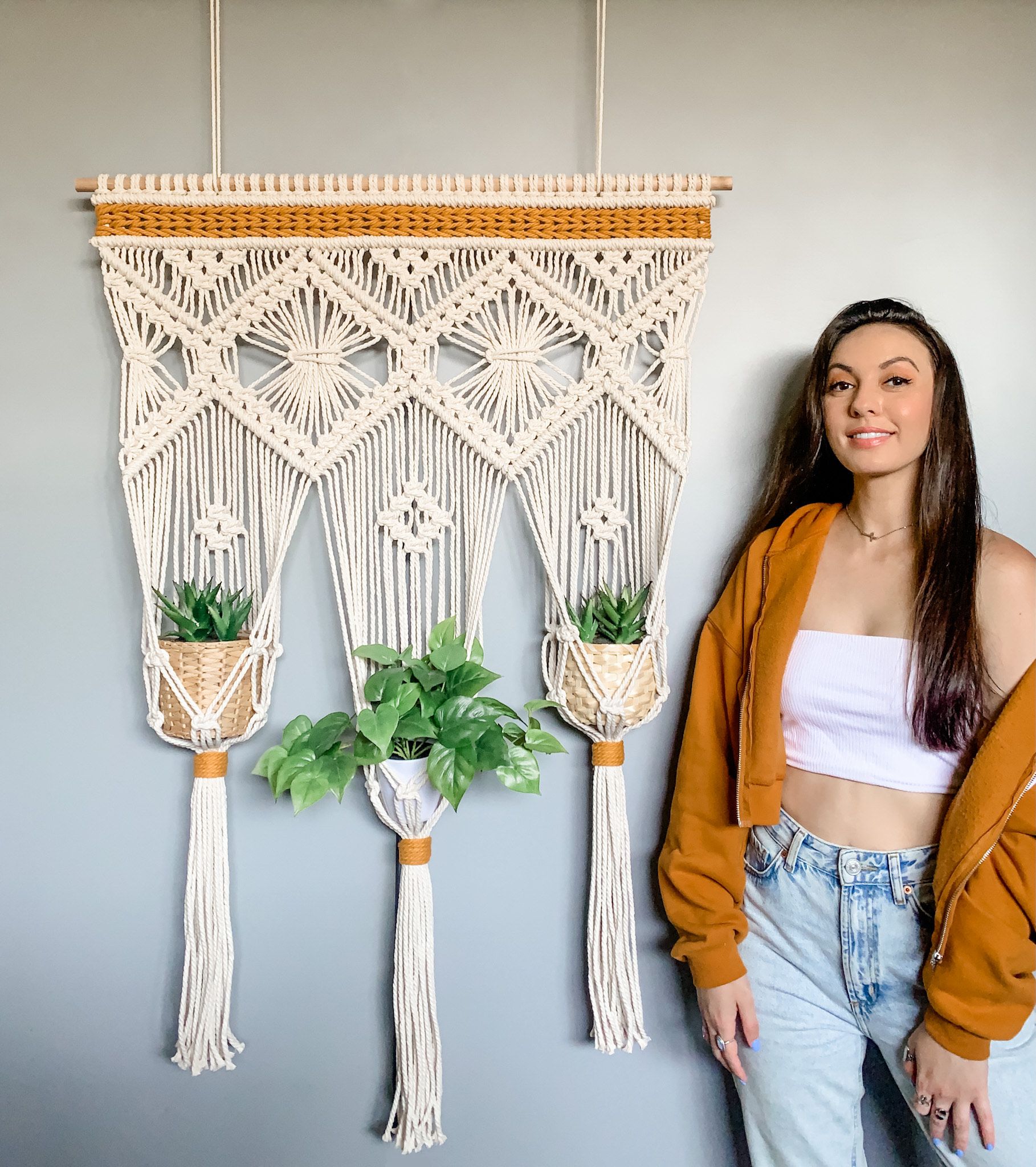 With her passion-turned-business taking flight, she felt the need to build out her branding as well as the website to accompany it. Luckily, the perfect creative for the job was a lot closer than she thought!
Meet the Creative: going way back
Natalie Sanders is a UX Designer based in Seattle, Washington. She's passionate about creating better, uncomplicated experiences for people. Her focus is crafting creative solutions for real-life problems, which she believes starts with asking questions to decipher that the right problem is being solved.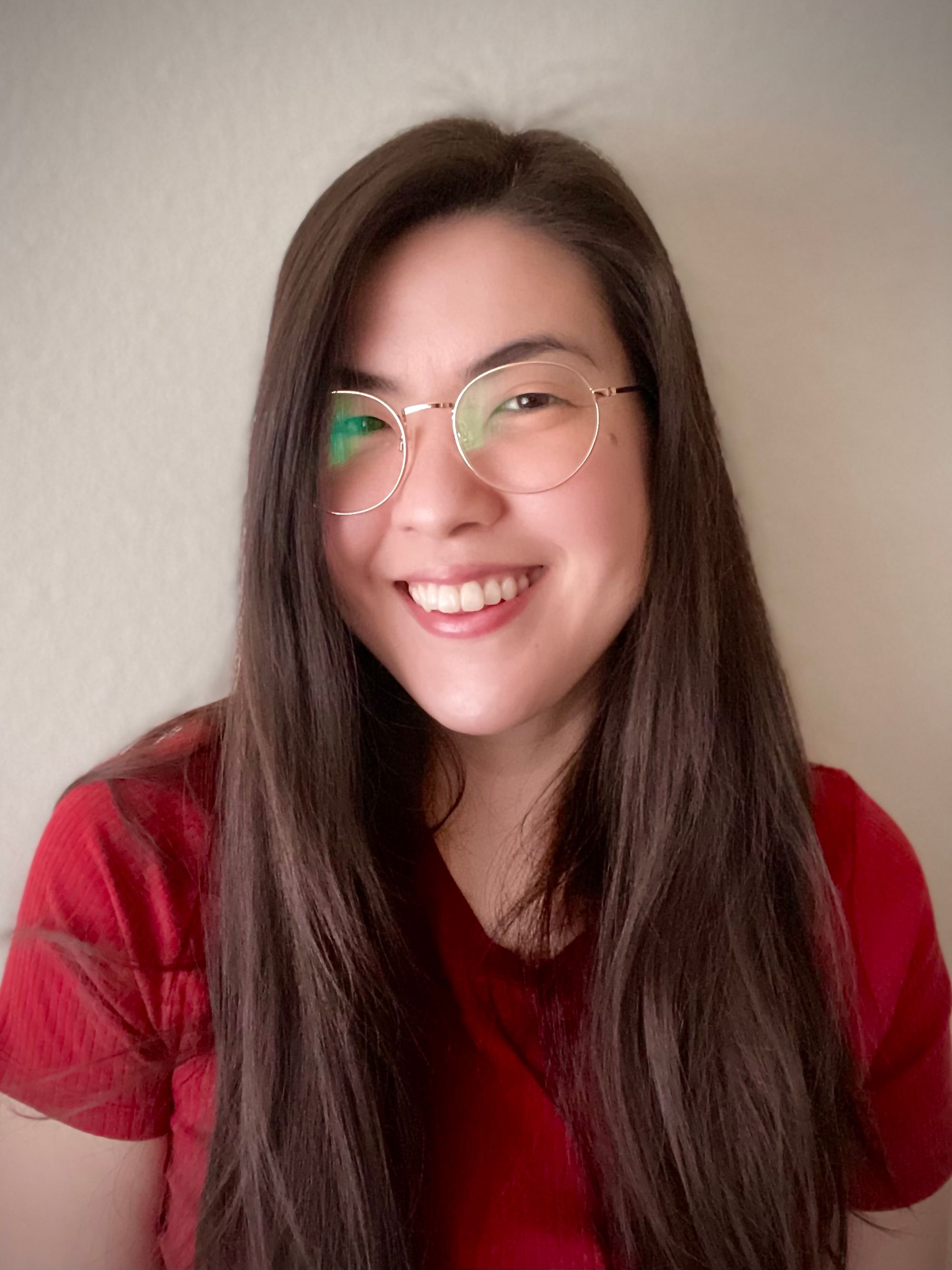 She focuses on crafting creative solutions to create easy to use products. She greatly enjoys the research portion of designing to understand the capabilities of the business, as well as the needs and the wants of the customers. She aspires to work with a team that values collaboration, in a space where she can learn and connect with peers and senior colleagues to contribute to a product.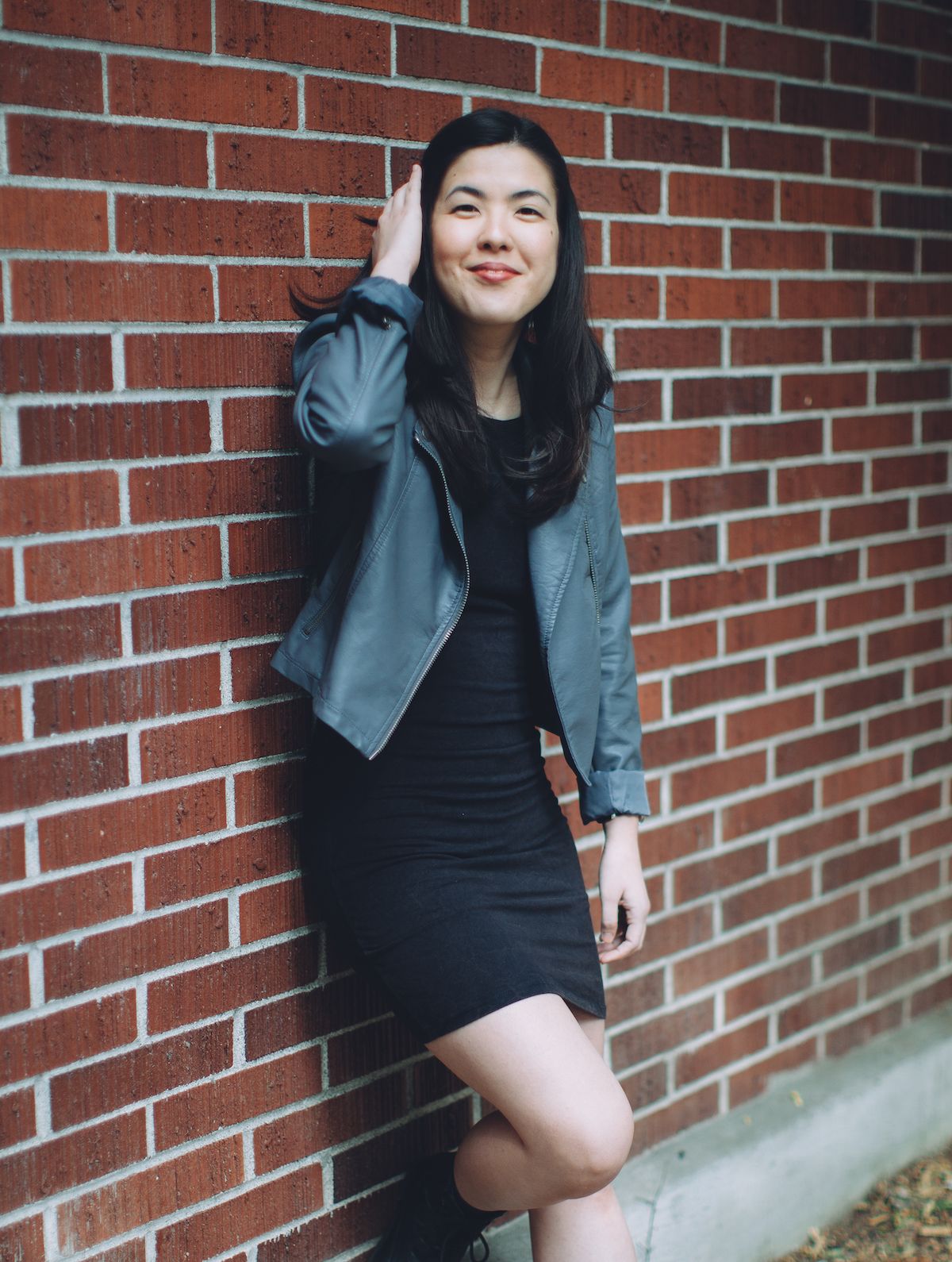 Alisha and Natalie go way back as they met at a dance company they were part of as teenagers. When Alisha expressed her interest in starting a website, Natalie immediately stepped up to the challenge. She found Alisha so talented and driven that she wanted to do whatever she could to help her expand her business.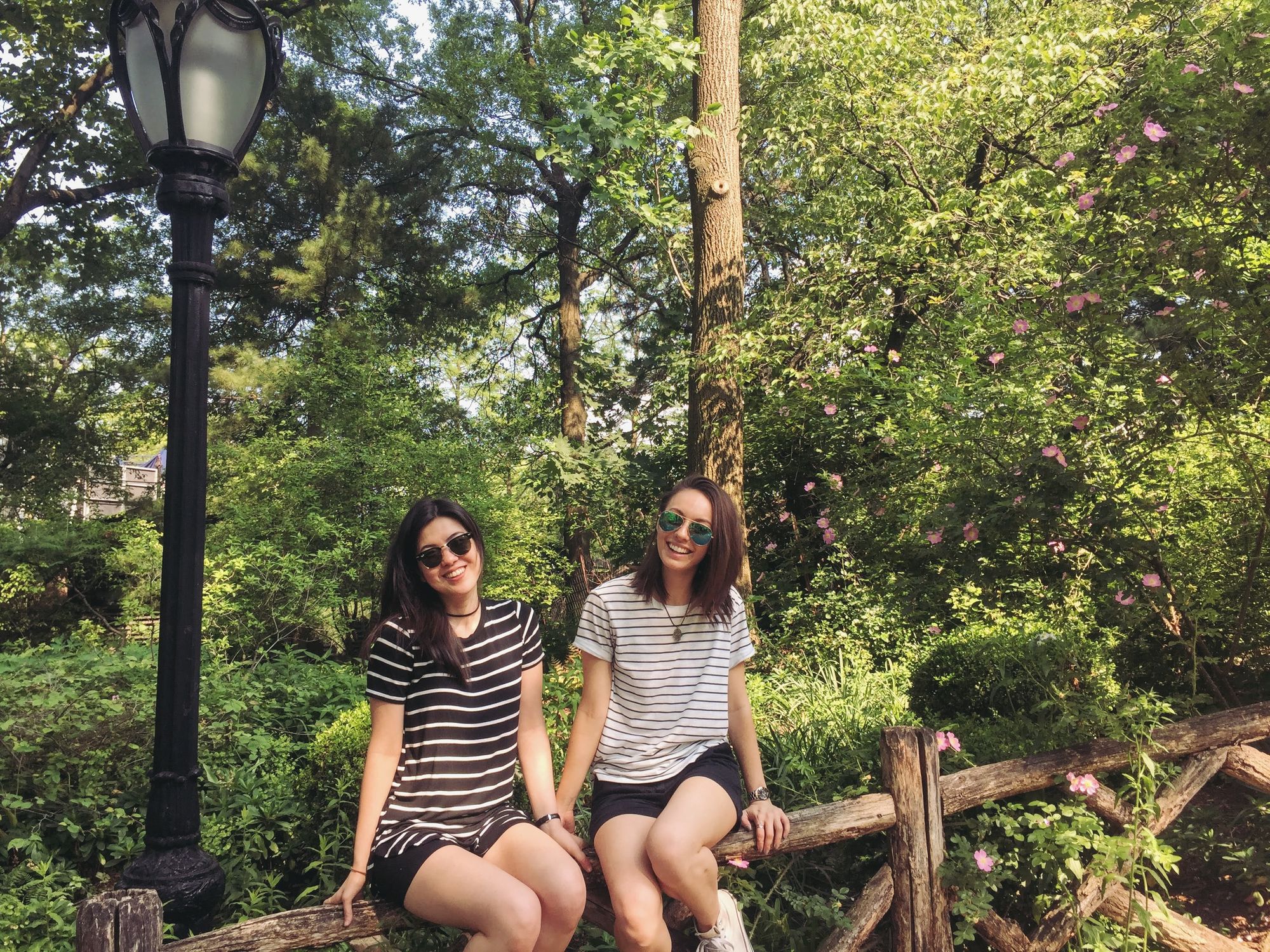 "I have been surrounded by artists my entire life, and Natalie Sanders was one of them! We've been best friends since high school and I absolutely love to see where our creative journeys have taken us after all of these years. Of course, once it came time to create a logo for my brand, she was my first and only choice!" - Alisha
Design approach: building out the brand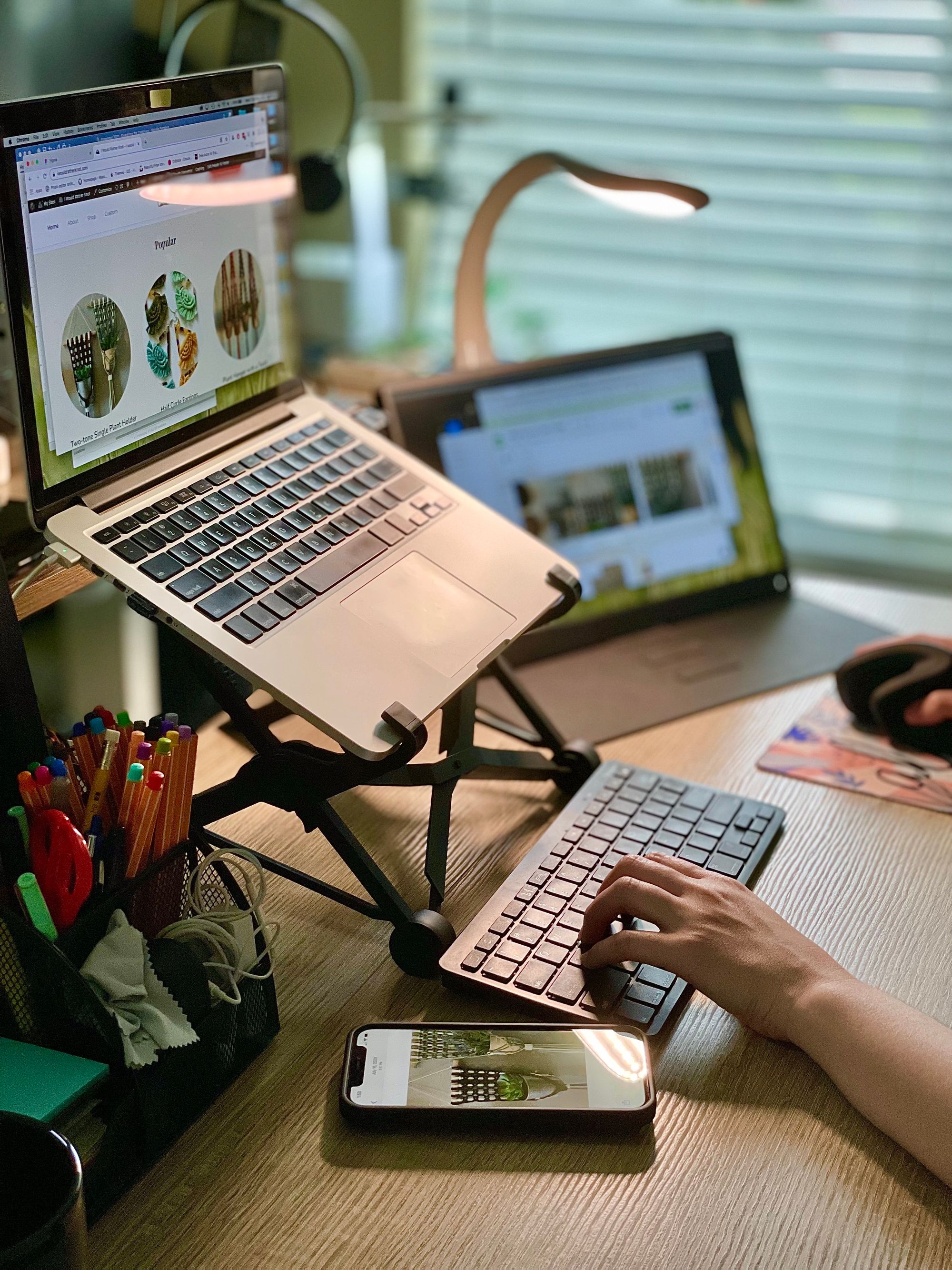 "The logo was a part of the bigger project as a whole to create a website (which is currently in progress). As a product of conversations I had with Alisha and her customers, we came up with a logo that I felt helped people better identify with the product (Alisha's macramé) itself." – Natalie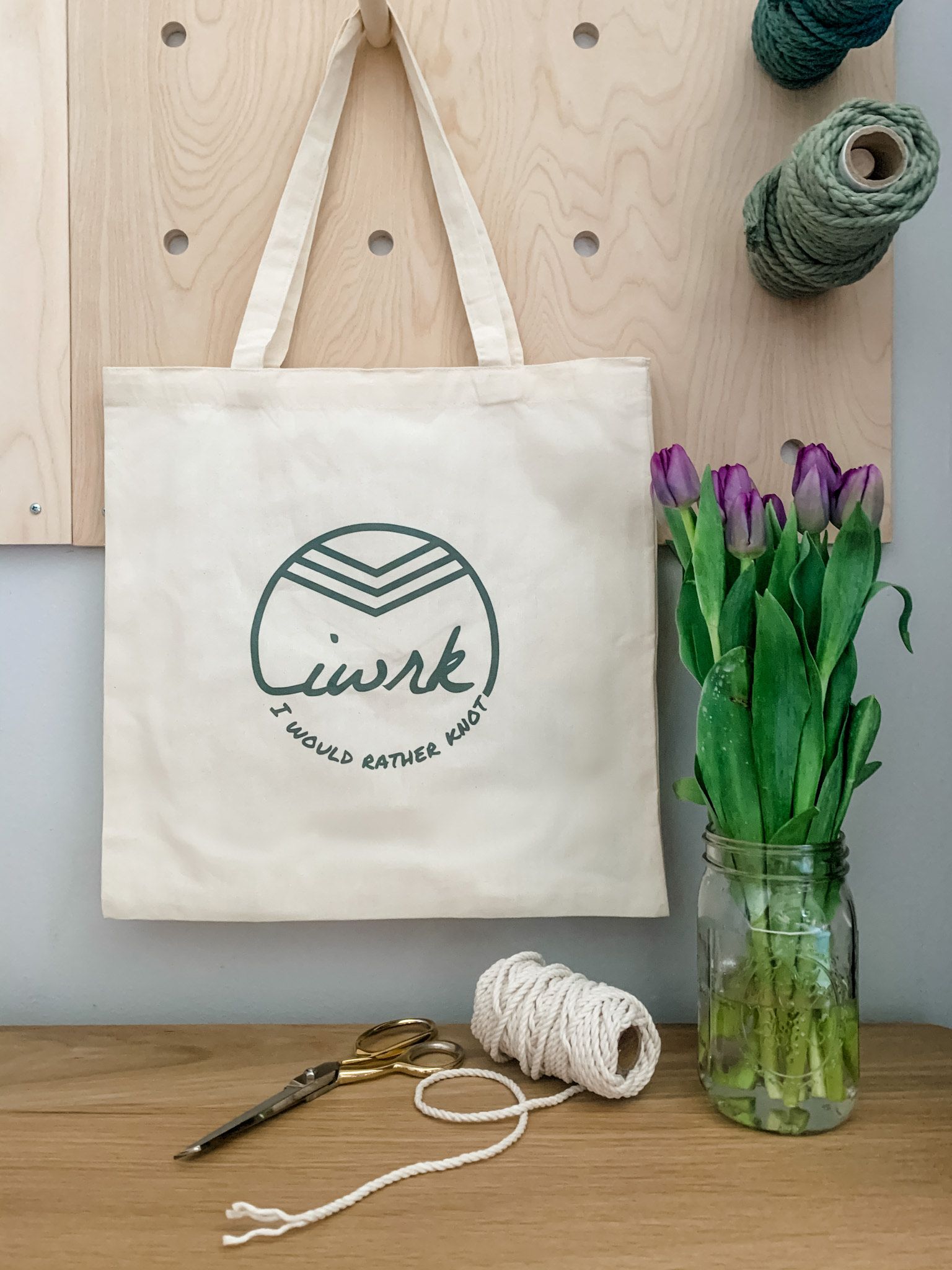 Natalie worked hand-in-hand with Alisha to come up with the logo and branding for I Would Rather Knot. The keywords for the theme were boho, friendly and inspirational.
Getting the ball rolling, there were multiple iterations that arose while coming up with the perfect logo. Natalie sketched out a couple ideas and had Alisha pick out her top choices for Natalie to finetune down the line in Figma. From there, Alisha showed the ideas to several different people to pick out their favorite and selected the one that the majority loved. After coming to a decision, Natalie just made some slight adjustments to the logo to use for the favicon size.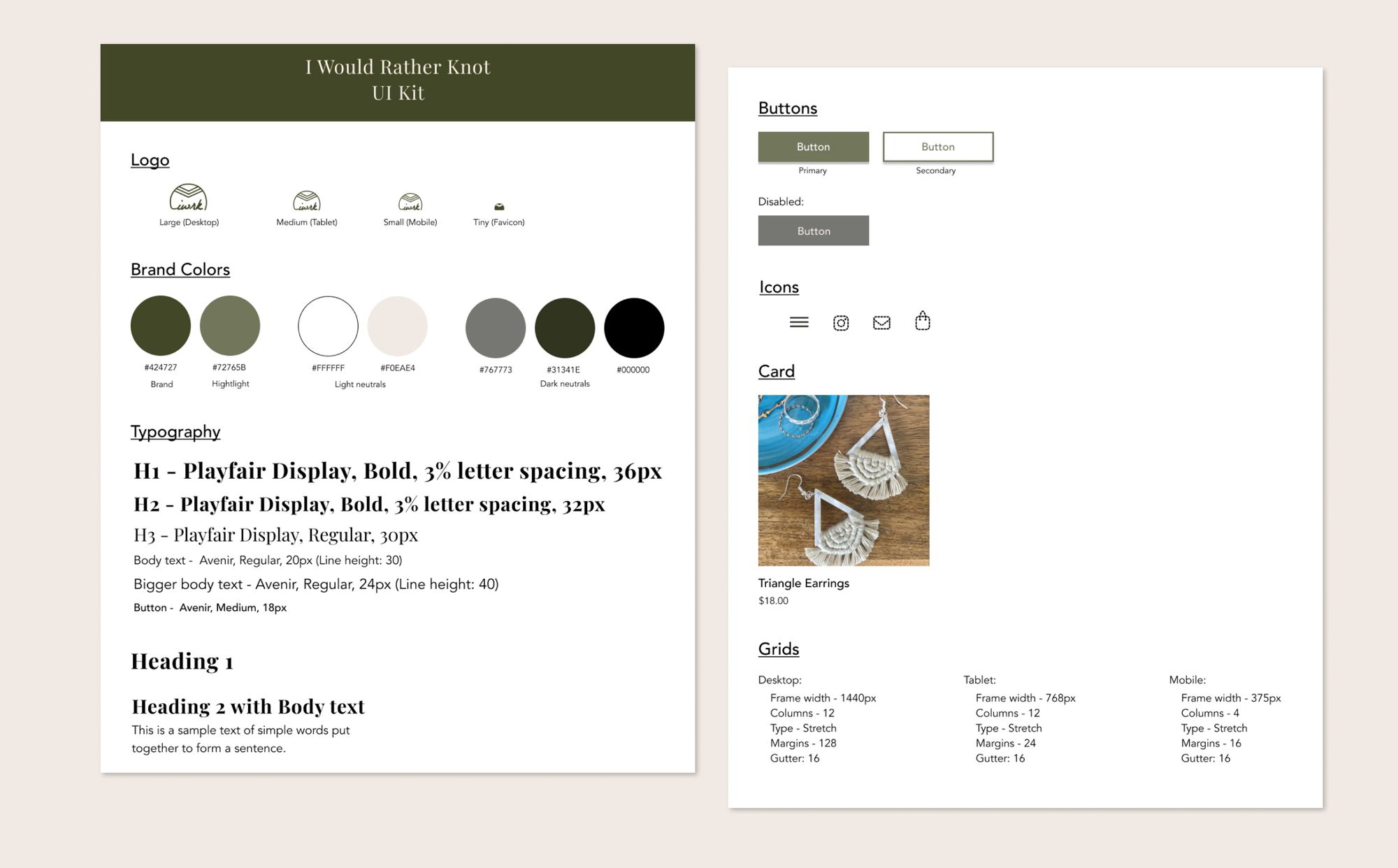 "Playfair Display and Avenir were the fonts chosen. The Playfair Display gives a nice boho feel to the design. Neutral colors were chosen to allow the colors from the owner's macramé pieces to stand out. The leafy green color was chosen for the brand color as the owner uses plants to display a lot of her pieces on Instagram." says Natalie.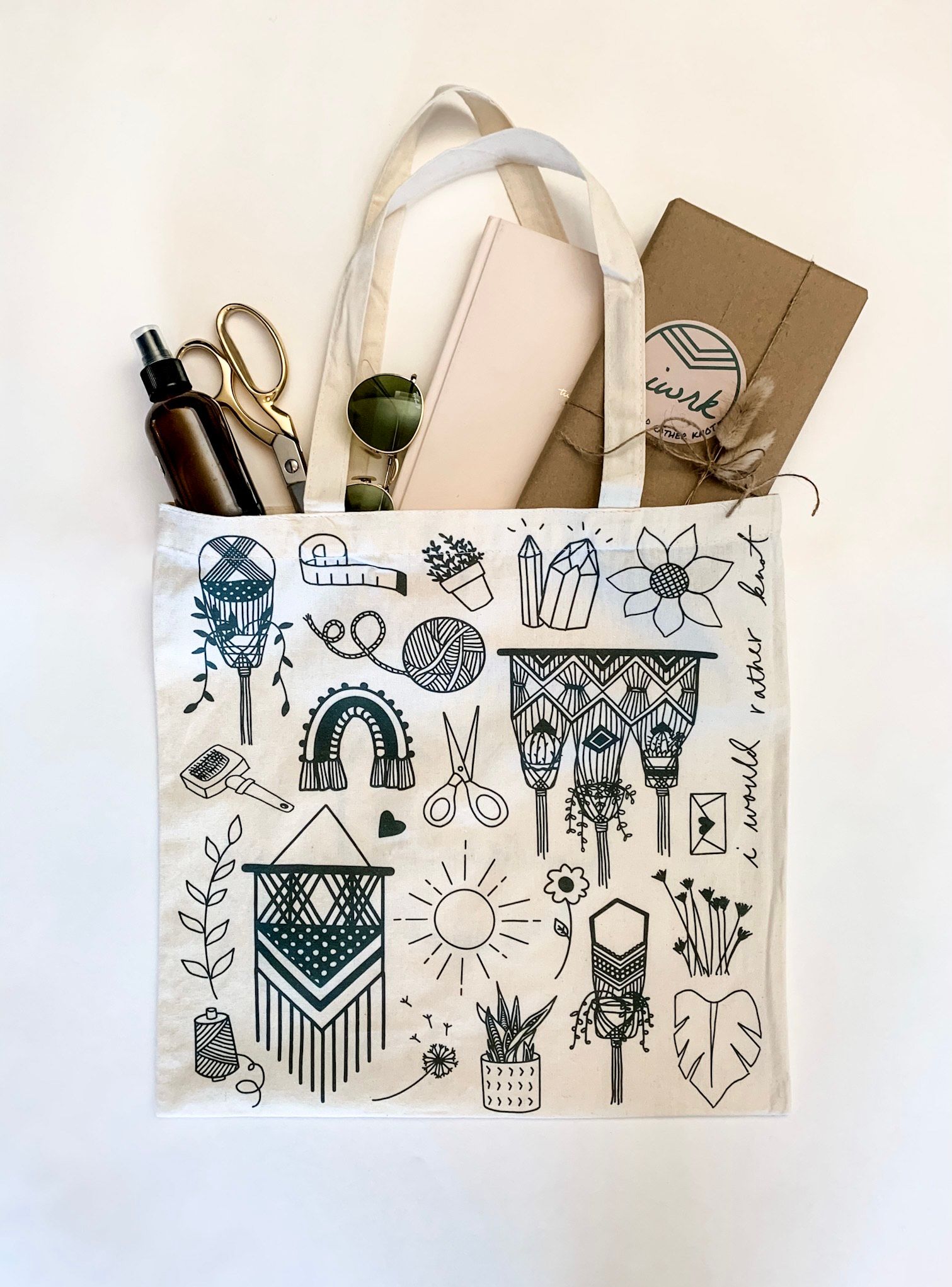 Alisha expressed: "I absolutely love how she came up with my logo! We worked very closely together and had many discussions about my inspirations, what specific descriptive words I wanted for my brand, and we freely drew a handful of different designs together until we found one that perfectly matched my aesthetic."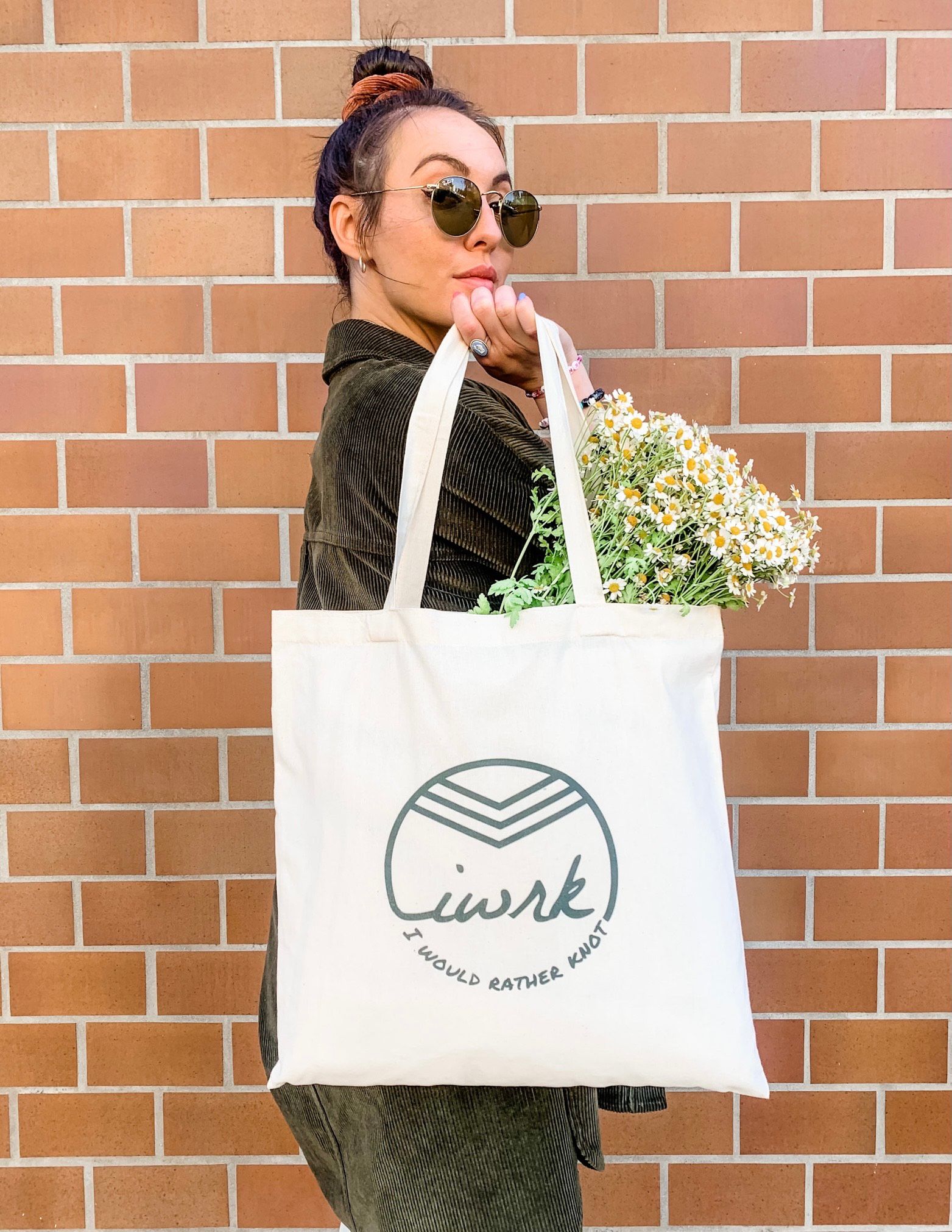 For the upcoming website, the images were kept square to match the Instagram feed aesthetic that Alisha had wanted. Circles are also utilized to resemble Instagram stories.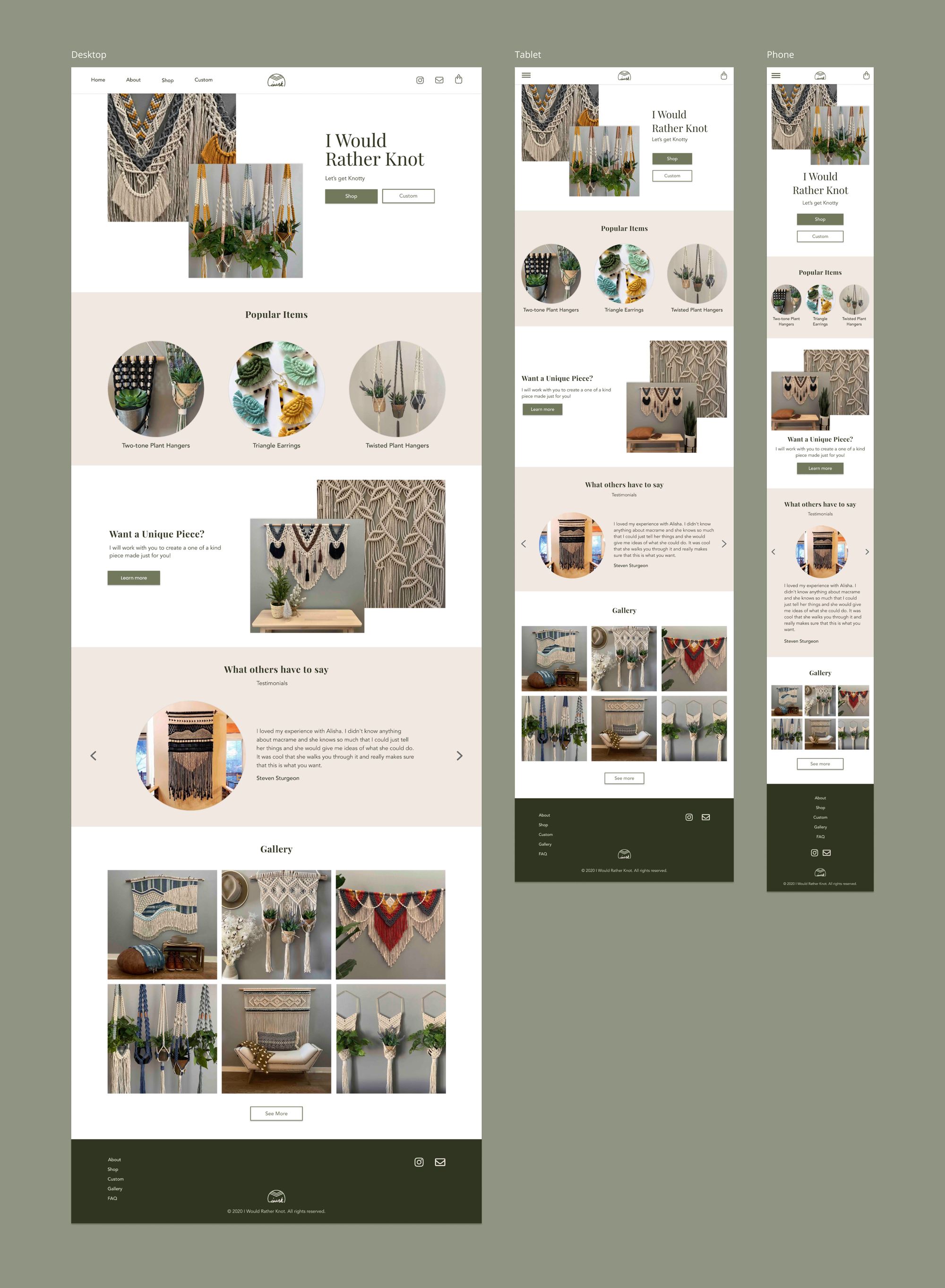 For their packaging, Alisha had come across noissue and just knew that it was the perfect company to produce her brand's packaging. I Would Rather Knot's logo was printed on noissue's eco-friendly stickers as well as their custom tote bags, which also featured the fiber art design created by Alisha herself. This being the very first time they had the logo printed on anything, both Alisha and Natalie were amazed with how everything turned out. They expressed that working with noissue was an amazing experience and on top of having incredible sustainable products, the team behind the business was an absolute dream.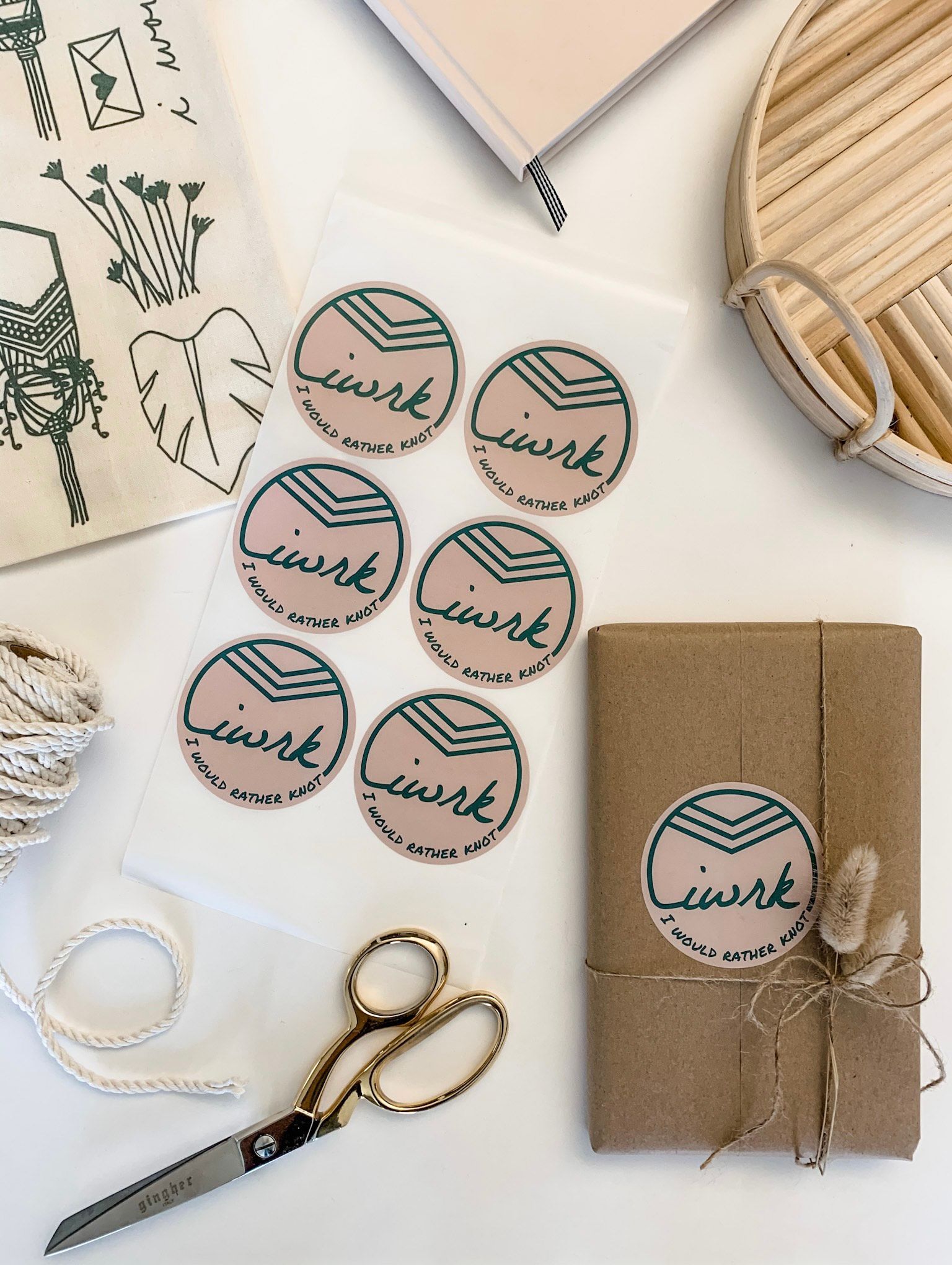 Overjoyed with how their collaboration turned out, both Alisha and Natalie had a few sentiments to share:
Alisha stated: "Natalie blew me away with how much thought and care she put into creating my logo! Teaming up with her has brought us even closer together than before."
Natalie expressed: "I absolutely love working with Alisha as her business expands. I get to see a whole new side of her and am so proud of how much she has grown in these past few years. It has truly been an inspiration to see the courage and confidence she gains as she grows her business."
---
Find out more about Natalie Sanders and I Would Rather Knot here:
Natalie Sanders
Creative Profile: https://www.noissue.co/partners/creative-community/natalie-sanders
Website: https://natalie-sanders.com/
Instagram: @ux.natalie
I Would Rather Knot
Website: https://www.etsy.com/shop/iWouldRatherKnot
Instagram: @iwouldratherknot