Art is everywhere. That's no secret. People of today are brave enough to admit that art, in all its many forms, has already become more than just something to ponder on.
Artists of today are put under the spotlight and are given the freedom to express their emotions aloud, while businesses finally took into consideration art as an economic factor. It paved the way for more artists to flourish and brand visions to be put to light.
Our featured Creative today is Ode Pacheco, an artist based in Manila, Philippines. Her vision is to showcase her different styles of art and be able to make a living out of her creations, catering as a one-stop-shop designer to other small businesses like herself. Read on and get to know more about Ode and the Odds and her collaboration with Everywhere Specialty Coffee.
ABOUT OUR CREATIVE:
Tell us a bit about yourself and your team.
Hi I'm Ode Pacheco of Ode and the odds, an artist based in Manila Philippines.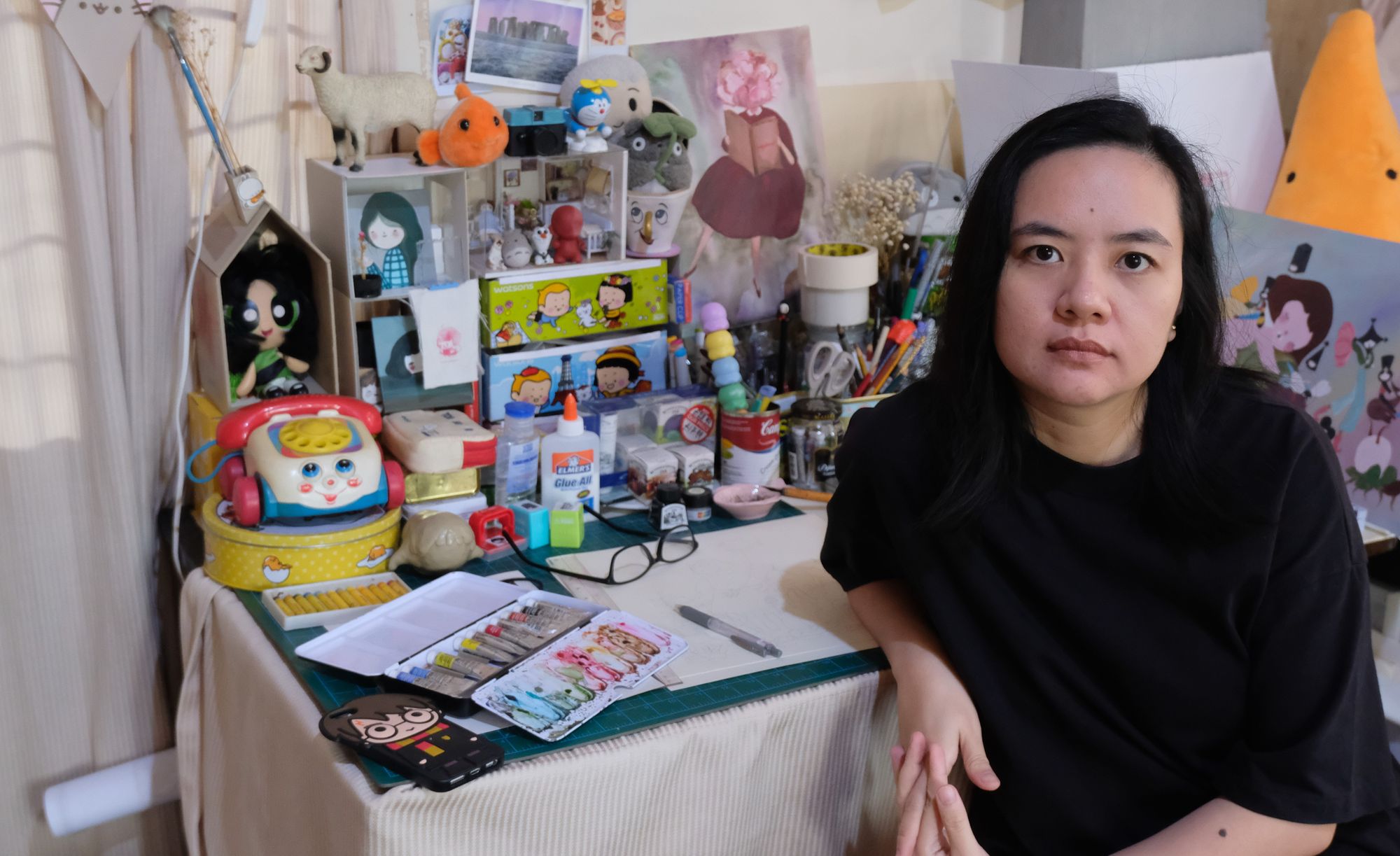 How and why did you start your brand?
I created my social media account for my illustrations way back in 2015 to showcase my personal art journey and be an inspiration to those who want to try watercolor since I'm rekindling my relationship with the medium at that time. Having worked for a TV Network as an art director demands a different kind of art and it's always fast paced, but helped me think of ways on how to work "within the box" with the little amount of time or materials, and that's why I'm a fan of acrylic paints because it can be used mostly in any surface and it dries easily, so I told myself why not try watercolor again? It's a bit different from what I usually do but from time to time I made some doodles and I wanted to explore more by using watercolor and other mediums and at the same time I wanted to earn from it. I wanted to make a living out of those "odd creations" with my hands. I think I'm still learning and my brand is there to remind me why I really started and that is to enjoy my painting process, see my progress, and to share it with those who find beauty in it.
The name "Ode and the odds" has been on my mind even before I made an Instagram account for it, I was hesitant but I told myself someday I can also use this as part of my portfolio and that I can also look back at it and be an inspiration to myself.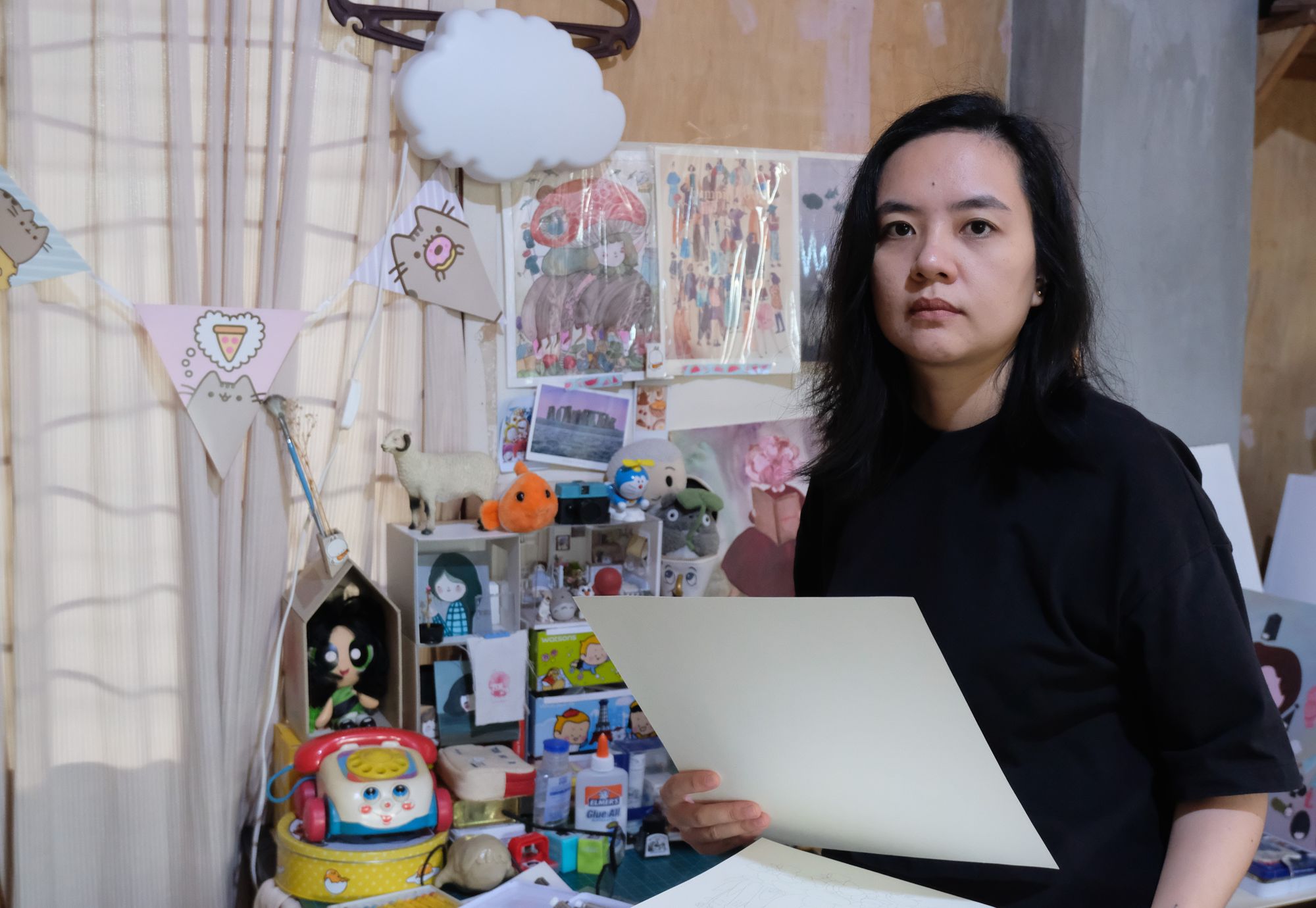 What's your brand vision and why is this important to you?
My brand is "a little bit of everything" and I wanted to show that it is okay, the right people or client will appreciate what I do. Of course it has its advantages and disadvantages but one of the most important thing is being able to deliver what they are asking for.
My vision is to showcase my different styles of art, to be able to make a living out of my creations, from painting with different mediums to paper cutouts to logo making, sometimes like a "one stop shop" designer for other small businesses like me, I wanted to be a tool for people who need their visions come to life especially right now since the pandemic, a lot of people are having their small business online and I wanted to be of great help to them in starting their own brands and be happy with it.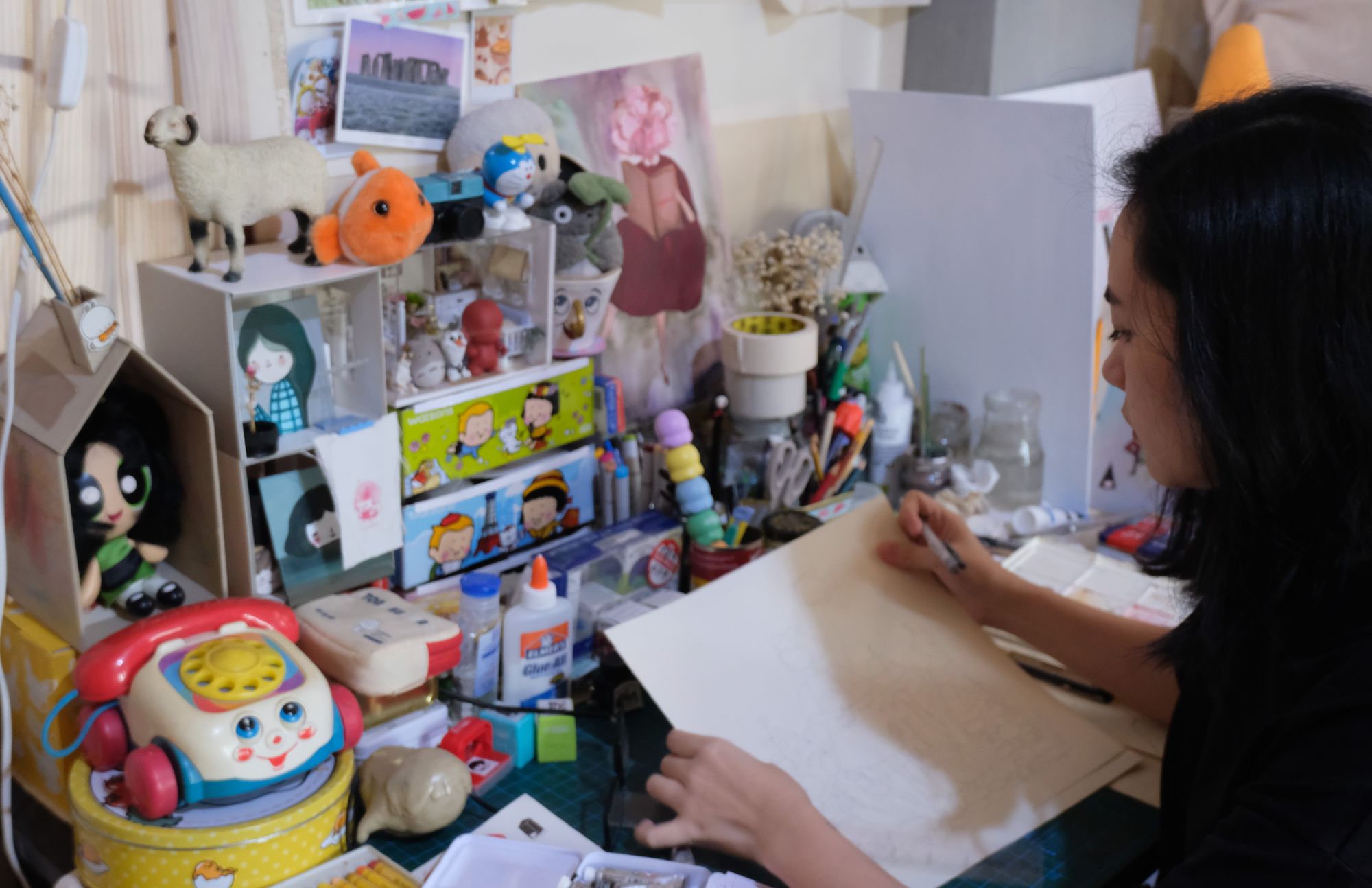 What's your design process like and where do you usually get inspiration?
My design process starts with a manual sketch, and recently with the help of an app called Procreate, depending on the project if it's a commissioned painting, then I would usually ask the client what their inspiration is, as well. I would get inspiration online for color schemes and browse through picture books. Sometimes, I send them my previous works to see if they want something similar. When it comes to logos, making a little bit more questioning is involved in the process before I can make studies for their brand. I enjoy doing Typography for logos these days, as it seems more personal and unique for the products my clients are selling. A trip to a grocery store can be an inspiration to me too, since a lot of products can be seen and it also makes me aware of what the trends are, but due to the pandemic searching online is really helpful for now.
I also get my inspiration from the stationery products I used to save my allowance for back in my elementary days, together with my sister, we would collect and exchange and share a bit from what we have.
It makes me want to create something similar and be a reminder of how I wanted to share my artworks, like a sticker or an illustration inspired by a bus ticket for journaling or a notepad with cute characters or a poster that can be a gift or other handmade and DIY stuff.
There's also the popular Studio Ghibli films, and other cartoons I used to watch as a kid. Sometimes a simple word or sentence from my niece is the start of my design process and they are also evident in some of my illustrations as I turned them into "characters".
You may also want to check this website www.epjey.weebly.com he is an artist and my brother! I would get inspiration from his works and sometimes gives me ideas and pointers on how I can improve my work.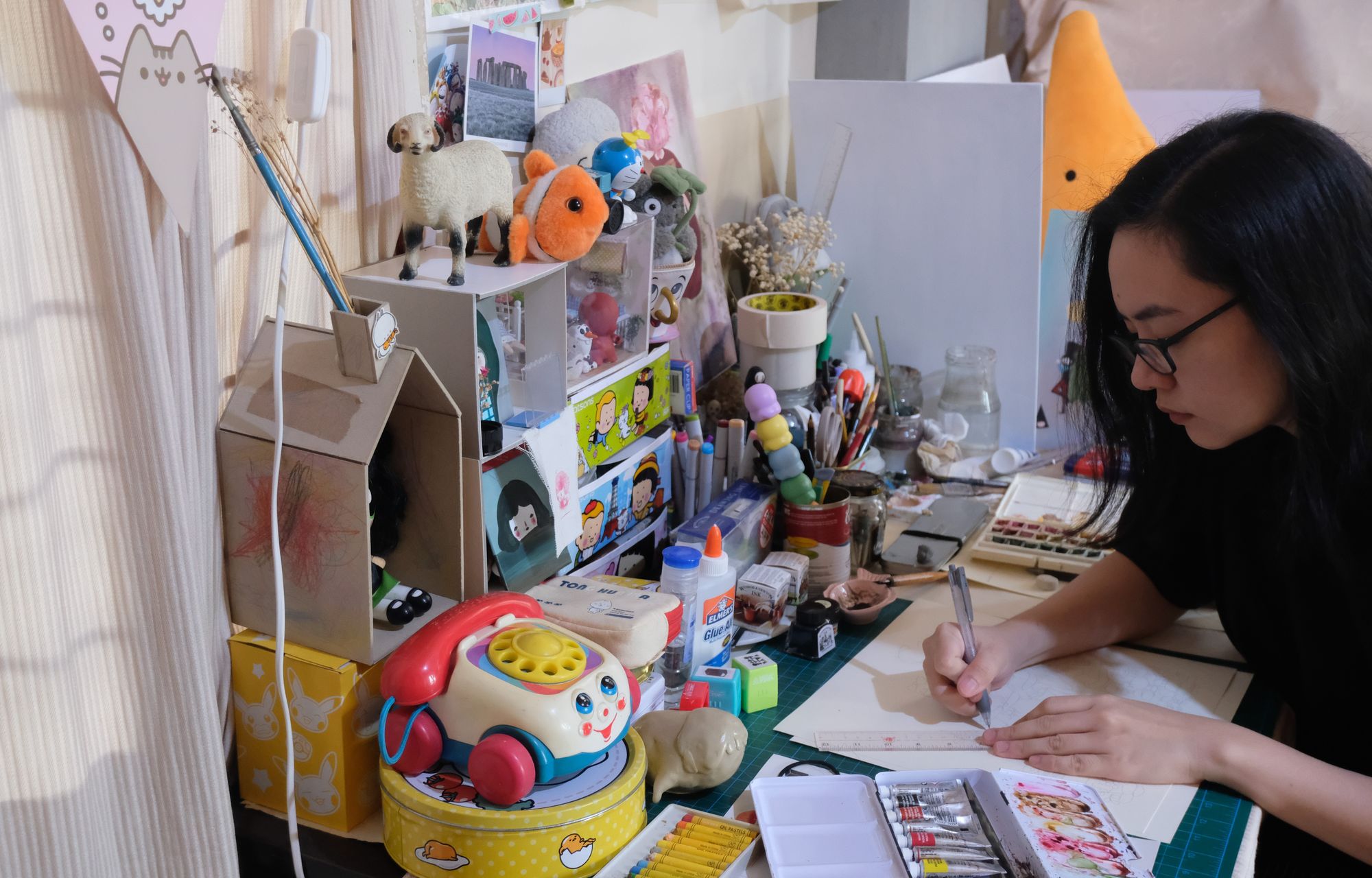 What does visual storytelling mean to you?
Visual Storytelling these days has a huge impact in promoting artworks or businesses, everyone has a story to tell and because of this, the right people will come if they can relate to what you are offering through these visuals.
It's like a diary, a collection of your ideas waiting to be shared with the people who can relate with it and find it helpful or inspiring.
What qualities do you look for in a client or collaborator?
I'm thankful to those clients/strangers who found me on these platforms and  supports the art that I do. It makes me want to keep painting and continue what I love to do.
Someone who understands what they want and being open to suggestions or ideas, For start up businesses, someone who treats you as part of the business and not just a tool in making their visions come to life
Having the same outlook on how the brand or project can make an impact in the future is also a factor but it's also hard to be specific sometimes on a particular quality of a client or collaborator, like someone who has the same color preferences as you or someone who is open to suggestions or approach with the project, especially that I have style variations with the artworks that i do. For example, right now I am accepting commissioned paintings with acrylic on canvas and at the same time doing logos and it caters to a particular client, if they find something similar to what I offer then having that same vision is what I'm looking for. I feel like they are the ones finding me and the qualities with my work that I have more than me finding them.
ABOUT THE COLLABORATION:
Tell us a bit about your collaboration with Everywhere Specialty Coffee. What are their products and what kind of business do they run?
Everywhere Specialty Coffee is a coffee van based in Victoria, Australia serving specialty coffee, pastries and their knowledge and passion for coffee.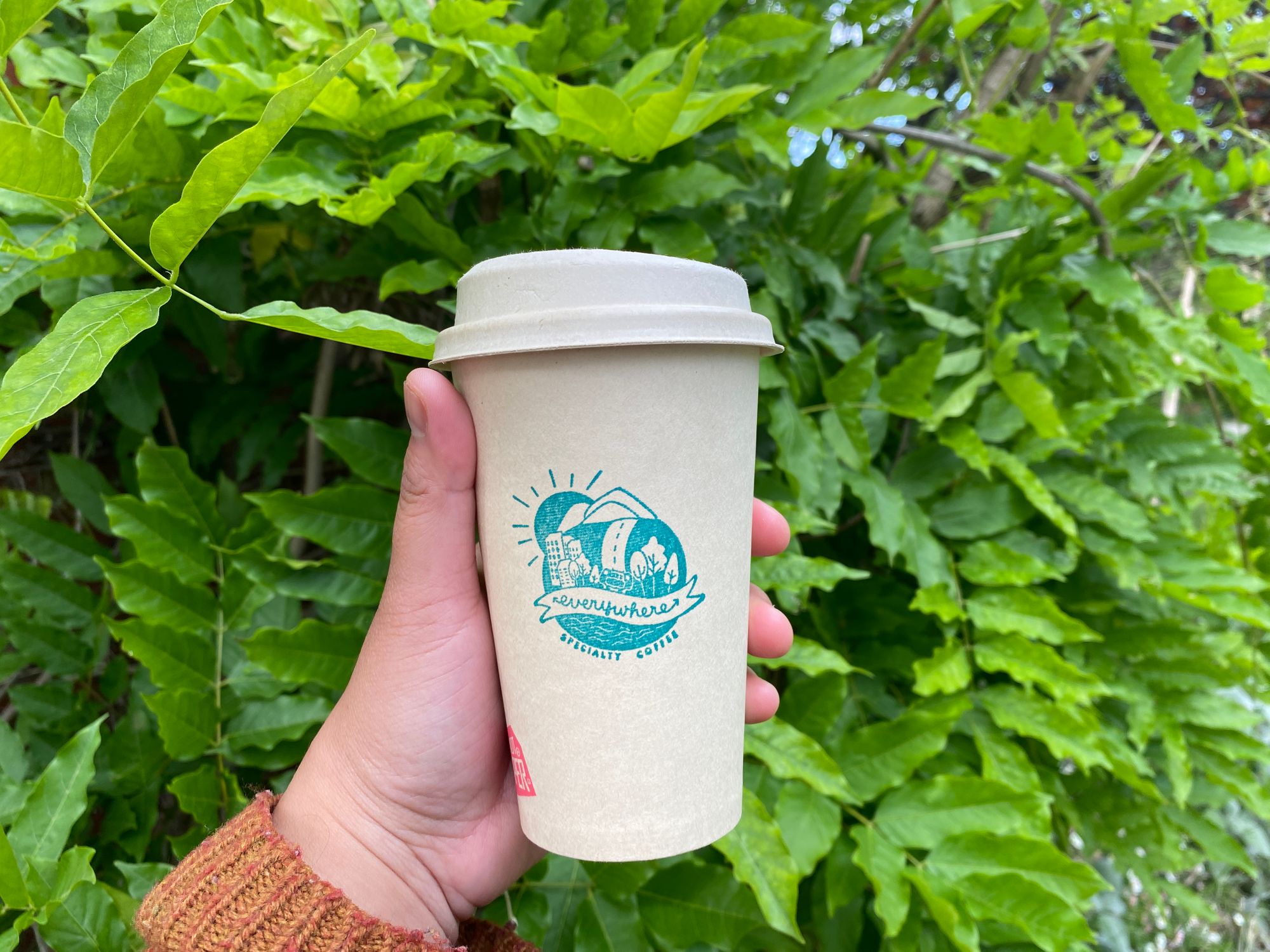 How did you and Everywhere Specialty Coffee begin to work together?
We first met through our work from the same TV Network, Ella of Everywhere Specialty Coffee works as a researcher at that time and me as a designer for the same TV program and since then we've become friends. Then she left and chose another path until she became a barista for a well-loved coffee shop here in Manila, and then the next thing I knew she was finally able to make her dreams of having a coffee shop/van of her own together with her husband.
Her initial plan was for me to make illustrations for the materials/suppliers she locally sourced in Australia and use it for their social media contents, and I said yes, why not! At that time I told her I was doing a logo also for an online business since some of my friends started selling some things online, that's when Everywhere Specialty Coffee asked if I can also make a new logo for them.
What inspires your designs for this collaboration?
We got inspiration from Melbourne City, being surrounded by nature and from Ella herself who wants to be "everywhere around the world" with their coffee van. If you notice in their logo we decided to add up a kangaroo as well which represents the city they'll be roaming around in. We wanted to make it look like that the Coffee van can go "Everywhere" and also make most of the color scheme related to coffee and some good vibes and happiness is what the sun is for.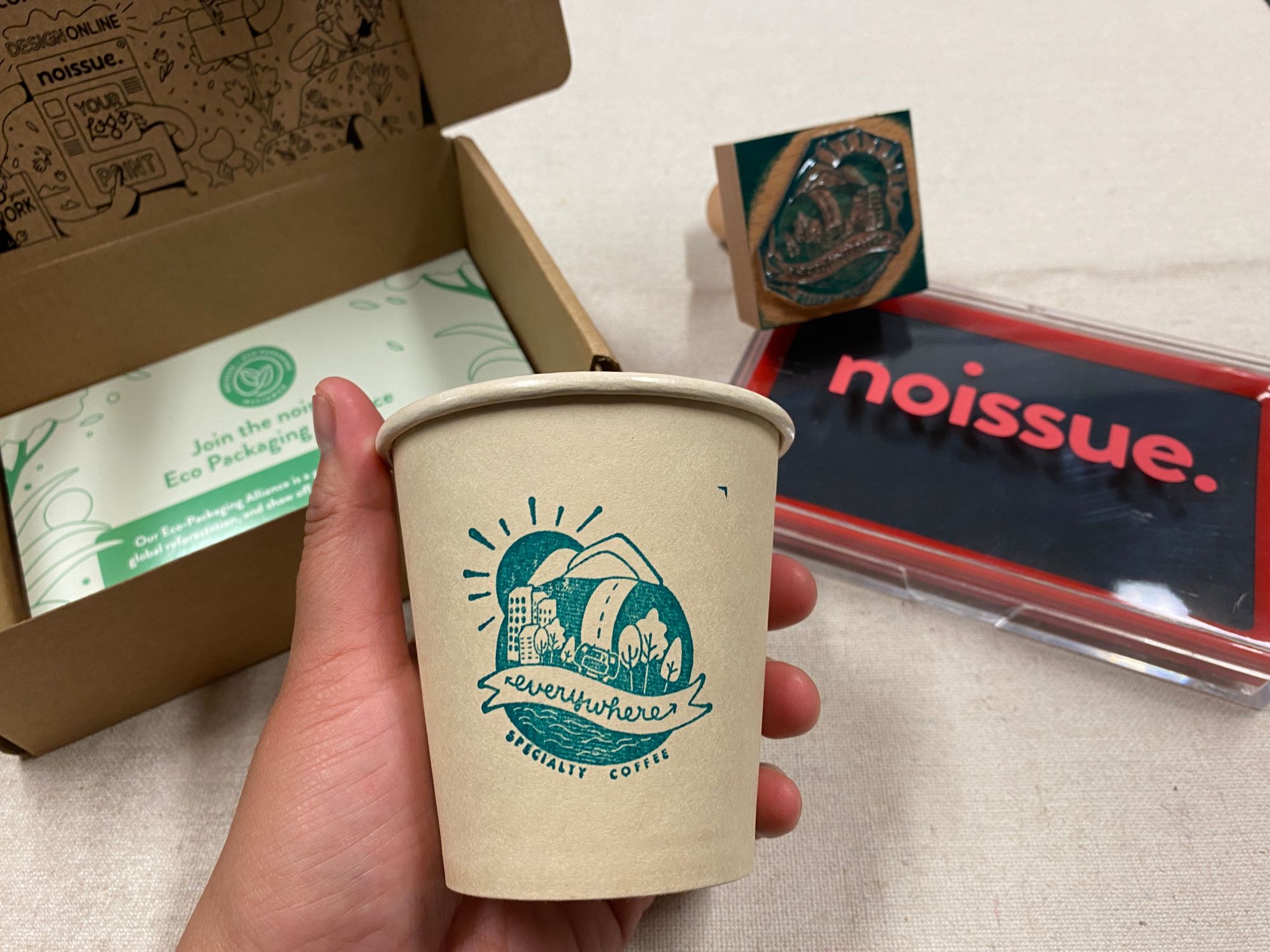 What was something that stands out about this collaboration for you?
I think what stands out is her complete trust in me in executing their visions, and also for making my hand lettering to be part of the logo which is a dream come true for me. It's like I'll always be with them "everywhere" and that I'm a huge part of their business, she treated me as if I also own the coffee van and the same goes for me, I treated it as if it was my own business which made our collaboration much easier and with happy and great results. Everywhere specialty coffee always believes in the work that I do.  I was even nervous about it, especially when she told me that they'll be using it for their van as a vinyl sticker. I wonder if I can pull it off properly. They said that I can do what I want and it's the result they are after and not the process and because of that I'm thankful to have clients like them.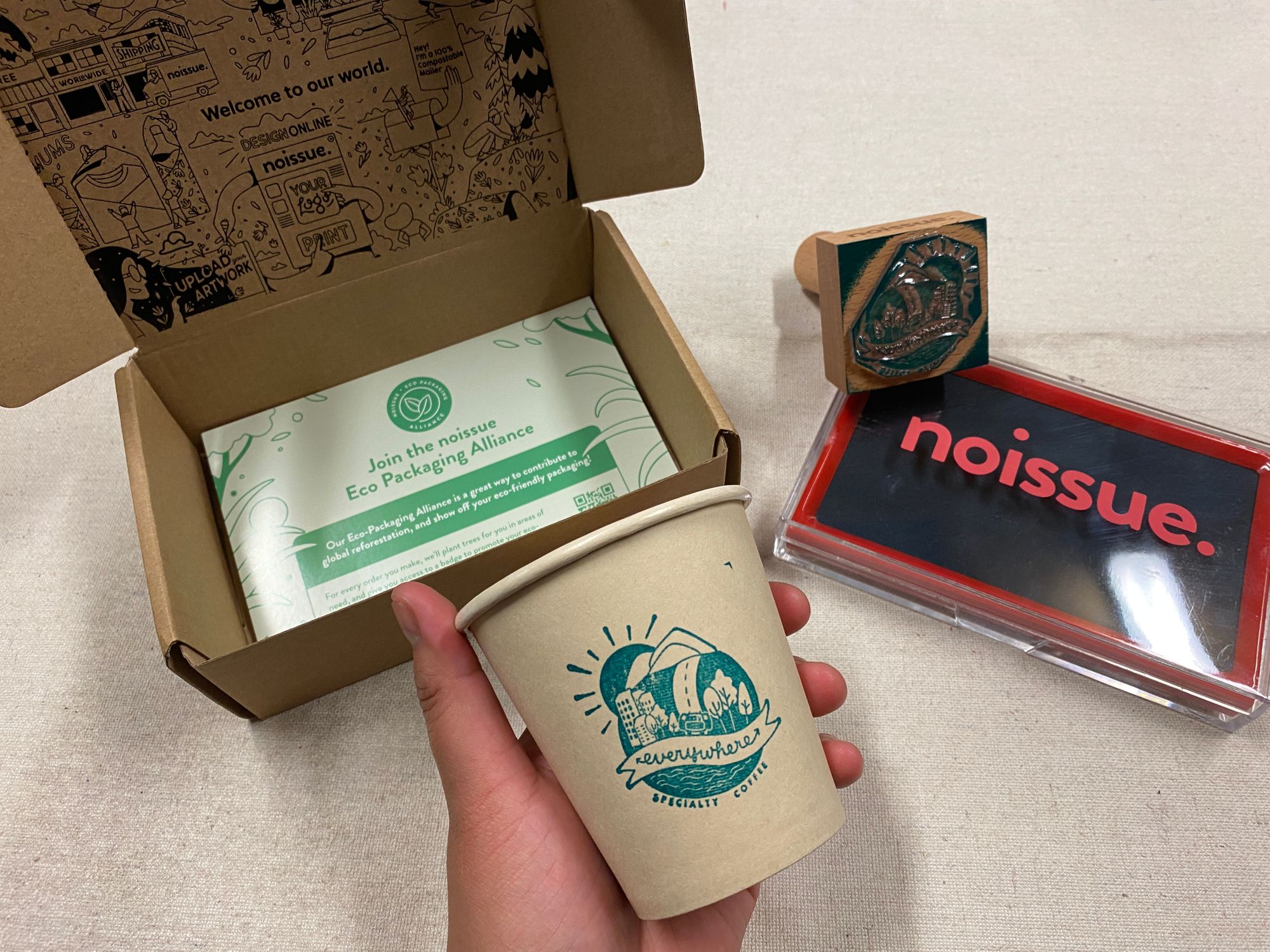 Why did you choose noissue for packaging? What products did you choose from our range?
Everywhere specialty coffee told me they're looking for a custom stamp maker and I suggested noissue as I've been a follower on your IG and it's also one of my dreams to have my stamp and other packaging materials made by them, (I hope I get to do that someday soon!) and that their products are sustainable which is perfect for what they're looking for.
It was their idea from the start to use a stamp instead of stickers for their labels and also for their coffee cups! The moment they saw noissue's range of products they knew we have to give it a shot and luckily noissue made it happen! So thanks, noissue, for what you do in helping small businesses like us. It assures us that we are using something that does not add harm to the environment.
---
Find more or Ode and the Odds and Everywhere Specialty Coffee here:
Ode and the Odds
Website: odeandtheodds.weebly.com
Instagram: @odeandtheodds

Everywhere Specialty Coffee
Website: everywherecoffee.com.au/
Instagram: @everywhere.specialtycoffee
Facebook: everywhere.specialtycoffee