Credo is a brand on a mission to clean up the beauty industry. Their store stocks clean beauty products that meet the high Credo Clean standard and are dedicated to championing ethical sustainable, safe and more transparent beauty products.
After opening their first store in 2015 in San Francisco, the business has grown to 10 stores across the US that feature more than 130 clean beauty brands.
Alongside this, Credo is helping its community of beauty brands upskill. Credo For Change is a clean beauty workshop for BIPOC (Black, Indigenous, and People of Color) entrepreneurs that helps prepare brands for their next stage of growth, such as increasing their distribution to retailers.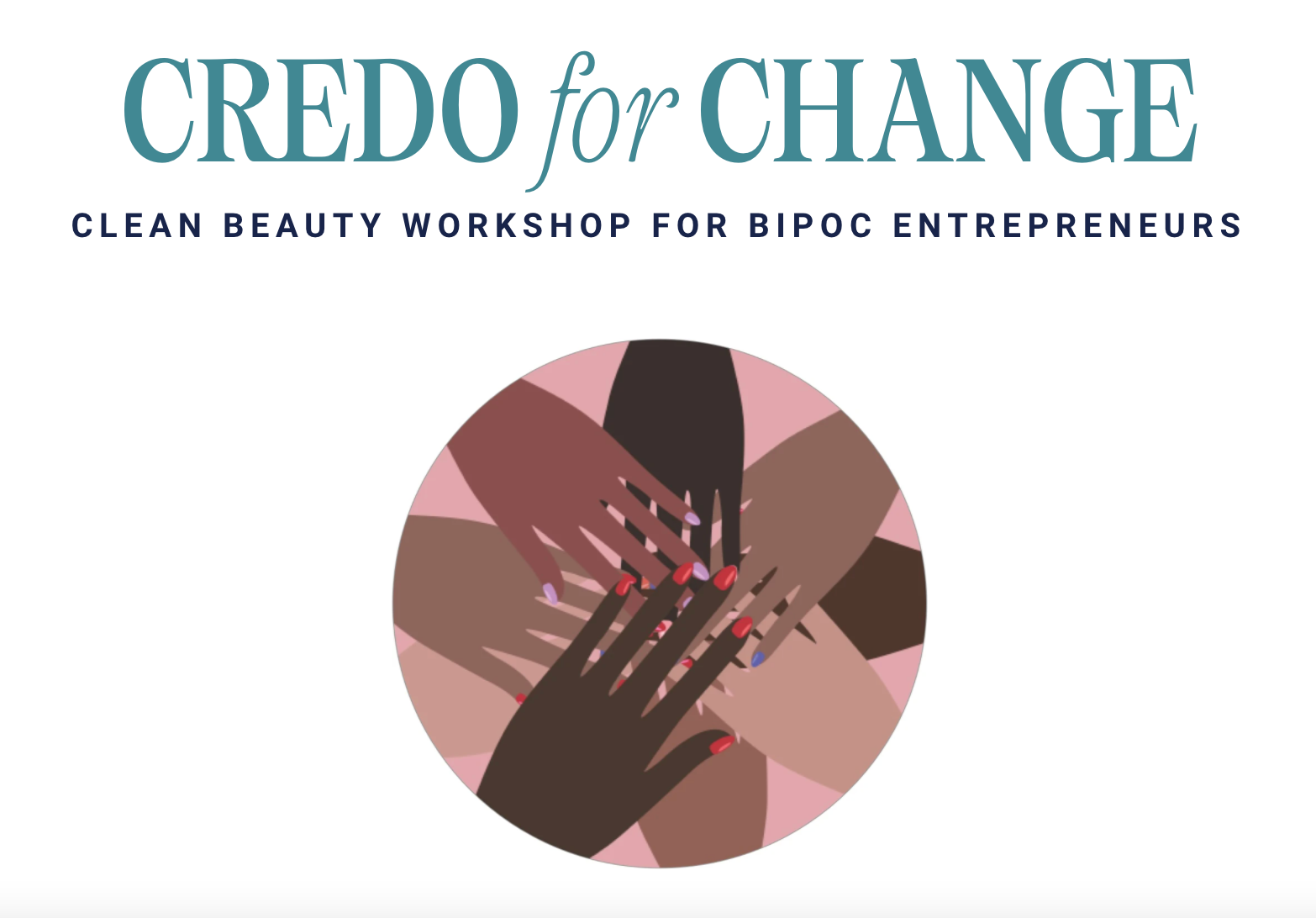 "As a founder-led company, we know that growing a business is hard – really hard. And too often, thought partners that can provide valuable retail business insights aren't accessible to diverse entrepreneurs at any stage of their growth," Credo marketing associate Sophie Streimer says.
"Credo also recognizes the lack of BIPOC clean beauty brands in our store. We are committed to changing this. Starting in 2020, we created this program with the ultimate goal of helping brands gather the tools they need to grow and scale their business while also creating a community of BIPOC clean beauty brand founders to grow with each other."
Founders sign up for a five-month program and receive mentorship, weekly workshops, and more that explore how to build a brand, why clean beauty matters, strategy and capital, how to improve business processes, and other essential parts of business growth.
"Being a participant in Credo for Change, no two weeks are the same!" Sophie says. "These workshops vary from scientists and packaging engineers teaching on how to create sustainable products to marketing and PR professionals teaching on how to craft the perfect influencer strategy."
The brands who make up the 2021 cohort are Adonis Arcana, Aspen Apothecary, Booni Doon, Communal, Cheekbone Beauty, Frigg, Look Good Live Well, M'chel Haircare, Mawena, Nopalera, Prados, Tierra & Lava, and Wholly Gloss.
The 2021 Credo For Change program also includes partners like Ulta Beauty, Environmental Defense Fund and Ceremonia. Credo has also collaborated with noissue on sustainable packaging for the event.
Sophie says Credo chose to work with noissue because of the brand's dedication to delivering high quality, sustainable goods.
"Like Credo, noissue is on a mission to make sustainable packaging accessible. At Credo we unrolled our Sustainable Packaging Guidelines because we believe creating sustainable products is deeper than just what's in the product," Sophie says.
"We have looked for partners and speakers for this program who are also aligned on the mission of bringing better for you and better for the earth products accessible to all."
Sustainable Swag Used in the Collab

For this year's Credo For Change event, in partnership with noissue, Credo created custom Organic Cotton Tote Bags, custom Cards and custom Stamps.
"We wanted to give the cohort something unique to remember their experience in Credo for Change, but also something that they can use daily so we went with custom tote bags filled with our favorite Credo goodies along with cards and a stamp to package everything in a memorable and custom tailored way!" Sophie says.
noissue's tote bags are made from 100% Global Organic Textile Standard (GOTS) certified cotton and are printed with water-based ink.
This means the cotton is grown without the use of pesticides, and created from seeds that aren't genetically modified. Not using harmful chemicals benefits the environment and the health of cotton picker workers and communities surrounding the fields.
Unlike most cards you see, noissue's cards are uncoated. They're also made from recycled paper and Forest Stewardship Council (FSC) certified paper and printed using soy-based inks, which means they can be either recycled or composted safely.

noissue's Stamps use soy-based ink and are made from over 65% post-consumer plastics, which gives plastics already in circulation a second life.
Making the choice to use sustainable packaging products like these in your business from the very beginning is an effective way of reducing your impact on the environment, while ensuring all the materials used were sourced in an ethical way that isn't resource-intensive.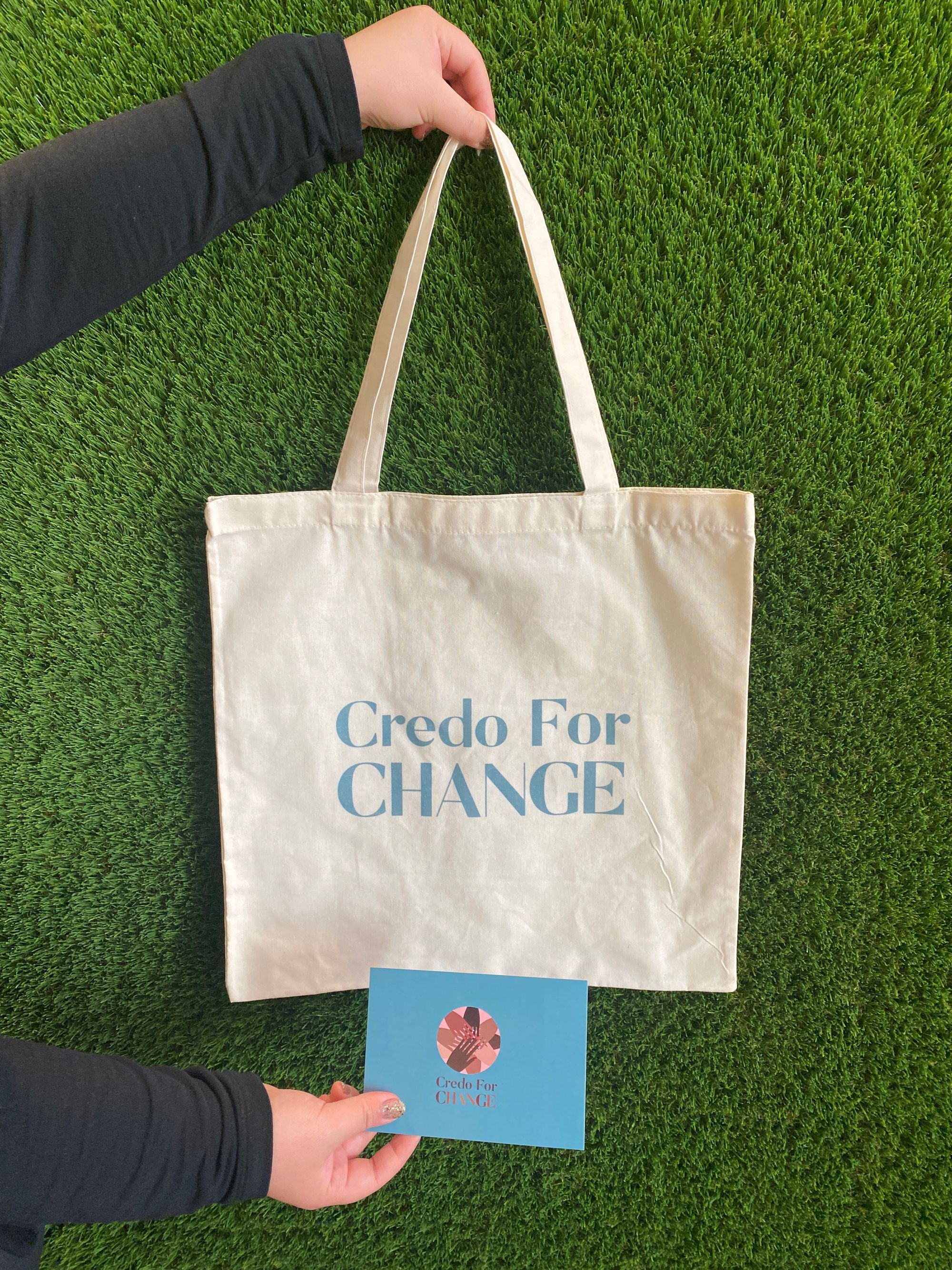 noissue's aim is to ensure businesses of all sizes can access eco-friendly packaging at any stage of business, which is why we offer low Minimum Order Quantities (MOQs) for every product.
Wrapping It Up

Credo For Change is happening now through December. Credo hopes attendees take away all the tools and knowledge they need on how to take their clean beauty brand to the next level.
"Truly my favorite part is working with the cohort of founders. We have such a unique group of founders who are passionate about changing beauty and what it means to be a clean brand. Every time I get to chat with our founders, I am in awe of how much they put into their brand every day and I am constantly learning from them," Sophie says.  
Find out more about Credo For Change on their website.

---

Loved this partnership? Create your own noissue custom tote bags here and noissue custom cards here! And if you're interested in working on a packaging partnership with noissue, we'd love to hear from you. Get in touch with us to find out more at partnerships@noissue.co. ✉️